Roasted Purple Potatoes are a delicious side dish that's simple to prepare and full of health benefits. Coated in a little bit of oil and a homemade seasoning blend, they are roasted to crispy perfection and ready in about 30 minutes.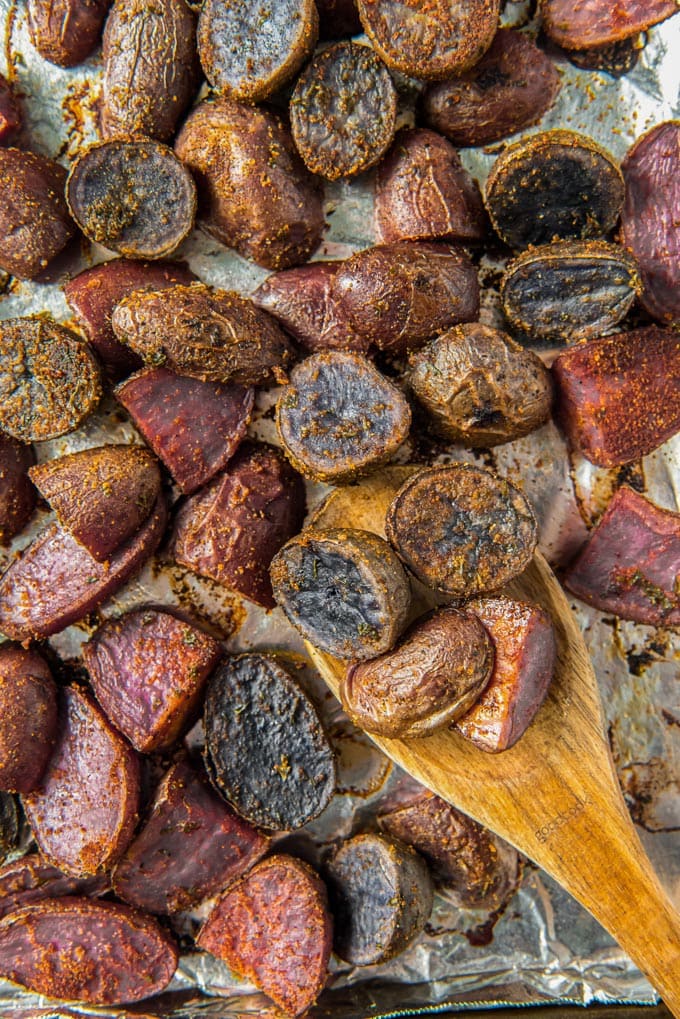 Roasted Purple Potato recipes have become a staple side dish that we enjoy several times a month. They are easy to prepare because they don't require peeling. Just scrub, chop, season and roast!
What is Different About Purple Potatoes?
Haven't tried purple potatoes? The health benefits alone are surprising. Here's why you should jump on the bandwagon!
They are delicious and add color to your plate.
Purple potatoes (also known as purple majesty) are about 70 calories per half cup with 15 grams of carbs and no fat.
The glycemic index is lower than other potato varieties so they are better for your blood sugar.
Higher in dietary fiber which helps to keep you feeling full, promotes a healthy digestive system, stabilizes blood sugar, and helps maintain healthy cholesterol levels.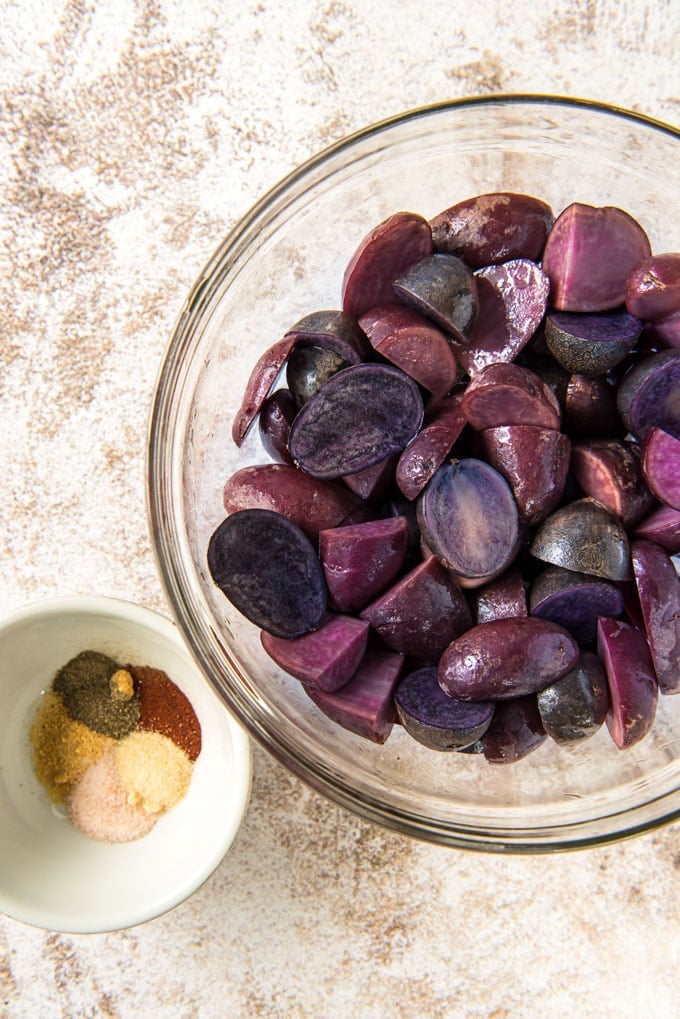 How to Cook Purple Potatoes
Chop. Rinse and scrub the potatoes to remove any dirt or eyes from the potatoes. Using a sharp knife cut them in half or quarters. Purple potatoes are small but can vary in size so just try to cut them as evenly as you can. The best part – no peeling required!
Season. Seasoning is super important with potatoes. My go-to seasoning blend for my is salt, pepper, paprika (or chili powder), garlic powder and onion powder. I use it for everything from baked pork chops to baked chicken to potatoes. Coat them in a little bit of olive oil before adding the seasoning. This will help the potatoes to brown and get crispy around the edges.
Roast. Preheat the oven to roast at 400 degrees F. You could go as high as 425 but watch closely so they don't scorch. Depending on how big you cut them, the cooking time will be around 20-25 minutes.
Serving Suggestions
I am working on adding more purple potato recipes to the site, but for now you can try them in one of my favorite one pan dinners: Sheet Pan Salmon, Asparagus and Potatoes. They are so pretty and add such great color! I usually will serve roasted purple potatoes with a simple main course and veggie or salad. Here are some of our favorites: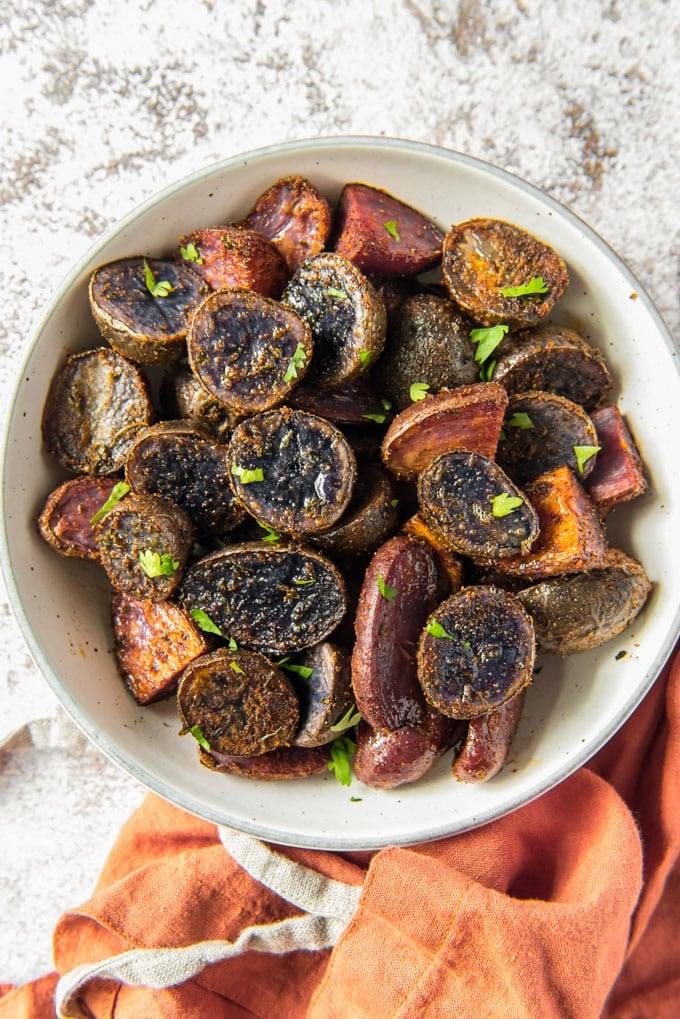 Are Purple Potatoes Healthier Than White?
Purple Potatoes are rich with antioxidants, containing about 3-4 times as much as white or yellow potatoes. This is linked to several health benefits, including healthier cholesterol levels, improved vision, and a reduced risk of heart disease, certain cancers, and diabetes. They also may help to lower blood pressure. Purple potatoes are especially rich in polyphenol antioxidants called anthocyanins, which give them their deep purple color.
Surprisingly, their color is all natural so there are no artificial dyes that alter the taste! Natural pigments and phytonutrients give purple potatoes their rich, vibrant color. They taste similar to russet potatoes, but are less starchy, and like all potatoes, the skins are completely edible.
What to do with Leftovers
Leftover potatoes are great with fried eggs and bacon for breakfast, or add them to a sausage hash. Store in a sealed container in the fridge for up to 4-5 days.
To freeze roasted potatoes, cool then spread them out on a baking sheet and pop them in the freezer for a couple of hours. Once mostly frozen, transfer them to a plastic freezer bag and store in the freezer for up to 6 month. Reheat in the oven from frozen; no need to thaw.
FAQs
Do purple potatoes need to be peeled?
Nope, they don't require peeling! In fact the skin is actually good for you, and is rich in fiber and antioxidants. Save yourself a step and leave the skin on.
Are purple potatoes waxy?
Waxy potatoes have a thin, paper like skin that can be easily scratched off. Red skin, fingerling, new and purple potatoes fall into this category. They are lower in starch and retain their shape well when cooked.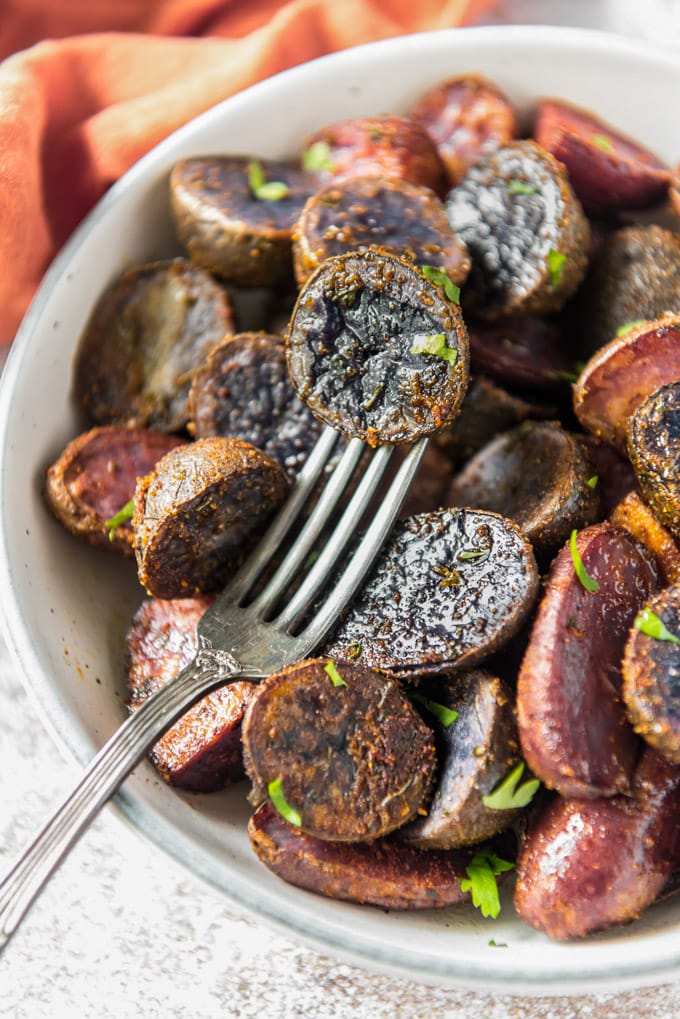 If you want to use a different seasoning, that's totally fine. I don't recommend using garlic cloves though, as they tend to burn.
Potatoes are naturally gluten free, so if you need a gluten free dish, make sure you check the ingredients you use to season them.
Want to use the air fryer? You can air fry the potatoes at 360 degrees for about 20 minutes, stirring once halfway through.
More Potato Recipes to Love
I've got an affinity for Roasted Potatoes, so I'll cook just about any variety that way. Purple Potato recipes are my favorite but I am also obsessed with Roasted Red Potatoes and Honey Roasted Sweet Potatoes.
When I want something different, I make one of these:
Recipe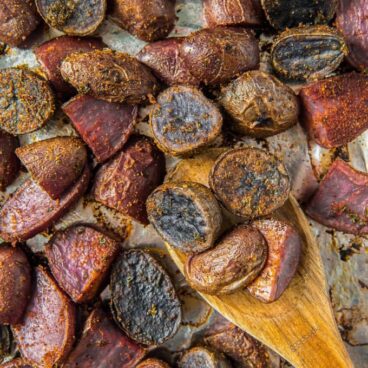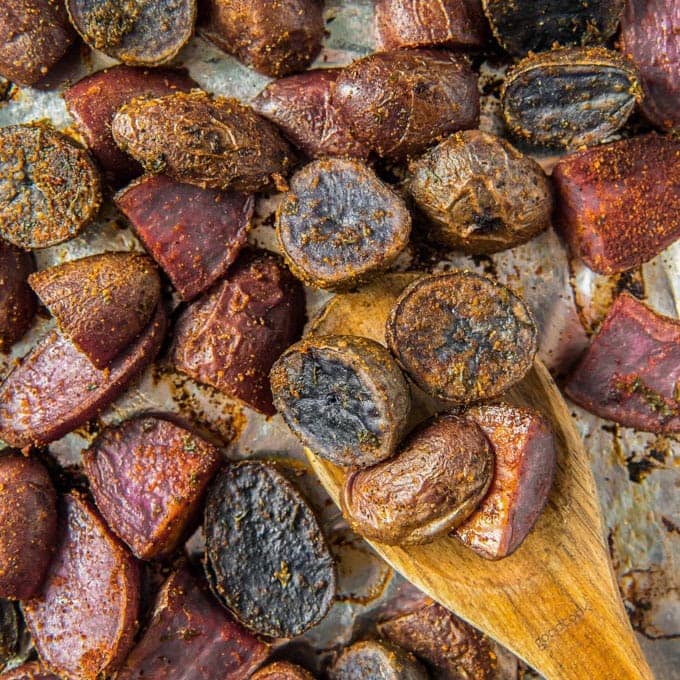 Roasted Purple Potatoes
Roasted Purple Potatoes are a delicious, simple to prepare and full of health benefits! Roasted in olive oil and seasonings and ready in about 30 minutes.
Ingredients
3

pounds

purple potatoes

3

tablespoons

olive oil

1

teaspoon

garlic powder

1

teaspoon

paprika

1

teaspoon

salt

1/2

teaspoon

onion powder

1/4

teaspoon

black pepper

2

tablespoons

fresh minced parsley
Instructions
Preheat oven to 400 degrees F. Line a large, rimmed baking sheet with nonstick foil and spray with cooking spray.

Rinse and scrub potatoes clean and pat dry. Peel if desired, then cut into bite sized chunks and place into a large bowl. Drizzle with olive oil and toss to coat.

In a small bowl, combine garlic powder, onion powder, paprika, salt and black pepper. Sprinkle seasoning blend and parsley over the potatoes and toss to coat, then repeat with the remaining seasoning.

Arrange potatoes on the prepared baking sheet in an even layer. Roast in the oven for 20-25 minutes or until tender. Time may vary depending on the size of the chunks.

Let stand 5 minutes before serving.
Notes
If you can't find regular purple potatoes on their own, feel free to grab a mixed blend of purple and white. Sometimes that's all I can find. 
Nutrition
Calories:
240
kcal
Carbohydrates:
40
g
Protein:
5
g
Fat:
7
g
Saturated Fat:
1
g
Sodium:
403
mg
Potassium:
976
mg
Fiber:
5
g
Sugar:
2
g
Vitamin A:
277
IU
Vitamin C:
46
mg
Calcium:
29
mg
Iron:
2
mg