Learn how to make the best Sauteed Mushrooms in just a few easy steps. They are a quick and easy side dish that never fails, but mushrooms are an often overlooked option to round out your family dinner.
Not only are these sauteed mushrooms quick and easy, but they are budget-friendly and require kitchen staples you probably already have around the house. They are so good, I often plan my main dish around them, topping Grilled Steak, Broiled Chicken Thighs, and Baked Pork Chops.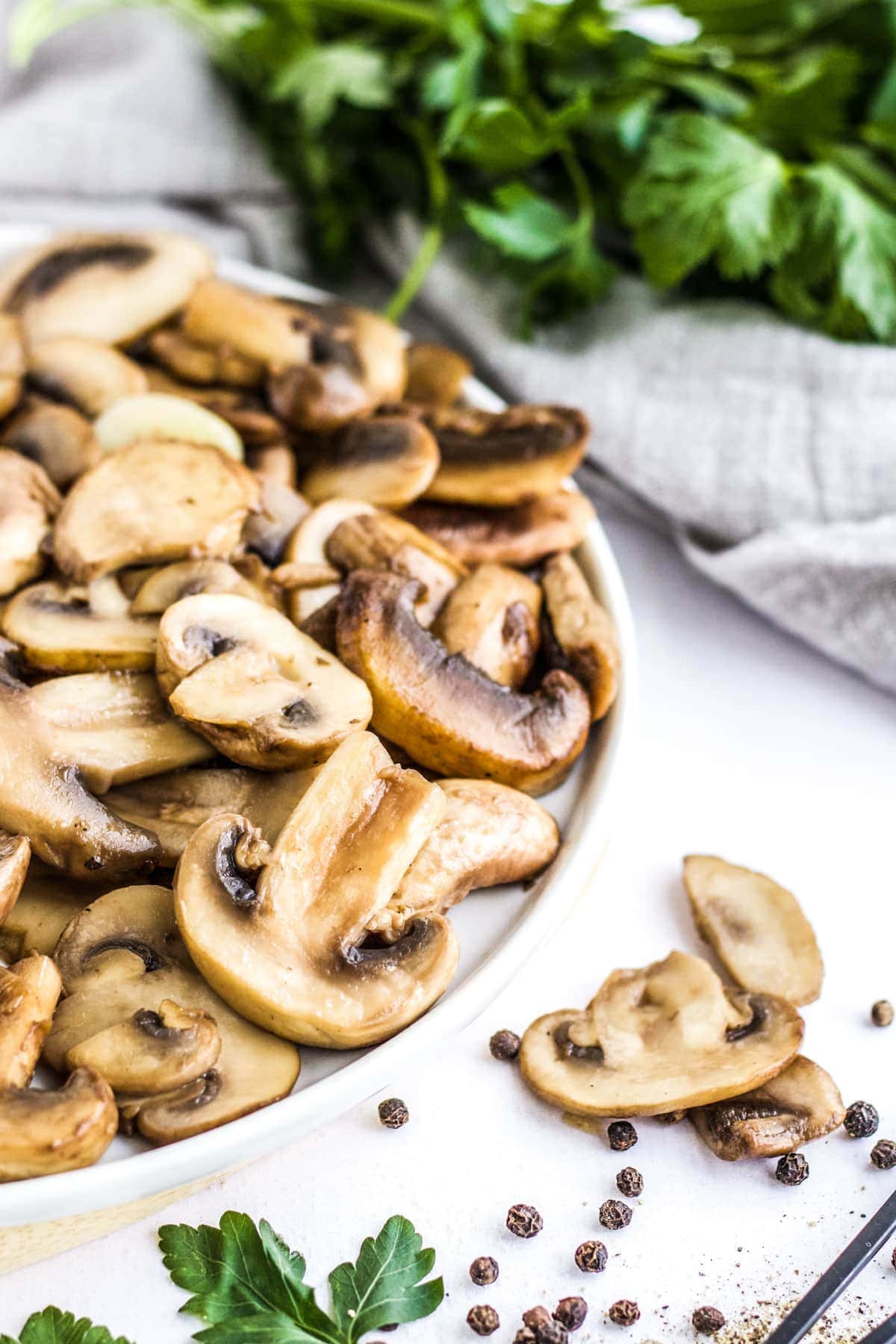 Mushrooms have a bad rep in the kitchen. Many people discount their amazing ability to adapt to whatever flavors you cook them in, which makes them one of my favorite additions to add to slow cooker meals, skillet dinners, and casseroles.
I have tried so many different ways of cooking them over the years and always come back to this simple skillet sautéed mushrooms recipe. It is always faithful and the flavors blend seamlessly into whatever I am cooking. I can't wait to show you how to make them.
Ingredients you'll need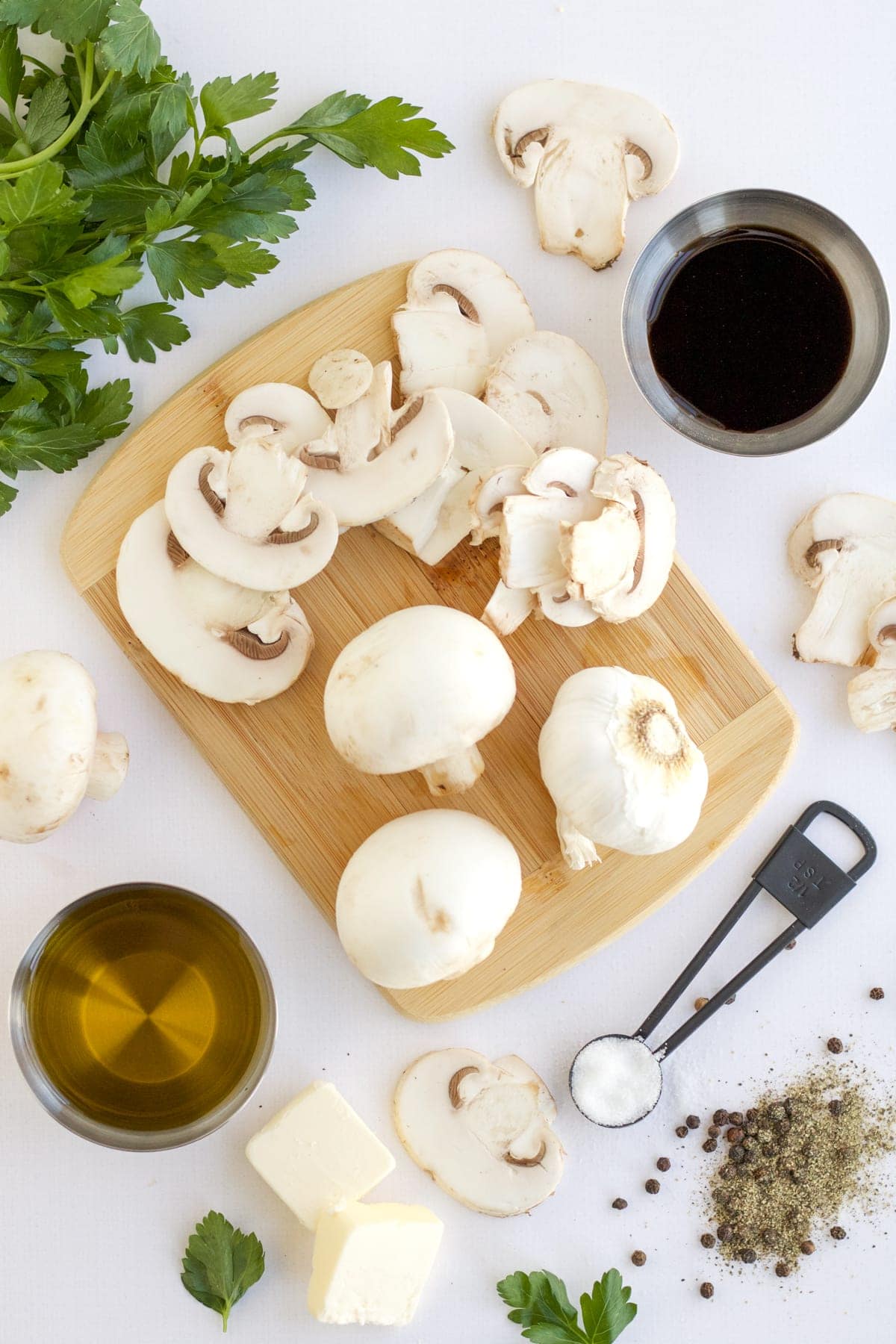 One of my favorite things about this recipe is that most of the ingredients are things I already have on hand. To make sautéed mushrooms, you will need butter, olive oil, mushrooms, garlic, Worcestershire sauce, salt and pepper.
Choosing your mushrooms
This recipe is very forgiving and you can use any mushrooms you prefer, or even cook up a blend! The three most common mushrooms would all be excellent choices for this recipe.
Button Mushrooms: This is the white mushroom you are used to using around the kitchen. The flavor is fresh, clean, and mild which makes them a favorite for many. They are a good option to sauté because they are easy to clean and hold their shape well while being cooked. They absorb and hold flavor well so are an excellent choice to use for sauces.
Cremini Mushrooms: Also called baby portobello mushrooms. Slightly stronger flavor than button mushrooms and have a solid texture so they do really well when thinly sliced or chopped.
Shiitake Mushrooms: A vibrant and wild flavor that is a great choice for people who really like the natural, earthy taste of a strong mushroom. I love to use these blended with Button or Cremini.
When choosing your mushroom, you will want to pay special attention to any marked dates. The mushrooms should be fairly smooth and even in color which ranges from white to brown and free of any spots. The best way to tell if mushrooms are fresh is by their scent. They should have a clean, fresh scent.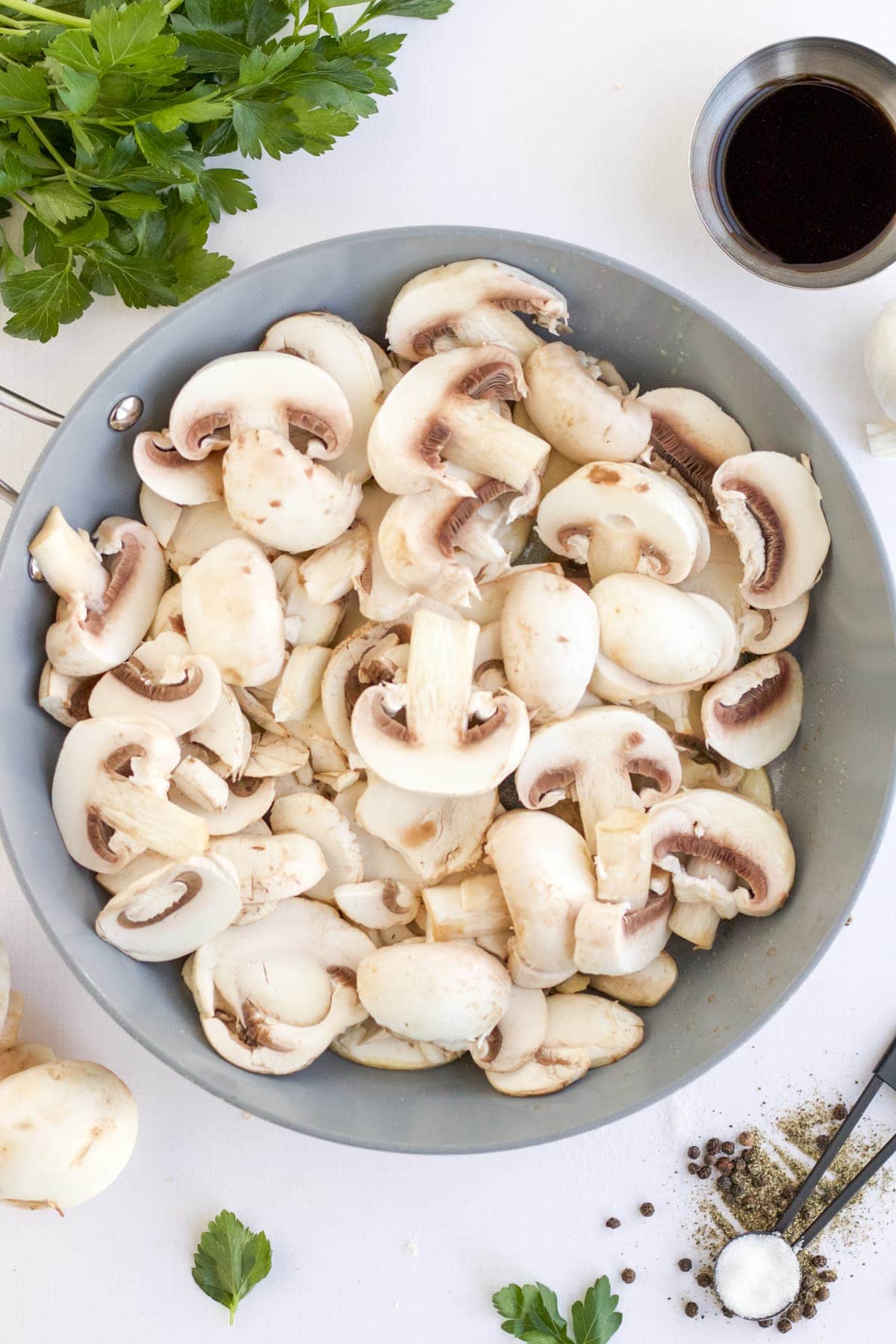 Preparing your mushrooms
Unlike other produce, mushrooms should not be soaked prior to cooking. Since they are highly absorbent it is best to give them a good rinse and scrub and then pat them dry.
For this recipe, you can cut your mushrooms in half, quarters, or slice them. I often choose the size of the chop based on what they will be paired with.
When paired with a cut of steak or a baked chicken breast, I prefer them sliced so I can have a bite of the meat and mushroom at the same time. But if I am serving ground beef or vegetables I will leave them a little bigger.
How to Saute Mushrooms
Now that you have your mushrooms picked out and prepped, it's time to saute!
The cooking technique "saute" means to fry very quickly over high heat with a little fat.
Get your pan ready and heated with olive oil and butter over medium-high heat. Once the butter is melted, swirl it around so it covers the surface area of the pan and add your mushrooms. Mushrooms are known to sweat and release liquid as they cook, so you will want to have a strainer nearby.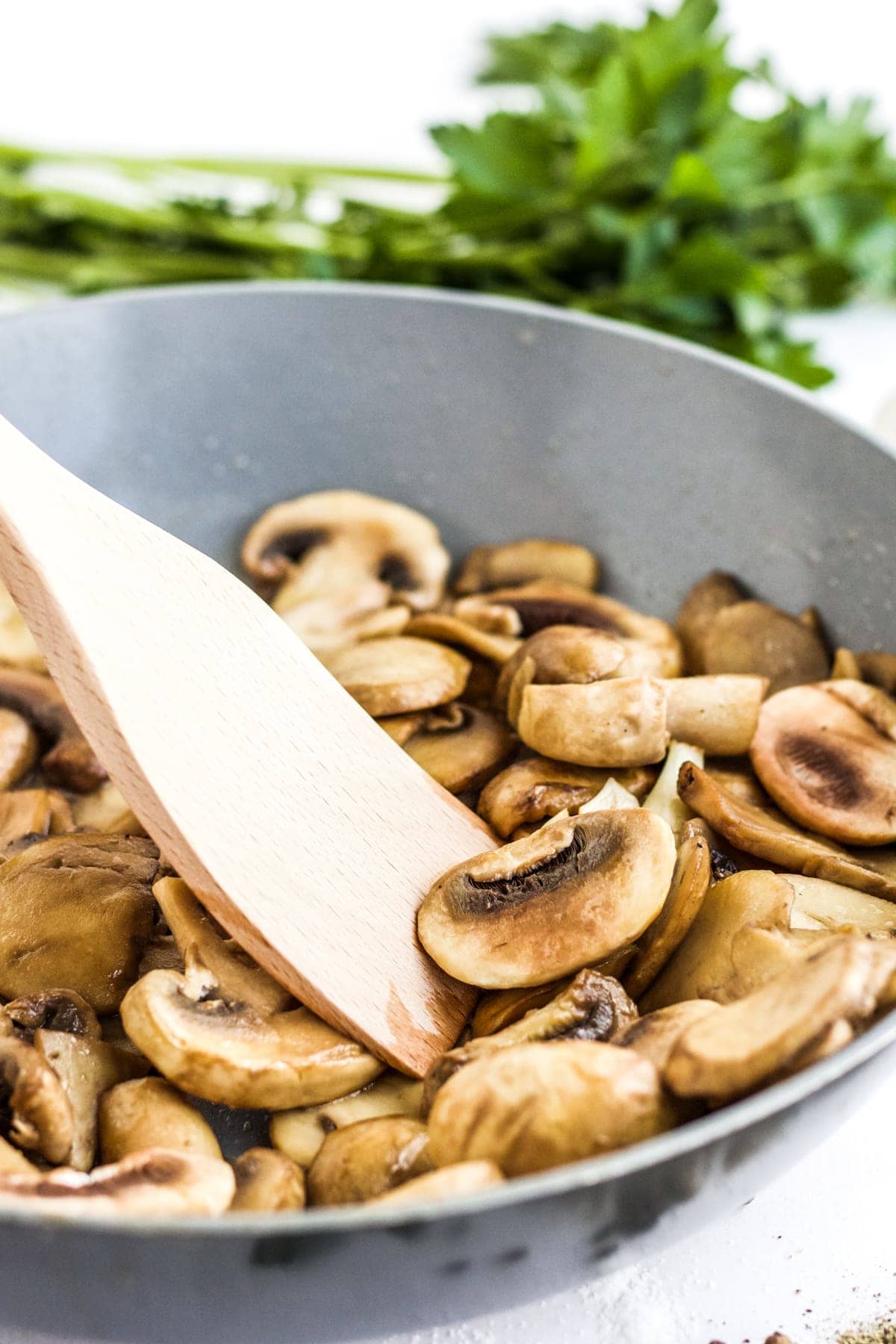 Your pan will look a little full at first, but don't worry! Once all of that liquid releases, the mushrooms will get a bit smaller and easier to move around. When they seem to have sweat out most of their liquid, drain the mushrooms and then return them to the pan with the garlic, continuing to cook.
At this point, you can add the Worchestire and salt and pepper and continue cooking until they are golden brown and the desired level of doneness has been reached.
What's Worcestershire?
Worcestershire is a staple at my house! It is a vinegar-based liquid seasoning with a tang like no other! It's kind of like a mix between soy sauce and fish sauce and provides a wonderful umami flavor with minimal effort, taking every food it touches over the edge!
If you don't have Worcestershire sauce or just don't care for it, you can replace it with soy sauce or even try red or white cooking wine.
Why are my sauteed mushrooms rubbery?
Rubbery mushrooms are almost always caused by cooking with damp mushrooms. Mushrooms hold enough moisture as it is, so you really want to take extra care to dry them before they make their way to the pan.
A little extra effort in drying them first always pays off and will ensure your mushrooms will have a perfect texture.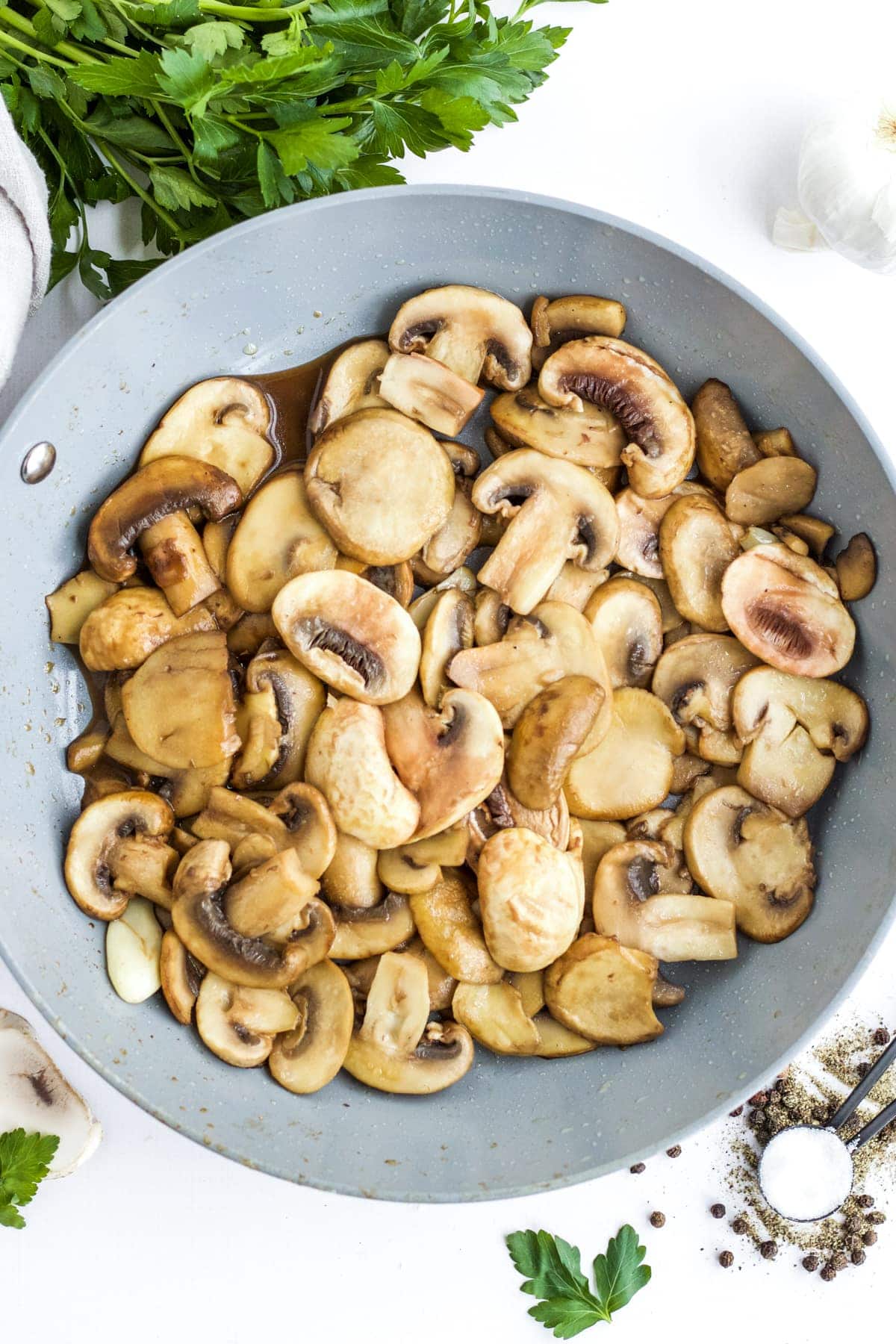 Are sauteed mushrooms good for you?
Yes! Cooked mushrooms are jam-packed with vitamins and minerals your body needs. They are also an excellent source of antioxidants and fiber. Perhaps the most surprising nutritional benefit of this overlooked produce powerhouse is that they are packed with protein!
Serving Suggestions
Now that we know how versatile this side dish is, it's time to plan what to serve them with!
These sauteed mushrooms would be great with Pork Wellington, Asian Meatballs, Air Fryer Steak, or BBQ Chicken Breasts.
And mushrooms aren't just for dinner! Don't be shy, try these mushrooms with your favorite breakfast staples like this Ham and Cheese Quiche or Baked Egg Muffins.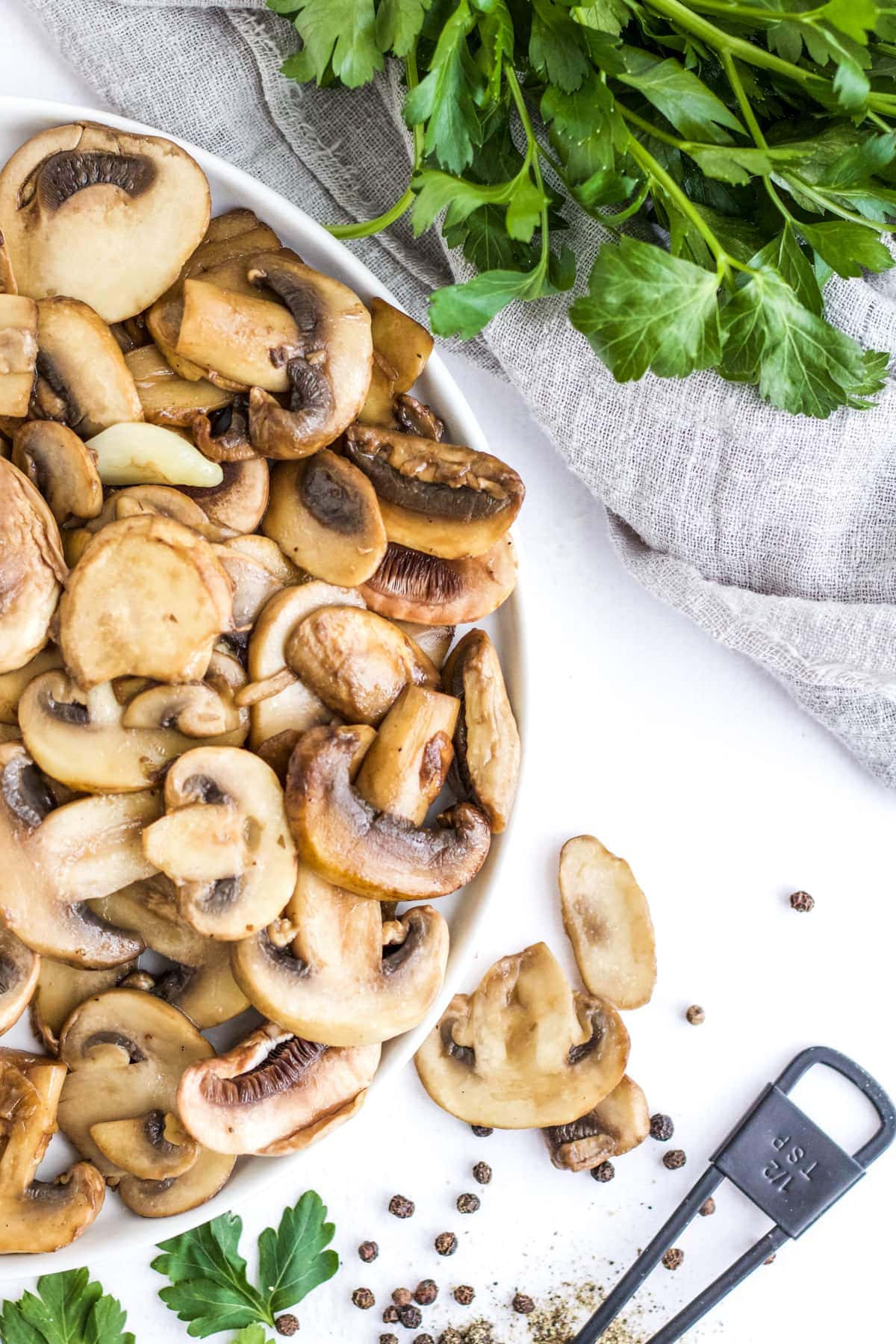 Craving more mushrooms? Check out these mushroom recipes!
Recipe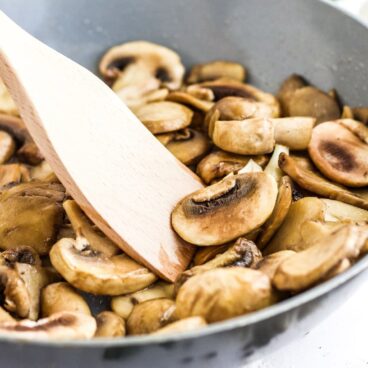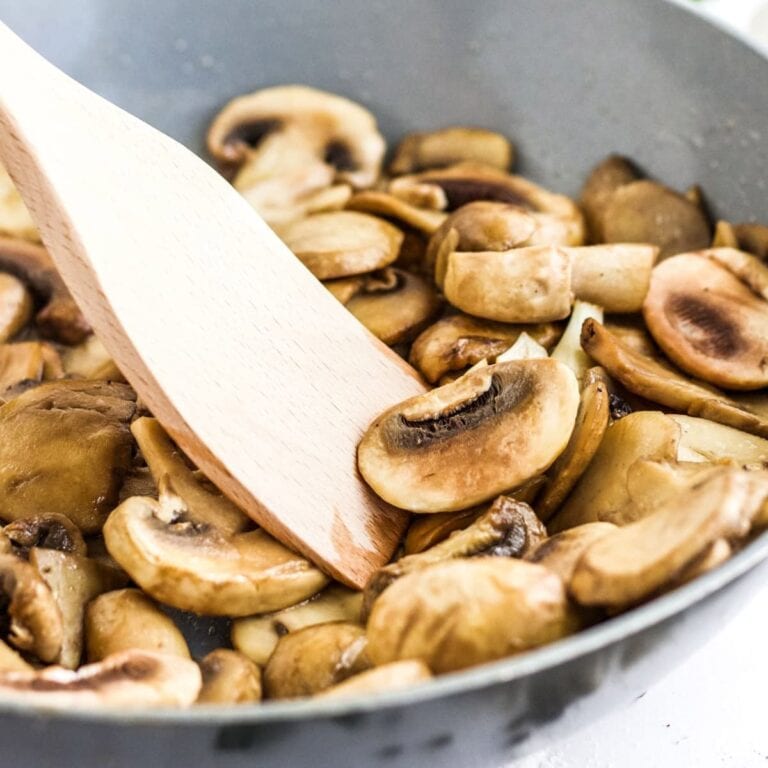 Sauteed Mushrooms
A quick and easy side dish made from mushrooms, garlic, butter, Worcestershire, salt and pepper.
Ingredients
2

tablespoons

olive oil

extra virgin

2

tablespoons

butter

1

pound

mushrooms

washed, thoroughly dried and sliced

2

garlic cloves

minced

1

tablespoon

Worcestershire sauce

salt and pepper to taste
Instructions
Prepare your skillet by heating the olive oil and butter over medium high heat.

Add the mushroooms to the skillet and allow to cook without stirring for about 5 minutes.

Toss with a spatula and drain off any access liquid. Return the mushrooms to pan, add the garlic and cook for one additional minute.

Add the Worcestershire sauce and salt and pepper and cook until tender and desired texture is reached.
Notes
It is important to thoroughly dry the mushrooms so they do not get rubbery. 
If you do not care for Worcestershire, you can replace with soy sauce or red or white cooking wine. 
Nutrition
Calories:
139
kcal
Carbohydrates:
4
g
Protein:
4
g
Fat:
13
g
Saturated Fat:
5
g
Trans Fat:
1
g
Cholesterol:
15
mg
Sodium:
56
mg
Potassium:
368
mg
Fiber:
1
g
Sugar:
2
g
Vitamin A:
175
IU
Vitamin C:
3
mg
Calcium:
8
mg
Iron:
1
mg