Don't let that leftover ham go to waste! It's pre-cooked, easy to store, and easy to reheat. Whip up casseroles, soup, sandwiches, and even ham hash for breakfast with ease with these best leftover ham recipes.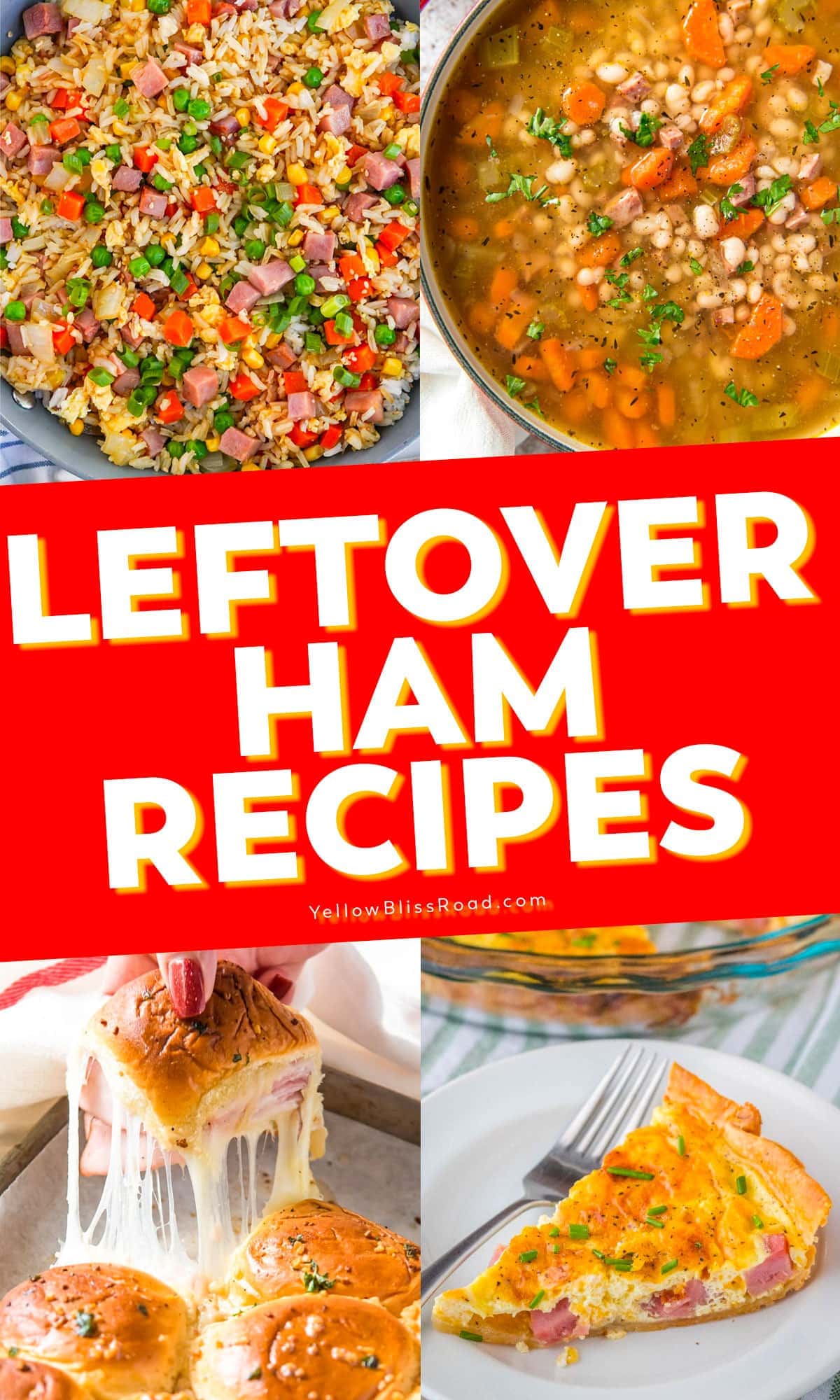 A holiday ham is a pretty large main dish, which is great because it can feed a ton of guests at Christmas and Easter. If the leftovers have you wondering, "what can I make with leftover ham?" you're not alone! Try a ham hash (recipe below) for breakfast, or a ham and noodle casserole for dinner. Or make ham salad sandwiches for something a little different.
What to do with Leftover Ham
One of the best parts about hosting a holiday meal is the leftovers – we can feast on ham for days!
How to reheat leftover ham: If reheating in the microwave, cover with a damp towel to keep the ham from drying out. To reheat in the oven (this is best for a family meal), place slices of ham in a baking dish and a little vegetable or chicken broth and cover with foil. The broth will help keep it moist.
Another option is to add chunks of ham to scrambled eggs and omelets for breakfast!
Got leftover Thanksgiving Turkey? Try these leftover turkey recipes!
How to Store Leftover Ham
First, let it cool completely, then slice off the bone. If it's a boneless ham, you can just cut it into slices or chunks, depending on how you plan to use it. Place leftovers in an airtight container in the refrigerator for up to 3-4 days. If you have a ham bone leftover, wrap it up and save it in the freezer for making soup.
How long is ham good for in the fridge?
Fully cooked ham will remain fresh in the refrigerator for up to 4 days. If you don't plan on eating it in that timeframe, I recommend freezing it.
Can you freeze ham?
Absolutely! Ham actually freezes quite well. Wrap it tightly in plastic wrap and foil, then place in a freezer bag. Squeeze out as much air as possible to avoid freezer burn. Freeze for up to 6 months.
What Can I Make with Precooked Ham?
I've got tons of ideas for you! You can make casseroles, soups, salads, sandwiches and of course, breakfast! There are over 30 different leftover ham recipes for you to try, and I've got a brand new recipe below for Potato and Ham Hash!
Casseroles and One Pots
I love casserole because they are basically a dish that you just have to assemble and bake. One Pot recipes are basically the same as a casserole, just on the stove. Either way, these ham casserole and one pot recipes are amazing! Plus they're total comfort food.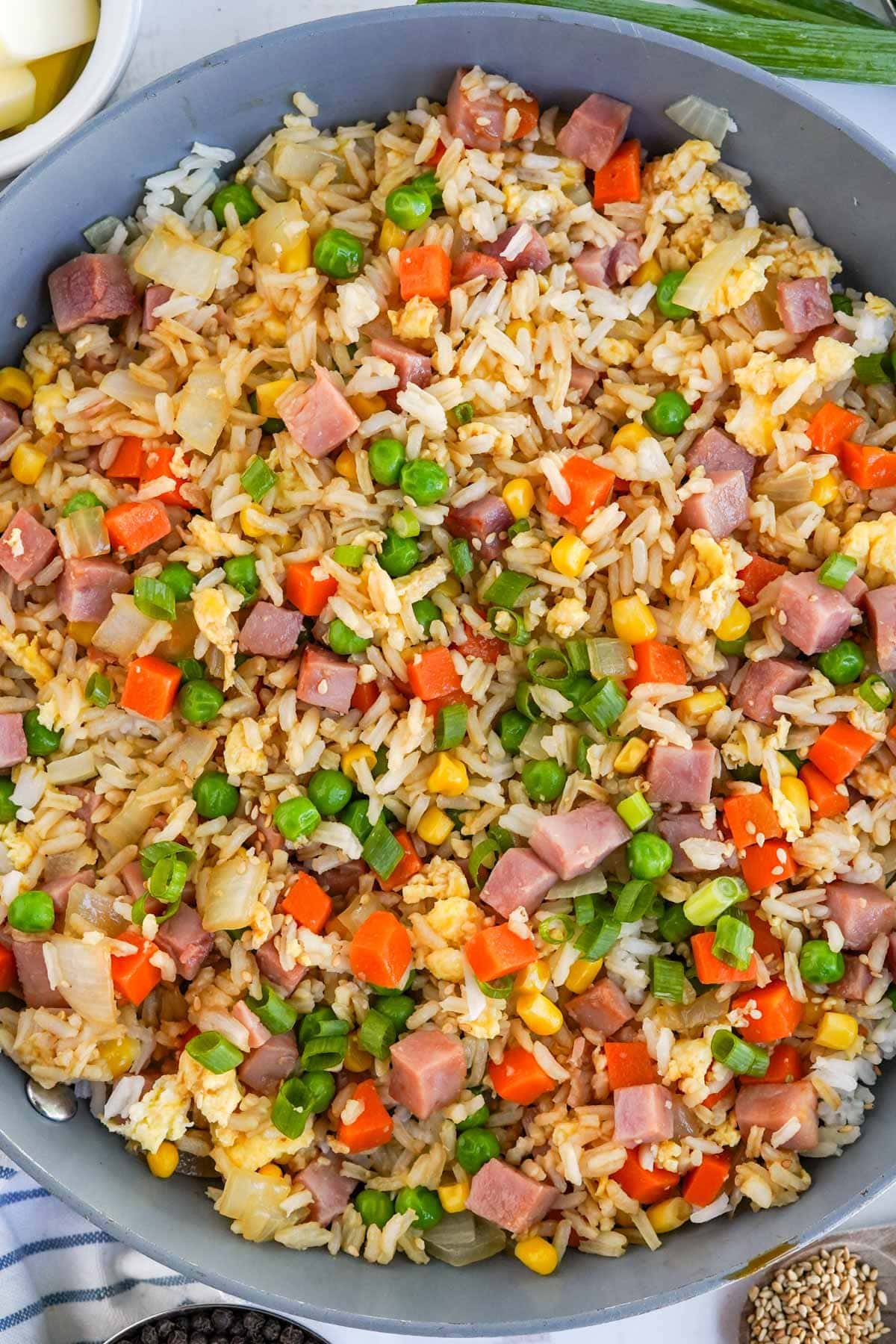 Soups, Salads, and Sandwiches
Ham is perfect for soups, salads, and sandwiches. I mean, who doesn't love a ham and cheese sandwich? It adds a nice savory, salty element, and so much more flavor than boring chicken. In fact, it makes a great replacement for chicken in lots of soups and salads!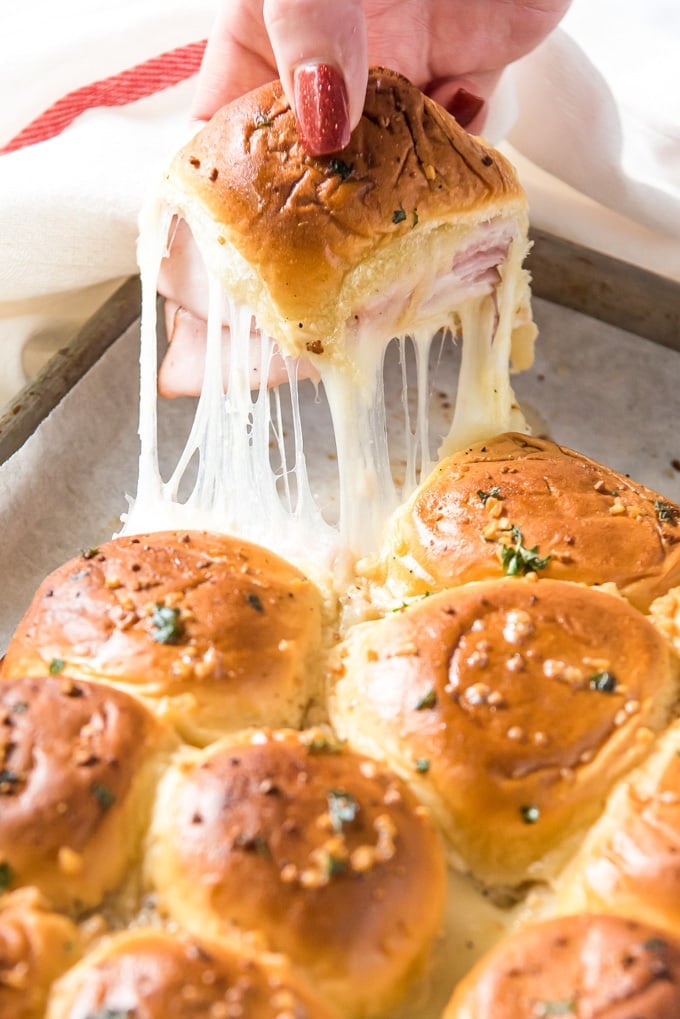 Breakfast Recipes
I feel like breakfast is where your leftover ham can really shine. It goes together so well with eggs and cheese whether it's in a casserole, a quiche, or an omelet.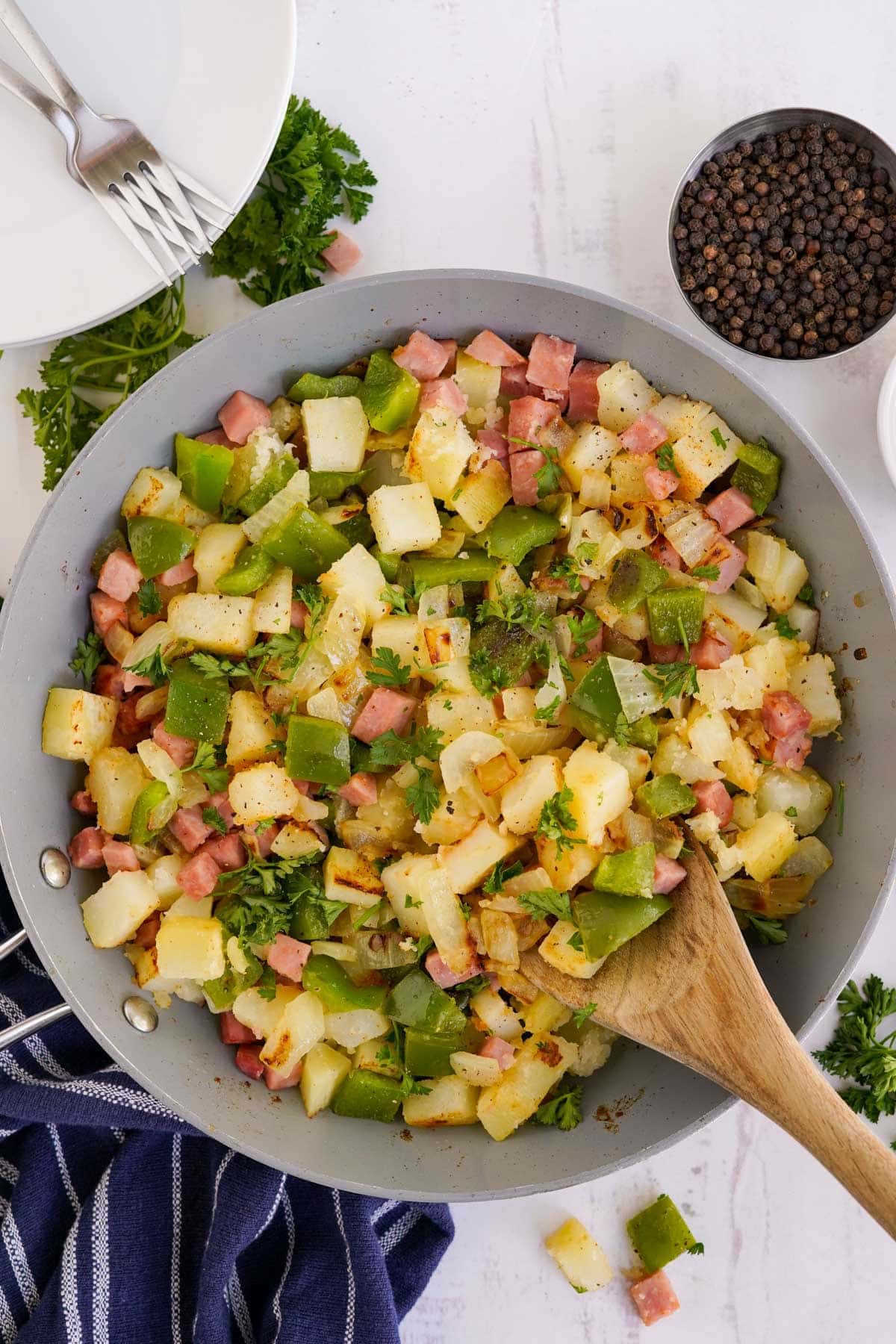 Potato and Ham Hash (recipe below)
Easy Potato and Ham Hash
This ham hash is one of my all-time favorite ways to use up leftovers. It's easy to make and is perfect for breakfast, lunch, or dinner. Customize the ingredients any way you like – add different veggies, or even use packaged hash browns instead of fresh potatoes.
I like to serve ham hash with a side of scrambled eggs and fruit or toast. Sometimes I sprinkle on a little Parmesan cheese or shredded cheddar cheese and cream gravy for a country style hash. An over-easy egg would be a fantastic addition as well.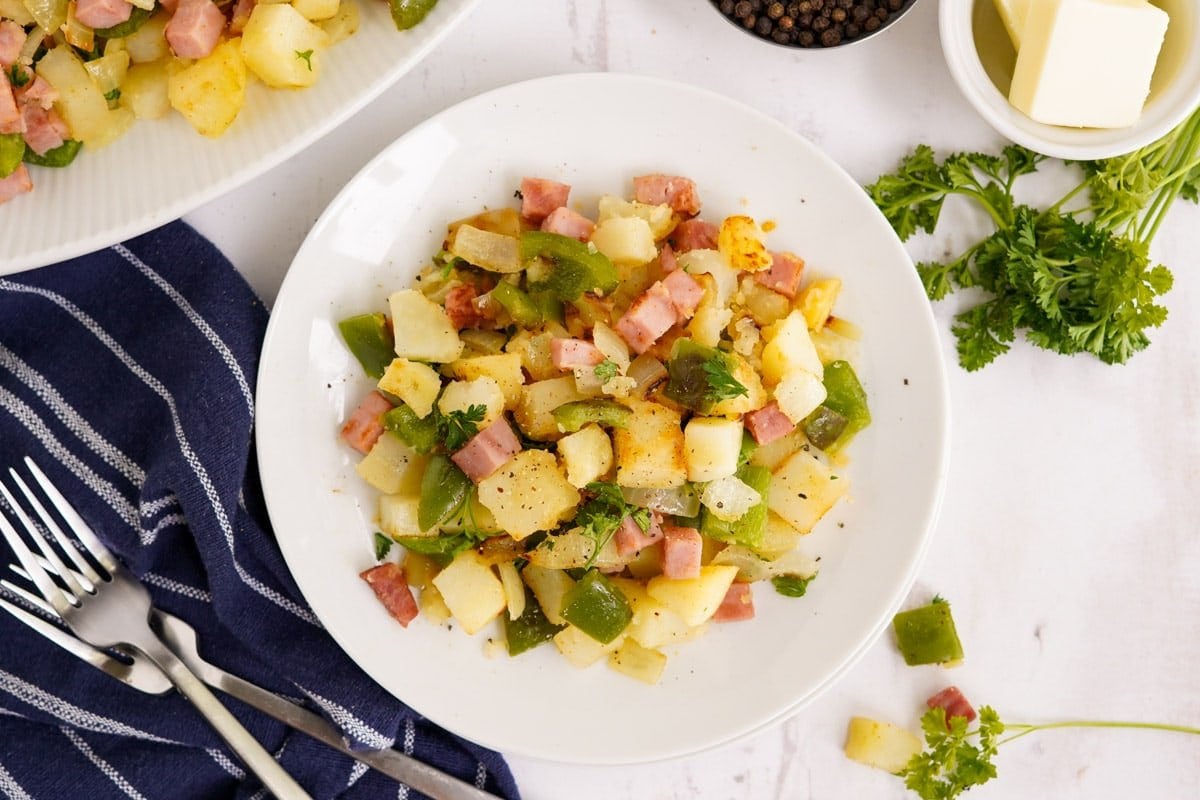 Main Ingredients for Ham Hash
Potatoes – this recipes calls for you to par-boil peeled and cubed russet potatoes before frying them. This will give the potatoes a head start and won't require a ton of oil to get them fully cooked. Be careful not to over-boil them – just a few minutes is all you need.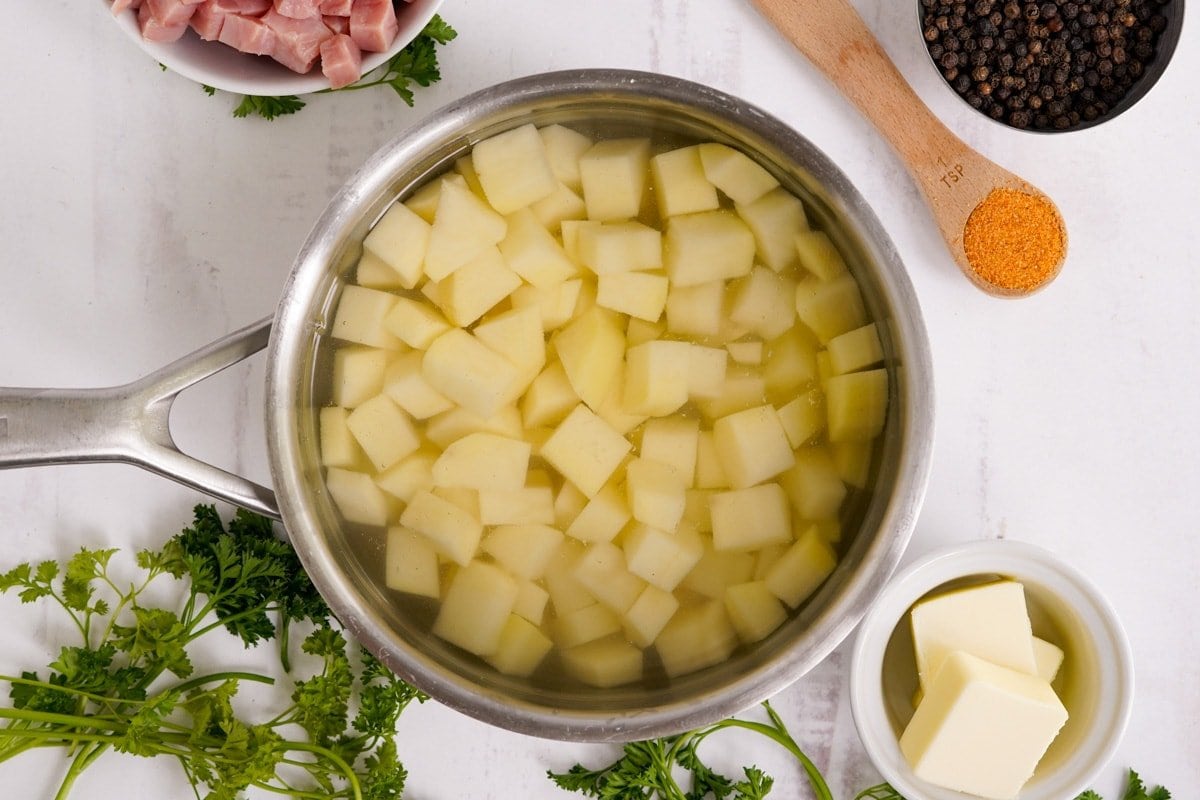 Vegetables – green bell pepper, onion. Any color of bell pepper can be used. Mushrooms, zucchini or broccoli would also be great.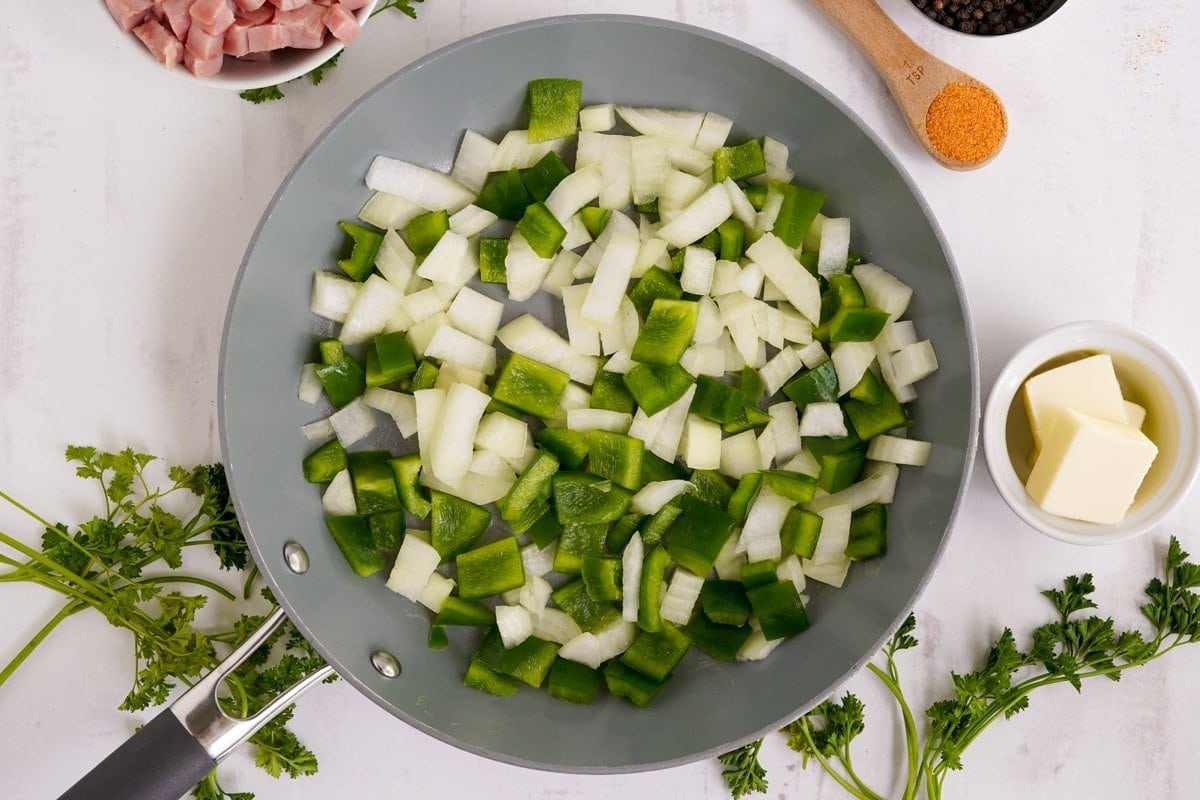 Cooked and cubed ham – this is where all those beautiful leftovers come in. If you don't have leftover, you can buy a package of ham steak at the grocery store.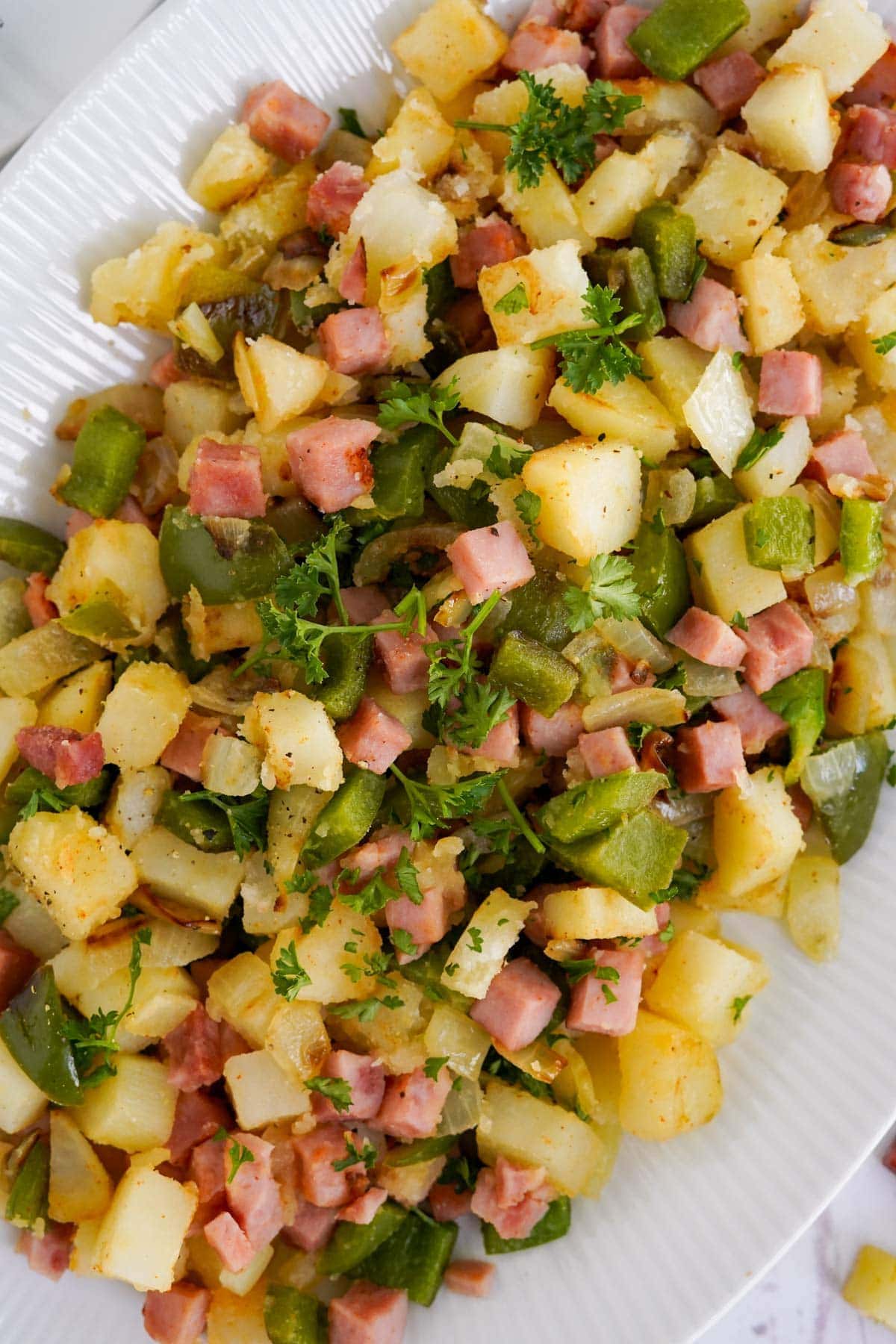 If you've made this recipe, please come back and leave us a star rating or a comment below. Or, tag us on social media @yellowblissroad or #yellowblissroad for a chance to be featured.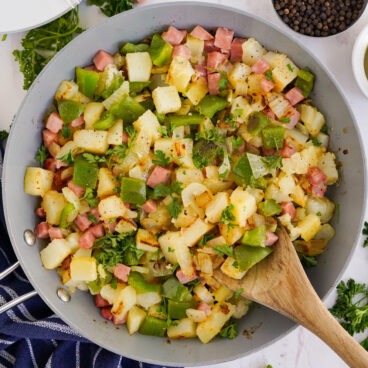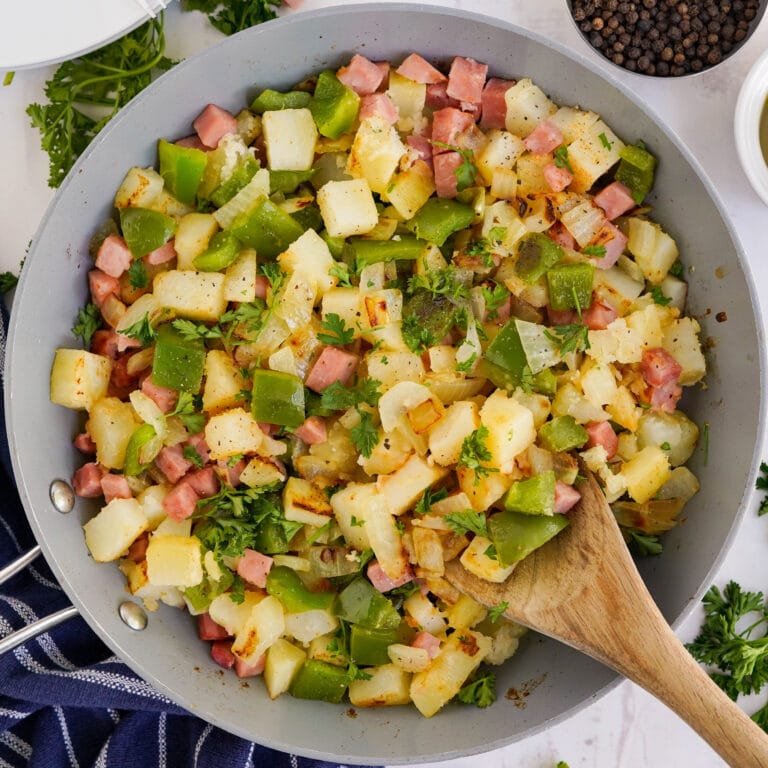 Ham Hash
Leftover ham is easy to store and easy to reheat. Whip up casseroles, sandwiches or a Potato and Ham Hash with these leftover ham recipes.
Ingredients
1 ½

pounds

russet potatoes

4

tablespoons

unsalted butter

divided

1

cup

green pepper

diced

1

cup

yellow onion

diced

1

cup

cooked cubed ham

1

teaspoon

seasoned salt

½

teaspoon

ground black pepper

Optional: fresh parsley for garnish
Instructions
Prepare potatoes by peeling and dicing into ½ inch cubes.

Boil potatoes for about 5 minutes or about half way cooked through.

Drain the potatoes thoroughly and set aside.

In a large skillet, melt 2 Tablespoons butter.

Cook the onion and pepper until tender, about three minutes.

Add the ham to the pan and cook until it begins to brown.

Add the potatoes to the skillet along with the seasoned salt, pepper and remaining two Tablespoons of butter.

Allow the butter to brown the potatoes before turning and toss until the ingredients are fully incorporated.
Notes
Do not over boil your potatoes, they will get smashed in the pan if you overcook them. Remove them from water right before you think they are done and they will finish cooking in the pan.
Save leftovers in an airtight container in the fridge for 2-3 days. Reheat on the stove in a skillet with a little butter or olive oil.
Nutrition
Calories:
289
kcal
Carbohydrates:
37
g
Protein:
10
g
Fat:
13
g
Saturated Fat:
7
g
Polyunsaturated Fat:
1
g
Monounsaturated Fat:
3
g
Trans Fat:
1
g
Cholesterol:
45
mg
Sodium:
966
mg
Potassium:
840
mg
Fiber:
4
g
Sugar:
4
g
Vitamin A:
492
IU
Vitamin C:
43
mg
Calcium:
40
mg
Iron:
2
mg