A savory, cheesy, and slightly sweet Croissant Breakfast Casserole made with ham, cheese, and eggs would be perfect for a weekend breakfast or brunch.
Add some fresh fruit or a green salad to make it a meal.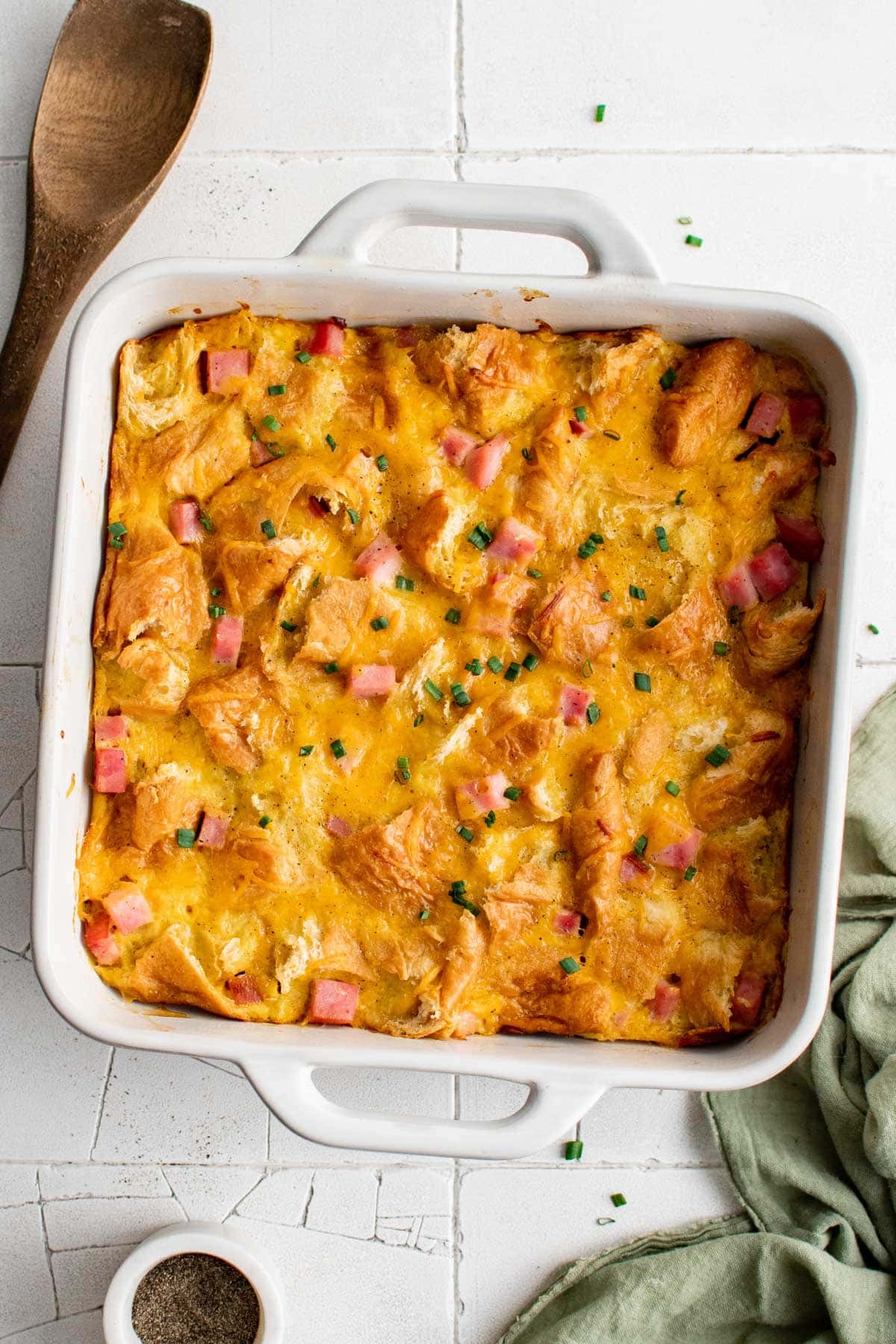 Pin this recipe for later!
Why I Love This Croissant Breakfast Casserole
It's unique – Most breakfast casseroles call for French bread or basic sandwich bread, but this one uses buttery, flaky croissants!
It's simple – No crazy ingredients or instructions. Just layer in a casserole dish!
Any meal of the day – You could definitely enjoy this for breakfast, but what about dinner? Breakfast for dinner is highly underrated.
I am not a huge fan of breakfast, but I do love a good breakfast casserole. Like when the eggs combine with the cheese and the meat and the bread or potatoes. Maybe that's why I have a thing for breakfast sandwiches.
How To Make a Croissant Breakfast Casserole
Prep. Grease a square baking dish.
Layer. Cut up a bunch of croissants into bite-sized pieces and layer half of them in the dish. Add chopped ham, shredded cheddar, and more croissant pieces.
Mix custard. Whisk together eggs, milk, honey, mustard, salt, pepper, and nutmeg. Pour over the croissants, making sure each piece is moistened with the egg mixture.
Cover and refrigerate. Cover the pan with foil and refrigerate overnight.
Bake. Preheat the oven to 325°F, uncover the casserole and bake (covered) for 35 minutes, then uncover and bake for an additional 25 minutes.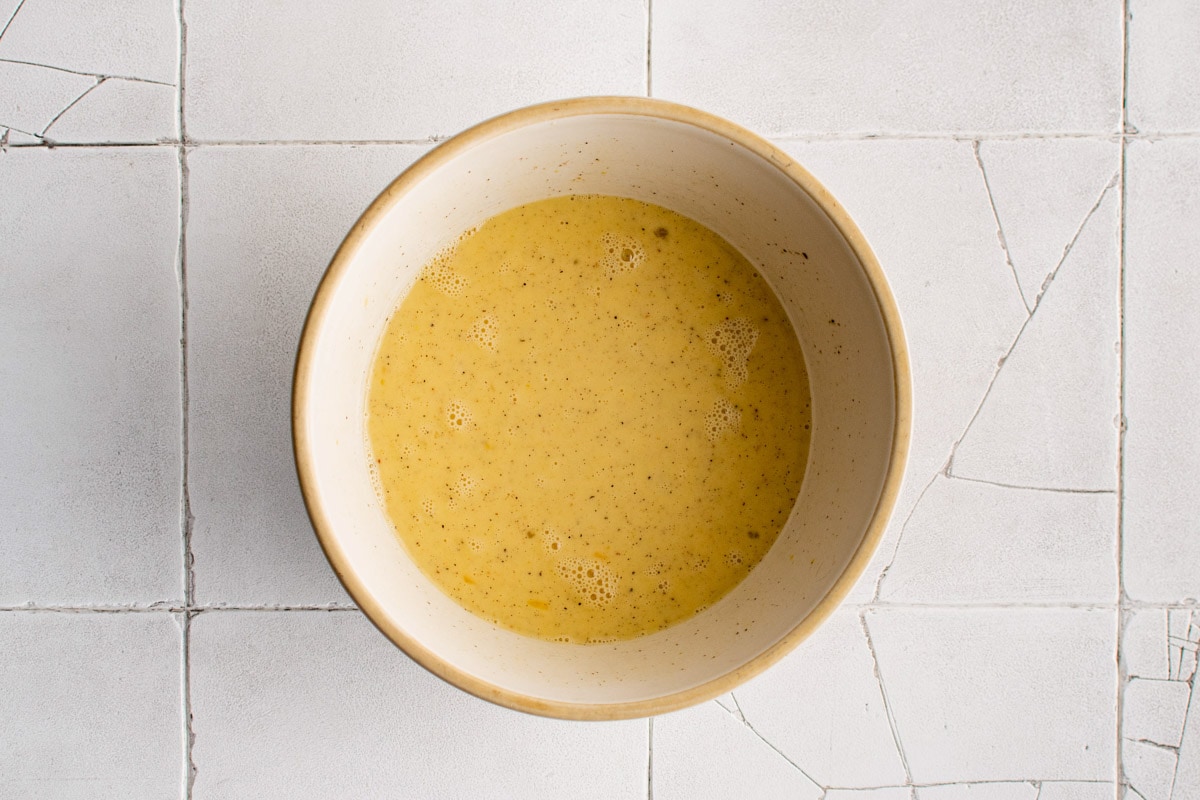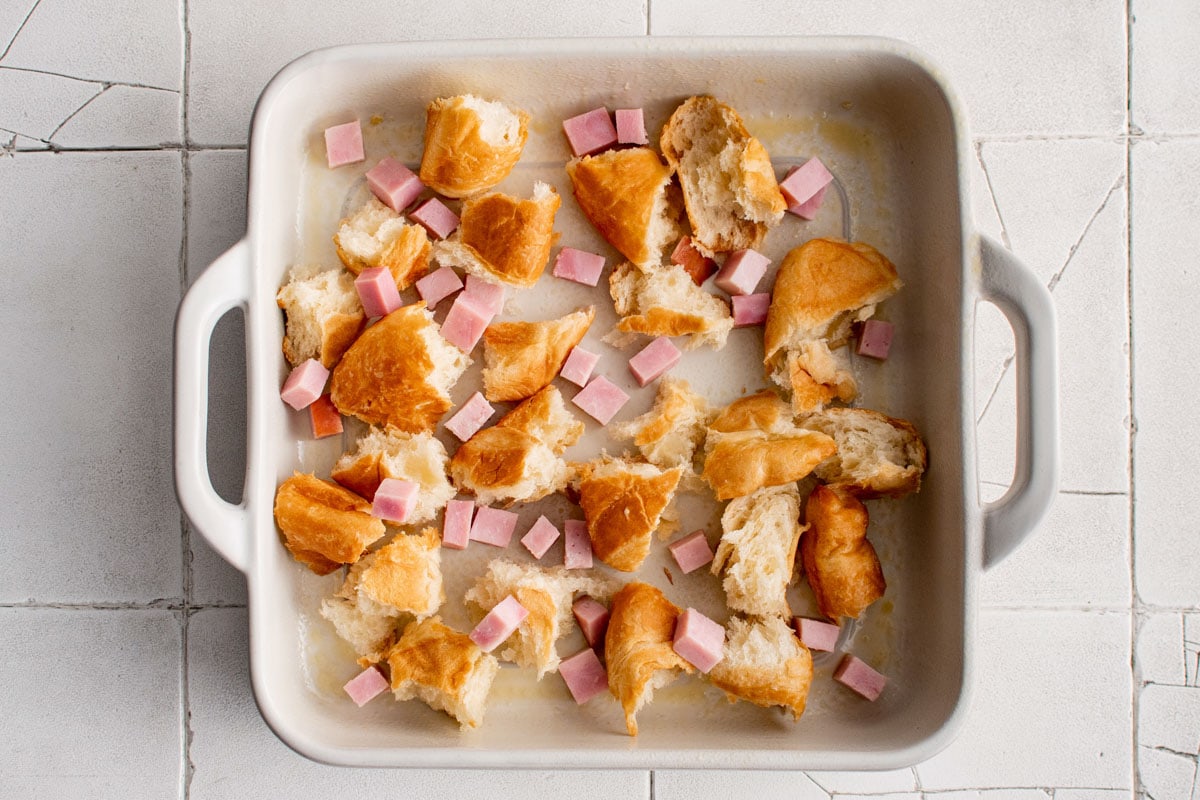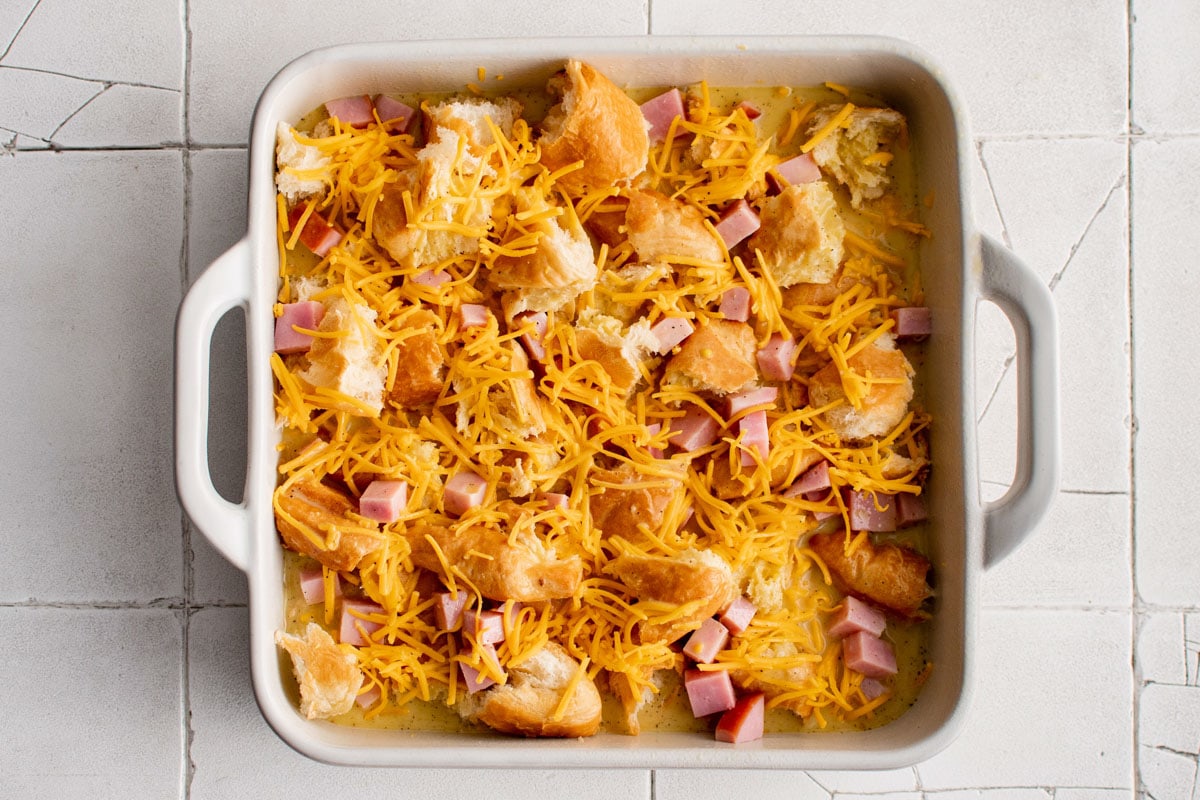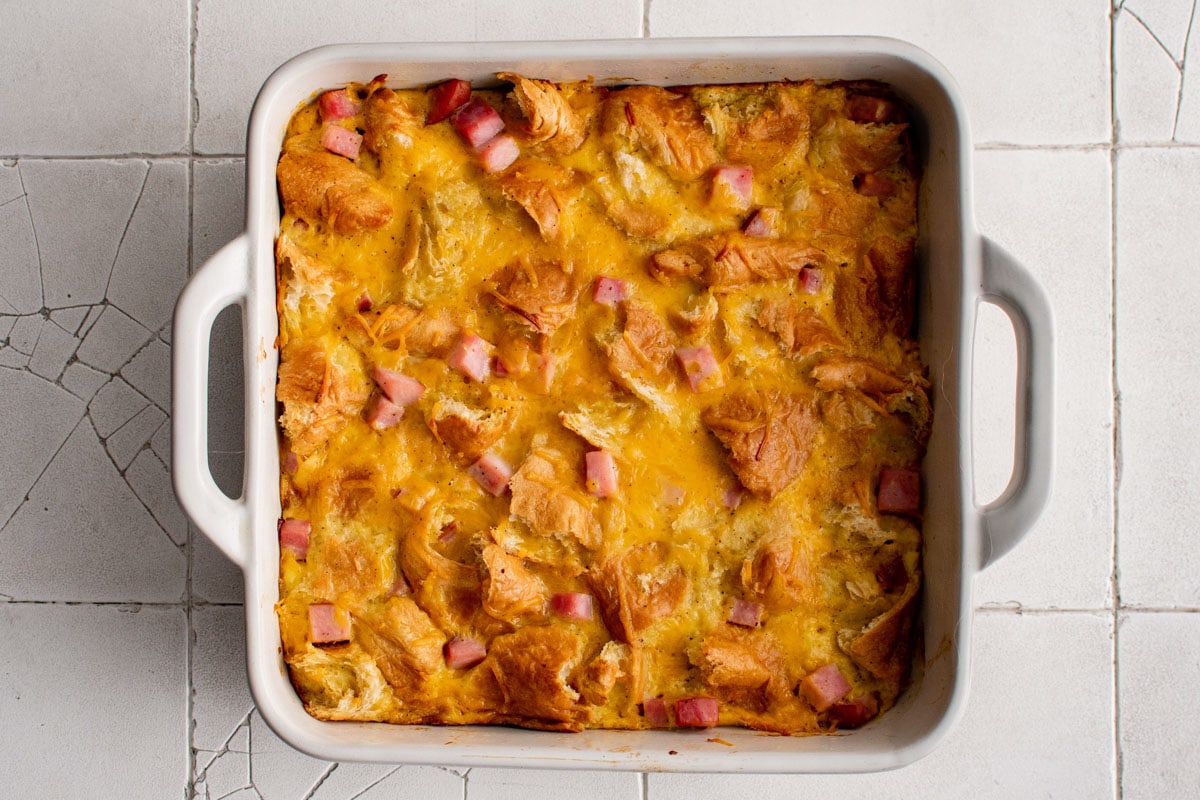 FAQs
Should the croissants be stale?
Using slightly stale croissants can actually work well for a breakfast casserole. The texture of the croissants will soften and absorb the egg mixture, resulting in a moist and flavorful dish. If your croissants are fresh, you can also lightly toast them before tearing them into pieces to help dry them out slightly.
Can I prepare the breakfast casserole in advance?
Yes, you can prepare a breakfast casserole in advance. You can assemble the casserole the night before, cover it with plastic wrap or foil, and refrigerate it overnight. The next morning, simply remove the cover and bake it according to the recipe instructions. This is a great option if you want to save time in the morning or if you're hosting a brunch and want to prepare ahead.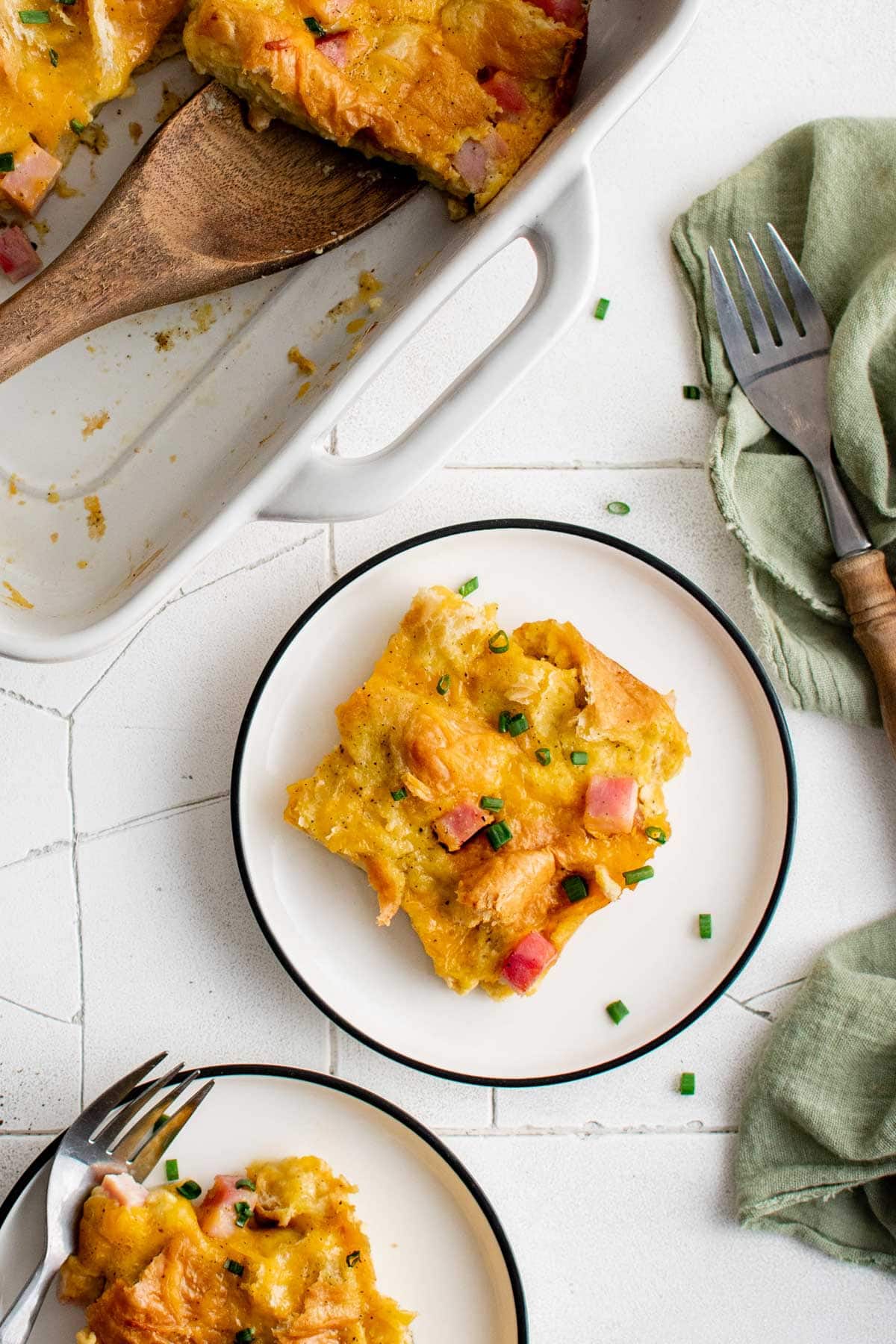 Variations
Ham and cheese not your thing? Try one of these combinations instead:
Spinach and feta
Sausage and cheddar
Ham and Swiss
Veggie and goat cheese
Bacon, egg, and cheese
Helpful Tips
Prep ahead: If you want to save time in the morning, prepare the casserole the night before. Assemble the casserole, cover it, and refrigerate overnight. This allows the flavors to meld together and makes for easy baking the next morning.
Use quality ingredients: Use fresh and high-quality ingredients for the best results. Fresh vegetables, quality meats, and flavorful cheeses can enhance the taste of your casserole.
Don't forget seasonings: Season your egg mixture generously with salt, pepper, and any other desired herbs or spices to add flavor. Consider using herbs like parsley, chives, or dill for a fresh taste.
Allow for proper soaking time: After pouring the egg mixture over the bread or croissant pieces, give it some time to soak. Press down gently to ensure all the pieces are fully coated. This will help the bread absorb the flavors and ensure even distribution of ingredients.
Customize to your taste: Feel free to customize the casserole based on your preferences. You can add or substitute ingredients according to your liking. Be creative with different cheeses, vegetables, or meats to suit your taste buds.
Bake at the right temperature and time: Follow the recipe instructions for baking time and temperature. Cooking times may vary depending on the size and depth of the casserole. Keep an eye on it while baking to prevent overcooking or burning.
Let it rest before serving: Once the casserole is cooked, allow it to rest for a few minutes before serving. This will help the casserole set and make it easier to cut into neat portions.
Serve with garnishes: Before serving, consider adding some garnishes for extra flavor and presentation. Fresh herbs, grated cheese, or a sprinkle of paprika can add a finishing touch to your breakfast casserole.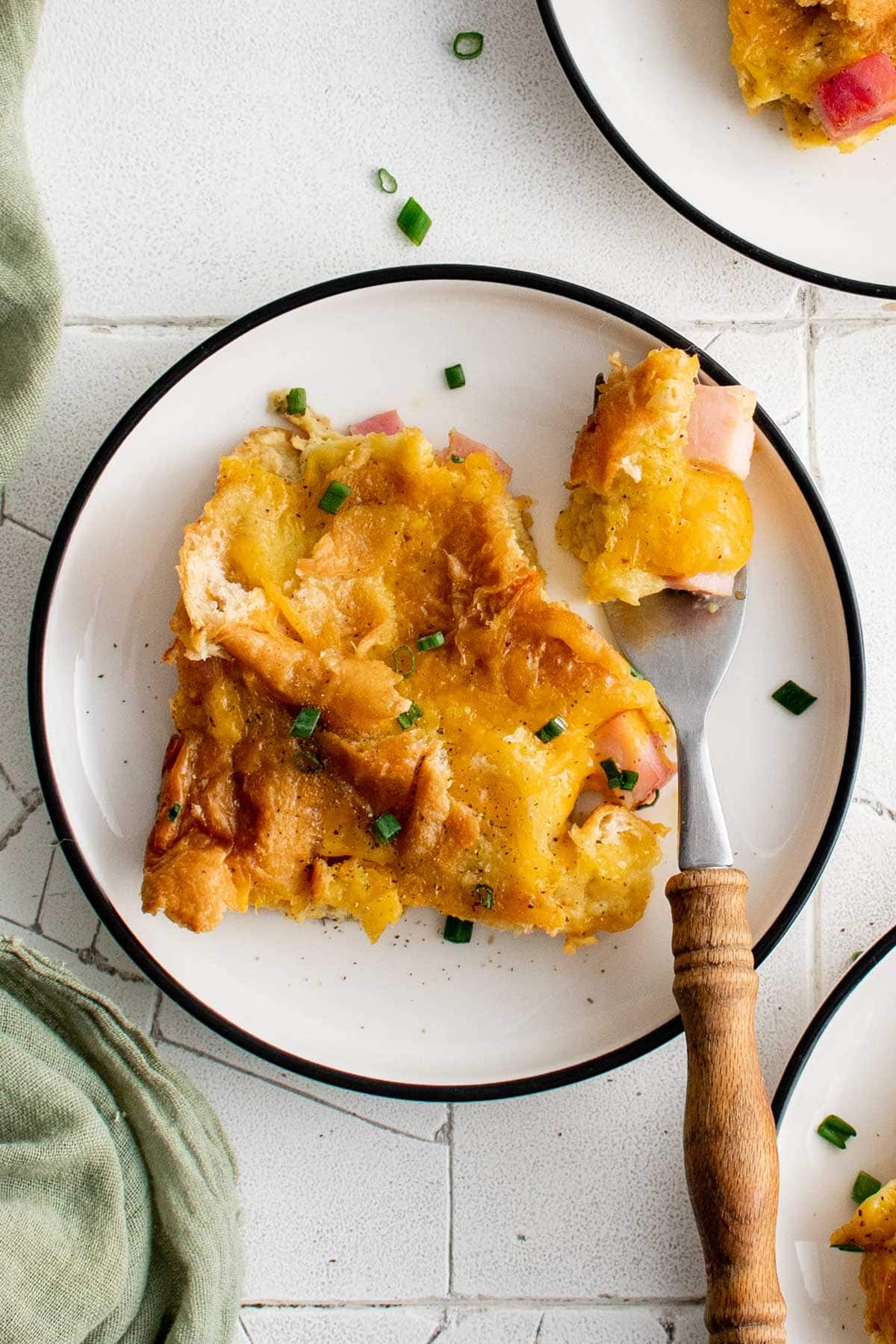 More Breakfast Casseroles
Recipe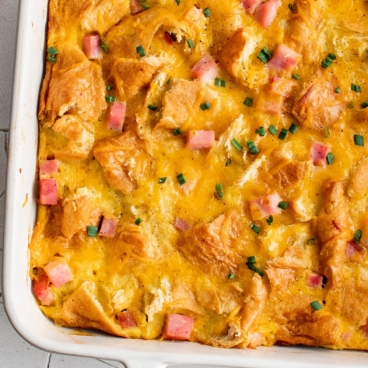 Ham and Cheese Croissant Breakfast Casserole
Savory, cheesy and slightly sweet, this Ham and Cheese Croissant Breakfast Casserole would be perfect for a weekend breakfast or even brunch.
Ingredients
3

large croissants or 6 small

torn into 1 inch pieces

1

cup

diced

cooked ham

1 1/4

cups

shredded Cheddar cheese

5

eggs

1

cup

milk

2

tablespoons

honey

1

tablespoon

ground mustard

1/2

teaspoon

salt

1/2

teaspoon

pepper

1/4

teaspoon

ground nutmeg

if desired
Instructions
Spray an 8-9 inch baking dish with cooking spray.

Arrange half of the croissant pieces in the baking dish. Sprinkle with half of the ham and cheese. Repeat with the remaining croissant pieces and ham and cheese.

In large bowl, whisk together eggs, milk, honey, mustard, salt, pepper and nutmeg.

Pour egg mixture over ingredients in baking dish; pressing croissant pieces into egg mixture to moisten completely. Cover tightly with foil; refrigerate at least 8 hours but no longer than 24 hours.

Heat oven to 325°F. Bake casserole covered 35 minutes. Uncover; bake 25 to 30 minutes longer or until knife inserted in center comes out clean. Let stand 10 minutes before serving.
Notes
No croissants? Use challah or Hawaiian rolls.
Nutrition
Calories:
278
kcal
Carbohydrates:
16
g
Protein:
16
g
Fat:
17
g
Saturated Fat:
8
g
Polyunsaturated Fat:
1
g
Monounsaturated Fat:
4
g
Trans Fat:
1
g
Cholesterol:
184
mg
Sodium:
717
mg
Potassium:
161
mg
Fiber:
1
g
Sugar:
10
g
Vitamin A:
605
IU
Vitamin C:
1
mg
Calcium:
247
mg
Iron:
1
mg
For all breakfast recipe go HERE and for all recipes go HERE.