Drizzled with maple syrup and a side of bacon this Creamy Blueberry Baked French Toast is probably the best breakfast dish…pretty much ever!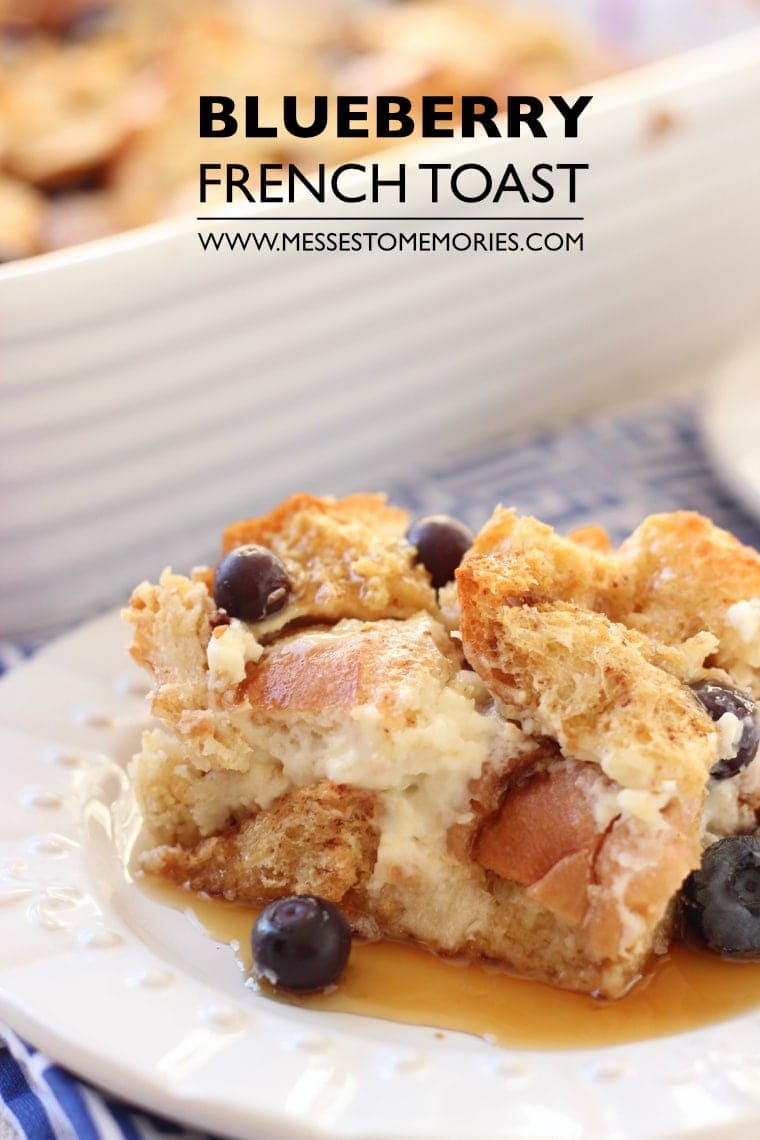 Let me tell you about the time I was making this scrumptious Blueberry French Toast dish for dinner. Yeah…we have breakfast for dinner often, don't you? We had company coming over and my oven sparked and then set on fire! Yikes! After that the oven was toast so I was left in a lurch.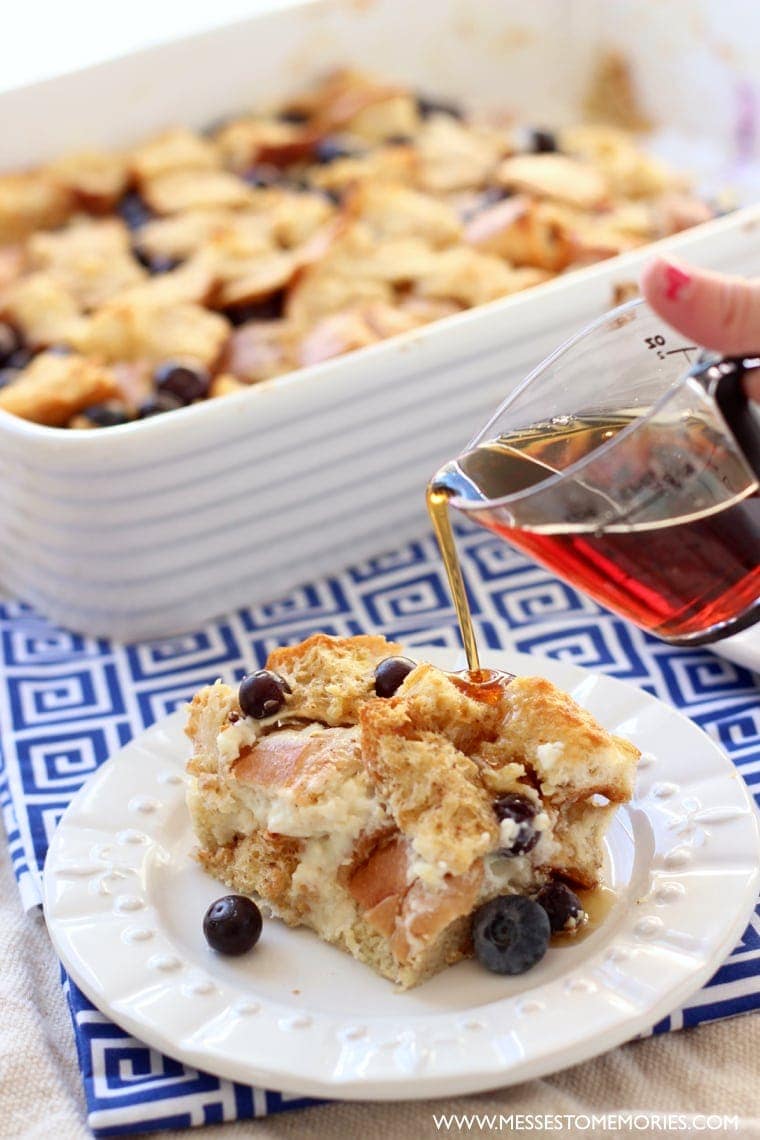 True story! Thank heavens for good friends who let you take over their kitchen for an hour…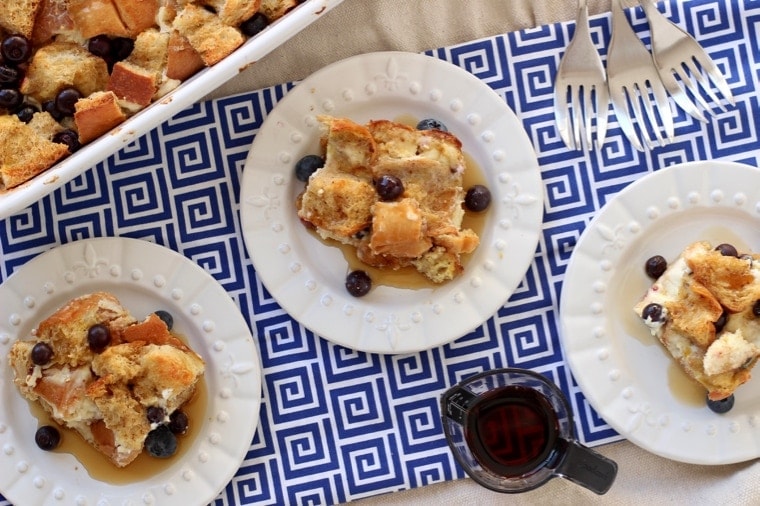 Don't worry!!! Everything turned out okay. This bake is resilient. After dinner my husband turned to me and said that is seriously the best french toast I've ever had. Wow! That is a pretty BIG compliment! It totally made my day, and after the fire and all I needed a little boost.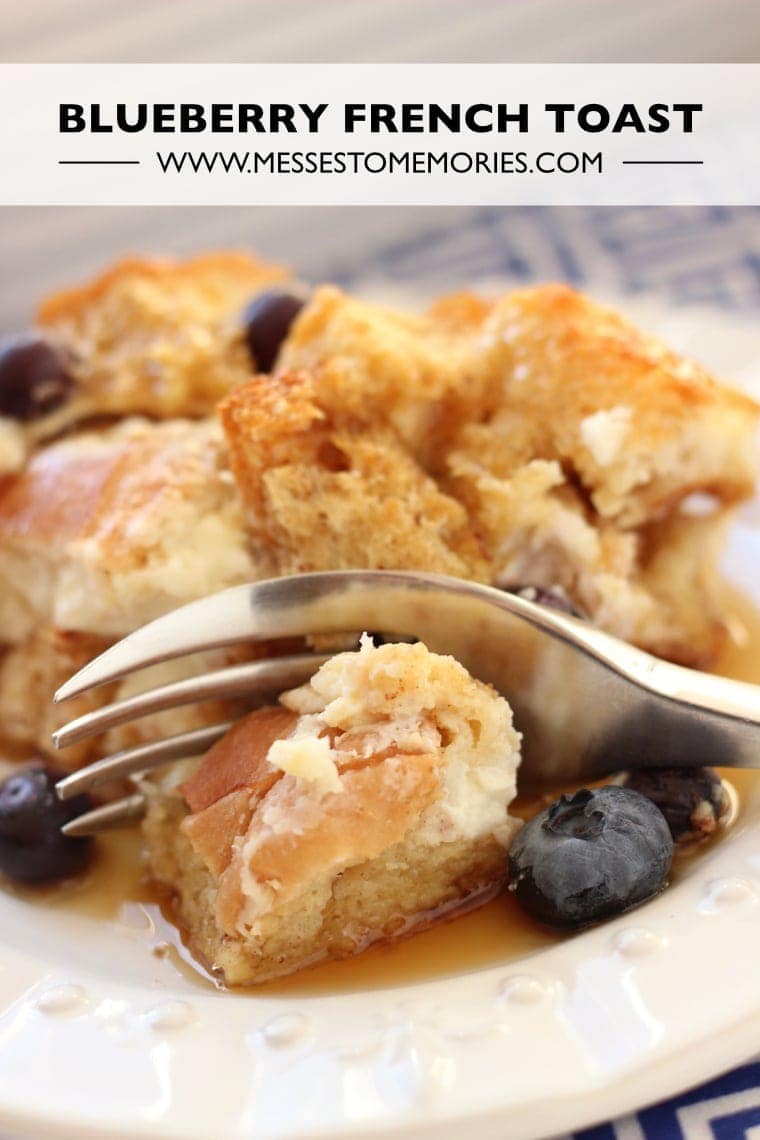 I love the creamy texture and the slight sweetness of this french toast. It is definitely dessert for breakfast, but its not the over the top sweet kind. The creaminess and the tartness of the blueberries and lemons provides the perfect balance of flavors.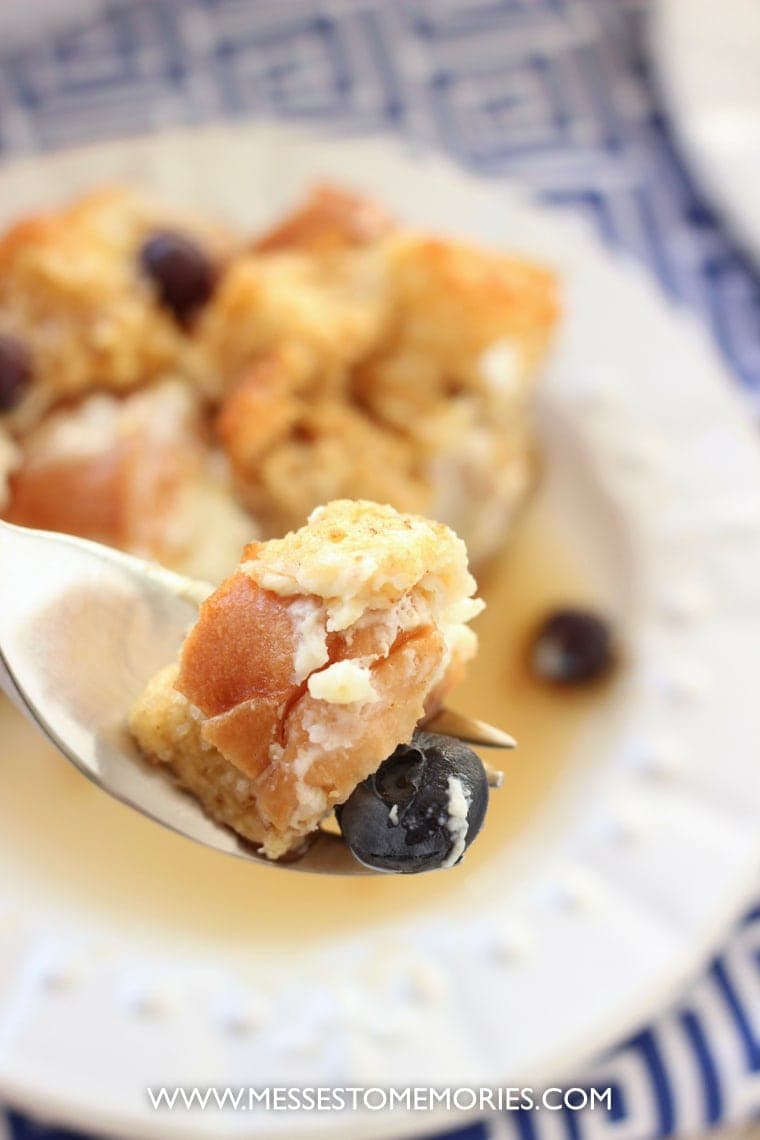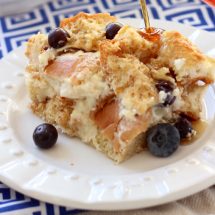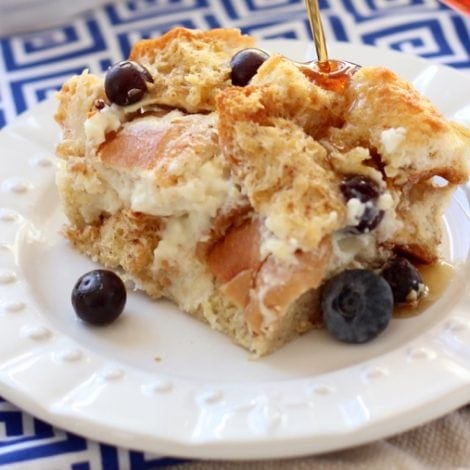 Creamy Blueberry French Toast Bake
Creamy Blueberry French Toast Bake is probably the best breakfast dish... pretty much ever! Add a side of bacon and you'll be wowed!
Print
Pin
Rate
Servings: 16
Ingredients
1 loaf of French bread cubed
8 oz cream cheese
1/2 cup powdered sugar
2 tbsp lemon juice + a dash of lemon juice
1 tsp lemon peel + 1 tsp lemon peel
1 cup fresh blueberries
8 eggs
1 cup milk
1/2 cup maple syrup
1 tbsp vanilla
1 tsp salt
Instructions
Butter a 9x13 dish and arrange half of the bread cubes in the bottom.

Make the cream cheese mixture by beating the cream cheese, powdered sugar, lemon juice and 1 tsp lemon peel. Spoon it on to the bread cubes and spread it out to cover the bread. Top with blueberries and then add the rest of the bread cubes.

Mix together the eggs, milk, maple syrup, salt, vanilla, another dash of lemon juice and a tsp of lemon peel. Whisk it well! Pour the mixture over the bread cubes and press it all down to make sure that everything gets soaked.

Cover and stick in the refrigerator overnight or for at least 4 hours. When you are ready to bake, pull it out and let it warm up while the oven preheats to 350. Bake for 45 minutes or until the bread is all puffy, golden and crispy. My oven is really hot so it cooks quickly, check to make sure the middle is cooked well!
I love that this can be prepped the night before and then just tossed in the oven in the morning! So easy!!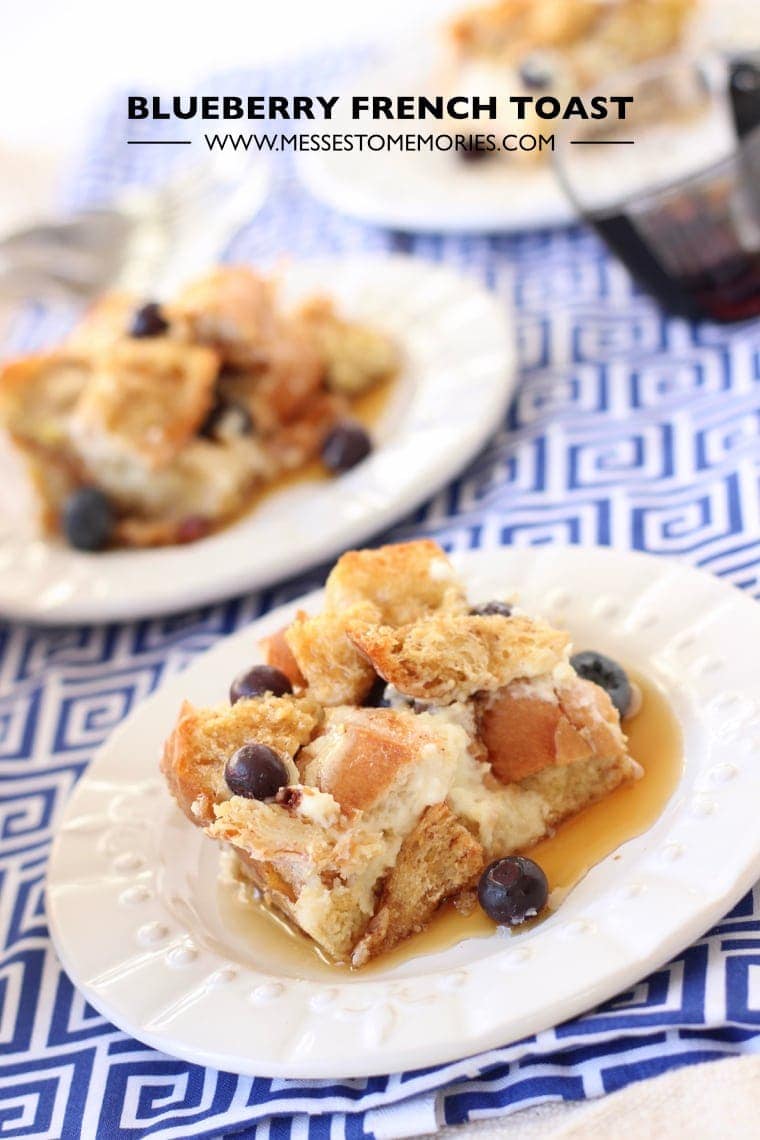 This is definitely on our list of favorite breakfasts… we also love waffles, smoothies and muffins! Mmm. It's easy to say that breakfast might be our favorite meal.
Feel free to come check out all of our fun ideas on Messes to Memories!
For more breakfast and brunch recipes, try these: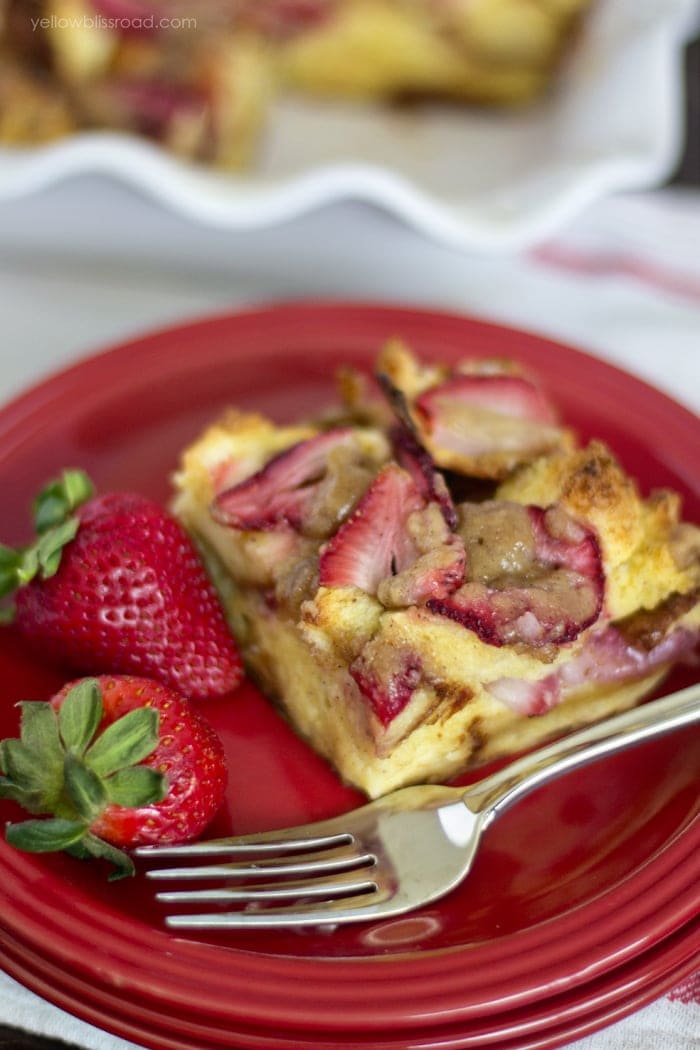 Cream Cheese Stuffed French Toast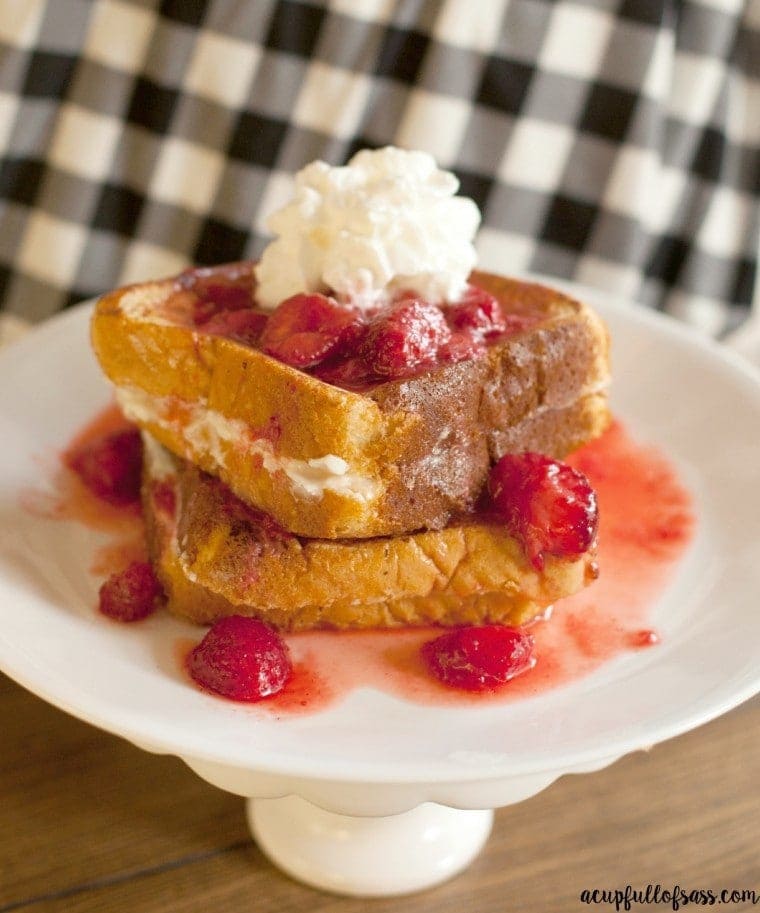 French Toast Cinnamon Pull-Apart Muffins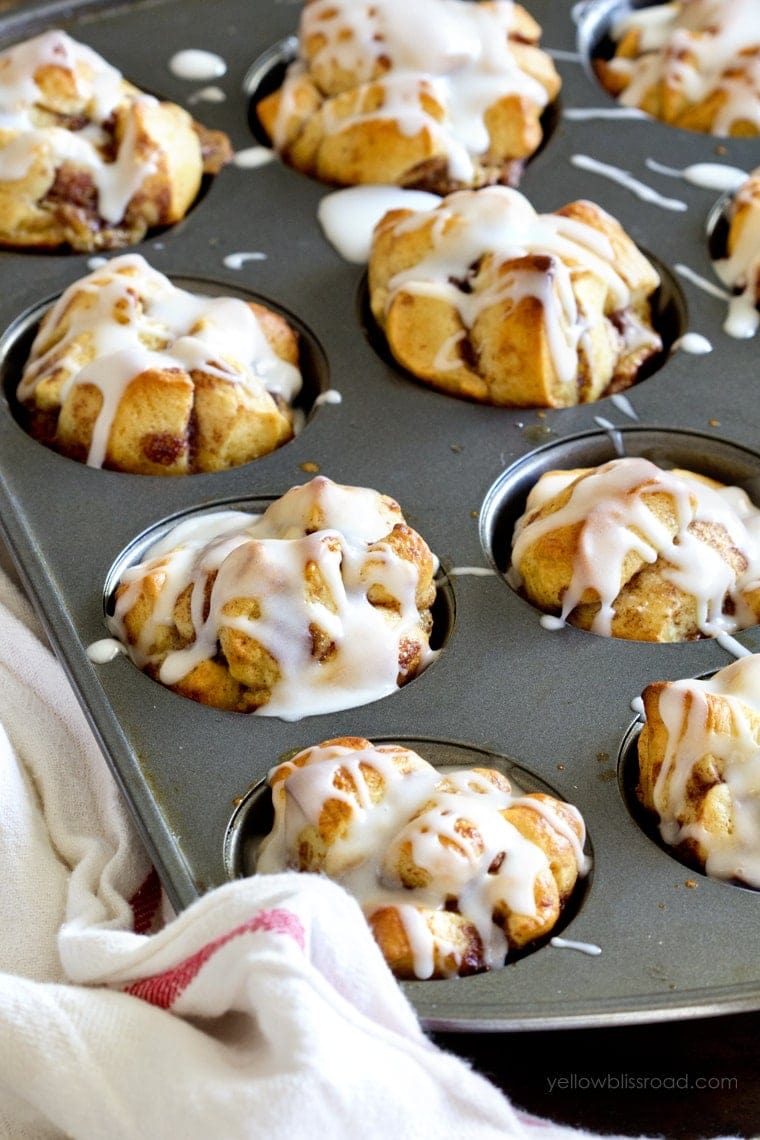 For all breakfast recipes, go HERE and for all recipes, go HERE.