A rich and creamy Swiss Cheese sauce coats tender chunks of chicken, ham and pasta, with a crispy breadcrumb topping. The best part is it all cooks together in one pan for easy clean up, and you can have it on the table in under 30 minutes.
Our family loves one pan meals. There's nothing more satisfying than having just one pan to wash after dinner. Between homework and baths and story time, I'd much rather be participating in those things than standing in front of a sink full of dishes or slaving over a stove for an hour.

MY LATEST VIDEOS
Start by heating some olive oil in a 12″, oven-safe skillet, then add garlic and diced chicken breast. You're just searing the chicken, not cooking it all the way through.
Next you'll add the cooked and diced ham, dry pasta, water, garlic powder, onion powder, dry mustard, salt and pepper. Stir it up to combine the flavors and bring it to a boil.
The type of pasta isn't important, as long as it's small. I love the way cheeses cling to the Rotini (spiral noodles), so that's usually my pasta of choice for one pan meals.
Once the water is boiling, cover the pan and reduce the heat to low. Set your timer for 20 minutes and walk away. See? I told you it was easy!
Now comes the fun part – the CHEESE! Cheese makes everything better, right? There will be liquid left in the pan but that's ok – you need that to help make the sauce. If you're a garlic lover like me, you can add another teaspoon of minced garlic here, but it's optional. Toss some sliced or shredded Swiss Cheese in the pan and stir it up really well until all the cheese is melted. Sprinkle breadcrumbs on top and place the pan under the broiler for about five minutes.
One Pan Chicken Cordon Bleu
Ingredients
1 tablespoon olive oil
2 teaspoons minced garlic
2 chicken breasts, cut into 1 inch chunks
1 cup of diced cooked ham (like from a ham steak)
2 1/2 cups small, dry pasta (like Rotini)
3 cups water
1 teaspoon garlic powder
1/2 teaspoon onion powder
1/2 teaspoon dry mustard
1/2 teaspoon salt
1/4 teaspoon pepper
8 ounces Swiss Cheese, sliced or shredded
1/4 cup breadcrumbs
1 tablespoon melted butter
2 teaspoons dried parsley
Instructions
Heat olive oil over medium heat in a 12" skillet. Add garlic and cook for about 30 seconds, then add the chicken. Saute for a couple of minutes just until browned, but not cooked through.
Add diced ham, pasta, water, salt and pepper, and garlic, onion and mustard powder. Stir to combine and bring to a boil. Reduce heat to low, cover and simmer for 20 minutes.
Remove pan from heat (there will still be liquid in the pan) and add Swiss cheese, stirring until completely melted.
Combine breadcrumbs, 1 tablespoon butter and parsley. Top pasta with breadcrumb mixture and place under the broiler for about five minutes or until golden brown, careful not to let it burn.
Serve immediately.
Notes
For a crispier breadcrumb topping, stir breadcrumbs into a few tablespoons of melted butter before sprinkling on top of the pasta.
 For more delicious one pan meals, try these: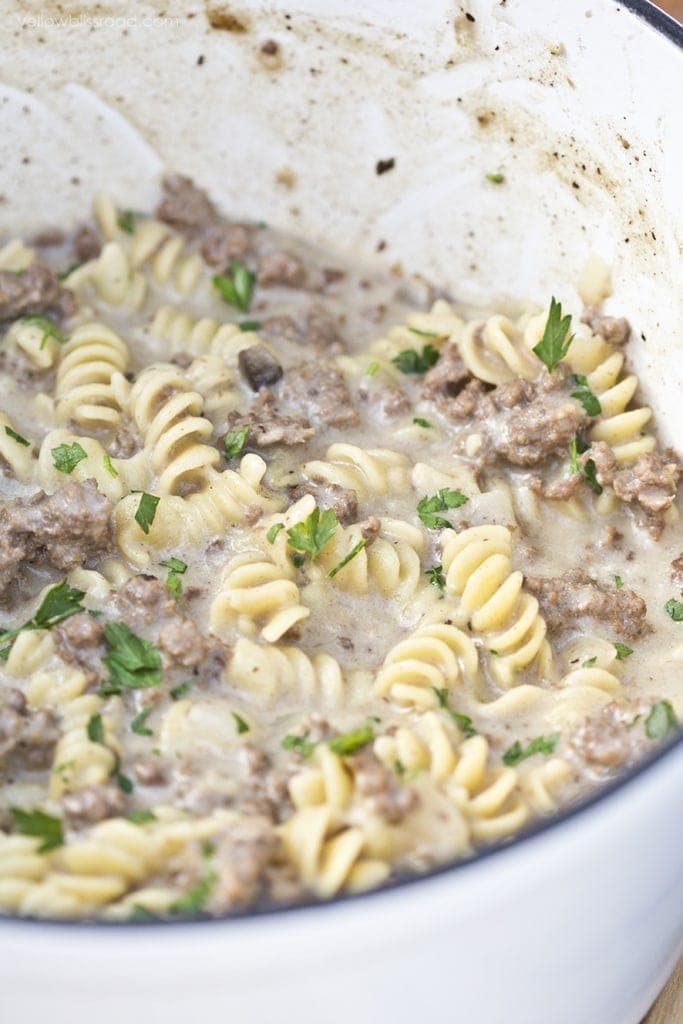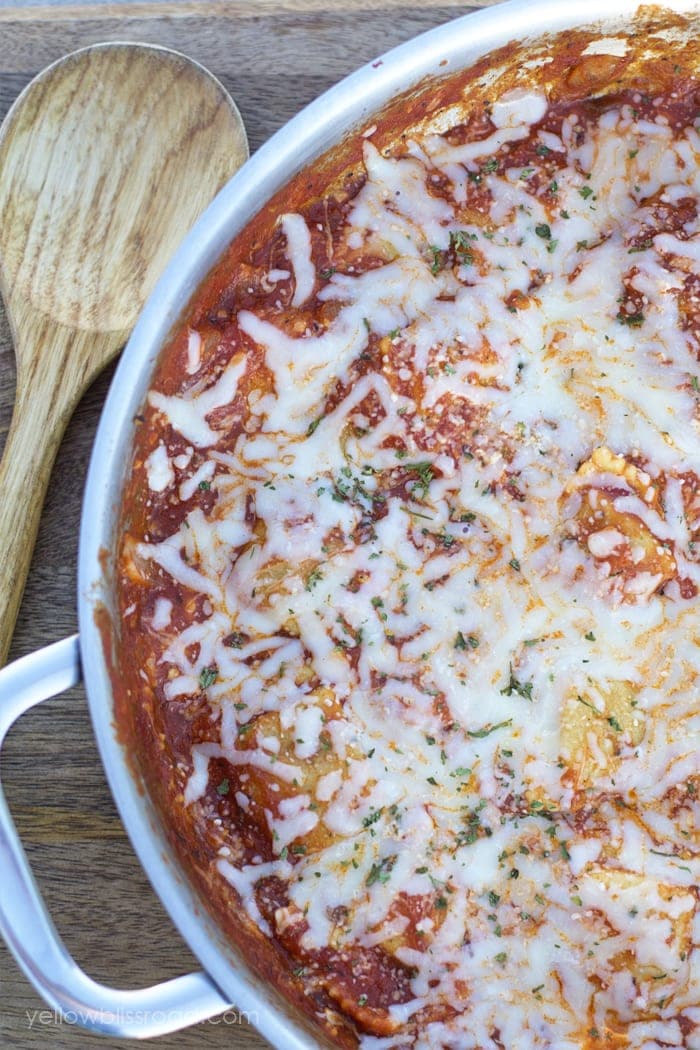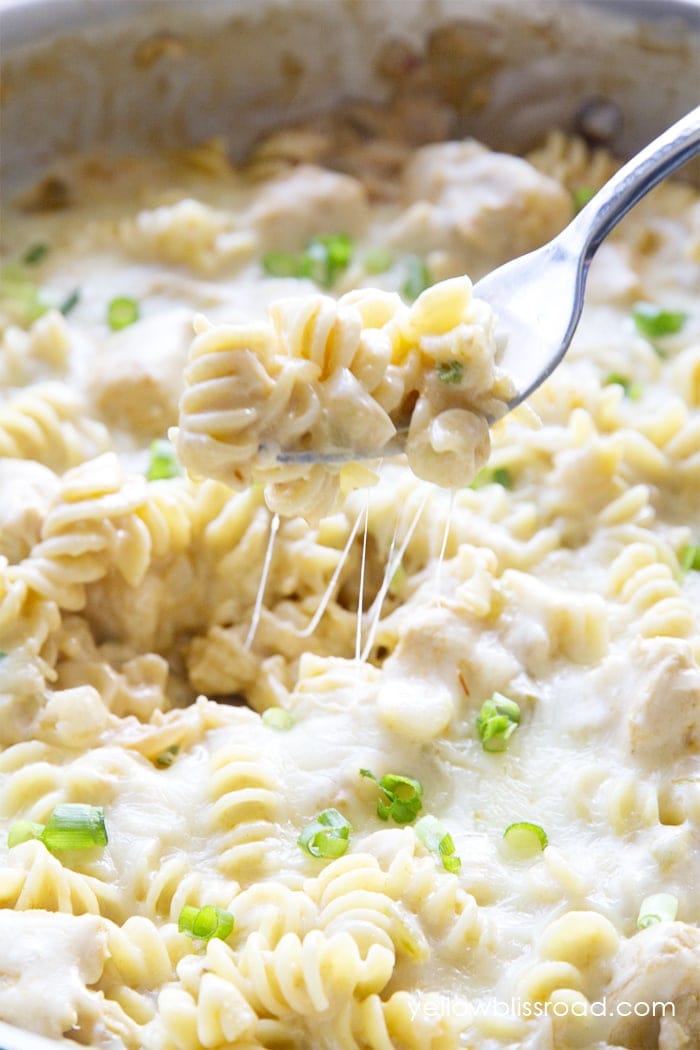 One Pan Green Chile Chicken Enchilada Pasta
For all one pan meals go HERE and for all recipes go HERE.