Air Fryer Turkey Breast cooks in about an hour and comes out tender and juicy every time. Roasting a turkey breast in the air fryer keeps your oven free for cooking the sides or keeps it off so you can have turkey year round, even during the hot summer months.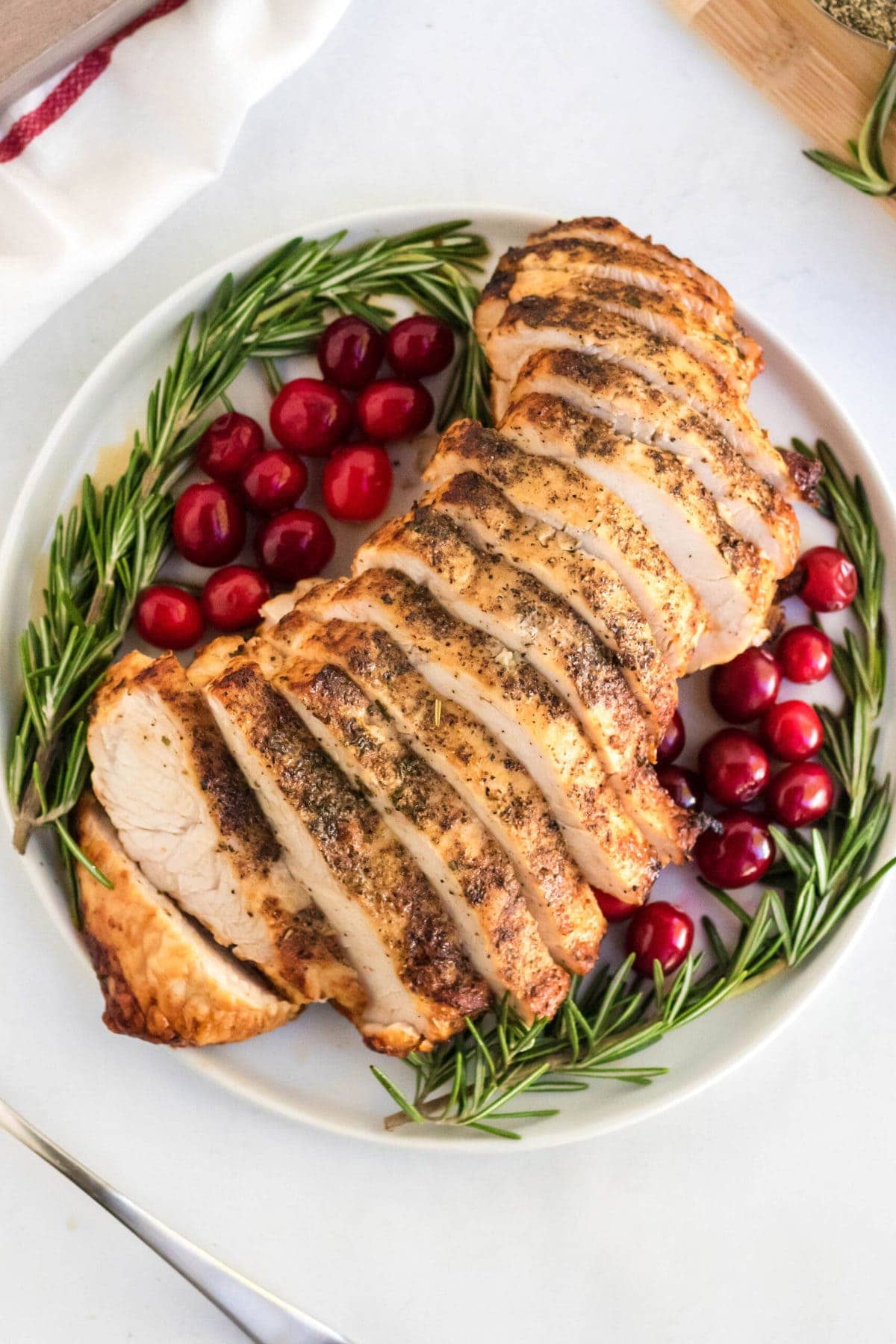 If you need a little extra meat for your Thanksgiving dinner, or are just craving turkey on a Thursday, this air fryer turkey breast recipe is the answer!
Most grocery stores sell turkey breast year round, not just at the holidays, and if not fresh, then frozen. If you're having a smaller Thanksgiving this year, it's great for feeding just a few people. It's also the perfect size for a week's worth of sandwiches or for adding a few people to the holiday dinner table without having to cook a second turkey.
There are tons of great sides to serve with it any time of the year, but some of our favorites are Cheesy Mashed Potatoes and Cranberry Orange Sauce.
Cooking in the air fryer is a great way to get some flavorful juicy turkey meat without heating up your kitchen or while keeping your oven free for mom's Sweet Potato Casserole!
Pin this recipe for later!
Why Use an Air Fryer?
There are a lot of benefits to using an air fryer for everyday cooking, but especially around the holidays. When you cook an air fryer turkey breast:
You free up oven space: Save the oven for larger casserole dishes that can all cook at the same time, like mom's Sweet Potato Casserole and Green Bean Casserole.
Faster and more even cooking: Hot air circulates around all sides of the turkey breast, allowing it to cook faster and more evenly than a traditional oven roast.
It's healthier: Use a skinless turkey and you've got a much healthier bird with a fraction of the fat of regular Thanksgiving turkey. And you still get incredibly tender, juicy meat.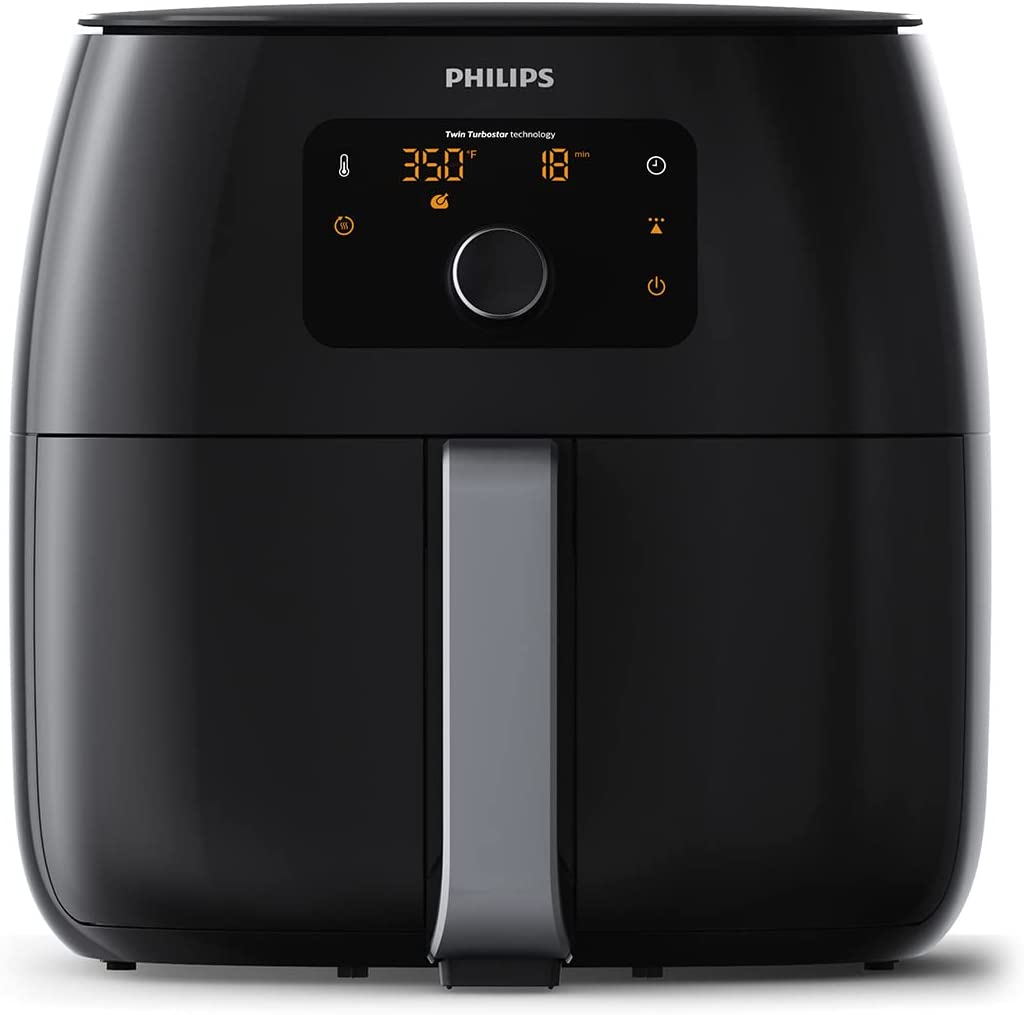 My Favorite Air Fryer
The Phillips XXL Air Fryer is large enough to cook a whole turkey breast, 4 chicken breasts, a few steaks, or a big bag of Tater Tots. It's easy to use and easy to clean. In my opinion, it's the best air fryer and the one I always recommend.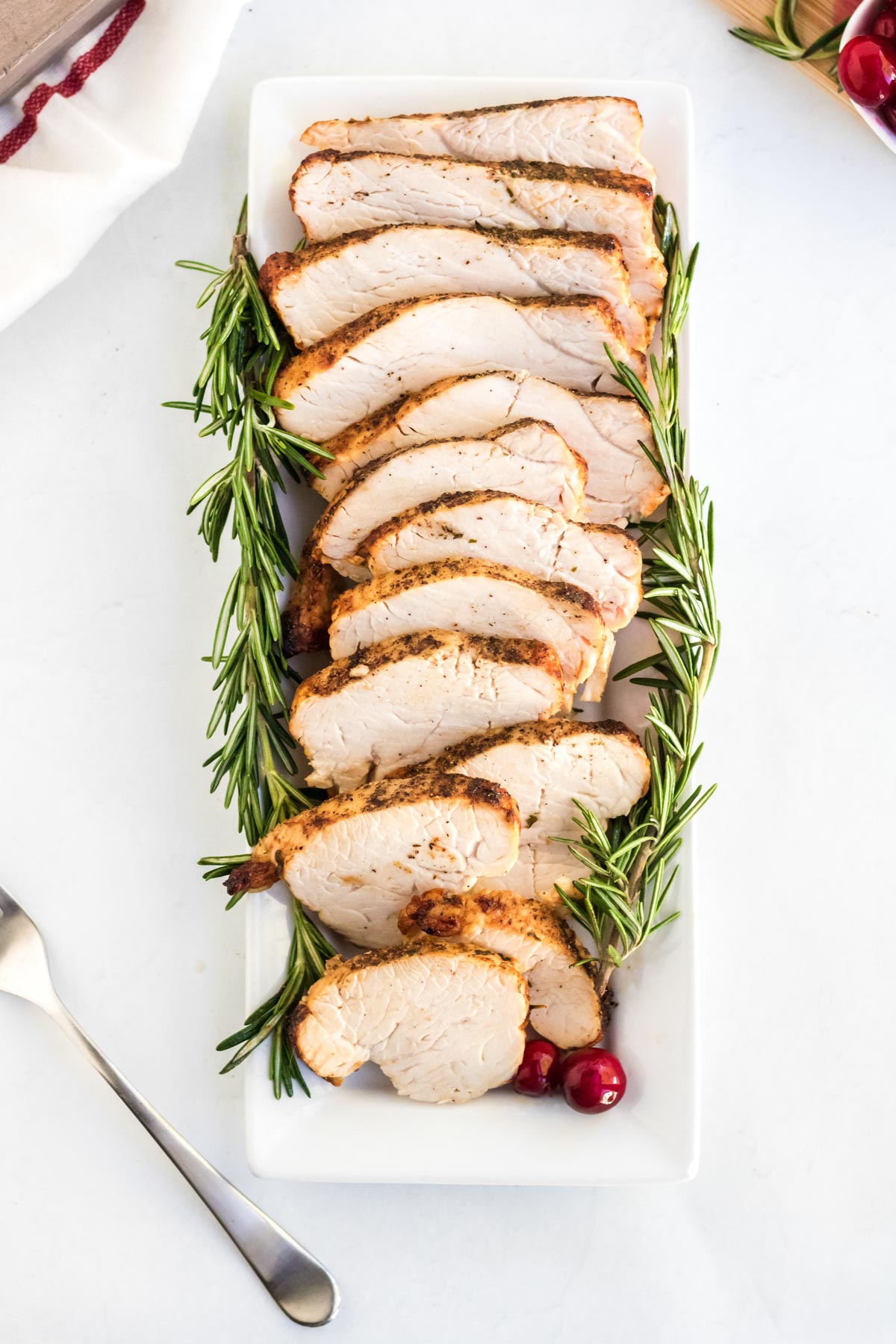 Ingredients for Air Fryer Turkey Breast
Turkey Breast – I prefer boneless turkey breast for air frying, because it fits much better in the basket. If you want a crispy skin, try to find a boneless turkey breast with the skin on.
Olive Oil
Spice Rub – Salt, garlic powder, rosemary, paprika, and black pepper. Feel free to add additional herbs and flavors that you love, like thyme, sage, poultry seasoning or lemon. Fresh herbs work, too.
How To Cook a Turkey Breast in an Air Fryer
This easy recipe makes the best, juiciest and most flavorful turkey breast. I was surprised by how much juicier the meat was compared to cooking it in the oven! There are 3 simple steps and your entree is done in less than an hour.
Be sure to scroll down to the recipe card below to view the complete list of ingredients and full instructions.
Season. Rub olive oil all over the turkey this helps to keep it juicy and moist and also helps the seasonings stick. Rub in some salt and pepper, garlic powder, rosemary and paprika.
Air fry. Preheat your air fryer if it needs it and roast for 20 minutes on each side, or until the internal temp is 160 degrees.
Rest. Transfer the turkey breast to a cutting board and tent loosely with foil. Let it rest for 10-15 minutes before carving.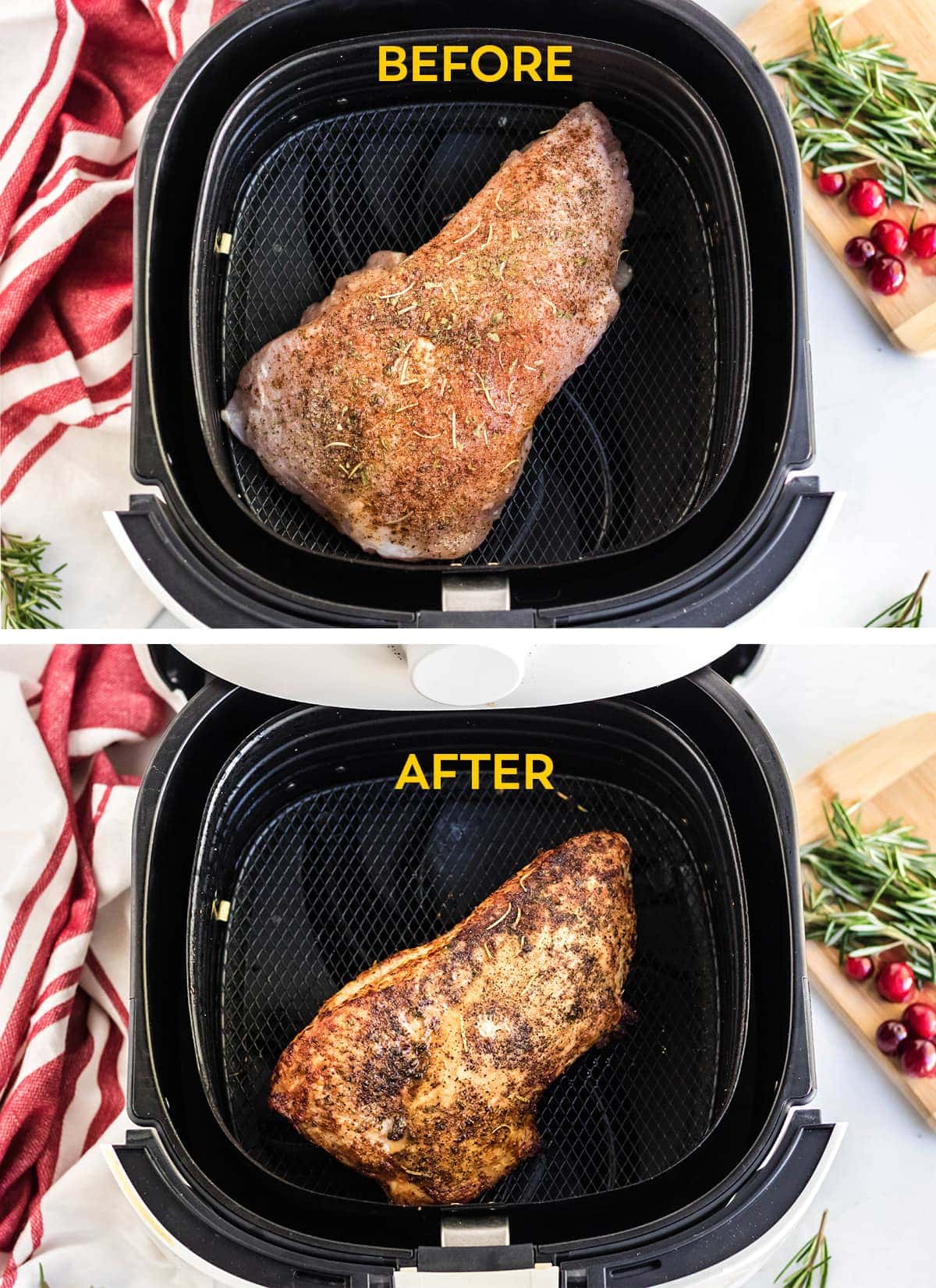 How To Carve a Turkey Breast
Carving a boneless breast is simple – just slice and serve. If you choose to use a bone-in turkey breast, you'll need to first separate the meat from the bone, running your knife gently down both sides of the breast bone from top to bottom. Then use gentle strokes to separate the meat. Once you've removed the meat from the bone, you can slice and arrange on a serving platter.
Frequently Asked Questions
What size Turkey Breast Should I Buy?
The size you need really depends on how many people you need to feed and whether you want lots of leftovers. First, decide if you want bone-in or boneless. Each will give you roughly the same amount of meat and take about the same amount of time to cook. If you want skin, go with bone-in.

For this recipe, I used a Butterball turkey breast that's readily available at most grocery stores. It's a boneless 3 pound turkey breast (half breast) that will feed approximately 4-6 people with a couple of sides, or up to 8 people with small portions and lots of side dishes.

You should also consider the size of your air fryer. Measure the basket and make sure that it will fit the turkey breast you want to cook.
What Temperature Should Turkey be Cooked to?
All meat should be cooked to its optimal temperature for food safety. The internal temperature for turkey is 165 degrees. You can remove it at 155-160 and let it rest on a cutting board, covered with foil. As it sits it keeps cooking and the temp will rise to 165 degrees. A digital instant read thermometer is a must for every kitchen!
Helpful Tips
You will need to completely thaw your turkey breast before you cook it. Do this in a casserole dish in the refrigerator for 48 hours. Do not thaw turkey in the sink!
Use leftover turkey meat in Turkey and Stuffing Casserole, Turkey Salad, sandwiches, Turkey Wrap, and Turkey Vegetable Soup.
Serve with turkey gravy and your favorite side dishes. There won't be a lot of liquid from the meat, so I recommend purchasing a package of turkey stock for the gravy – most stores carry it in the soup aisle.
I tested this recipe with a boneless, skin-on breast, a bone-in skin-on breast, as well as a boneless and skinless breast. If you are leaving the skin on, be sure to rub the seasonings under the skin as well. Cooking times were roughly the same for each one.
Store leftovers in an airtight container in the fridge for up to 4 days. Freeze for up to 6 months. Thaw in the refrigerator – do not reheat from frozen or your leftover turkey will dry out.
More Ways to Cook Turkey
For leftover turkey, Turkey Tetrazzini Casserole and Turkey and Stuffing Casserole are both quite delicious and a great way to use up leftovers.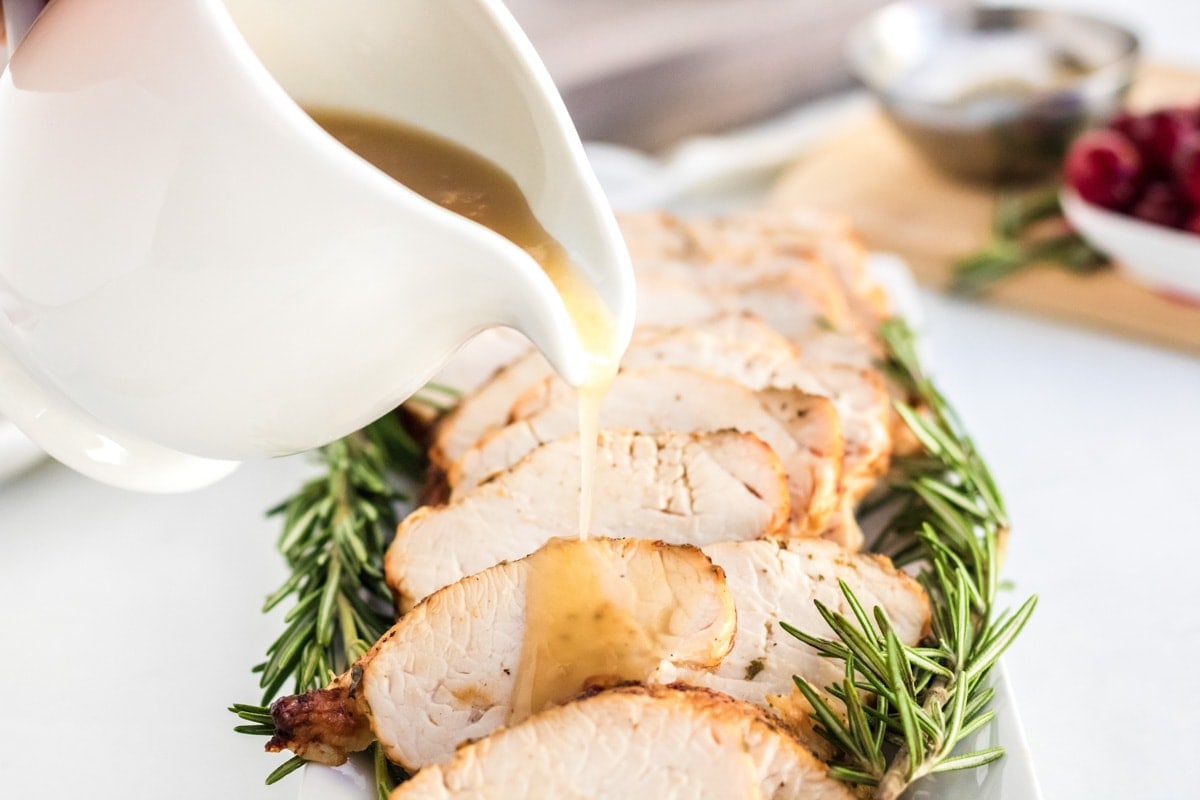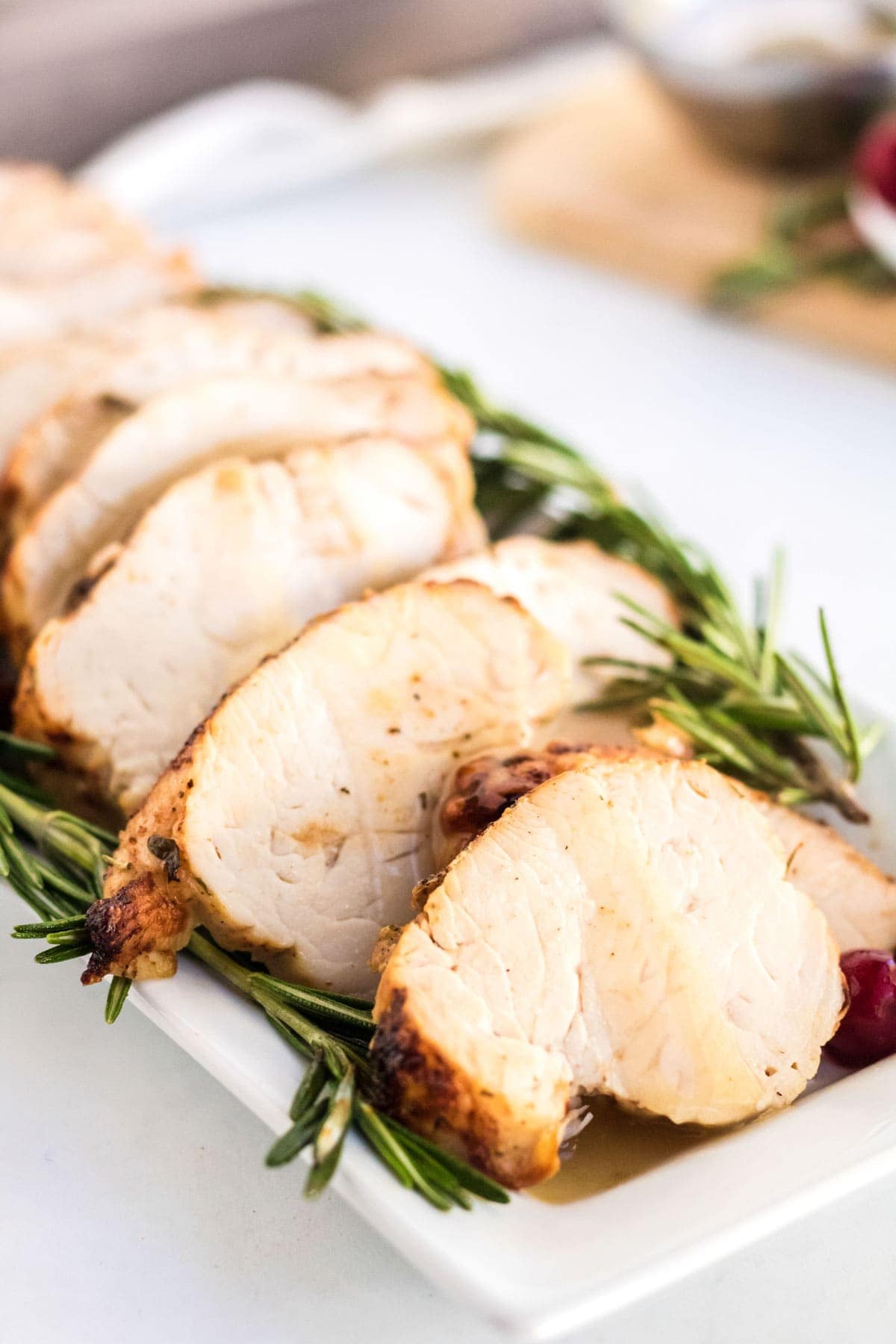 What to Serve with Turkey Breast
Now that you know how to cook a turkey breast in the air fryer, serve it up with some of your favorite, classic Thanksgiving Side Dishes:
101+ Thanksgiving
Side Dishes
Find all the sides you could possibly want for the perfect Thanksgiving menu!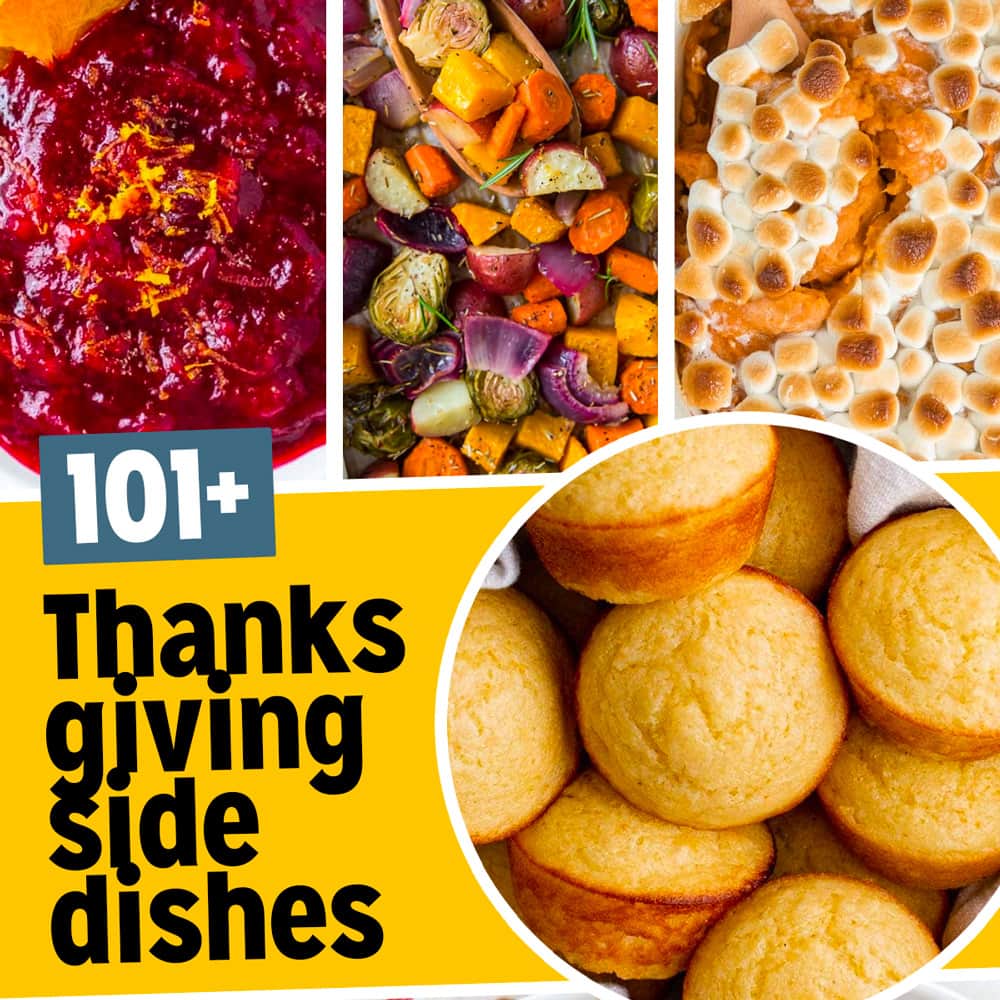 Recipe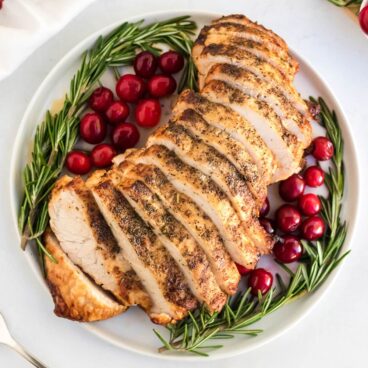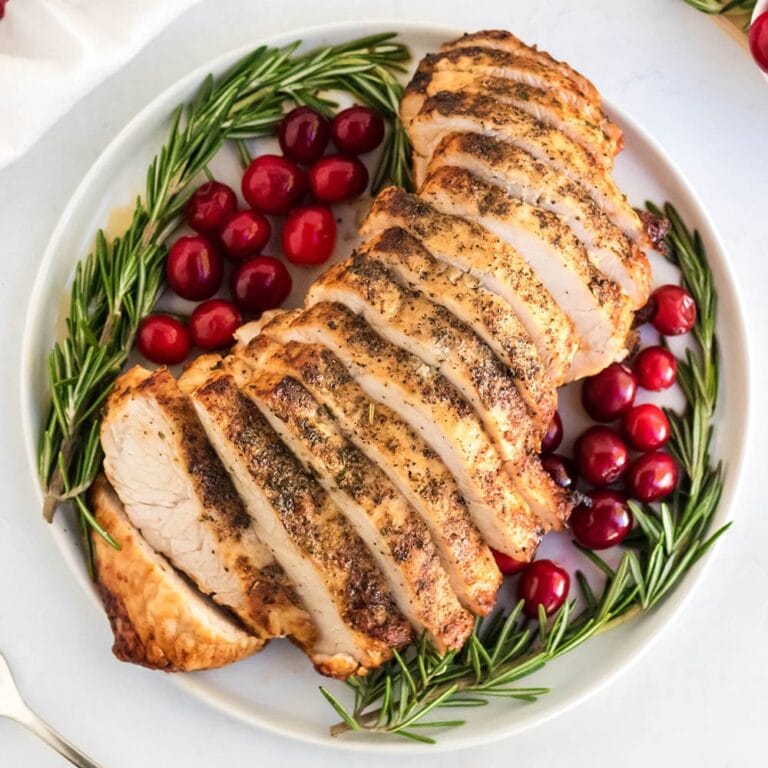 Air Fryer Turkey Breast
Learn how to make the most tender and juicy air fryer turkey breast. Includes tips for boneless or bone-in, and with or without the skin.
Ingredients
3

pound

boneless turkey breast

2

tablespoons

olive oil

1

teaspoon

salt

1

teaspoon

garlic powder

½

teaspoon

rosemary

½

teaspoon

paprika

½

teaspoon

pepper
Instructions
Rub turkey breast with olive oil on all sides.

In a small bowl, combine the salt, garlic powder, rosemary, paprika and pepper.

Pat the seasonings into the turkey breast.

Place the turkey breast in the basket of an air fryer.

Cook at 350 degrees for 20 minutes.

Flip the turkey breast over and cook for an additional 20 minutes or until the internal temperature reads 165.

Allow the turkey breast to rest 15 minutes before slicing and serving.
Notes
Thaw your turkey in the fridge for 24-48 hours. Not in the sink!
Store leftovers in an airtight container in the fridge for up to 4 days. Use for soups, casseroles, sandwiches and salads. Freeze for up to 6 months.
To make turkey gravy, plan to purchase a package of turkey stock.
Nutrition
Calories:
273
kcal
Carbohydrates:
1
g
Protein:
49
g
Fat:
8
g
Saturated Fat:
1
g
Polyunsaturated Fat:
2
g
Monounsaturated Fat:
5
g
Trans Fat:
1
g
Cholesterol:
122
mg
Sodium:
855
mg
Potassium:
561
mg
Fiber:
1
g
Sugar:
1
g
Vitamin A:
129
IU
Vitamin C:
1
mg
Calcium:
34
mg
Iron:
1
mg