Learn how to make extra crispy and delicious tater tots in minutes using your air fryer! These air fryer tater tots are as simple as dump and go and take a fraction of the time it would to bake them.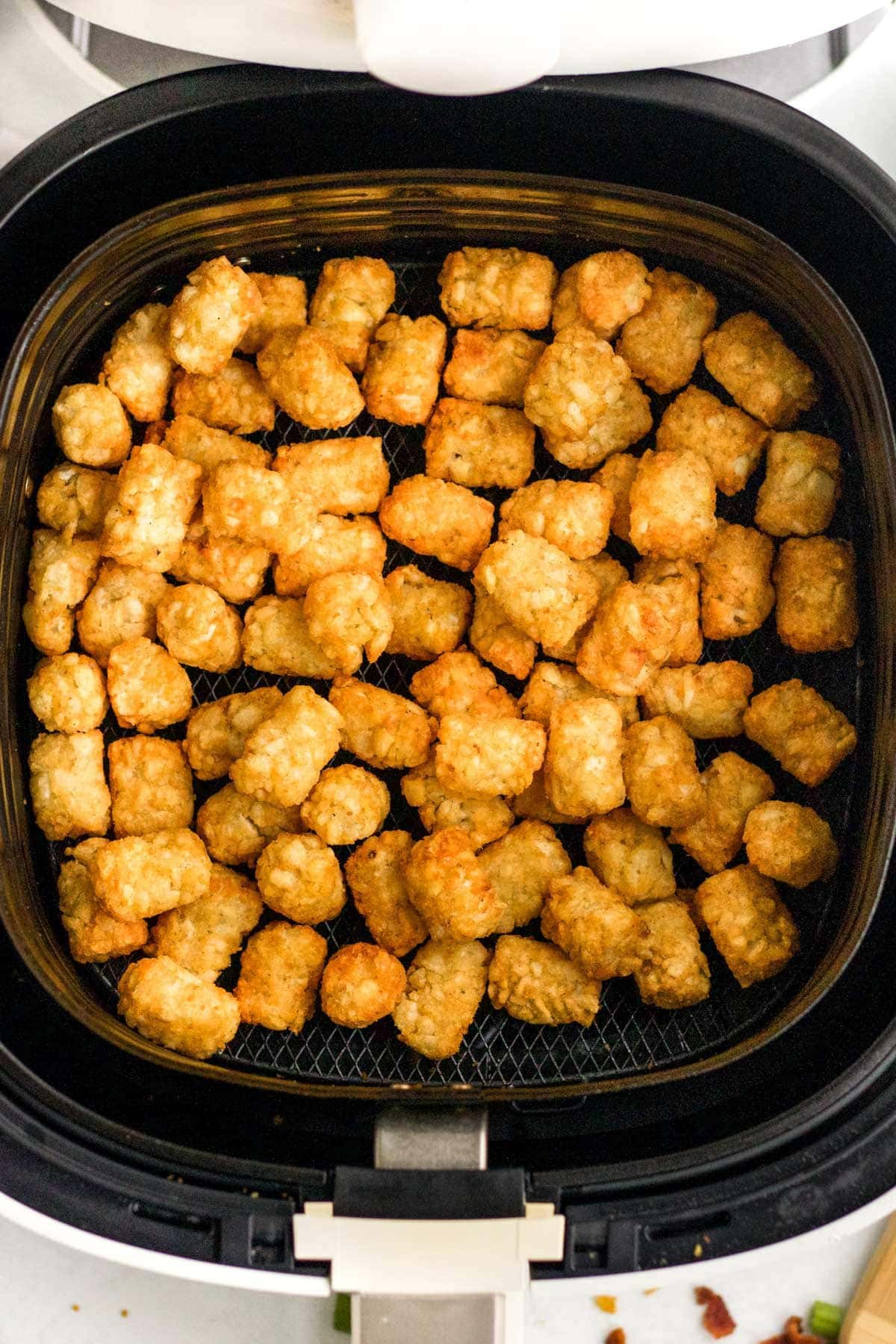 Serve up crispy air fryer tater tots as a last minute side dish for just about any meal, from BBQ Baked Chicken Thighs to Grilled Steak. Or serve up them as Totchos for late night or game day snacking.
Using my air fryer to make cooking simpler is my new favorite side hustle. Those frozen foods that usually take at least half an hour in the oven take a fraction of the time in the air fryer. Plus you can use it for other things, like Air Fryer Steak, Air Fryer Chicken Wings and even Air Fryer Hard Boiled Eggs. It's truly the best investment you can make on a kitchen appliance.
The Best Crispy Tater Tots
It's happened to everyone. Dinner's almost ready and you realize you forgot the side dish! It takes 10 minutes to preheat the oven and another 20-25 minutes to bake that bag of tater tots you were counting on. So much for an easy side dish.
But then you remember your air fryer sitting there on the counter and it dawns on you. Air Fryer Tater Tots take less than 10 minutes and will be ready at the same time as the rest of your dinner!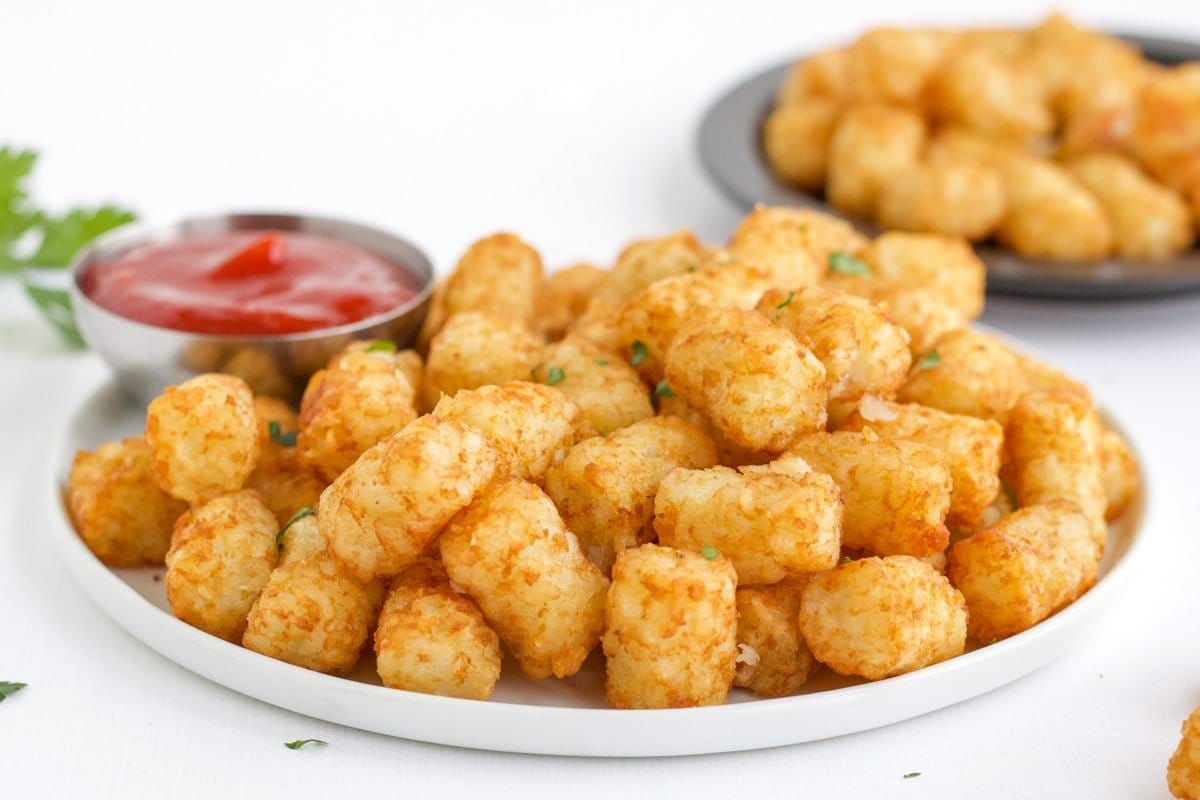 The easiest way to cook tater tots and your other favorite frozen snack foods is in an air fryer. If you don't have an air fryer yet, you should really consider adding one to your collection of kitchen appliances. There are a variety of highly rated brands ranging from affordable to jumbo size. Make sure you get one that will fit your family's needs.
But back to these air fryer tater tots.
How to Cook Frozen Tater Tots in the Air Fryer
Preheat your air fryer to 400 degrees (usually the highest temperature setting) for a couple of minutes. This step isn't absolutely necessary, but I feel that it helps to cook the food more evenly.
Arrange the frozen tots in the basket. A single layer is best, but you can add more as long as you give the basket a good shake a couple of times while they cook.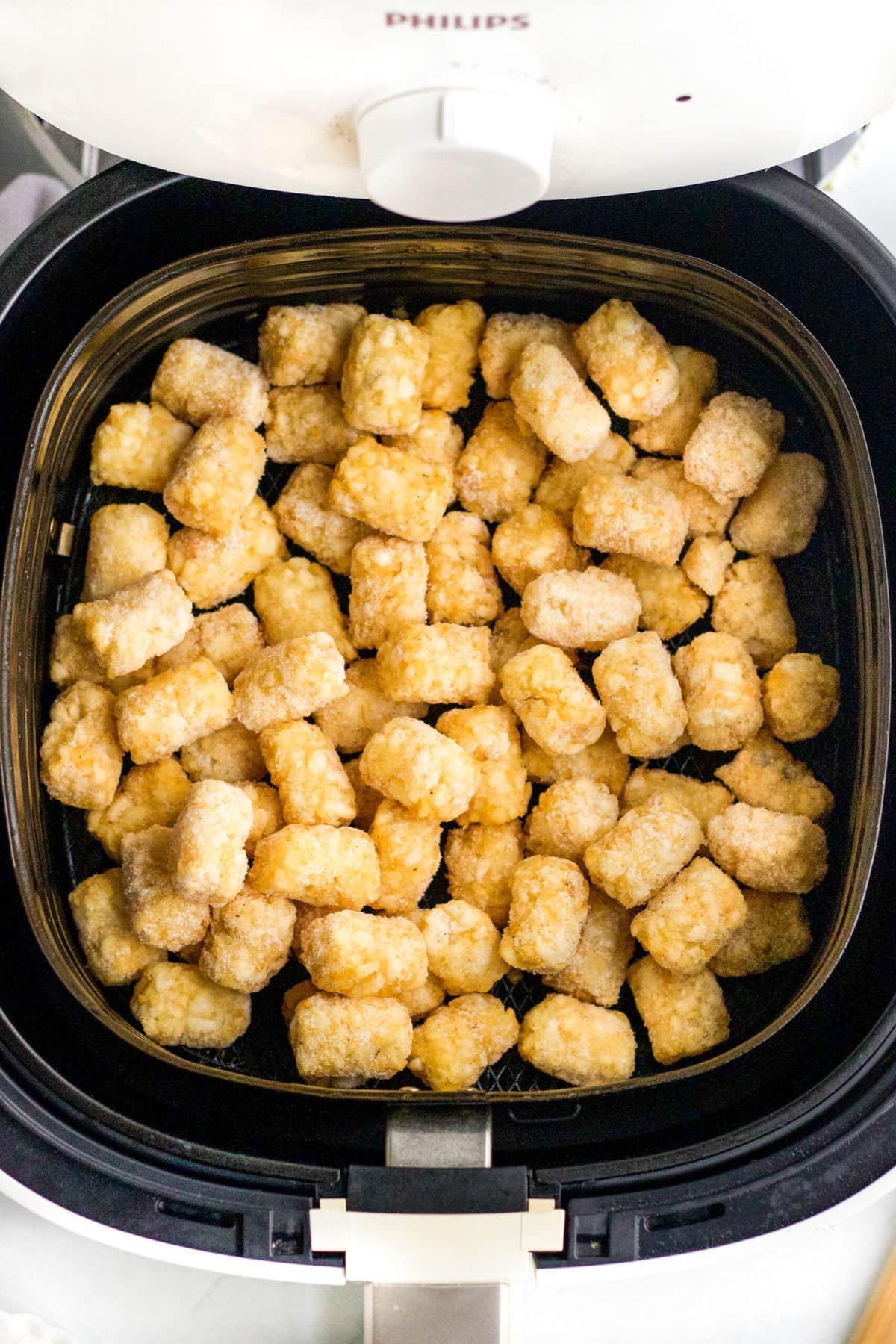 How Long do you cook frozen tater tots in an Air Fryer?
It takes about 5-10 minutes to cook tater tots in the air fryer. Less than half the time it takes in the oven! After 10 minutes they should be nice and crispy and ready to serve.
The recipe below says to start with 5 minutes. If you want them crispier, just add a few more minutes, give them a shake and keep adding time until you are happy with the texture.
I make my tots in the air fryer because it's super easy, way better than deep frying, but they can also be baked on a sheet pan in the oven. You'll find those directions on the package, but they take at least double the time is would take in the air fryer.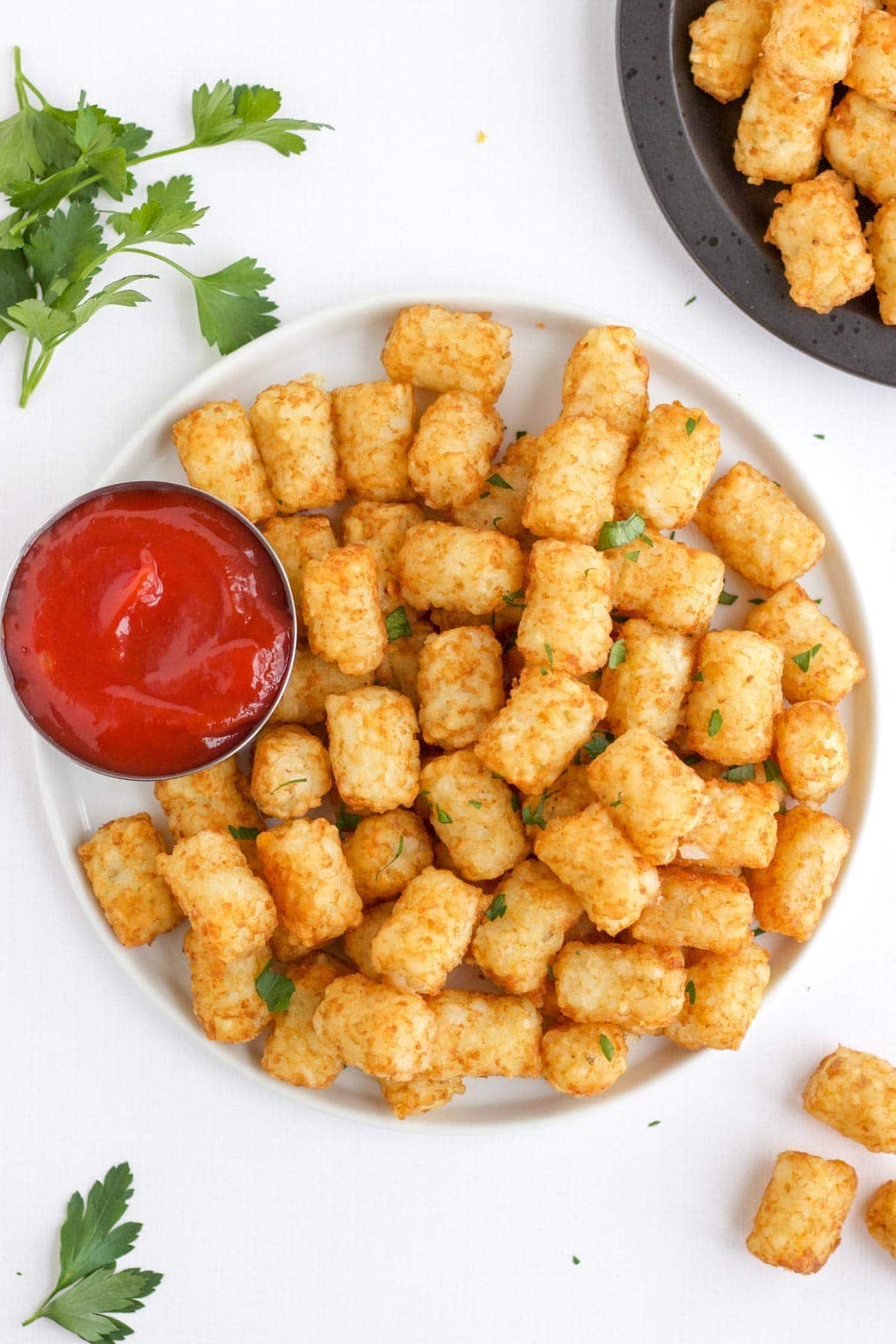 Air Fryer Tater Tots Tips and Notes
Normally it's recommended to leave space between pieces of food for better air flow and even cooking. However, in testing I found that it's fine to pile them up in the basket as long as you give it a good shake a few times during cooking.
Before using nonstick cooking spray, check your manual to make sure it's safe for your unit. Parchment paper is also a great tool to keep food from sticking.
Please note that cooking times can vary by model.
Any kind of frozen potato product will work with this method – tater tots, crispy crowns, even hash browns.
You don't have to add oil, but if you want then extra crispy, toss your tater tots in a few teaspoons of olive oil before cooking.
Serving and Storing
Tater tots make a great, quick side dish that goes with pretty much anything. My kids' favorite way to enjoy them is with Baked Chicken Tenders and a Wedge Salad. They are also a simple snack just served with your favorite dipping sauce, like ketchup, ranch or one of my favorite dips – Jalapeno Ranch Dip.
Store leftover tater tots in an airtight container for 3-4 days in the refrigerator. The best way to reheat them is to toss them back into the air fryer.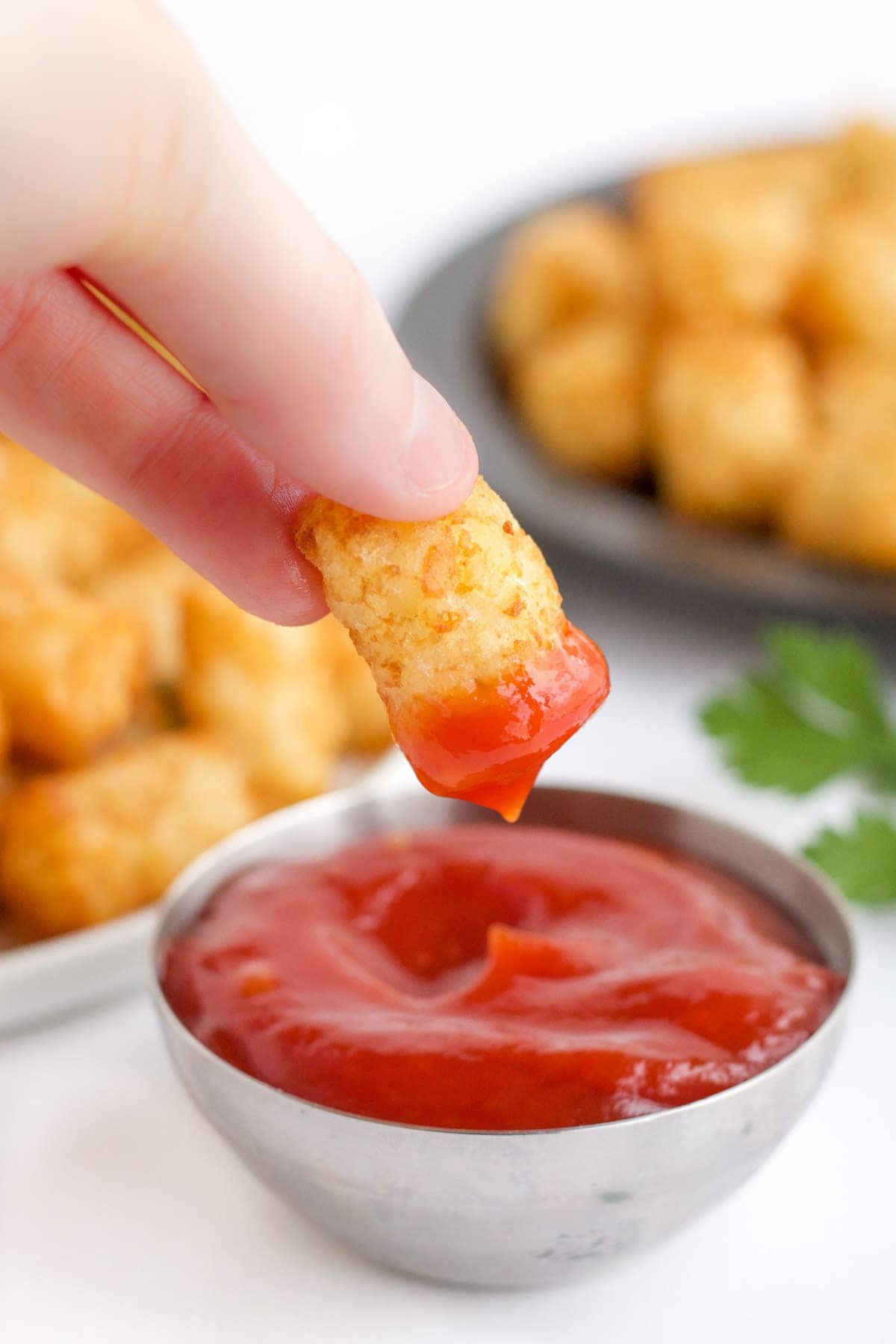 More Air Fryer Recipes to Try
Each of these air fryer recipes has been tested and approved by me and my family for your air fryer!
Recipe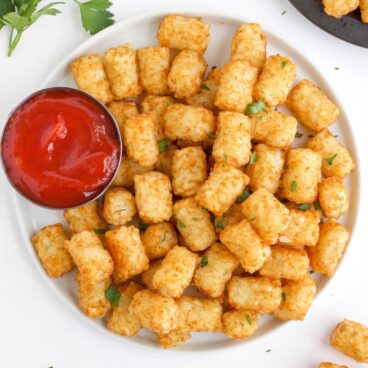 Air Fryer Tater Tots
Air Fryer Tater Tots are the easiest way to make crispy, delicious tots for a simple side dish or snack.
Ingredients
16

ounce

package frozen tater tots

nonstick cooking spray (optional)
Instructions
Prepare your air fryer with nonstick cooking spray or line with parchment. (*Check your manual to make sure cooking spray is ok).

Place the tater tots in the basket of the air fryer and cook at 400 degrees for 5-10 minutes, flipping/shaking halfway through cooking time. If they aren't crispy enough for you, cook for a few more minutes until the texture is to your liking.

Remove the tater tots from the air fryer and place on a platter. Serve with ketchup or another dipping sauce.
Notes
Make sure to give the basket a good shake every few minutes to promote even cooking. 
Check to make sure your unit accepts cooking spray safely. Alternatively, you can use parchment paper. As long as you are shaking often, it will probably be safe to go without spray or liner.
Cooking time may vary depending on model of air fryer.
Nutrition
Calories:
134
kcal
Carbohydrates:
19
g
Protein:
1
g
Fat:
6
g
Saturated Fat:
1
g
Sodium:
324
mg
Potassium:
200
mg
Fiber:
1
g
Sugar:
1
g
Vitamin A:
3
IU
Vitamin C:
6
mg
Calcium:
10
mg
Iron:
1
mg