Craving apple pie? Curbing your pie cravings has never been easier with this quick and easy Air Fryer Apple Hand Pies recipe that is ready in just 15 minutes!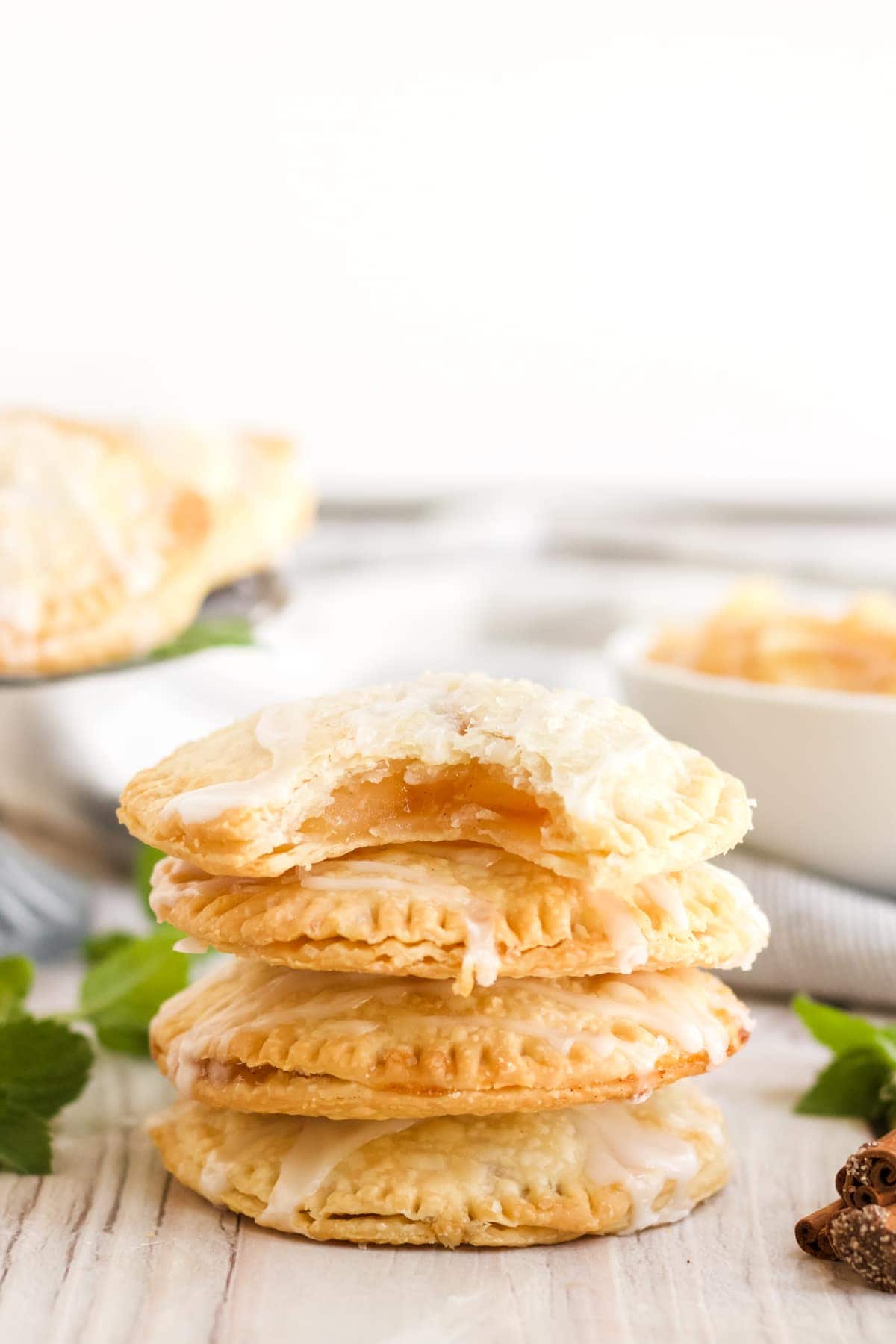 Not only are they easy to make, they are also easy to eat. No plate or fork required for this indulgent treat! Since they are cooked in the air fryer, your oven is free to make some Snickerdoodle Apple Cobbler or Baked Apple Cider Donut Holes to serve with them.
There is nothing like the familiar and comforting flavors of apple pie to round out the summer and head into fall. But making apple pie can be time consuming and stressful and sometimes you just want dessert fast! These easy air fryer apple hand pies are just the answer.
Ingredients for Apple Hand Pies
Refrigerated pie crust – you can use store bought or homemade.
Apple Pie Filling – try our slow cooker version or purchase pre-made.
Coarse Sugar for sprinkling on top.
Powdered Sugar and a few drops of milk or water to make the glaze.
How to Make Air Fryer Apple Hand Pies
Apple Hand Pies have a few steps to get them just right. Luckily it's an easy recipe, too!
How to Make Perfect Pie Crust Circles
Perfect hand pies start with perfect pie crust. You can use your favorite homemade recipe or use refrigerated pie crust to make things extra easy. No matter which option you choose, make sure your crust is rolled evenly to about ⅛ of an inch.
You don't need a fancy cookie cutter to make these cute pies. Simply use the top of a drinking glass or mason jar and press through the dough to get effortless even circles.
Adding the Apple Filling
For the filling, you can make a simple homemade Slow Cooker Apple Pie Filling or use canned apple pie filling for a shortcut. Because these pies are extra small, you may need to do a quick chop through the apples to make it easier to fit in the crust.
One the filling is placed on a pie crust circle, top with additional pie crust and crimp the edges with a fork. Be sure to press down to seal the sides together so they don't open in the air fryer. To finish your pies, slice an "x" in the center with a knife. This allows the air to escape while cooking.
Air Frying Apple Hand Pies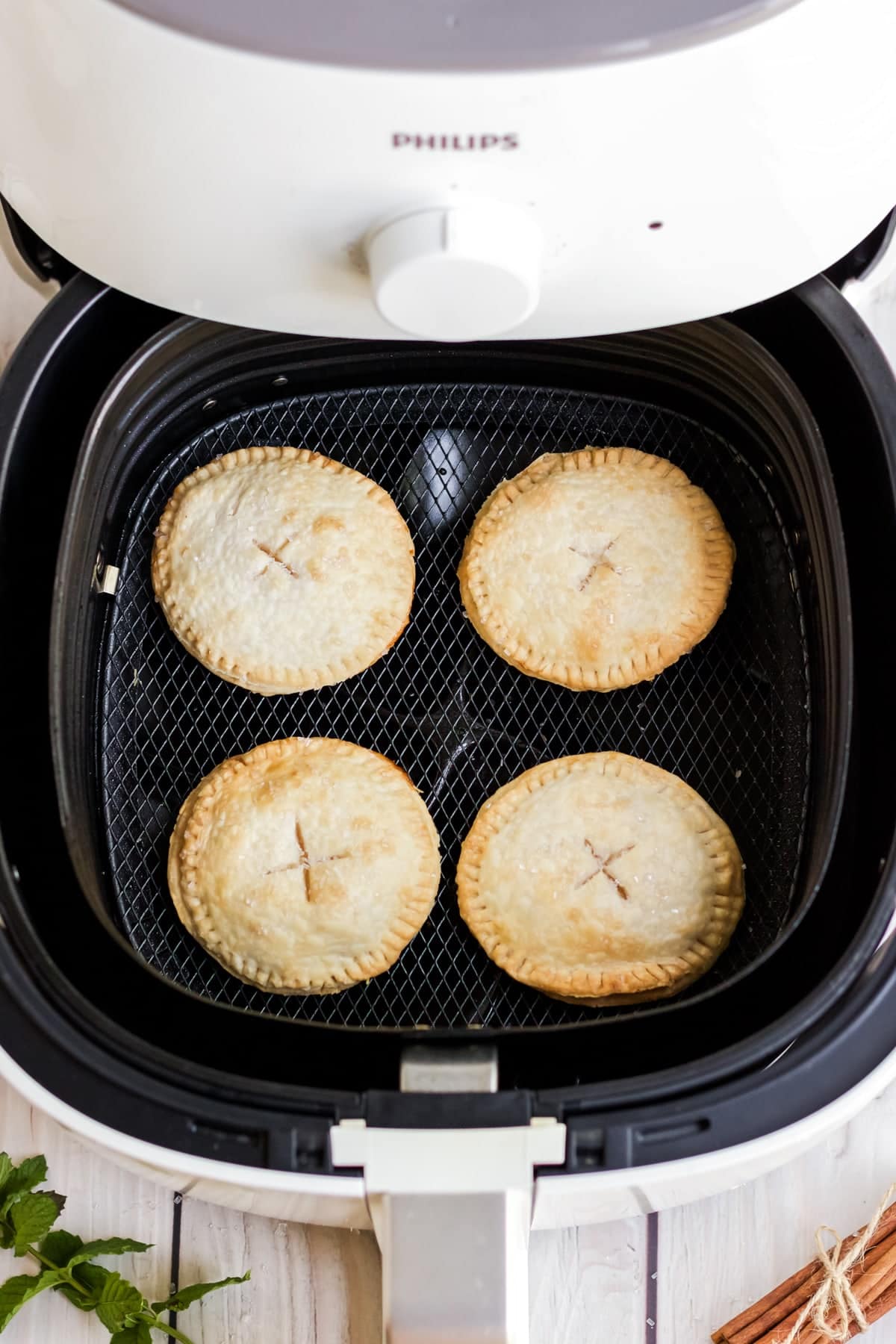 Air fryers cook by circulating hot air around the food, so cooking pie in the air fryer just makes sense! No more overly browned pie crust tops or biting into raw pie dough on the bottom. These Apple Hand Pies are cooked evenly on both sides in minutes. To create perfectly golden brown hand pies, cook at 350 degrees for about 10 minutes or until the pies begin to turn golden brown.
Make the Glaze
While the pies are cooking, it's time to make a quick glaze. Take ¼ cup of powdered sugar and add a few drops of milk until the consistency is smooth, but thick enough to stick to the pies. You can skip this step if you're in a hurry but it really is the finishing touch and I highly recommend taking a few minutes to make it! When the pies are done, allow them to cool completely. Then drizzle the glaze over the pies and allow to set before serving.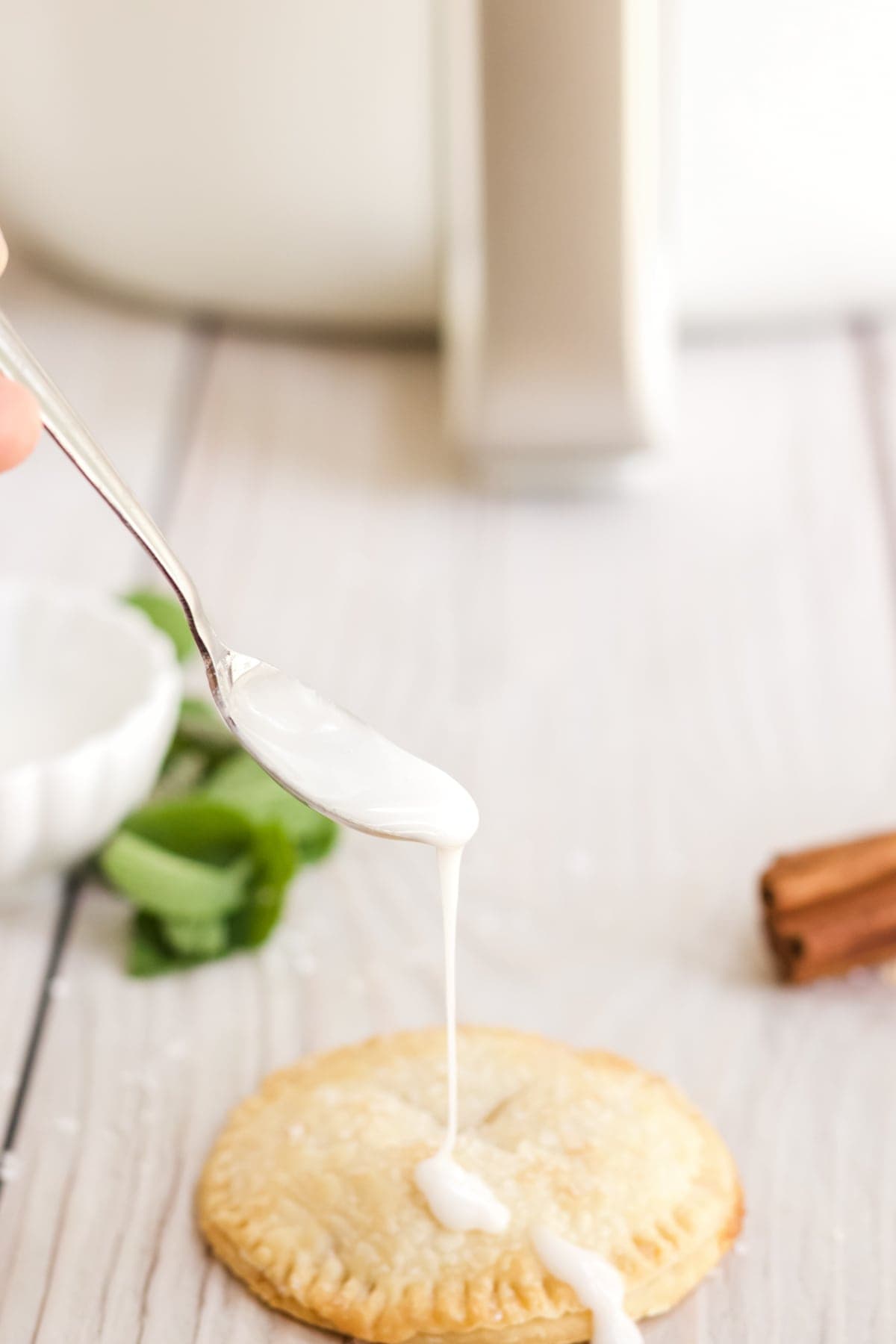 How to Store Apple Hand Pies
These pies taste incredibly warm from the air fryer, but they also keep well for up to 3 days if properly stored. Store in an airtight container in the fridge for best results, and warm in the microwave before serving.
Enjoying apple pie is easier than ever. Be sure to try this recipe with other fruit flavors as well. This same recipe works great with peach, blueberry, strawberry, and blackberry pie filling.

More Apple Recipes for Fall
Recipe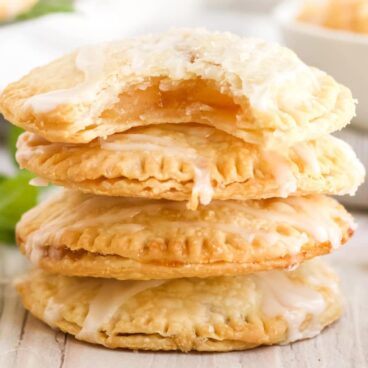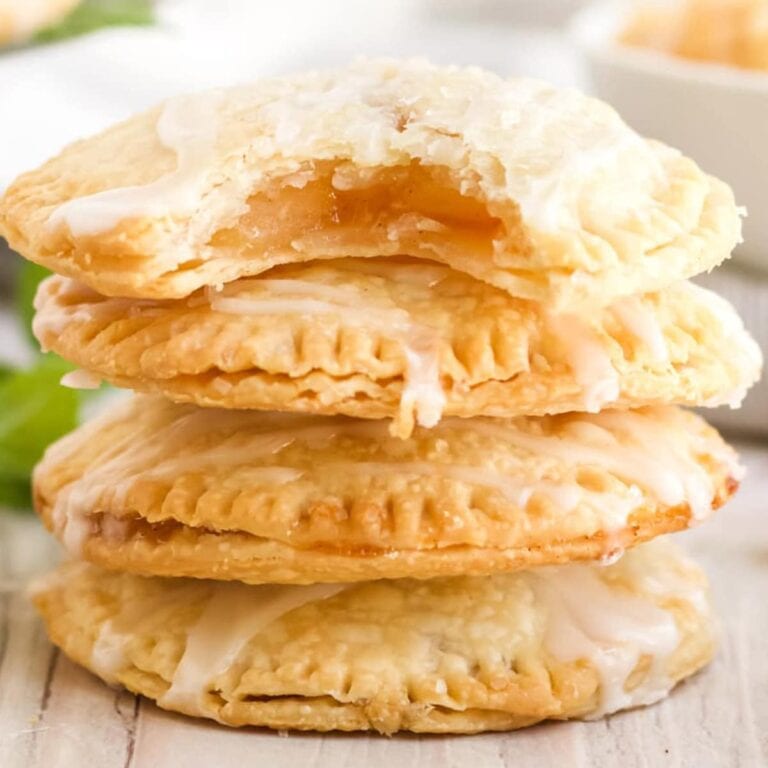 Air Fryer Apple Hand Pies
Mini pie crusts filled with sweet apple pie filling and a drizzle of glaze on top.
Ingredients
Apple Hand Pies
14

ounce

refrigerated pie crusts

or homemade - two crusts

20

ounces

apple pie filling

Homemade or store bought, about 2.5 cups
Glaze
1/4

cup

powdered sugar

1/8

teaspoon

milk or water
Instructions
Cut out 8 circles in the prepared pie crust. 

Top 4 pie crust circles with apple pie filling and top with additional pie crust.

Use a fork to crimp pie edges together and a knife to slice an "X" in the center. 

Place the pies in the basket of the air fryer and bake at 350 degrees for 10 minutes or until the crust begins to turn golden brown. 

Meanwhile, prepare the glaze by stirring together the confectioners sugar and milk/water. 

Drizzle the glaze over finished pies and serve.
Notes
If using homemade crust, make sure to roll it to 1/8' thick. 
If using canned apple pie filling, you may want to chop the apples into smaller sizes. 
If using homemade apple pie filling, make sure the apples are finely sliced. 
Nutrition
Calories:
209
kcal
Carbohydrates:
24
g
Protein:
3
g
Fat:
11
g
Saturated Fat:
3
g
Sodium:
174
mg
Potassium:
41
mg
Fiber:
1
g
Sugar:
4
g
Calcium:
8
mg
Iron:
1
mg