Bursting with apples, spices, and topped with cream cheese frosting, this Apple Spice Sheet Cake will become your favorite fall dessert! Easy to make and completely delicious!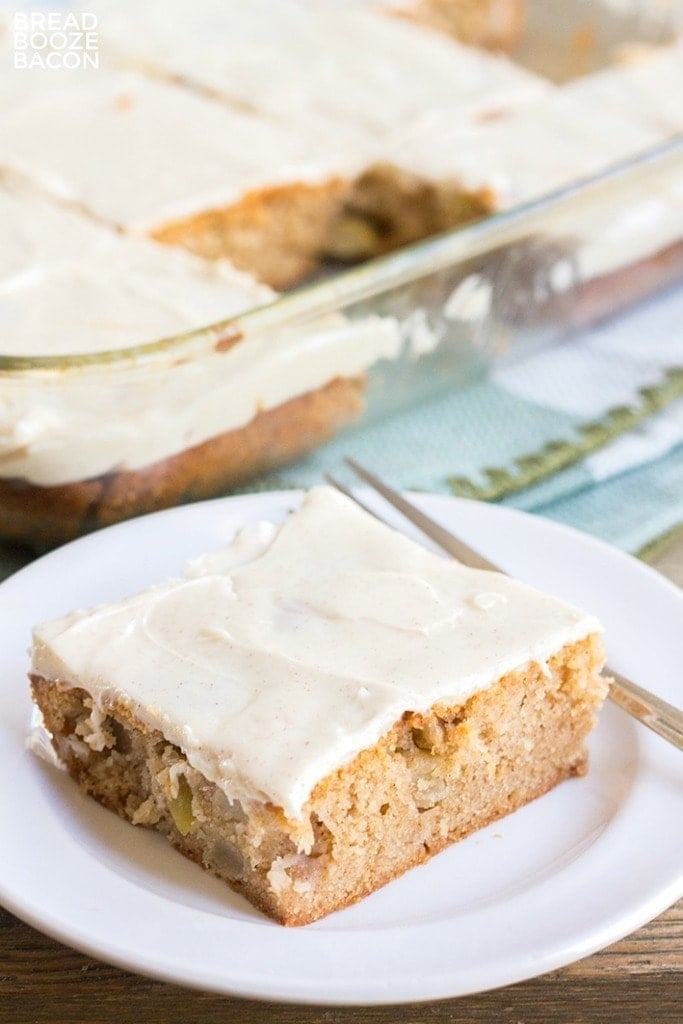 Fall is my favorite season of the year. We don't get leaves changing colors here in Arizona, but thankfully the weather cools down and I can start baking again! I love cookies, cakes, and muffins filled with baking spices and seasonal ingredients like pumpkin and apples. My house smells amazing and we all get to enjoy a delicious treat after dinner, like this Apple Spice Sheet Cake. My husband came home from work to me taking this cake out of the oven and he pestered me all evening asking if it was ready to eat yet. So be prepared to fight everyone off!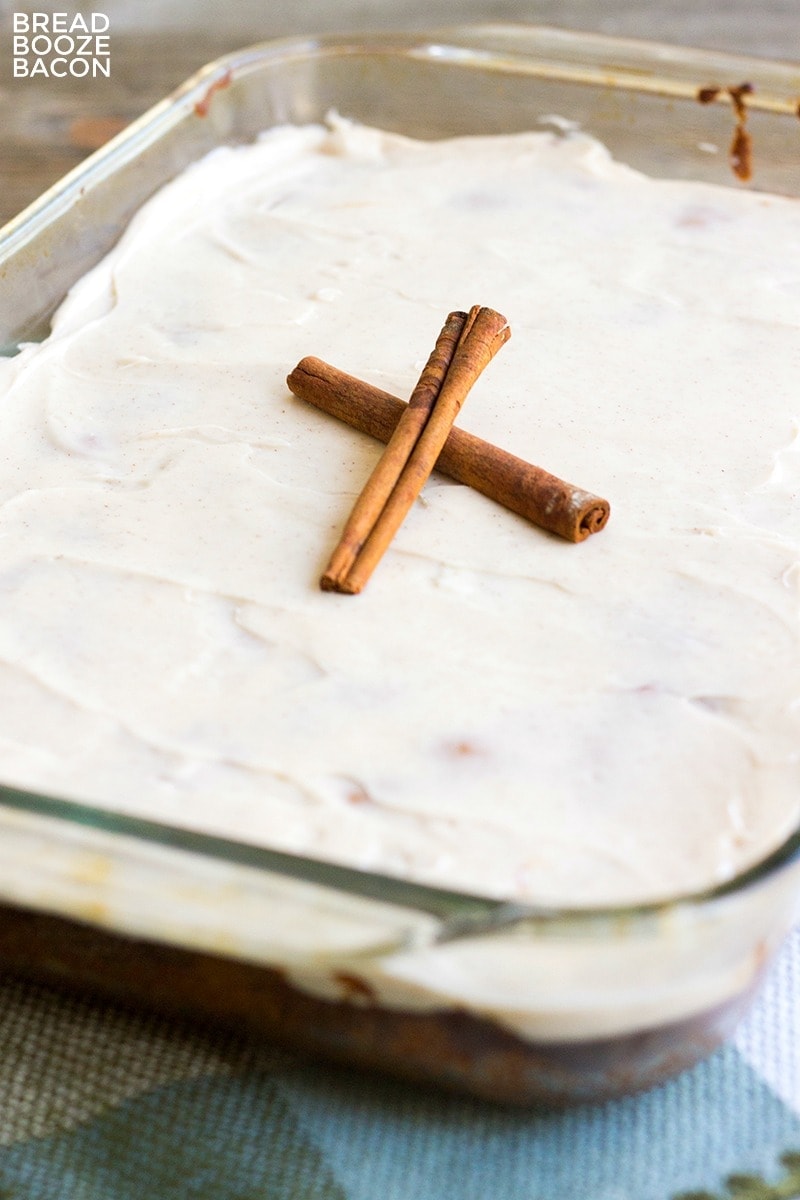 While layer cakes are great, sometimes I don't want to go through all the effort. It's nice to through everything in a pan, bake it, cool it, and slap a bunch of yummy frosting on top! Bam. Easy. Done. Delicious! I like topping this cake with cream cheese frosting spiked with a little cinnamon, but it would be delicious with vanilla buttercream too. If you want to get extra fancy, you could sprinkle extra cinnamon on top, some more diced apples – a combination of Granny Smith and Gala would be pretty with all the colors, or even candied pecans.
No matter how you dress it up, this Apple Spice Sheet Cake is a comforting and tasty dessert you'll want to make again and again!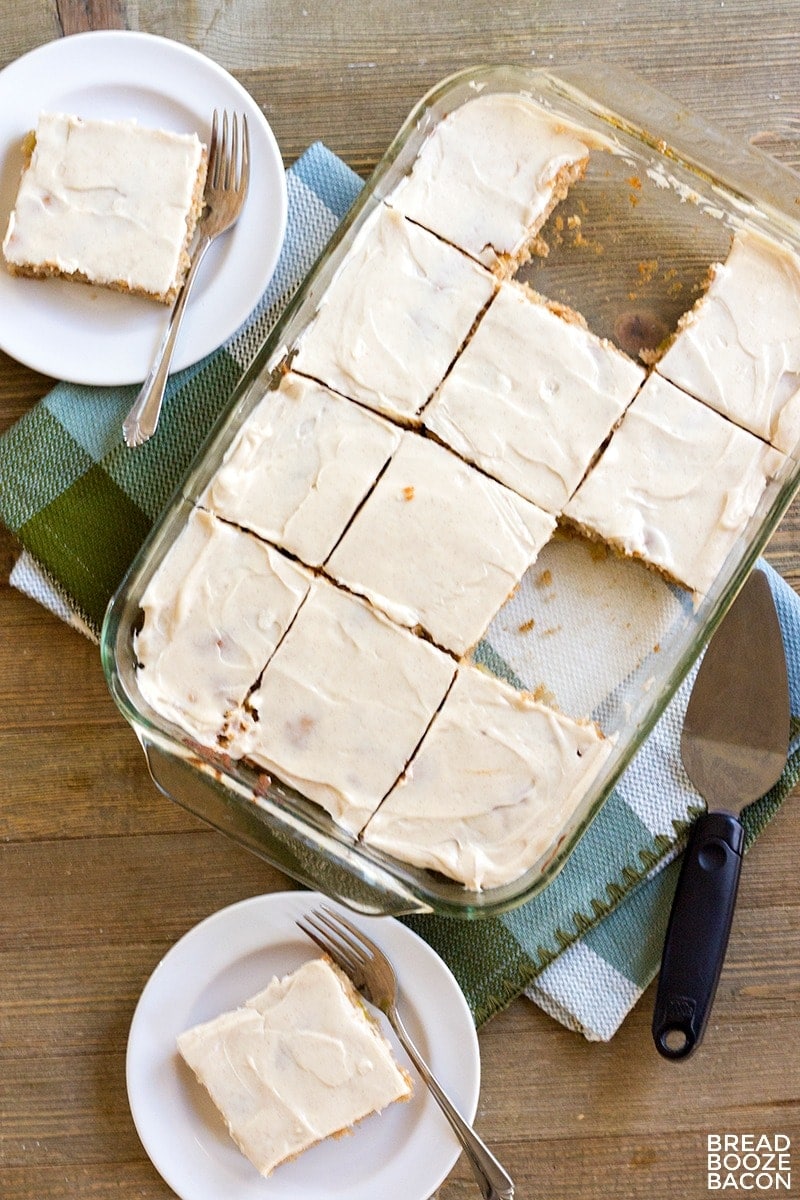 Hungry for More?

Apple Pecan Bread Pudding | Apple Pie Oreo Truffles | Apple Bacon Oat Bars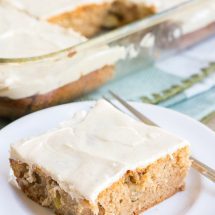 Apple Spice Sheet Cake
Bursting with apples, baking spices, and topped with cream cheese frosting, this Apple Spice Sheet Cake will become your favorite fall dessert!
Print
Pin
Rate
Prep Time: 15 minutes
Cook Time: 45 minutes
Total Time: 2 hours
Servings: 15 servings
Ingredients
Apple Spice Cake:
2 cups all-purpose flour
1 1/2 teaspoons baking powder
1 1/2 teaspoons ground cinnamon
1 teaspoon ground nutmeg
1 teaspoon salt
1 cup unsalted butter softened
1 cup sugar
1/2 cup brown sugar
2 eggs
1 teaspoon vanilla
2 Granny Smith apples diced (about 2 1/2 cups)
Cream Cheese Frosting:
8 ounces cream cheese softened
1 cup powdered sugar
1 teaspoon vanilla
1/4 teaspoon cinnamon
1 to 2 tablespoons milk
Instructions
Apple Spice Cake:
Preheat oven to 350 degrees F. Coat a 9-inch x 13-inch pan with non-stick cooking spray.

In a medium mixing bowl, stir together flour, baking powder, cinnamon, nutmeg, and salt until combined. Set aside.

In a large mixing bowl, beat together butter, sugar, and brown sugar for 1 to 2 minutes until smooth. Add eggs and vanilla and beat to combine.

Add the dry ingredients to the wet ingredients in 2 additions, mixing until just combined after each addition. The batter will be thick.

Use a wooden spoon or a spatula to stir in the apples. Transfer the cake batter to the prepared pan and spread evenly.

Bake for 40 to 45 minutes, or until a toothpick inserted in the center comes out clean. Carefully remove from the oven and let cool on a wire rack for about an hour, or until about room temperature.
Cream Cheese Frosting:
In a large mixing bowl, beat together cream cheese, powdered sugar, vanilla, and cinnamon until smooth. Add milk as needed, until desired consistency is reached.

Spread frosting over the top of the cake in an even layer. Sprinkle with more ground cinnamon if desired.
Notes
The batter will be thick, that's okay. The apples will secrete moisture into the batter as the cake bakes.
Here's another easy apple dessert that we love: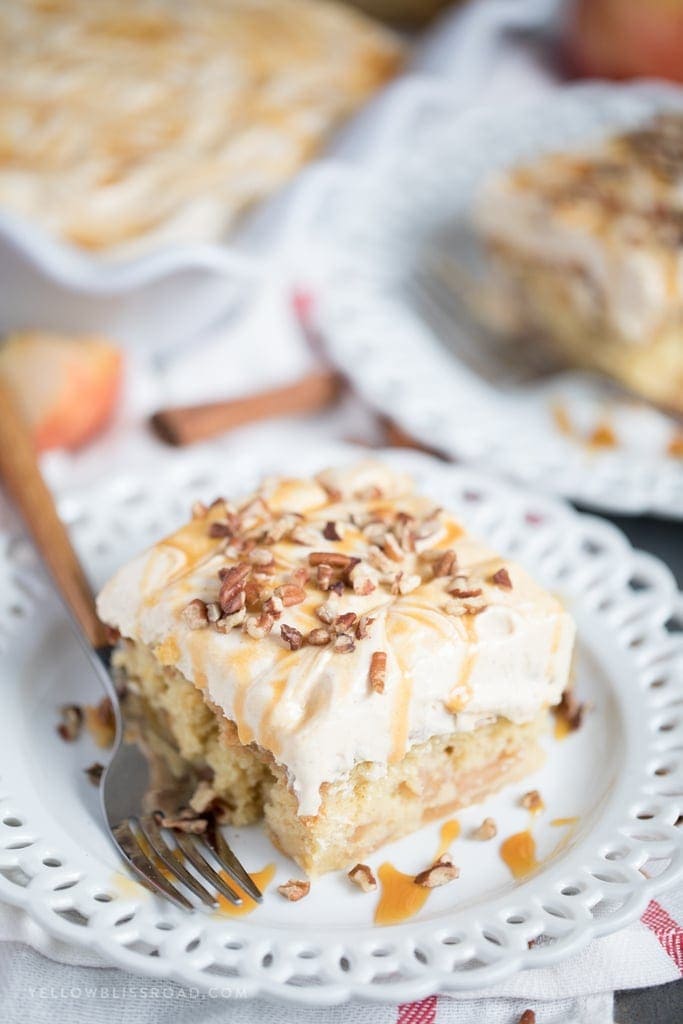 And for more apple desserts, try these: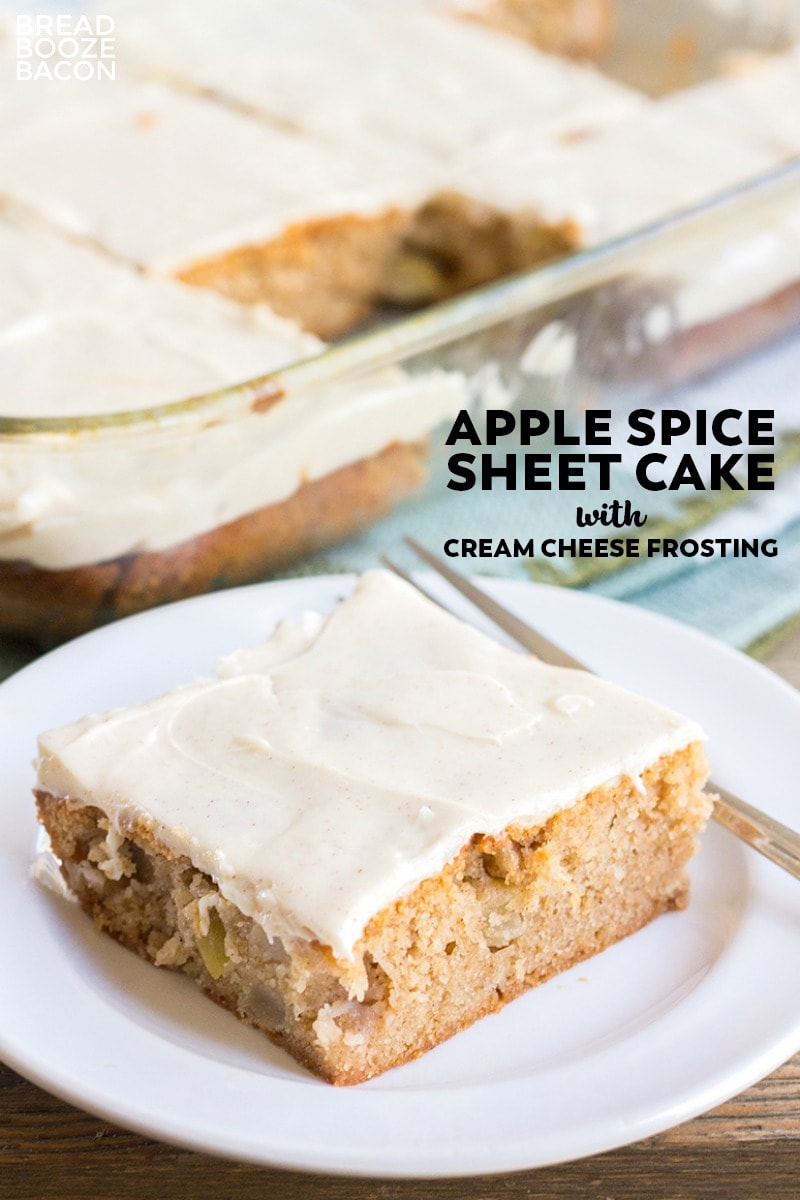 Food nerd. Cocktail enthusiast. Carboholic. Bacon addict. Basset nuzzler. Boy mom. Come eat something delicious with me on my website, Bread Booze Bacon!