This Apple Crumble recipe is a no-fuss dessert that's as easy to make as it is pretty. With a cinnamon-laced crumbly oat topping, this dessert is a rustic treat that everyone will enjoy.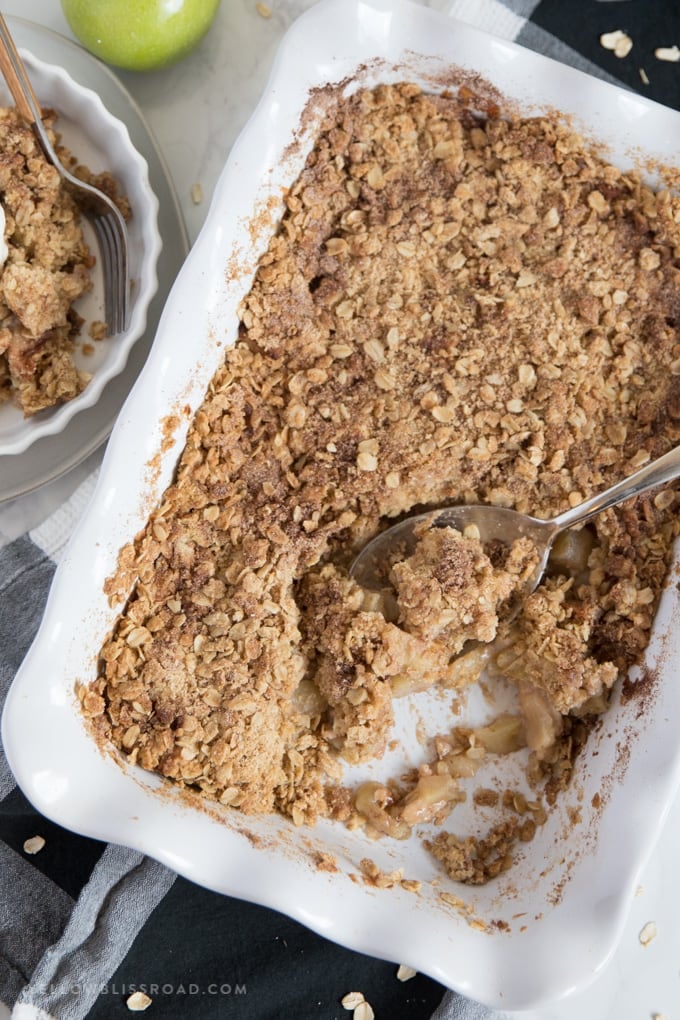 Everyone needs a good Crumble recipe in their back pocket that can be called upon any time company is coming and you need a delicious and easy dessert. This recipe uses tart Granny Smith Apples, but you can swap out for any good baking apple that you like. The crumbly oat topping adds a nice texture to the creamy sweet apples.
HOW TO MAKE APPLE CRUMBLE
An Apple Crumble is a sweet fruit based dessert with a crumbly, crunchy oat topping. You can use many different fruit variations but the basic recipe is the same. Fruit, combined with sugar, lemon juice (to prevent browning and provide an acidic element against the sweetness of the fruit), and flour (for thickening).
Oats, butter, flour and sugar (white or brown) are combined to form the crumble topping. When baked, this mixture binds together forming a "crust" over the top of the fruit.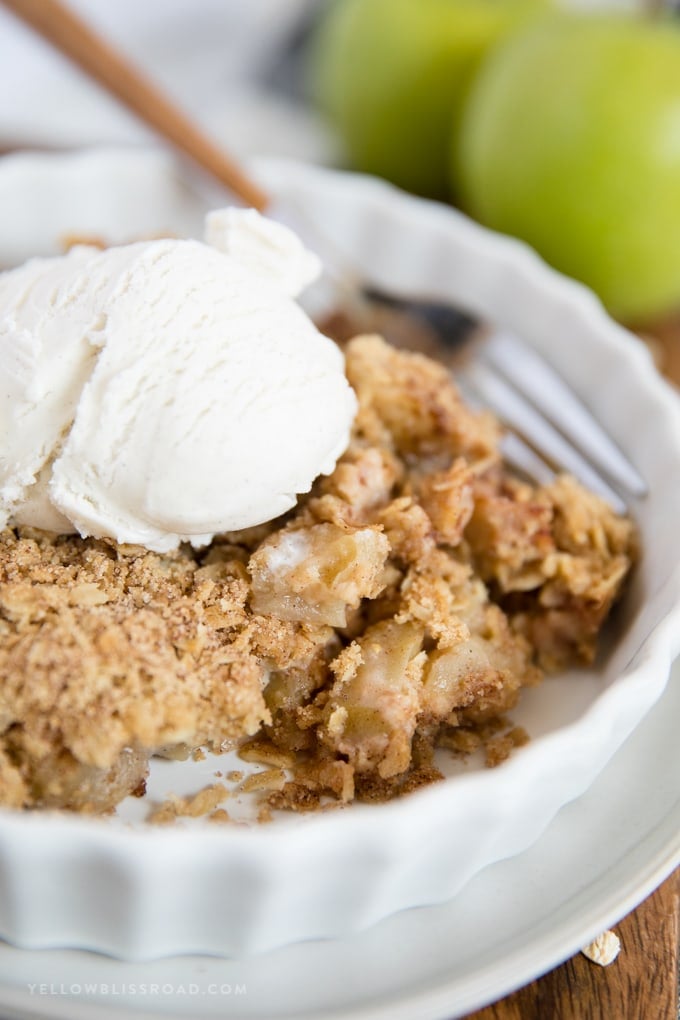 How do you prepare the apples for Apple Crumble?
Apples used in Apple Crumbles are best when peeled. The peel can be tough to chew and isn't necessary. Dice the apples into bite-sized chunks or slices, and coat them in lemon juice, flour and cinnamon. The best apple to use for an Apple Crumble are ones with a nice balance of sweet ans tart. I like the tartness of Granny Smith apples, but Jonathons, Honeycrisp, Braeburn, Winesap are all good choices.
What is the difference between a Crisp and a Crumble?
Honestly? Not much! A crisp doesn't always have oats in it, but it can. A crumble most often WILL have oats.
Top it with a scoop of vanilla ice cream and you won't care what it's called – just enjoy!
Here are some more fruit desserts to try: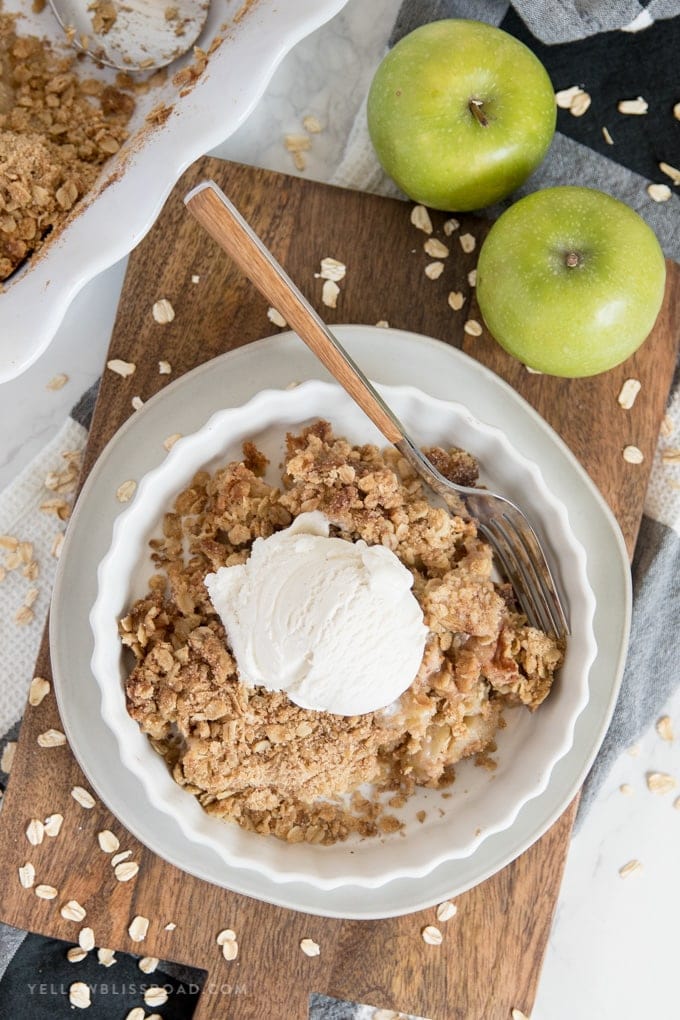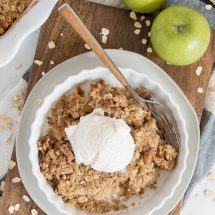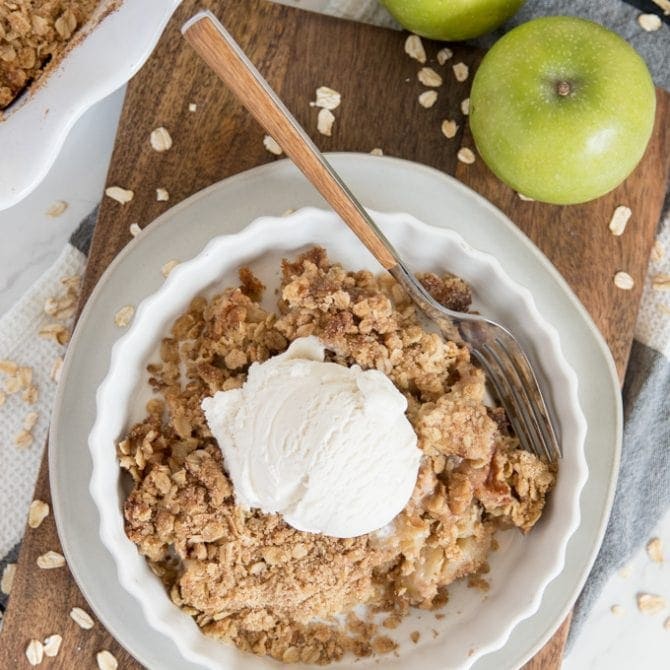 Ingredients
3 pounds Granny Smith apples cored, peeled and diced into bite sized pieces
1 lemon juiced
2 tablespoons all-purpose flour
¼ cup granulated sugar
½ teaspoon ground cinnamon
Topping
1 ½ Old Fashioned Rolled Oats
1 cup all-purpose flour
½ cup packed Brown sugar
¼ teaspoon salt
8 tablespoons butter
2 tablespoons granulated sugar
1 teaspoon ground cinnamon
Instructions
Preheat oven to 350 degrees F. Lightly grease a 9x13 or 11x7 inch baking dish with nonstick cooking spray and set aside.

In a large bowl, combine apples with lemon juice, flour, granulated sugar and ½ teaspoon cinnamon. Pour into the baking dish and spread evenly.

In a medium sized mixing bowl, combine rolled oats, flour, brown sugar and salt. Using a pastry cutter or your fingers, cut in the butter until small, pea-sized lumps form and no flour is visible. Sprinkle this mixture evenly over the apples.

In a small dish, combine 2 tablespoons granulated sugar with 1 teaspoon cinnamon. Sprinkle over the top of the crumble.

Bake in the prepared oven for 45 minutes, rotating a quarter turn about halfway through.

Cool slightly before serving.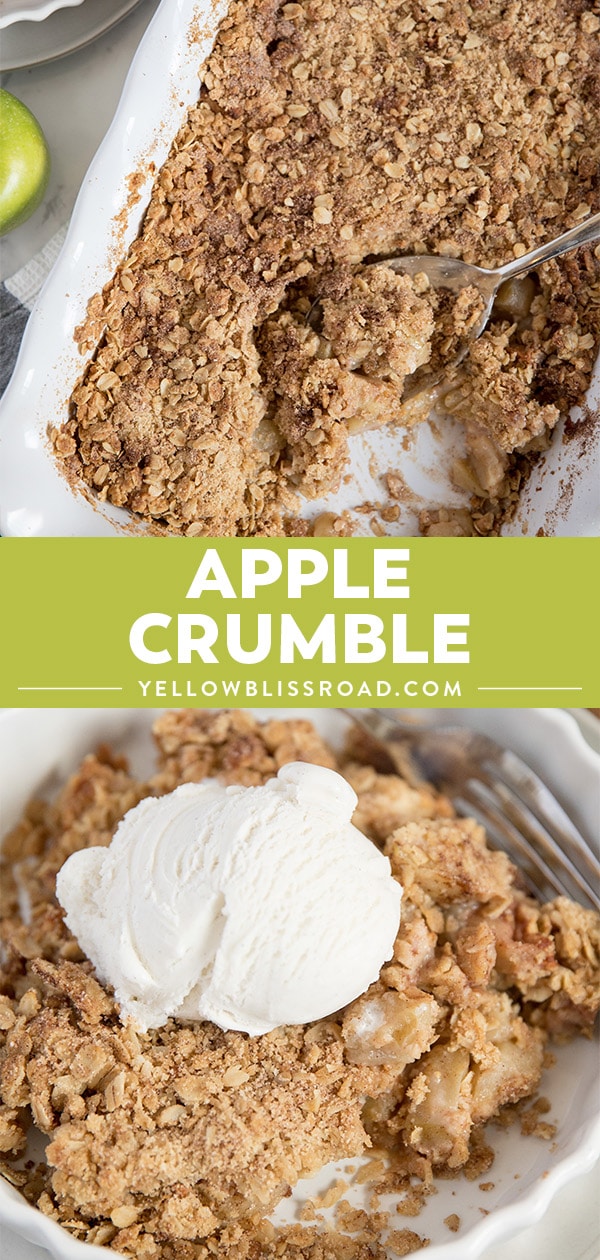 Hi! I'm Kristin, the creative mind behind Yellow Bliss Road where you will be inspired by tons of easy to follow recipes, lots of free printables, and a little sprinkling of life thrown in for good measure.