This Peach Crisp recipe is sweet and delicious dessert with tons of fresh peaches and a crisp oat topping. Add a scoop of vanilla ice cream and it just tastes like summer!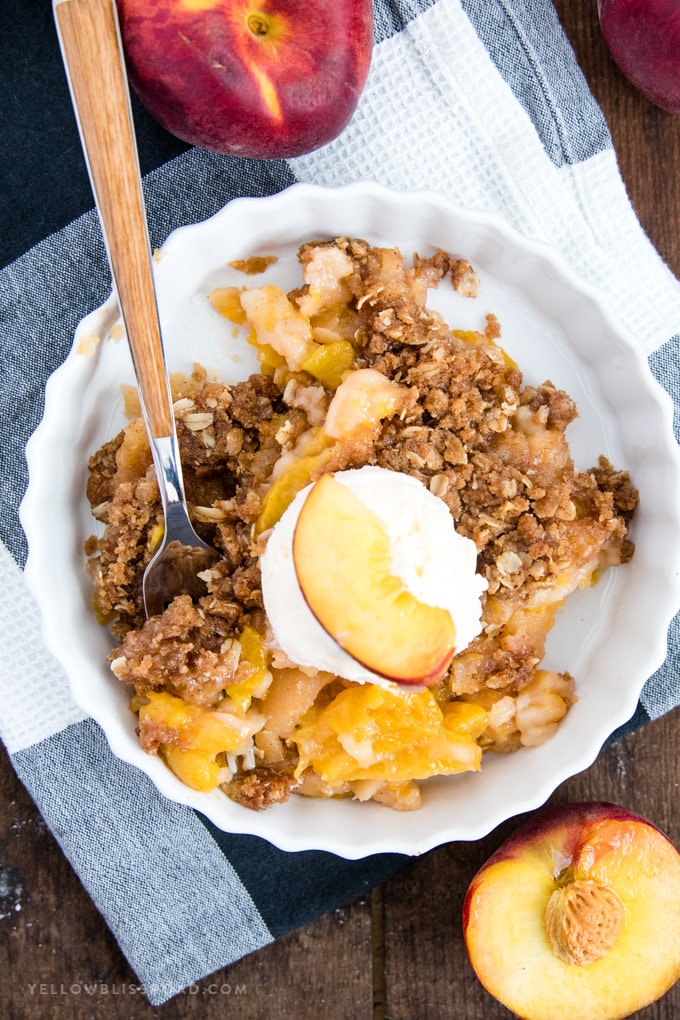 Peach Crisp is a summer staple! We love making this delicious dessert year round with frozen peaches, but fresh peaches just taste so much better. The crunchy oat topping adds a nice texture to the creamy peach filling.
My dad loved cobblers and crisps, They were always his favorite dessert. He could easily finish off a whole pan of this Peach Crisp by himself in a matter of days. I wish he was still with us because I know that he would absolutely love this recipe.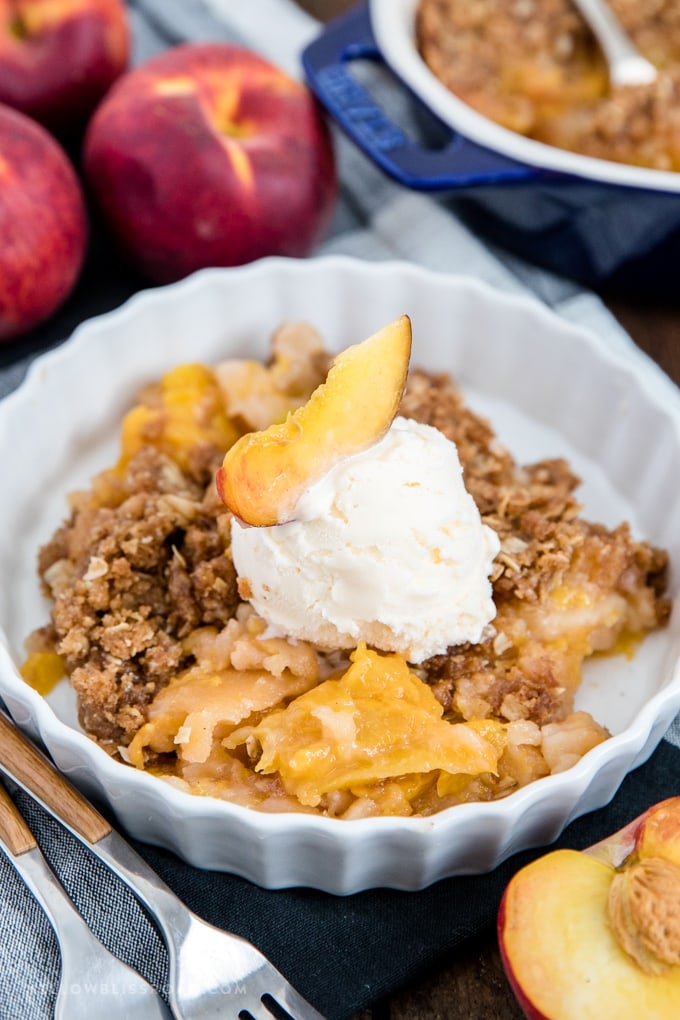 HOW TO MAKE PEACH CRISP
Casserole type of desserts seem complicated but they are really so easy. The filling is comprised of fresh peaches, sugar, flour (to thicken), vanilla and lemon juice. I love adding lemon juice to fruit desserts because the acid is a lovely contrast to the super sweet filling.
The oat topping is made with butter and rolled oats, flour and spices like cinnamon and nutmeg. The butter is softened and blended in with the oats and flour to form a crumbly mixture, then patted down onto the peach filling. Once baked it forms this crispy, crunchy layer over the creamy peach filling. It's seriously amazing!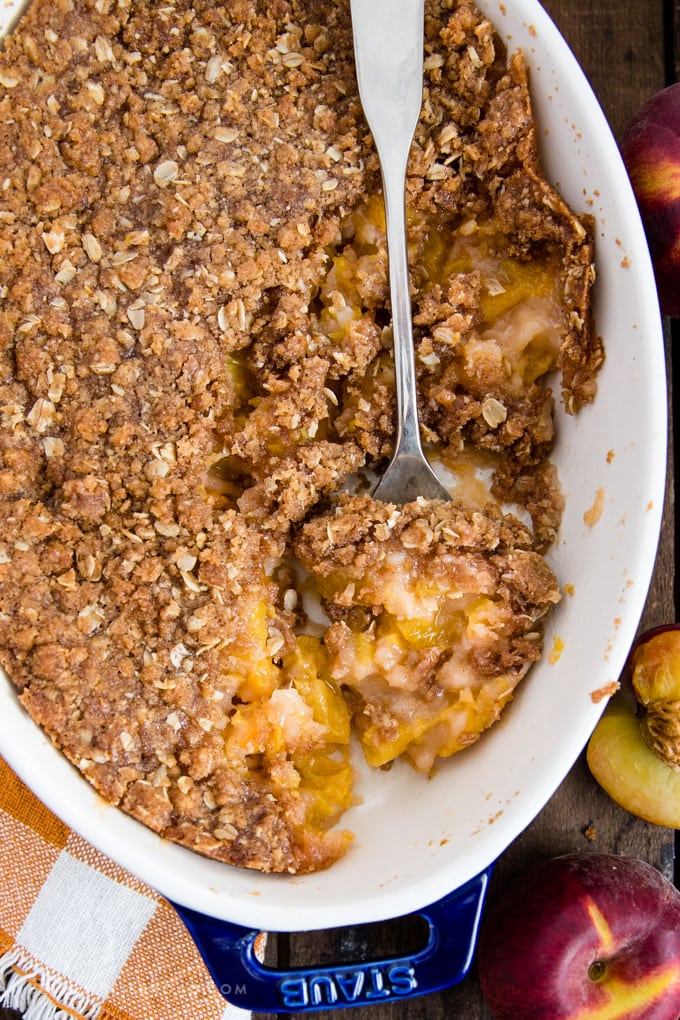 PRO TIP: Make sure to use OLD FASHIONED ROLLED OATS. (aff) The quick cook kind will just absorb the liquid and become soggy. The old fashioned kind will get nice and crunchy.
Everybody loves this amazing Peach Crisp recipe.  It's warm and inviting and makes your house smell amazing. It's the perfect summer dessert that no one can resist!
Looking for more peach recipes? Try these: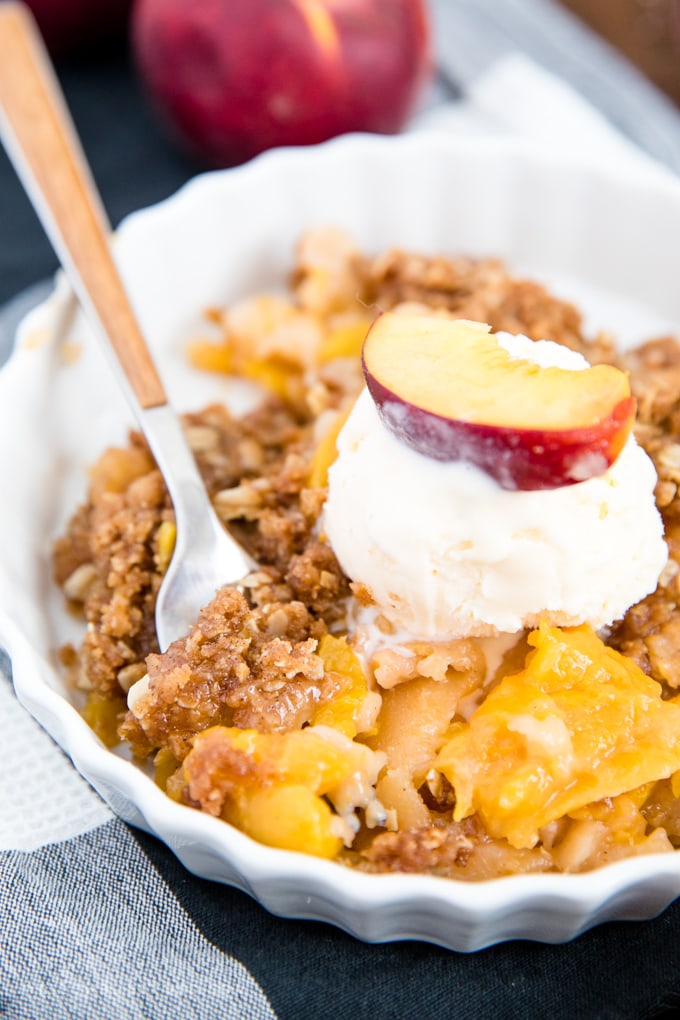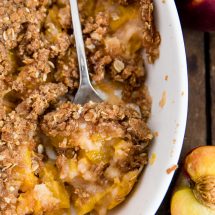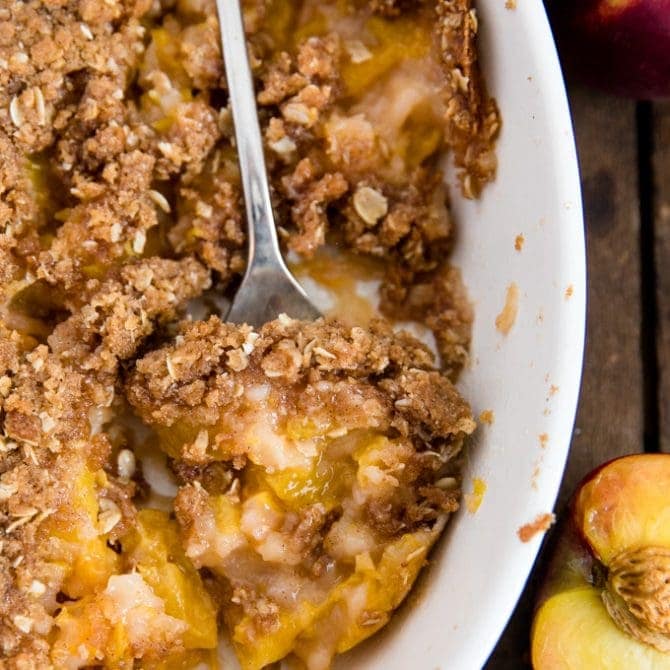 Peach Crisp
These Peach Crisp recipe is sweet and delicious with tons of fresh peaches and a crisp oat topping. Add a scoop of vanilla ice cream and it just tastes like summer! 
Print
Pin
Rate
Prep Time: 15 minutes
Cook Time: 40 minutes
Total Time: 55 minutes
Servings: 9 servings
Ingredients
Filling
5 cups peeled and thinly sliced peaches about 5-6 medium peaches
1 cup all-purpose flour
3/4 cup granulated sugar
1/4 teaspoon salt
1/2 teaspoon vanilla extract
2 teaspoons lemon juice
Topping
3/4 cup brown sugar
2/3 cup all-purpose flour
2/3 cup old-fashioned rolled oats
1 teaspoon ground cinnamon
Dash of nutmeg
1/4 teaspoon salt
1/2 cup butter softened
Instructions
Preheat the oven to 350 F. Lightly grease an 8 or 9-inch baking dish (circle or square). Set aside.

In a large bowl, combine peaches flour, sugar, salt, vanilla. Toss gently to combine, then pour into prepared baking dish, spreading the peaches evenly. Set aside.

In a medium mixing bowl, whisk together brown sugar, flour, oats, cinnamon, nutmeg and salt together. Add the butter and stir with a wooden spoon to break up the butter until the mixture is crumbly. (A fork or pastry cutter will work, too.) Sprinkle the oat topping evenly over the peaches.

Bake uncovered for 40-45 minutes until the topping is golden brown and the juices are bubbly around the edges. Transfer to a wire rack. Allow to cool slightly before serving.

Serve warm, room temperature, or cold. Cover leftovers tightly with foil or plastic wrap and store in the refrigerator for up to 5 days.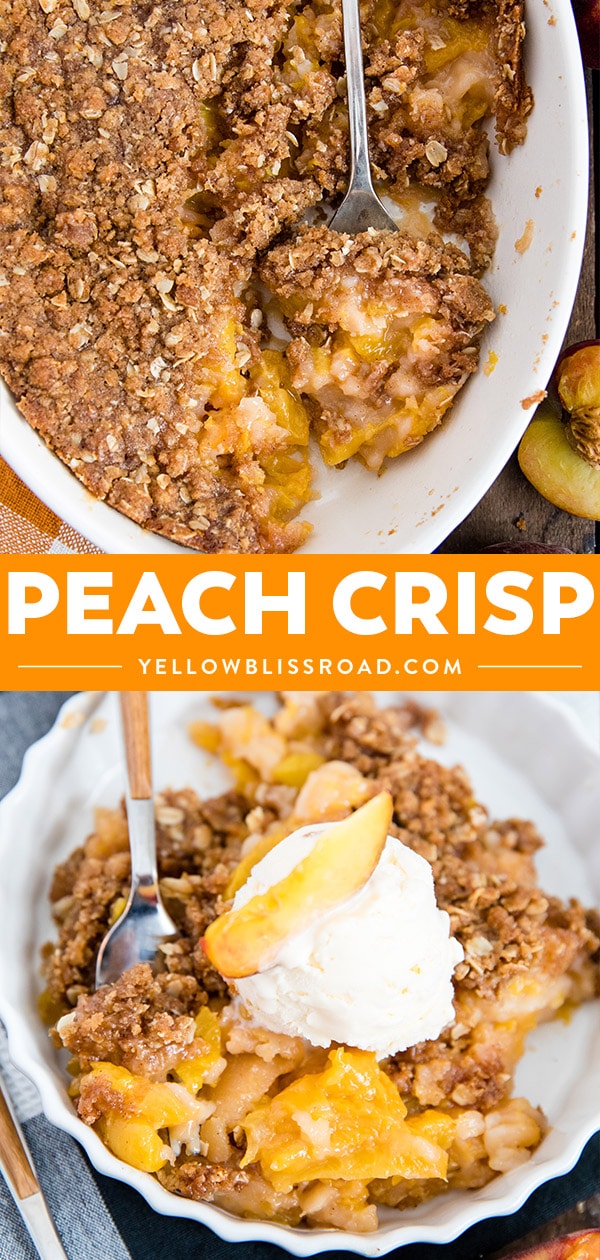 Hi! I'm Kristin, the creative mind behind Yellow Bliss Road where you will be inspired by tons of easy to follow recipes, lots of free printables, and a little sprinkling of life thrown in for good measure.