This Peach Crisp recipe is a sweet and delicious dessert with tons of fresh peaches and a crisp oat topping. Add a scoop of vanilla ice cream and it just tastes like summer!
Simple, warm desserts like this Peach Crisp are a real favorite with our family. Be sure to try one of the other baked fruit desserts on the site, like Strawberry Rhubarb Crisp and Pineapple Cobbler.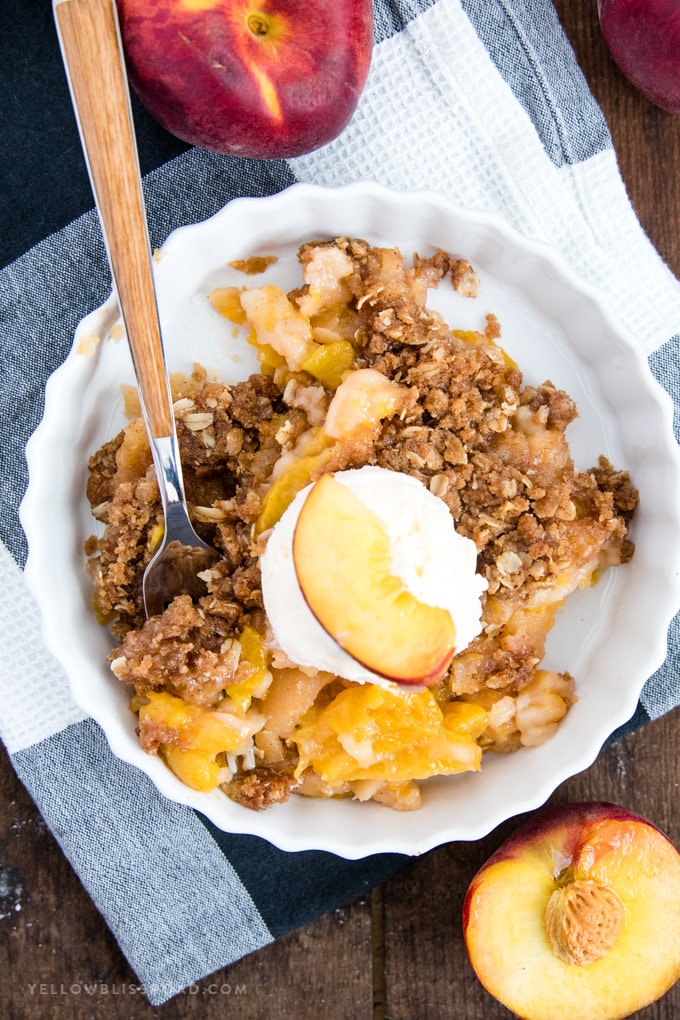 The Best Peach Crisp Recipe
The perfect Peach Crisp is a summer staple! We love making this delicious dessert year-round with frozen peaches, but fresh peaches just taste so much better. The crunchy oat topping adds a nice texture to the creamy peach filling. It's sort of like a streusel topping with oats and spices added.
Everybody loves this amazing Peach Crisp recipe. It's warm and inviting and makes your house smell amazing. It's the perfect easy summer dessert that no one can resist!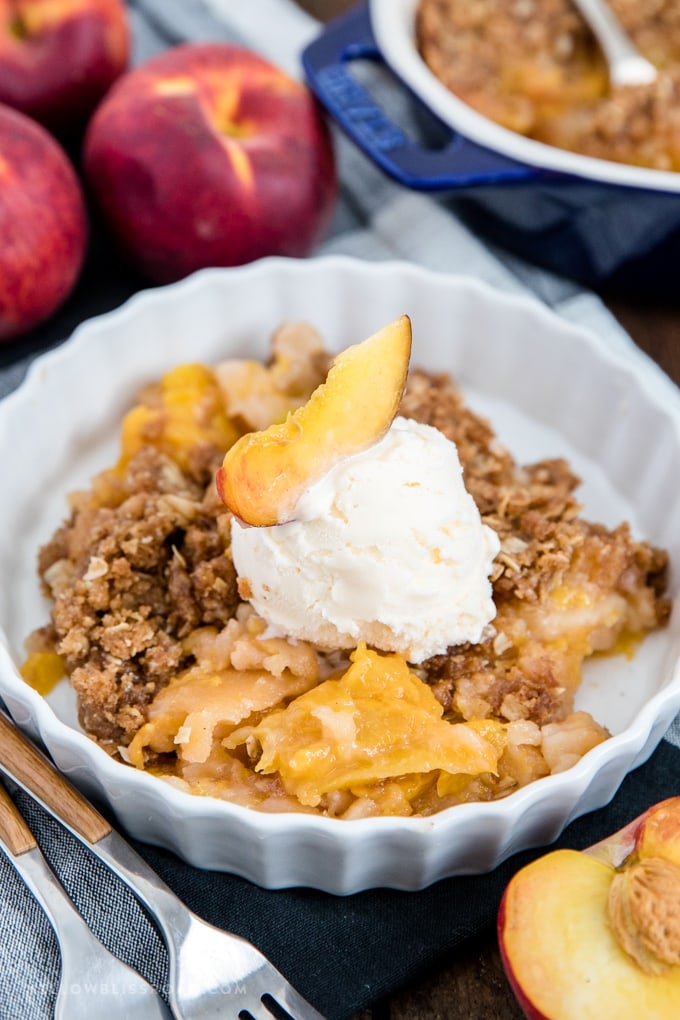 How to Make Easy Peach Crisp
Casserole types of desserts seem complicated but they are really so easy.
The filling is fresh peaches, sugar, flour (to thicken), vanilla, and lemon juice. Mixed all together and pour in a baking dish. I love adding lemon juice to fruit desserts because the acid is a lovely contrast to the super sweet filling. If also helps to keep them from browning.
The oat topping is made with butter and rolled oats, flour, and spices like cinnamon and nutmeg.
The butter is softened and blended in with the oats and flour to form a crumbly mixture, then patted down onto the peach filling.
Once baked the oat topping forms this crispy, crunchy layer over the creamy peach filling. It's seriously amazing!
What is the Difference Between a Cobbler and a Crisp?
A cobbler is a baked fruit dessert that's topped with a cake-like biscuit batter. A crisp is a layer of sweetened fruit that is covered with a buttery oat and/or nut topping. As it bakes, the topping gets crispy and crunchy, hence the name!
Do You Have to Peel the Peaches?
It is highly recommend and will give your crisp filling a much better texture. The skin is fibrous and not entirely pleasant compared to the creamy, soft texture of the peach filling.
The easiest way to remove the skin is to blanch the fruit in boiling water for a couple of minutes. This will loosen the skin and you can easily peel it off. You could also use a handheld peeler.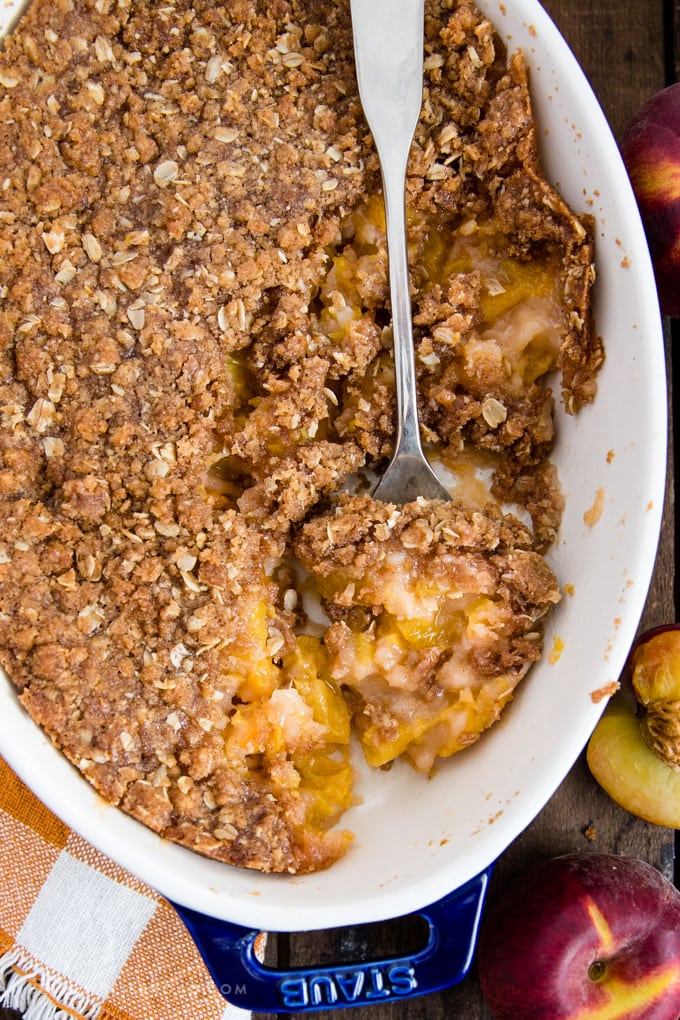 Serving Suggestions
Enjoy on its own either cold, warm, or at room temperature. If you really want to indulge, try a scoop of ice cream or some fresh whipped cream on top!
What to Do With Leftovers
Store leftovers in the fridge in a tightly sealed container. Enjoy cold, or reheat in the microwave. Discard any leftovers after 3-4 days.
Oats: Make sure to use OLD FASHIONED ROLLED OATS. The quick cook kind will just absorb the liquid and become soggy. The old fashioned kind will get nice and crunchy.
Make Ahead: You can make this dessert up to 3 months in advance and store in the freezer before baking. After step 3 in the recipe, cover the casserole dish tightly with foil or its lid and place in the freezer for up to 3 months. Thaw in the refrigerator overnight, then proceed with step 4.
Fresh vs. Frozen Peaches: I highly recommend fresh peaches if they are in season, but frozen peaches will work just fine.
Test the Ripeness of the peaches: When choosing peaches at the grocery store or farmer's market, hold one in the palm of your hand and give it a gentle squeeze. It should feel firm, but with a little give.
How to ripen peaches quickly: If you can't find ripe peaches, that's ok! Just place them into a brown paper bag and roll the top closed. In a few days you'll have perfectly ripe, juicy peaches!
To peel or not to peel: I prefer to remove the peels, but the choice is yours.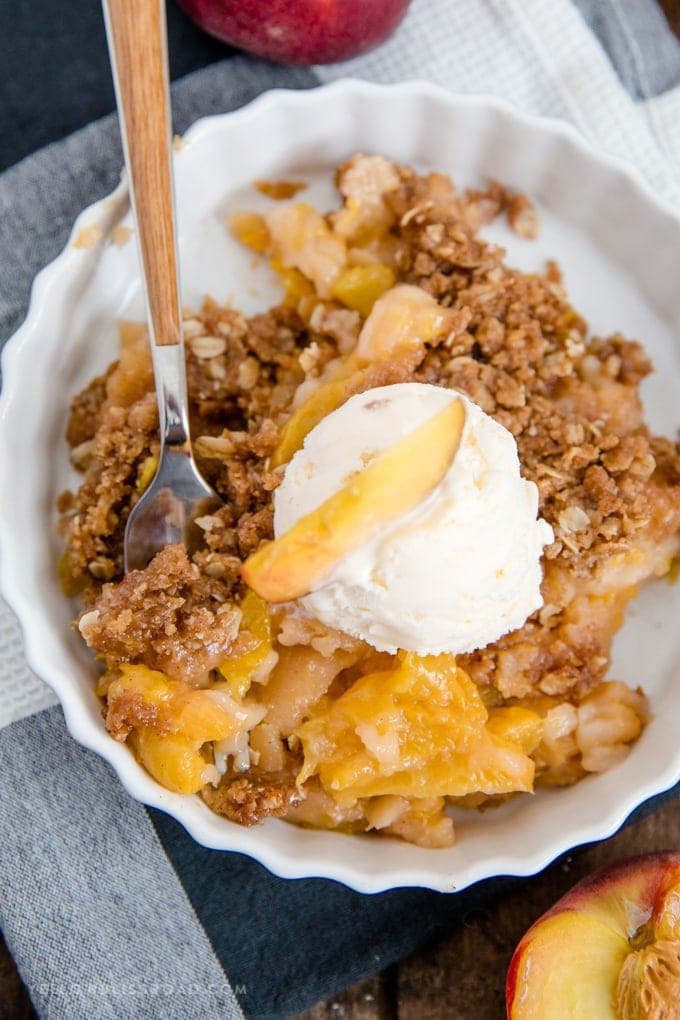 More Peach Recipes
Recipe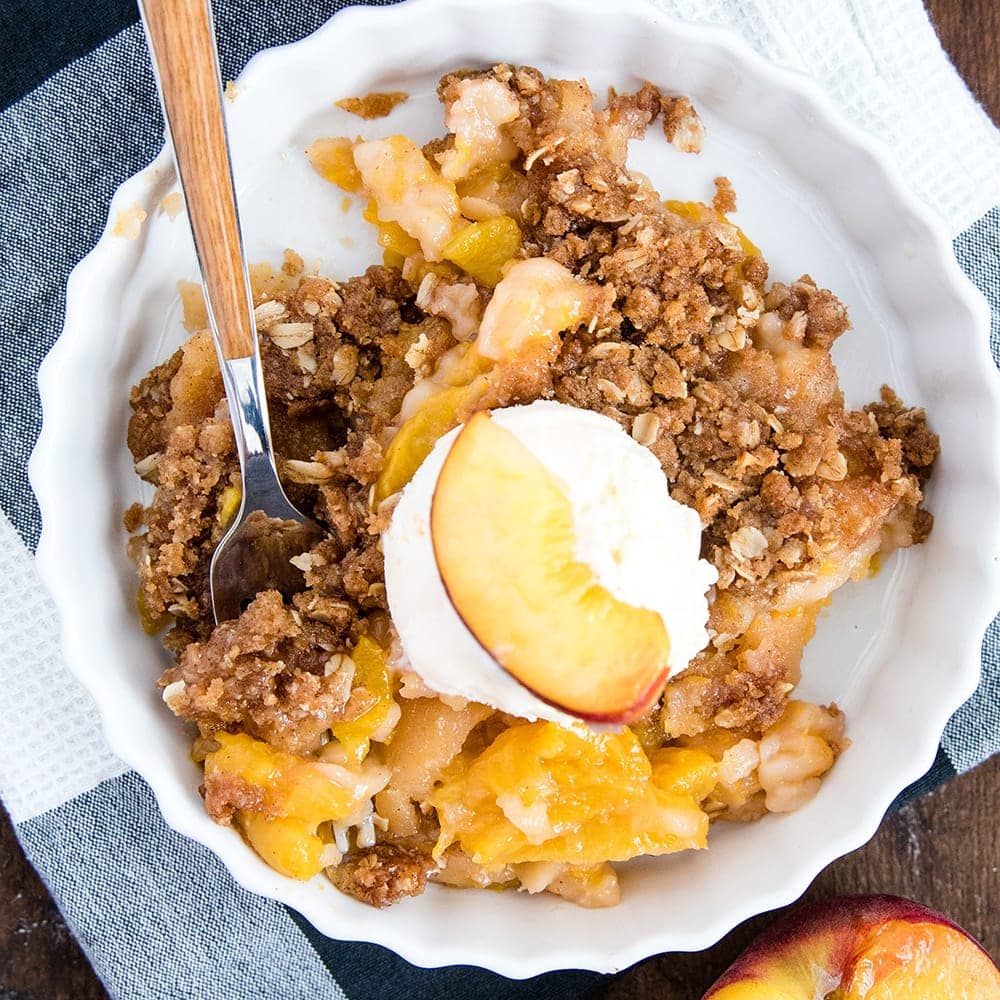 Peach Crisp
Peach Crisp is an easy summer dessert with fresh peaches and a crisp oat topping. It's perfect with a scoop of vanilla ice cream!
Ingredients
Filling
5

cups

peeled and thinly sliced peaches

about 5-6 medium peaches

1/2

cup

all-purpose flour

3/4

cup

granulated sugar

1/4

teaspoon

salt

1/2

teaspoon

vanilla extract

2

teaspoons

lemon juice
Topping
3/4

cup

brown sugar

2/3

cup

all-purpose flour

2/3

cup

old-fashioned rolled oats

1

teaspoon

ground cinnamon

Dash of nutmeg

1/4

teaspoon

salt

1/2

cup

butter

softened
Instructions
Preheat the oven to 350 F. Lightly grease an 8 or 9-inch baking dish (circle or square). Set aside.

In a large bowl, combine peaches flour, sugar, salt, vanilla. Toss gently to combine, then pour into prepared baking dish, spreading the peaches evenly. Set aside.

In a medium mixing bowl, whisk together brown sugar, flour, oats, cinnamon, nutmeg and salt together. Add the butter and stir with a wooden spoon to break up the butter until the mixture is crumbly. (A fork or pastry cutter will work, too.) Sprinkle the oat topping evenly over the peaches.

Bake uncovered for 40-45 minutes until the topping is golden brown and the juices are bubbly around the edges. Transfer to a wire rack. Allow to cool slightly before serving.

Serve warm, room temperature, or cold. Cover leftovers tightly with foil or plastic wrap and store in the refrigerator for up to 5 days.
Notes
Store leftovers in the fridge in a tightly sealed container. Enjoy cold, or reheat in the microwave. Discard any leftovers after 3-4 days.
Nutrition
Calories:
412
kcal
Carbohydrates:
73
g
Protein:
5
g
Fat:
12
g
Saturated Fat:
7
g
Cholesterol:
31
mg
Sodium:
254
mg
Potassium:
263
mg
Fiber:
3
g
Sugar:
47
g
Vitamin A:
670
IU
Vitamin C:
6.8
mg
Calcium:
36
mg
Iron:
1.9
mg