This Vanilla Peach Layer Cake is the perfect elegant dessert for summer. A tender, moist vanilla cake is layered with a sweet peaches and cream frosting, with chunks of fresh peaches.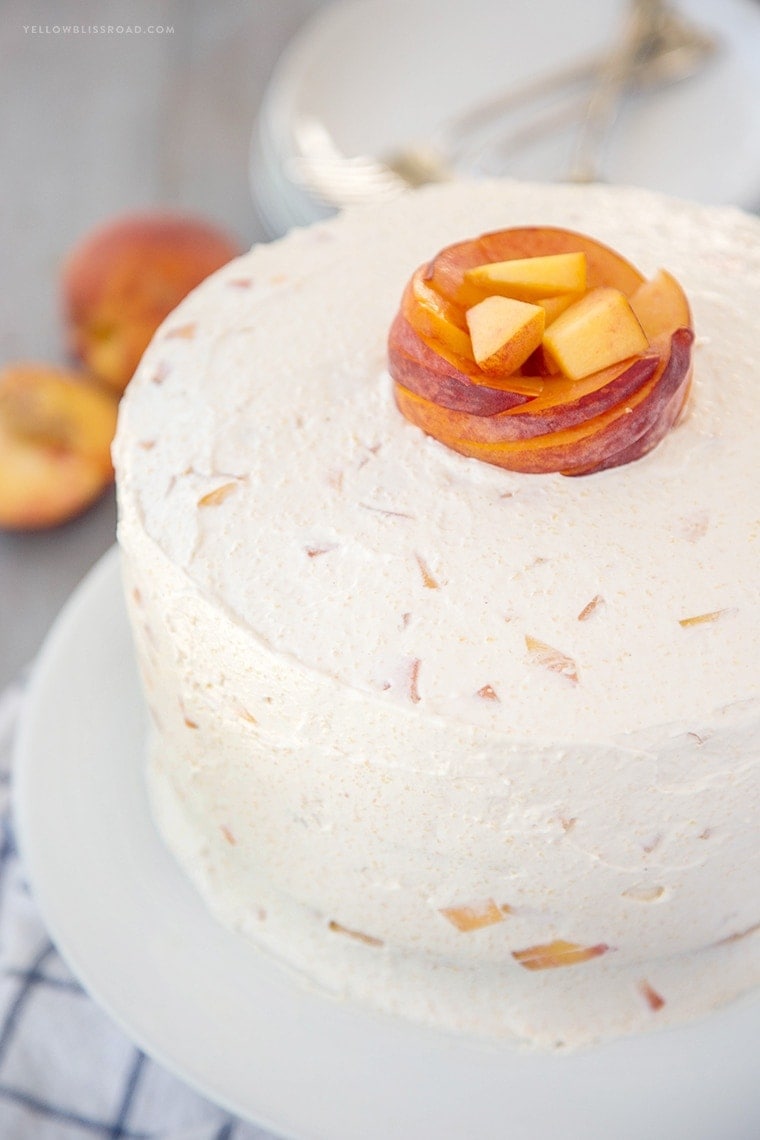 I have been wanting to make this cake since the fall. But since peaches aren't exactly in season in the fall, it had to wait until summer. I knew it wasn't going to be quick and simple like most of my recipes so I kept putting it off. Finally I picked up a bunch of peaches at the Farmer's Market so I couldn't put it off any longer.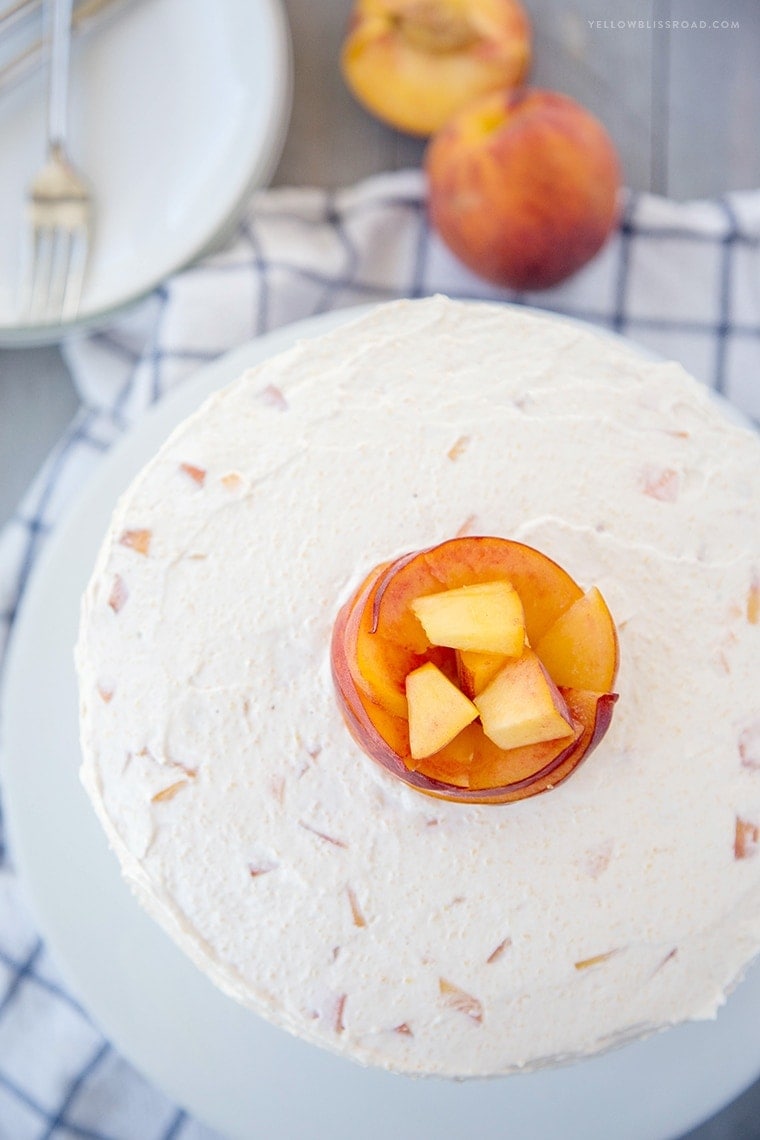 Since I can remember, peach has always been one of my favorite flavors. I was obsessed with peach frozen yogurt in my 20s, and now in the 30s, it's peach iced tea, all day, every day. I absolutely love the flavor…but when it comes to the fruit, I just can't eat them. Something about the texture, the fuzzy skin…nope. I just can't do it.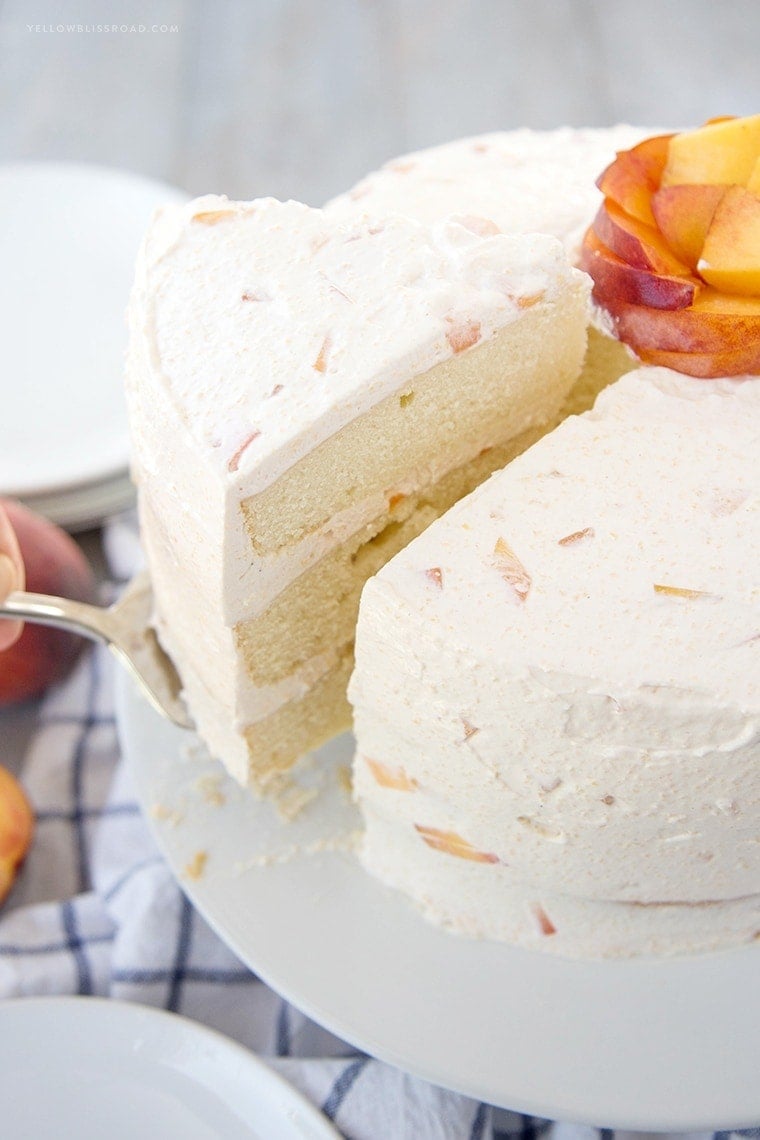 About 2 years ago I made a Fresh Strawberry Cake. It's since become one of the most popular recipes on the site. Now, I'm not a baker by any means, but I do love to bake every once in a while. This strawberry cake was amazing, so I knew it would be awesome with fresh peaches too. But there's that little aversion thing I have to fresh peaches.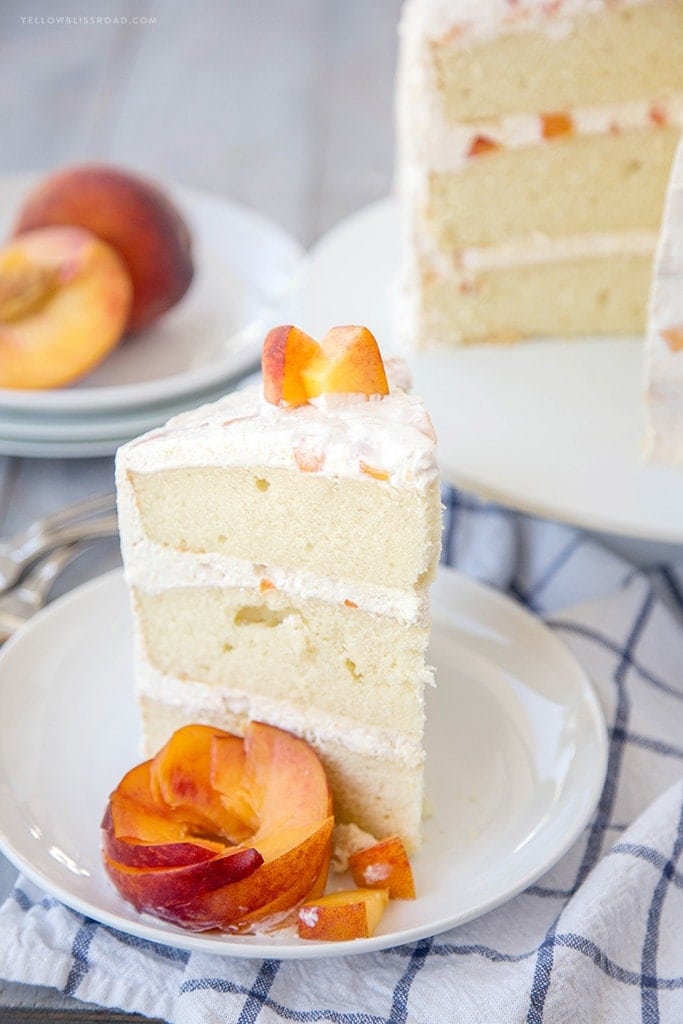 The vanilla cake is the same recipe used to make the fresh strawberry cake, but the frosting is different. I decided to use frozen peaches because I was curious about the flavor, and basically that means you can make this cake all year long! I did use chunks of fresh peaches in the frosting as well, for a bit of texture, and to decorate the top of the cake.
The frozen peaches were covered with brown sugar and cinnamon for a nice warm flavor and then pureed in my food processor.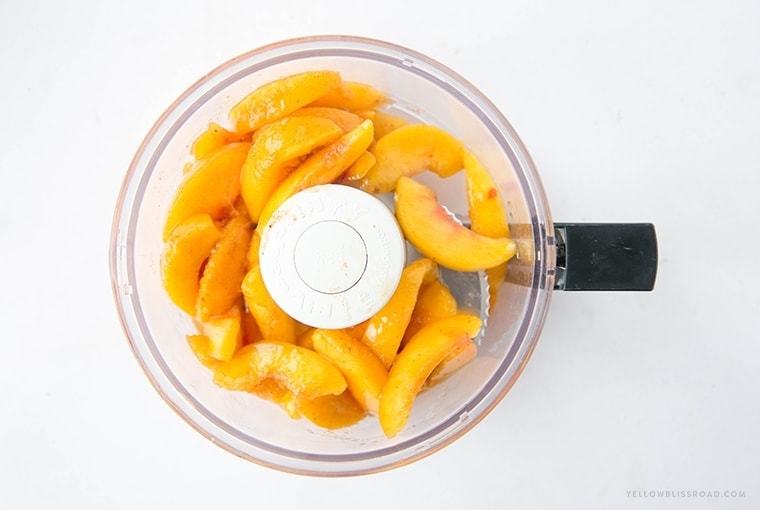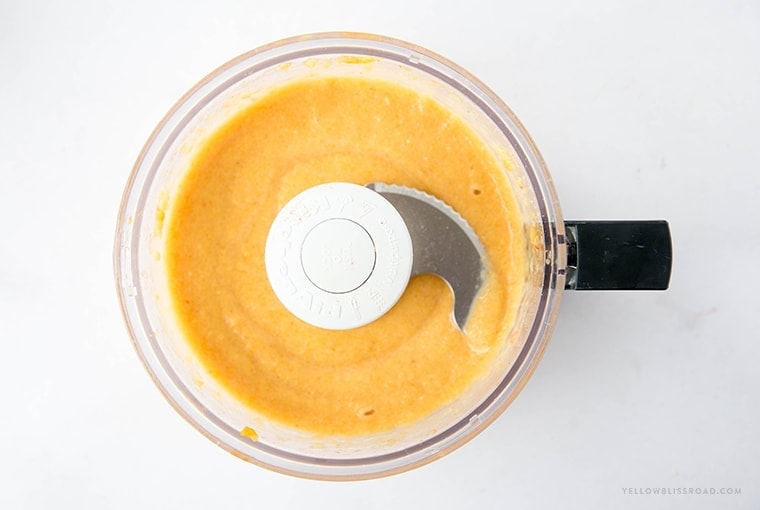 Once pureed, the mixture was still a little thick, so I strained it using a metal sieve.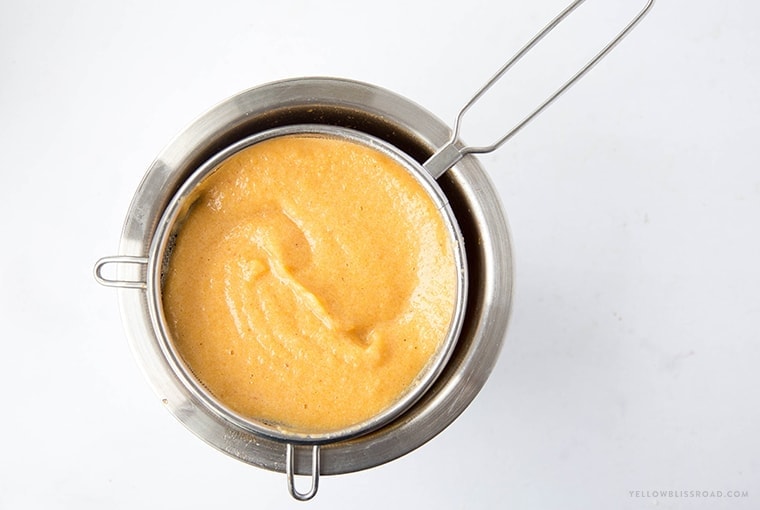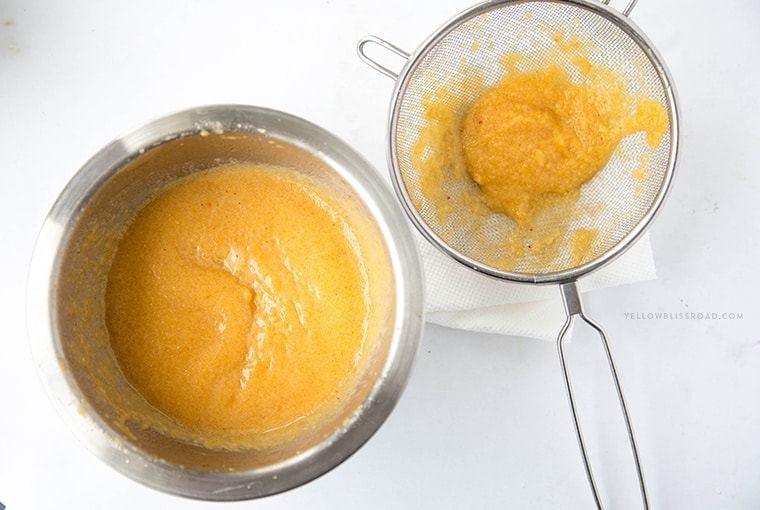 Once strained, it's time to start on the frosting. I used TruWhip non dairy whipped topping just for kicks and to see if it made a difference verses pure whipped cream. We really liked it, and didn't miss the cream. The biggest difference I noticed is that the whipped topping doesn't melt the way whipped cream does, so if that is important to you, go with the TruWhip.
To make the frosting, cream cheese and powdered sugar are combined until nice and fluffy, and the the peach puree is beaten in. Finally the TruWhip and small chunks of peach are folded in. I put it in the refrigerator to help it set a bit before frosting, but if your cake is already cooled you can frost right away.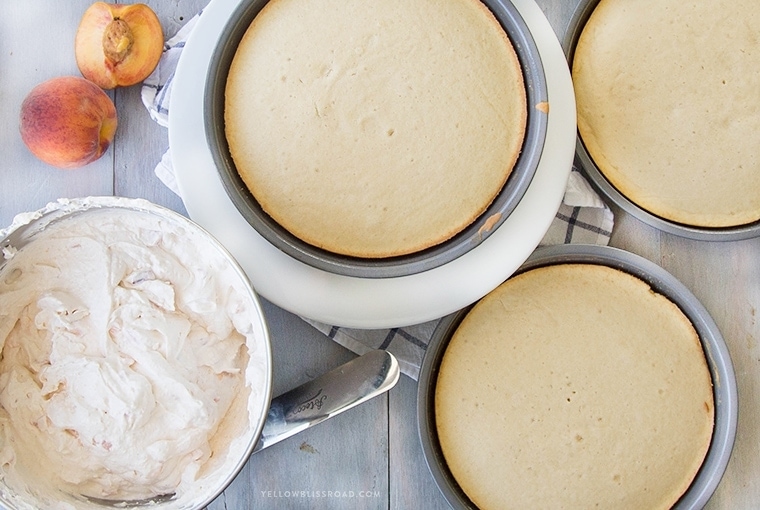 I love using whipped cream toppings for cakes because they spread so nicely – no need for a crumb coat. The end result is this gorgeous, scrumptious Vanilla Peach Layer Cake that's perfect for any summer celebration!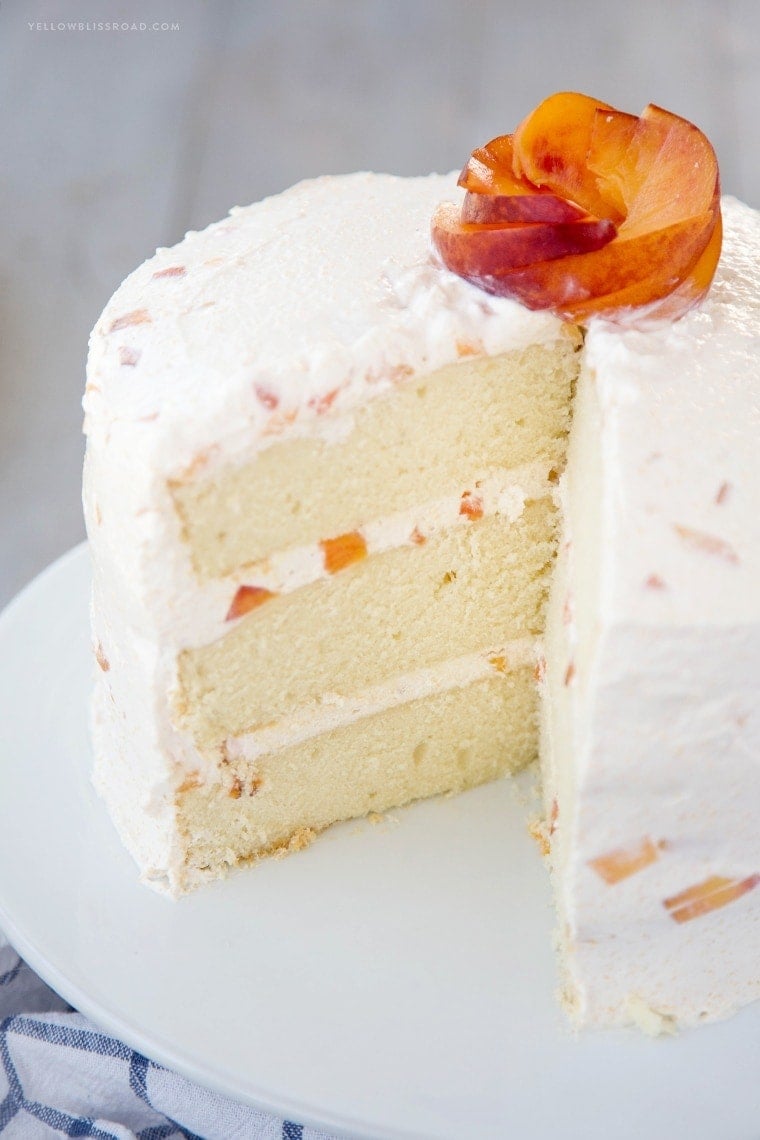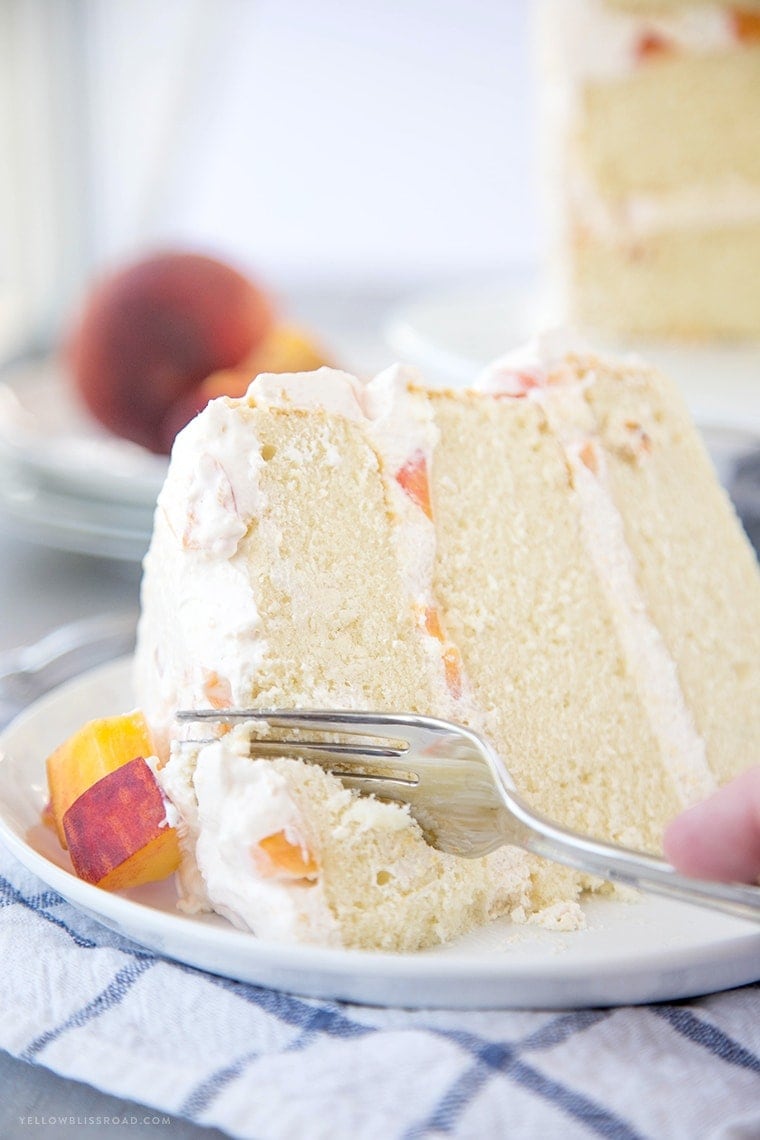 Recipe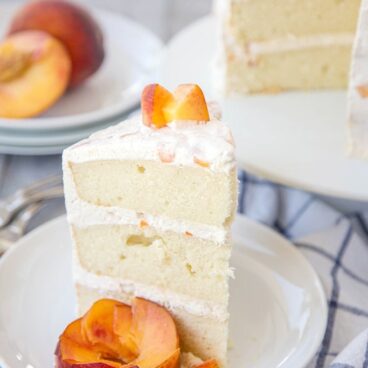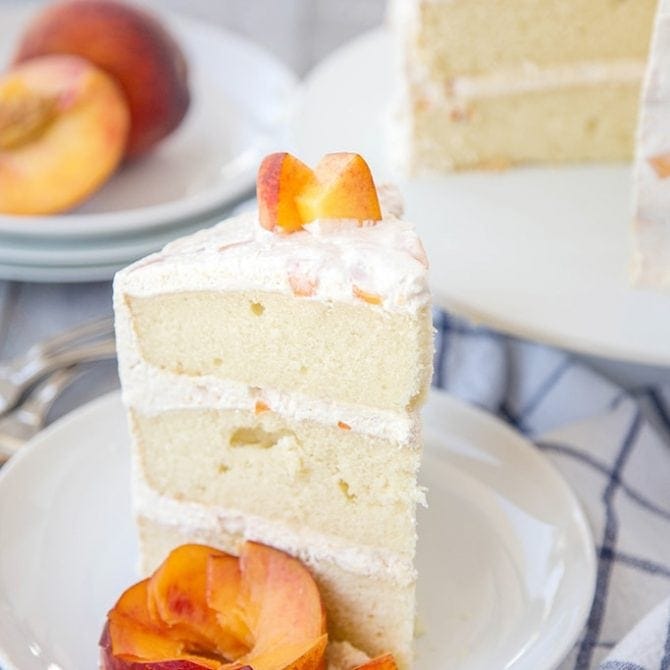 Vanilla Peach Layer Cake
This Vanilla Peach Layer Cake is the perfect elegant dessert for summer. A tender, moist vanilla cake is layered with a sweet peaches and cream frosting, with chunks of fresh peaches.
Total Time
1

hour
15

minutes
Ingredients
Cake
4½

cups

cake flour

3

teaspoons

baking powder

¼

teaspoon

salt

1

cup

+ 2 tablespoons butter

room temperature

2

cups

granulated sugar

4

eggs

1

egg white

¾

cup

sour cream

2

tablespoons

vanilla extract

1

cup

+ 2 tablespoons milk
Peach Frosting
5

cups

peeled and sliced peaches

5-6 fresh or 2 16-ounce packages frozen, divided

1/4

cup

brown sugar

1

teaspoon

cinnamon

1/2

teaspoon

nutmeg

pinch

of salt

2 10-

ounce

containers non-dairy whipped topping

defrosted

1 8-

ounce

package cream cheese

softened

2

teaspoons

vanilla extract

1/2

cup

powdered sugar

pinch

of salt

1

fresh peach

sliced for garnish (if desired)
Instructions
Cake
Preheat oven to 325 degrees. Prepare 3, 8-inch round cake pans by spraying liberally with non-stick cooking spray.

Sift together cake flour, baking powder and salt in a medium mixing bowl and set aside.

In a stand mixer with the paddle attachment, beat butter and sugar together until smooth and fluffy. Slowly add the eggs and mix well until combined.

Stir in sour cream and vanilla, and mix well until combined.

Scrape the sides of the bowl and add half of the flour mixture. Stir until fully incorporated. Scrape the sides of the bowl again and stir in the milk.

Add the remaining flour and stir until the flour is fully incorporated. Scrape the sides and bottom of the bowl and give it one last stir.

Divide the batter into 3 prepared, round baking pans.

Bake in 325 degree oven for about 30-35 minutes. Cakes are done when tops spring back with a light touch, or a toothpick inserted into the center of the cake comes out clean. Allow to cool completely before turning over onto a plate or baking rack.
Peach Frosting
Set half of the peaches in a bowl. Sprinkle with brown sugar, cinnamon, nutmeg and a pinch of salt. Stir to coat completely and let sit on the counter for about 20 minutes.

Meanwhile, finely chop remaining peeled peach slices. Place chopped peaches in the refrigerator until ready to use.

Puree the peaches/brown sugar mixture in a food processor or blender on high speed for about 30 seconds, or longer if needed, until the mixture is smooth. Pour the peach puree into a fine mesh strainer and set it over a small bowl. Let sit until all of the peach puree has been strained through to remove any larger pieces of the fruit. Set aside.

Using a stand mixer with the whisk attachment, beat the cream cheese until fluffy and smooth; about 2-3 minutes. Add the peach puree and beat until combined. Stir in the powdered sugar until well combined and smooth. Stir in vanilla and a pinch of salt. Fold in non-dairy whipped topping and chopped peaches just until combined.

Keep frosting in the refrigerator until ready to use.
Assembly
Place the first cake layer on your serving platter and frost just the top with the peach frosting (about ½" or so thick). Repeat with the next two layers, then frost the sides with an offset spatula (the long and skinny kind). Smooth top and sides until even, then top with sliced sliced fresh peaches for garnish, if desired.
Notes
Make sure you have plenty of room in the fridge. Whipped cream frosting needs to stay refrigerated.
Nutrition
Calories:
1069
kcal
Carbohydrates:
142
g
Protein:
18
g
Fat:
49
g
Saturated Fat:
29
g
Polyunsaturated Fat:
3
g
Monounsaturated Fat:
11
g
Trans Fat:
1
g
Cholesterol:
192
mg
Sodium:
620
mg
Potassium:
430
mg
Fiber:
4
g
Sugar:
88
g
Vitamin A:
1849
IU
Vitamin C:
5
mg
Calcium:
253
mg
Iron:
2
mg
For more delicious desserts, try these:
3-Citrus Cake with Whipped Cream Cream Cheese Frosting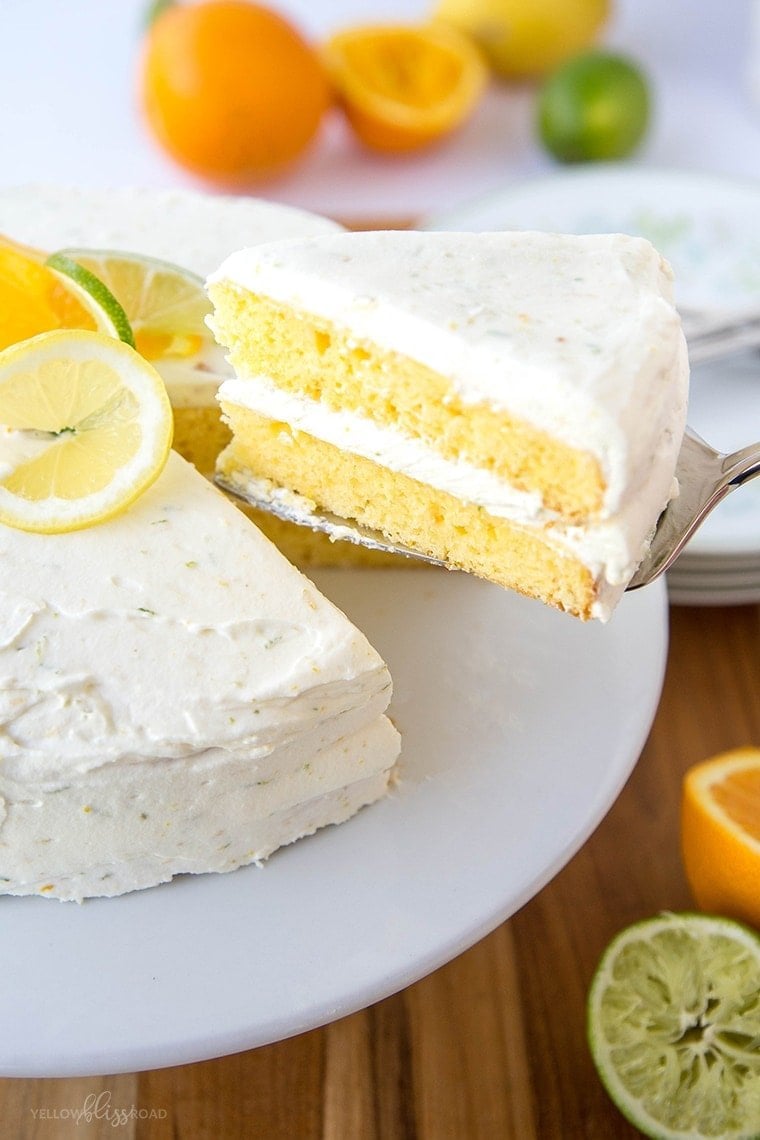 Orange Creamsicle Ice Box Cake