My Fresh Strawberry Cake recipe starts with a rich, moist vanilla pound cake that is divided into three layers, and slathered with the most light and fluffy whipped cream and cream cheese frosting, and overflowing with fresh strawberries. It's a light yet filling treat that's perfect for summer. It's the best Strawberry Cake you've ever had!

FRESH STRAWBERRY CAKE
Out of the blue the other day, my son said to me from the backseat of our truck, "Mom, I want us to bake a cake." Never one to shy away from baked goods, I replied, "Sure, what kind of cake do you want to make?" "A fancy one. You, know the one with lots of levels that looks like a triangle?" If you're as confused as I was, let me clarify. It took me until the next day to figure out that he was talking about a tiered cake – like a wedding cake – with eight layers (at least that's how many he thought it should have).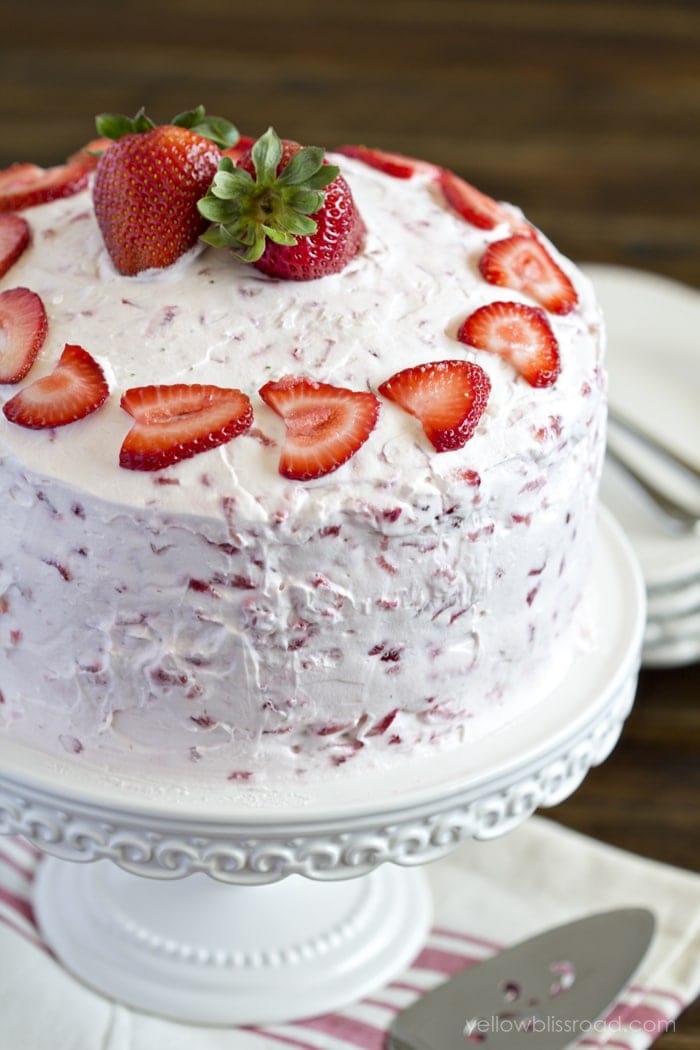 Obviously I wasn't about to run to the store and pick up a bunch of cake tiers, so I started showing him photos of cakes on Pinterest. As I scrolled, he hemmed and hawed, but was so excited when he saw a strawberry cake from the blog, Spiced. It looked gorgeous, so I was almost as excited as he was to test out the recipe.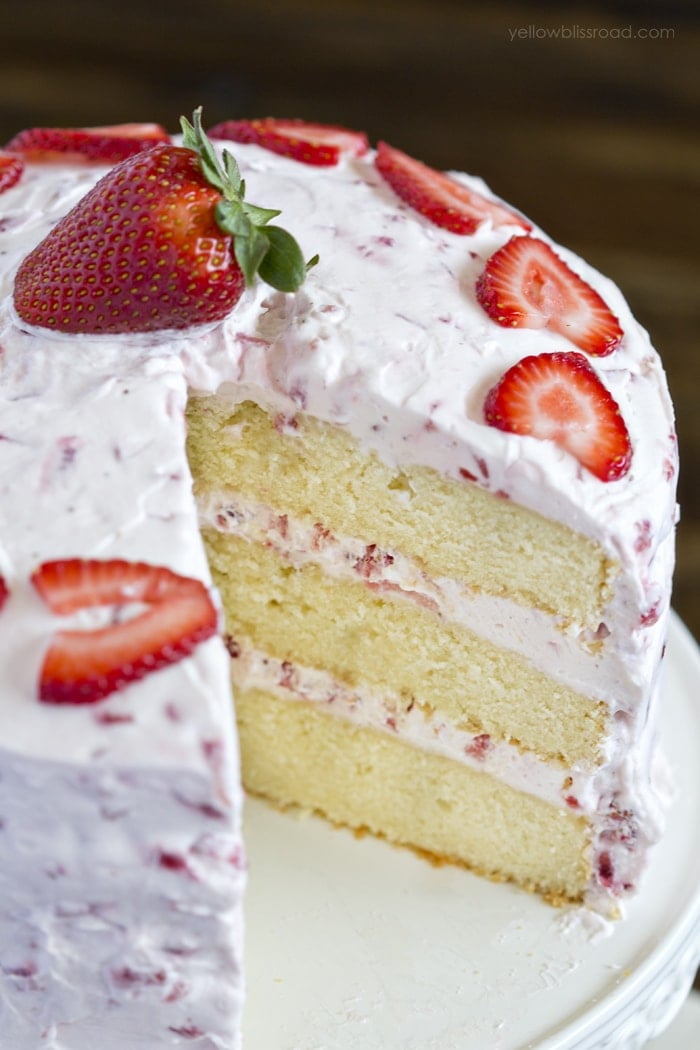 HOW I MADE MY FRESH STRAWBERRY CAKE
The cake is dense, almost like a shortcake or pound cake, which is of course perfect for this Strawberry Shortcake type dessert. In his recipe, the author gives instructions for making a two layer cake, but if this cake was going to be fancy enough to satisfy my boy, it had to have three layers. I increased the recipe by 1.5, and made a couple of minor adjustments, which I'll share in the recipe below.
Start by preheating your oven to 325 degrees. Grease and flour 3, 9-inch round baking pans.
Combine all of the ingredients as described in the recipe. Make sure to follow the measurements exactly.
Divide the batter into the three pans. Having a kitchen scale would come in handy here, but you can also just eyeball it. Tap the pans on the counter a few times to release air bubbles.
Bake for 35 minutes. The tops should be golden and should spring back when lightly touched. A toothpick inserted into the center of the cake should come out clean with a few moist crumbs. Cool completely before frosting.
HOW TO MAKE FRESH STRAWBERRY FROSTING
The frosting, oh Lordy the fresh strawberry frosting was positively glorious! With fresh, homemade whipped cream, a little sugar and tons of fresh strawberries, it's light and fresh and creamy, and the perfect way to balance out the heaviness of the cake.
Topped with fresh strawberry slices, this Strawberry Cake is the perfect springtime dessert.
Using a stand mixer with the whisk attachment, beat whipped cream until stiff peaks form. This will take several minutes at high speed, but is crucial to stabilizing the frosting. *TIP – chill the metal bowl and whisk in the freezer for 20 minutes to help keep the whipped cream cold. Set the whipped cream in the refrigerator while you whip the cream cheese.
Beat the cream cheese with sugar and vanilla for several minutes. It should be super creamy and fluffy.
Add chopped strawberries to the cream cheese, then fold in the chilled whipped cream.
HOW TO STORE THIS CAKE WITH FRESH STRAWBERRY FROSTING
This Strawberry Cake should be stored in the refrigerator until ready to serve. The whipped cream strawberry frosting will melt if left out for an expended length of time.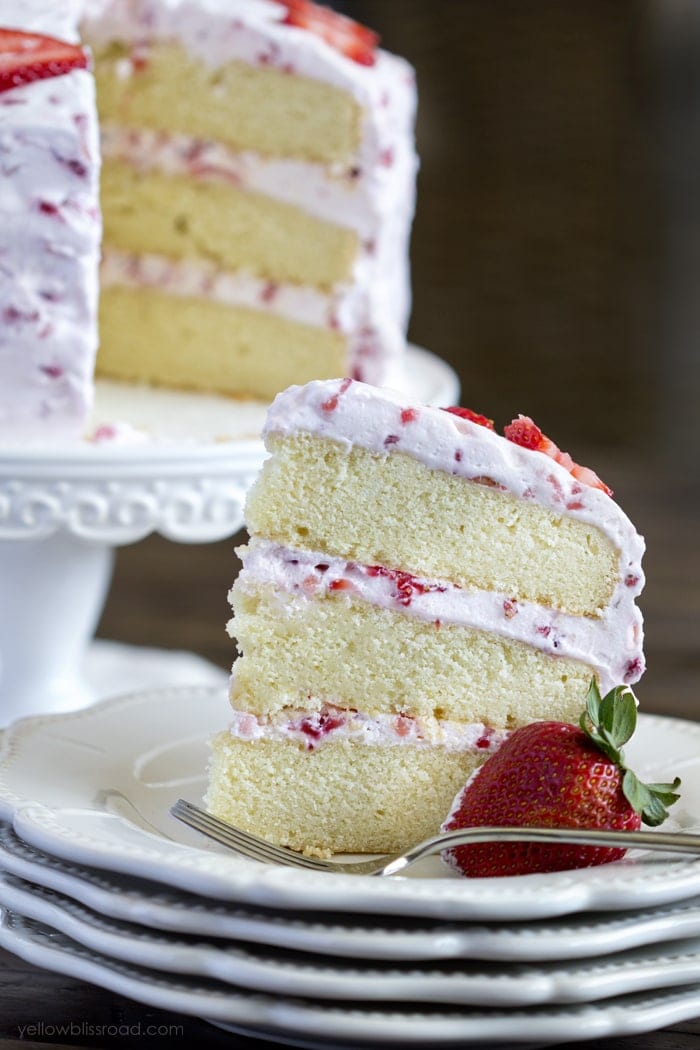 For more delicious cake recipes, try these:
And for more strawberry recipes, try these:
Watch the video below  to see how easy it is to make this Strawberry Cake!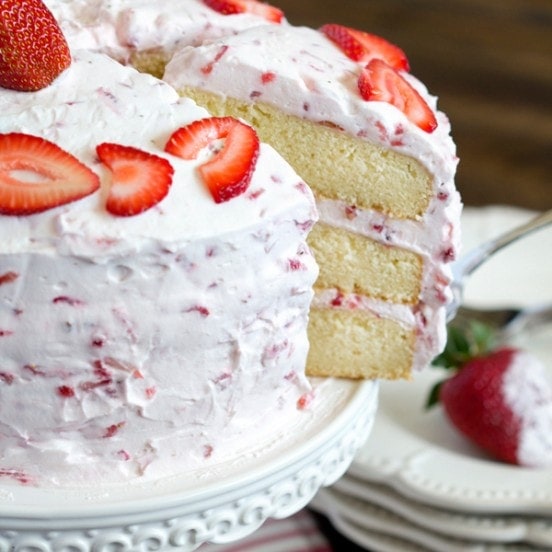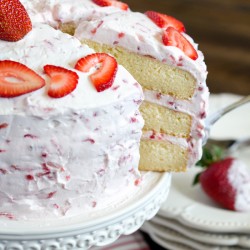 Fresh Strawberry Cake
Ingredients
Cake
4 1/2 cups cake flour
3 tsp baking powder
1/4 tsp salt
1 cup + 2 tablespoons butter room temperature
2 cups granulated sugar
4 eggs + 1 egg white
3/4 cup sour cream
1 tablespoon vanilla extract
1 tablespoon orange extract optional
3/4 cup + 6 tablespoons milk
Strawberry Frosting
3 cups heavy cream
1 8 ounce package cream cheese, softened
2 teaspoons vanilla extract
3/4 cup granulated sugar
2-3 pints strawberries finely chopped (= about 2 cups chopped strawberries)
Instructions
Cake
Preheat oven to 325 degrees. Prepare 3, 9-inch round cake pans by spraying liberally with non-stick cooking spray.

Sift together cake flour, baking powder and salt in a medium mixing bowl and set aside.

In a stand mixer with the paddle attachment, beat butter and sugar together until smooth and fluffy. Slowly add the eggs and mix well until combined.

Stir in sour cream, vanilla and optional orange extract, and mix well until combined.

Scrape the sides of the bowl and add half of the flour mixture. Stir until fully incorporated. Scrape the sides of the bowl again and stir in the milk.

Add the remaining flour, and stir until the flour is fully incorporated. Scrape the sides and bottom of the bowl and give it one last stir.

Divide the batter into 3 prepared, round baking pans.

Bake in 325 degree oven for about 35 minutes. Cakes are done when tops spring back with a light touch, or a toothpick inserted into the center of the cake comes out clean. Allow to cool completely before turning over onto a plate or baking rack.
Frosting
In your stand mixer with the whisk attachment, (or with a hand held mixer) beat the heavy cream until stiff peaks are formed. Set aside, preferably in the fridge. (If you have two bowls for your stand mixer, leave it in the bowl, if not, transfer to another bowl before placing in the fridge). *NOTE - use a chilled bowl and paddle to help keep the cream cool.

Fit the paddle attachment on your mixer and beat cream cheese on high until light and fluffy, scraping the sides a couple of times. Add the vanilla and sugar and beat on medium until fully incorporated.

Stir in chopped strawberries on low speed. Remove the bowl from the mixer. Gently fold in the whipped cream with a spatula until well combined.
Assembly
Place the first cake layer on your serving platter and frost just the top with the strawberry frosting (about 1/2" or so thick). Repeat with the next two layers, then frost the sides with an offset spatula (the long and skinny kind). Smooth top and sides until even, then top with sliced strawberries for garnish, if desired.
Notes
This cake should be refrigerated until ready to serve.