If you're craving chocolate and want something fast and easy, this one pan chocolate cake recipe is the perfect choice! All of the ingredients are mixed together right in the baking dish, making it a one pan wonder that is sure to please the whole family. It's also eggless so it's a delicious vegan alternative.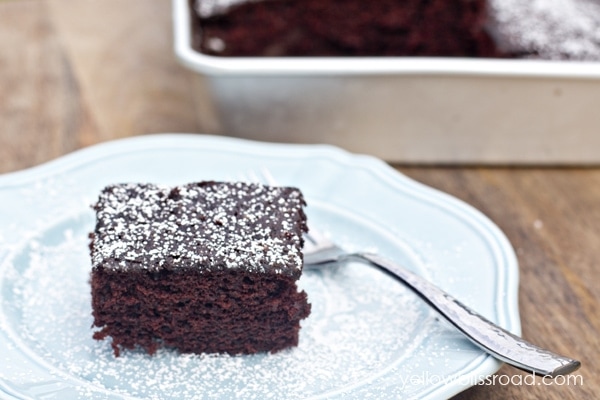 I've been making this cake since I was just out of high school…so more years like I'd like to admit. I don't make it as often as I should, but it's so easy!
The ingredients are probably all something you already have on hand. Just grab an 8″x8″ pan and mix up the dry ingredients first, then add the wet and incorporate.

This is such a tender and delicious cake, trust me you'll have to hold yourself back from eating the entire pan. Or just grab a fork and chow down like we do. Who needs plates anyway?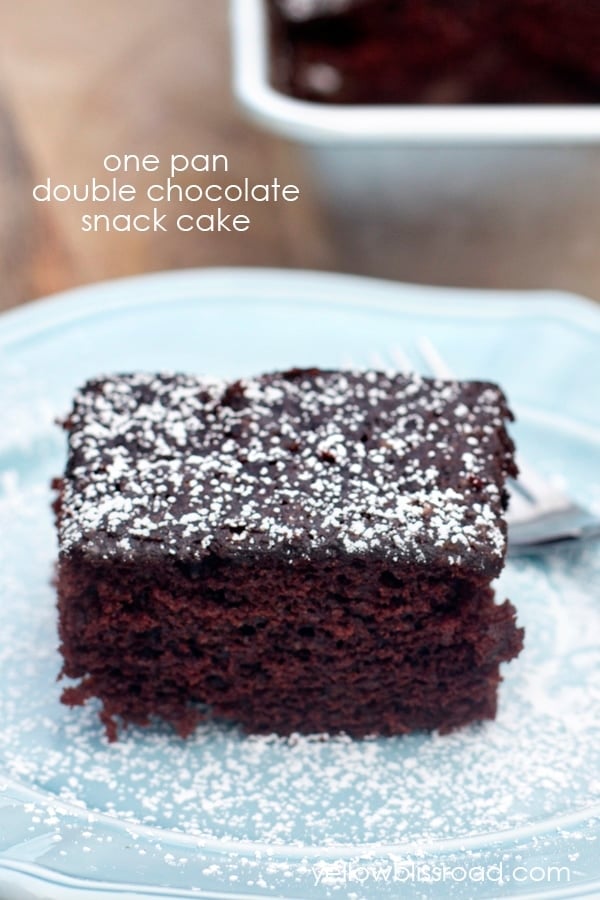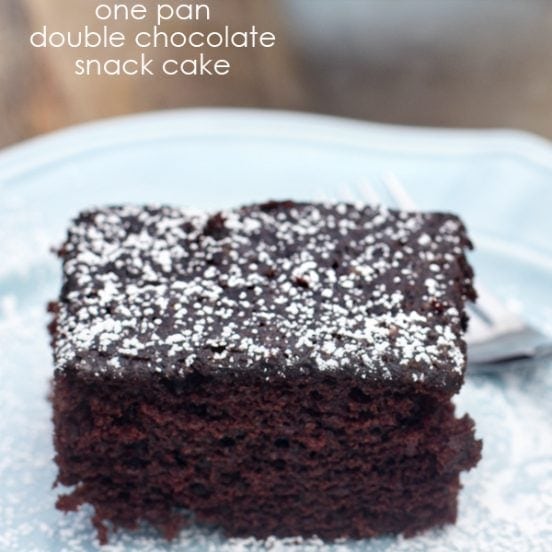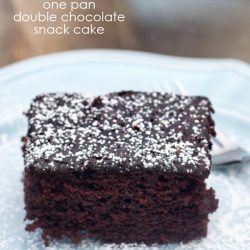 Chocolate Snack Cake
Ingredients
1 ⅔ cup all-purpose flour
1 cup brown sugar or granulated sugar
¼ cup cocoa
1 teaspoon baking soda
½ teaspoon salt
1 cup water
⅓ cup vegetable oil
1 teaspoon white vinegar
½ teaspoon½ vanilla
½ cup chocolate chips milk or semi-sweet
Powdered sugar for dusting
Instructions
Heat oven to 350 degrees.

Mix all of the dry ingredients with a fork in an ungreased 8"x8" square pan.

Stir in remaining ingredients except chocolate chips and powdered sugar. Make sure to scrape the the edges and corners to incorporate all of the dry ingredients.

Sprinkle with chocolate chips.

Bake at 350 degrees for 35-40 minutes, or until toothpick comes out clean. Let cool completely before dusting with powdered sugar.
Notes
Chocolate frosting (optional): Beat 1/2 cup softened butter, 2 cups powdered sugar, 2 tablespoons cocoa powder, 1/2 teaspoon vanilla, and 1-2 tablespoons milk until fluffy; about 2-3 minutes. Spread over cooled cake.
If you enjoyed this recipe, you might also like: