This Orange Creamsicle Icebox Cake tastes just like your favorite creamy, dreamy popsicle! It's a no bake dessert that's perfect for summer.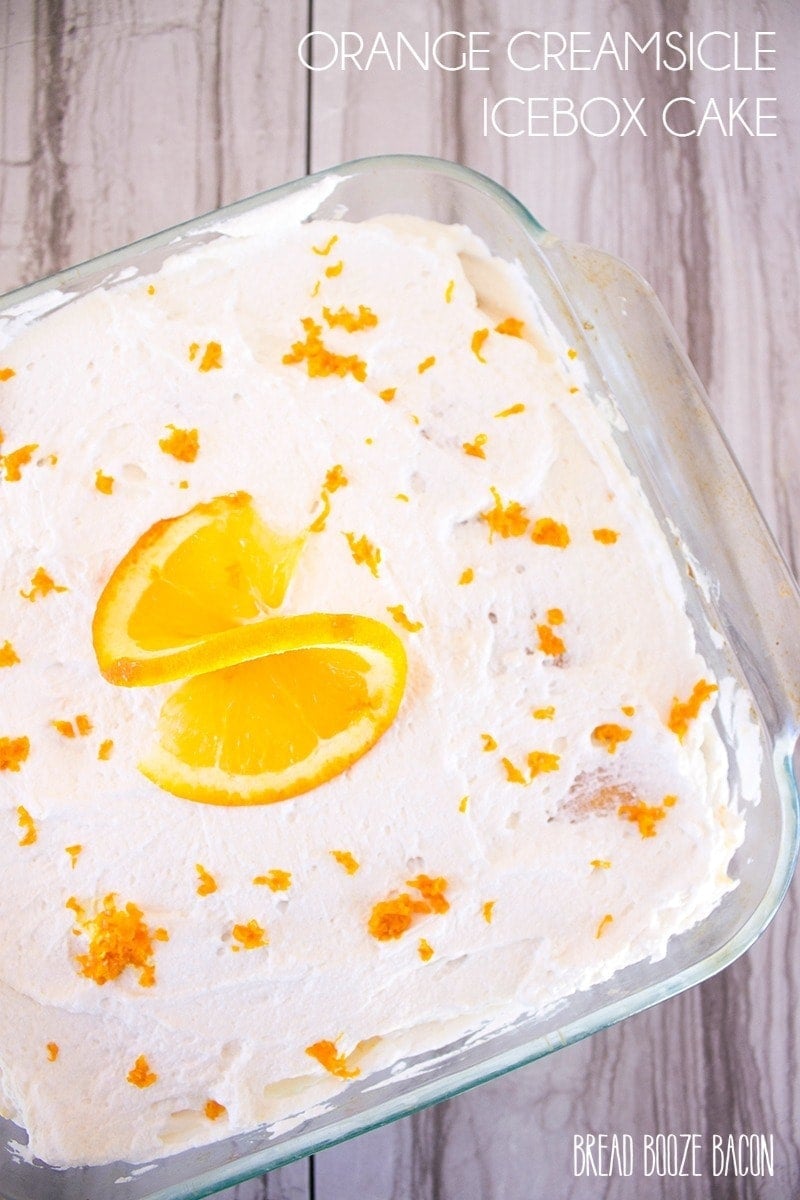 I love bright fresh citrus flavors in summer. They go amazingly well with berries (hello strawberry lemonade!) and citrus is super refreshing. Now I'm taking that citrus love and pairing with my other summer favorite – no bake desserts! This Orange Creamsicle Icebox Cake only takes about 15 minutes to prep, you pop it in the fridge, and BAM! You have an awesome dessert any night of the week!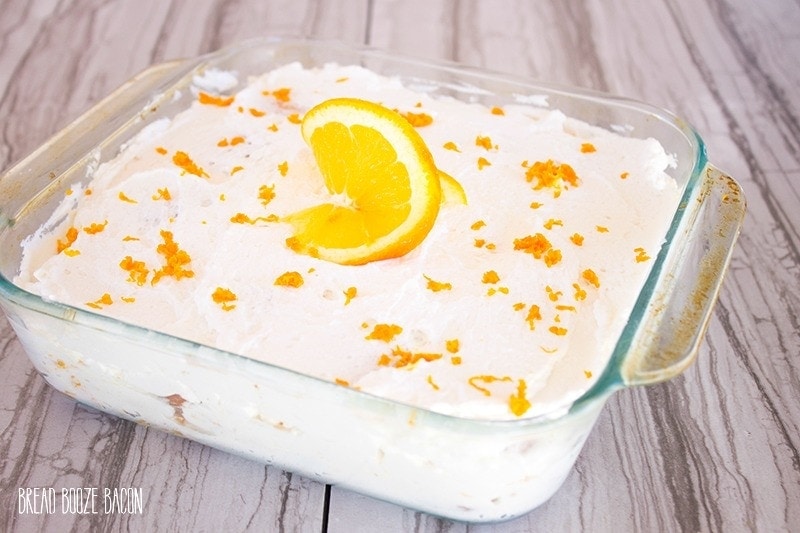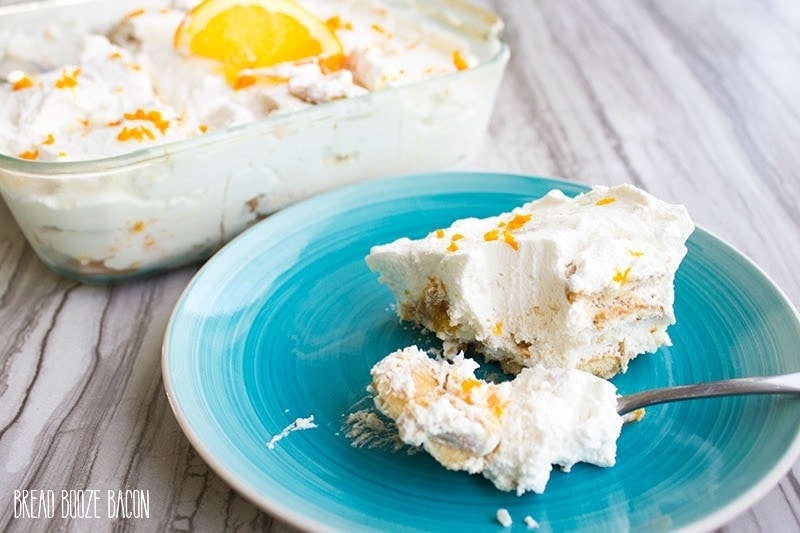 I love that you're basically required to make icebox cakes ahead of time. You don't have to spend extra time in the kitchen with the hot oven on. Instead, pop everything in the dish, throw it in the fridge, and walk away. Walk far, far away and forget about dessert until it's time it dig in! But you do have to wait. If you've never made an icebox cake before what happens is that the moisture from the whipped cream seeps into the cookies and makes them soft and they take on a cake-like texture. It's really cool. (No pun intended. Okay, maybe a little pun.)
The pairing of slightly sweet whipped cream, oranges, and vanilla wafers is so good. I dare even say this cake is better than the original popsicle. If you don't have vanilla wafers on hand you could substitute graham crackers instead. Just break them up to the size of your baking dish. If you're a major Cool Whip fan, you could swap in Cool Whip for the whipped cream too. I like to control the sweetness of my whipped cream so I make it from scratch, but you do you. This dessert is all about easy, delicious summertime eats!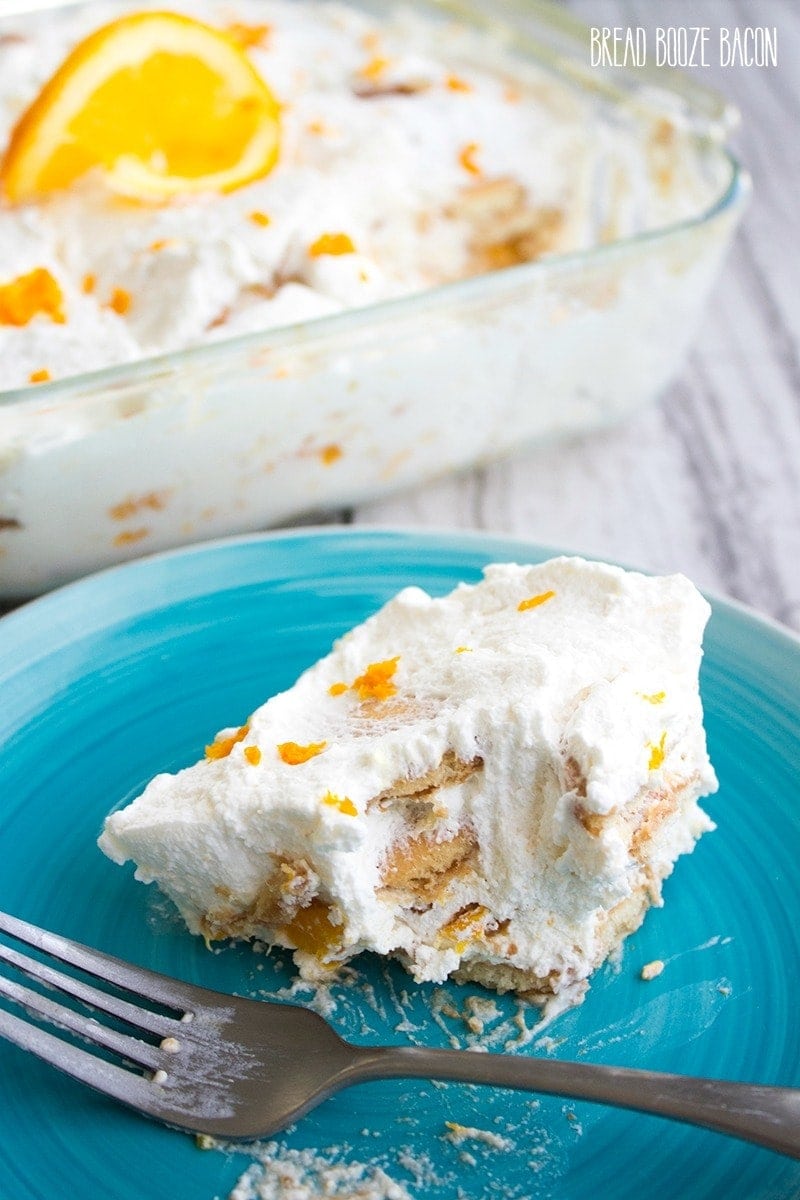 Hungry for more? Try these other no bake desserts!

Mango Macadamia Fluff | No Bake Coconut Cream Cheesecake | Peanut Butter Graham Cracker Pie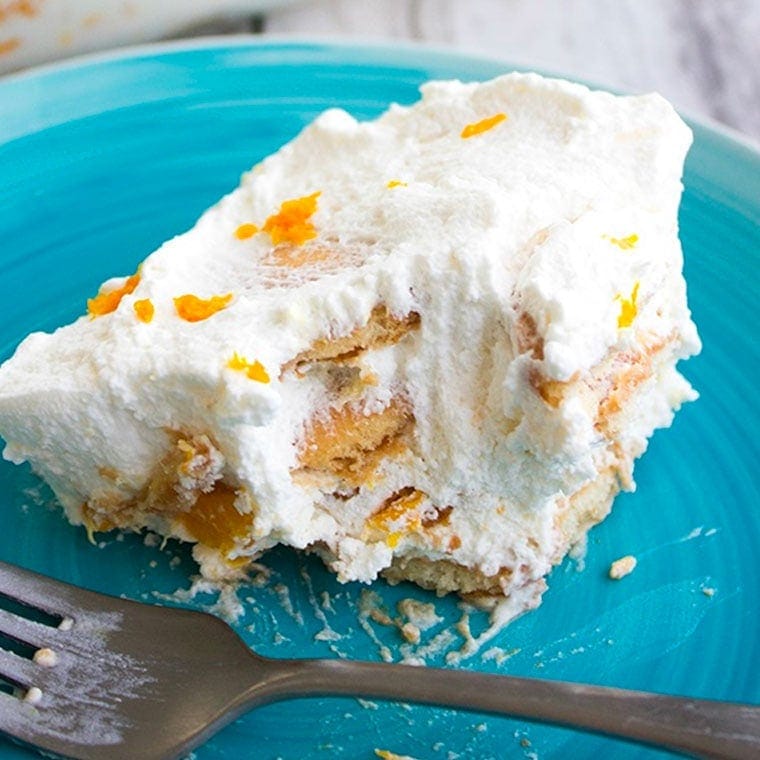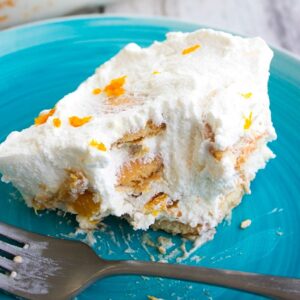 Orange Creamsicle Icebox Cake
This Orange Creamsicle Icebox Cake taste just like your favorite creamy, dreamy popsicle!
Ingredients
2 cups heavy cream
1/2 cup powdered sugar
2 teaspoons vanilla extract
22 ounces canned mandarin orange slices drained
64 vanilla wafer cookies about 1 box
Zest of 1 orange for garnish
1 orange slice for garnish
Instructions
In a large mixing bowl, beat together the heavy cream, powdered sugar, and vanilla until medium peaks form, about 3 to 5 minutes.

Place the mandarin orange slices on a cutting board and rough chop them into small pieces.

Layer two paper towels on top of each other and place the oranges on top. Wrap up the orange pieces and gently press to soak up any extra juice into the paper towels.

Add the orange pieces to the whipped cream, and gently fold the oranges into the whipped cream.

Using a 9-inch by 9-inch baking dish, create a layer of vanilla wafers in the bottom of the dish. (I was able to fit 16 cookies per layer) Place 1/4 of the whipped cream on top of the cookies and use the back of a spoon of a rubber spatula to spread the whipped cream into an even layer.

Repeat the cookie and whipped cream layering three more times, ending with whipped cream on top.

Cut a slit in the orange slice and twist it once. place the twisted orange in the center of the dessert. Sprinkle the orange zest all over the top of the whipped cream. (You could also reserve 4 mandarin oranges and place them in the center of the whipped cream in a starburst.)

Cover the dish with plastic wrap and refrigerate for at least 4 hours. Keep refrigerated until ready to serve.

Cut the icebox cake into the desired number of servings. For large portions, cut the cake into quarters. I cut mine into 9 portions and it was perfect for little after dinner treat.
Notes
If you prefer, you can substitute 1 tub of thawed Cool Whip (about 3 cups) for the whipped cream. You can also substitute graham crackers for the vanilla wafers. Break the graham cracker sheets to fit your baking dish, and prepare as directed.
Nutrition
Calories: 445kcalCarbohydrates: 49gProtein: 3gFat: 27gSaturated Fat: 15gCholesterol: 73mgSodium: 193mgPotassium: 191mgFiber: 2gSugar: 28gVitamin A: 1249IUVitamin C: 20mgCalcium: 60mgIron: 1mg
 For more delicious desserts, try these:
Citrus Cake with Whipped Cream Cheese Frosting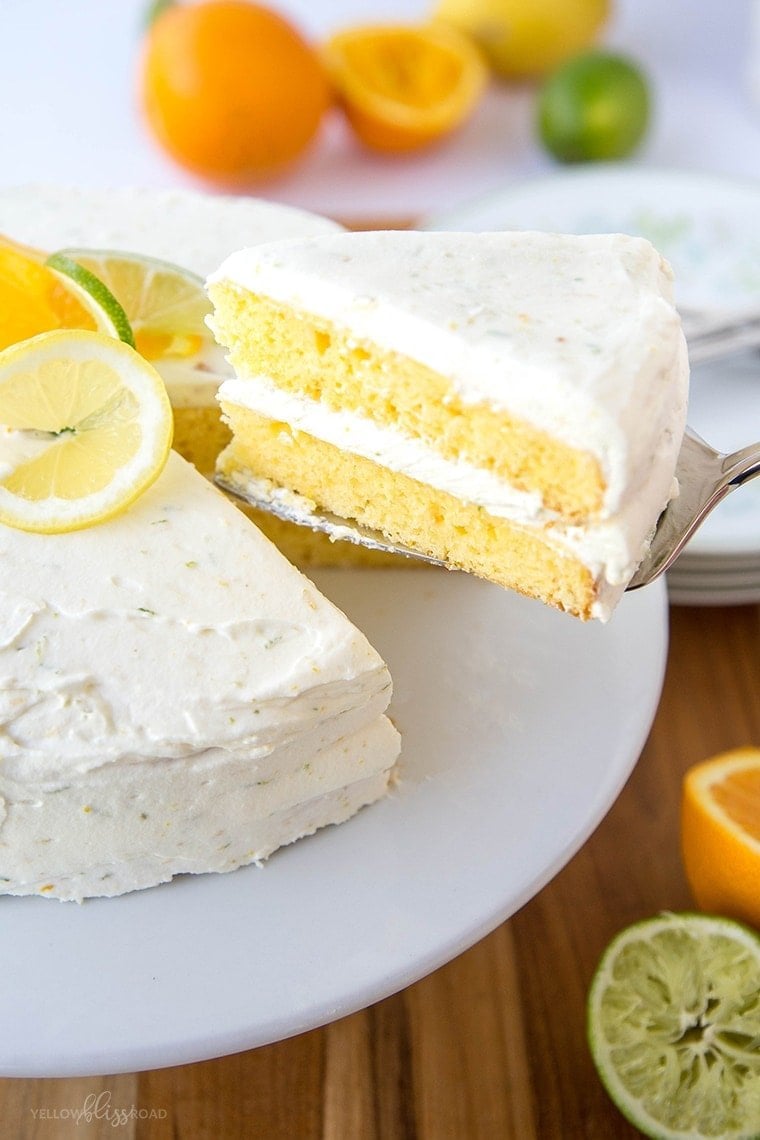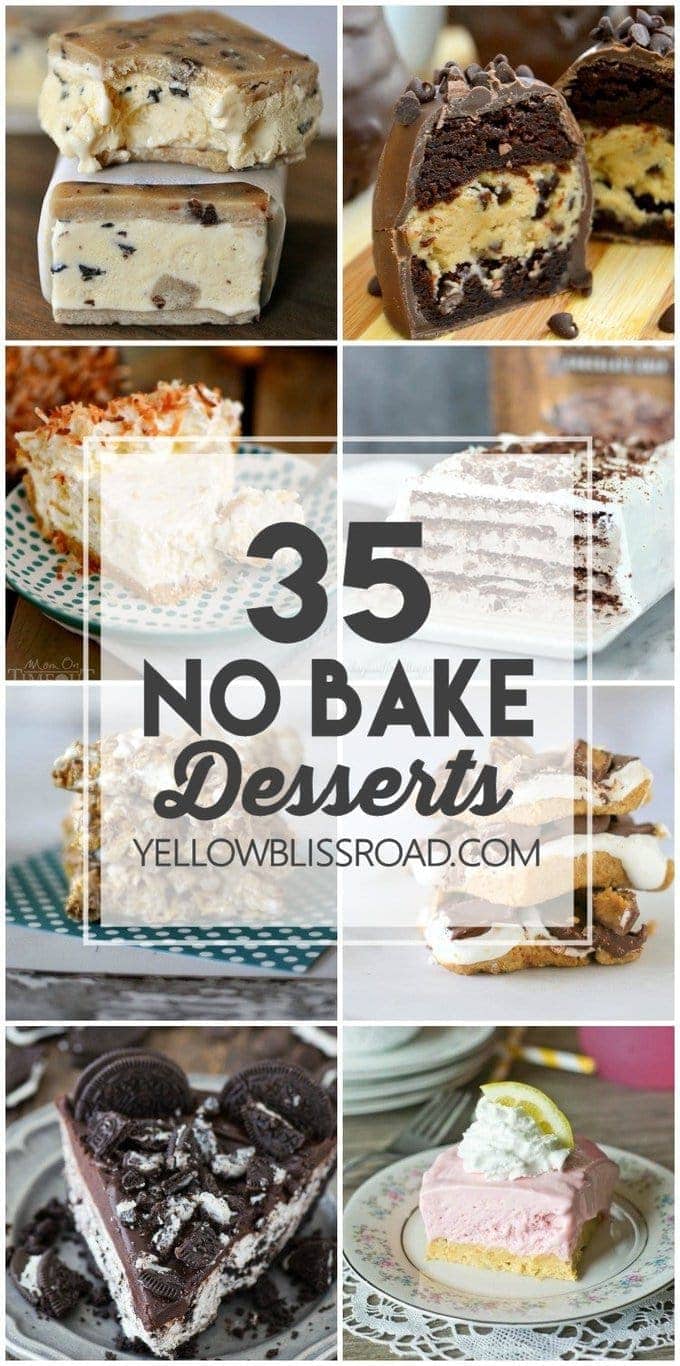 For all desserts click here, and for all recipes click here.