Peach Glazed Chicken Wings
Peach Glazed Chicken Wings are my go to game day wings! Easy to make and packed with flavor!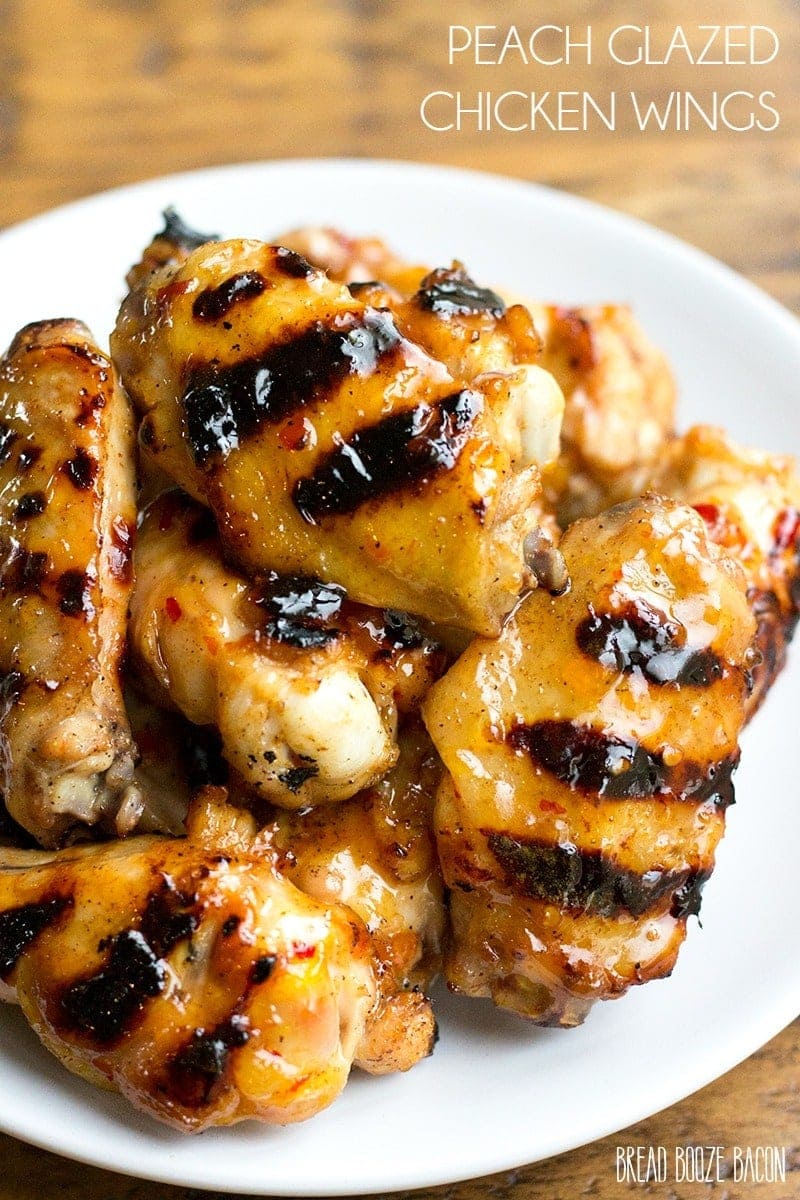 It's almost time for the biggest game of the NFL season and there's nothing I love better while watching football than some quick and easy chicken wings! Wings are a staple at my house one the weekends. Whether we're out at our favorite restaurant or at home, wings are almost always on our table. I eat them bone-in or boneless, but my husband is a traditionalist. Buffalo sauce, bone-in wings are his favorite. I'm more adventurous with my flavor choices most of the time and lucky for me, he's starting to come around.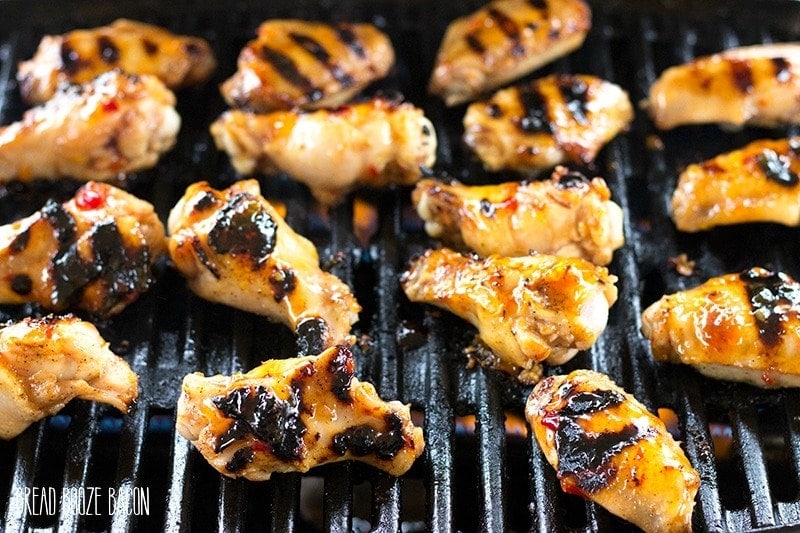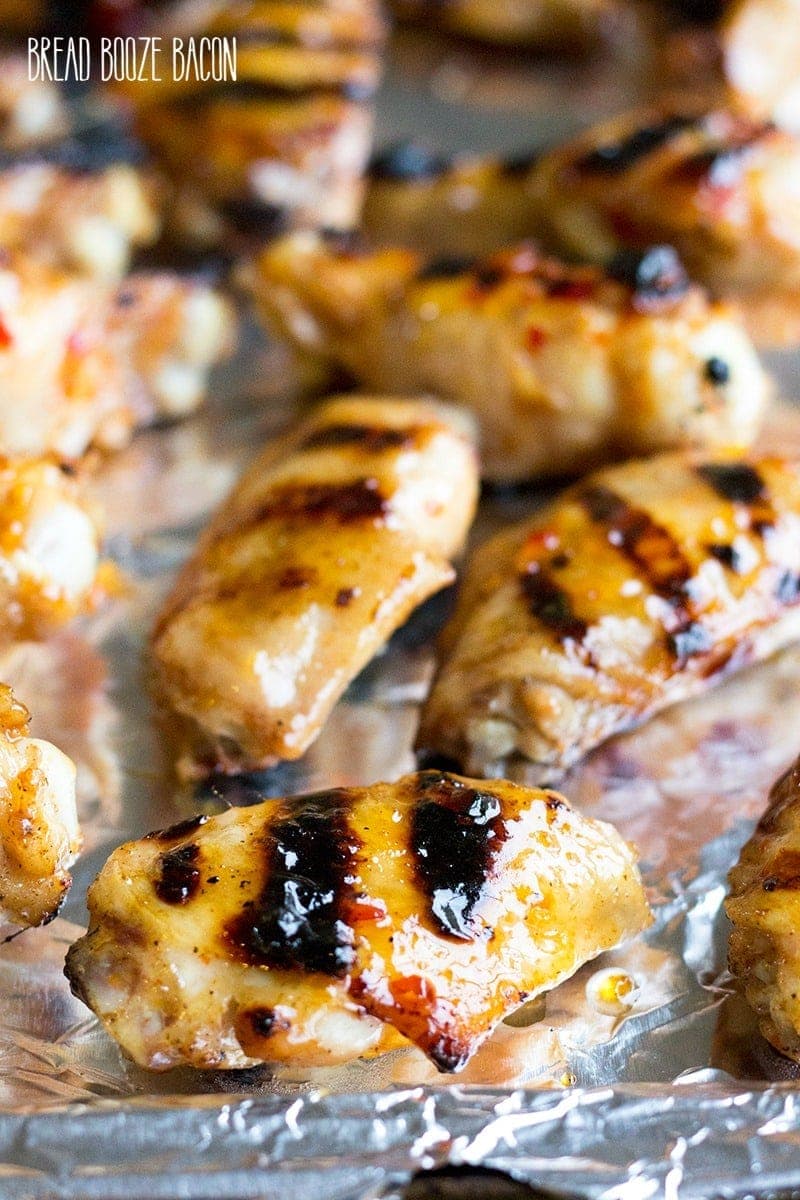 This past weekend I declared I was making peach glazed chicken wings. My husband nodded that then ingredients sounded normal enough to try and I got to cooking. Then, magic happened. I was in our backyard with our patio door open grilling the wings, and suddenly he yelled out, "Those wings smell amazing!" Winner winner, chicken wing dinner! Those are my favorite moments. The seconds I got inside he was hovering around the table, just waiting for me to be done with pictures so he could snag a wing. And OMG are these wings good!! The seasoning on the wings goes great with the sweet and tangy glaze. These wings are super easy to make and I'd put them up against any restaurant. Happy grilling!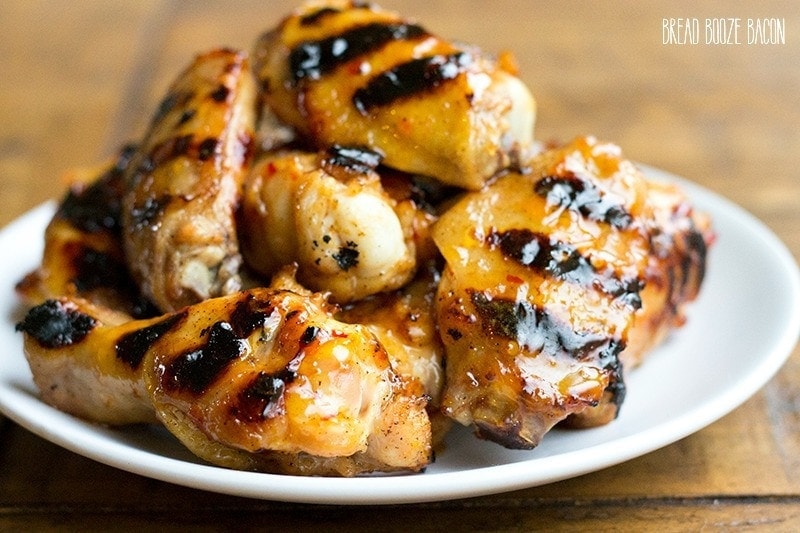 Hungry for More?

Grilled Cajun Chicken Wings | Jess Jess Wings | Crispy Baked Barbecue Chicken Wings
If you've made this recipe, please come back and leave us a star rating or a comment below. Or, tag us on social media @yellowblissroad or #yellowblissroad for a chance to be featured.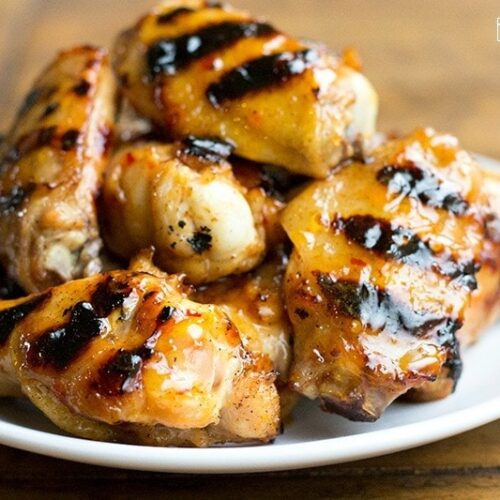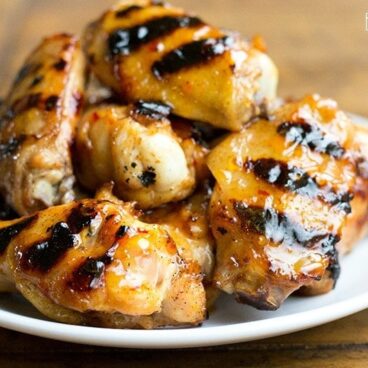 Peach Glazed Chicken Wings
Peach Glazed Chicken Wings are my go to game day wings! Easy to make and packed with flavor!
Ingredients
3

pounds

chicken wings

cut into wingettes and drummettes (tips removed)

1

teaspoon

salt

1/2

teaspoon

paprika

1/4

teaspoon

pepper

1/4

teaspoon

garlic powder

2/3

cup

peach preserves

1/3

cup

sweet chili sauce
Instructions
Heat your grill to medium to medium-high heat, and brush with oil.

Place the prepared wings in a large bowl. Sprinkle with salt, paprika, pepper, and garlic powder.

Toss until the wings are well coated in the seasoning. Let the wings rest while you prepare the sauce.

Place a medium saucepan over medium heat. Add the peach preserves and sweet chili sauce to the pan. Whisk to combine. Bring the sauce to a simmer, whisking occasionally. Cook until the preserves have melted, about 3-5 minutes.

Pour ½ of the sauce over the wings and use a large spoon to coat the wings in the sauce.

Use tongs to place the wings on the hot grill. Cook for 4 to 5 minutes, basting the wings as they cook. Flip the wings over and cook for another 3 to 4 minutes, basting the wings.

Use tongs to remove wings from the grill. Serve immediately.
Notes
If you prefer to bake or fry your wings, that's fine too. Make a ½ batch of the glaze (unless you like your wings saucy). Season ½ cup flour with the seasonings from the recipe. Toss the wings in the flour until coated. For baking, place the wings on a silicone mat or foil lined baking sheet and bake at 450 degrees F for 30-35 minutes then remove to a bowl. For frying, drop the seasoned wings into hot oil (about 375 degrees F) and cook for 8 to 10 minutes or until crispy and no longer pink inside. Remove from the fryer to a paper twoel lined plate to drain for 1 minute. Transfer the wings to a bowl. Once the wings are cooked, douse them in the glaze and toss to coat.
For more great appetizers, try these: