Sweet, tender baked apples with a crunchy Snickerdoodle cookie crumble topping – This Snickerdoodle Apple Cobbler has just the right amount of sweet and tart, and is the perfect warm dessert for fall.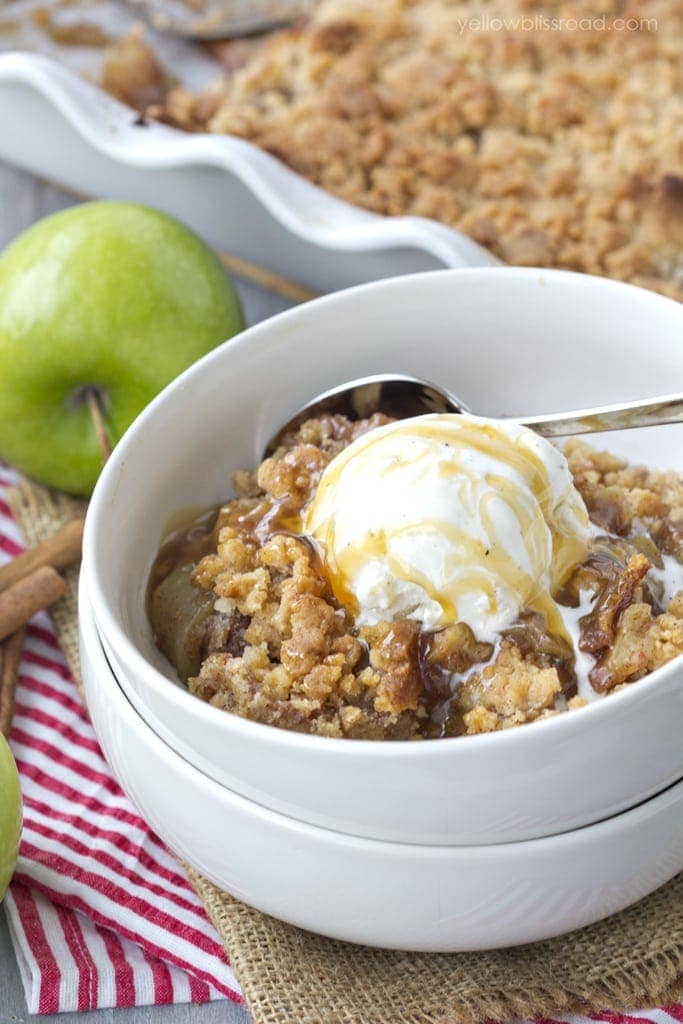 A few months ago, I shared a Sugar Cookie Berry Cobbler that was amazingly delicious. My entire family loved it. I knew I wanted to try that sugar cookie technique again for fall and apples were of course the perfect choice of fruit. Everybody loves a good Snickerdoodle, so I thought why not put all of those elements together?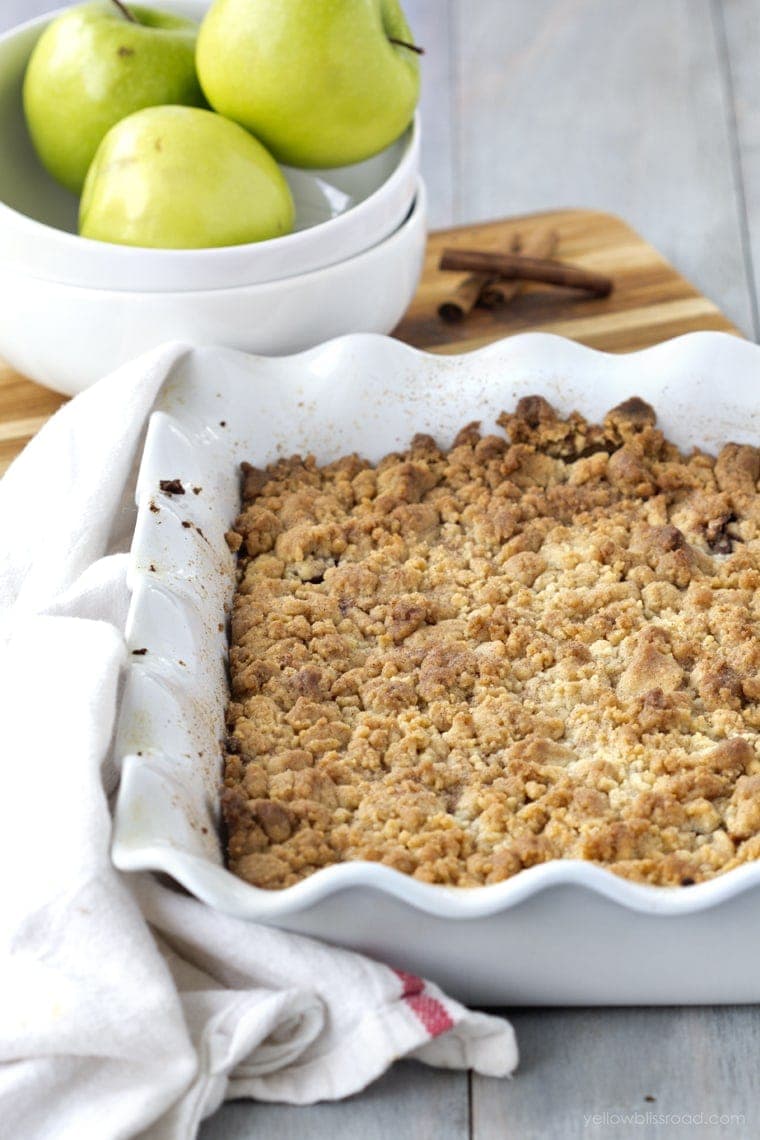 HOW TO MAKE SNICKERDOODLE APPLE COBBLER
Fresh, tart apples (no pie filling here!) are thinly sliced and tossed with white and brown sugar, cinnamon and flour then spread in a baking dish. The apple cobbler base similar to the base for an apple pie, but no rolling a delicate crust is required! For the crumble topping, a stick of softened butter is combined with a package of sugar cookie dough (hello, EASY!)  and a whole bunch more cinnamon.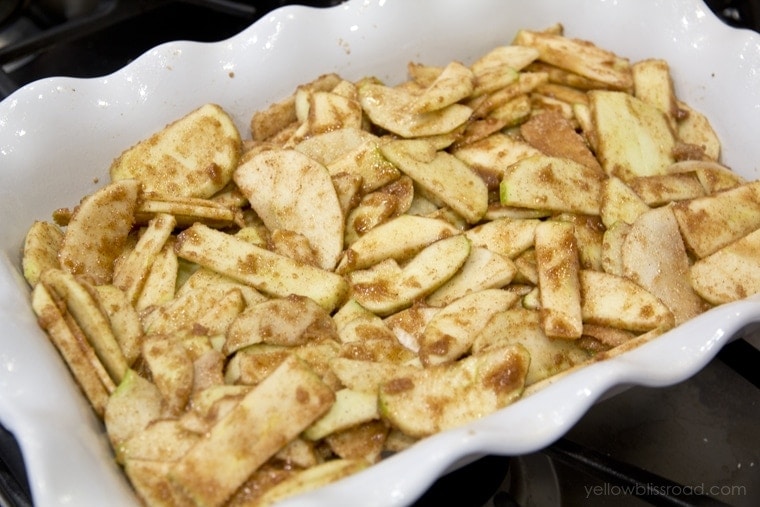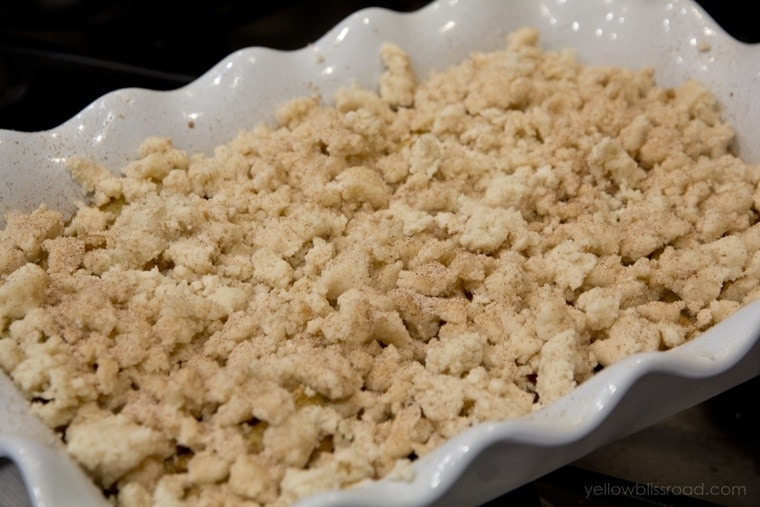 *Sidenote – did you know that you can make Snickerdoodles like that? You can! They're basically a sugar cookie rolled in cinnamon, so the next time you have a craving and don't want to measure out all those ingredients, just use the Betty Crocker Sugar Cookie Mix! Make the dough, then roll into balls and into a mix of cinnamon and sugar. Voila!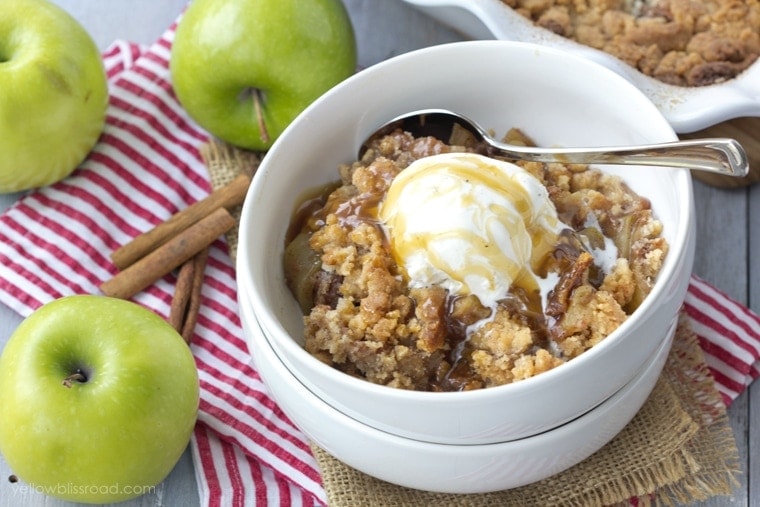 Ok back to the apple cobbler recipe – Sprinkle a good amount of cinnamon sugar over the crumble topping and bake. That's it! It's so easy, doesn't require a ton of ingredients and is something everybody will want seconds on! Top with vanilla ice cream and caramel sauce for the ultimate indulgence!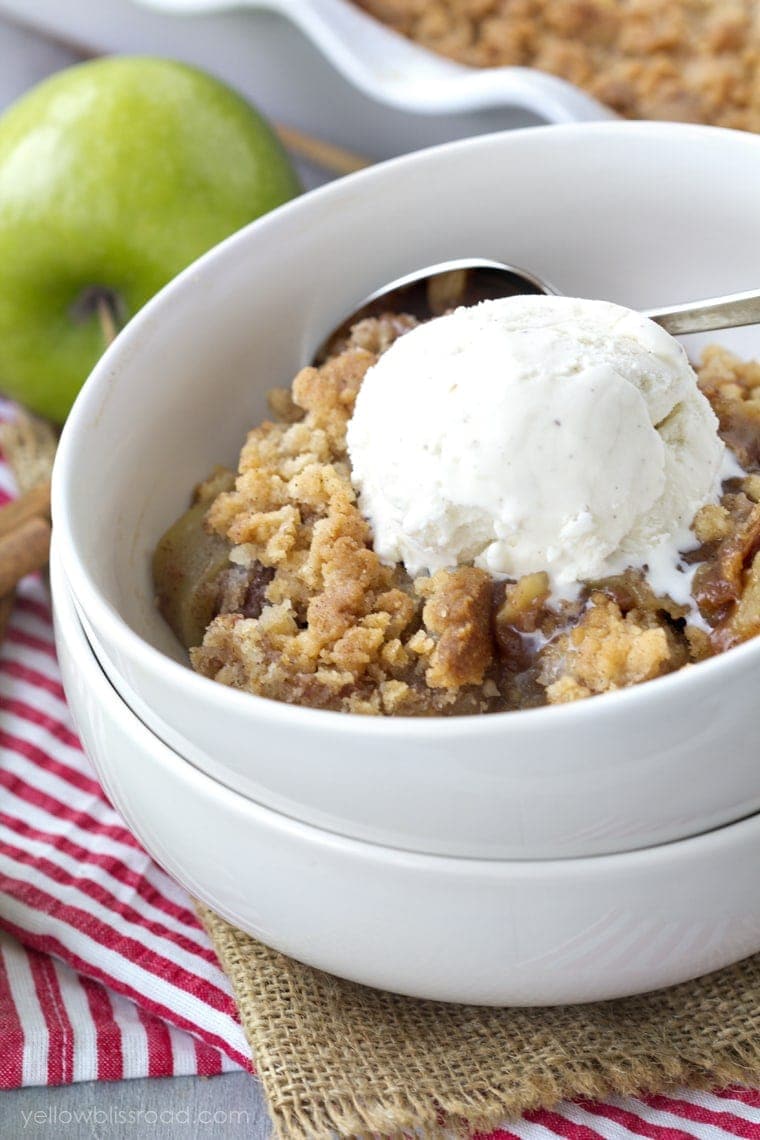 For more delicious apple dessert recipes, try these:
Tools used in this recipe: (affiliate links)
Baking Dish: Lots of recipes from casseroles to cakes call for a 9″x13″ baking dish, so this ceramic pan is a good staple to have in your kitchen.
Betty Crocker Sugar Cookie Mix – This is a great shortcut that I use for this recipe. It's also used in our Sugar Cookie Dip!
Chef Knife: This is my favorite and the one that I use in my kitchen all day long.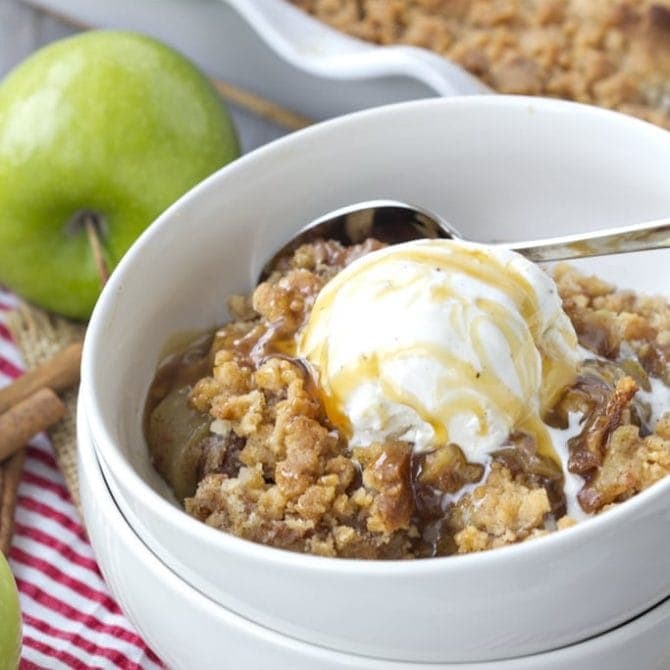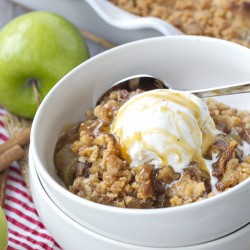 Snickerdoodle Apple Cobbler
Sweet, tender baked apples with a crunchy Snickerdoodle cookie crumble topping - This Apple Cobbler is the perfect dessert for fall.
Ingredients
6 cups thinly sliced apples granny smith, honeycrisp or pink lady work best
1/3 cup granulated sugar + 2 tablespoons for topping
1/3 cup packed brown sugar
1/3 cup sifted flour
3 tablespoon ground cinnamon divided
1 teaspoon ground nutmeg
1 pouch 1 lb. 1.5 oz Betty Crocker Sugar Cookie Mix
1 stick 1/2 cup softened butter (room temperature - not melted)
Instructions
Preheat oven to 350 degrees F and grease a 9" x 13" baking dish with nonstick cooking spray.

In a stand mixer, combine softened butter, sugar cookie mix and 1 tablespoon ground cinnamon at medium speed just until combined and crumbly. Set aside.

In a large bowl, whisk together 1 tablespoon cinnamon, nutmeg, flour, brown sugar and 1/3 cup of granulated sugar. Gently toss the sliced apples in the flour mixture until completely coated.

Spread apples evenly in the prepared baking dish. Top with crumbled sugar cookie mixture, careful to crumble, not press, the dough.

Combine 2 tablespoons granulated sugar with 1 tablespoon cinnamon and sprinkle evenly over the top.

Bake at 350 degrees for about 45 minutes, or until top is completely golden brown and apples are bubbly.

Serve warm, cold or at room temperature, topped with vanilla ice cream and caramel sauce.