With sweet cinnamon swirls and grated tart apples, this delicious Cinnamon Apple Bundt Cake is a perfect dessert for fall. It's moist and light and full of rich fall flavor.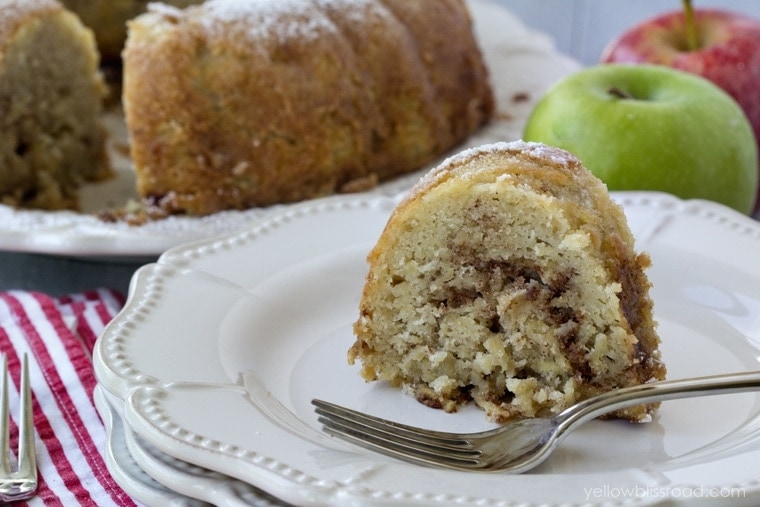 My kids have decided they no longer like green apples, so the bag that I had bought was about to go to waste. Granny Smith Apples are perfect for baking, so I decided that's what needed to be done. I searched and found this recipe that sounded delicious, so I tweaked it just a bit and the result was this delicious cake.

MY LATEST VIDEOS
As I was staging this photo shoot, I originally planned to place the cake on my pretty white lace ceramic cake stand. But then I broke it. Apparently, banging the bundt pan down on the raised cake plate is not a good idea. Oops.
It didn't affect how delicious this cake is however, which tart and sweet apples and lots of cinnamon flavor. It's incredibly tender and just melts in your mouth. Give it a try – I bet you'll love it too!
Cinnamon Apple Bundt Cake
Ingredients
4 eggs
2 cups granulated sugar
1/2 cup oil
1/2 cup softened butter (room temperature)
1 teaspoon vanilla
1 teaspoon cinnamon
2 cups all purpose flour
4 teaspoons baking powder
1/2 teaspoon kosher salt
4 cups peeled and grated apples (granny smith, pink lady or honeycrisp work best)
4 teaspoons cinnamon
4 tablespoons brown sugar
Instructions
Preheat oven to 350 degrees F. Grease and flour a bundt pan.
Sift flour, baking powder, cinnamon and salt together in a small bowl and set aside.
In a large bowl, beat eggs, butter, oil, vanilla and granulated sugar until creamy and smooth.
Stir in flour mixture until well combined.
Stir in apples gently until combined.
In a separate small bowl, stir 4 teaspoons cinnamon and 4 tablespoons brown sugar together and set aside.
Pour half of the cake batter into the prepared bundt pan. Sprinkle half of the brown sugar and cinnamon mixture evenly over the cake batter and swirl through with a knife. Repeat with the remaining cake batter and brown sugar mixture.
Bake in a 350 degree oven for 50-60 minutes. Top will be golden brown and sides will pull away from the pan.
Allow to cool completely before turning out on a round cake plate. Slice and serve.
For more delicious apple recipes, try these: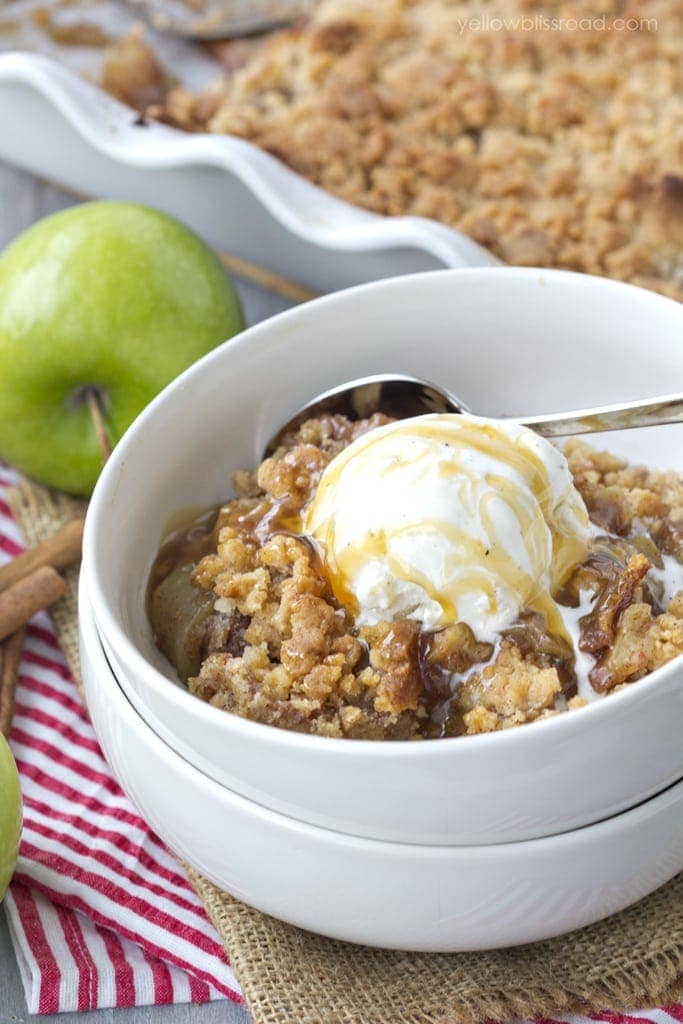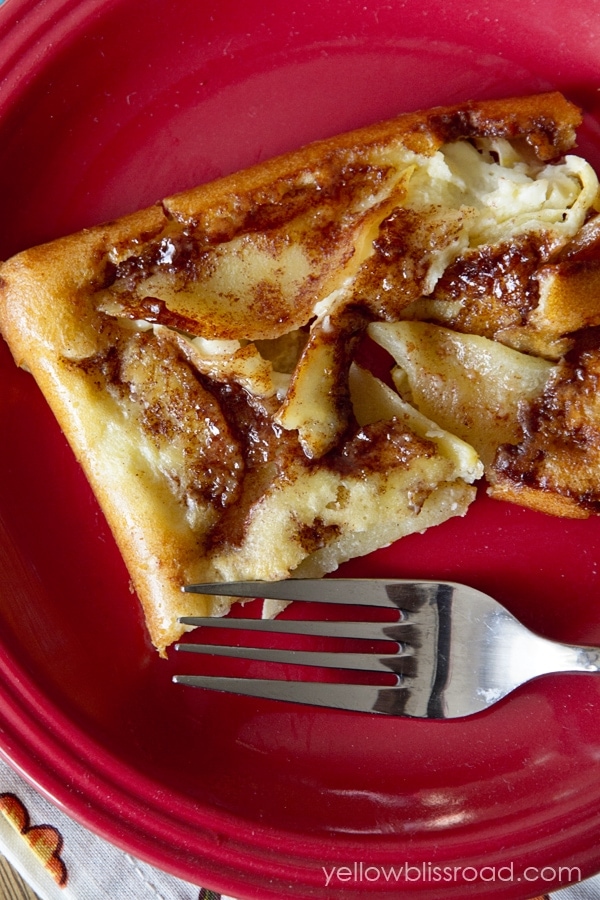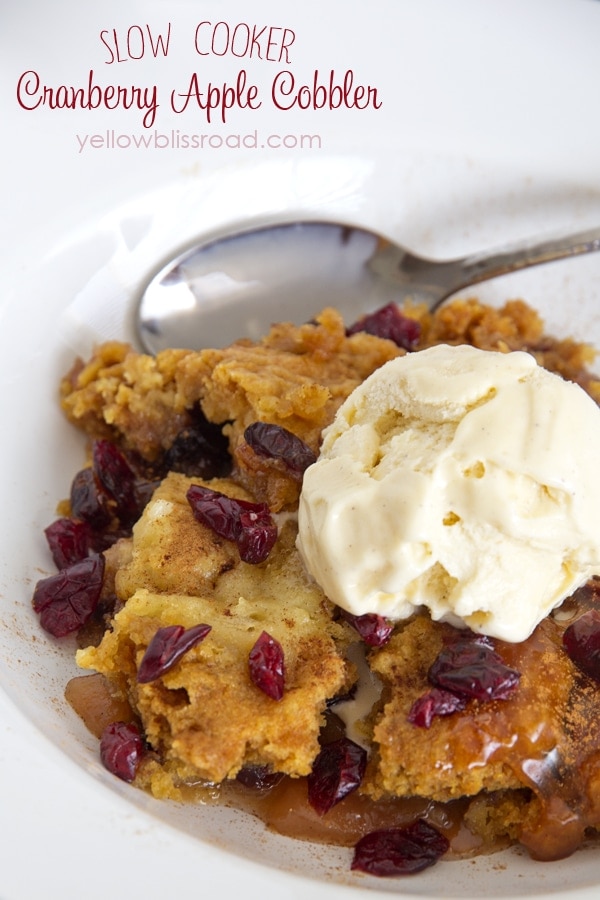 Slow Cooker Apple Cranberry Cobbler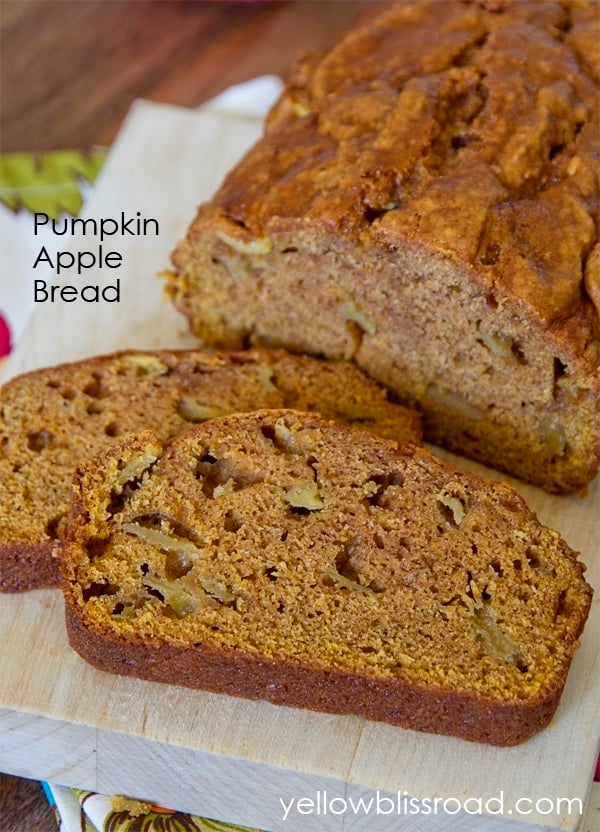 For all dessert recipes go HERE and for all recipes go HERE.
Hi! I'm Kristin, the creative mind behind Yellow Bliss Road where you will be inspired by tons of easy to follow recipes, lots of free printables, and a little sprinkling of life thrown in for good measure.