Cinnamon Apple Bundt Cake Recipe
With sweet cinnamon swirls and grated tart apples, this delicious Cinnamon Apple Bundt Cake is a perfect dessert for fall. It's moist and light and full of rich fall flavor.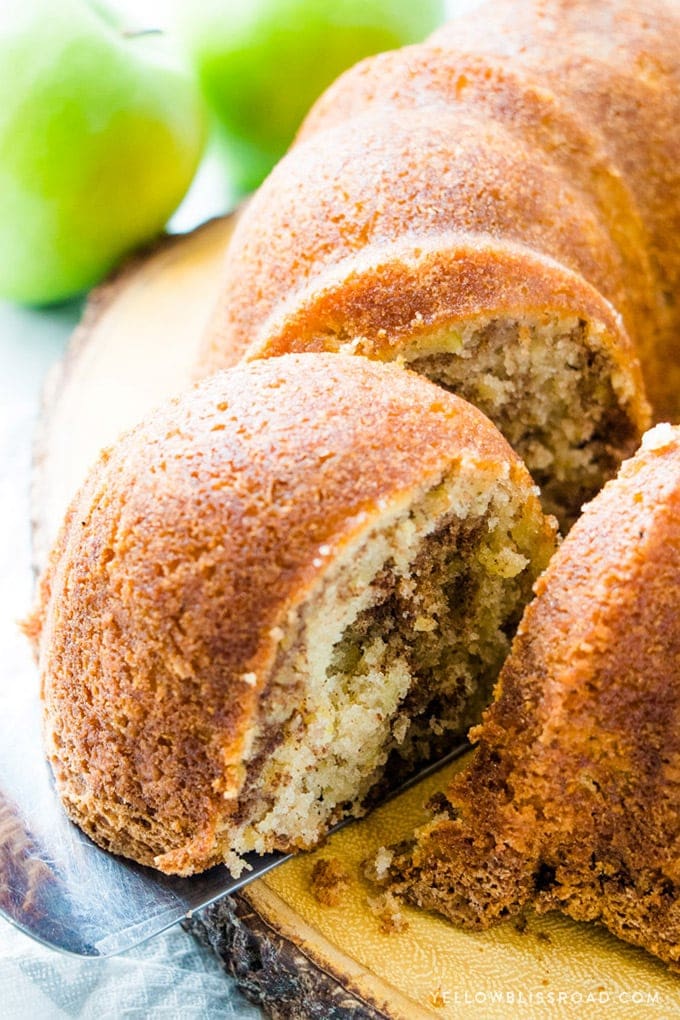 My kids have decided they no longer like green apples, so the bag that I had bought was about to go to waste. Granny Smith Apples are perfect for baking, so I decided that baking an apple cake is what needed to be done. I searched and found this recipe that sounded delicious, so I tweaked it just a bit and the result was this delicious bundt cake.
As I was staging this bundt cake photo shoot, I originally planned to place the cake on my pretty white lace ceramic cake stand. But then I broke it. Apparently, banging the bundt pan down on the raised ceramic cake plate is not a good idea. Oops.
It didn't affect how delicious this cake is however, with tart and sweet apples and lots of cinnamon flavor. It's incredibly tender and just melts in your mouth. Give it a try – I bet you'll love it too!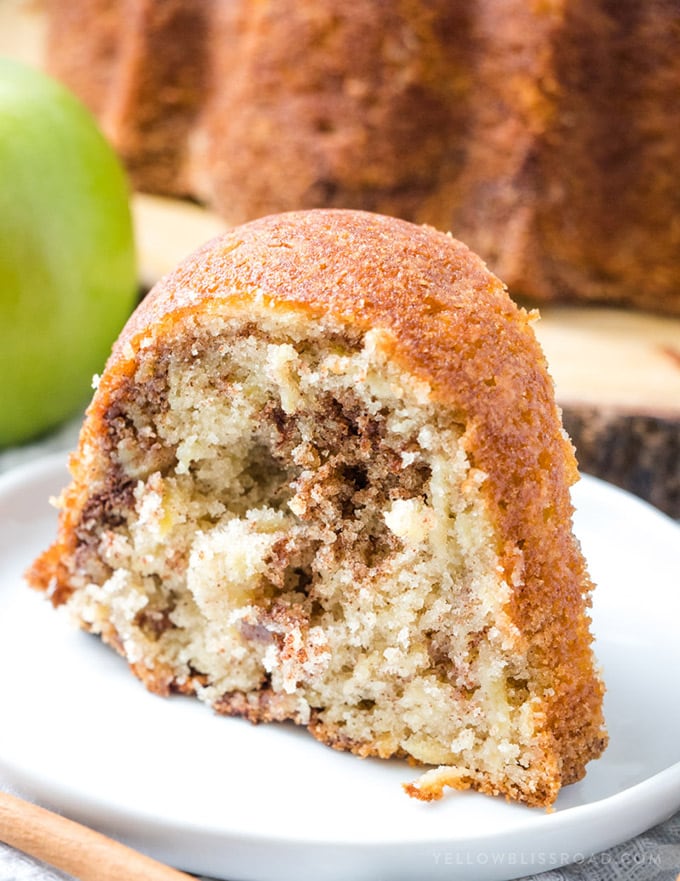 LET'S MAKE A CINNAMON APPLE BUNDT CAKE!
This apple cake is pretty straightforward and simple, albeit with a number of steps.
I used Granny Smith apples, but any tart, crisp apple would work; Grannies are just the most readily available. Chop them up into very small chunks – large enough that you can see them, but not so big that they won't soften while the bundt cake is baking. Or ideally, grate them with a larger grater.
Combine the flour and all the dry ingredients (flour, baking powder, cinnamon, salt) in a bowl. Then in another bowl the butter, oil, vanilla and sugar. The sugar melts into the butter and oil, which is why it's considered a "wet" ingredient in this recipe. The two are mixed until "well combined," meaning the flour is no longer visible and the batter is formed. Fold in those apples you chopped up, then layer half of the batter, a cinnamon-sugar mixture, and the remaining batter. More cinnamon sugar goes on top of that, and then everything is swirled together to get that delicious cinnamon flowing throughout the cake, and that nice pretty ribbon swirling through the middle.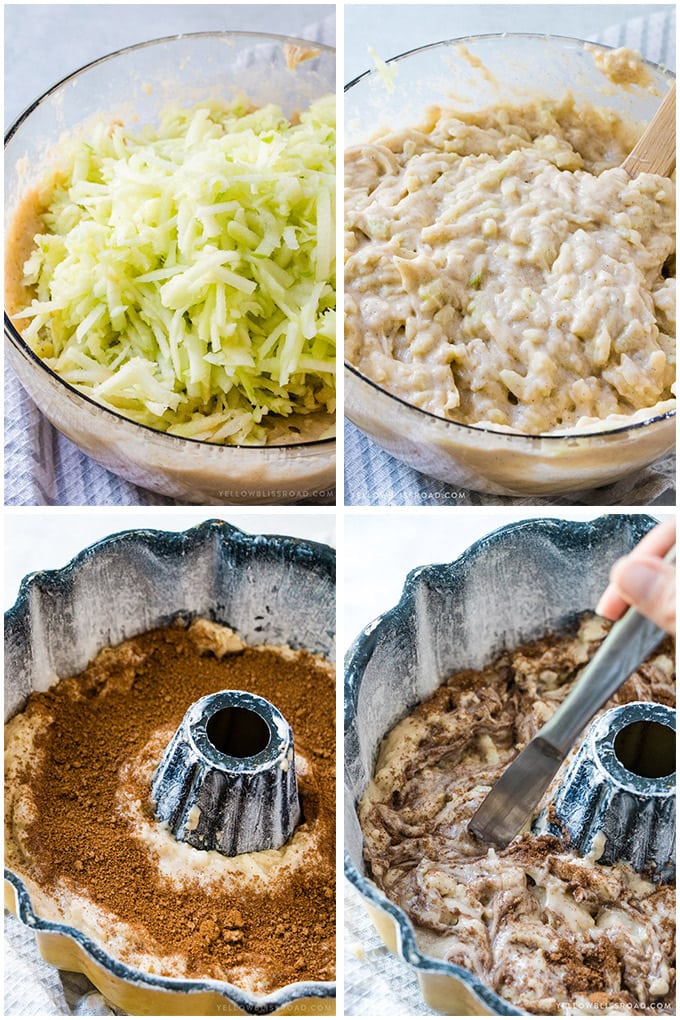 Bundt Cake Tips and Tricks
Bundt cake recipes are often misunderstood as difficult, when really, they just *look* hard. Getting that warm cake to release from a bundt cake pan can be a challenge, but if you prep it right, you'll do just fine.
Start with Nonstick. Use a nonstick pan that is free of any scratches as that can mean that the pan is no longer as "nonstick" as it once was.
Grease it. The key to getting your apple cake (or any bundt cake) to release easily from the pan is is greasing your bundt pan quite generously, with nonstick cooking spray or melted shortening.
Flour it. This is a step that I don't often use, as flour can cause an extra layer of white stuff stuck to the top of your cake. Nut flours, or even granulated sugar however, I've found to be helpful in preventing sticking.
Release warm. This actually goes against what I used to do, but releasing the cake when it's warm can aid in an easy release. As the cake sits, the oils around the pan solidify and hold the cake in there. While still warm (but after sitting and resting for 10-15 minutes), invert the bundt cake onto a plate, let it sit for another 10 minutes, then give it a gentle shake and it should slip right out.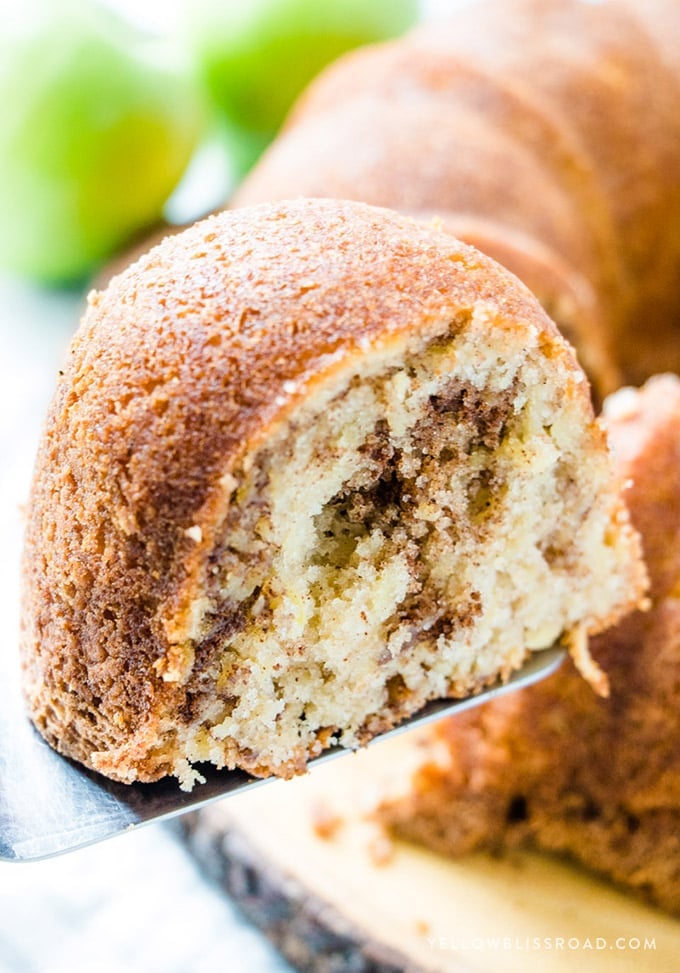 For more delicious apple recipes, try these:
Tools used in this bundt cake recipe: (affiliate links)
Bundt Cake Pan – Nothing super fancy, but nonstick is a must for this kitchen tool.
Box grater – This is perfect for getting large grates of the apples without them getting mushy.
Nonstick cooking spray – I love the baking version of the Pam nonstick spray.
Round Cake Plate – A flat service is a must when plating a cake. Having a cake plate on hand like this one with a dome lid, is helpful.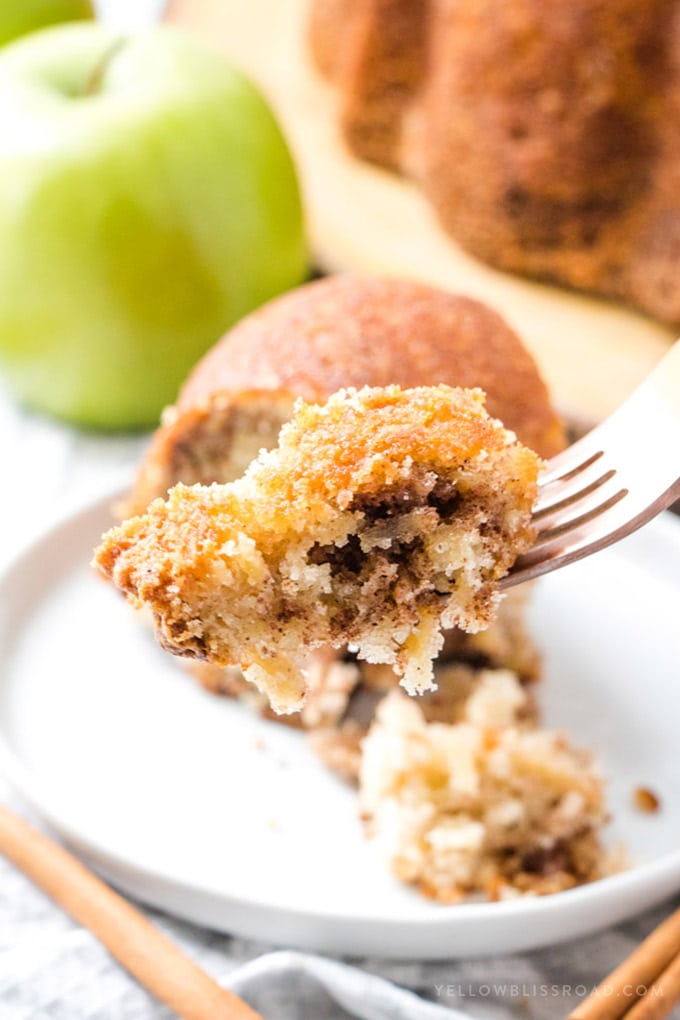 Watch how to make this Apple Bundt Cake:
If you've made this recipe, please come back and leave us a star rating or a comment below. Or, tag us on social media @yellowblissroad or #yellowblissroad for a chance to be featured.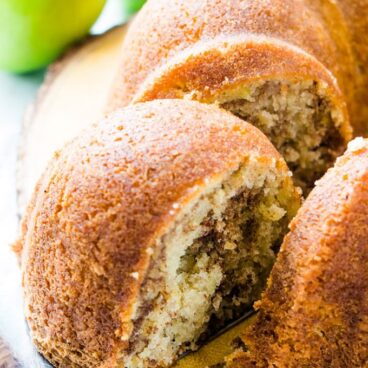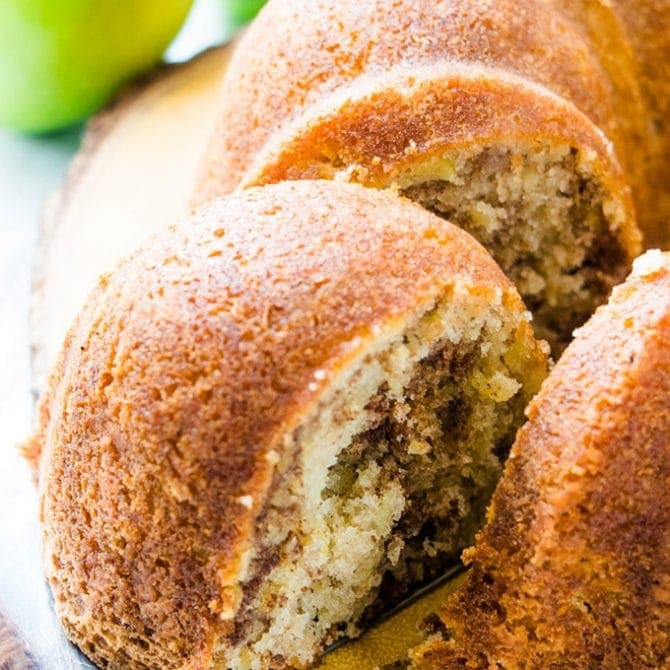 Cinnamon Apple Bundt Cake
With sweet cinnamon swirls and grated tart apples, this delicious Cinnamon Apple Bundt Cake is a perfect dessert for fall. It's moist and light and full of rich fall flavor.
Ingredients
4

eggs

2

cups

granulated sugar

1/2

cup

oil

1/2

cup

softened butter

room temperature

1

teaspoon

vanilla

1

teaspoon

cinnamon

2

cups

all purpose flour

4

teaspoons

baking powder

1/2

teaspoon

kosher salt

4

cups

peeled and grated apples

granny smith, pink lady or honeycrisp work best

4

teaspoons

cinnamon

4

tablespoons

brown sugar
Instructions
Preheat oven to 350 degrees F. 

Sift flour, baking powder, cinnamon and salt together in a small bowl and set aside.

In a large bowl, beat eggs, butter, oil, vanilla and granulated sugar until creamy and smooth.

Stir in flour mixture until well combined.

Stir in apples gently until combined.

In a separate small bowl, stir 4 teaspoons cinnamon and 4 tablespoons brown sugar together and set aside.

Grease a bundt pan generously with nonstick cooking spray. Coat with granulated sugar if desired.

Pour half of the cake batter into the prepared bundt pan. Sprinkle half of the brown sugar and cinnamon mixture evenly over the cake batter and swirl through with a knife. Repeat with the remaining cake batter and brown sugar mixture.

Bake in a 350 degree oven for 50-60 minutes. Top will be golden brown and sides will pull away from the pan.

Allow to cool 10-15 minutes completely before turning out on a round cake plate. If the cake does not release immediately, let sit another 10 minutes, then give a gentle shake.

Once cake is completely cooled, top with a sprinkling of powdered sugar, or a vanilla glaze, if desired.

Slice and serve.