Frozen Rhodes rolls make the easiest dinner rolls! There's no kneading or mixing, just a few hours of rise time. The rolls are buttery, soft, and fluffy, and a real lifesaver when you want fresh rolls without any hassle.
Dinner rolls can often be an afterthought, and this frozen dinner rolls recipe is designed to change that! Let these Rhodes rolls shine like the star that they are! Serve them with your favorite Crockpot Chili recipe, Slow Cooker Chicken Stew, or Thanksgiving dinner.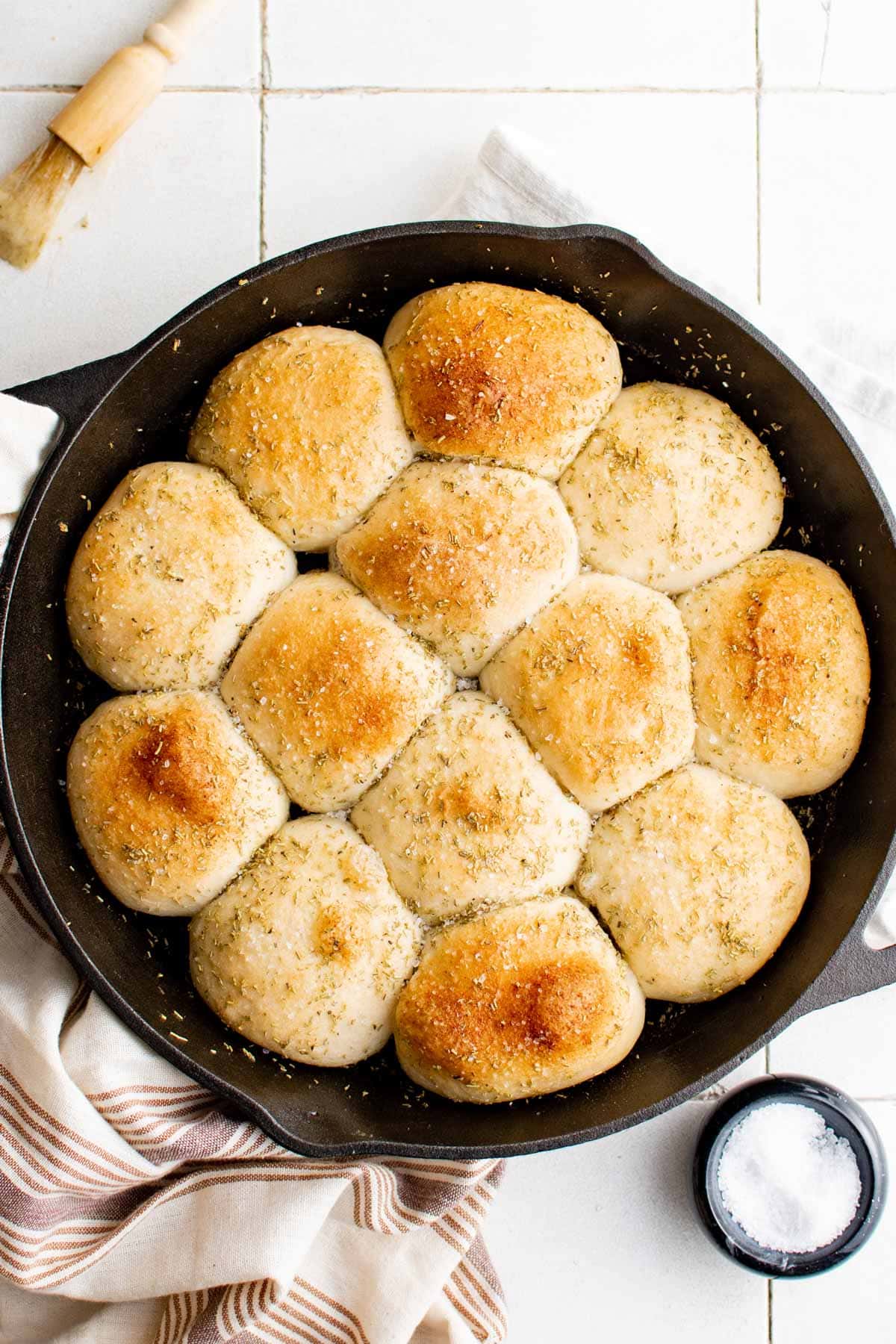 Pin this recipe for later!
Why We Love This Recipe For Rhodes Rolls
I have been making these deliciously addictive Rhodes dinner rolls for years – there are my holiday go-to bread side dish and the whole family loves them so much I usually have to make a double batch just for the 5 of us.
They start with Rhodes frozen dinner rolls, making it super easy for just about anyone! It really doesn't get easier than this amazing skillet bread.
Rhodes rolls are my frozen rolls of choice. The dough is frozen before baking, so all you need to do is let them rise and smother them with butter and seasonings. Once baked they are tender and fluffy and have a great flavor, even without all the yummy upgrades I give them.
I use my cast iron skillet to get the bottom of the rolls nice and crispy. Any oven-safe pan will work, but a cast iron just does the job so well.
Is there really anything better than fresh, hot rolls straight out of the oven? And the beautiful thing about cast iron is you can serve them right out of the pan!
Ingredients For The Best Rhodes Rolls
Olive oil – For brushing on the bottom of the cast iron.
Rhodes frozen dinner rolls – These are actually balls of dough that have been frozen and are ready to bake.
Butter – For brushing on top of the rolls before and after baking.
Dried rosemary – To flavor the butter.
Garlic powder – Also to flavor the butter and bread.
Coarse sea salt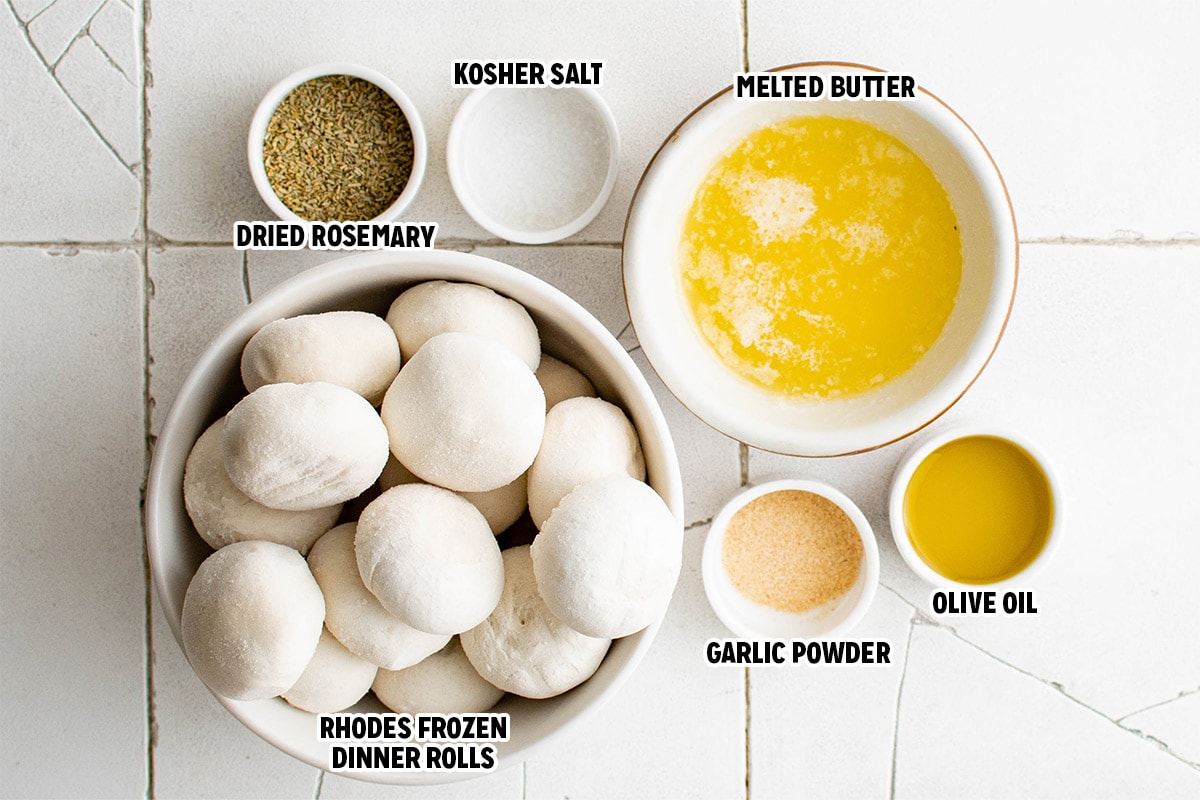 How To Bake Rhodes Rolls
Oil the skillet. Grab a pastry brush and use it to brush olive oil all over the bottom and up the sides of the skillet. A 12-inch skillet will give you about 15 rolls, and you can get that many in a 13×9-inch baking dish as well.
Prep the rolls. Arrange the frozen rolls in the skillet. I usually start with one in the middle and then work my way out. It's ok if a few of them are touching, just keep in mind that they will almost double in size and be touching once they rise.
Cover, defrost, and rise. Cover the skillet with a dry teas towel and let them defrost and rise. Check your package for instructions if not using the Rhodes brand, but generally, frozen yeast rolls take 3-5 hours to defrost and rise. You want to have at least an inch between them, as they will double in size.
Butter. Once they have doubled in size, brush them with butter and sprinkle with garlic powder and rosemary, then brush with more butter and sprinkle with salt.
Bake. Preheat the oven to 400℉ and bake the rolls for about 15-20 minutes. The type of pan you use will really dictate how long they take to bake. The tops should be a light golden brown, but not crispy.
Serve. I like to brush with a little more butter but that's totally optional. Serve warm or at room temperature.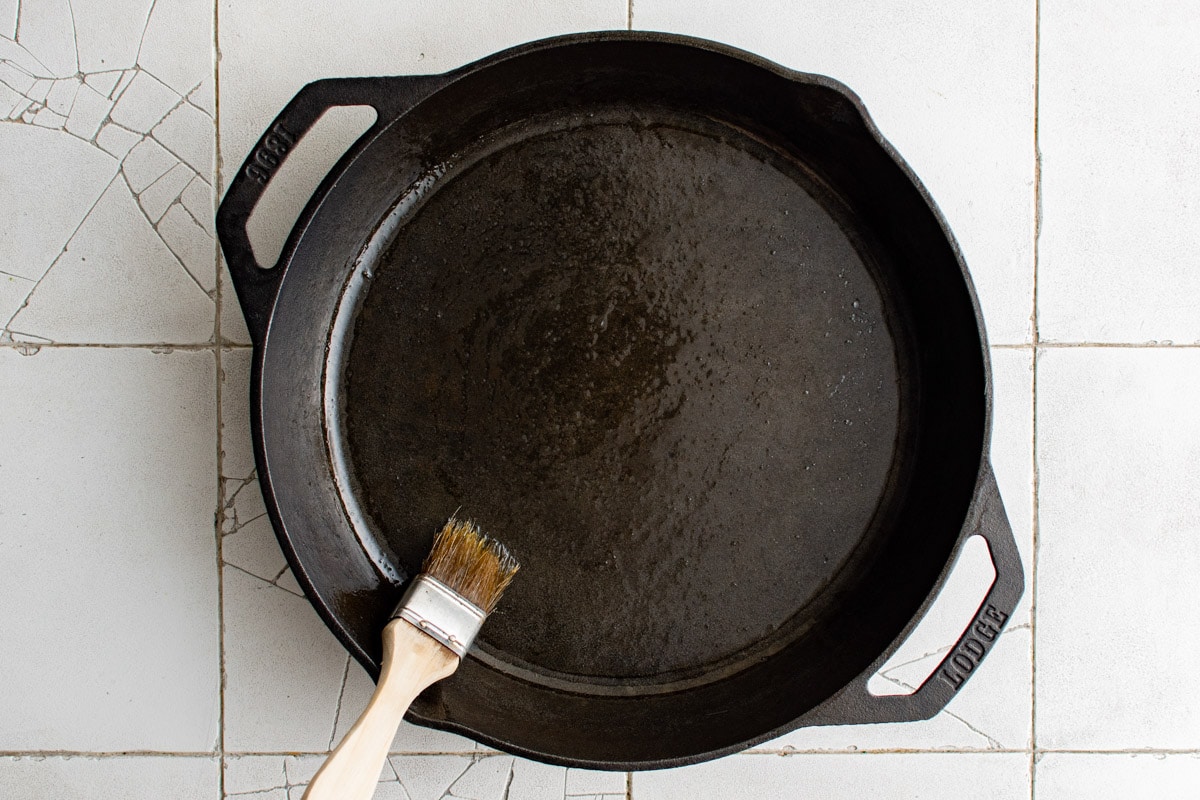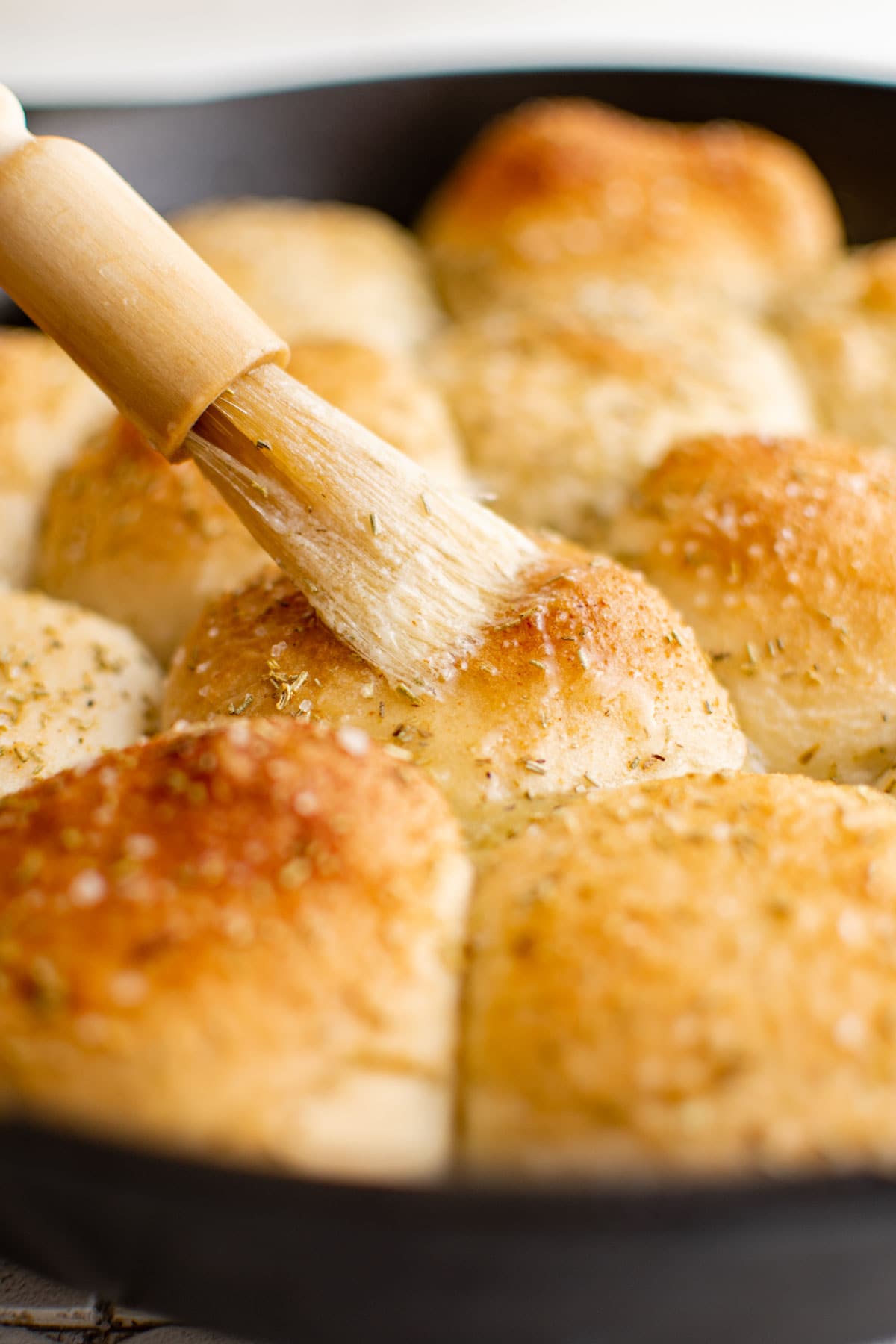 FAQs
What are Rhodes Dinner Rolls?
Rhodes brand rolls are frozen yeast rolls that are frozen as balls of dough. They have taken care of all the hard work for you – no kneading, mixing or dividing required. They are great if you are a little nervous to work with yeast from scratch, but they taste like you slaved over them!
Can you thaw them in the refrigerator or let them thaw overnight?
These rolls will take about 10-16 hours to thaw in the fridge. So you could place the pan in the fridge overnight, then let them rise for 1-2 on the counter before baking.
How do you thaw frozen rolls quickly?
Use this method if you need to quickly thaw your rolls. Heat your oven to 200℉, then turn it off. While the oven is reheating, prepare the rolls in the pan and boil 2 quarts of water.

Cover the skillet of buttered frozen rolls with plastic wrap and place in the oven with the pan of boiling water. The hot water will keep the rolls from drying out. The rolls should double in size in 1-2 hours, then you can remove the plastic wrap and the pan of water. Heat the oven and bake as directed.
What if my dough rises too much?
Punch the dough down and reshape the rolls, then let the rise again. They won't take long since they are already thawed.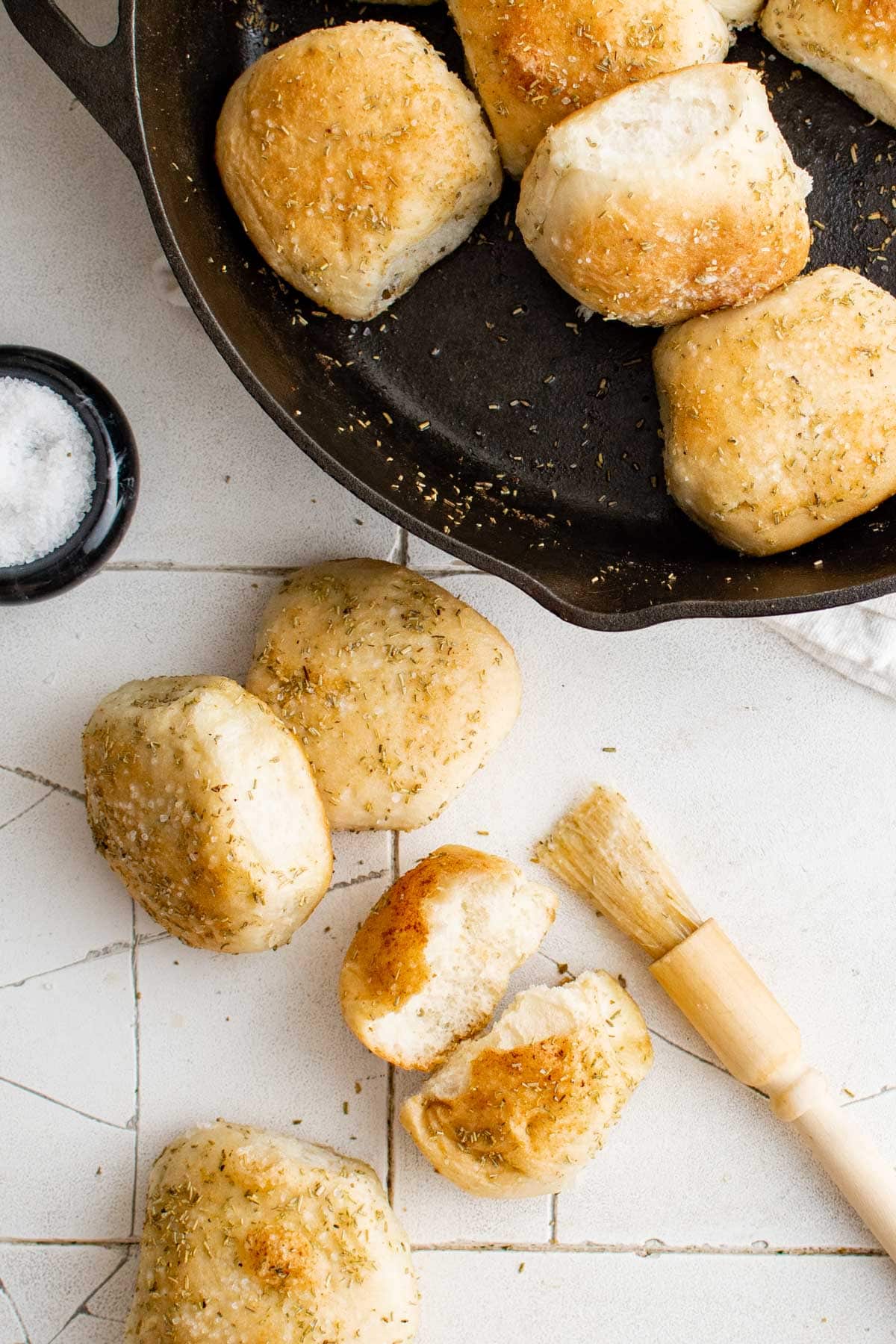 Tips For Getting Your Rolls To Rise Faster
In order for the rolls to rise, they need to be sitting in a warm spot in your home. Here are a few tips if they're taking a while.
If your oven is on, place them on the stovetop.
Try placing the skillet on top of the fridge or near a sunny window.
Put the skillet in the oven with just the light on (do not heat).
Set the oven on top of a heating pad.
Serving Suggestions
These rolls are so soft and buttery that you don't even have to serve them with extra butter! I love serving them straight out of the skillet for a more rustic touch.
If you're not going to serve them right away, the bottoms could get a little too crispy if left in the skillet so you might want to pull them apart and keep them wrapped in a towel in a bread basket. Add a bread warmer to keep them nice and toasty.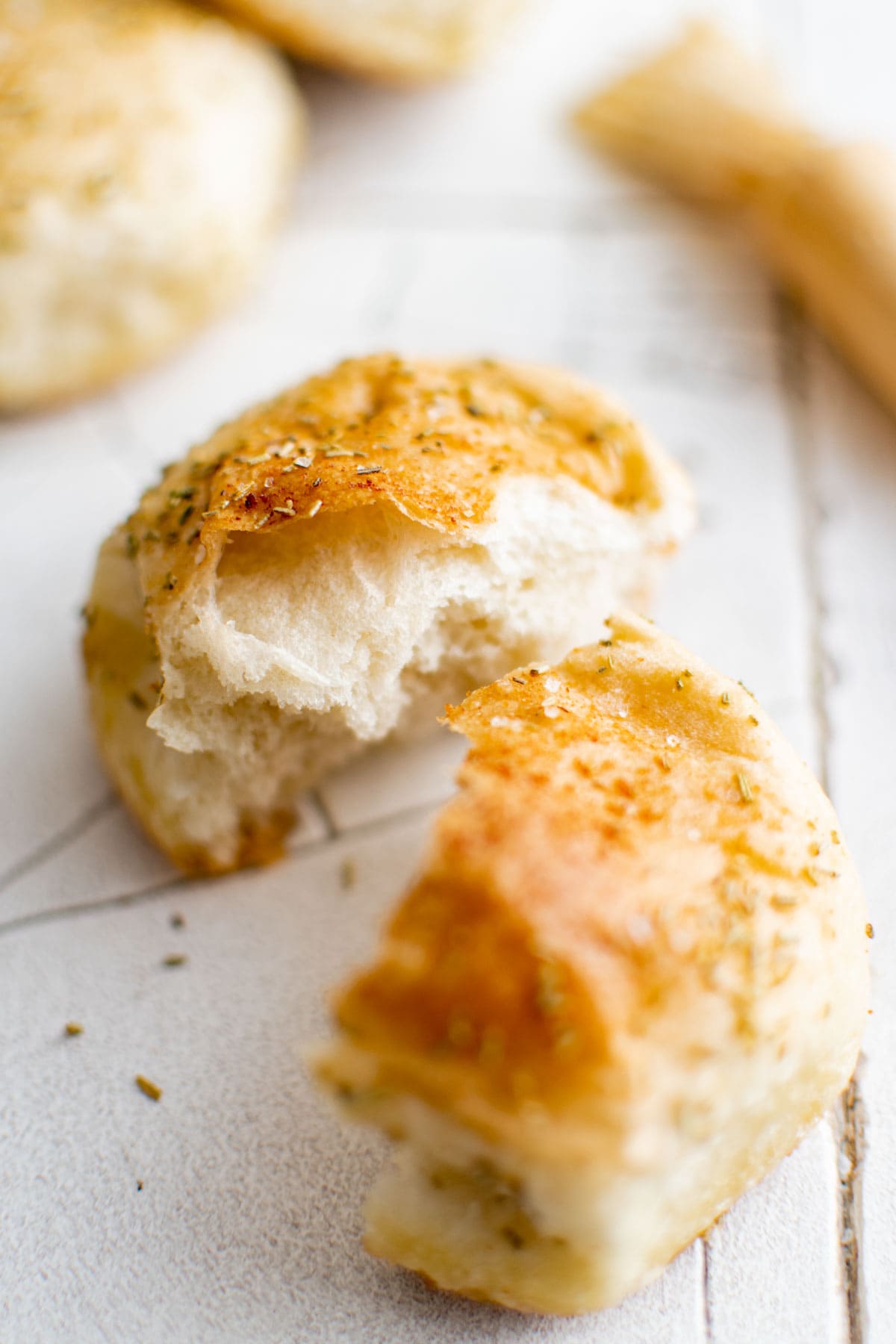 Variations
The rolls themselves are perfect as is with just a little butter, but we upgrade them with garlic, rosemary and some flaky salt for an incredible flavor. Here are a few additional seasoning ideas:
Flavored butter: Brush with honey butter or garlic butter.
Fresh herbs: Chop up some fresh thyme, rosemary or parsley and sprinkle on with the melted butter.
Cheese: Sprinkle some grated Parmesan or shredded cheddar on top.
Storage
Do not refrigerate. The bread will dry out if refrigerated, so just leave the leftover rolls in a resealable plastic bag on the counter or in your bread box. They will stay fresh for a couple of days.
Freezing: Cool completely, then wrap the baked rolls in plastic wrap, then in foil, and place in a resealable plastic freezer bag. Remove from wrapping and thaw before reheating.
Reheating: To warm them, you can heat in the microwave for 10-12 seconds, or in the oven, wrapped in foil.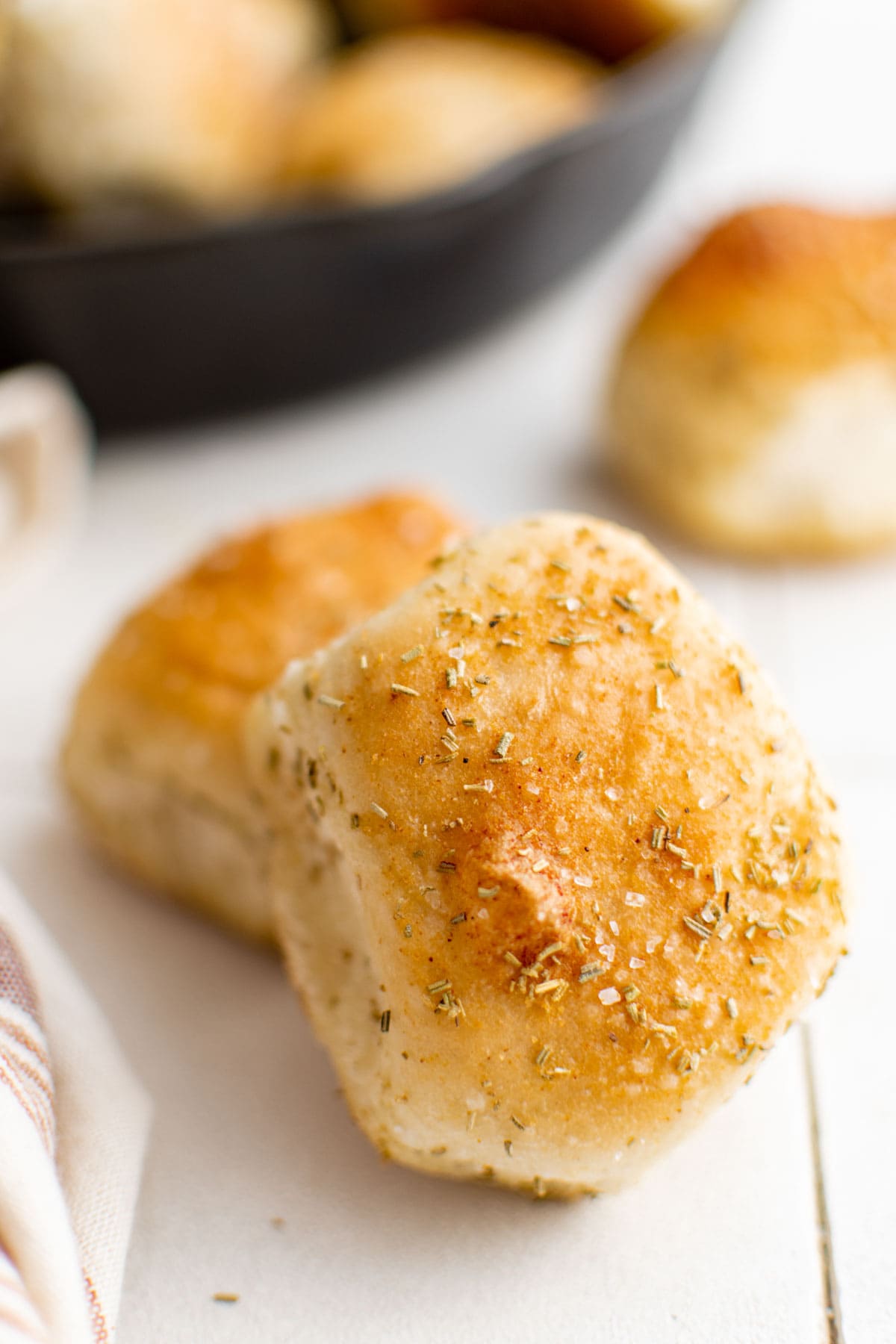 More Fresh Bread Recipes
If you've made this recipe, please come back and leave us a star rating or a comment below. Or, tag us on social media @yellowblissroad or #yellowblissroad for a chance to be featured.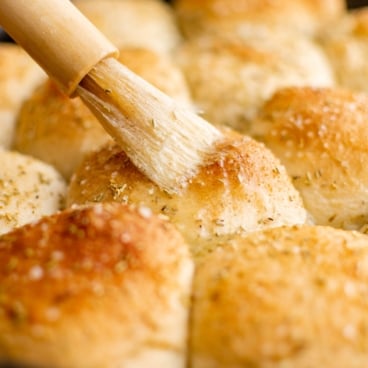 Buttery Rhodes Rolls with Garlic and Rosemary
Frozen Rhodes rolls are the easiest frozen dinner rolls! No kneading or mixing, just 3-4 hours of rise time for soft, and fluffy dinner rolls.
Total Time
5

hours
15

minutes
Ingredients
1

tablespoon

Olive oil

13-15

frozen unbaked dinner rolls

(like Rhodes)

1/3

cup

Melted butter

approximately

1

tablespoon

dried rosemary

1/2

teaspoon

garlic powder

1/4

teaspoon

Coarse sea salt
Instructions
Brush olive oil into the bottom and up the sides of a large cast iron skillet. I useda 12-inch skillet for 15 rolls.

Place frozen, unbaked dinner rolls into the skillet, 1-2 inches apart. Cover with a tea towel or plastic wrap and set aside to rise for 3-5 hours.

Once the rolls have at least doubled in size, brush with about half of the melted butter, sprinkle with garlic powder and dried rosemary. Brush with butter again, and sprinkle with coarse sea salt.

Preheat oven to 400 degrees and bake about 15-20 minutes, until rolls are a golden brown.

Serve in the skillet and let each guest pull off their own. Or, pull apart and serve in a bread basket.
Notes
Keep in mind the time needed to thaw and proof the rolls. You also want to select a skillet that has enough room for proofing. The rolls will likely double in size. It's ok if they touch once risen (and also ok if they don't!).
Nutrition
Calories:
106
kcal
Carbohydrates:
10
g
Protein:
2
g
Fat:
6
g
Saturated Fat:
3
g
Polyunsaturated Fat:
1
g
Monounsaturated Fat:
2
g
Trans Fat:
0.2
g
Cholesterol:
11
mg
Sodium:
189
mg
Potassium:
29
mg
Fiber:
1
g
Sugar:
0.4
g
Vitamin A:
130
IU
Vitamin C:
0.1
mg
Calcium:
42
mg
Iron:
1
mg
Nutrition information provided is an estimate and will vary based on cooking methods and brands of ingredients used.