These German Fried Potatoes are soft and fluffy, with crispy edges. Par-boiled, then fried with onions in butter and oil, this classic potato side dish is a family favorite!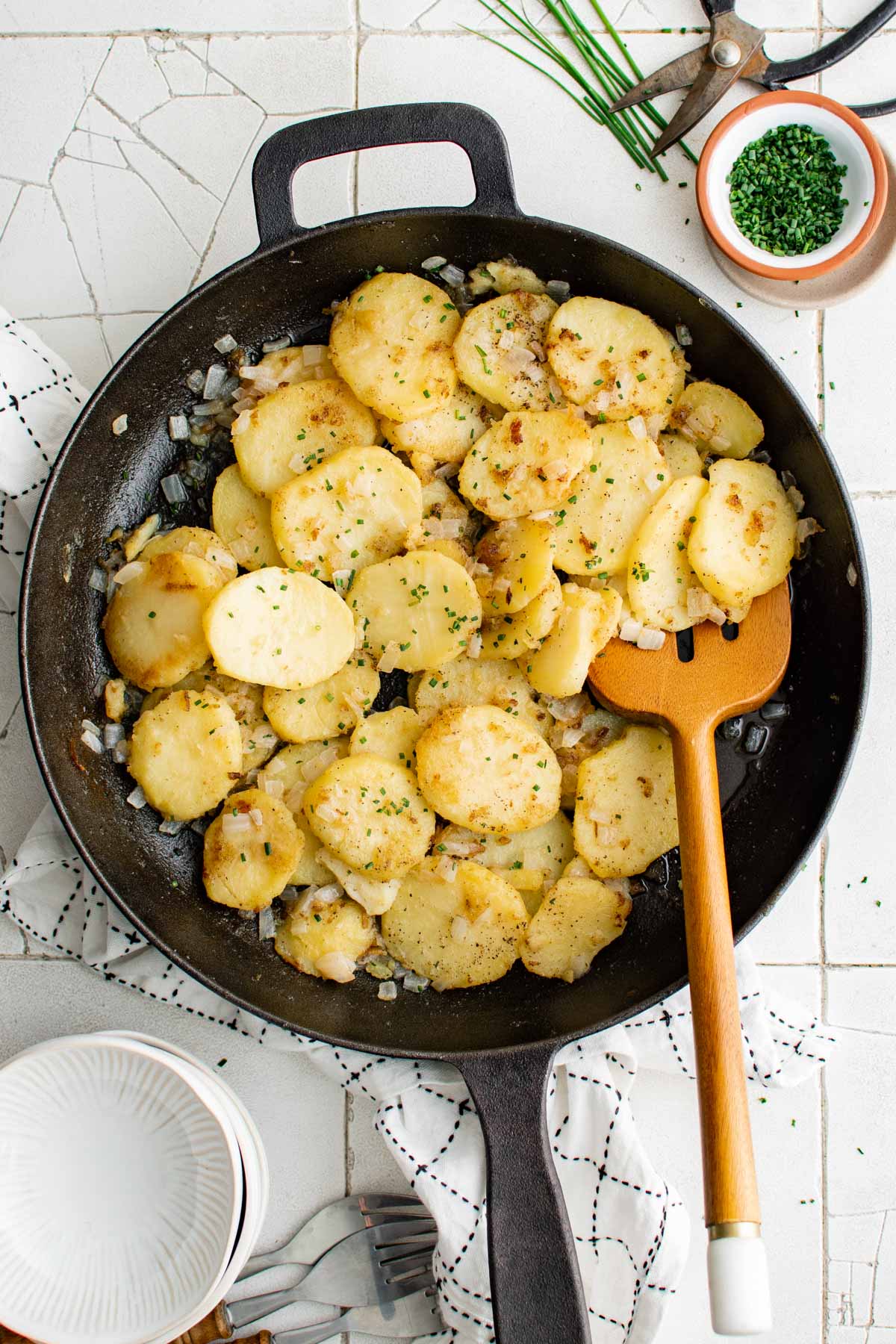 Bratkartoffeln Recipe
Also known as Bratkartoffeln, which literally means to fry potatoes, this pan fried potatoes recipe is a traditional German side dish. There are different variations that often based on what part of Germany you are in. Some recipes include bacon, which I think would be delicious.
In my family's recipe, the potatoes are par-boiled whole, then peeled and sliced thin, and fried in oil. They don't get crispy throughout, but have crispy edges and a soft, fluffy center.
This recipe is:
Simple – Just 4 main ingredients plus salt and pepper are all you need, but the flavor is incredible!
Multi-Use – Fried potatoes pair perfectly with Pork Schnitzel, Chicken Schnitzel or Crock Pot Pork Roast. But you can also enjoy them as a snack with just some ketchup for dipping.
Customizable – As a classic German dish, these potatoes are super tasty with just a little hit of salt and pepper. But you can elevate them with different spices, like paprika, garlic or cajun seasoning.
Ingredients For Fried Potatoes
Potatoes – Waxy potatoes, like Yukon Golds, are the best type of potatoes for making Bratkartoffeln. But you can also use Russet potatoes or red potatoes. The size isn't super important but you'll want to make sure they are big enough to get nice slices out of.
Canola Oil – Or vegetable oil. Use something with a neutral flavor and a high smoke point. Olive oil is usually my second choice.
Yellow Onion – Diced small. Other types of onion can be used, but yellow is my preference.
Butter – Salted butter is used to fry the onions at the end, adding more flavor to the potatoes.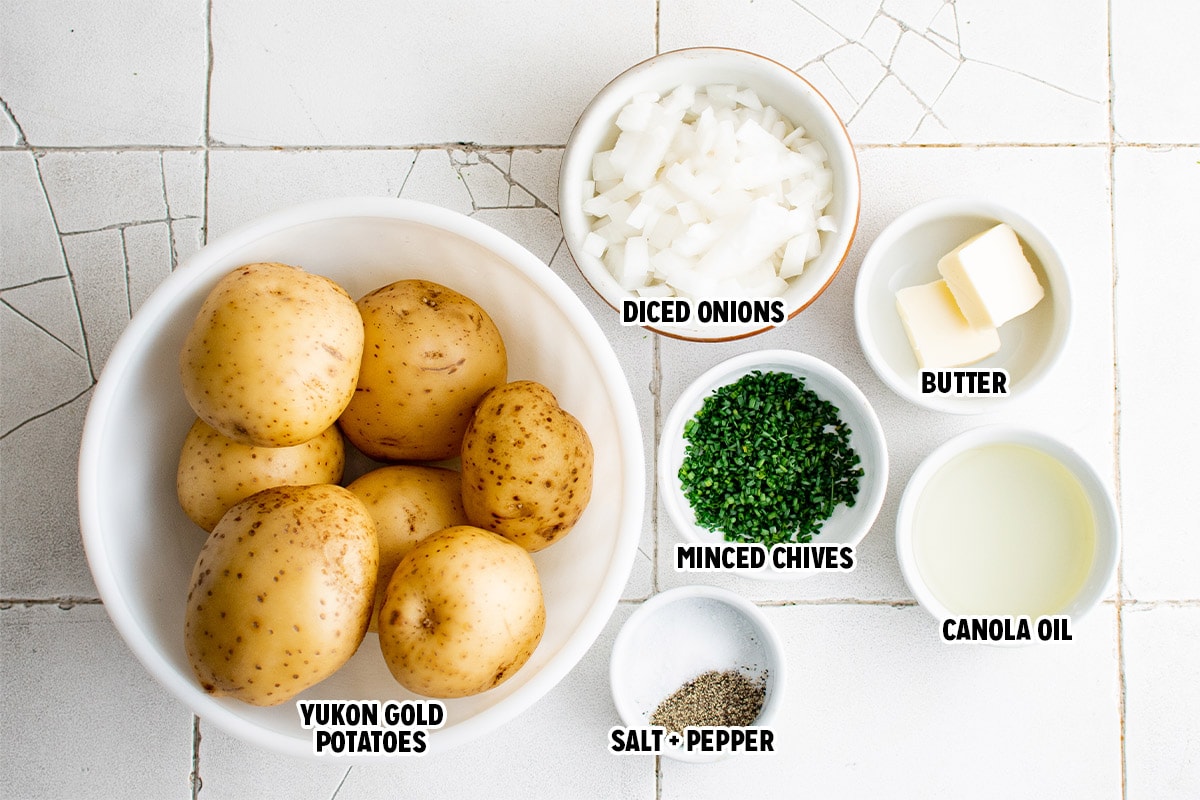 How To Make German Fried Potatoes
See recipe card below for ingredient quantities and full instructions.
Wash and scrub potatoes. Boil until you can pierce the skin with a fork.
Peel and slice into thin rounds. Use a sharp paring knife; a mandolin won't work for this.
Heat oil in a cast-iron skillet (or other type of heavy bottomed skillet) over medium heat and add some oil. Add potatoes and season with salt, then let them fry untouched for a few minutes, then flip them over and fry for another couple of minutes. Cook until they are lightly golden and crispy at the edges.
Use your spatula to push the potatoes to the outer edges of the skillet and melt the butter in the center. Cook the onions in the butter for a few minutes and then mix everything together.
You're ready to serve!

Garnish with fresh minced chives, parsley or green onions and some fresh cracked black pepper.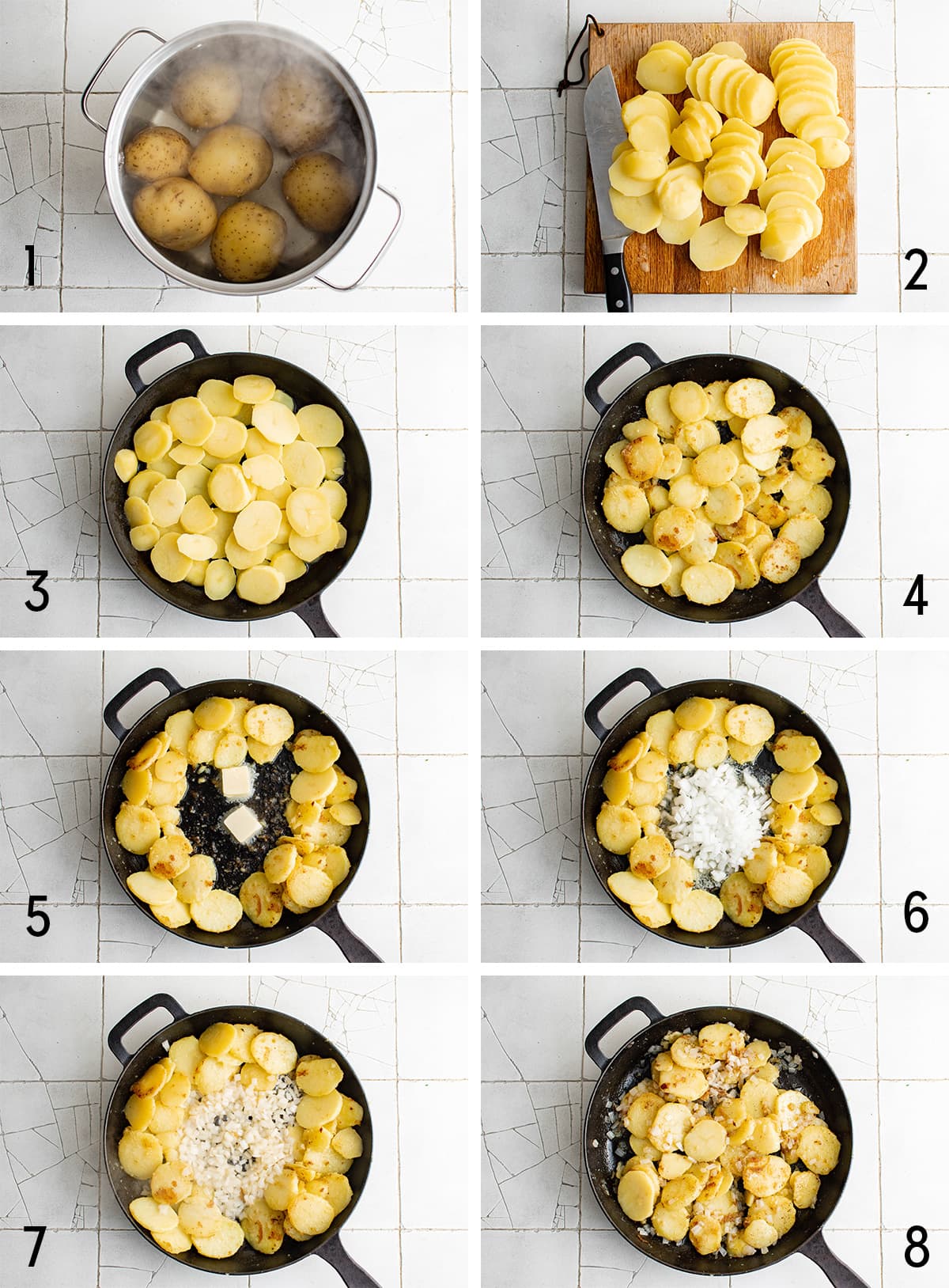 Can You Just Fry Raw Potatoes?
Technically, yes. The par-boiling technique is meant to help cook the potatoes quickly and without scorching. If you fry potatoes raw, it will take a lot longer for them to cook through, increasing the risk of scorching.
Serving Suggestions
Traditionally, you'd be pan frying potatoes to serve with your supper, but we like them any time of the day!
Serve them for breakfast with your eggs, as a snack dipped in ketchup, or for dinner alongside a hearty Pan Roasted Pork Loin, Crispy Garlic Parmesan Baked Chicken, or even an Air Fryer Steak.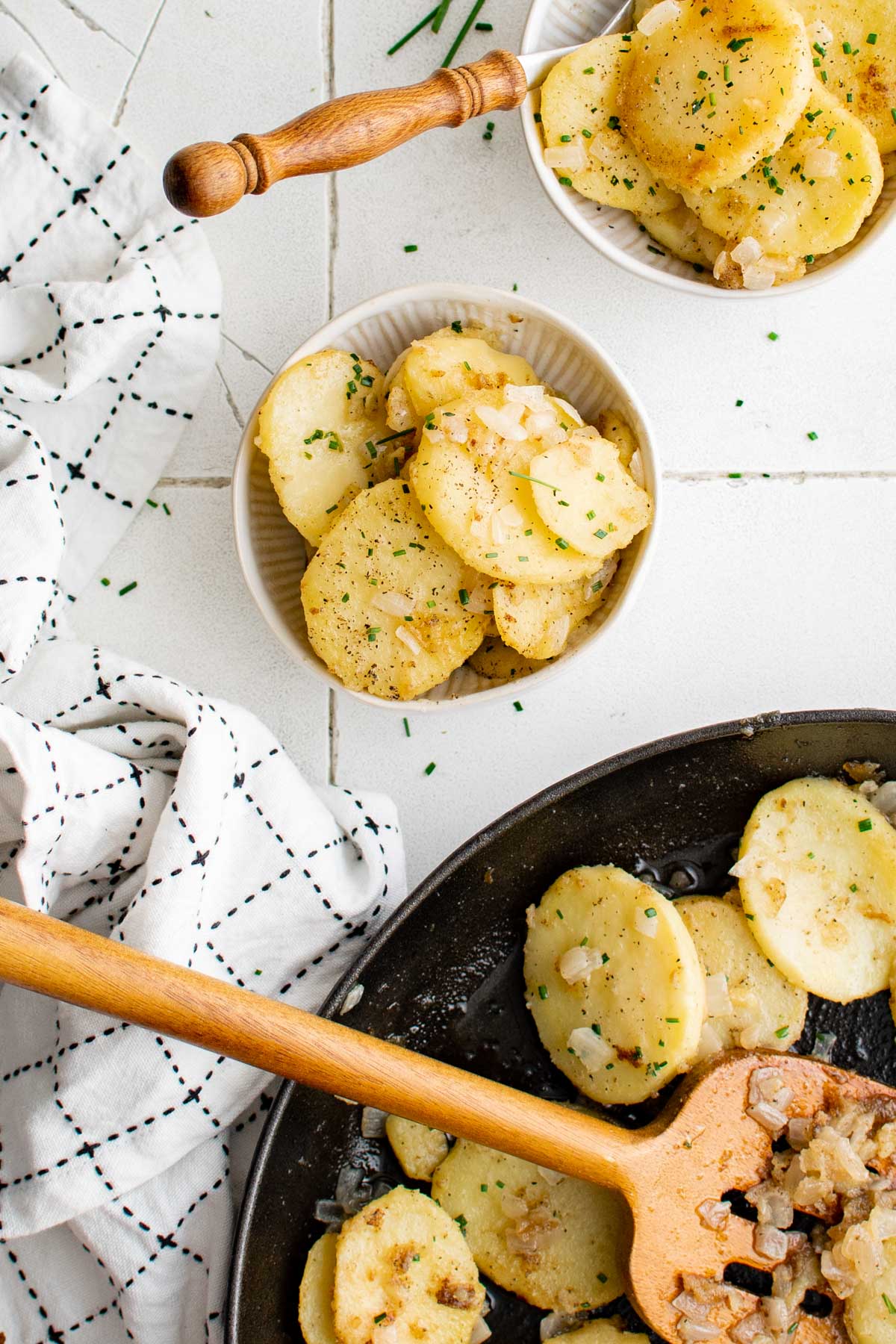 Variations
Any of these ingredients could be added to your pan fried potatoes to enhance the flavor or make a more substantial dish.
Bacon – Dice bacon and cook prior to adding the potatoes. Then use some of the grease for frying the potatoes. Cook the onions, then mix in the cooked bacon last.
Peppers – Potatoes with peppers is a classic combo. Finely dice green bell peppers, red bell peppers, or any color you like.
Herbs – Add dried or fresh herbs to the skillet at the end, like rosemary or thyme.
Spices – Sprinkle on some chili powder or paprika, garlic powder, or another seasoning that you love.
Storage
These potatoes are best when served immediately. You can store in an airtight container for up to 2-3 days and reheat by frying lightly in a pan with some oil. They won't be as crispy, but they will still be tasty.
I also like adding them to breakfast burritos.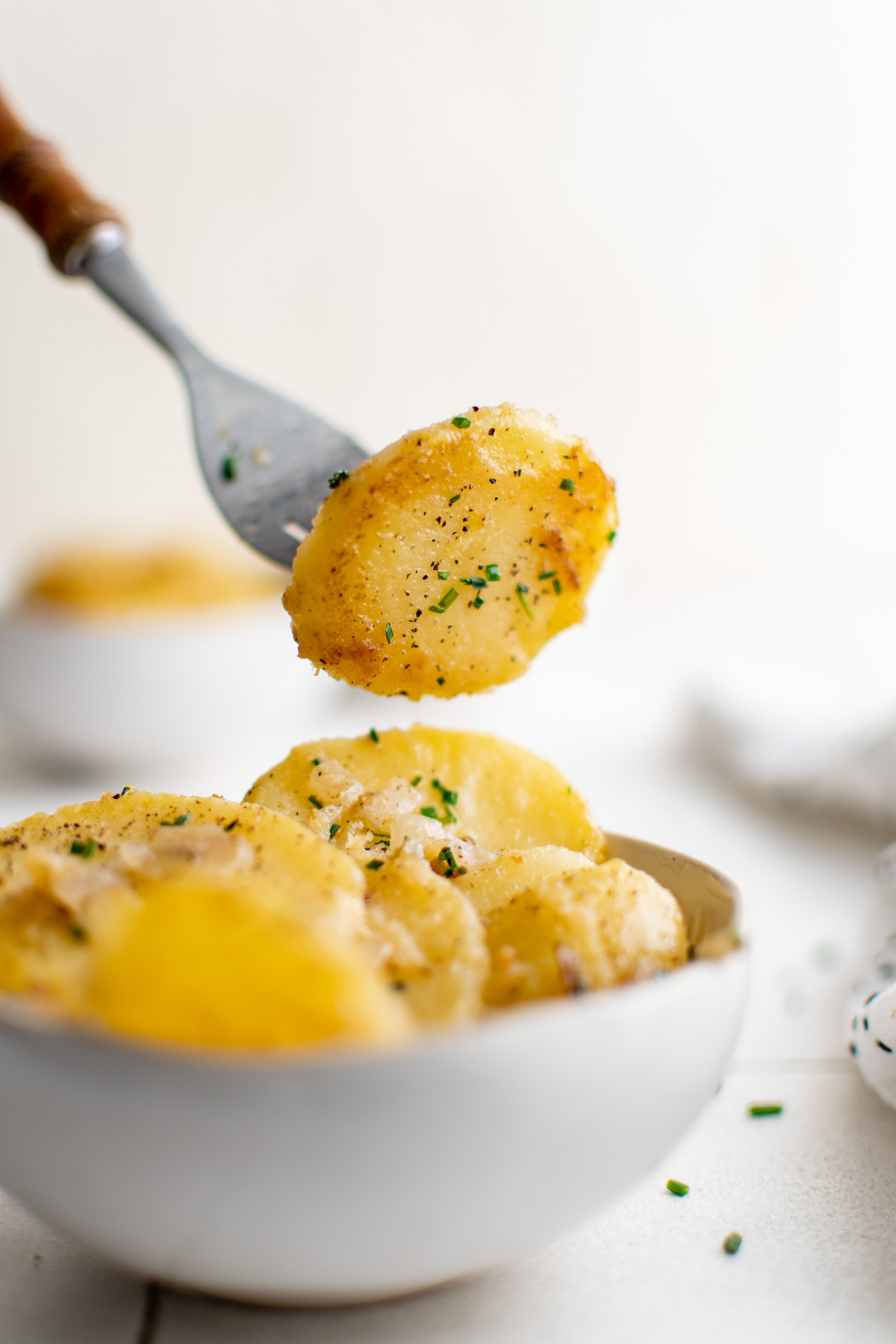 It's important to note these are not hash browns or Crispy Breakfast Potatoes, and they won't look like hash browns. They will have crispy edges but the middles and insides will be soft and fluffy.
More Potato Recipes
Recipe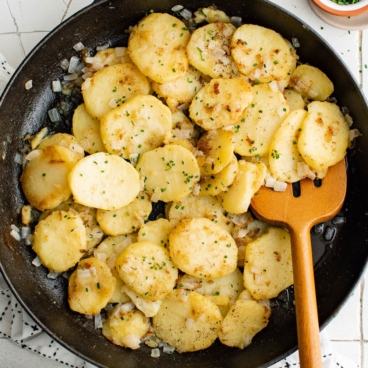 German Fried Potatoes
German Fried Potatoes, aka Bratkartoffeln, are tender on the inside with crispy edges. for an easy potato side dish is a family favorite!
Ingredients
2

pounds

Yukon Gold potatoes

2

tablespoons

Canola Oil

for frying

1/2

medium yellow onion

about ¾ cups, diced

2

tablespoons

butter

Salt and pepper

to taste

Minced chives

for garnish, optional
Instructions
Wash and scrub potatoes. Heat a large pot of water to boiling and add the potatoes. Boil until soft enough to gently pierce with a fork; about 10-15 minutes. Drain and rinse.

Once the potatoes are cool enough to handle, peel and slice potatoes into ⅛-¼ inch rounds.

Heat 2 tablespoons of oil in a large skillet. When oil is hot, add potatoes and sprinkle with salt. Let them sit for 2-3 minutes without touching them, then flip and let sit for another 2 minutes. The potatoes may begin to break up a bit and that's okay, just don't let them crumble or become mushy. Continue to cook, stirring occasionally, until potatoes are slightly golden and crispy on the outside and tender on the inside. (they won't be brown all over like hash browns).

Push the potatoes to the outsides, making a well in the center. Drop in the butter and let it melt. Add onions and stir to coat, then stir frequently for several minutes until the onions are softened. Stir together with the potatoes and season with salt and pepper to taste.

Garnish with fresh minced chives before serving if desired.
Notes
These potatoes are best when served immediately. You can store in an airtight container for up to 2-3 days and reheat by frying lightly in a pan with some oil. They won't be as crispy, but they will still be tasty.
I also like adding them to breakfast burritos.
Nutrition
Calories:
200
kcal
Carbohydrates:
29
g
Protein:
3
g
Fat:
9
g
Saturated Fat:
3
g
Polyunsaturated Fat:
2
g
Monounsaturated Fat:
4
g
Trans Fat:
0.2
g
Cholesterol:
10
mg
Sodium:
41
mg
Potassium:
670
mg
Fiber:
4
g
Sugar:
3
g
Vitamin A:
120
IU
Vitamin C:
31
mg
Calcium:
25
mg
Iron:
1
mg