London Broil is a thick, tenderized cut of steak that's marinated then and grilled over a high heat. This tender, juicy steak is a budget friendly yet classy weeknight meal.
When the answer to "what's for dinner?" is STEAK my family gets excited. They know steak is a rare thing around here so they really enjoy it. Grilled London Broil is on the menu at least once a month during the summer months, because it's a great way to feed the whole family a low budget, yet seemingly elegant dinner. Make  it a meal by serving it with Baked Potatoes, Roasted Broccoli and Garlic Bread.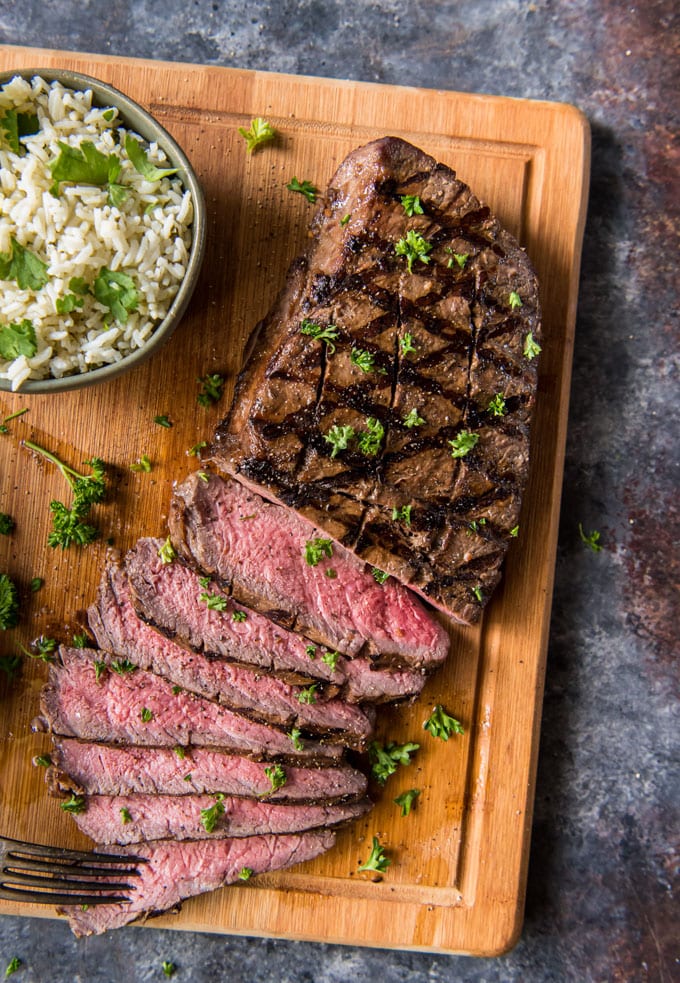 What is London Broil?
London Broil is actually not a cut of meat, but a preparation. The term refers to a piece of meat that is marinated then seared, broiled or grilled at a high heat. Some grocery stores and butchers sell top-round steaks under the name "London Broil" since it's one of the best cuts of meat for this type of preparation.
What type of meat do you use for London broil?
London Broil is usually cut from a top round roast, sliced into large, thick pieces. You can also buy a top-round roast and cut it yourself. This type of meat does very well with a marinade.
How do you cook London broil?
Marinate. This is an important first step for London Broil. Letting the meat sit in the combination of fats, salts and acid helps to break down the meat and provide a tender steak. Cut shallow slits in the meat with a sharp knife to allow the meat to soak in all that flavor. Let it marinate for at least 8 and up to 24 hours.
Cook/Grill. You can broil your steak in the oven, but we prefer grilling. Heat an outdoor grill to a medium-high heat and cook until your desired doneness. That's about 7 minutes per side for medium rare. Check out our delicious steak marinade post for more grilling tips.
Rest before slicing. Give your steak 10 minutes to rest before cutting into it, or risk leaving the juices behind on the cutting board. It's also very important to slice your meat against the grain for a tender, easy to chew bite every time.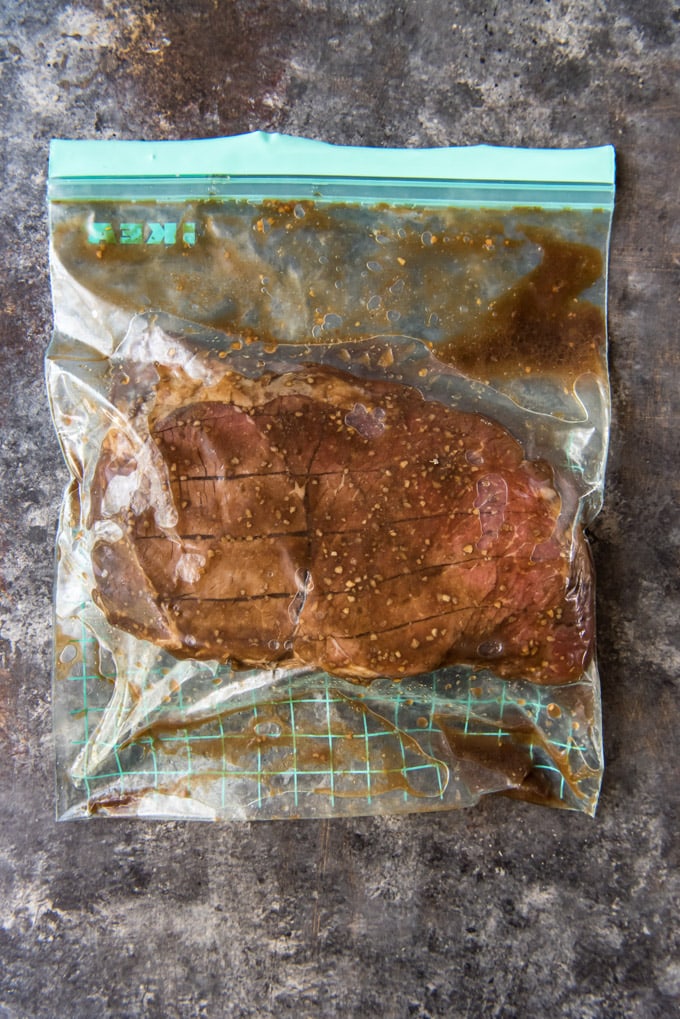 London Broil Marinade
A nice long soak in the marinade is vital to a tender and juicy London Broil. The meat has a great flavor on its own, so we are using a simple marinade with honey, vegetable oil, worcestershire sauce, soy sauce, garlic and onion powder.
Here's what you'll need:
Acid – Acids help break down meat's connective tissue, which tenderizes and allows the flavors to penetrate the meat. An acidic component also helps to balance the flavor profile, while adding a zip of freshness to heavier flavors. Worcestershire sauce adds acidity to our London Broil marinade but also a ton of umami flavor. Soy sauce also helps to tenderize the meat
Fat – Vegetable oil helps transfer the flavors to the meat, and helps the meat retain moisture as it cooks. Fats can also dilute stronger seasonings and keep them from overwhelming the flavor profile. Canola oil, olive oil or avocado oil can also be used.
Seasoning – This is where you can really play around with flavors that you like. I added honey for a little sweetness, minced garlic and onion powder.
Top Tips and Storage
If you can't get your steak in the marinade at least 6-8 hours in advance, save it for another day. The marinade is crucial to tenderizing your London Broil.
Always let the steak rest, use a sharp knife, and cut against the grain.
For more fresh flavor, add herbs like parsley, rosemary and chives to your marinade.
Store leftovers in an airtight container for up to 3-4 days. My recommendation for reheating is to slice the London Broil thinly and melt a little bit of butter on in a skillet on the stove. Heat for a minute, then transfer to a plate.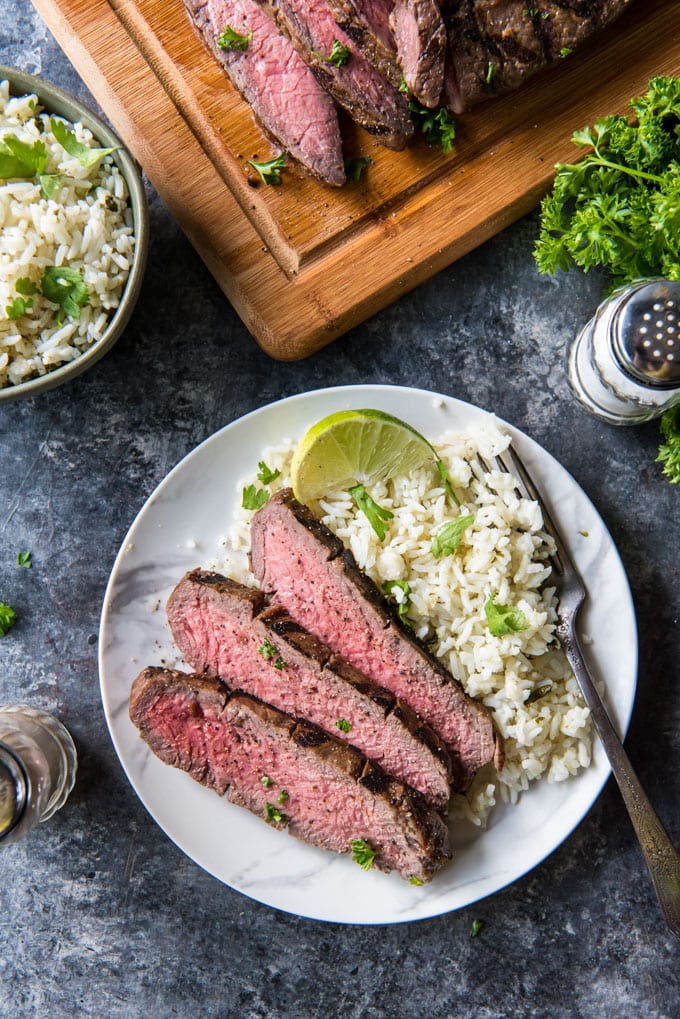 Serving Suggestions
You can never go wrong with steak and potatoes, so we often serve London Broil with potato favorites like Roasted Purple Potatoes, Cheesy Scalloped Potatoes or Baked Potato Wedges. If rice is your thing, try our Coconut Rice, Cilantro Lime Rice or a nice French Onion Rice Pilaf. Add some veggies on the side like Garlic Green Beans or Honey Roasted Carrots for a complete meal.
Make a steak salad by serving slices of London Broil on top of our Olive Garden Salad Copycat. Or try some other steak recipes, like Steak Fajitas or this tender and juicy cast iron Steak.
If you've made this recipe, please come back and leave us a star rating or a comment below. Or, tag us on social media @yellowblissroad or #yellowblissroad for a chance to be featured.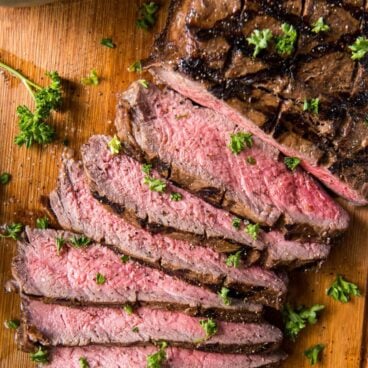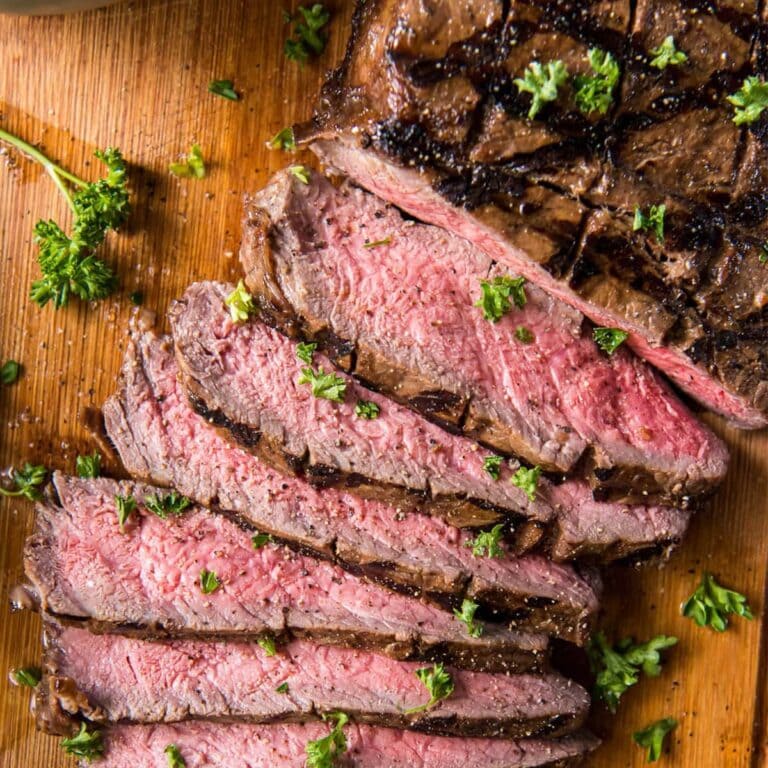 Grilled London Broil
London Broil is a cut of beef that's marinated then and grilled over a high heat. This tender, juicy steak is a budget friendly yet classy weeknight meal.
Ingredients
2

pounds

London Broil (Top Round Steak)

¼

cup

honey

¼

cup

olive or vegetable oil

3

tablespoons

Worcestershire sauce

1

tablespoon

reduced sodium soy sauce

2

teaspoons

minced garlic

1

teaspoon

onion powder
Instructions
Whisk marinade ingredients together in a small bowl and set aside.

Place meat on a plastic cutting board and use a sharp knife to cut several shallow slits on both sides of the meat to help the marinade absorb.

Place meat in a resealable plastic bag and pour in marinade. Massage into the meat. Refrigerate for at least 8 hours, or up to 24 hours.

Preheat an outdoor grill to medium-high heat (350-400 degrees F). Grill meat for 7-8 minutes per side for medium rare (120-130 degrees F with a digital instant read thermometer).
Nutrition
Calories:
327
kcal
Carbohydrates:
14
g
Protein:
35
g
Fat:
14
g
Saturated Fat:
9
g
Cholesterol:
92
mg
Sodium:
270
mg
Potassium:
639
mg
Fiber:
1
g
Sugar:
13
g
Vitamin C:
1
mg
Calcium:
44
mg
Iron:
4
mg