These easy Steak Fajitas are so tender and juicy, they practically melt in your mouth! Stuffed in flour tortillas and topped with peppers and onions for a classic Mexican meal.
Serve these flavorful steak fajitas with traditional Mexican sides, like Mexican Rice, Refried Beans and Mexican Street Corn Salad.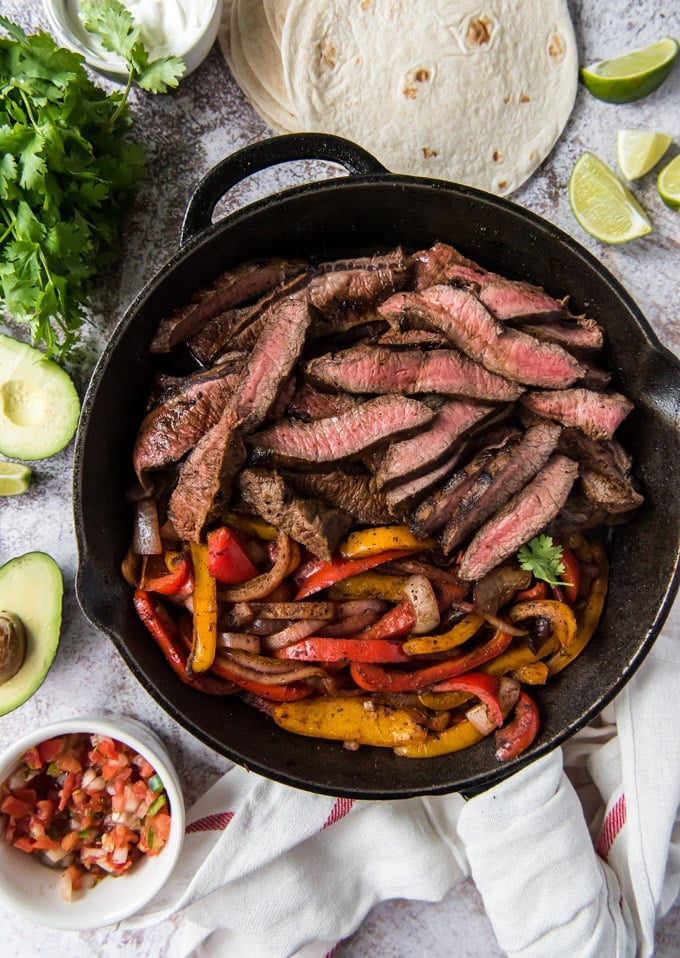 Easy Steak Fajitas
Fajitas are an excellent option for a kicked up taco night! Traditionally steak fajitas are made from a thin, marinated steak and stuffed into tortillas. Toppings include sauteed or grilled onions and bell peppers. We also add things like sour cream, guacamole and pico de gallo.
You can marinate the meat for up to 24 hours, so it's super easy to prep this meal ahead of time and just grill it up. It's ready to serve in just 20 minutes if you do the marinade ahead of time.
How to Make Steak Fajitas
Steak Fajitas can be grilled on an outdoor grill or in a cast iron skillet on your stove so you can make them year round. All you need to do is marinate the meat ahead of time, at least an hour or up to 24 hours. When it's time for cooking the steak, you'll grill the meat, then saute onions and peppers in a skillet over medium high heat while the steak rests. Then comes the really fun part – slice the steak into thin strips and stuff them inside warm flour tortillas and chow down!
Fajita Seasoning
Homemade seasonings taste fresher than store-bought and are really easy to make. I usually have all of these ingredients in my pantry already!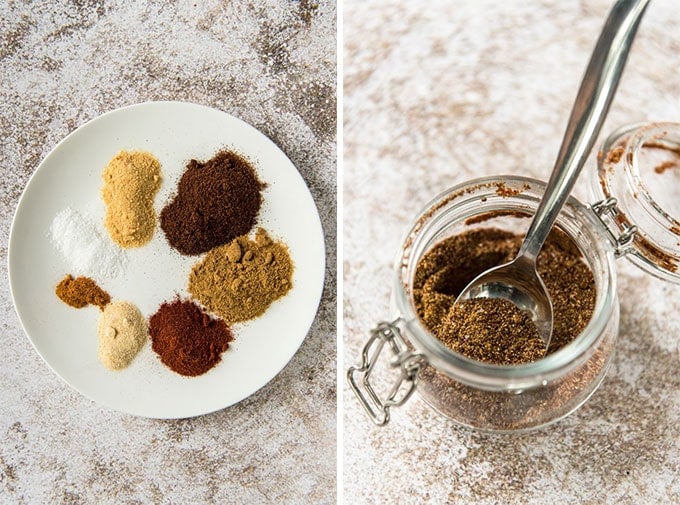 Chili powder
Cumin
Paprika
Garlic powder
Onion powder
Salt
Cayenne pepper
You can play around with the amounts a little bit – like if you want more heat, add more cayenne and for a more smoky flavor add more paprika. I love garlic so I'll usually up the amount of garlic powder just a little bit. You can also adjust the salt for a little more control on the amount of sodium.
Steak Marinade
Make the marinade. Whisk together canola or olive oil, lime juice, minced garlic and fajita seasoning.
Massage the meat. Place the flank steak into a gallon size resealable bag with the marinade and massage into the meat. Make sure that the meat is completely coated, then open the bag slightly and press out as much air as possible and reseal.
Refrigerate. Place the bag in a large dish to help catch any leaks and pop it in the fridge. You want to marinate at least an hour but 30 minutes would still give you a good flavor. If I'm home, I'll flip the bag over a couple of times to make sure all the liquid is evenly distributed, but this isn't necessary.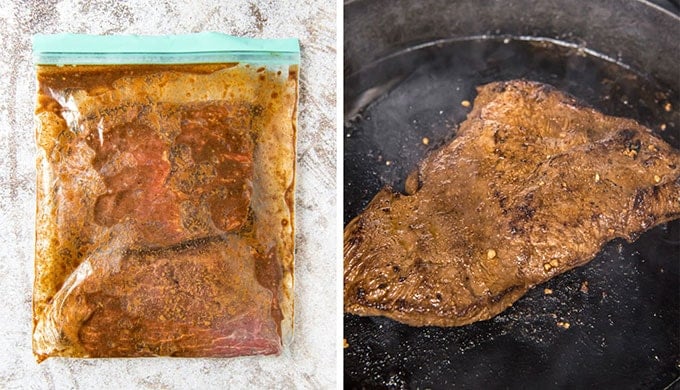 Helpful Tips and FAQs
Fajitas are great for meal prep – store steak and veggies in containers and pull them out for a delicious lunch during the week.
Storage: Keep leftovers in an airtight container in the fridge for up to 4-5 days. Enjoy cold, like on top of a salad, or warmed gently on the stovetop.
Pro tip: Reheat steak with a little butter to keep it from drying out.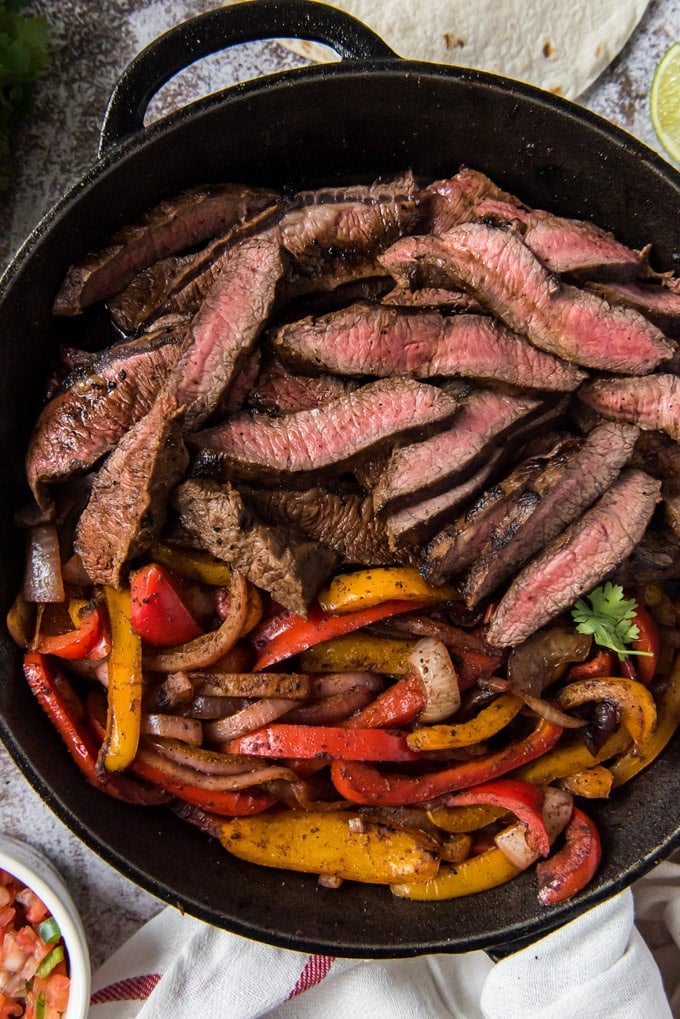 What steak do you use for fajitas?
You can use just about any cut of steak for fajitas, but I use flat iron, flank or skirt steak because they are nice and thin and cook quickly. They also respond really well to the marinade and end up nice and tender which is important for steak fajitas – you don't want to  have to give your jaw a workout just to chew the meat!
Do I have to marinate?
Truthfully, you don't have to marinate. Since this marinade is so flavorful, it would be ok to just let it sit in the marinade for 5-10 minutes. However, marinating tenderizes the meat which helps to make it easier to chew, and also adds flavor so I don't recommend skipping this step.
How do I slice steak for fajitas?
Always cut thin slices and slice your steak against the grain. This means you cut through the thin fibers you see running through the meat, shortening them. Cutting your steak the right way is more important than which cut of steak you use.
How do you make fajitas tender?
Marinating the flank steak is a crucial part of the fajita recipe. A marinade adds more flavor to the meat and makes it more tender, because the acid in the marinade helps to break down the muscle and proteins in the meat before cooking. This recipe is also perfect for chicken fajitas.
Serving Suggestions
We typically serve fajitas stuffed in flour tortillas and topped with sour cream, sliced avocado and homemade salsa. If I think to plan ahead, I'll make my famous slow cooker Mexican Beans to serve on the side.
Corn tortillas are a fine substitute for flour if that's what you like. You can also add your favorite taco toppings like shredded cheese and diced tomatoes.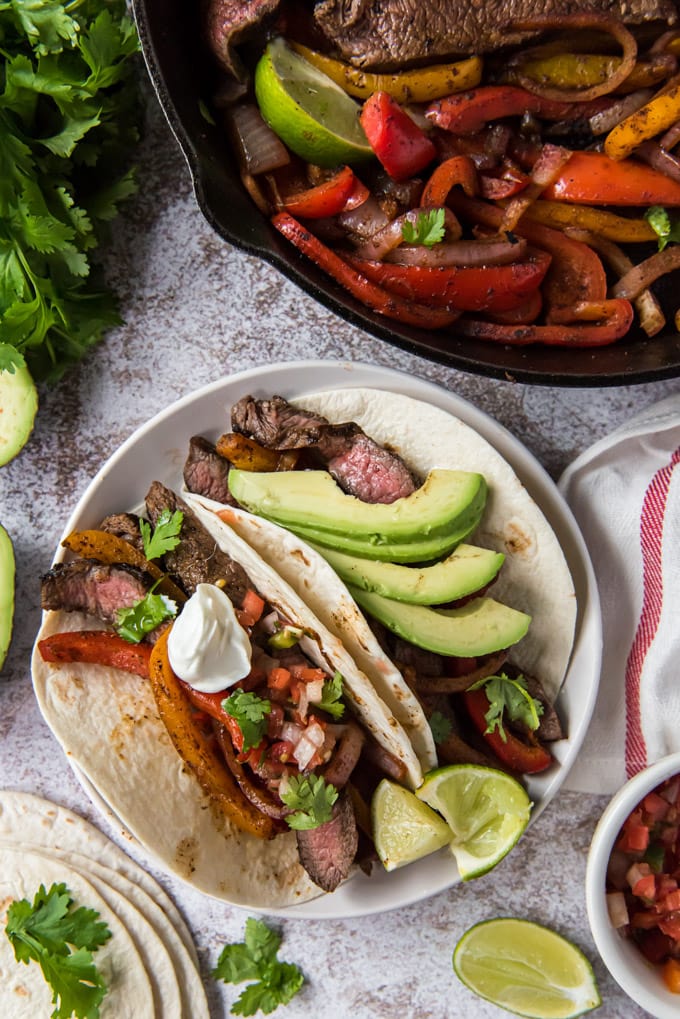 More Mexican Recipes to Try
We make Mexican food at home at least once a week, from Ground Beef Tacos to Slow Cooker Carnitas to Mexican Chicken Casserole. These are some of the most popular recipes here on the site, so be sure to take a look. Or, you can check out all of our favorite Mexican recipes in one place.
Recipe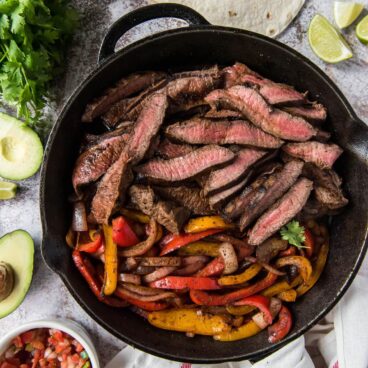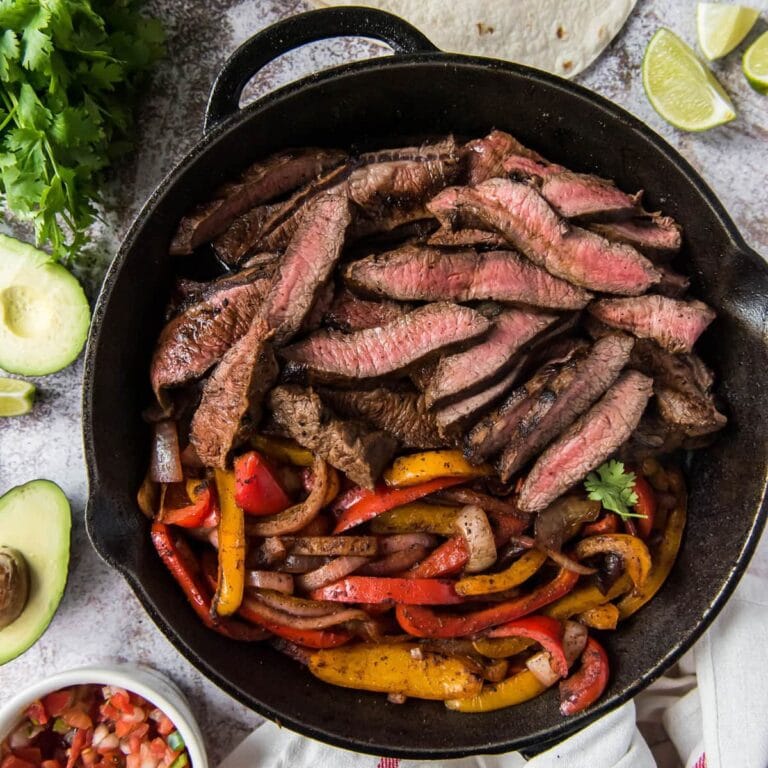 Steak Fajitas
Marinated and grilled steak with onions and peppers stuffed into warm flour tortillas.
Total Time
1

hour
27

minutes
Ingredients
Fajita seasoning:
3

teaspoons

chili powder

2

teaspoons

ground cumin

1

teaspoon

paprika

1

teaspoon

garlic powder

1/2

teaspoon

onion powder

1/2

teaspoon

salt

1/8

teaspoon

cayenne pepper
Steak Marinade:
2

tablespoons

canola oil

3

cloves

garlic

minced

1

lime

1 1/2

pounds

flat iron steak
Fajitas:
Canola or vegetable oil

1

red bell pepper

seeded and cut into strips

1

yellow bell pepper

seeed and cut into strips

1

red or white onion

cut into strips

1

lime

Salt

10

small flour tortillas

Optional toppings: sour cream, shredded cheese, diced tomato, cilantro, avocado, lime wedges
Instructions
Fajita Seasoning and Marinade
In a small bowl, combine fajita seasoning. Set aside.

In another small bowl, whisk together 2 tablespoons of fajita seasoning with 2 tablespoons of oil, minced garlic and the juice of 1 lime. Place flank steak into a resealable bag and pour marinade in, massaging into the meat to evenly coat. Let marinate for 1 hour, or longer in the refrigerator. (If refrigerated, let meat sit at room temperature 30 minutes prior to cooking).
For Stovetop Steak
Heat a tablespoon of oil in a large cast iron or other heavy bottomed skillet or grill pan. Wipe most of the marinade off of the meat and sprinkle with salt and place in the pan. Cook for about 3 minutes per side, flipping once, for medium rare or 5-6 minutes for well done. Transfer to a plate to rest and tent with foil.
For Grilled Steak
Preheat an outdoor grill to medium high heat. Grill steak, flipping once, about 4-5 minutes per side for medium rare. Transfer to a plate and tent with foil to rest while you cook the veggies on the stovetop.
Fajita Assembly
Add a tablespoon of oil to the skillet, then add the vegetables. Seasoning with remaining fajita seasoning (about ¾ tablespoon) and a pinch of salt. Cook 5-7 minutes or until desired tenderness is reached. Squeeze lime juice over the veggies and toss.

Slice steak against the grain. Warm tortillas in the microwave or char on the stovetop. Fill with sliced steak, veggies and desired toppings. Serve with lime wedges.
Notes
Storage: Keep leftovers in an airtight container in the fridge for up to 4-5 days. Enjoy cold, like on top of a salad, or warmed gently on the stovetop.
Pro tip: Reheat steak with a little butter to keep it from drying out.
When slicing the steak, cut against the grain.
Nutrition
Serving:
1
fajita
Calories:
232
kcal
Carbohydrates:
20
g
Protein:
16
g
Fat:
9
g
Saturated Fat:
3
g
Cholesterol:
45
mg
Sodium:
385
mg
Potassium:
367
mg
Fiber:
2
g
Sugar:
3
g
Vitamin A:
695
IU
Vitamin C:
42
mg
Calcium:
51
mg
Iron:
3
mg