Cowboy Cookies are thick and chewy bakery-style Oatmeal Cookies with chocolate chips, pecans and shredded coconut. They are easy to make and impossible to resist!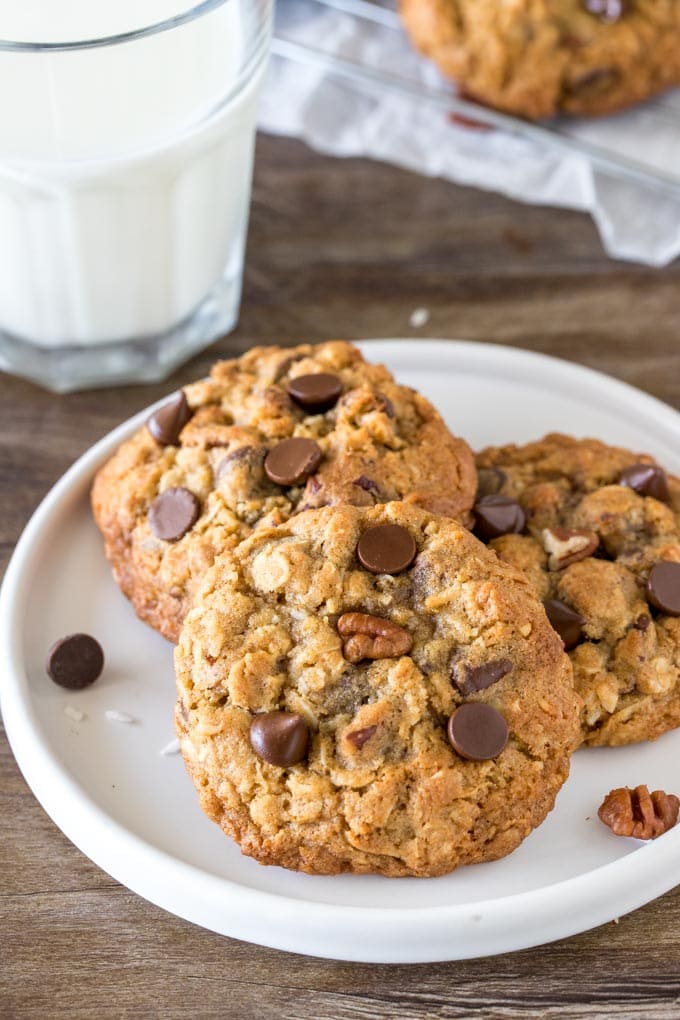 HOW TO MAKE COWBOY COOKIES
If you've never made Cowboy Cookies before, they're very similar to classic Oatmeal Chocolate Chip Cookies. This easy cookie recipe whips up in no time because there is no need to chill the dough.
COWBOY COOKIE DOUGH
Cream the butter and sugar. Like many cookie recipes, you'll start by creaming together the butter, brown sugar, and white sugar. Creaming means that you beat together the butter and sugars until they're fluffy and evenly combined. This process helps to add air in the batter, which is necessary to get the best cookie texture. Make sure the butter is softened to room temperature, but not melted. Then you'll mix in the egg and vanilla extract.
Mix in the dry ingredients. Carefully beat in the flour, baking soda, and salt. I always turn the mixer down to low speed before mixing in the dry ingredients to avoid the flour going everywhere. Note that it's super important in baking to measure the flour carefully. Give it a whisk first, then spoon it into a dry measuring cup, and level off the top. Too much flour is usually the cause of dry, hard, crumbly cookies.
Add the oats. I like to use old-fashioned, rolled oats. Quick oats are ok too (although your cookies won't have quite as much texture). Do not use instant oats or steel-cut oats.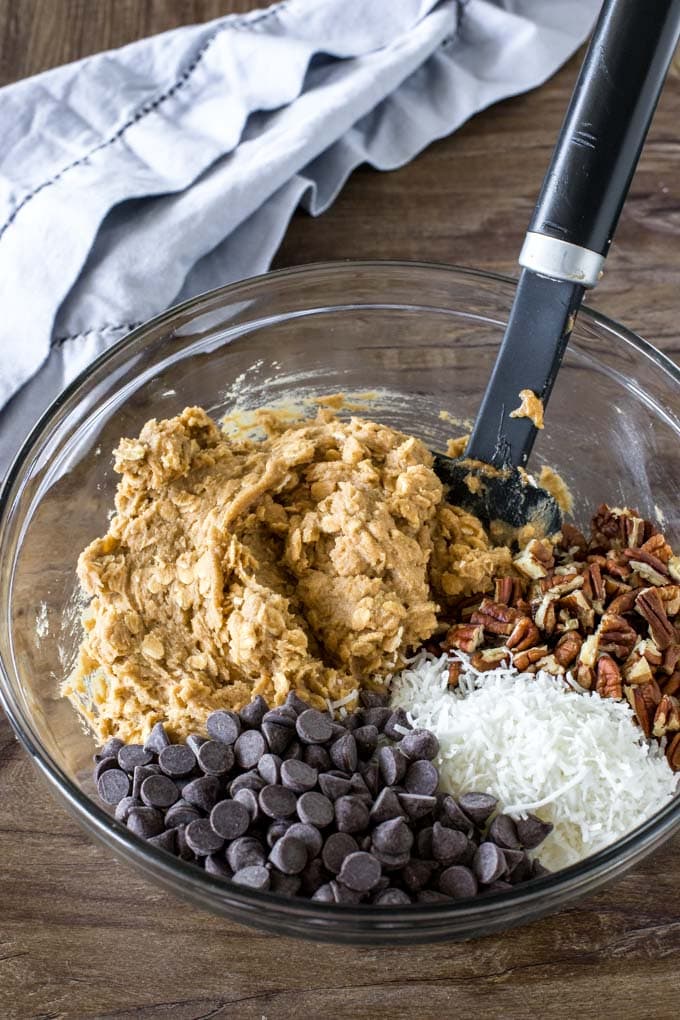 MIX-IN OPTIONS
For the mix-ins, we're using semi-sweet chocolate chips, chopped pecans (not pecan halves) and shredded coconut. You could use whatever variety of chocolate chips you prefer, and you could definitely substitute chopped pecans for chopped walnuts. Sometimes people ask me if you can leave out the coconut. Technically speaking, you could – but they wouldn't really be cowboy cookies without the coconut.
This recipe uses 1 cup of chocolate chips, but I always only mix in 3/4 cup chocolate chips. Then when the cookies are warm out of the oven a place a few extra chocolate chips on top of each cookie to give them that perfect bakery-style look.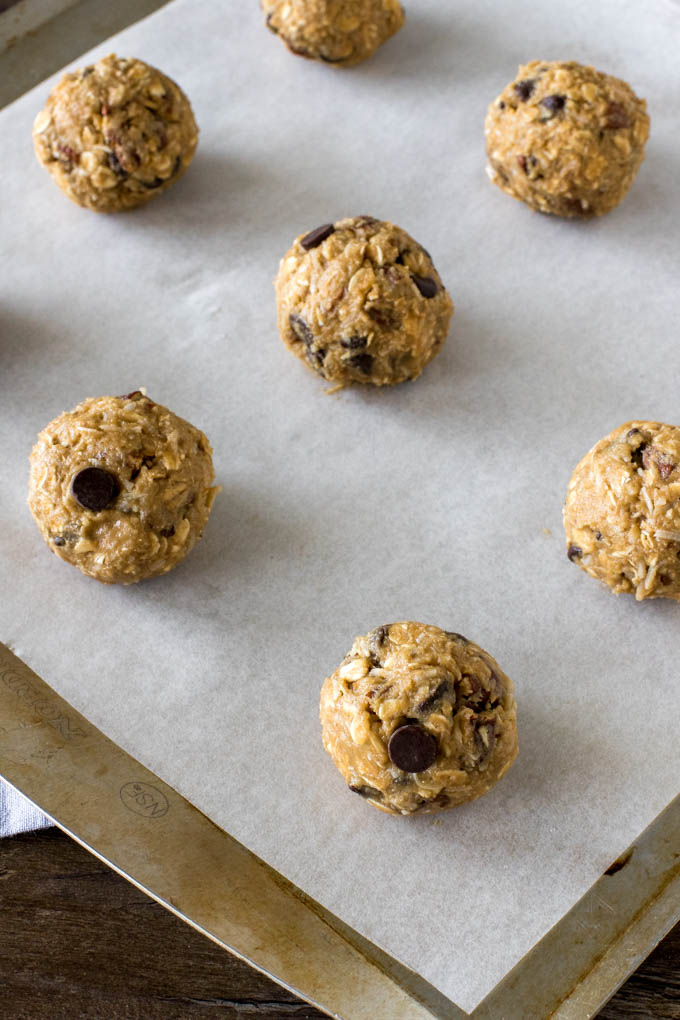 READY TO BAKE
These cowboy cookies are nice and big, so you'll use about 3 tablespoons for each ball of dough. Pro Tip – Use a large cookie scoop to portion the dough. Place them 3 inches apart on a lined baking sheet, and bake 1 sheet at a time. Because these cookies are so large, it's really important to place them far apart on the cookie sheet, otherwise, they can spread into one another. I always bake 1 tray of cookies at a time because you get more evenly baked cookies that aren't too brown on the top or bottom.
HOW TO MAKE EXTRA THICK COWBOY COOKIES
If you'd like extra-thick Cowboy Cookies or you just want to make the dough ahead of time, you can chill the dough in the fridge. This also works well if you notice the first tray you bake is spreading a little too thin for your liking.
Simply make the dough, cover the bowl with plastic wrap and place in the fridge for up to 24 hours. Then when you're ready to bake, form the dough into balls and bake as the recipe directs. If the dough is a little too firm to work with, let the bowl sit on the counter for about 10 minutes first.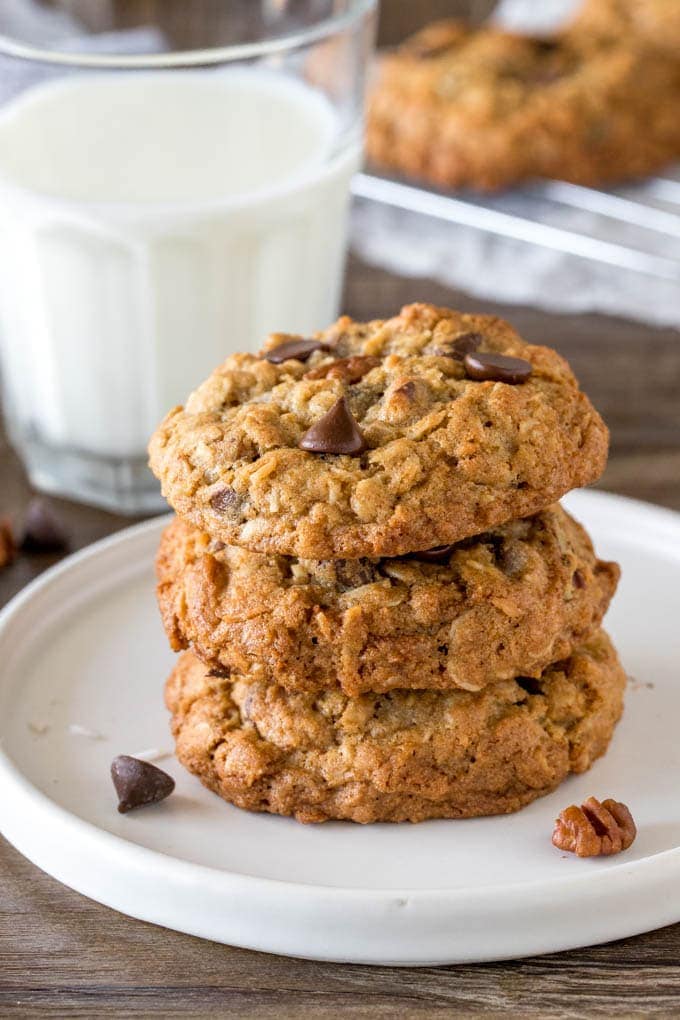 Freezing & Make-Ahead Instructions
These cookies will last in an airtight container at room temperature for about 3 days. I find they taste the best after they've cooled slightly so that they're still gooey and the chocolate is a little melted.
To freeze the cookie dough, first, make the cowboy cookie dough. Then form it into balls, place on a plate, and cover the plate with plastic wrap. Pop the dough balls in the fridge for 30-60 minutes for the balls to firm up. Then transfer the cookie dough balls into a freezer bag and freeze for up to 3 months. Then whenever you're reading bake the cookies, preheat the oven and line your cookie sheets. Bake the dough from frozen, adding 1-2 minutes to the recommended baking time. You can find more details on how to freeze cookie dough here.
For Smaller Cowboy Cookies
This recipe makes about 14-16 very large cookies (about 3-inches in diameter). For smaller cowboy cookies, form the dough into balls about 1 – 1.5 tablespoons in size. I like to use a medium cookie scoop for this. You'll end up with about 28-32 cookies instead and they'll need about 8-10 minutes to bake at 350 degrees F.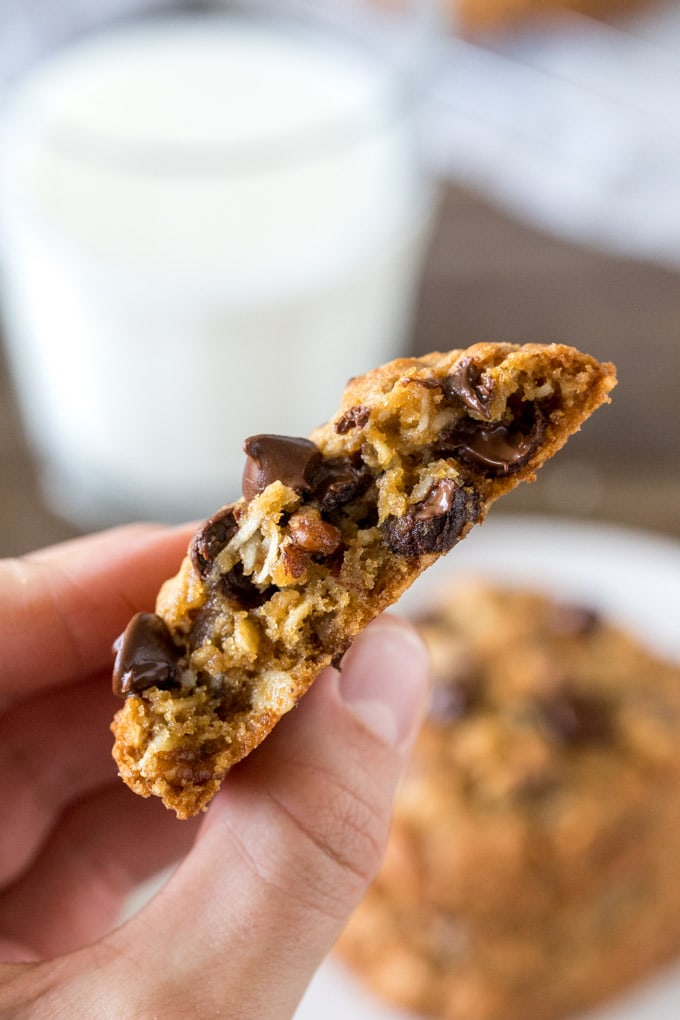 More Cookie Recipes to Try: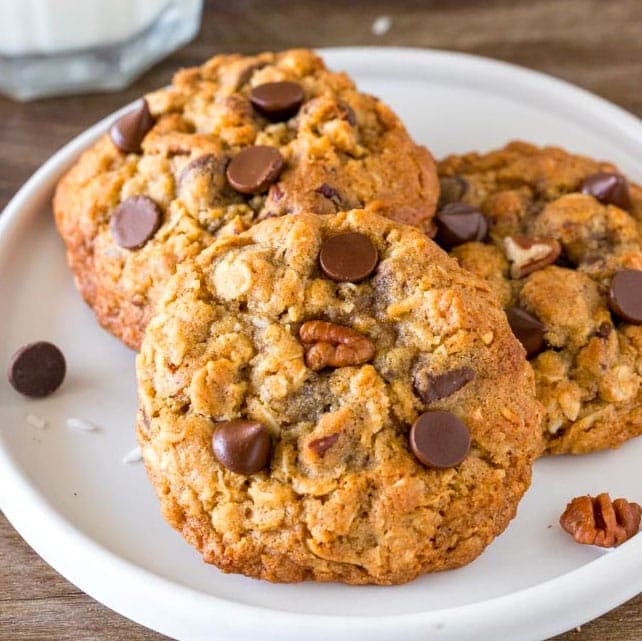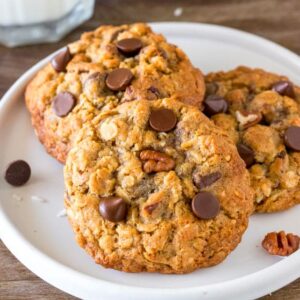 Cowboy Cookies
These cowboy cookies are thick, chewy, and impossible to resist. They're basically ginormous oatmeal chocolate chip cookies - only we're also adding in chopped pecans and shredded coconut.
Ingredients
1/2 cup unsalted butter softened to room temperature
1/2 cup packed brown sugar
1/2 cup white sugar
1 large egg
1 teaspoon vanilla extract
1 cup all-purpose flour
1/2 teaspoon baking soda
1/4 teaspoon salt
1 cup old-fashioned rolled oats quick oats are ok, don't use instant oats or steel-cut oats
1 cup semi-sweet chocolate chips divided
3/4 cup shredded coconut sweetened or unsweetened
1/2 cup chopped pecans
Instructions
Preheat the oven to 350F degrees and line 2 large cookie sheets with parchment paper.

In a large bowl using an electric mixer, beat the butter, brown sugar, and white sugar together until fluffy.

Mix in the egg and vanilla extract.

Turn the mixer down to low speed and carefully mix in the flour, baking soda and salt.

Mix in the oats.

With a large rubber spatula or wooden spoon, stir in 3/4 cup chocolate chips, coconut and pecans.

Form the dough into balls about 3 tablespoons in size and place the cookie dough balls 3 inches apart on the lined cookie sheets.

Bake 1 sheet at a time on the middle rack of the oven for 11-13 minutes, or until the tops look set.

Remove from the oven and add a few more chocolate chips (from the remaining 1/4 cup) to the top of each cookie). Cool on the cookie sheet for 4 minutes, then transfer to a wire rack to continue cooling.
Notes
Store cookies in an airtight container at room temperature for up to 3 days. Recipe can be doubled to make about 32 large cookies. You will need a very large bowl to double the recipe. 
Nutrition
Calories: 264kcalCarbohydrates: 31gProtein: 3gFat: 15gSaturated Fat: 8gCholesterol: 29mgSodium: 91mgPotassium: 133mgFiber: 2gSugar: 19gVitamin A: 202IUCalcium: 23mgIron: 2mg