These Cheesecake Cookies are so creamy and tender. It's a delicious cookie recipe that's not too sweet but totally addictive!
We love classic cookie recipes, like The Best Peanut Butter Blossoms and Oatmeal Raisin Cookies. These Cheesecake Cookies are the soon to be classic that everybody will be raving about.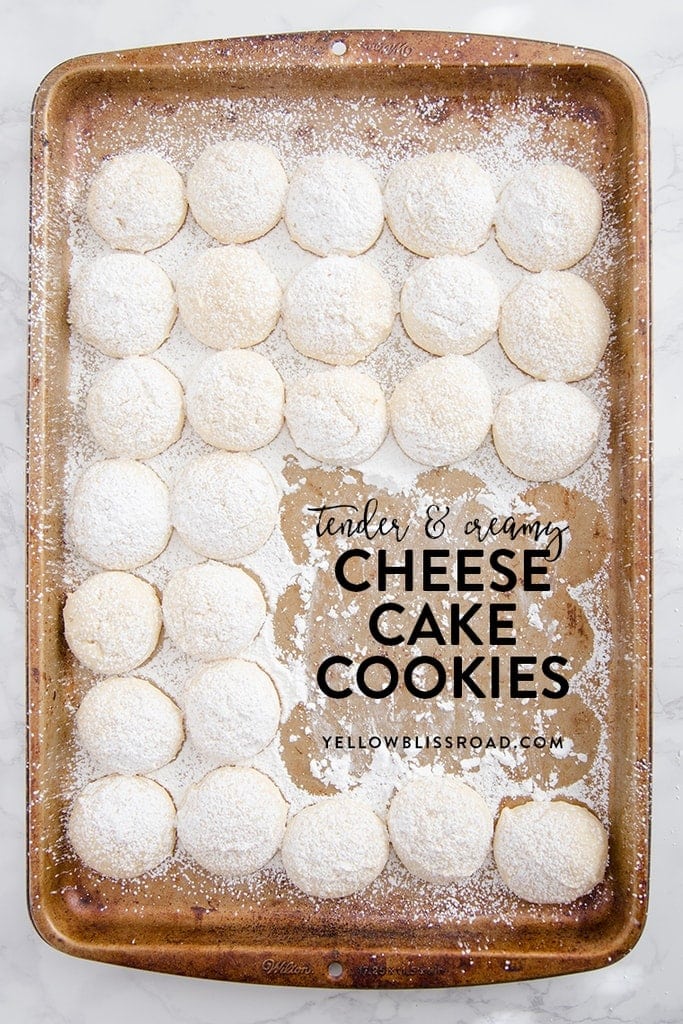 Pin this recipe for later!
CHEESECAKE COOKIE RECIPE
Cheesecake Cookies are one of my favorite cookie recipes. They are so good! Back when I created them in 2014, I dipped them in chocolate which made them even tastier. This updated version I decided to skip the chocolate and instead give them a nice coating of powdered sugar. These cookies have an ultra creamy texture that resembles a cheesecake, with the subtle flavor of one.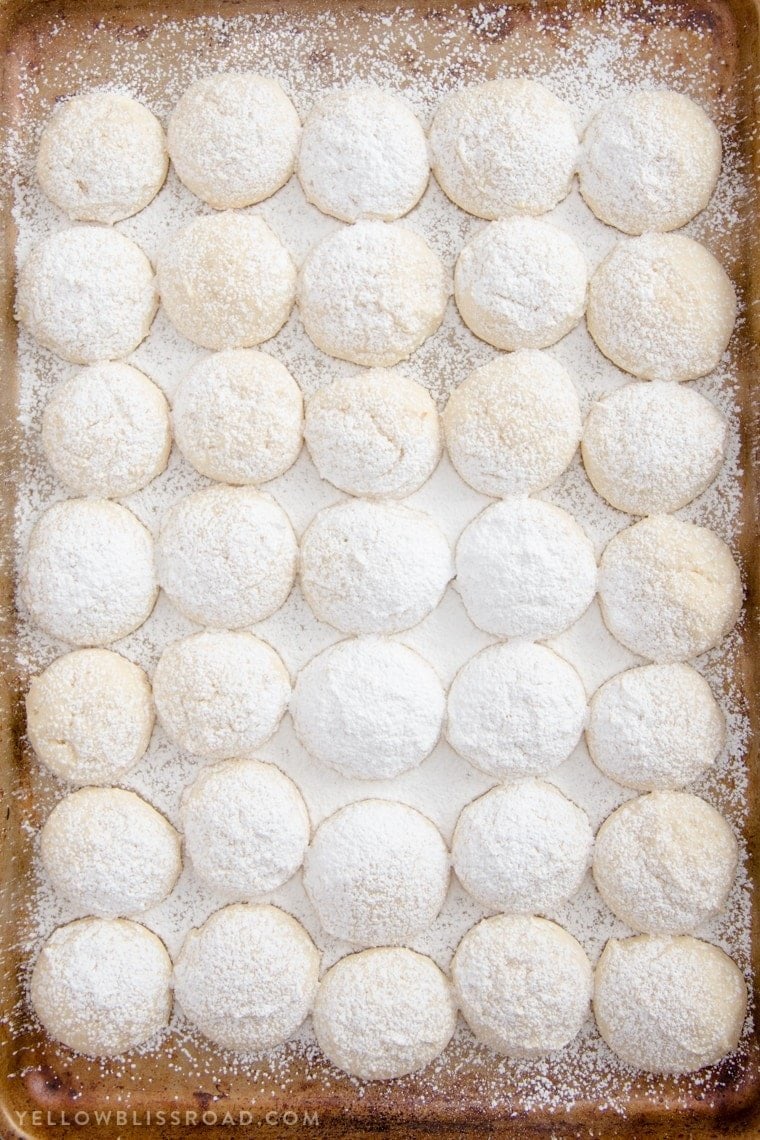 This particular recipe has been pinned over 1 MILLION times and has been the most popular cookie on my site since it's creation. However some bakers have had trouble with the cookies, either thinking they were not sweet enough, that the batter was too sticky to work with or that they came out more like biscuits.
I finally set some time aside a few weeks ago to work on the recipe, testing it for those exact things. I didn't do much to tweak the recipe, other than adding a little bit more sugar. I'm going to address each of those issues in this post.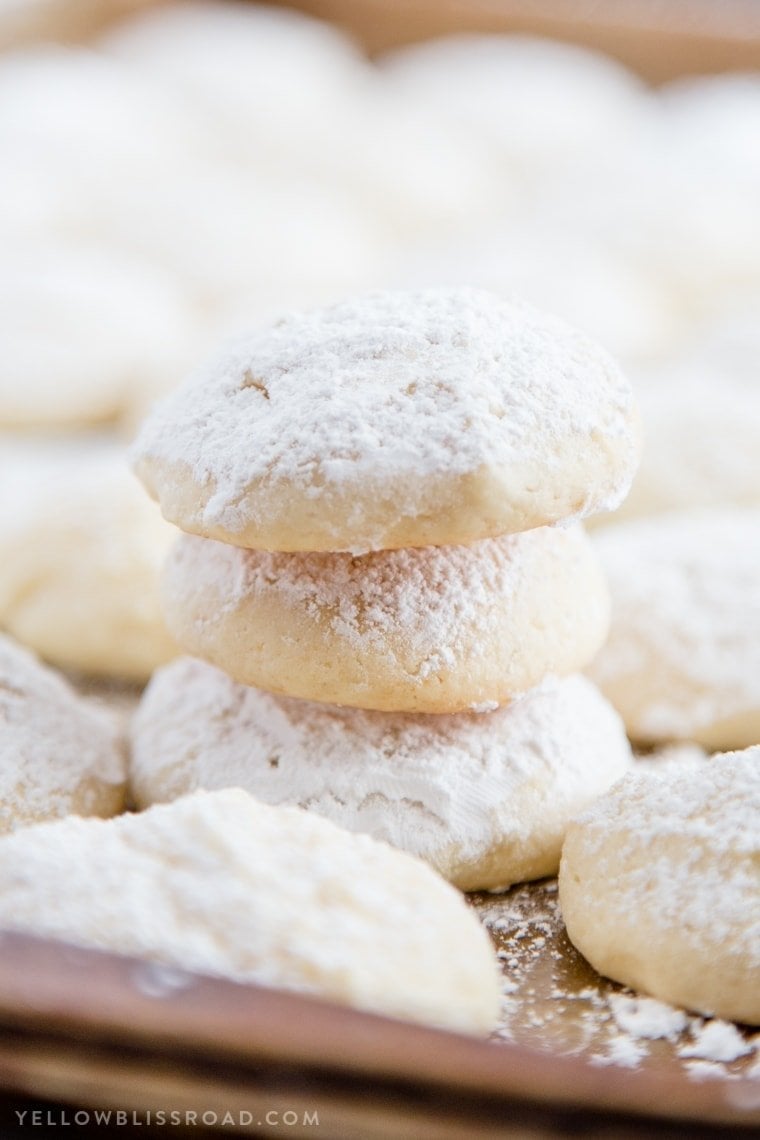 HOW TO MAKE CHEESECAKE COOKIES
Preheat your oven to 350 degrees and line 2 baking sheets with parchment paper or

silicone baking mats

. It's important to preheat the oven so that the cookies will bake evenly.

Beat room temperature cream cheese and butter together at high speed until the mixture is fluffy and smooth, then add sugar and beat until fully incorporated and fluffy. The mixture should be smooth and not at all gritty since the sugar will melt into the warm butter. Finally beat in eggs and vanilla.

Mix the dry ingredients together in a separate bowl with a wire whisk. This helps to ensure that the ingredients are evenly incorporated once you add them to the butter mixture so there are no clumps of salt or baking power because EW.

Be careful not to over-mix when adding the dry ingredients to the wet because this will release the gluten from the flour resulting in a dense cookie. We're going for light and fluffy and oh so creamy.

Drop by rounded tablespoons onto the prepared baking sheets about 2 inches apart. NOTE – THE BATTER WILL BE STICKY. You can put the batter in the fridge for 10-20 minutes to help it firm up a bit, but it will still be a little sticky and can be difficult to work with. I promise you though the end result is so worth it!

Bake for about 10-11 minutes. The cookies should be light in color, not browned, and just starting to brown on the bottom. *The actual length of baking time may vary as oven temperatures do tend to vary as well.

Cool cookies on the baking sheet for a few minutes before transferring to a wire rack to cool completely.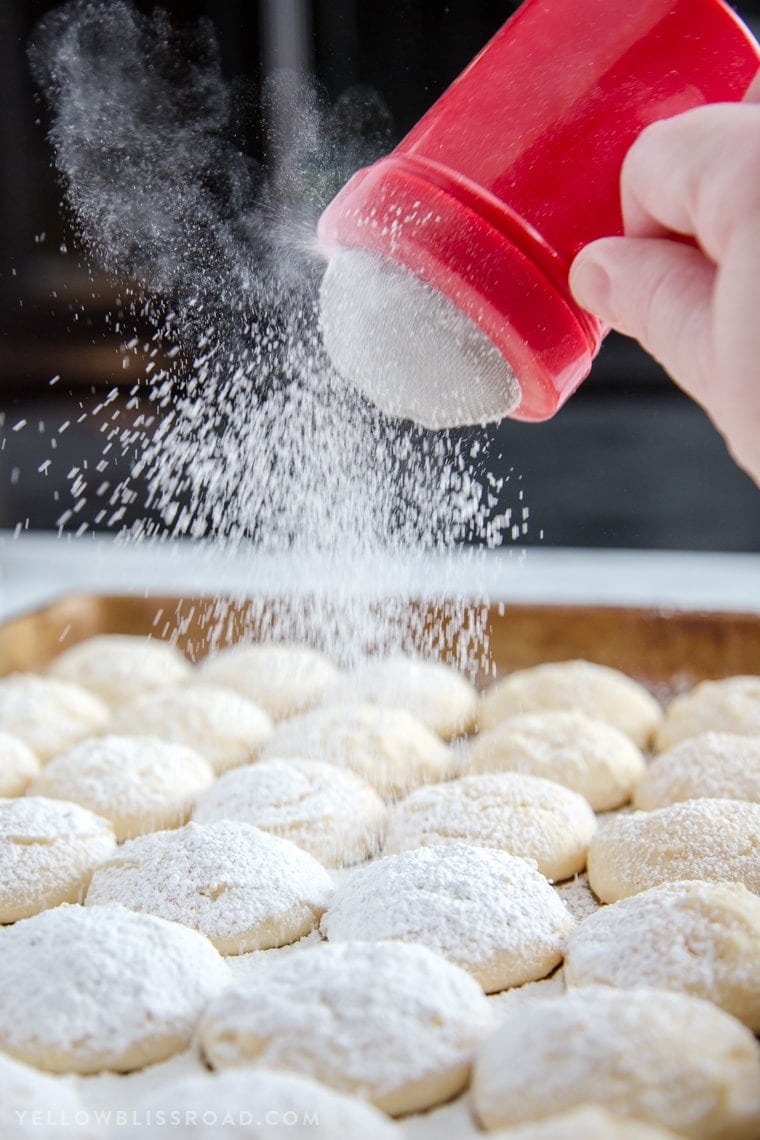 CHEESECAKE COOKIE RECIPE TIPS & FAQS
When making these cookies, you want to be sure and follow the directions exactly. I've also updated those instructions to hopefully make them more clear. Here are some tips based on questions and issues from readers.
"The flavor/sweetness is too subtle." I personally felt that once the cookies were dipped in chocolate they were sweet enough. I'm assuming that people who didn't think they were sweet enough were skipping this step. Plain cheesecake isn't always super sweet, and I liked the cookies the way they were. However to sweeten them up, I added a quarter cup more sugar to the recipe below. They still came out great and had a nice, subtle sweetness that was amplified by the powdered sugar I sprinkled on top. I also cut the vanilla in half, but you could leave it out altogether if you want more of a cream-cheesey flavor. The vanilla just kind of smooths out the flavor profile.
"They don't taste like cheesecake." This one is a tough one to answer because, well, this is not a cheesecake recipe. It's a cookie recipe. The term "cheesecake" refers more to the creamy texture of the cookie. If you really want more of a tart/tangy flavor, one reader suggested adding lemon juice. Great idea! I'd say if you want to try this method, replace the vanilla with 1-2 teaspoons of lemon juice. This will give a more tangy bite which will more closely resemble the flavor of cheesecake.
"My batter was way too sticky." I can see where people might have this concern about the batter being sticky. However, although it WAS sticky, I used my Medium Cookie Scoop and the dough released fairly easily for me after a few pumps of the trigger. A few times I had to help it along, but not to the point where they wouldn't drop at all. These are super moist and tender cookies, so the batter IS going to be a little sticky. Just be prepared for that. The images below show what the batter should look like. And if you watch the video just before the printable recipe, you can see that this cookie recipe really does work!
"Mine came out biscuit-like and crumbly." – As stated in the original recipe, it is imperative to NOT over-bake these cookies. In fact, you want it to almost feel like you've under-baked them. They should not get brown on the top and should just start to lightly brown on the bottom. Over-baking will result in a crumbly, dry cookie, more resembling a biscuit. Each oven is different and may be actually baking at a different temperature than what you think. I recommend picking up an oven thermometer to test the temperature of your oven. I tested mine recently and realized that it's about 10 degrees off, which in baking can cause issues. The other issue I think could cause a problem is the mixing. The cream cheese, butter and sugar should be mixed on high speed for a good 2-3 minutes. You can see in the first image how fluffy it is. That's what you want. Then when you add the flour, it's just stirred for enough time to incorporate it. Over-mixing the flour can also result in a dry or crumbly cookie.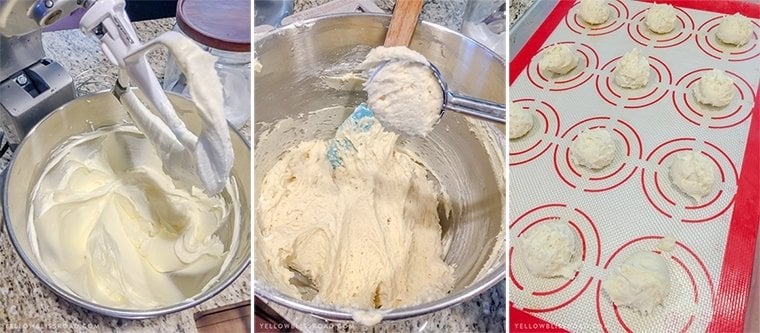 Several people have asked about the silicone mats – I got them at Costco a couple of years ago and I doubt they are still available. However I did find something similar on Amazon HERE. (aff link)
Overall, these Cheesecake Cookies are still a favorite cookie recipe in our house. I hope you'll give these awesome cookies a try – they really are super delicious!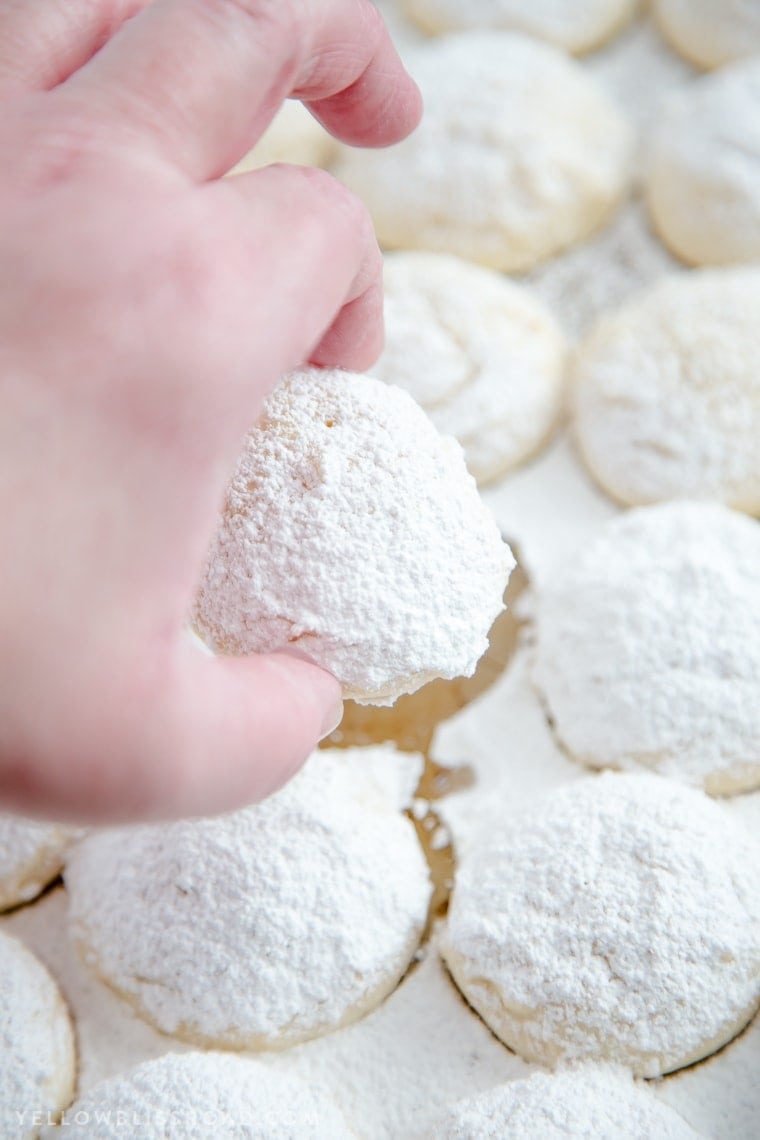 Looking to fill your chocolate fix? Try our Chocolate Cheesecake Cookies! And be sure to check out the Christmas Cheesecake Cookies version for the holidays!
For more delicious cookie recipes, try these: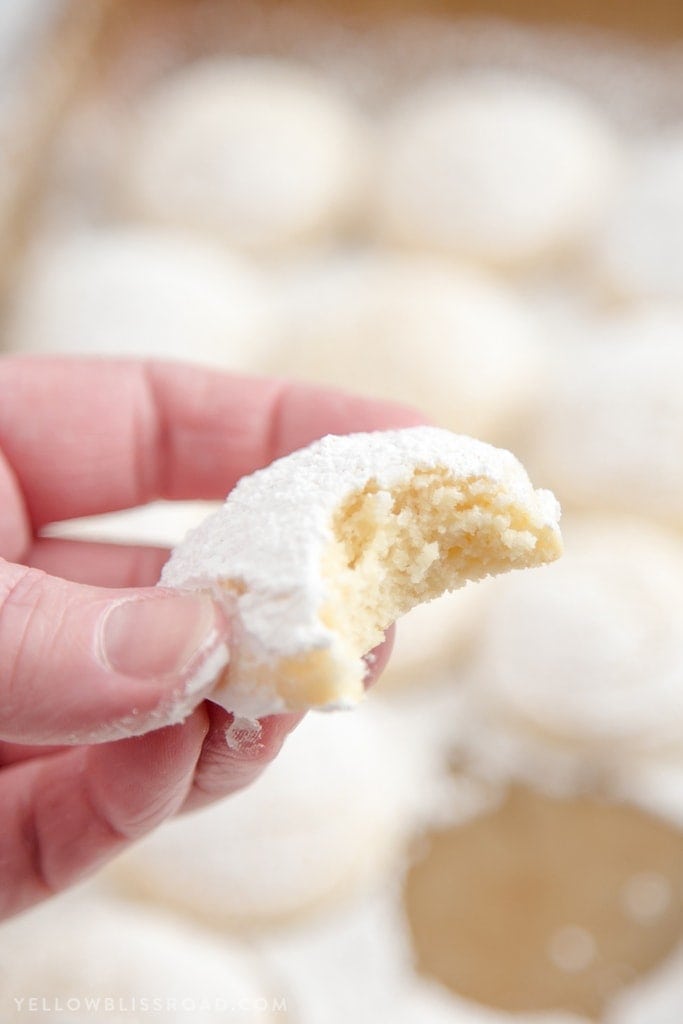 Recipe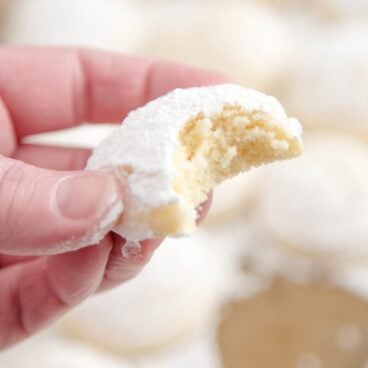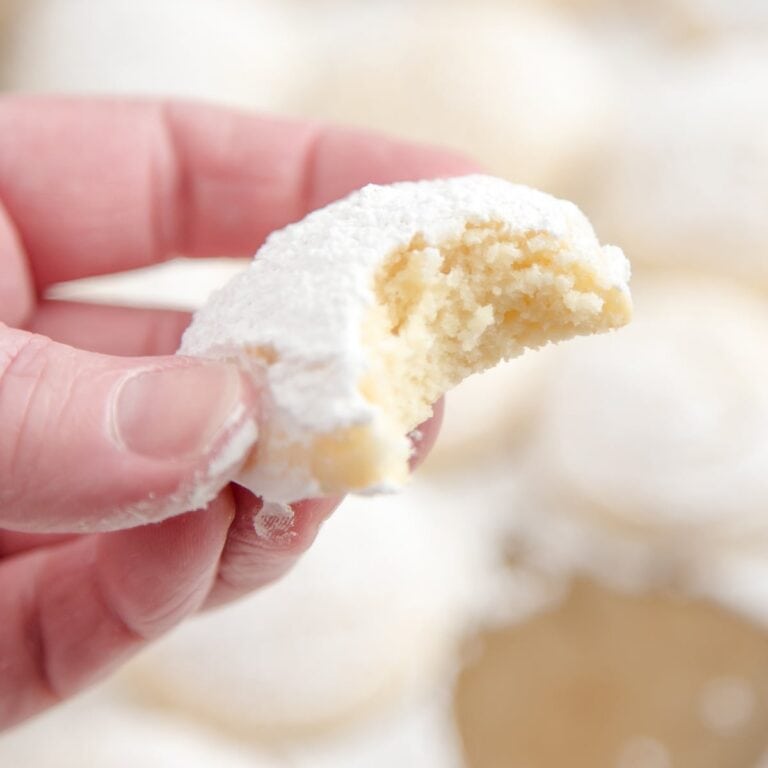 Cheesecake Cookies
Creamy, fluffy cookies with a delicate powdered sugar topping
Ingredients
8

ounces

full fat cream cheese

room temperature

1/2

cup

butter

room temperature

1 1/4

cup

granulated sugar

2

eggs

1

teaspoon

vanilla extract

2 1/2

cups

all-purpose flour

2

teaspoons

baking powder

1/2

teaspoon

salt

Powdered Sugar
Instructions
Preheat oven to 350 degrees F. Line 2 baking sheets with parchment paper or silicone mats.

Beat cream cheese and butter together at high speed until fluffy and smooth; 1-2 minutes. Add sugar to the butter mixture and beat until fully incorporated and fluffy; 1-2 minutes. Beat in the eggs and vanilla; 1 minute.

In a separate, medium-sized bowl, whisk together the flour, baking powder and salt. Gradually add the dry ingredients to the butter mixture and stir just until incorporated. Do not over-mix.

Drop by rounded tablespoons onto the prepared baking sheets about 2 inches apart; batter will be sticky. *You can put the batter in the fridge for 10-20 minutes to help it firm up a bit.

Bake at 350 degrees for 10-11 minutes. Cookies should be light in color, not browned, and just starting to brown on the bottom. *Length of baking time may vary from oven to oven.

Cool cookies on the baking sheet for a few minutes before transferring to a wire rack to cool completely.

If desired, sprinkle with powdered sugar or dip in chocolate once cooled.
Notes
The vanilla smooths out the flavor, but for a more tart, cheesy flavor, add a teaspoon of lemon juice or no extracts at all.
Do not overbake. This can cause the cookies to come out more dry and biscuit like.
Nutritional values and calorie count is per cookie.
These cookies do not need to be refrigerated. Store at room temperature in a sealed container.
For more tips, be sure to read the FAQs in the post.
For chocolate dipped cookies, melt some chocolate in the microwave (chocolate chips or wafers and dip the cooled cookies in the melted chocolate.
Nutrition
Calories:
87
kcal
Carbohydrates:
11
g
Protein:
1
g
Fat:
4
g
Saturated Fat:
2
g
Cholesterol:
18
mg
Sodium:
64
mg
Potassium:
35
mg
Sugar:
5
g
Vitamin A:
145
IU
Calcium:
16
mg
Iron:
0.4
mg