Loaded with marshmallows, nuts, and chocolate chips, these Rocky Road Cookies are soft and chewy and so much fun! Perfect for bake sales, cookie swaps, and dunking in a cup of milk!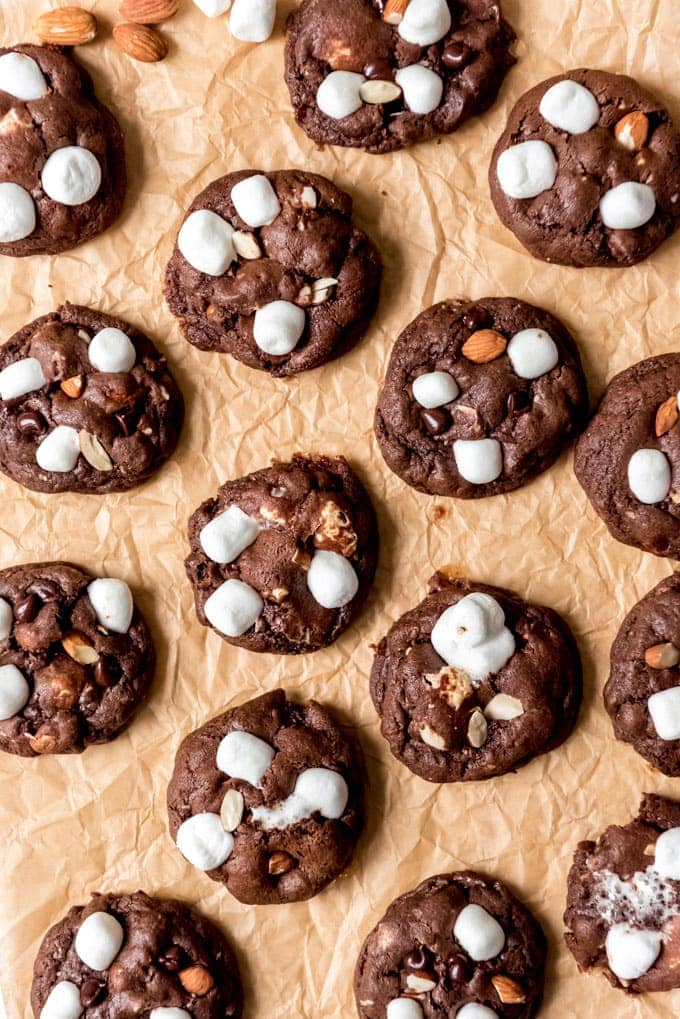 Rocky Road Cookies Recipe
Hi again! It's Amy from House of Nash Eats and I'm so excited to be back sharing this easy cookie recipe!
I LOVE rocky road, with all the marshmallows and nuts! So many good textures and flavors going on in the mix! Every year I make rocky road fudge and Grandma Nash's toffee recipe at Christmas and share it with friends and neighbors. It's a tradition that I love and my family enjoys taking the plates of goodies around to give out.
These rocky road cookies have that classic combination of chocolate, marshmallows, and almonds in cookie form, and what's even better is that you can go from zero to cookie in about 20 minutes!
No chilling is necessary and you still get wonderfully rich, soft chocolate cookies that are chewy and crisp around the edges. If you are looking for a cookie to take to a Christmas cookie exchange, I'm pretty certain this one would be a contender!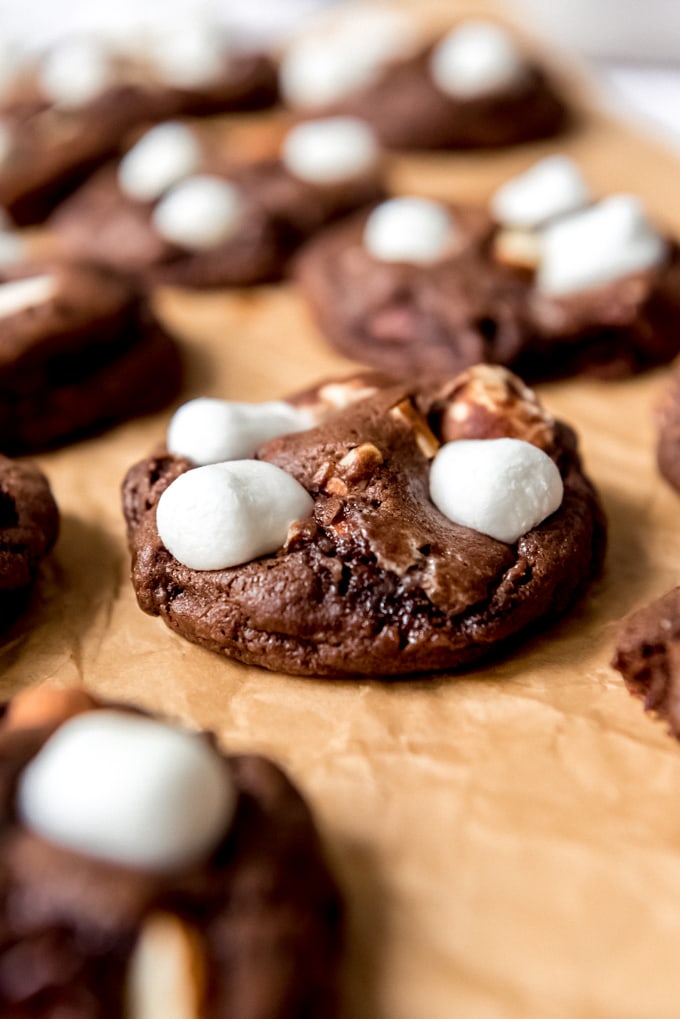 How To Make Rocky Road Cookies
Start by creaming the butter and brown sugar by beating on medium-high speed. Creaming is when butter and sugar are combined at a high speed until the mixture becomes light in color and fluffy in texture. An electric hand mixer totally works for this cookie dough, but I find a stand mixer to be easier.
Add in the eggs and vanilla and mix again. Make sure to scrape the sides of the bowl so the batter mixes evenly, and mix until everything is well combined.
Slowly mix in the flour, cocoa powder, baking soda, and salt. Take your time so you don't end up with a cloud of flour and cocoa powder that dusts all of your kitchen surfaces!
Now the fun part! Stir in chocolate chips, chopped nuts, and marshmallows just until they are evenly spread throughout the cookie dough. You don't want to over mix your cookie dough or you could end up with a dry and crumbly cookie.
Use a medium cookie scoop to scoop out evenly-sized balls of dough. You can drop them right onto a parchment-lined baking sheet, or roll them lightly between your hands for perfectly round, uniform cookies. If you don't have a cookie scoop, you can eyeball it, but I definitely recommend investing in one if you love to bake cookies. They are really affordable (around $10-$15) and come in super handy.
Bake your Rocky Road Cookies, just until the cookies are mostly set up, but still a little doughy in the middle. Then, and this is a total vanity step to make the cookies look pretty, stick a few marshmallows, chopped almonds, and chocolate chips into the tops of each cookie, pressing a bit so they stay put.
Bake for 1 more minute, just so the marshmallows puff but don't completely lose their form. Remove from the oven and cool completely on a wire rack.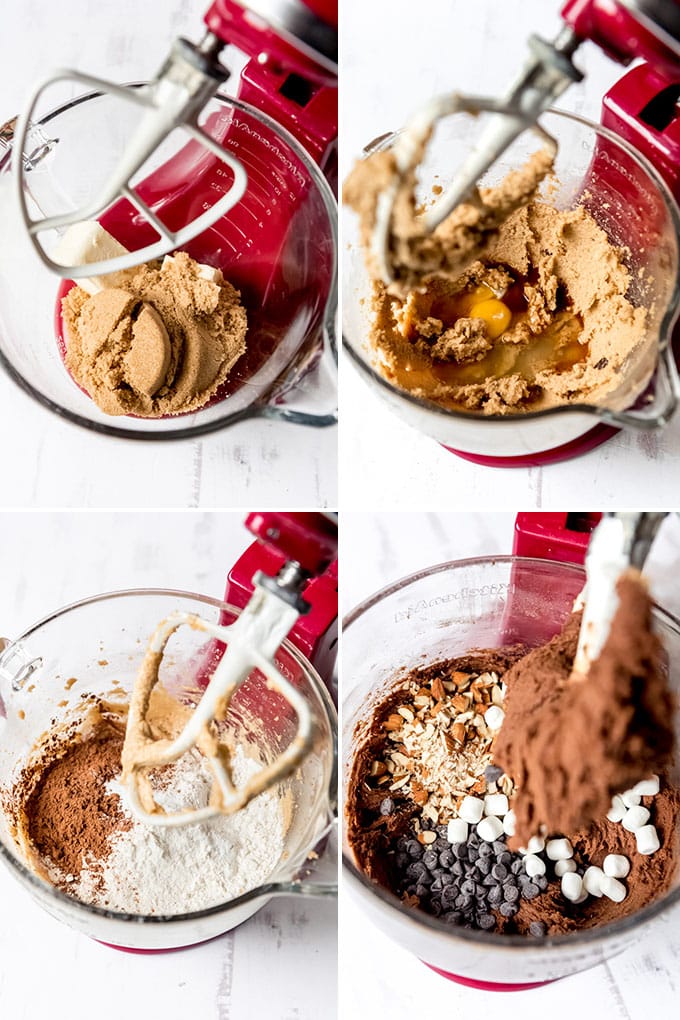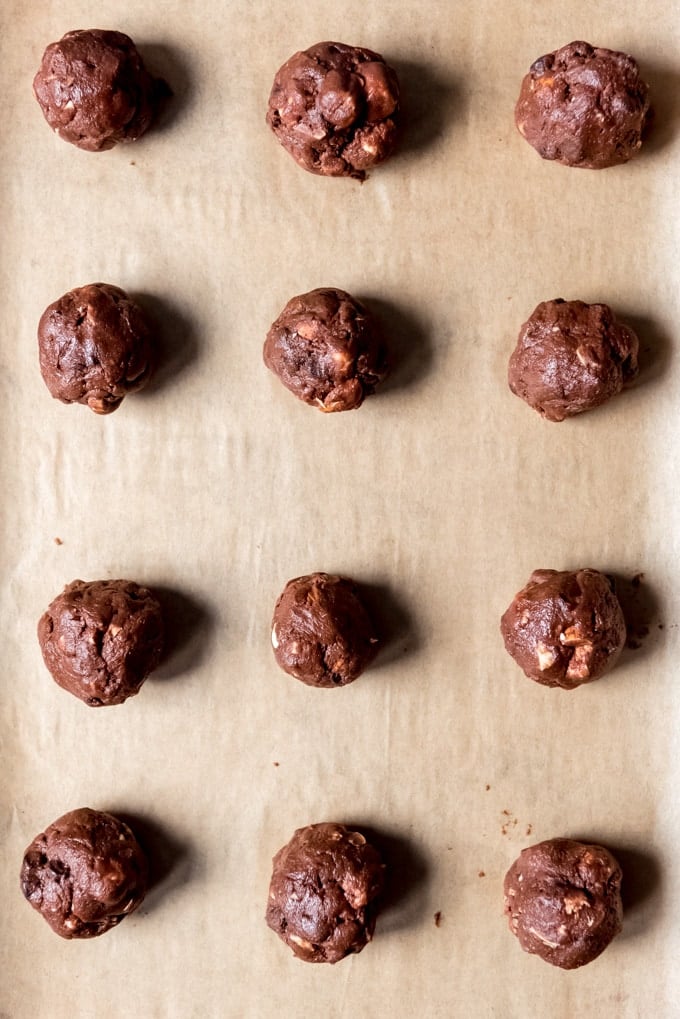 Tips for Baking Rocky Road Cookies
Be sure to use parchment paper or a silicone mat on your baking sheet for these cookies. Sometimes the marshmallows in the dough will melt and stick to the pan, so it's much easier to remove the cookies when they are baked on parchment paper.
You can use almonds or walnuts in rocky road cookies. I don't think there is one right answer about whether rocky road uses one nut over the other. We like both, but I love the extra crunch of the almonds with the gooey-ness of the marshmallows.
Don't skip adding the marshmallows on top. Not only does it make the cookies more attractive, but it really boosts the marshmallow element that is needed for rocky road and balances out the cookie. If you love marshmallows like we do, you might also want to try these S'mores Bars!
How to store: These cookies will keep on the counter in an airtight container for up to 5 days.
How to freeze cookies: Place in an airtight container in a single layer, then add a layer of parchment paper in between the layers. Stick them in the freezer for up to 1 month.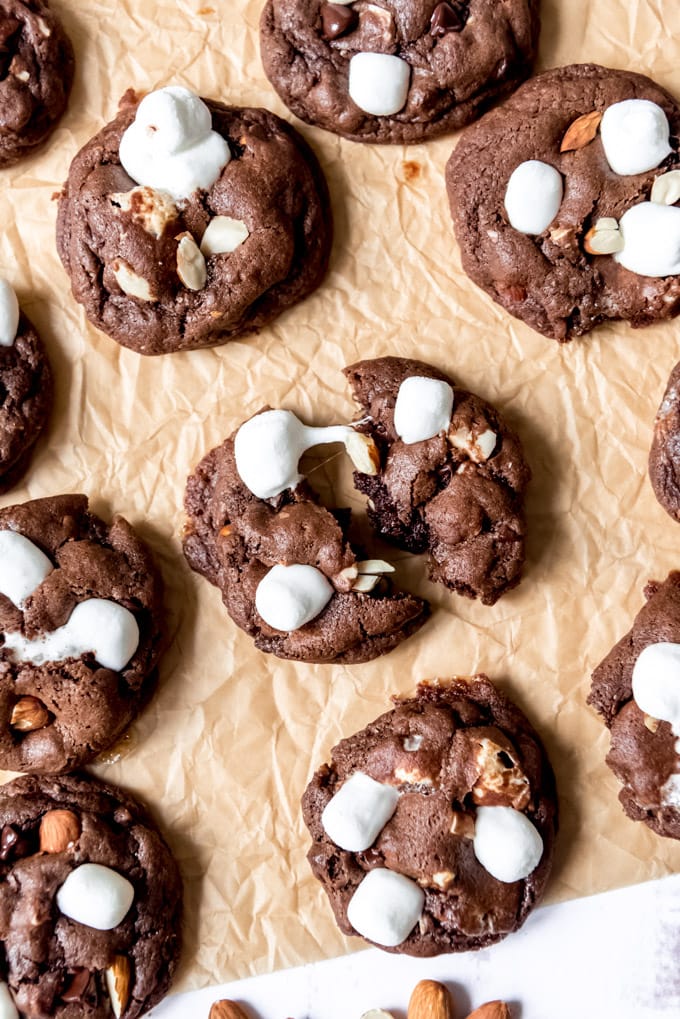 More chocolate cookie recipes you'll love:
Recipe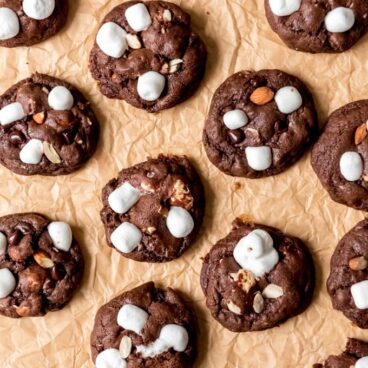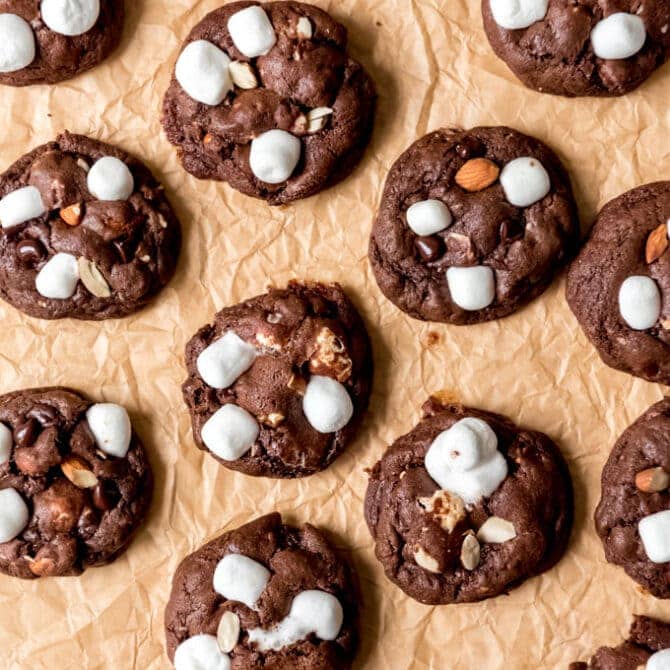 Rocky Road Cookies
Loaded with marshmallows, nuts, and chocolate chips, these Rocky Road Cookies are soft and chewy and so much fun! Perfect for bake sales, cookie swaps, and dunking in a cup of milk!
Ingredients
2/3

cup

salted butter, softened

1 1/2

cups

brown sugar

2

teaspoons

vanilla extract

2

eggs

1 1/2

cups

all-purpose flour

1/3

cup

unsweetened cocoa powder

1/2

teaspoon

baking soda

1/2

teaspoon

salt

1

cup

semisweet chocolate chips

plus more for the top of the cookies

1

cup

almonds, coarsely chopped

plus more for the top of the cookies

1

cup

mini marshmallows

plus more for the top of the cookies
Instructions
Preheat oven to 375 degrees F. Line a baking sheet with parchment paper.

In a large bowl of a stand mixer, cream butter and sugar together until light, about 3-4 minutes.

Add eggs and vanilla and mix well.

Add flour, cocoa powder, baking soda, and salt, mixing on medium-low speed until combined.

Stir in chocolate chips, almonds, and marshmallows. Scoop balls of cookie dough onto the parchment-lined baking sheet using a medium cookie scoop.

Bake for 9-11 minutes, until mostly set, but still underbaked in the middle. Remove from the oven and immediately place a few extra marshmallows on top of each cookie, along with a few extra chopped almonds and chocolate chips, if desired. Return to the oven and bake for 1 minute longer, until marshmallows have puffed slightly.

Cool for 2 minutes on the baking sheet, then transfer to a wire rack to finish cooling. Store in an airtight container on the counter for up to 5 days.
Notes
Walnuts can be used instead of almonds. 
For more uniform cookies, lightly roll each ball of dough between your palms before baking.
Nutrition
Calories:
219.14
kcal
Carbohydrates:
27.13
g
Protein:
3.33
g
Fat:
11.53
g
Saturated Fat:
5.34
g
Cholesterol:
27.65
mg
Sodium:
128.24
mg
Potassium:
135.96
mg
Fiber:
1.93
g
Sugar:
17.63
g
Vitamin A:
181.13
IU
Calcium:
38.06
mg
Iron:
1.39
mg