This pumpkin bread with streusel topping is the perfect way to kick off the fall season. It's a dense, moist quick bread recipe full of  all the spices you can find in a pumpkin pie and topped with a delicious streusel topping. Grab a coffee to wash it down too!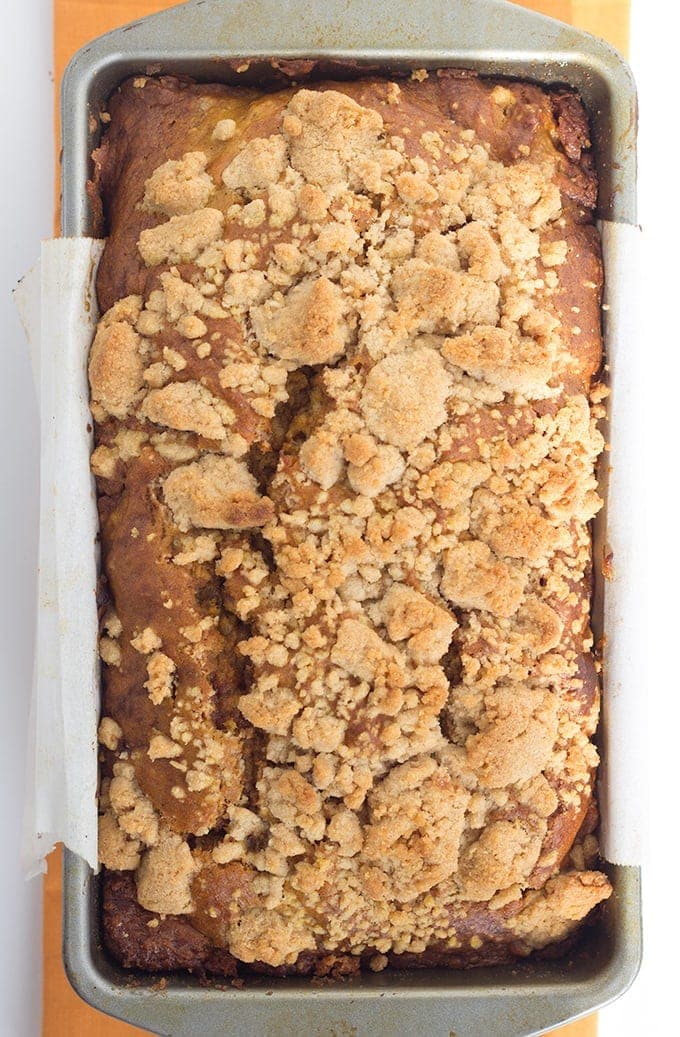 Quick breads are probably one of the easiest recipes to make. I love that they can be whipped up with a wooden spoon. No need to break out the hand mixer, unless you really want to. This bread batter does end up rather thick and you will need to put a little muscle into stirring it, but it will come together nicely.
The streusel on top lends a buttery flavor as well as some sweetness. With pumpkin bread batter being thick, it helps the streusel sit on top of the bread. If it was more airy, chances are it would sink into the bread.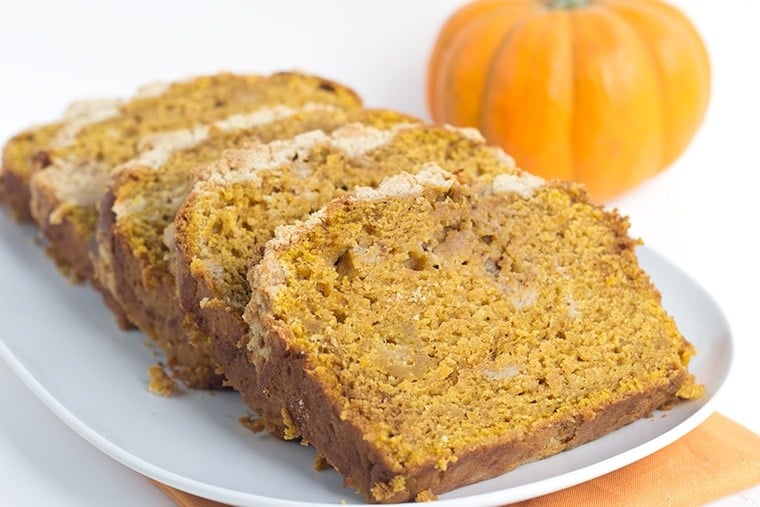 I also folded some streusel into the bread. You can see the streusel bits that are baked into the bread when it's sliced. They are AMAZING to discover. The streusel has a lot of flour incorporated into it so it doesn't melt away into nothingness either.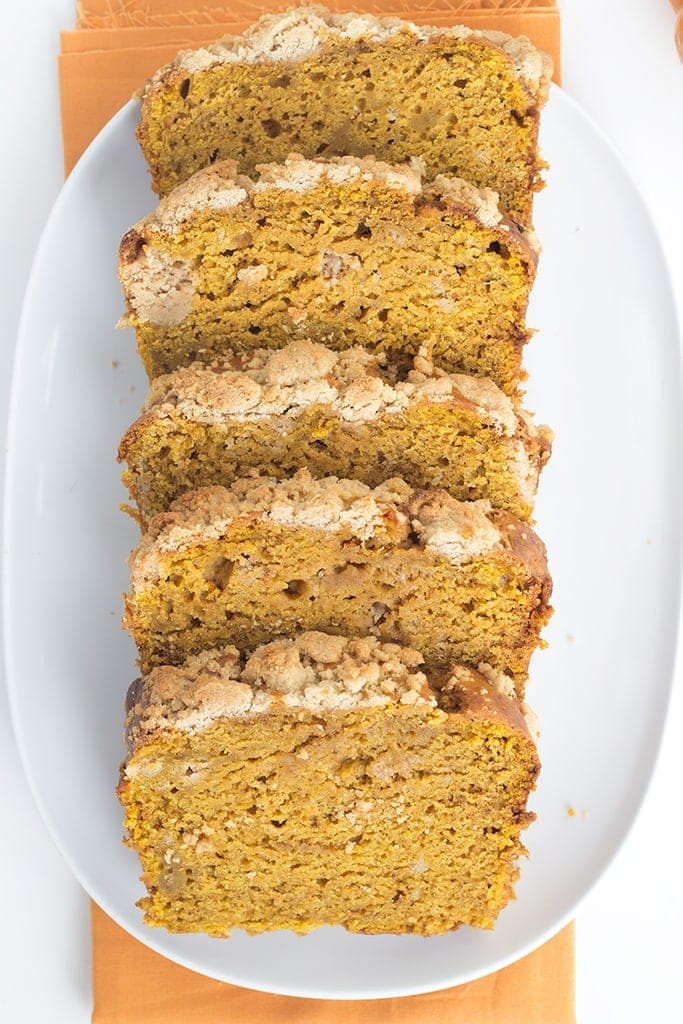 So, this might be a little over the top since there is streusel already in this recipe, but I LOVE this warmed up slightly with a thick layer of butter. I think I would love it even more if that butter had a little cinnamon and maybe powdered sugar added. You know, something similar to what they serve at the Texas Roadhouse.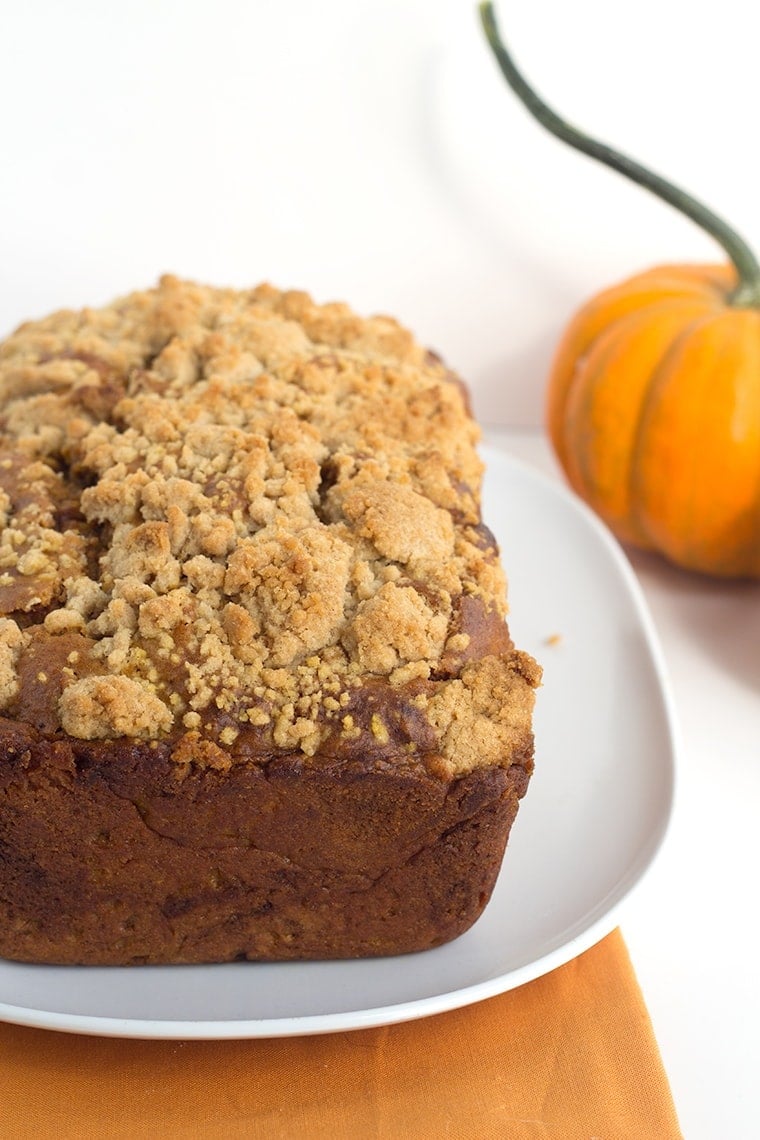 If you love pumpkin, I've also made some spiced pumpkin parfaits that can't be beat. Ginger lovers will go crazy for this. It has crystallized ginger and gingersnaps crushed up in it!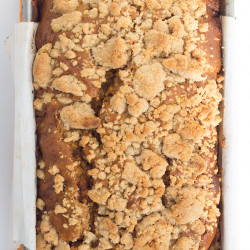 Pumpkin Bread with Streusel Topping
Moist, dense pumpkin bread loaded with all the spices you can find in a pumpkin pie and topped with a streusel. For a little added texture, streusel was folded into the batter before it was baked.
Ingredients
Bread
1 1/2 cups pumpkin puree
1/4 cup vegetable oil
1/4 cup butter melted
3/4 cup granulated sugar
1/2 cup light brown sugar packed
2 eggs
2 tsp. vanilla extract
1/2 cup sour cream
1 tsp. baking soda
1/2 tsp. baking powder
1/2 tsp. salt
1 1/2 tsp. ground cinnamon
1 tsp. ground nutmeg
1/2 tsp. ground clove
1/2 tsp. ground ginger
2 1/4 cups all-purpose flour
Streusel
1/3 cup light brown sugar packed
3/4 cup all-purpose flour
1/4 tsp. salt
6 T. butter room temperature
Instructions
Streusel
In a medium bowl, add in the brown sugar, flour, and salt. Stir until incorporated.

Add in the butter and mix until it's incorporated. You can use a wooden spoon or hand mixer. I use my hands and press it into clumps to look like streusel.

Place into the fridge and chill while the bread is being made.
Bread
Preheat oven to 350 degrees. Add a strip of parchment paper into the loaf pan and let it hang over the sides. Spray with non-stick cooking spray.

In a large mixing bowl, add in the pumpkin puree, vegetable oil, melted butter, granulated sugar and brown sugar. Stir until combined.

Add in the eggs, vanilla extract, and sour cream. Whisk until incorporated.

In a separate mixing bowl, add in the baking soda, baking powder, salt, cinnamon, nutmeg, clove, ginger, and flour. Whisk until combined.

Add the dry ingredients into the wet and stir with a wooden spoon or beat with a hand mixer until the flour is completely incorporated.

Add half of the streusel into the batter and fold in until evenly distributed.

Pour the batter into the prepared loaf pan and spread out.  Sprinkle on the remaining streusel.

Place into the oven and bake for 1 hour 10 minutes or until a toothpick comes out clean or with moist crumbs. If there is batter on your toothpick, let it bake for another 5 - 10 minutes and retest. Remove from the oven and let cool. Remove from the pan, slice, and serve!
Here's another favorite pumpkin bread recipe: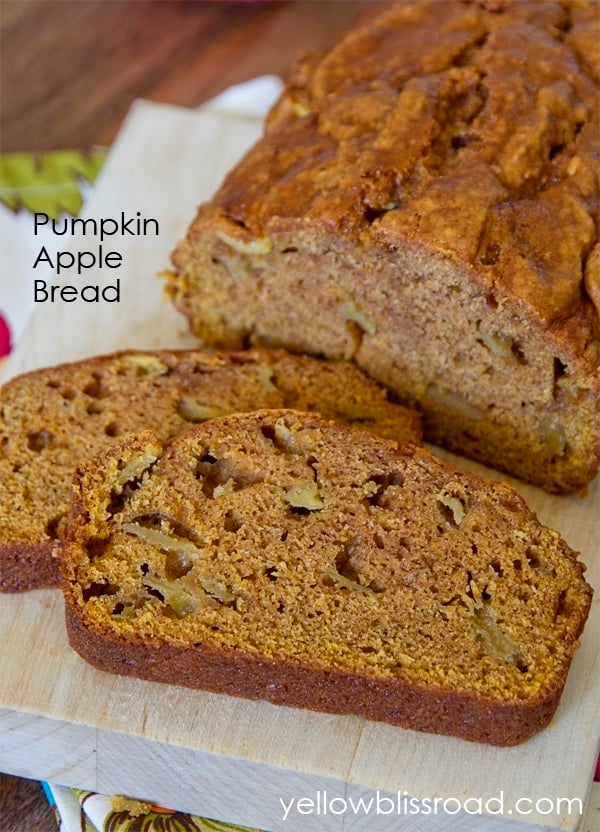 And for more delicious pumpkin recipes, try these: