Whip up the perfect dessert for the fall with our Mini Pumpkin Pies Recipe. Easy, delicious, and perfectly portioned – the ultimate treat for pumpkin lovers!
When it comes to fall desserts, anything pumpkin-flavored will be a win. These mini Pumpkin Pies are easy to make and will definitely be the star of any fall or Thanksgiving gathering.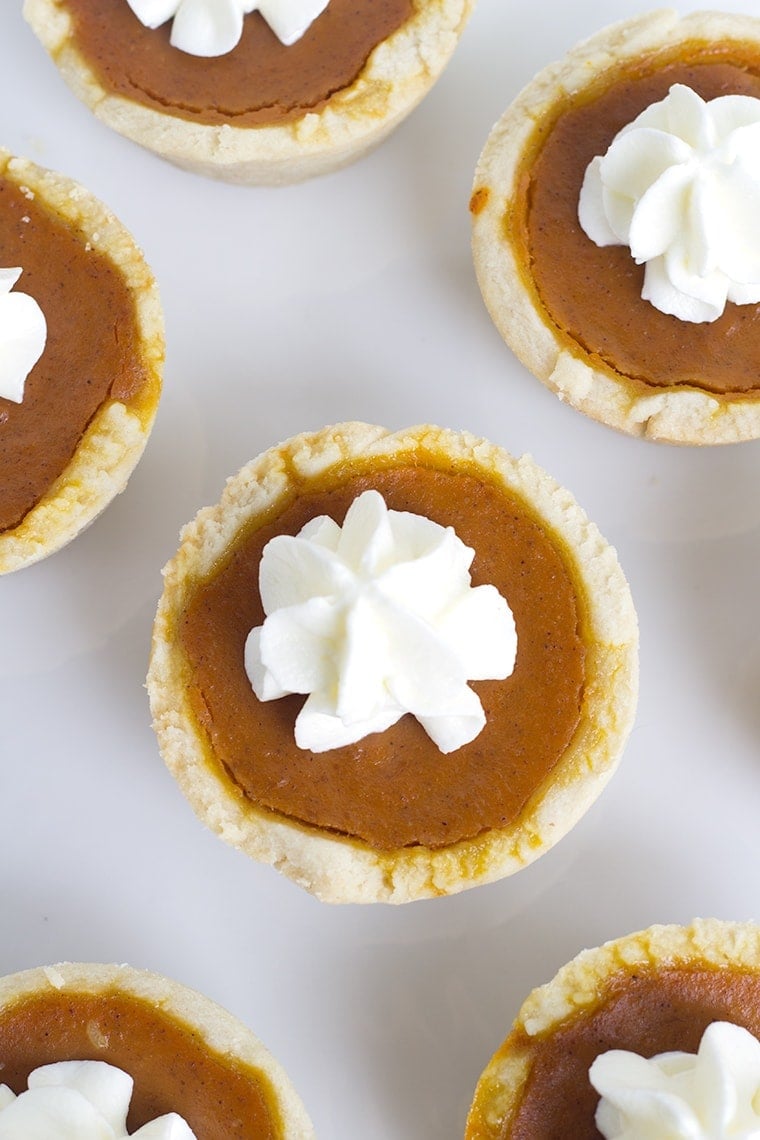 Pin this recipe for later!
Why You'll Love These Mini Pumpkin Pies
They Taste Like Fall – These Mini Pumpkin Pies are the perfect way to kick off Fall! They have a hint of maple in every bite as well as a punch of pumpkin spice.
No Specialty Pan Needed! –They are baked in a 12-count cupcake/muffin pan which almost every kitchen has on hand.
Individual Desserts – These mini pies are bite-sized versions of the classic pumpkin pie. Their small size makes them perfect for individual servings and parties.
They are adorable! Who can resist a dessert in a mini size??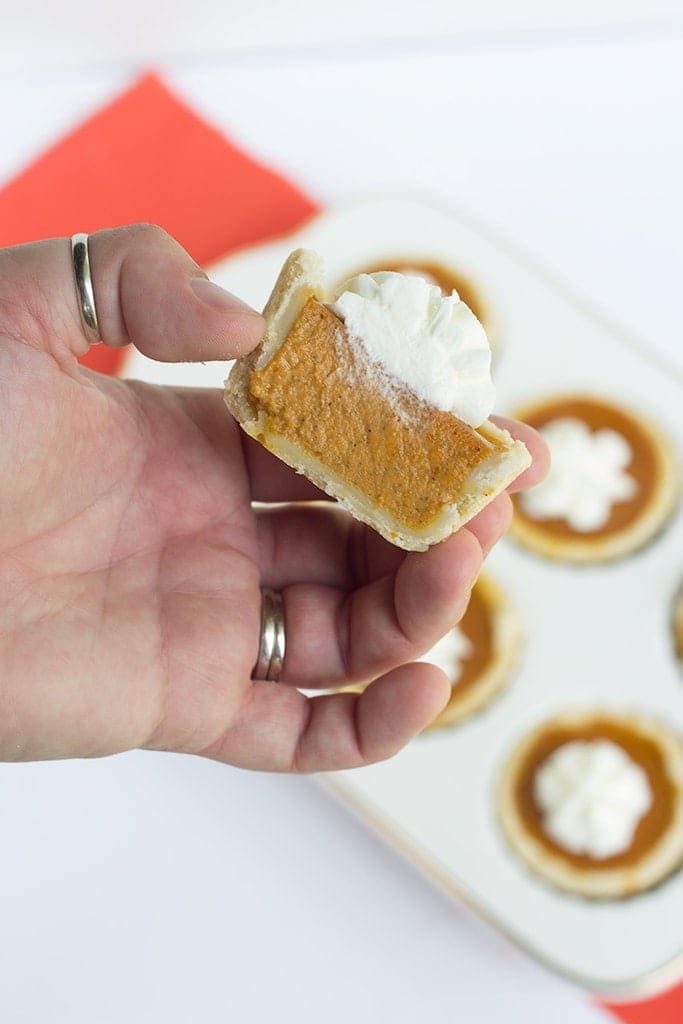 How To Make Mini Pumpkin Pies
This easy peasy recipe is something even the most novice chef can pull off!
See recipe card below for ingredient quantities and full instructions.
Roll out the pie crust dough and cut 12 4-inch circles.
Press the circles into greased muffin cups.
Mix the filling – canned pumpkin, brown sugar, granulated sugar pumpkin pie spice, egg and evaporated milk.
Fill the pie crusts with the filling.
Bake for 25-30 minutes, until the pie filling is set and the crust is golden.
FAQs
Can I use store-bought crust for Mini Pumpkin Pies?
Yes, store-bought crust can be used for convenience – in fact it's what I use! You could also use a homemade crust if you prefer.
How do I know when the pies are done?
The pies are done when the filling is set and no longer jiggles when lightly shaken.
How can I avoid a soggy crust?
Pre-baking the crust, also known as blind baking, can help prevent a soggy bottom.
Can these mini pies be frozen?
Yes, they freeze well and can be reheated when ready to serve. After baking, cool completely, then arrange on a baking sheet and freeze. Once frozen solid, transfer to a freezer bag and freeze for up to 6 months. To serve, defrost in the fridge and warm in the oven if desired.
Can I make these ahead of time?
Yes, you can prepare the pies a day or two in advance and store covered in the fridge until ready to serve.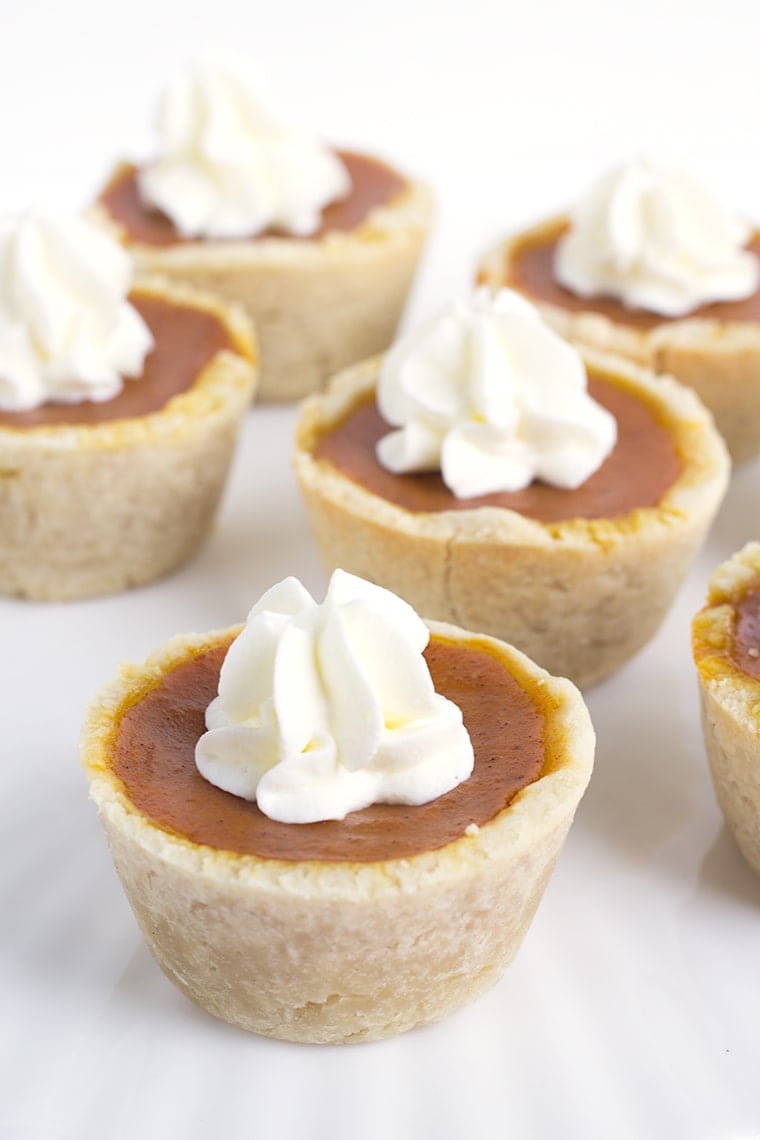 Expert Tips
Quality Ingredients – Always use high-quality ingredients. Fresh spices, canned pumpkin puree.
Blind Bake the Crust – This is completely optional and not absolutely necessary, but pre-baking the crusts can prevent them from getting soggy once the filling is added.
Proper Mixing – Ensure that all the filling ingredients are thoroughly mixed for a smooth, consistent texture. Overmixing, however, can incorporate too much air and cause the pies to crack while baking.
Use Non-Stick Cooking Spray – Generously spray the muffin cups with cooking spray to avoid sticking. There's nothing worse than a ruined dessert that won't release from the pan.
Portion Control – Use a cookie scoop or a small ice cream scoop to ensure equal portions of the filling in each mini pie.
Avoid Overfilling – Be careful not to overfill the crusts. The filling will expand as it bakes, and overfilled pies may spill over.
Oven Position – Bake the pies in the center of the oven where the heat is most consistent.
Use a Preheated Oven – Preheating your oven will help the pies to cook evenly and could prevent a soggy crust.
Cooling Time – Allow the pies to cool completely before serving to ensure the filling is set.
Add Personal Touches – Get creative with your pies. You can top them with whipped cream, sprinkle them with extra cinnamon or nutmeg, or even drizzle with caramel for a unique twist.
More Pumpkin Desserts
Recipe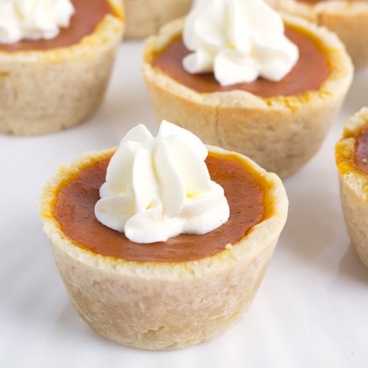 Mini Maple Pumpkin Pies
Mini Pumpkin Pies are the perfect dessert for the fall! Easy, delicious, and perfectly portioned – the ultimate treat for pumpkin lovers!
Ingredients
2

store-bought pie crusts or homemade

15

oz.

can pumpkin puree

1/4

cup

light brown sugar

packed

1/2

cup

granulated sugar

2

teaspoon

pumpkin pie spice

1/2

teaspoon

maple extract

1

eggs

1

cup

evaporated milk

1/4

cup

whipped cream
Instructions
Preheat oven to 350 degrees.

Lightly flour the countertop and roll the dough out. Cut 12 4-inch rounds out of the pie dough.

Spray the cupcake pan with non-stick cooking spray.

Add a round piece of pie dough to each up the cupcake cavities. Press out any ripples in the dough and trim off any dough that hangs over the top of the cupcake pan cavity. Set aside.

In a large mixing bowl, add in the canned pumpkin, brown sugar, granulated sugar, and pumpkin pie spice. Stir until combined.

Stir in the egg and maple extract until incorporated.

Add in the evaporated milk and stir until incorporated.

Fill each pie crust to the top with the filling. You should still be able to see the crust around around the edges though.

Place into the oven and bake for 25 – 30 minutes until the pies no longer jiggle and the crust is slightly golden.

Turn the oven off and open the door while the mini pies cool completely.

Once the pies are cooled, pipe whipped cream on top with an 1M tip.

Store in the fridge.
Notes
You can substitute the evaporated milk or half and half or heavy cream.
Nutrition
Calories:
232
kcal
Carbohydrates:
32
g
Protein:
4
g
Fat:
10
g
Saturated Fat:
4
g
Polyunsaturated Fat:
1
g
Monounsaturated Fat:
4
g
Trans Fat:
1
g
Cholesterol:
21
mg
Sodium:
149
mg
Potassium:
181
mg
Fiber:
2
g
Sugar:
16
g
Vitamin A:
5596
IU
Vitamin C:
2
mg
Calcium:
80
mg
Iron:
1
mg