Walnut Crusted Baked Chicken Nuggets
Coated in crunchy walnuts and seasonings and baked to crispy perfection, these Walnut Crusted Baked Chicken Nuggets will be the life of your party all on their own! Thanks to California Walnuts for sponsoring this conversation.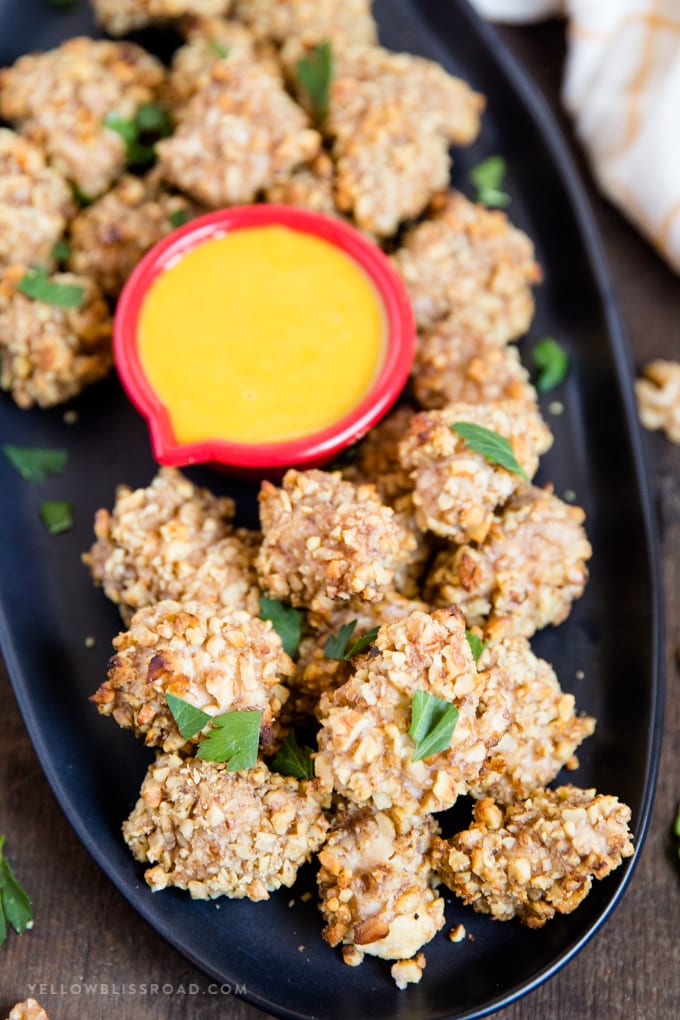 Chicken is my go-to like many busy families, and I'm always looking for ways to change it up. This Walnut crusted version certainly does just that!
My kids, like so many kids these days, are totally into chicken nuggets. While take-out and drive-thru chicken is probably one of the worst things for you, homemade chicken nuggets are a great alternative. You can fry them to get that drive-thru feel, try them in the air fryer,  or make homemade baked chicken nuggets, which is my favorite method. My kids love anything bite-sized or that doesn't require a fork because that seems to just get in the way. (affiliate link)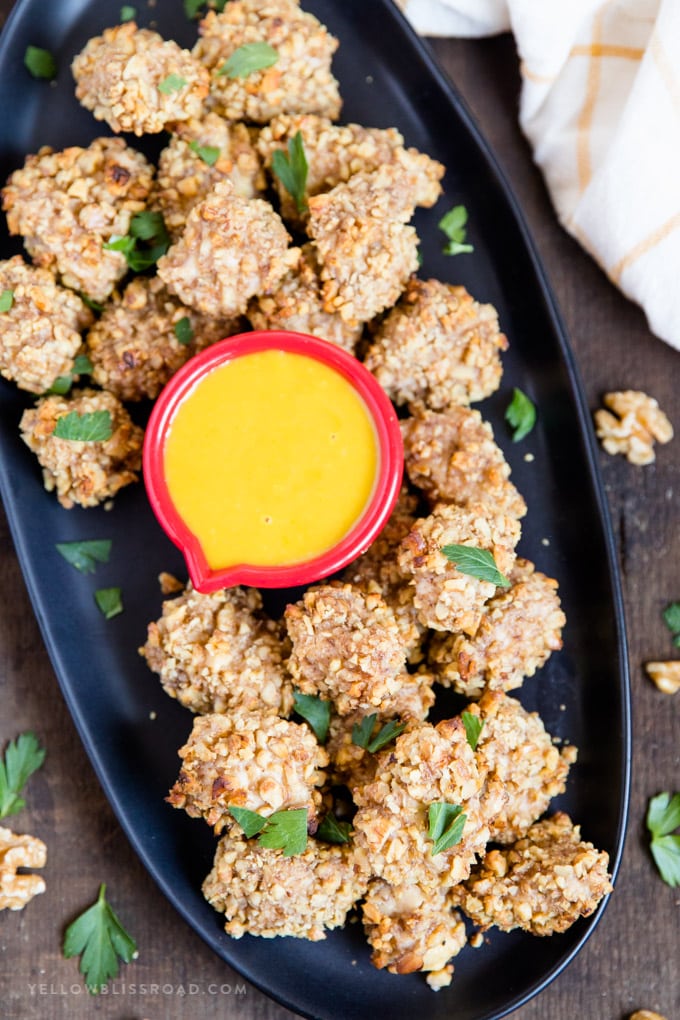 There are lots of things you can use to coat your chicken nuggets to give them that nice, crispy texture. Some suggestions would be:
Cereal (like Corn flakes)
Italian breadcrumbs
simple flour and seasonings
Walnuts
Walnuts are my favorite nut to enjoy just by the handful, so I knew that coating my homemade chicken nuggets with crushed walnuts was going to be a winner. But I didn't know just much I was going to love them! These crunchy walnut coated nuggets are so flavorful and delicious! I like dipping them in a little honey mustard sauce, but they are amazing on their own as well. Kids and adults love them, making them perfect for an easy weeknight meal or a unique party food for game day.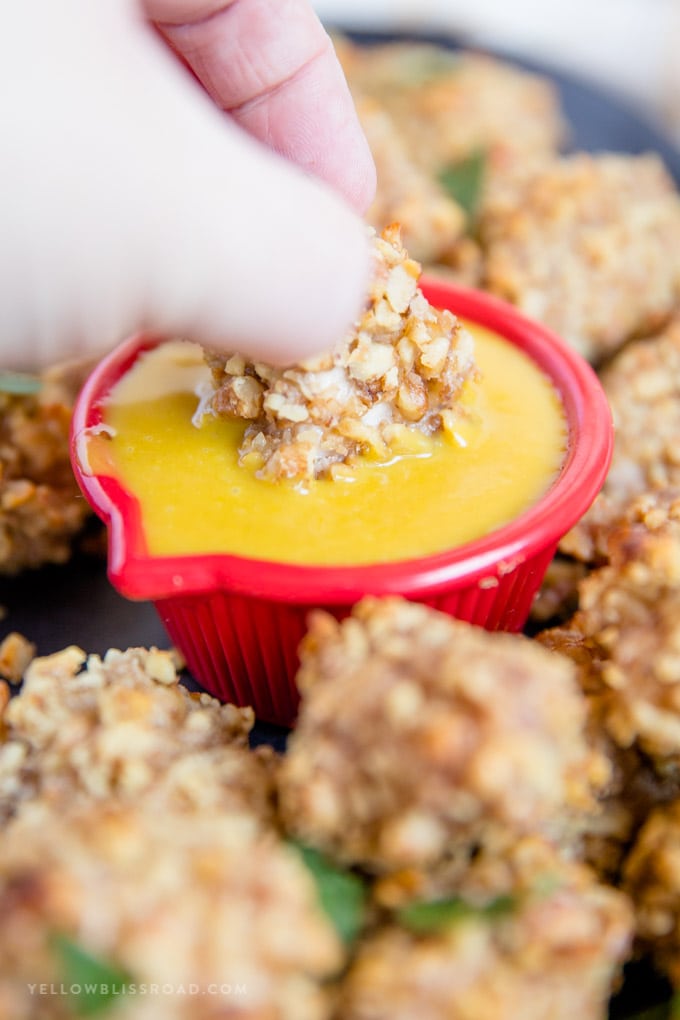 How to make Walnut Crusted Baked Chicken Nuggets
Like regular fried chicken, these baked chicken nuggets are made using the 3-station set up:
Dredge in flour and seasonings.
Dip and coat in a wet mixture (egg/milk/butter).
Coat with the outer crust, in this case, crushed walnuts.
I like to use the disposable aluminum pie plates for this process as they aren't bulky or heavy, making it a breeze to set up. But any medium-sized dish with high sides will do.
First, cut up a couple of boneless, skinless chicken breasts into 1-inch pieces. It can be hard to get them all the same size, but for even cooking that's the goal. Fill the first plate with flour and seasonings (garlic powder, seasoned salt, kosher salt and pepper). In the second plate, whisk together melted butter and a couple of eggs (this will look a little weird but the butter definitely adds a nice flavor). For the third plate, it's all about the walnuts. Crush the walnuts in a food processor (aff). You want to be careful not to crush them so fine it becomes a dust because that won't result in a crispy exterior. You want them to be like fine chunks.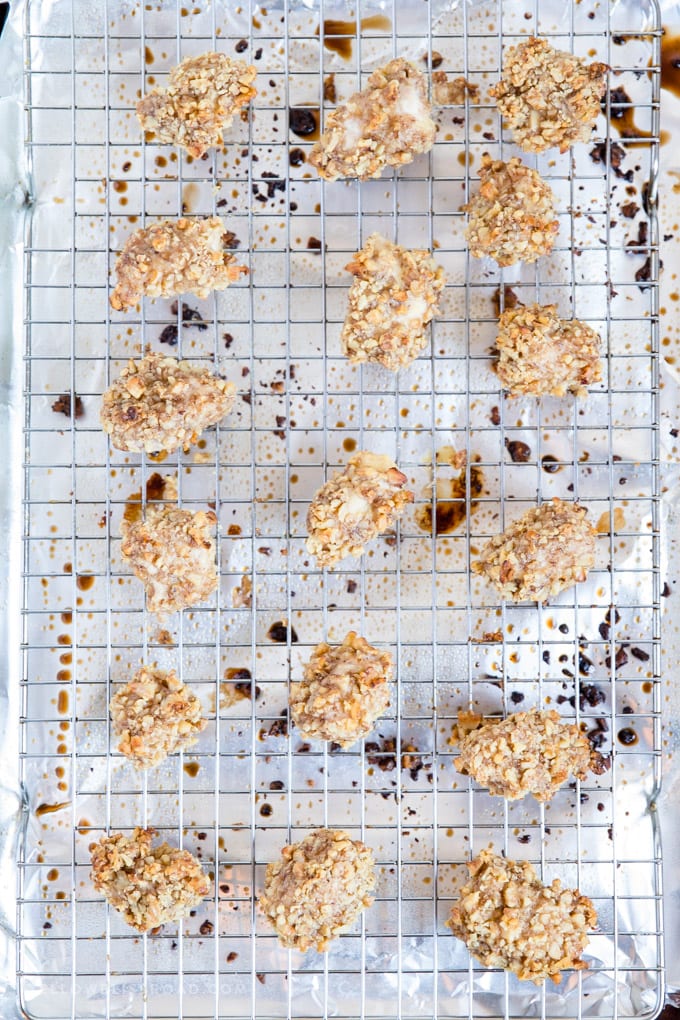 How to set up a dredging station:
Set up the stations side by side and use one hand for dry and one hand for wet. This will keep your hands cleaner. Coat the chicken in the flour, then in the egg/butter and finally in the walnuts. Arrange the chicken on a baking rack that you've set on top of a baking sheet. The goal of using the rack AND the sheet is to avoid having to turn the chicken nuggets over as they will get crunchy all the way around. You do want to make sure to spray the rack with nonstick cooking spray. My baked chicken nuggets took about 10 minutes to turn golden brown and be cooked all the way through. You might be able to get away with a little less time. That's one of the benefits of making baked chicken nuggets – let time in the oven than a whole piece of chicken!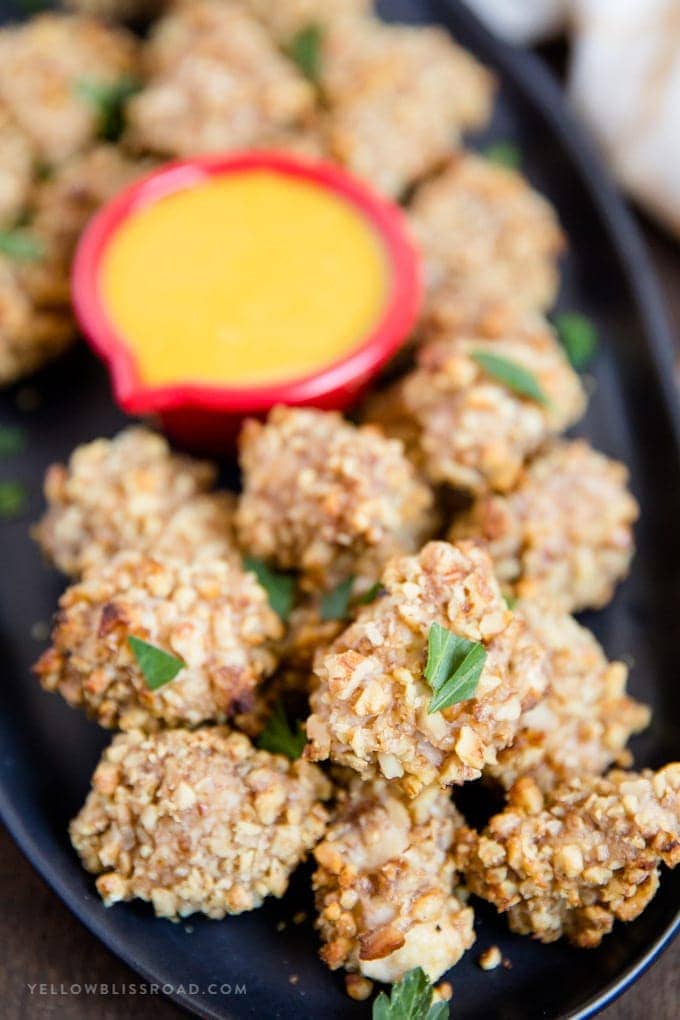 Like I mentioned, I love these baked chicken nuggets with a honey mustard sauce. Basically it's 1 part mayonnaise, 2 parts mustard and 2 parts honey. You can adjust the amounts to your liking. If serving on a platter for a party, sprinkle with a little fresh minced parsley for color. Enjoy!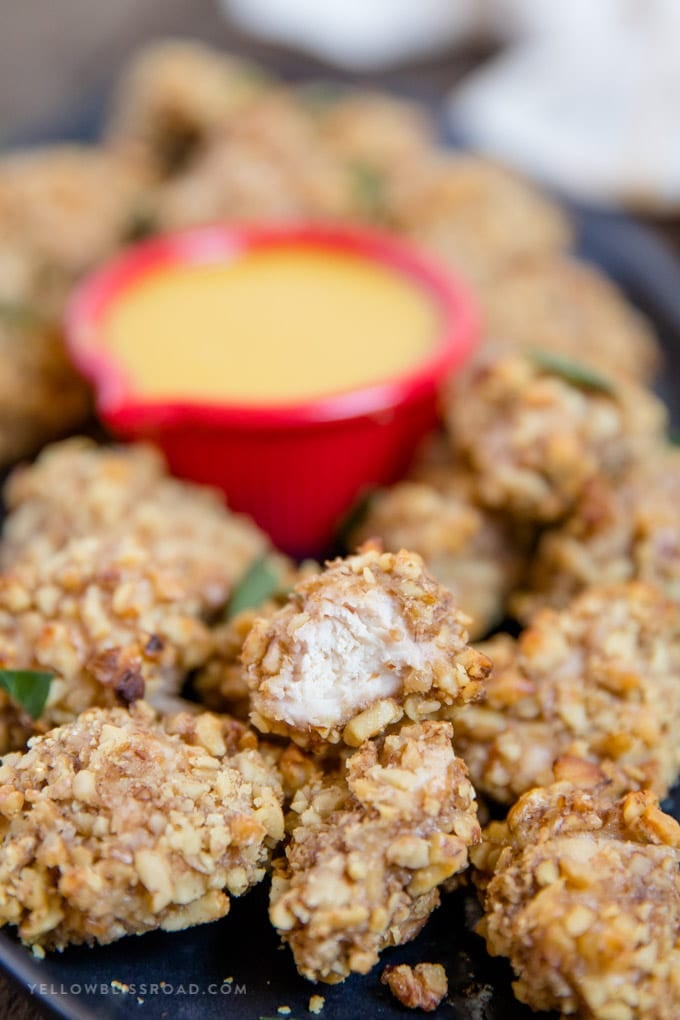 For more delicious chicken recipes, check these out:
And for more walnut recipes, try these:
If you've made this recipe, please come back and leave us a star rating or a comment below. Or, tag us on social media @yellowblissroad or #yellowblissroad for a chance to be featured.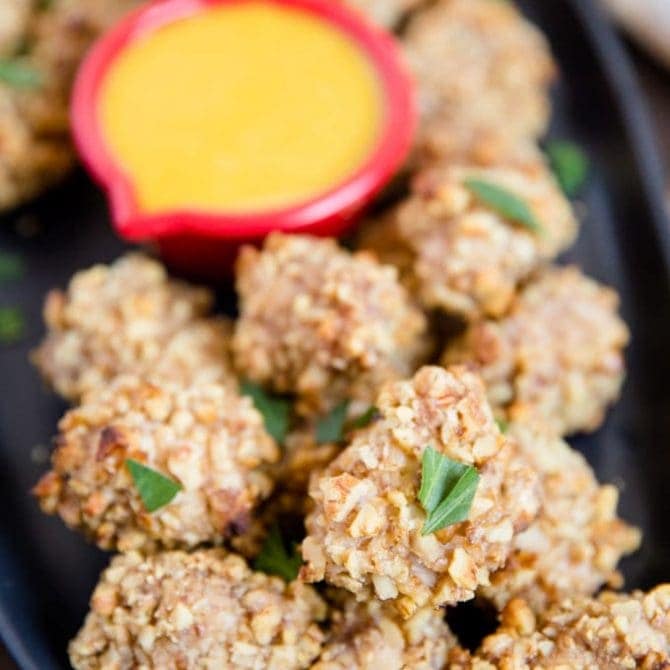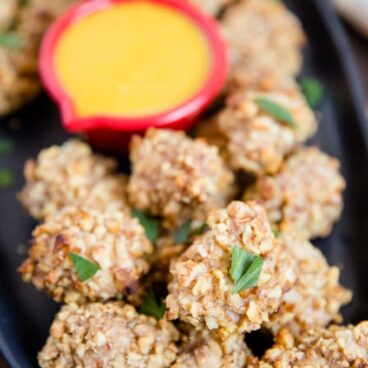 Walnut Crusted Baked Chicken Nuggets
Coated in crunchy walnuts and seasonings and baked to crispy perfection, these Walnut Crusted Baked Chicken Nuggets will be the life of your party all on their own!
Ingredients
Walnut Crusted Chicken Nuggets
1 1/2

cups

walnut

1

pound

boneless

skinless chicken breast

1

cup

all-purpose flour

3

teaspoons

seasoned salt

1

teaspoon

garlic powder

1

teaspoon

kosher salt

1

teaspoon

black pepper

2

eggs

2

tablespoons

butter

melted and cooled

fresh minced parsley

for garnish, if desired
Honey Mustard Sauce
1

tablespoons

mayonnaise

2

tablespoons

mustard

2

tablespoons

honey
Instructions
Preheat oven to 450 degrees F. Cover a large baking sheet with foil. Place a baking rack over the baking sheet and spray with nonstick cooking spray. (If no baking rack, just spray the foil).

Place the walnuts in a food processor and pulse until crushed into very small chunks. They should be small enough that they will easily stick to the chicken, similar in size to baking sprinkles. Set aside.

Cut chicken into 1-inch cubes, as even in size as possible to ensure even cooking.

Set up dredging station using shallow dishes, like pie plates, side by side: Combine flour, seasoned salt, garlic powder, kosher salt and pepper in one dish; the egg whisked with melted butter in the second dish; and spread the walnuts into the third dish.

Dredge one chicken cube through the flour, then the egg and finally the walnuts, pressing lightly to adhere to the chicken. Carefully arrange each piece on the prepared baking rack, placing smaller pieces towards the center. Repeat until all chicken pieces are coated. 

Bake in the preheated oven until the exterior is golden and crispy and the chicken is fully cooked; about 8-10 minutes.

Cook slightly on the baking rack before transferring to a platter to serve. Garnish with fresh parsley if desired.

To make the honey mustard dipping sauce, combine the ingredients until well mixed. Serve in a small bowl for dipping.