My Walnut Basil Pesto recipe is a rich and flavorful sauce made with tons of fresh basil, Parmesan cheese and crunchy walnuts. It tastes incredible on pastas, pizzas or sandwiches or just spread on a crusty piece of bread.
Pasta is a big deal in our house. It appears on our dinner menu weekly, rotating between Homemade Spaghetti Sauce, Creamy Homemade Alfredo Sauce and this amazing Walnut Basil Pesto.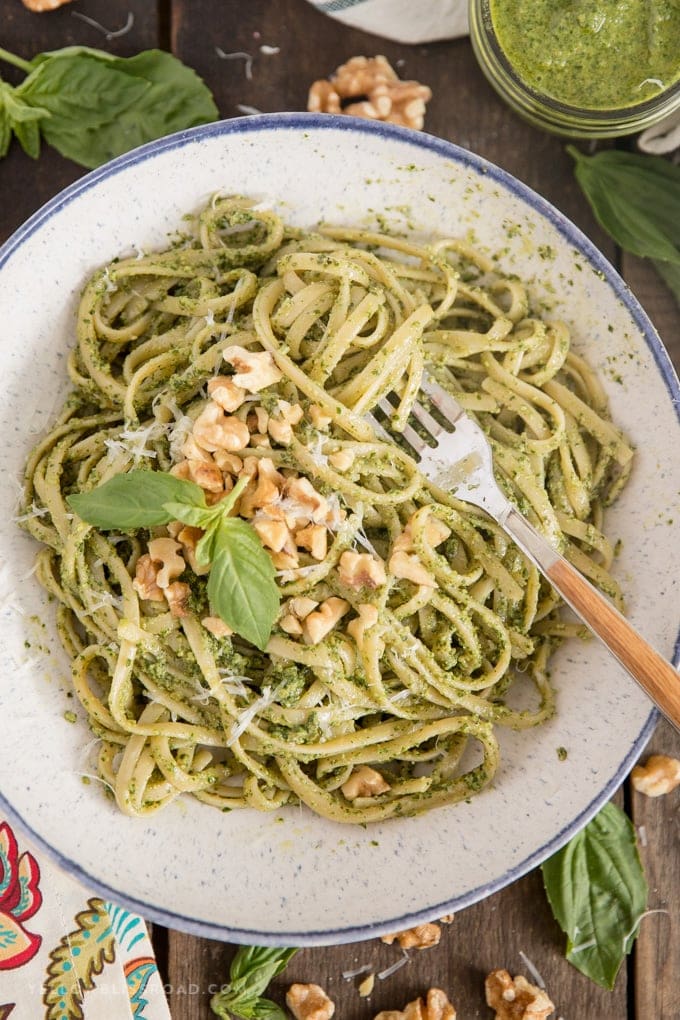 Walnut Basil Pesto Recipe
I've known my husband off and on for about 11 years, and I just discovered that he loves pesto. I mean, eat it with a spoon and lick the bowl LOVES. IT. How can you know someone for so long and not know about something they love that much??
Armed with this new found knowledge, a bag of California Walnuts and some fresh basil, I set out to create a homemade pesto recipe that rivaled any that he'd ever tasted. According to him, I succeeded because this is the best he's ever eaten.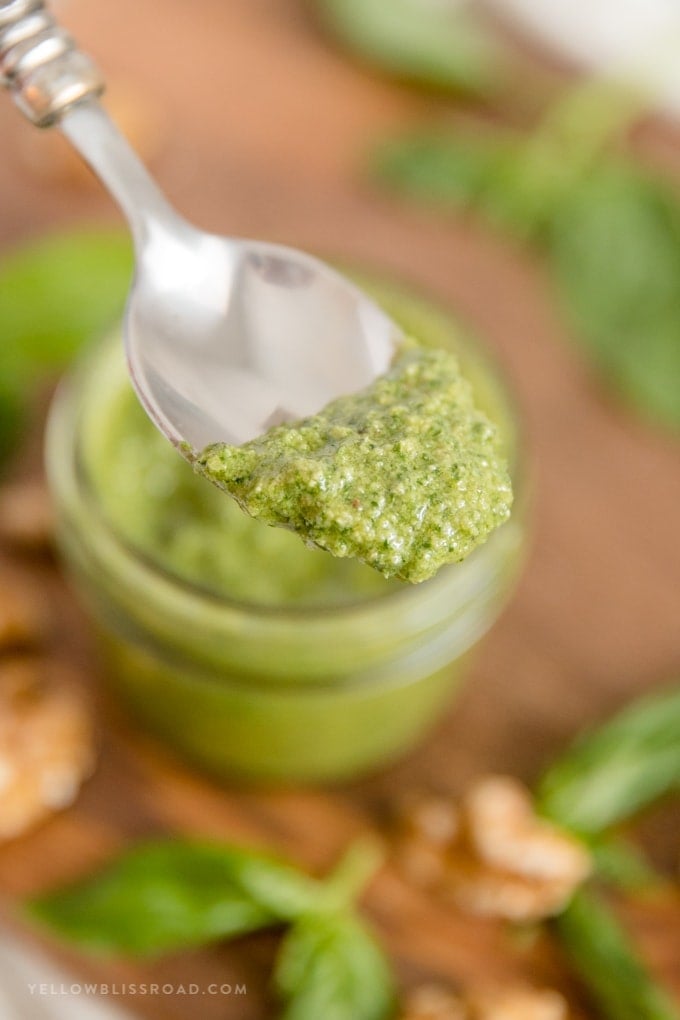 What is Pesto?
Before we can get into how to make pesto, we have to know what actually is it?? Pesto is a flavorful sauce traditionally made with fresh basil, olive oil, Parmesan cheese, garlic and pine nuts. My walnut basil version replaces the pine nuts with walnuts and I added fresh parsley and lemon juice. The lemon juice helps to brighten up the sauce which can sometimes feel a bit heavy.
The nuts in pesto can be replaced with cashews, almonds or pecans.
Is Walnut Basil Pesto good for you?
Despite using all of these fresh, healthy ingredients you may be wondering if pesto is actually good for you. I mean, walnuts and extra virgin olive oil are high in fat, right? Right! But what a lot of people don't realize is this unsaturated fat is a good fat, that's also found in avocados and salmon. Walnuts are also high in Omega 3s, so weaving them to your diet with recipes like this walnut pesto is a good thing!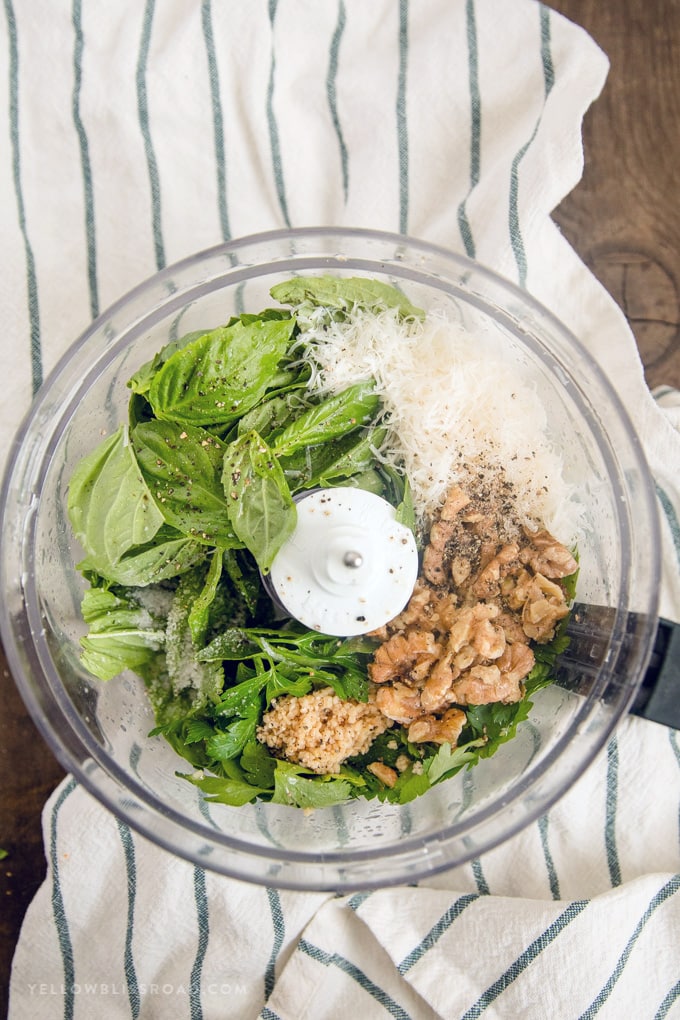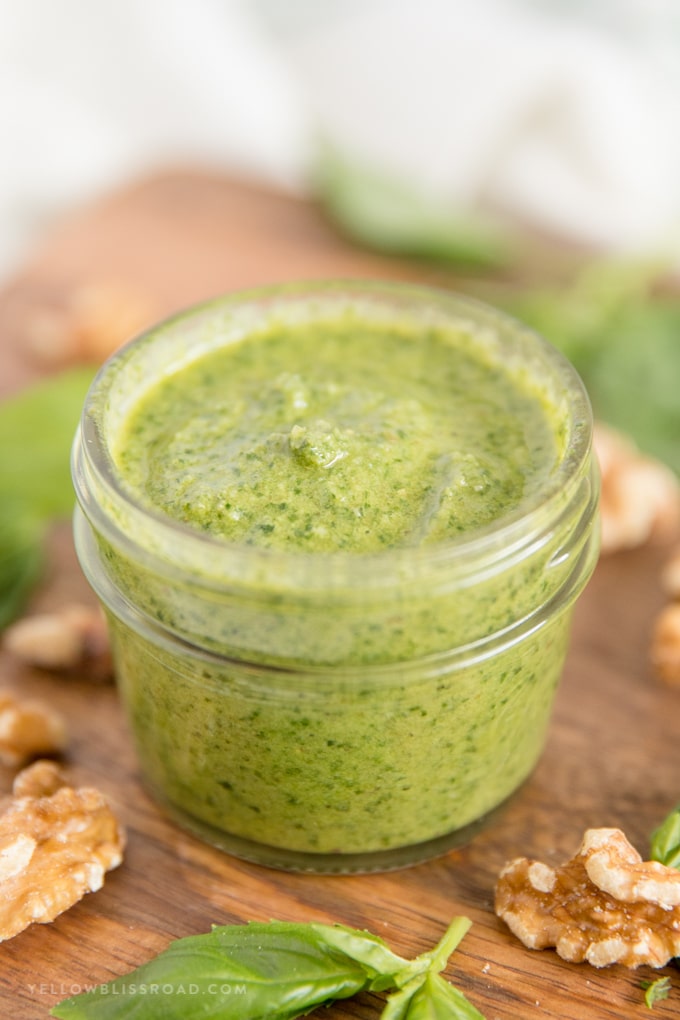 How to Make Walnut Basil Pesto Sauce
Here are some tips and ideas for perfecting your pesto game!
Use the freshest ingredients. Don't let your basil sit around or it will turn brown on you. Pick up your fresh herbs as close to the day you plan on making your pesto as possible.
Use a good quality EVOO. When it comes to extra virgin olive oil, not all bottles are created equal. Choose a dark glass bottle or tin, and reach for the bottles made in the US with a USDA seal of approval. Be sure to check the best by date. (source)
Store your fresh homemade pesto in a tightly sealed container in the fridge for up to a week, or the freezer for up to 6 months.
To keep your pesto sauce looking fresh, drizzle on a thin layer of olive oil or press some plastic wrap directly on the surface. Basil oxidizes and turns brown when exposed to air, so utilizing one of these methods will help your pesto retain it's bright green color.
My homemade Walnut Basil Pesto recipe has a variety of uses – spread it on sandwiches, as a sauce on pizzas, top chicken and coat pastas! It makes a fabulous bread dip too. Whichever way you use it, this Basil Walnut Pesto Recipe is a guaranteed hit!
Instructions
Combine ingredients together in a food processor, pulsing until well blended. The mixture will be thick, but still easily stirred. Taste it. Tasting is so important for seasoning! Add more salt, cheese or even basil if you like.
Cook some pasta. We like fettuccine but pesto goes great with just about any fresh, hot pasta. Add some fresh parmesan and a few toasted walnuts for texture.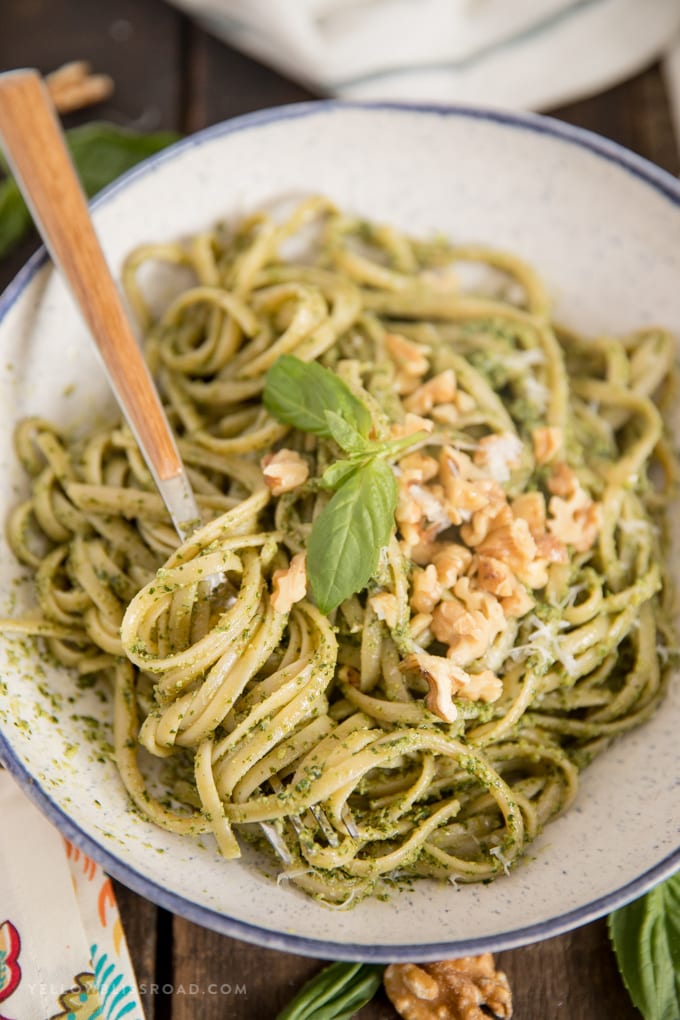 If you love walnuts like we do, you need to try these other delicious walnut recipes:
Recipe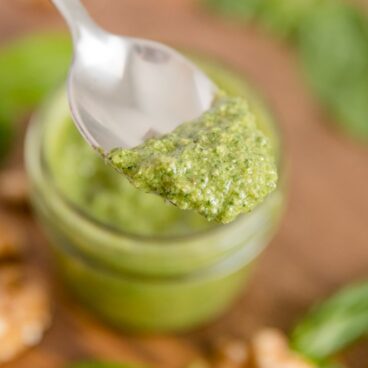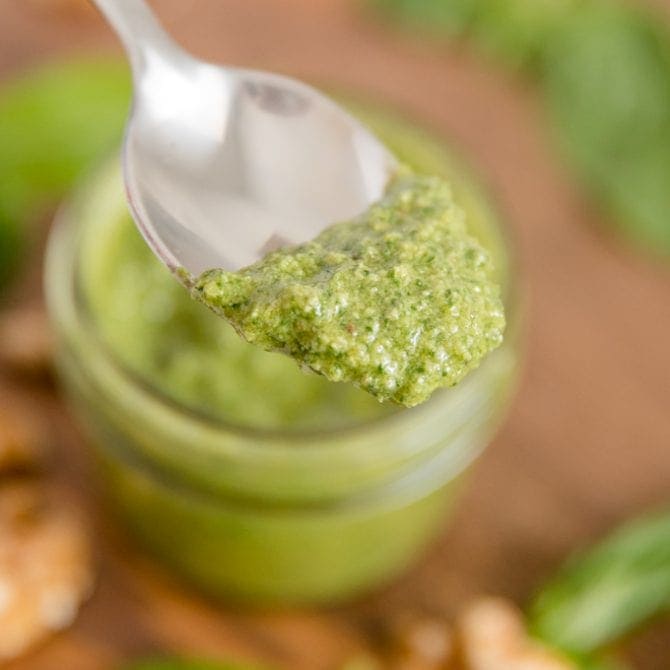 Basil Walnut Pesto Recipe
This Walnut Basil Pesto recipe is a rich and flavorful sauce that tastes incredible on pastas, pizzas or sandwiches. @californiawalnuts #ad
Ingredients
1

cup

toasted walnuts

divided

1

tablespoon

minced garlic

4 cloves

½

cup

fresh grated parmesan cheese

1

cup

packed fresh basil

about 3 ounces, stems removed

1/2

cups

packed fresh Italian flat leaf parsley

1/2

cup

olive oil

1/2

of a lemon

Kosher salt and fresh cracked black pepper taste
Instructions
Combine ½ cup of toasted walnuts, minced garlic, ½ cup fresh Parmesan cheese, basil leaves, parsley, olive oil and juice from half a lemon in a food processor or blender. Season with ½ teaspoon salt and ¼ teaspoon black pepper.

Pulse continuously until all ingredients are broken down and well combined, 1-2 minutes. Scrape the sides of the bowl at least once to ensure all ingredients are evenly mixed in. Taste and adjust salt and pepper as desired.

Toss pesto with hot, cooked pasta to coat and heat through. Eight ounces of pasta and this pesto recipe will provide about 4 servings.

Divide into bowls and top with fresh basil, Parmesan and the remaining toasted walnuts. Serve with lemon wedges on the side.
Notes
To toast walnuts: Heat oven to 350 degrees. Arrange walnuts in a single layer on a small baking sheet lined with parchment paper or a silicone mat. Toast in the oven for about 5-7 minutes, stirring occasionally to prevent burning. OR heat a skillet over medium heat and toast the walnuts in the hot skillet, shaking often to avoid burning.
Nutrition
Serving:
0.25
cup
Calories:
330
kcal
Carbohydrates:
5
g
Protein:
7
g
Fat:
33
g
Saturated Fat:
5
g
Cholesterol:
7
mg
Sodium:
132
mg
Potassium:
148
mg
Fiber:
2
g
Sugar:
1
g
Vitamin A:
705
IU
Vitamin C:
12.8
mg
Calcium:
130
mg
Iron:
1.2
mg