Learn how to make a Strawberry Banana Smoothie with this quick and easy recipe! Just four ingredients for a creamy, healthy, delicious smoothie that everyone will love.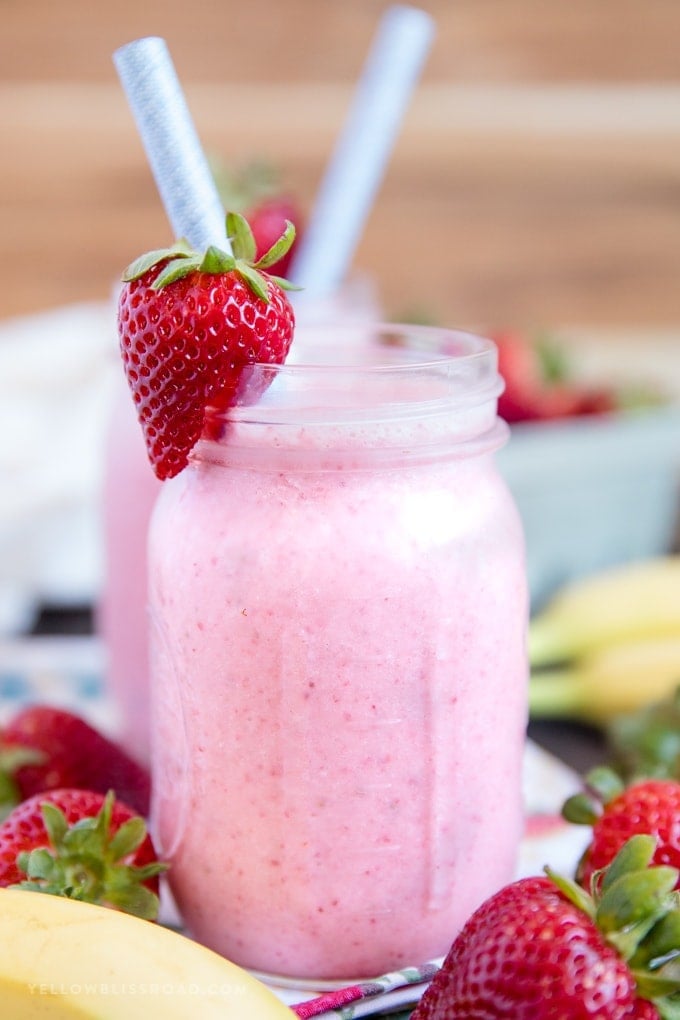 My kids are smoothie freaks. They love the creamy, frothy texture, the never-ending combination of fruit flavors, the icy coolness on a hot day. It's their treat of choice, often over ice cream or candy. I used to make them at home quite often, for breakfast, as a snack or even for lunch, but as our lives got busier, I made them less and less, often resorting to a not so healthy drive-thru over homemade.
With strawberry season here, I bought a huge tray of strawberries at a local stand. It was high time I pulled out my blender(aff)  and starting whipping up our favorite Strawberry Banana Smoothie recipe again. After all they are so incredibly easy to make, I really have no excuse not to. The weather is getting warmer and it's smoothie season!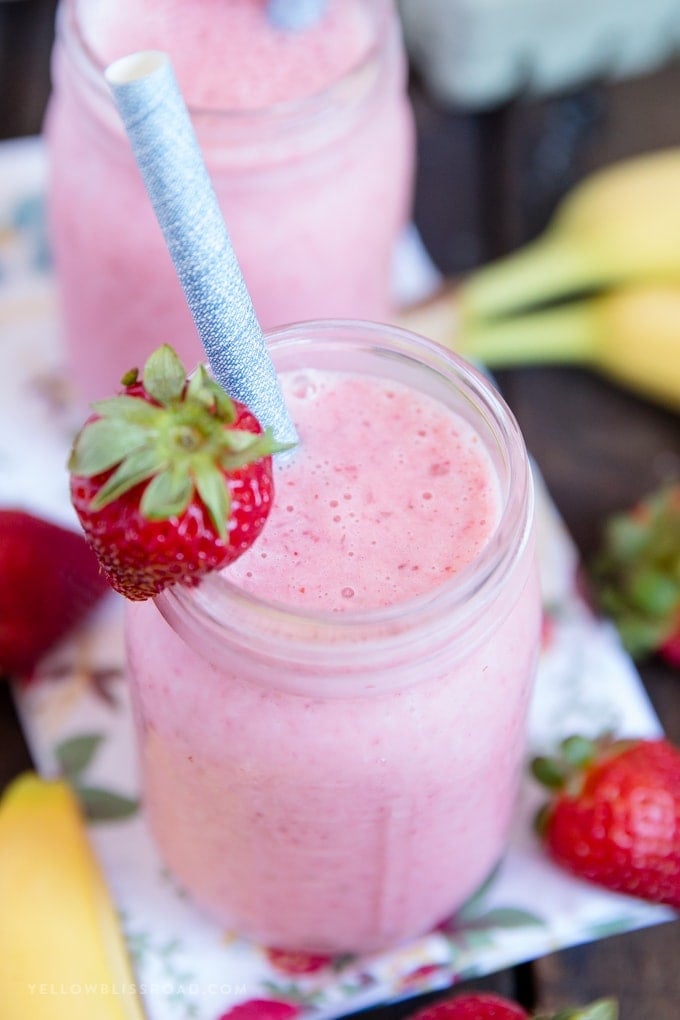 How to Make a Strawberry Banana Smoothie
Smoothies are so easy to make, and you can easily customize them to whatever flavors you're in the mood for. Today we are making our favorite Strawberry Banana Smoothie recipe, so you will need:
Bananas
Strawberries
Plain Greek Yogurt
Honey
Milk or apple juice
Ice (optional, see below)
Simple, healthy ingredients! I will give you the amounts that we use in the printable recipe below, but really, it's all about the flavor and texture you're going for. Do you want a banana strawberry smoothie that has more banana flavor than strawberry? Or do you want the strawberries to be the star?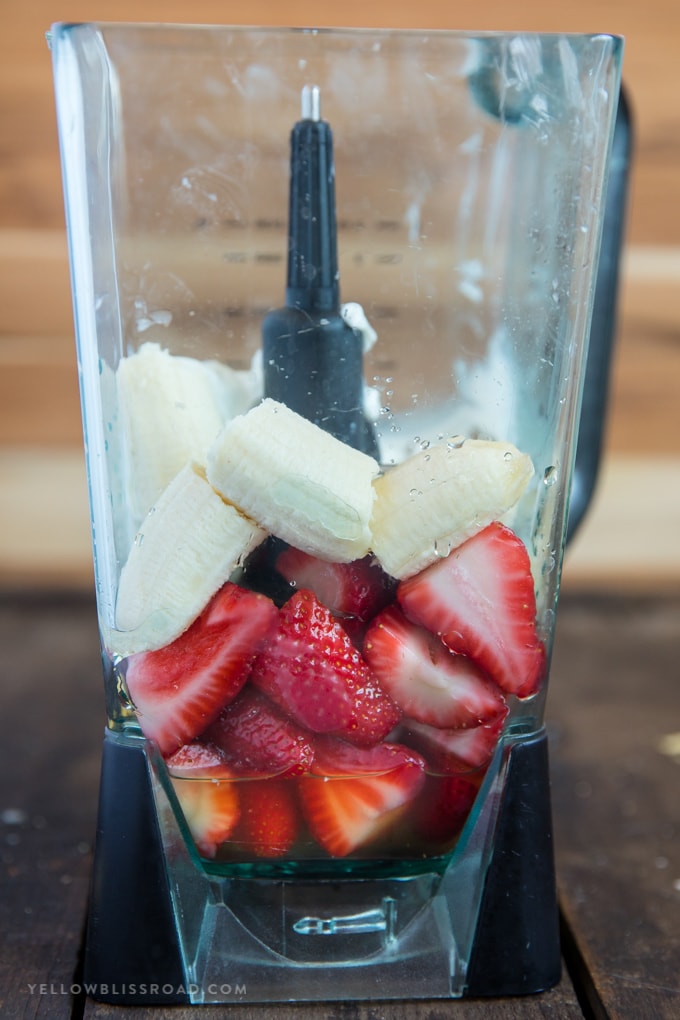 Here are some tips for perfecting your Strawberry Banana Smoothie recipe:
Freeze your strawberries for optimal flavor. Using ice can sometimes water down the flavor of your smoothie, but store bought frozen strawberries don't always have enough of a strawberry flavor. To avoid this, ditch the ice and freeze your fresh strawberries. Just lay them out in a single layer on a cookie sheet and slide them in the freezer for 30 minutes. You'll get the slushy texture without watering down your smoothie!
Get control of the sweetness. I use plain yogurt and add honey so I am able to adjust the sweetness level without adding a ton of sugar. You could also use a flavored yogurt if you like.
Don't forget the liquid. Almost anytime you're blending ingredients in a blender, you need some kind of liquid to help the blades catch the food you're blending. It helps to smooth your recipe out, and bind the recipe together.
Use a wide straw. Smoothies are thick, so a regular straw makes drinking them a little difficult. I found the paper straws pictured in the dollar bin a Target, but you can also find them on Amazon HERE (Aff), and I've even seen them at Ikea!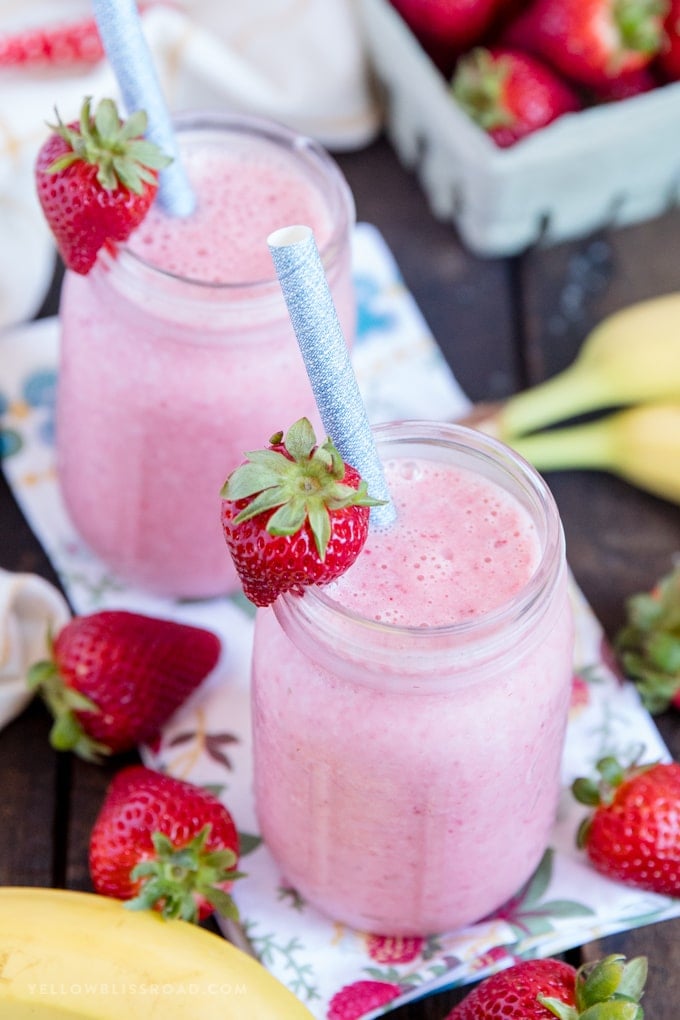 Think you're ready to make your very own Strawberry Banana Smoothie? Let's do this!
Here are some more strawberry recipes we love:
Strawberry French Toast Bake
And here are a few more delicious smoothie recipes to try: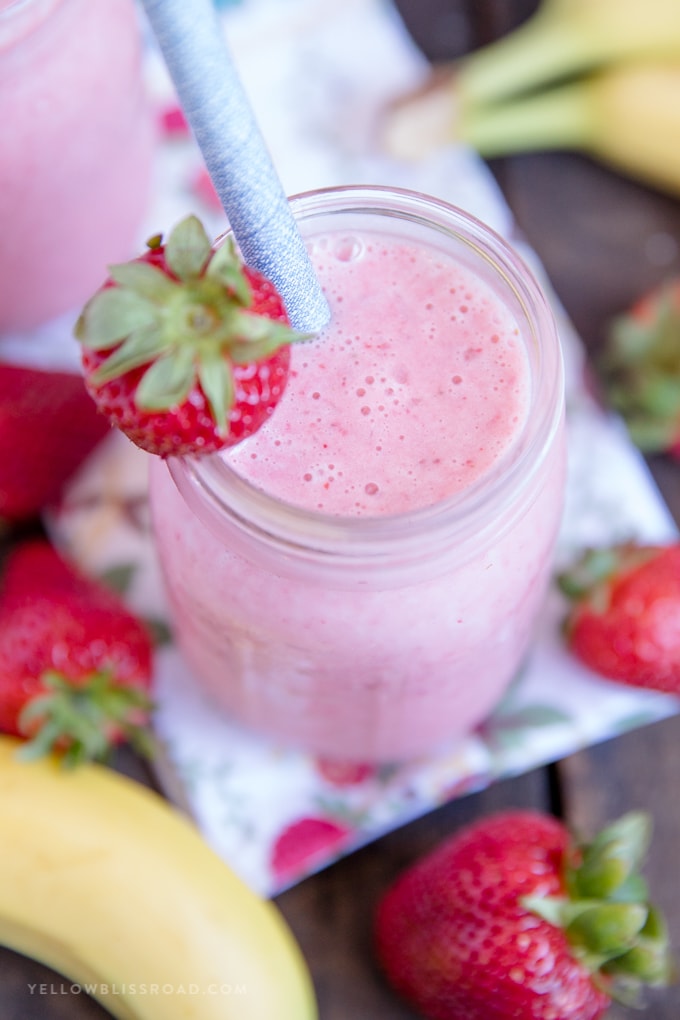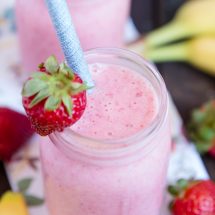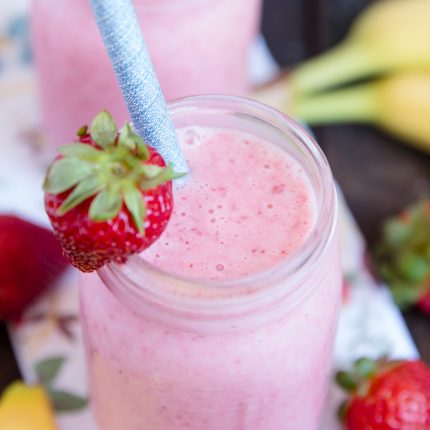 Strawberry Banana Smoothie Recipe
Learn how to make a Strawberry Banana Smoothie with this quick and easy recipe! Just four ingredients for a creamy, healthy, delicious smoothie that everyone will love.
Print
Pin
Rate
Prep Time: 15 minutes
Total Time: 45 minutes
Ingredients
2 cups fresh strawberries hulled
1 banana peeled and cut into large chunks
5 ounces plain yogurt
Honey to taste
½-1 cup apple juice or milk
Instructions
Place strawberries on a baking sheet lined with parchment or wax paper. Slide into the freezer for 20-30 minutes. Place glasses in the freezer as well.

Place ingredients in a blender and secure the lid. 

Blend on high for 1 minute. Test the texture and add more milk/juice as needed. Blend until the ingredients are nice and smooth. Taste and add more honey as desired for sweetness.

Pour into frozen glasses, garnish with a fresh strawberry and serve with a wide straw.