This delicious mango smoothie is thick and creamy with a delicious tropical flavor. It's the perfect quick and healthy breakfast or treat!
My kids would slurp smoothies for breakfast, lunch and dinner if I'd let them! Their favorite smoothie flavors are Strawberry Banana, Pineapple, and Banana Peach. This Mango Smoothie in quickly inching out the competition though! They especially it when I make and serve them with BBQ Chicken Quesadillas like our local smoothie shop.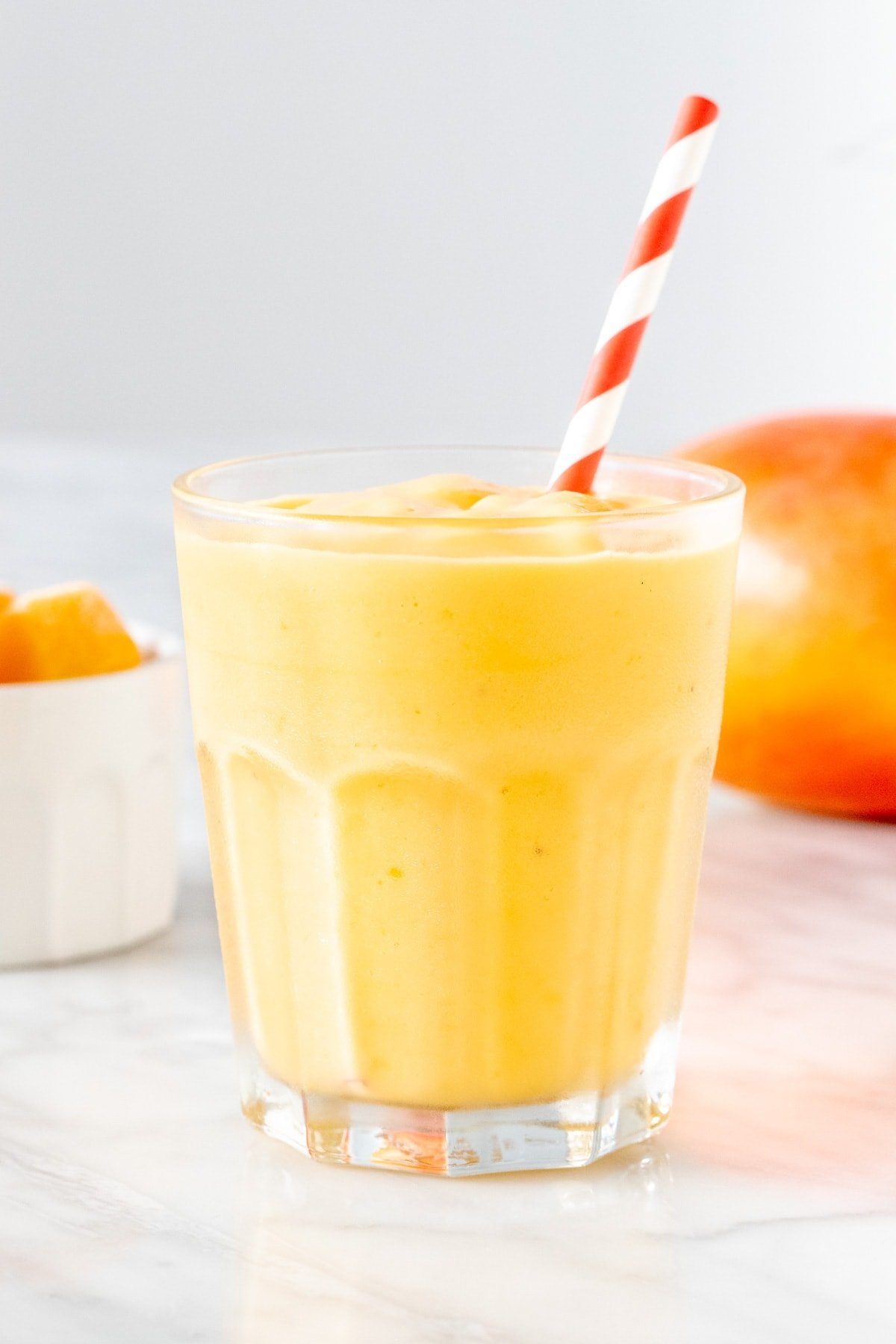 Mango is the perfect fruit for smoothies because it's sweet, freezes well, and creates a super thick texture. This Mango Smoothie has a delicious tropical flavor and reminds me of a mango sorbet or ice cream that you can drink with a straw. But it's perfectly healthy with no added sugar. It makes for a delicious addition to your breakfast, healthy snack, or the perfect treat for warm weather.
Ingredients for the Perfect Mango Smoothie
This recipe is made with just 4 ingredients. It will make enough for 2 glasses, or 1 very large smoothie  – like the size you'd get at a fancy juice shop. You'll need:
Frozen mango chunks – I like to buy a bag of frozen mango because it's easy, delicious and means that you don't need to wait for your mango to ripen. You could also buy fresh mango and use that, or freeze it in chunks first for a more frothy texture.
Fresh banana – ½ of a large banana or about 1 small banana is all you need. You can use more or less depending on your preference. This really helps with creaminess and add essential vitamins and minerals like potassium and vitamin B6 and C. If you don't like bananas you can omit this ingredient.
¼ cup plain yogurt – I like to use plain Greek yogurt, but vanilla yogurt works too. Any flavor you love will work, actually, but others will alter the flavor of your smoothie.
½ cup orange juice – The juice is necessary for everything to blend together and not get too thick. You can also use milk or almond milk to cut back on the sugar. Magno or another tropical nectar would be delicious as well.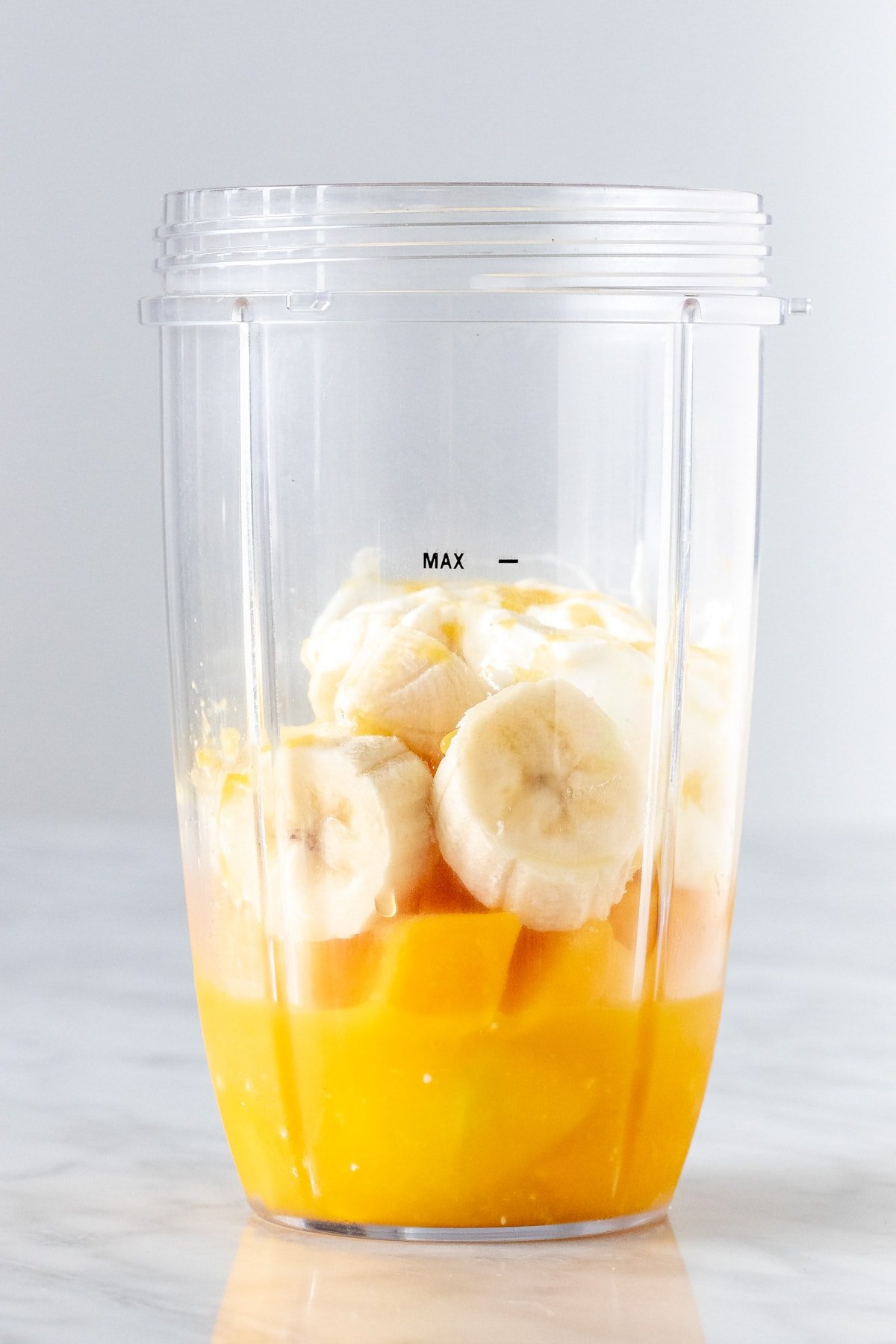 If you'd like to make enough for 4 small glasses, feel free to double the recipe and use a large blender. I find that because mango is very sweet, there's no need for any sugar in this recipe.
Can I Use Fresh Mango in a Smoothie?
I like to use frozen mango because it makes the smoothie thicker. Fresh mango definitely works though. Feel free to freeze fresh mango if you like to.
How to freeze fresh mango: Line a large baking sheet with parchment paper or foil and cut the ripe mango into chunks. Arrange on the sheet, not touching, and put the sheet in the freezer for 30 minutes or longer, then transfer the frozen mango to a freezer safe bag and store for up to 3 months.
Variations & Options
Smoothie recipes are so adaptable. Here are some of my favorite variations of this mango smoothie:
Add in a handful of spinach or kale to get in some greens. Note – you may need to add in a little extra orange juice if you're doing this.
Want a dairy-free option? Simply leave out the yogurt and add in a few ice cubes.
For more of a tropical flavor, replace the orange juice with pineapple juice or pineapple orange juice. Since pineapple juice is sweeter than orange juice – it will definitely be a sweeter smoothie.
This smoothie is also delicious with about ½ cup of sliced strawberries thrown in.
To make smoothie packs, measure out the mango and banana (and optional greens or strawberries) and place in a freezer bag. Freeze for up to 3 months, then when ready to make your smoothie, simply dump the smoothie pack into your blender and add in the yogurt and orange juice.
Feel free to add in a scoop of vanilla protein powder to make your smoothie more filling.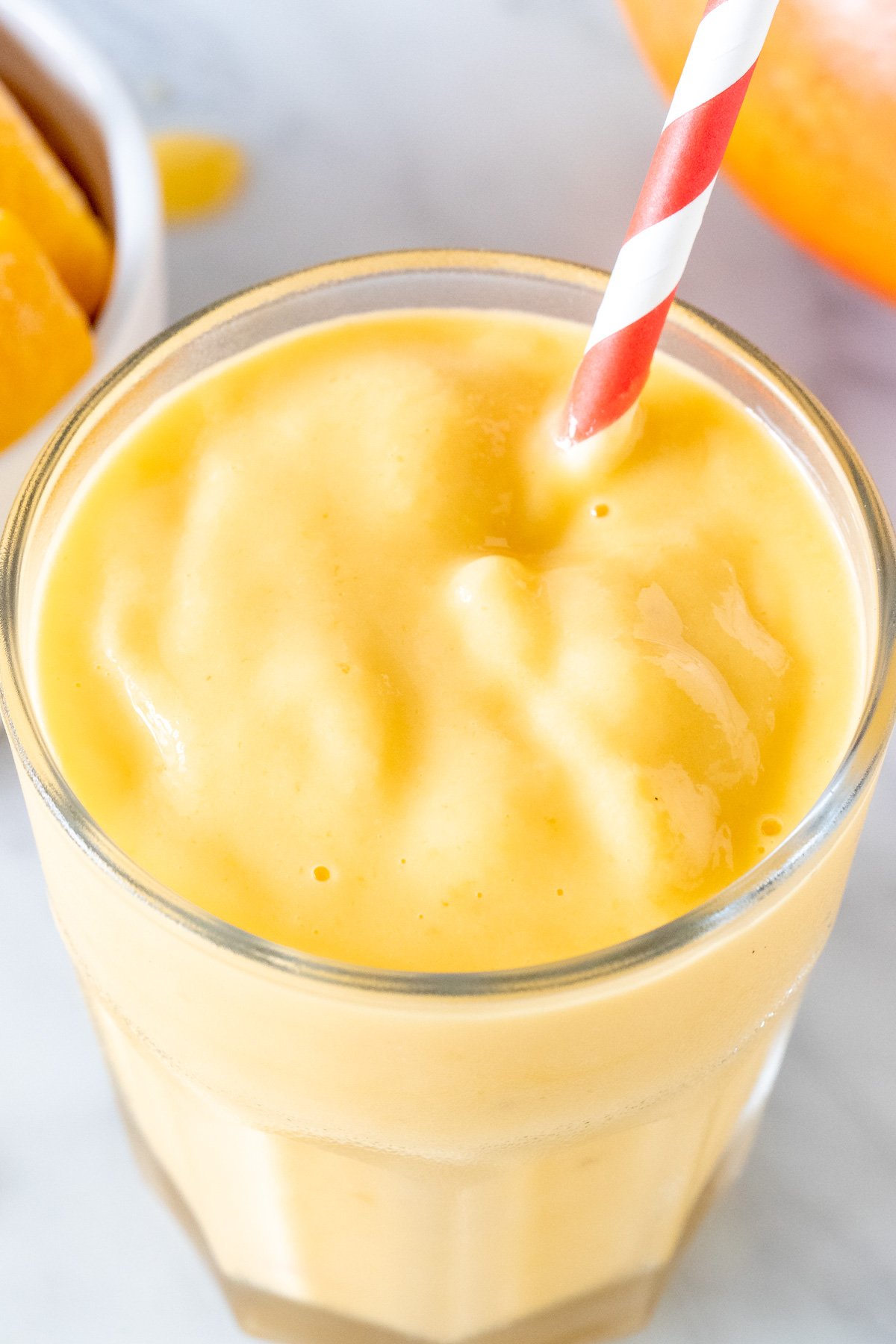 More Delicious Smoothie Recipes
Recipe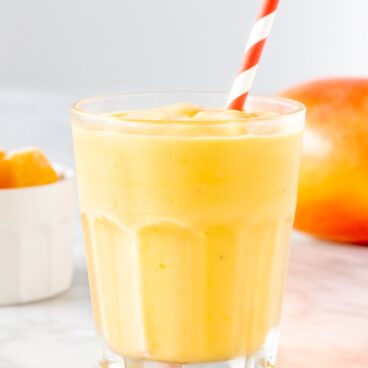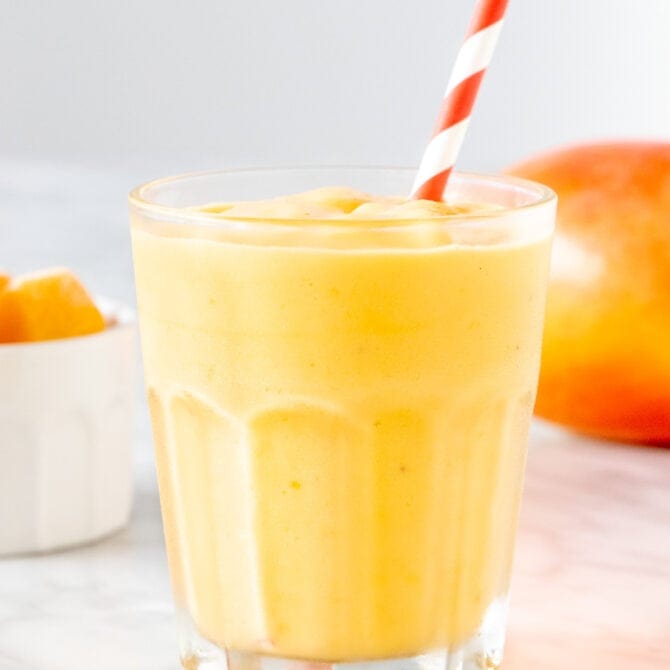 Mango Smoothie
This delicious mango smoothie is thick and creamy with a delicious tropical flavor. It's the perfect quick and healthy breakfast or treat!
Ingredients
1

cup

frozen mango chunks

1/2

large

banana

or 1 small banana

1/4

cup

Greek yogurt

1/2

cup

orange juice*
Instructions
Add all the ingredients to a blender and blend until smooth.

Pour into 2 small glasses, or 1 very large glass for an extra large smoothie.
Notes
Nutrition information is based on this recipe divided into 2 equal glasses. 
*You can use pineapple juice or pineapple orange juice instead of orange juice.
Nutrition
Calories:
122
kcal
Carbohydrates:
27
g
Protein:
4
g
Fat:
1
g
Saturated Fat:
1
g
Cholesterol:
1
mg
Sodium:
11
mg
Potassium:
420
mg
Fiber:
2
g
Sugar:
21
g
Vitamin A:
1039
IU
Vitamin C:
64
mg
Calcium:
45
mg
Iron:
1
mg