This easy, delicious Poppy Seed Chicken Casserole is a comfort food classic! With tender chunks of chicken in a creamy sauce with a crunchy, buttery Ritz cracker topping, this casserole is an all time family favorite.
Casseroles, like this Poppy Seed Chicken Casserole, are great for busy families. Mix a bunch of ingredients together and bake – simple as that! Try one of our other delicious, comforting casseroles, like this Doritos Chicken Casserole, Cheesy Ham Casserole, Ground Turkey Casserole and Chicken Taco Casserole.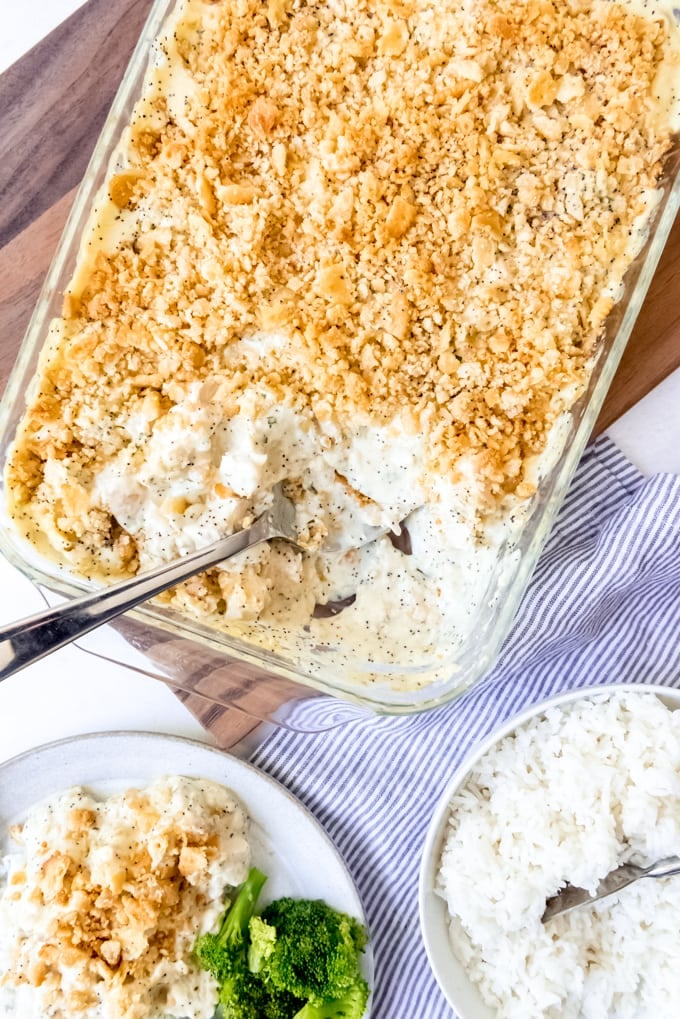 Pin this recipe for later!
Why We Love This Recipe
This poppy seed chicken casserole is right up there with chicken spaghetti casserole as one of our family's favorite recipes for easy weeknight comfort food.
If you have never tried poppy seed chicken before, it has a wonderful, savory flavor with fantastic texture contrasts between the creamy sauce loaded with delicious poppy seeds and the crunchy, buttery Ritz cracker topping. Everybody will want second helpings!
Simple ingredients mean you have everything on hand or can easily find it at your grocery store.
It's fast and easy, taking a total of 35 minutes from start to finish.
This poppy seed chicken recipe is good old fashioned comfort food from the creamy sauce to the crunchy cracker topping!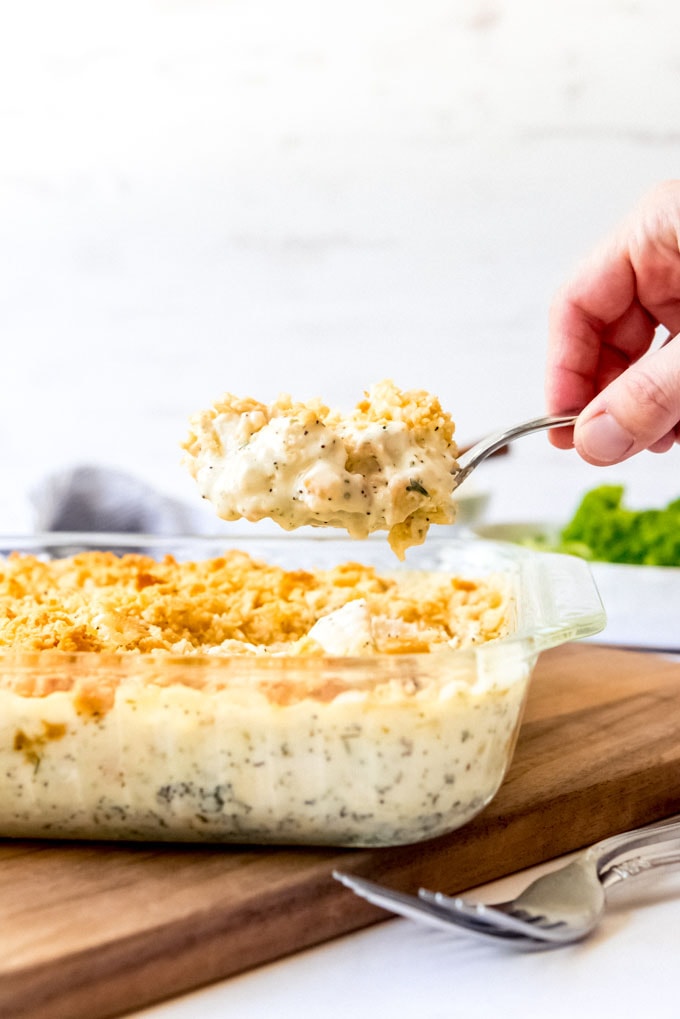 Ingredients for Poppy Seed Chicken Casserole
Cream of chicken soup – the condensed soup variety. Make your own or grab a couple of cans from the grocery store.
Sour Cream – Combined with the soup, this makes the sauce for the casserole.
Poppy Seeds – Sold in small jars and found in the spice aisle.
Parmesan cheese – freshly grated off the block.
Spices and seasonings – black pepper, dried parsley, garlic powder. You will find you don't need added salt.
Chicken – A large rotisserie chicken is a great option. You need 5 cups of diced chicken; you can use white meat or dark. Or, cook a couple pounds of chicken breasts in the slow cooker with a cup of chicken broth for about 3 hours.
Ritz crackers – You need 1 full sleeve of crackers, crushed. Panko breadcrumbs may be substituted.
Melted butter – Mixed with the crushed crackers, the butter helps to create a deliciously golden and crunchy crust on top.
How to Make Poppy Seed Chicken Casserole
Get a detailed list of ingredients & instructions in the recipe card below.
To make this creamy chicken casserole, you need about 5 cups of cooked chicken. Rotisserie chicken works great and cuts your prep time significantly. But you can also just boil or bake chicken breasts to have on hand for a recipe like this. Chop the cooked chicken into bite-size pieces then set aside.
In a large bowl, combine all of the ingredients for the sauce. Even though I don't use it often, this is one dish where I just think nothing is quite as good as cream of chicken soup. It sure makes it easy to throw this together on busy nights. Mix the condensed soup with some sour cream, parmesan cheese, dried parsley, a little garlic powder, pepper, and poppy seeds. Then add the chicken and dump it all into a large 9×13″ baking dish.
While getting the chicken ready, I usually hand one of my kids a rolling pin and a bag of Ritz crackers and ask them to smash them for me. Then I dump the crushed crackers into a bowl with melted butter and stir them together.
Sprinkle the buttery crushed crackers over the chicken mixture, then slide the casserole into the oven to bake for 35 to 40 minutes until it's hot and bubbly. The crushed cracker topping will toast slightly and be a wonderful contrast to the creamy sauce and tender chunks of chicken beneath!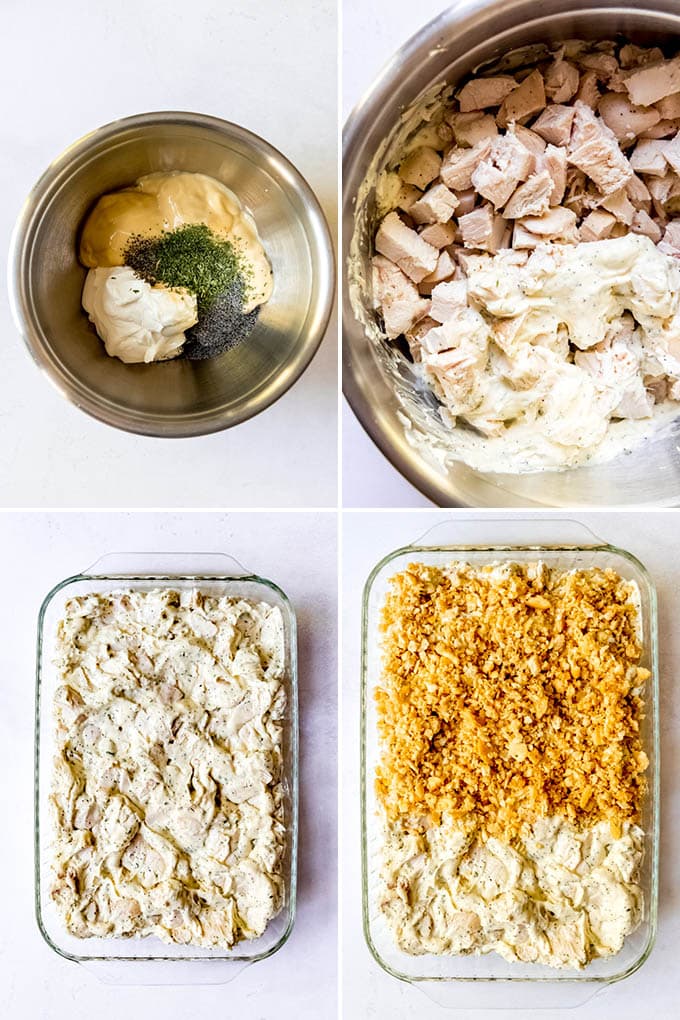 FAQs
Can you freeze leftover casserole?
Yes! This is a great meal to make to have on hand in the freezer or to give to a friend who is going through a hard time or just had a baby.

Just make the casserole up through adding the Ritz cracker topping, but don't bake it. Instead, cover tightly with plastic wrap, then freeze for up to 1 month. Let it thaw overnight in the fridge before baking.
How do you reheat this casserole?
If I'm reheating a single portion, I will just do it in the microwave for about 1-2 minutes until hot all the way through.

But if I'm reheating larger amounts, I think the best way to reheat a creamy chicken casserole is to do it in the oven. Just cover it with foil this time to keep moisture in and let the leftover casserole heat in the oven at 350℉ for about 20-25 minutes until hot.
Do poppy seeds add flavor or just texture?
Both! Poppy seeds have a rich, nutty flavor and aroma but also provide a healthy crunch to dishes.
Can you cook poppy seed chicken without poppy seeds?
You can, but it would really change the texture and flavor of the dish.
Serving Suggestions + Variations
We love to serve this chicken dinner over cooked rice with a green vegetable like roasted broccoli. But it's also delicious over pasta or mashed potatoes.
Because it's such a creamy casserole, I think it goes best with a copycat Olive Garden Salad or green vegetables like asparagus or green beans.
Want to make this a more substantial casserole? Spread 3 cups of cooked rice on the bottom of the casserole dish before topping with the chicken mixture.
Storage
Store: Leftovers should be cooled completely and then stored in an airtight container for up to 3-4 days in the fridge.
Make Ahead: Prepare the casserole without the crushed crackers. Place the cracker/butter mixture in a separate container. Cover the casserole tightly and store in the fridge until you're ready to bake, up to 24 hours, then add the crackers and bake as directed.
Freeze: Prepare the casserole without the crushed crackers. Cover tightly with plastic wrap and foil and freeze for up to 3 months. You can freeze the crackers with melted butter in a separate freezer bag so everything will be ready to go. Thaw in the fridge overnight, then add the crackers and bake as directed. You may need to add 5-10 minutes to the baking time.
Reheating: Reheat leftovers in the microwave for 60-90 seconds, stirring once halfway through.
How to Cook Chicken Breasts for Casserole
When making weeknight casserole dishes, I like to cook the chicken in advance so I can easily throw everything together. My two favorite methods are to bake chicken or boil it.
To boil chicken breasts, add however many chicken breasts you want to cook to a large pot, then cover with water and season the water with a handful of salt and a tablespoon of pepper. Bring the water to a gentle boil and cook until the chicken breasts reach 165℉ when tested with a digital meat thermometer.
The amount of chicken you are cooking this way will alter boiling time, but for 4-5 medium-size chicken breasts it usually takes around 10-15 minutes once the water begins to boil for them to be done.
To bake chicken breasts, just sprinkle chicken breasts with a little salt and pepper, then bake for 20 minutes at 400 degrees F. They are done when they reach 165 degrees F when tested with a digital meat thermometer. I like to do a bunch all at once to have one hand for other recipes throughout the week.
Here are all the ways to make chicken for this recipe:
Rotisserie chicken (purchased at the store)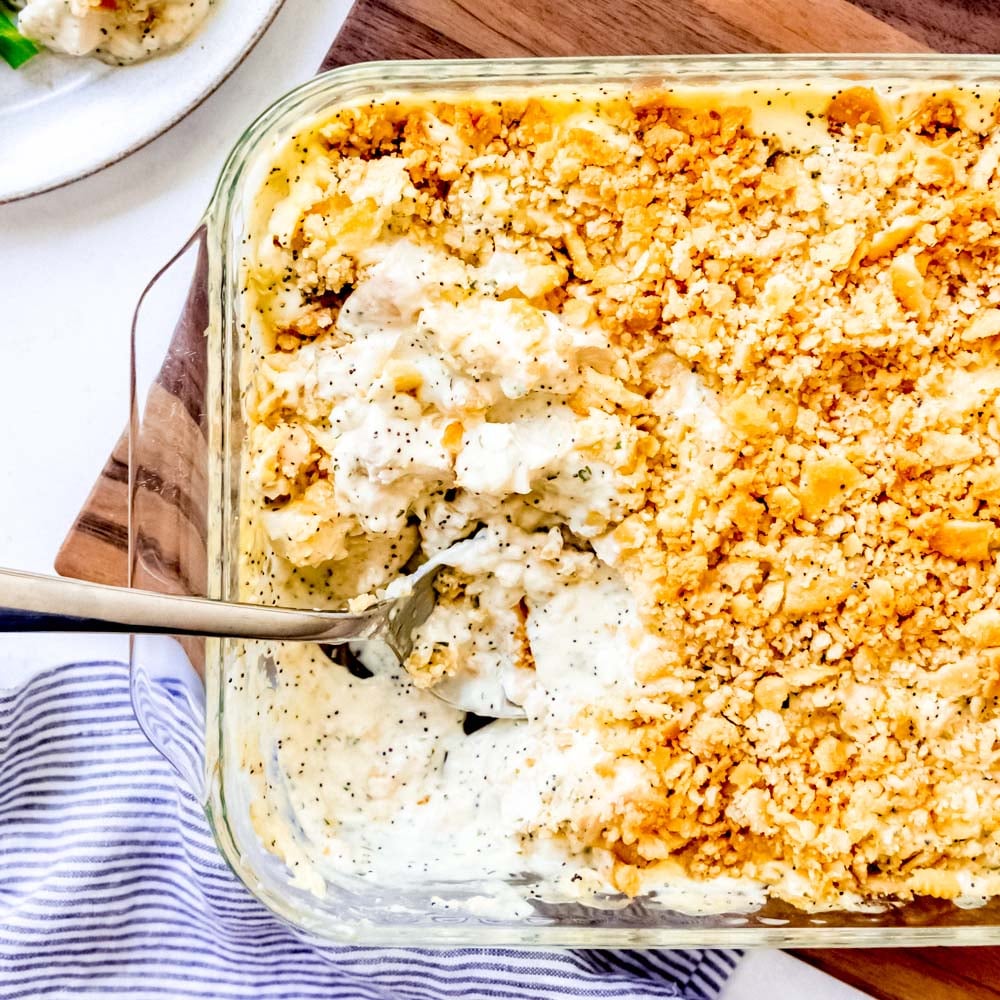 More Easy Chicken Dinners
Recipe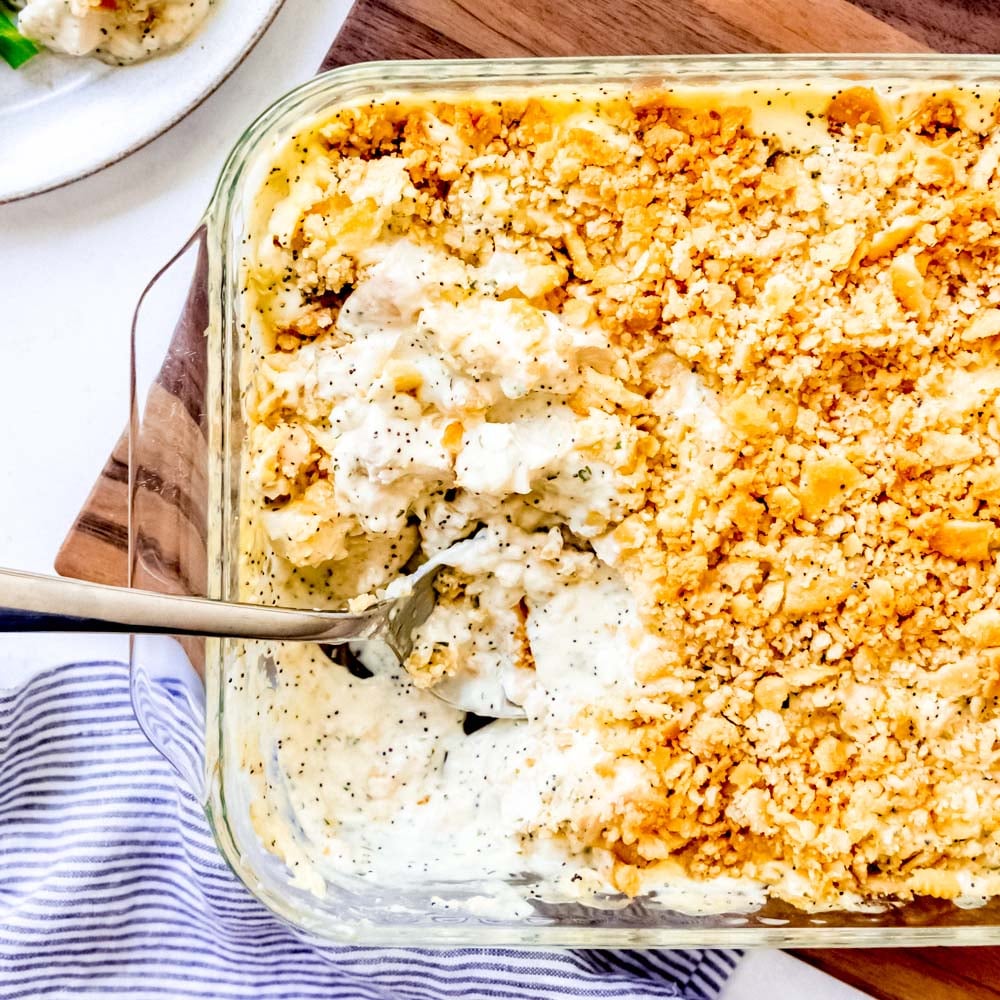 Poppy Seed Chicken
This easy Poppy Seed Chicken is a comfort food classic with tender chicken in a creamy sauce topped with a crunchy, buttery topping of Ritz crackers!
Ingredients
2

cans

cream of chicken soup

16

ounces

sour cream

1

tablespoon

poppy seeds

3/4

cup

freshly grated Parmesan cheese

1/2

teaspoon

black pepper

1

tablespoon

dried parsley

3/4

teaspoon

garlic powder

5

cups

cooked chicken, chopped into bite-size pieces

2

cups

crushed Ritz crackers

1/2

cup

melted butter
Instructions
Preheat oven to 350 degrees F.

In a large bowl, stir together the cream of chicken soup, sour cream, poppy seeds, Parmesan cheese, pepper, parsley, and garlic powder. Add the chicken and stir until completely coated in the sauce. Transfer the chicken and sauce mixture to a large 9×13" baking dish.

In a medium bowl, pour the melted butter over the crushed Ritz crackers and toss together with a fork to create the buttery cracker topping. Sprinkle over the chicken filling.

Bake, uncovered, for 35 to 40 minutes until hot all the way through and bubbling around the edges. Serve immediately.
Notes
Most any cooked chicken will do. You can boil chicken in water or chicken broth for 15-20 minutes or bake it in a 400 degree F oven for 20 minutes until it reaches an internal temperature of 165 degrees F. Or just use a rotisserie chicken from the store.
This casserole can be frozen for up to 1 month. Just prepare to the point of baking, then cover tightly in plastic wrap before freezing. Thaw in the refrigerator overnight before baking according to the normal instructions the next day.
Adapted from All Recipes.
Nutrition
Calories:
728
kcal
Carbohydrates:
24
g
Protein:
47
g
Fat:
49
g
Saturated Fat:
25
g
Cholesterol:
198
mg
Sodium:
1365
mg
Potassium:
514
mg
Fiber:
1
g
Sugar:
5
g
Vitamin A:
1261
IU
Vitamin C:
1
mg
Calcium:
314
mg
Iron:
4
mg