This Easy Cheesy Zucchini Casserole Recipe is a delicious side dish that your family will love! With tender baked zucchini and a creamy, cheesy cheddar sauce, this recipe will become a standout side dish on your table!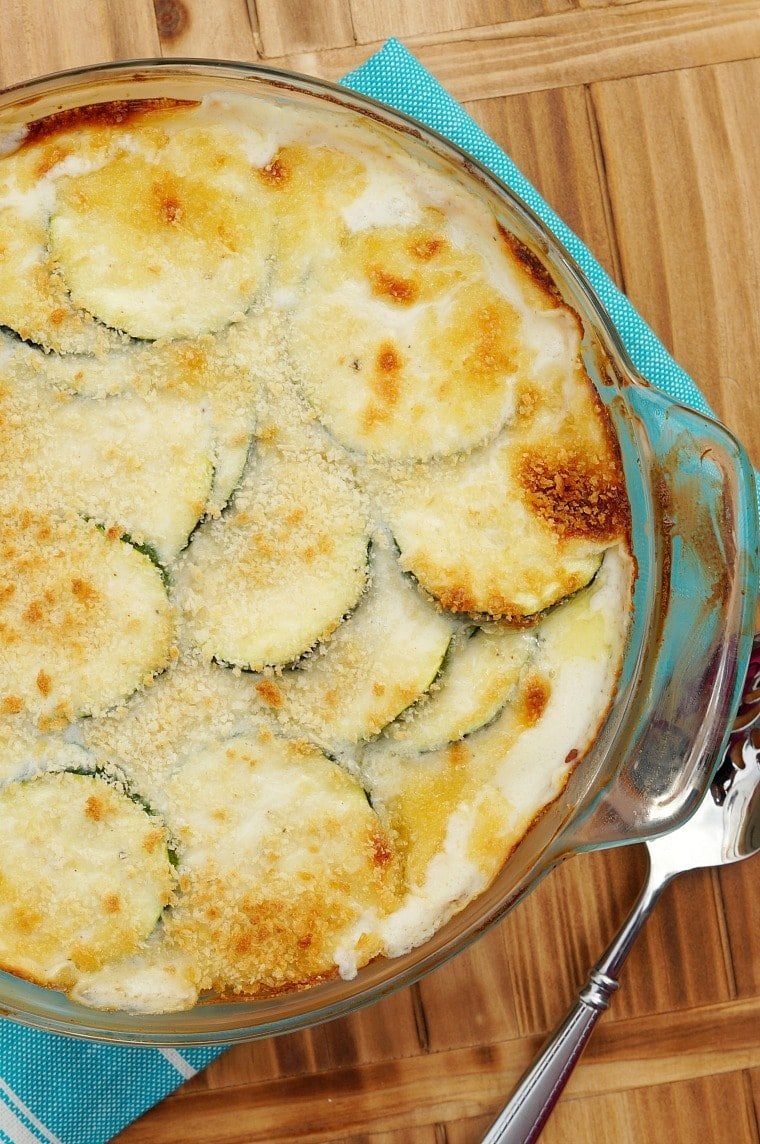 Zucchini Casserole
Hi everyone! Amanda here from Old House to New Home, sharing a cheesy zucchini recipe that I know you will love! Zucchini is one of my favorite vegetables because it is so versatile. It can be served in 100's of different ways from Baked Parmesan Zucchini Chips to Zucchini Bread Recipe and they are all delicious!
I am always trying to come up with ways to use the garden bounty of zucchini. I have put it in soups, made it into fries, used it in pizza crust, added it to burgers, and while those are all so good, this Easy Zucchini Casserole is just simple comfort food. Zucchini and cheese sauce, what could be better than that?!
Zucchini is one of those vegetables that really adapts to so many recipes, I like this one though because it uses minimal ingredients and pairs well with chicken, steak, or fish. It is best with in season garden zucchini but works with grocery store zucchini, all fall and winter long! With summer winding down and people wanting to start loading up on comfort foods, this recipe gives you the best of both worlds. Fresh summer produce but cheesy summer goodness!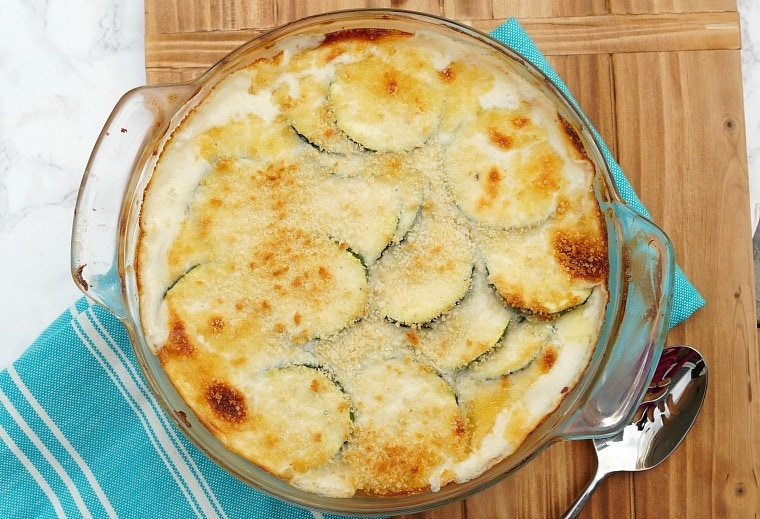 How to remove water from zucchini
It is important to remove some of the water in zucchini before baking. This is super simple. Cut your zucchini into slices and then lay out flat on a paper towel. Lightly salt both sides and let sit for 15 minutes. The salt will draw out the liquid and help to dry out the zucchini. After 15 minutes, pat the water off that has formed on the zucchini.
If you are making a recipe using shredded zucchini, you would shred your zucchini, add salt, then wring out with a paper towel after 15 minutes.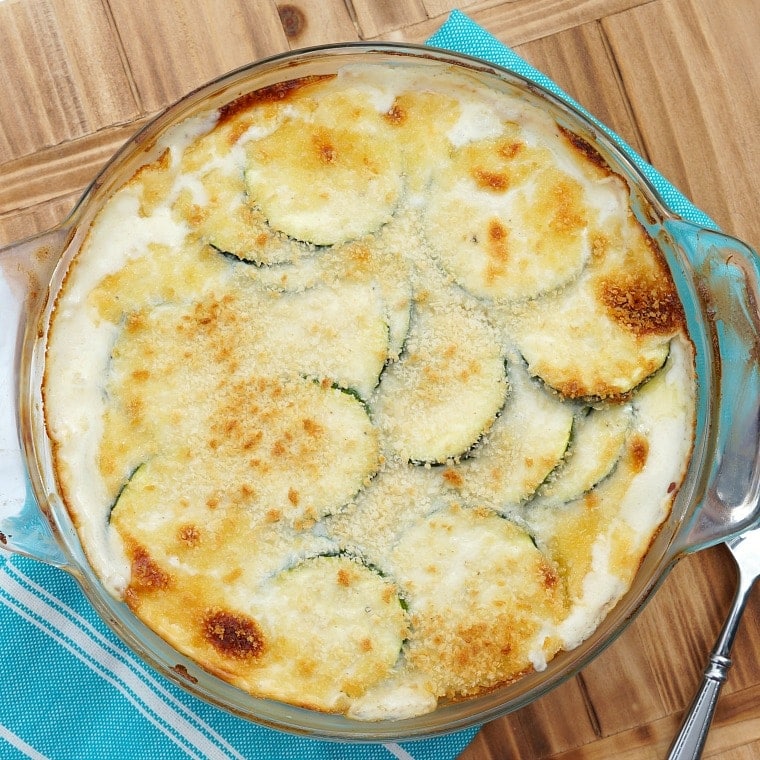 How to make Zucchini Casserole
Preheat your oven and slice the zucchini. Lay out the veggies on a flat surface and sprinkle with salt to help remove the water.
Make the cheese sauce by first making a roux with flour and butter. Add milk and let the mixture thicken, then stir in some cheese. I used a white cheddar cheese in this recipe because it melts well and is super tangy. You could substitute swiss, gruyere, or even mozzarella! I always recommend shredding your own cheese because pre-shredded is coated in a wax that inhibits smooth melting. My secret ingredient in this recipe is a pinch of nutmeg. While it may seem odd, nutmeg goes so well in white sauces! It gives it just a smidge of unique flavor and sets it apart.
Layer the zucchini in a round casserole dish, adding cheese sauce every couple of layers. Once the casserole is full, add the last of the cheese sauce and sprinkle on panko bread crumbs for crunch.
Bake until the bread crumbs are golden and the cheese sauce is bubbly.
Serving Suggestions
This recipe is an excellent side dish for the holidays. It has a great homey feel and is hearty and rich, making it the perfect side for your Thanksgiving Turkey! During the summer months, make this casserole to serve with chicken or fish.
What to do with leftovers
If you happen to have leftover zucchini casserole, cover it tightly or transfer to an airtight container and refrigerate for up to 3-4 days. Reheat in the microwave at 50% power to prevent the cheese sauce from breaking. Freezing is not recommended as the liquid in the zucchini would affect the taste and texture upon reheating.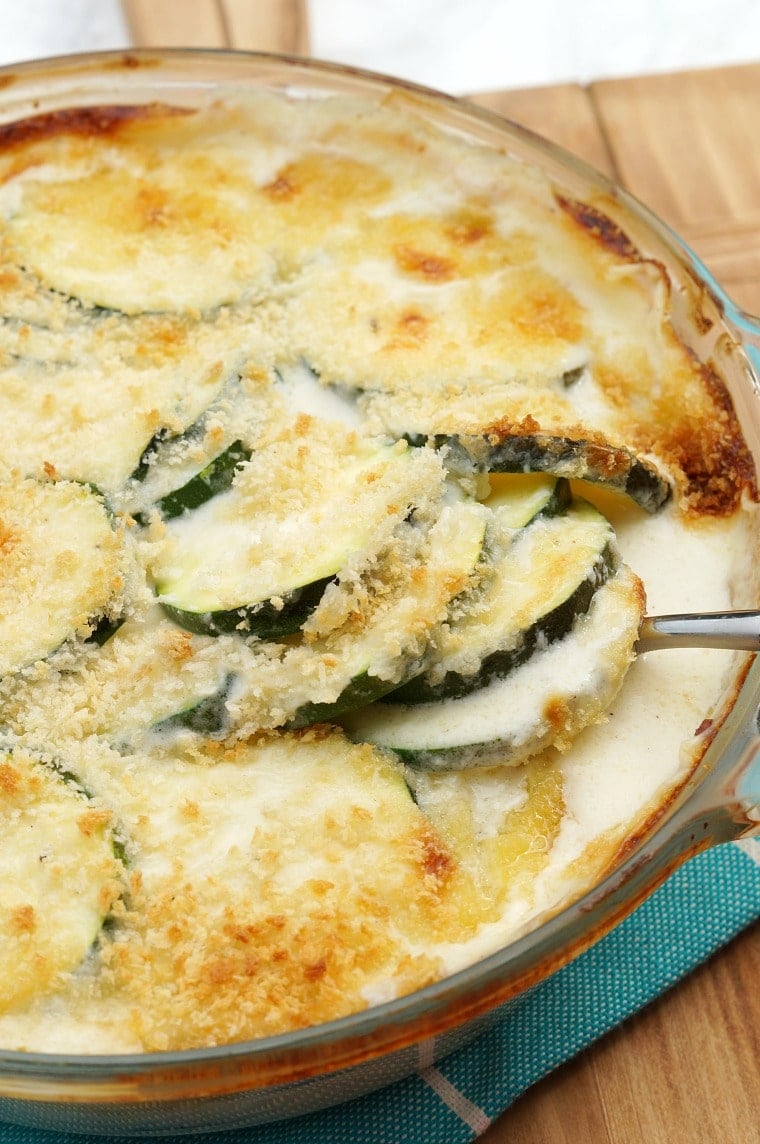 More zucchini recipes you'll love: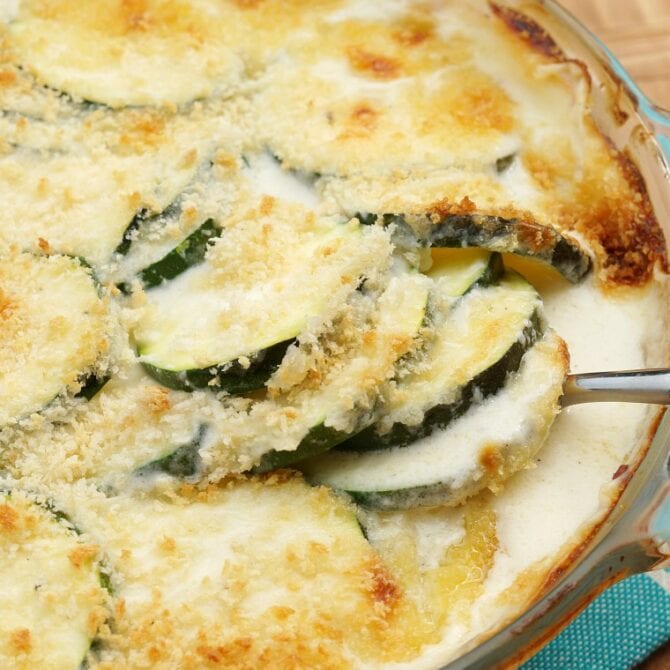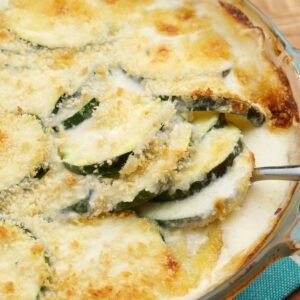 Zucchini Casserole
This Easy Zucchini Casserole recipe combines tender zucchini and a delicious cheddar cheese sauce into a flavorful side dish recipe!
Ingredients
3 large zucchini sliced into 1/4 inch rounds
salt
3 tablespoons butter
3 tablespoons flour
2 cups half and half
¼ teaspoon pepper
½ teaspoon garlic powder
1 pinch nutmeg
3 ounces cream cheese room temperature
¼ cup parmesan cheese
2 cups freshly shredded white cheddar cheese about 4 ounces
¼ cup panko bread crumbs
Instructions
Preheat oven to 375 degrees. Slice zucchini and then lay in a single layer on a paper towel. Sprinkle with salt. Let sit 5-10 minutes.

While zucchini releases water, make cheese sauce. Melt 3 tablespoons butter in a sauce pan. Once melted, add flour and whisk until a roux forms. Add half and half and stir consistently until a thick white sauce forms.

Once sauce is thick enough to coat the back of a spoon, add 1/2 teaspoon salt, pepper, garlic powder, and a pinch of nutmeg. Turn off the heat. Add cream cheese and parmesan cheese and whisk until melted. Add shredded white cheddar cheese and whisk until melted.

Using paper towels, pat the zucchini dry. Stack the zucchini in a circular pattern in a round casserole dish. Every 3 layers, add a ladle full of cheese sauce. Repeat with remaining zucchini. Pour any remaining cheese sauce over the top.

Sprinkle with panko breadrumbs and bake 40-45 minutes, or until golden brown and bubbling. Rest 5 minutes and serve warm.
Notes
Nutritional information is approximate using an online calculator. 
Nutrition
Calories: 425kcalCarbohydrates: 15gProtein: 17gFat: 34gSaturated Fat: 21gCholesterol: 103mgSodium: 654mgPotassium: 583mgFiber: 2gSugar: 5gVitamin A: 1384IUVitamin C: 30mgCalcium: 452mgIron: 1mg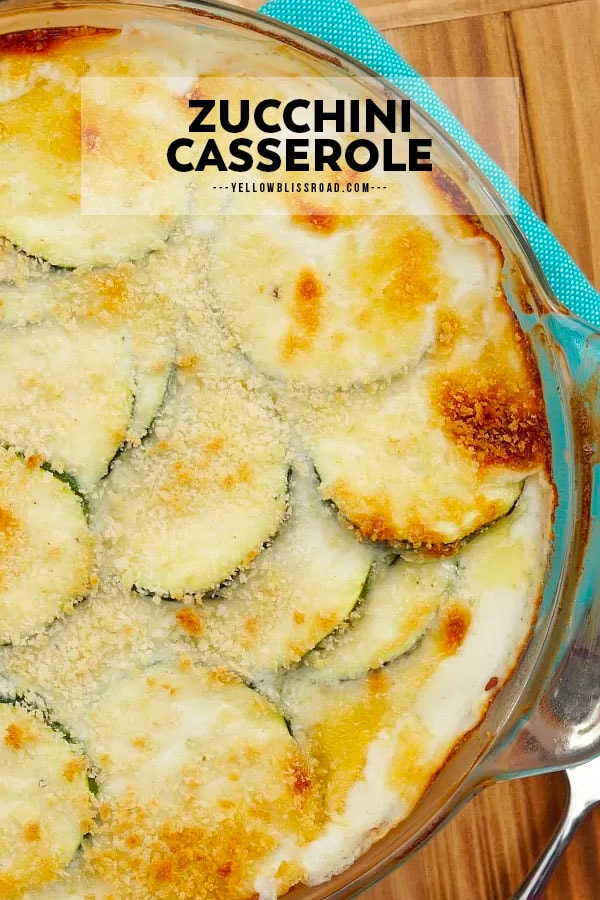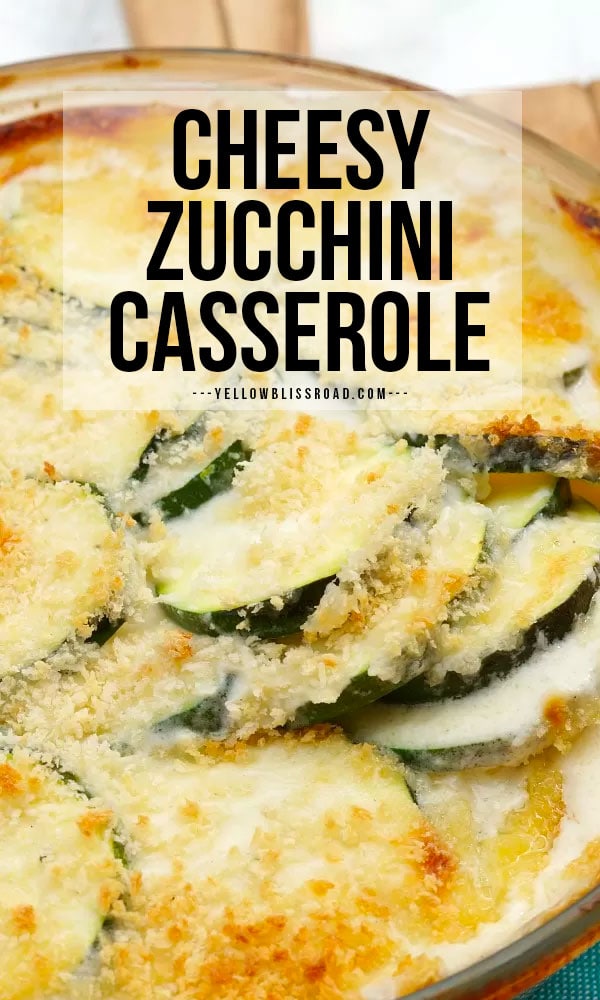 Looking for more zucchini recipes?
Easy Zucchini Stuffing Casserole