With cool weather right around the corner, we are all starting to think about how to warm those bellies on busy weeknights. My favorite 3 Ingredient chili recipe is the perfect bowl of comfort! 
There is nothing like a big bowl of chili with all of your favorite toppings. It's definitely a favorite of my family's in the fall, along with Crockpot Chili, Homemade Chicken Soup or Easy Broccoli Cheese Soup.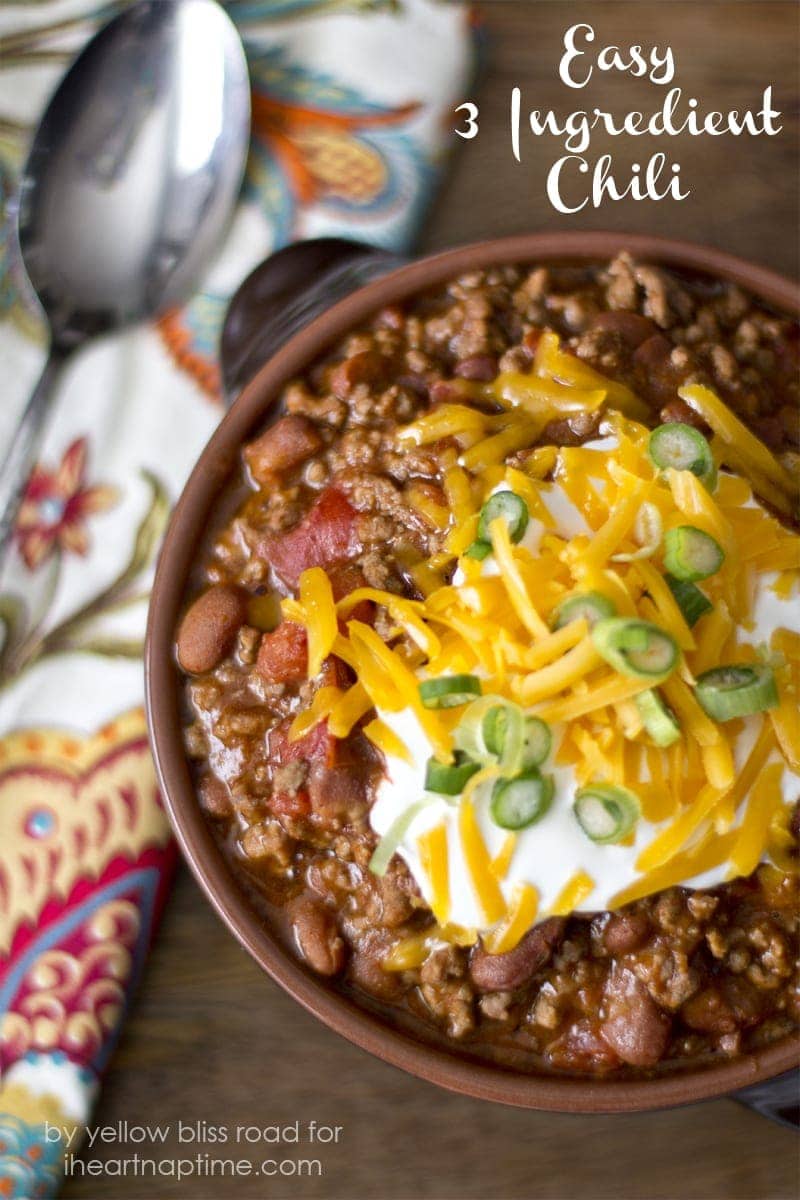 Super Easy Chili Recipe
Chili is a perfect weeknight meal or tailgating recipe. It's one of the easiest dishes to make, too! You need three ingredients to start, and then you can kick it up to make it your own. I mean really, could it be any simper?
My cousin had a tradition with her kids for Halloween. There was always a big pot of chili on the stove for them to warm up with before an excessive night of trick-or-treating. I loved that tradition and in fact I carried it on with my own kids. We eat chili all year long, but on Halloween it's a must! I honestly don't remember anything about her recipe, so I've just made up my own favorite.
My chili recipe is completely customizable; you can adjust the heat level and intensity, the ingredients and even the toppings. It's thick and rich and super flavorful even though it's only got three ingredients so it's more like a base recipe. I always start with these ingredients and then I start adding things based on what I have available in my kitchen.
I love it because:
It's only got 3 main ingredients, so I can make it just like that, or I can add more layers of flavor depending on what I've got on hand.
It only takes 30 minutes from start to finish.
Kids love it, too!
How to Make Chili
There are only 3 ingredients in the base of this recipe. So it's not only easy, it's quite economical. For even more budget friendly beef dishes, check out these 27 Simple Ground Beef Recipes.
Ingredients:
One pound of ground beef. I prefer leaner ground beef as it doesn't leave as much grease behind.
A 15-ounce can of diced tomatoes with chili spices. If you are having a hard time finding the Hunt's Chili Starter diced tomatoes, I have found them at Walmart or sold by the case on Amazon. If you can't find the Hunt's or Del Monte Chili Starter tomatoes, you can just add onion, garlic and chili powder to your meat as it cooks. I'll share the instructions below. You could also use a can of chili seasoned tomato sauce.
A 15-ounce can of chili beans. Don't drain it, there's flavor in the sauce.
Mix it together in a pot and simmer. The longer you are able to let it simmer, the better it gets. But you can also serve it as soon as it's hot.
At this point, you have a great bowl of thick and hearty chili. It serves four to six people and has a great flavor just on it's own. But sometimes I like to get creative, and I'll add in some extra ingredients to make it even better.
If you can't find the chili flavored tomatoes: Cook the ground beef with some diced white or red onion, minced garlic, chili powder and cumin. You could also add dried minced onion and garlic powder in place of the fresh onion and garlic. Add a can of petite diced tomatoes in the liquid and a can of chili beans and stir everything together. Bring the chili to a boil, then cover and turn the heat down to low and let it simmer for at least 15 minutes.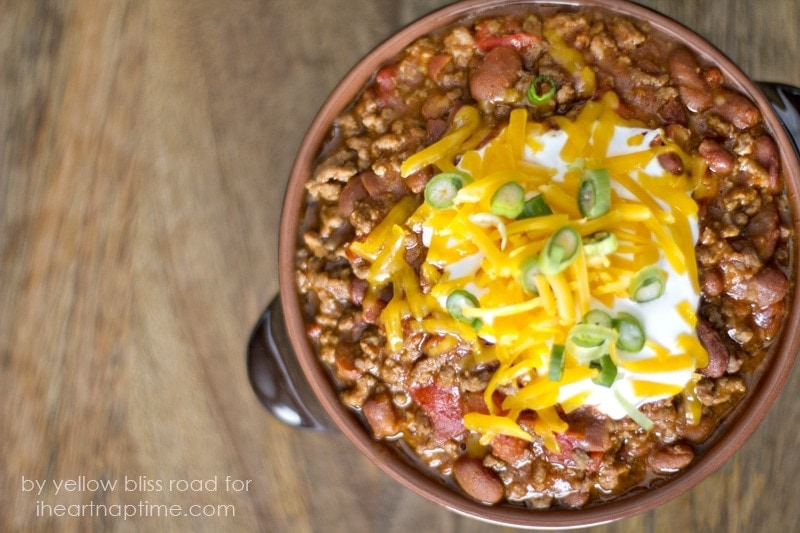 What can you add to chili?
I like to play around with different recipes using this base. Here are a few of my favorite. You'll add these ingredients to the base recipe of ground beef, chili beans and diced tomatoes.
3 bean Chili: 1 can of black beans, drained and rinsed; 1 can of kidney beans, drained and rinsed and 1 15-ounce can of tomato sauce. Add chili powder and garlic powder until you love the flavor.
Southwestern Chili: 1 can of black beans, drained and rinsed; 1 can of corn, drained; 1 can of green chiles (or replace the canned tomatoes with 2 cans of rotel); 2 tablespoons of taco seasoning.
Healthier Turkey Chili: replace the ground beef with 1 pound of ground turkey, cooked and drained, 1 can of kidney beans, drained and rinsed.
Chili Recipe Tips and Tricks
Kick up the spice by adding chili powder, red pepper flakes or hot sauce, or even a can of Rotel Tomatoes.

Experiment with different beans – try adding a can of black, cannellini or kidney beans.

Instead of ground beef, use a pound of shredded Chuck Roast or chunks of Stew Meat, or a pound of diced chicken breasts, ground turkey or diced beef sausage.

Not a fan of cooked tomatoes? Blend the diced tomatoes in a blender to make tomato sauce – you still get the flavor without the chunks of cooked tomato.

When adding different ingredients, the key is to keep the ratios. 1 pound of meat, 1 can of beans, 1 can of diced tomatoes. If it's too thick, just add a small can of tomato sauce, along with a little chili powder.
My favorite way to kick up this recipe is by adding a can of black beans, a can of tomato sauce, and a little chili powder. Yum! Now if it would only cool off around here I can whip up a batch!
If you aren't able to find the Chili Starter tomatoes, you can use a 15-ounce can of diced tomatoes (undrained) and add seasonings: 1 tablespoon chili powder, 1 teaspoon garlic powder, ½ teaspoon onion powder and ½ teaspoon cumin.
If you don't like diced tomatoes, use a 15-ounce can of tomato sauce and add the spices mentioned above.
Slow Cooker Chili
You could also let this cook in the crockpot on low for several hours, just be sure to cook the ground beef first. Cook the ground beef with some onion and garlic, then add that, drained, to the slow cooker. Stir in the tomatoes and chili beans and cook on low for 6-7 hours or on high for 4-5 hours. You could probably get away with even less time in a pinch.
Serving Suggestions
Of course the best part of eating chili is topping it with all kinds of delicious toppings!
Shredded cheese – cheddar, jack or pepper jack are our favorites.
Dice onions
Sliced green onions
Sliced jalapeños
Sour cream
Tortilla chips or Fritos
Oyster crackers
What to do with leftovers
Chili freezes beautifully, so leftovers can be frozen in a freezer bag for up to 6 months. Just thaw in the fridge overnight and reheat on the stove. For leftovers you plan to enjoy soon, keep in an airtight container in the fridge for up to 4-5 days.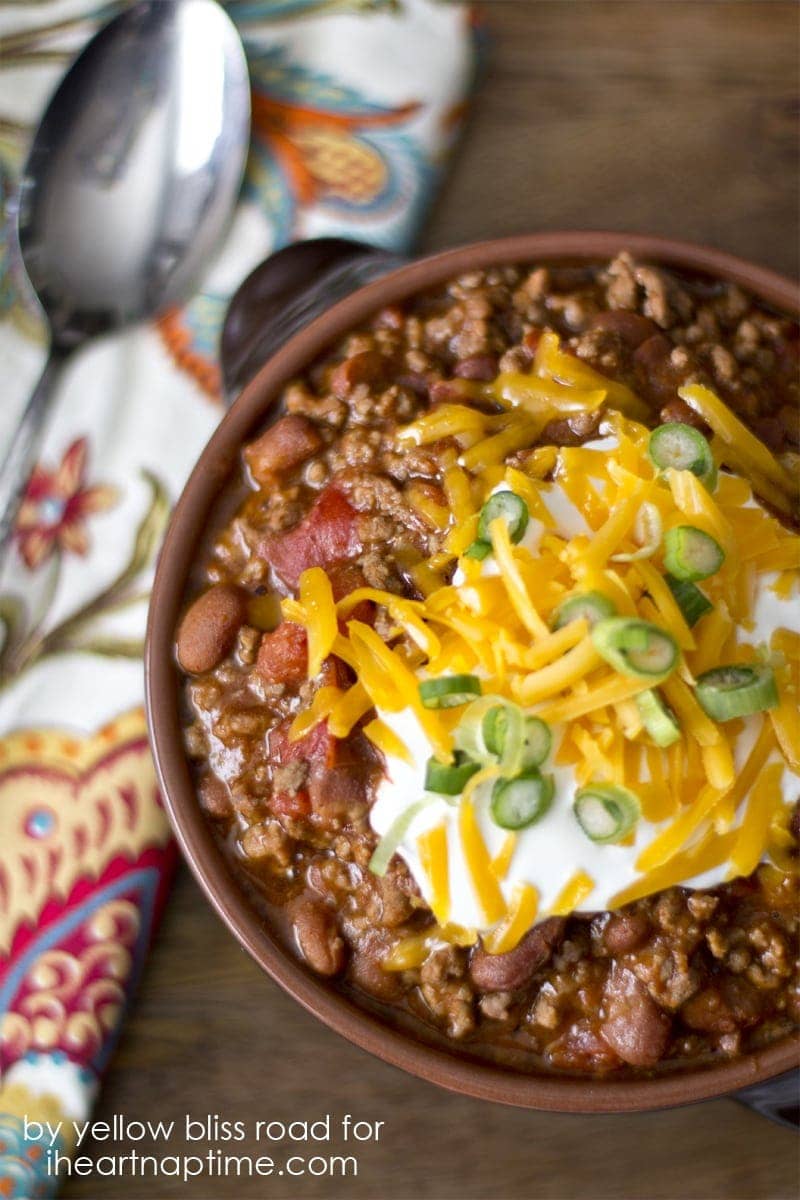 For more quick and delicious family meals, be sure to check these out:
More Chili Recipes:
Recipe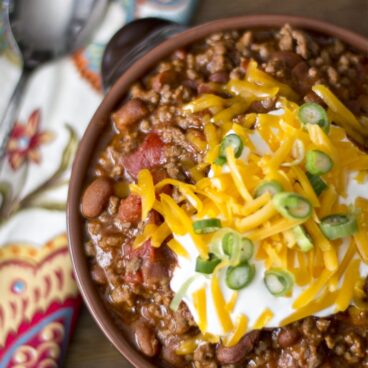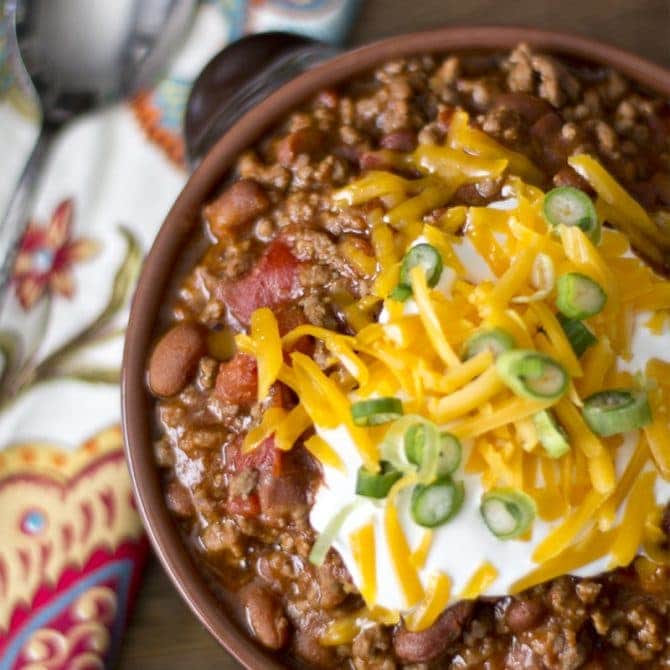 Easy Chili Recipe
The best, easy chili recipe starts with just three ingredients!
Ingredients
1

pound

lean ground beef

15

ounce

can of chili beans

undrained

10

ounce

Rotel tomatoes with diced chiles

Optional toppings like shredded cheese, diced onions, cilantro or sour cream
Instructions
Cook ground beef in a 3 quart soup pot until no longer pink. Drain any extra grease. (Feel free to leave some behind for flavor).

Stir the beans and diced tomatoes into the meat in the soup pot. Bring to a boil and then simmer for about 15-30 minutes. You could also combine in a crock pot and cook on low for 4-6 hours.

Divide into bowls, add your favorite toppings and enjoy!
Notes
If you don't like diced tomatoes, use a 15-ounce can of tomato sauce and add a packet of chili seasoning or just some chili powder and cumin.
This recipe is easily double or even tripled to feed a crowd.
Nutrition
Calories:
306
kcal
Carbohydrates:
4
g
Protein:
20
g
Fat:
23
g
Saturated Fat:
9
g
Cholesterol:
81
mg
Sodium:
225
mg
Potassium:
499
mg
Fiber:
1
g
Sugar:
2
g
Vitamin A:
120
IU
Vitamin C:
10
mg
Calcium:
52
mg
Iron:
3
mg