Cabbage Salad is a classic, versatile side dish made with crunchy cabbage, bell pepper, onion, and herbs. The vinegar-based dressing is sweet, tangy, and bright, so this salad pairs well with a variety of main dishes, from fish to chicken to beef.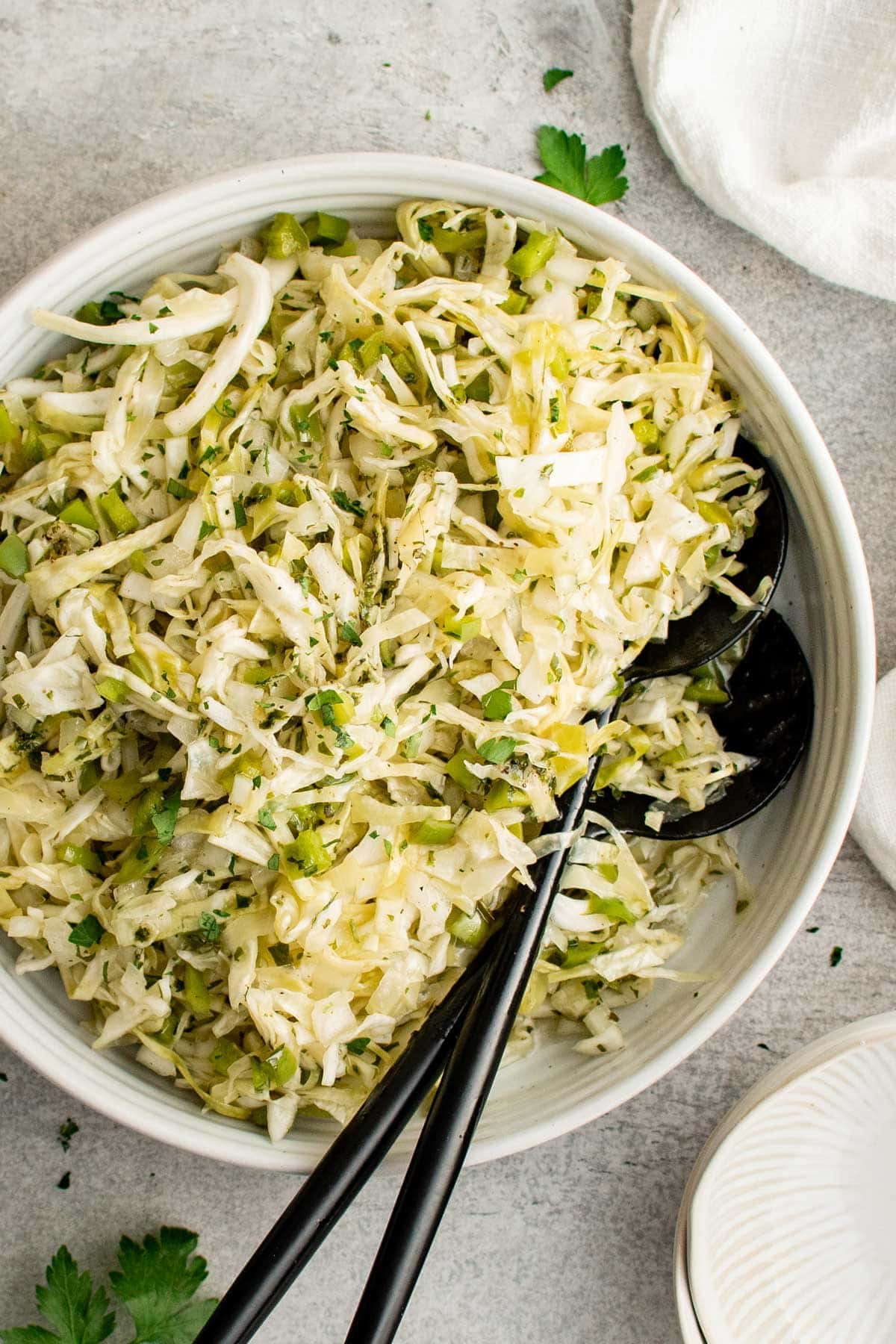 It's similar to coleslaw without the mayo dressing and is perfect for picnics, parties, and everyday meals. This shredded cabbage salad recipe would be great at your next backyard BBQ! Try serving it on the side with Grilled Tri Tip, Korean Short Ribs, or Grilled Jerk Chicken.
Cabbage Salad Recipe
If you've never had cabbage salad with vinegar before, you're in for a real treat. This classic side dish is a staple at potlucks and it's a must have for backyard barbecues and summer entertaining. It's simple to make, with just a few easy to find ingredients.
This family favorite Cabbage Salad is similar to coleslaw, but it's got a homemade vinegar-based dressing instead of mayo. I love homemade dressings because they just taste so fresh and bright compared to bottled.
I feel like cabbage is an oft-forgotten vegetable, but I happen to love it! Raw cabbage can have a slightly bitter taste, while cooked cabbage tastes a little sweeter. It adds an element of crunch to any recipe, even cooked down like in my Crack Slaw (Egg Roll Bowl) or Chow Mein.
Cabbage can even be used instead of lettuce – it's an excellent topping for fish tacos, Pulled Chicken sandwiches, and it makes this Ramen Noodle Salad sing!
Cabbage Salad Ingredients
Green Cabbage – Grab a medium head of green cabbage. Be sure to check that the outer leaves aren't wilted and there aren't any brown spots.
Onion – I used one small red onion, but you could use brown or white, too. I like the bite that the red adds, and the color.
Green Pepper – Just one, seeded and diced. It adds another element of crunch and a little sweetness.
Parsley – Flat leaf or curly, whatever you prefer.
Cabbage Salad Dressing – White vinegar, sugar, canola oil (flavorless), yellow mustard, celery salt (or regular kosher salt), black pepper.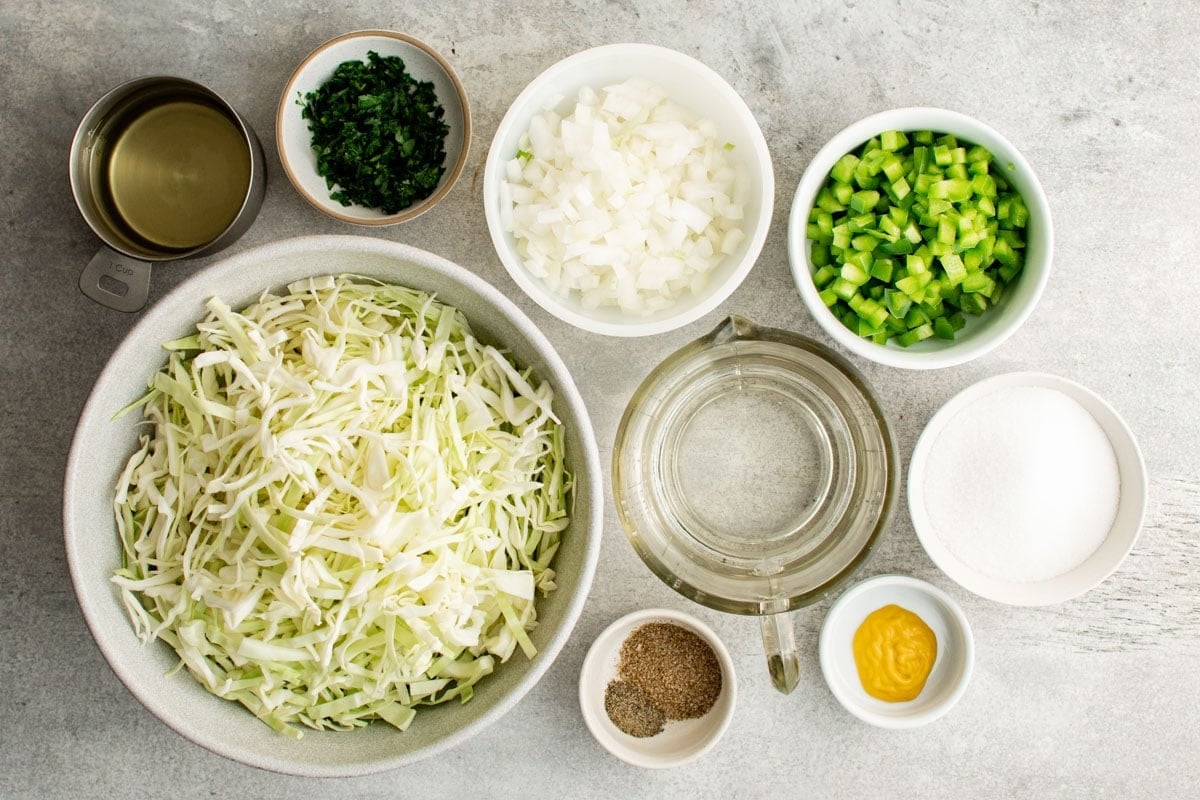 How to Make Cabbage Salad
The steps are pretty basic and just require some simple chopping and mixing.
Chop and shred. Start by slicing up the cabbage into shreds and chopping the other veggies. Combine them in a large bowl, sprinkle with sugar and stir to coat. Let that sit while you make the dressing.
Make the dressing. For the dressing, you'll need white vinegar (or apple cider vinegar, white wine or champagne vinegar), canola oil, mustard, salt and pepper. Whisk those ingredients together in a saucepan and boil for 3 minutes. Pour over the the cabbage mixture and toss until it's well coated.
Refrigerate. Cover the bowl and store this tasty salad in the fridge for at least 24-48 hours so the cabbage can soften. The hot dressing will soften the cabbage while chilling it will help keep it crunchy. Stir before serving.
Garnish and serve. If you like to garnish, add some toasted sesame seeds or sliced almonds over the top.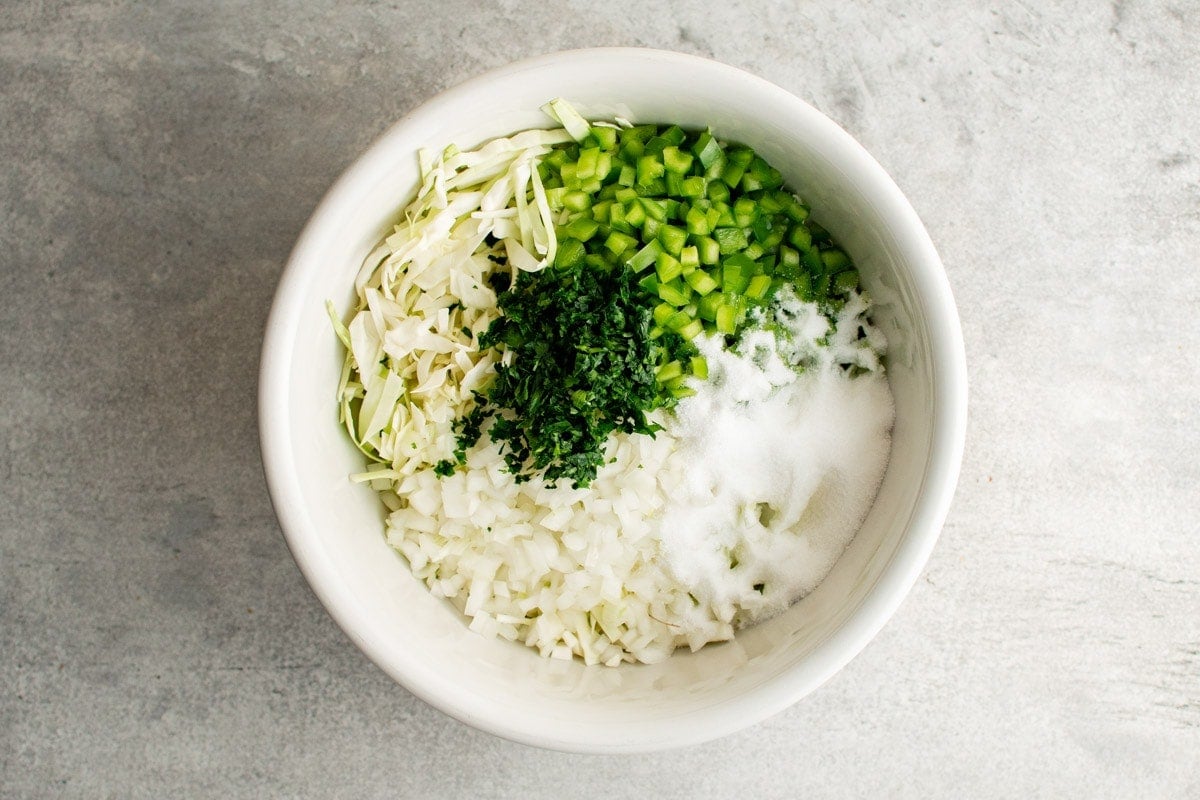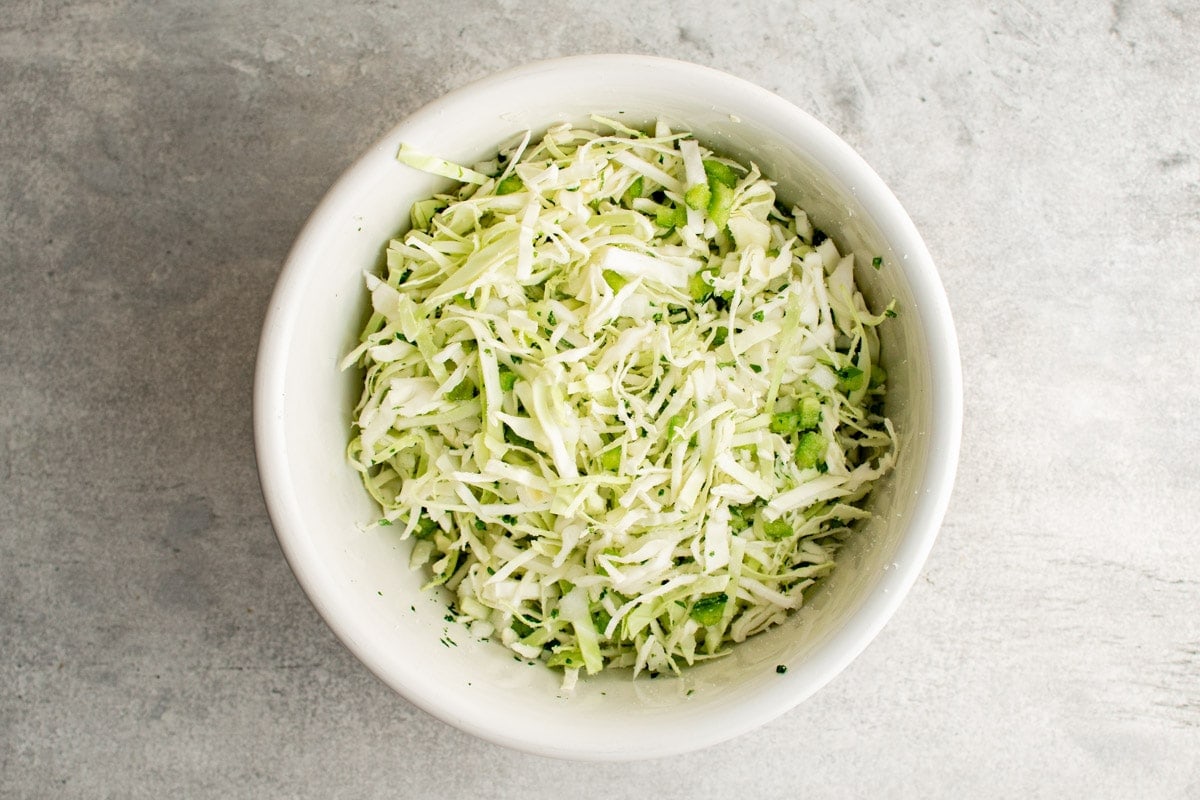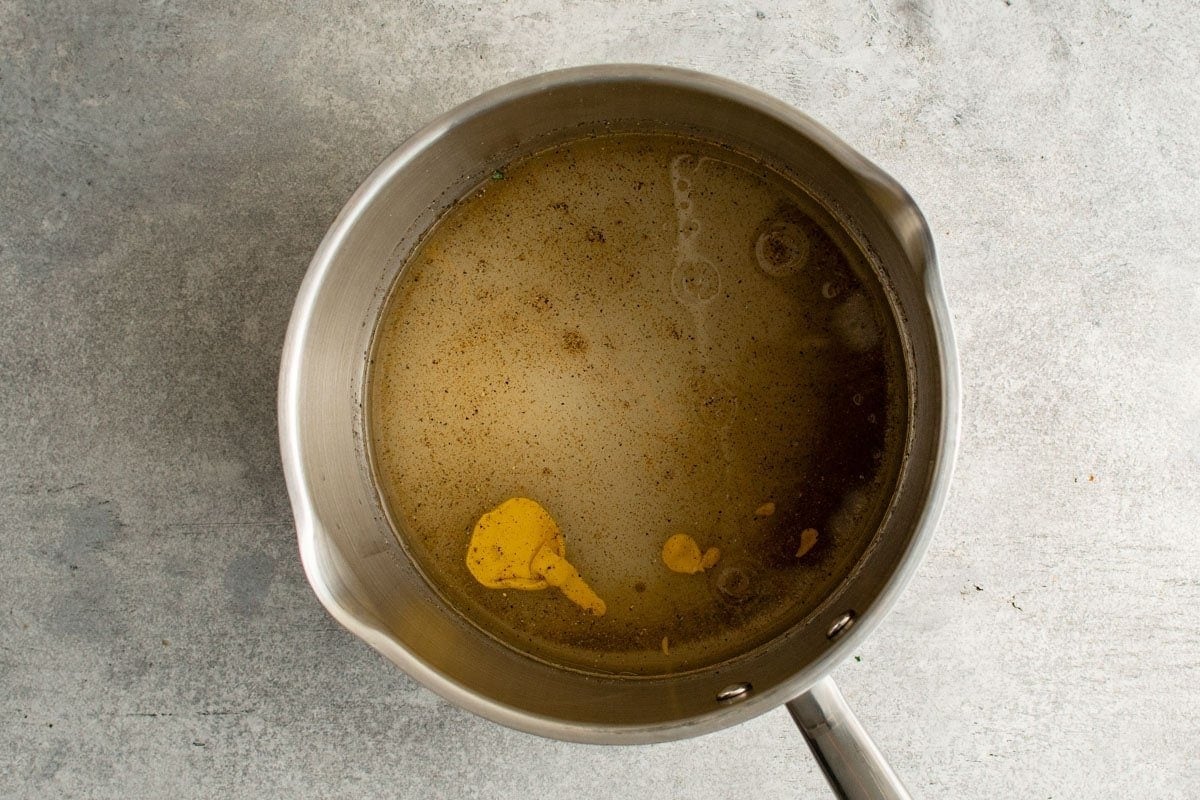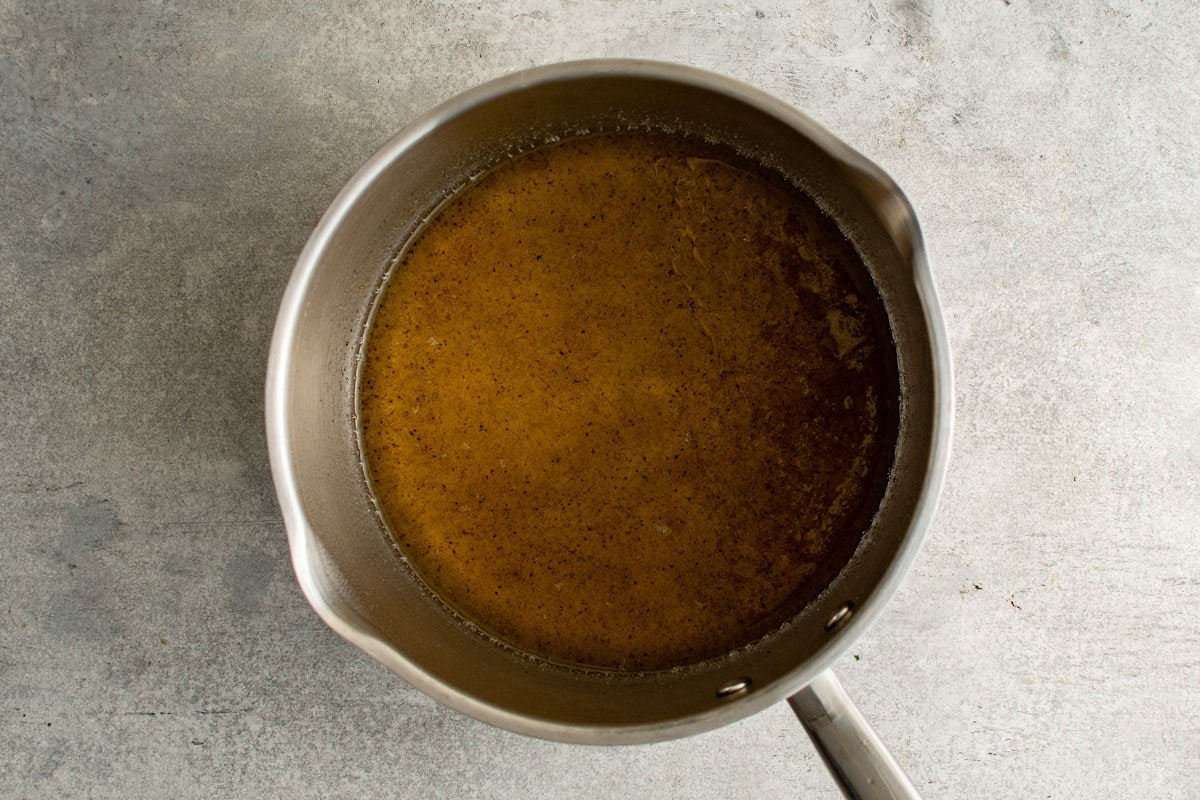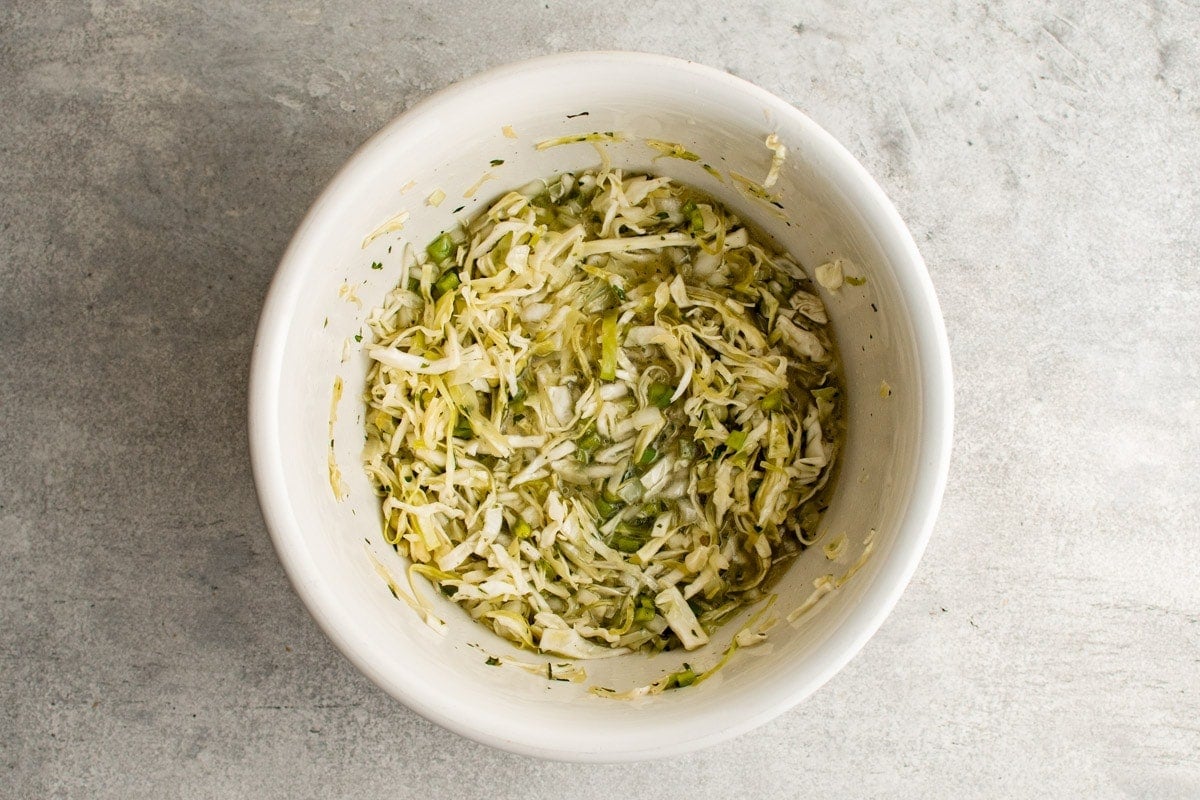 How to Shred Cabbage for Salad
Rinse the whole head of green cabbage and pull the loose outer leaves off. Slice off the bottom stem so the cabbage sits flat on your cutting board.
Slice the cabbage in half from top to bottom, then slice in half again to create 4 quarters. Remove the tough pieces (the core and the stem) from each quarter.
Take one piece of cabbage and turn it on it's side so one side is flat on the cutting board and start slicing into thin strips. Repeat with the other quarters.
For smaller shreds, gather up the long strips and slice them in half.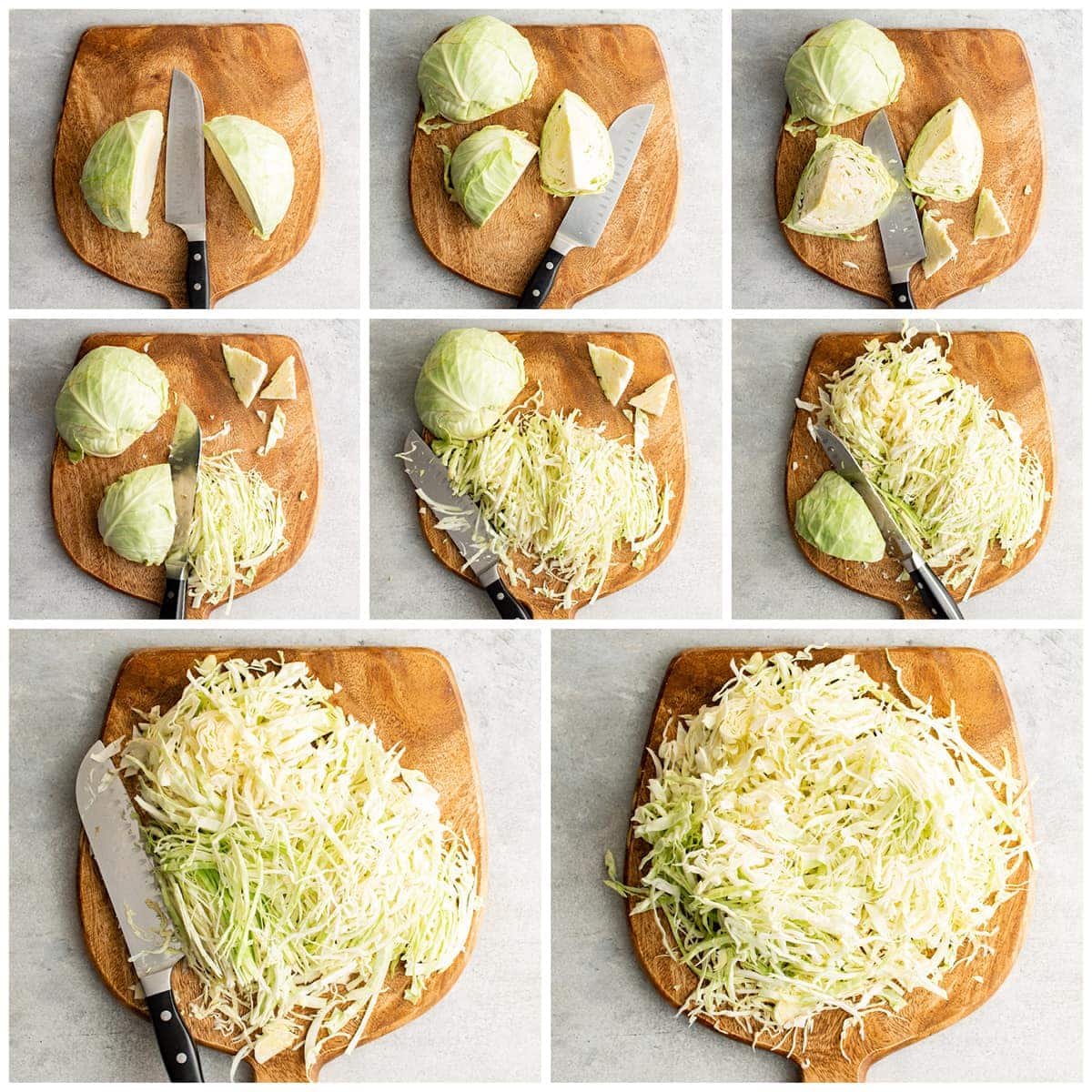 FAQs
What are the best kinds of cabbage to use for salad?
In my recipe, I kept it simple with just green cabbage, but you can use red cabbage, savoy cabbage, bok choy, or Napa cabbage in your salad. They are all nice and crunchy.
Can I make this recipe ahead of time?
Yes! This is a great make ahead recipe. You can make the entire salad with the dressing up to 24 hours in advance. Just give it a good stir before serving. You can prep the vegetables and dressing, separately, up to 2 days in advance.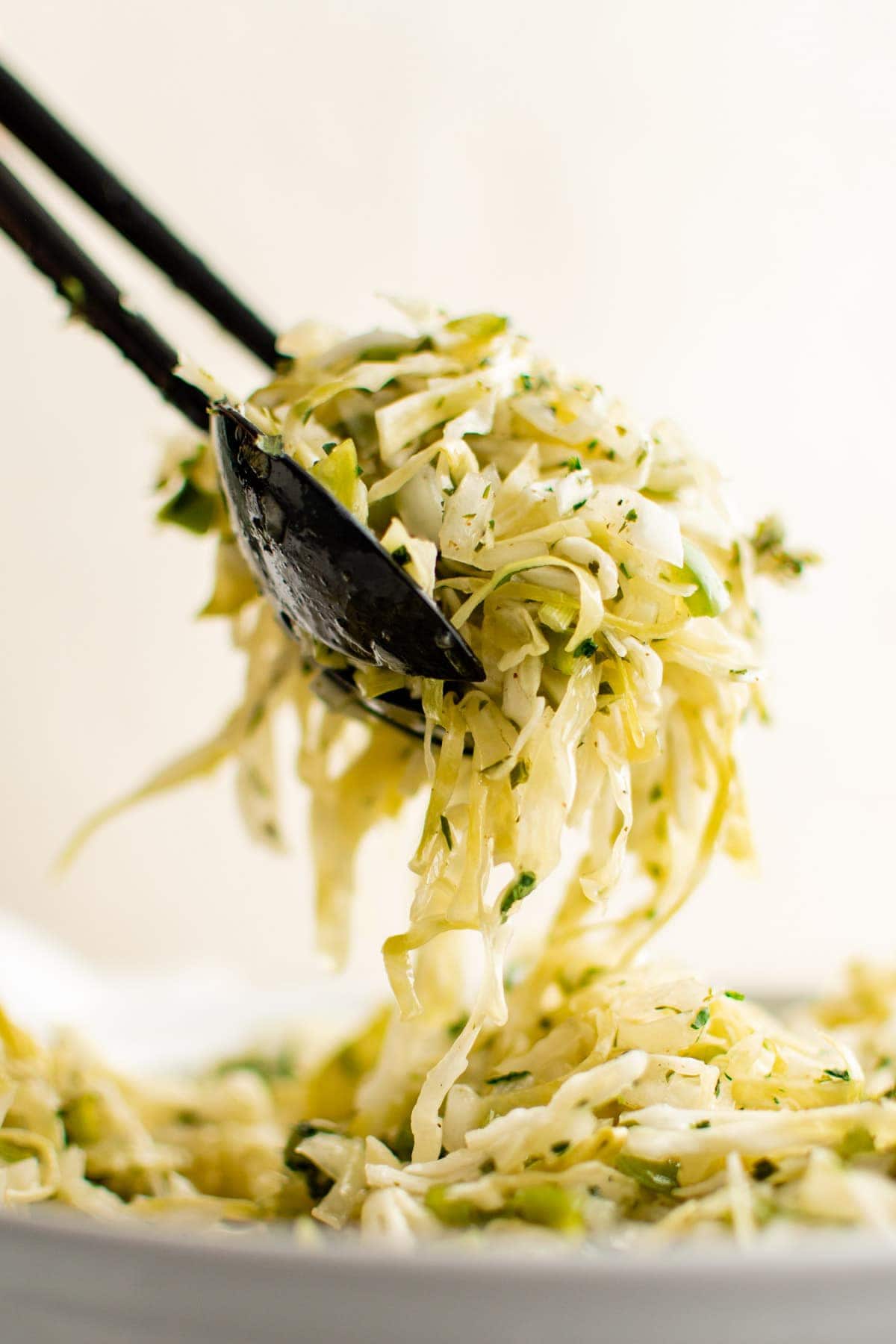 Serving Suggestions
As a side dish: This great salad is cool and fresh and tangy. It's great for cookouts and pairs well with Grilled Chicken, Grilled Steak, or even Grilled Shrimp Tacos. It's also an excellent replacement for coleslaw at your picnic, because unlike mayo-based salads this one can sit out a little longer.
As a main dish: This is a great base salad for a main course! Add some grilled salmon, sliced steak, slow cooker shredded chicken, shrimp, or even bacon!
Variations
Cabbage – There are different varieties of cabbage, and they all work well in this salad, like red cabbage, Napa cabbage, or savoy cabbage. You can also use a variety of cabbage for different textures and levels of crunch.
Other Veggies – Add some shredded carrots, different colors of bell peppers, or try sliced green onions instead of red.
Vinegar – Instead of white vinegar, try champagne vinegar or red wine vinegar.
Storing Leftovers
Place leftovers in an airtight container and store in the fridge. The salad will remain fresh for 3-4 days, after which time it begins to get too soggy. Freezing is not recommended.
Make sure to let the salad sit so the cabbage and other ingredients can soak up the flavors. This also gives the cabbage time to soften a little, which makes it easier to chew.
Use the freshest vegetables you can get. With only a few ingredients, it's important they are high quality and at their peak freshness.
Make extra dressing and use it for salads throughout the week.
For a little added color, feel free to use a cabbage slaw mix or just chop up some red cabbage and grate carrots to mix in.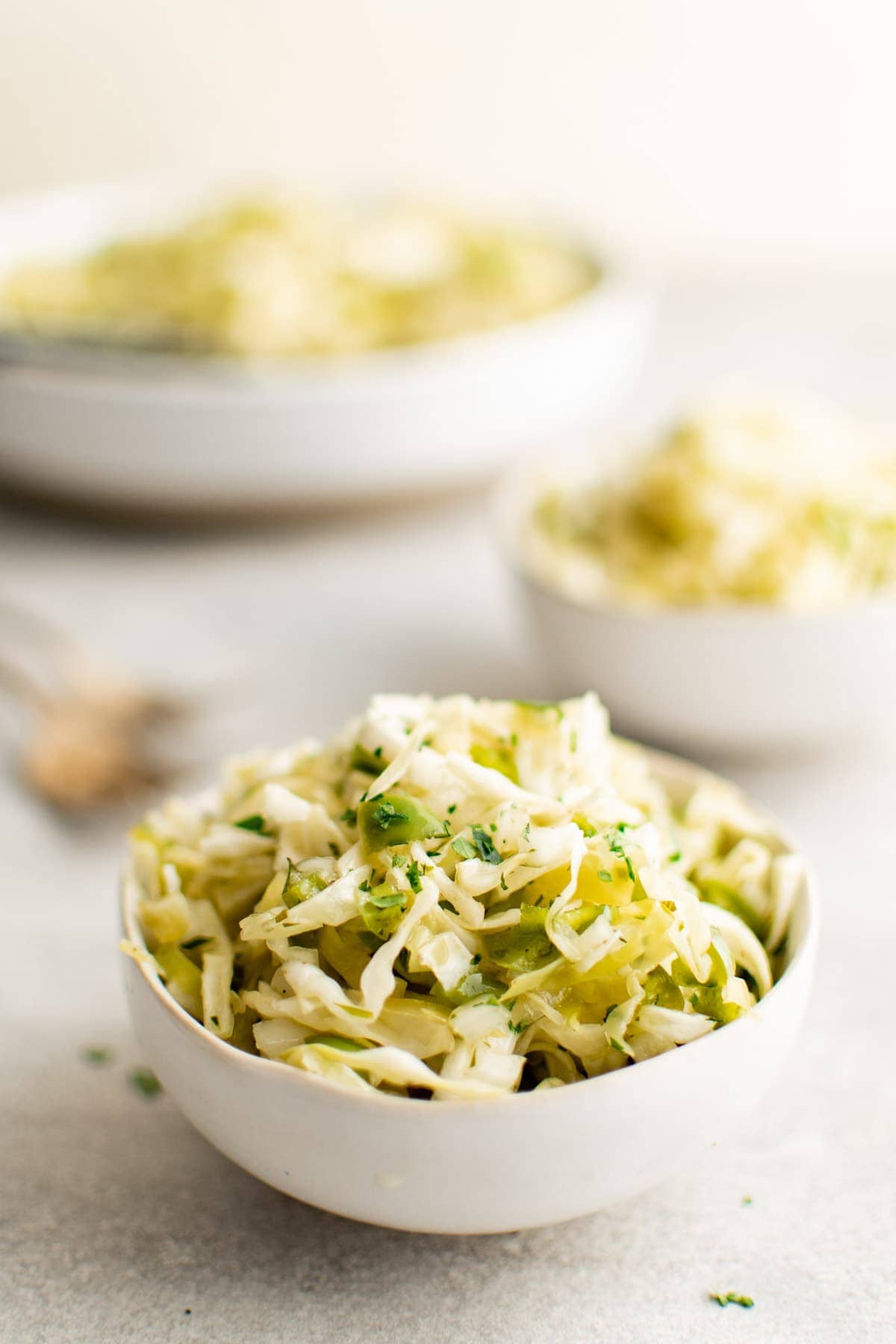 More Cold Salads to Try
Recipe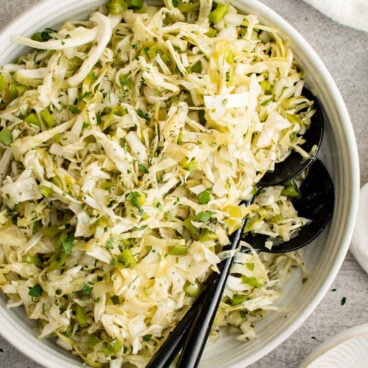 Cabbage Salad
Cabbage Salad is a versatile side dish made with crunchy cabbage, bell pepper, onion, herbs and a sweet and tangy vinegar based dressing.
Total Time
1

day
20

minutes
Ingredients
8

cups

shredded green cabbage

one medium head

1

cup

diced white onion

about 1 small

1

small green pepper

seeded and diced

2

tablespoons

fresh chopped flat-leaf parsley

plus some for garnish
Dressing:
1

cup

white vinegar

½

cup

granulated sugar

½

cup

canola oil

1

teaspoon

yellow mustard

1

teaspoon

celery salt

can substitute regular salt

¼

teaspoon

pepper
Instructions
Salad
Mix vegetables with ½ cup sugar. Let stand while making dressing.
Dressing
Measure dressing into a saucepan and bring to a boil over medium heat. Boil 3 minutes and pour over cabbage while hot.

Cover bowl and refrigerate 24 hours before serving.

Garnish with more fresh parsley.
Notes
Place leftovers in an airtight container and store in the fridge. The salad will remain fresh for 3-4 days, after which time it begins to get too soggy. Freezing is not recommended.
Nutrition
Calories:
207
kcal
Carbohydrates:
19
g
Protein:
1
g
Fat:
14
g
Saturated Fat:
1
g
Sodium:
313
mg
Potassium:
180
mg
Fiber:
2
g
Sugar:
16
g
Vitamin A:
208
IU
Vitamin C:
40
mg
Calcium:
37
mg
Iron:
1
mg