My Creamy Walnut Coleslaw Recipe is a surefire winner for all your summer party side dish needs. It's crunchy and creamy with a tangy coleslaw dressing and so packed with flavor! (Thanks to California Walnuts for sponsoring today's post.)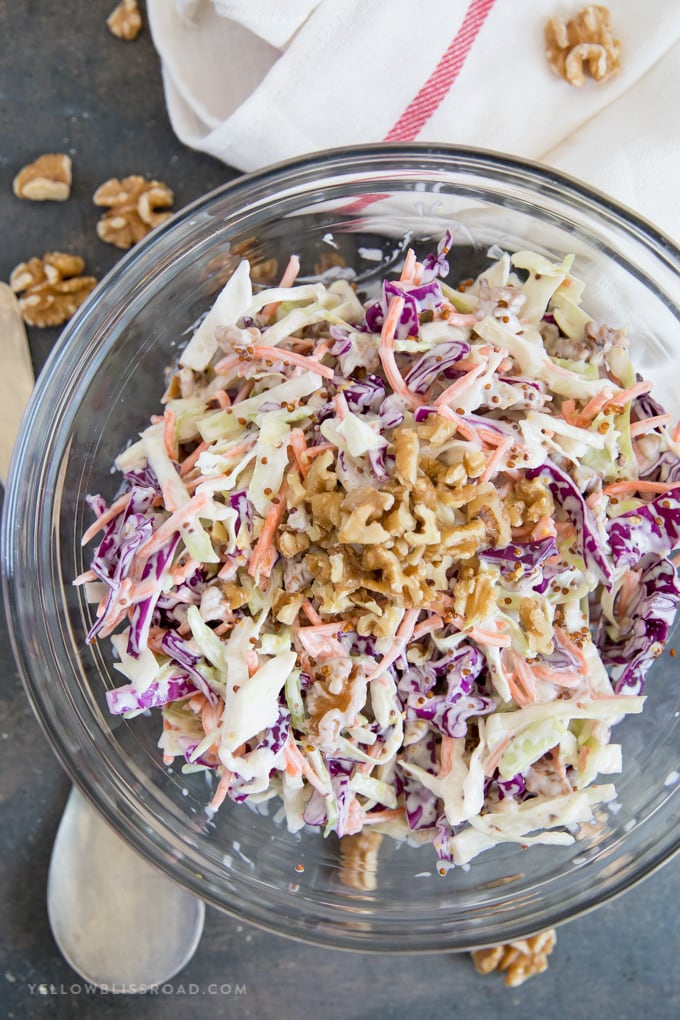 I was never a fan of coleslaw until a few years ago. The only coleslaw I'd really ever tried was the mushy, watery kind from a popular fried chicken restaurant. And I was not a fan.
But then there was the time I tasted the most magical coleslaw ever created. It was creamy, but still crunchy. It had a ton of flavor and was not at all watery. It was my turning point in the coleslaw world. I still don't like that watery fast food version (my apologies to those who are die-hard fans) but this crunchy, creamy coleslaw with a tangy coleslaw dressing? Yeah, I could get used to that.
So I started making my own coleslaw at home. I came up with different a few different types of coleslaw dressing, both creamy versions and delicious vinegar based coleslaw dressings. My loves are combined to make this Creamy Walnut Coleslaw recipe you see here.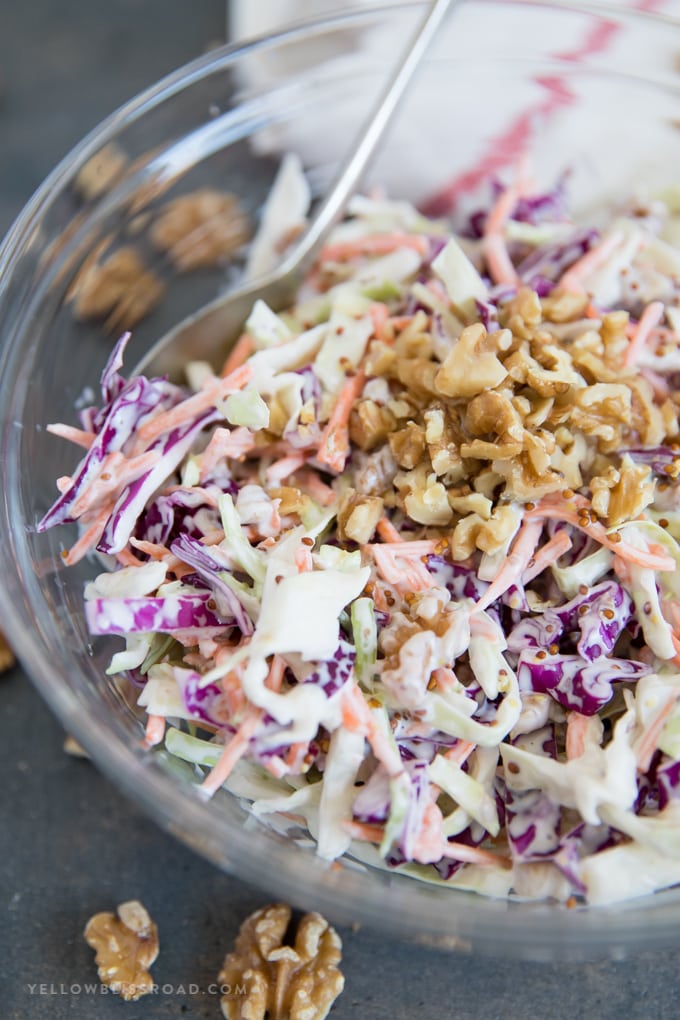 THIS WALNUT COLESLAW RECIPE IS TO DIE FOR!
Here's how to make it:
Buy a bag of coleslaw mix. Ok so this is optional – it's a super easy way to cut corners and save time, but I also kinda prefer to chop my own veggies. So you can buy a pre-mixed bag (usually has purple and green cabbage and shredded carrots) or you can chop your own. Make sure to chop the heads of cabbage very thin.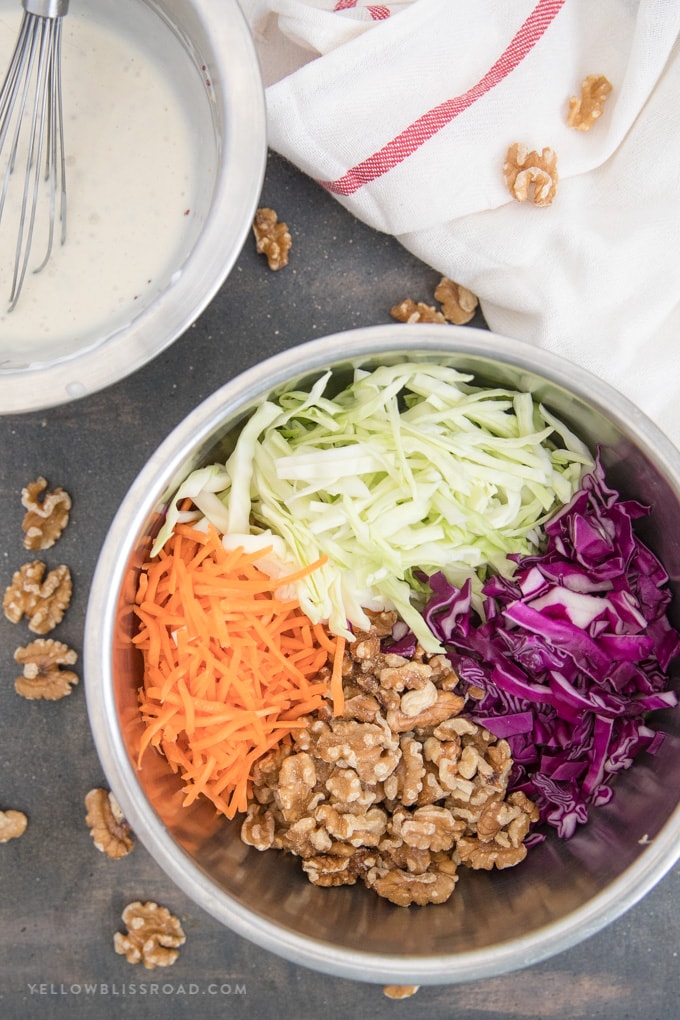 To make the coleslaw dressing, combine the following:
Mayonnaise
sour cream
Apple cider vinegar
Honey
Whole grain or Dijon mustard
I'm kind of obsessed with whole grain mustard right now, so I used quite a bit. I love the tangy mustard flavor and the slight pop from the mustard seeds – super fun! You can adjust all of these ingredients to your liking. The walnuts are such a nice addition, providing a nice crunch and a smooth flavor.
For a nice crunchy slaw, serve immediately or shortly after combining the ingredients. But if you let it sit for a while, the cabbage will soften and it will be easier to eat, and more enjoyable. Make sure to stir it up real good before serving.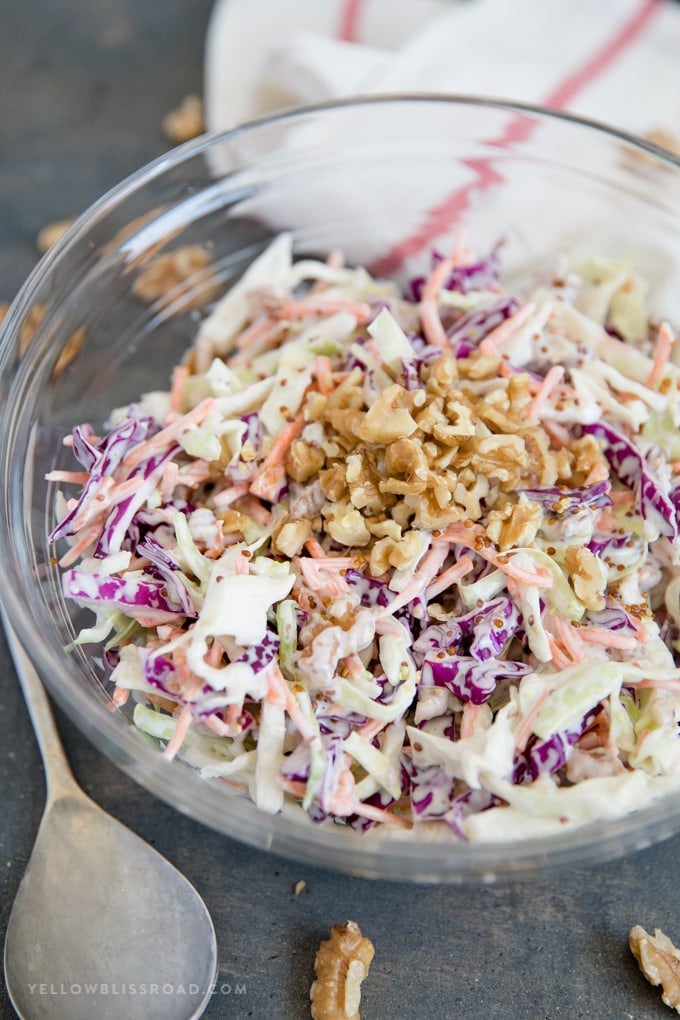 This Coleslaw Recipe is completely customizable!
If you're not a fan of mustard or don't like the whole grain variety, leave it out or use less. If you are allergic to walnuts you can leave them out. For a lighter recipe, use an olive oil based mayo and replace the sour cream with Greek yogurt.
With the protein you get from the walnuts (4 grams per ounce), this Creamy Walnut Coleslaw Recipe would even make a great meal!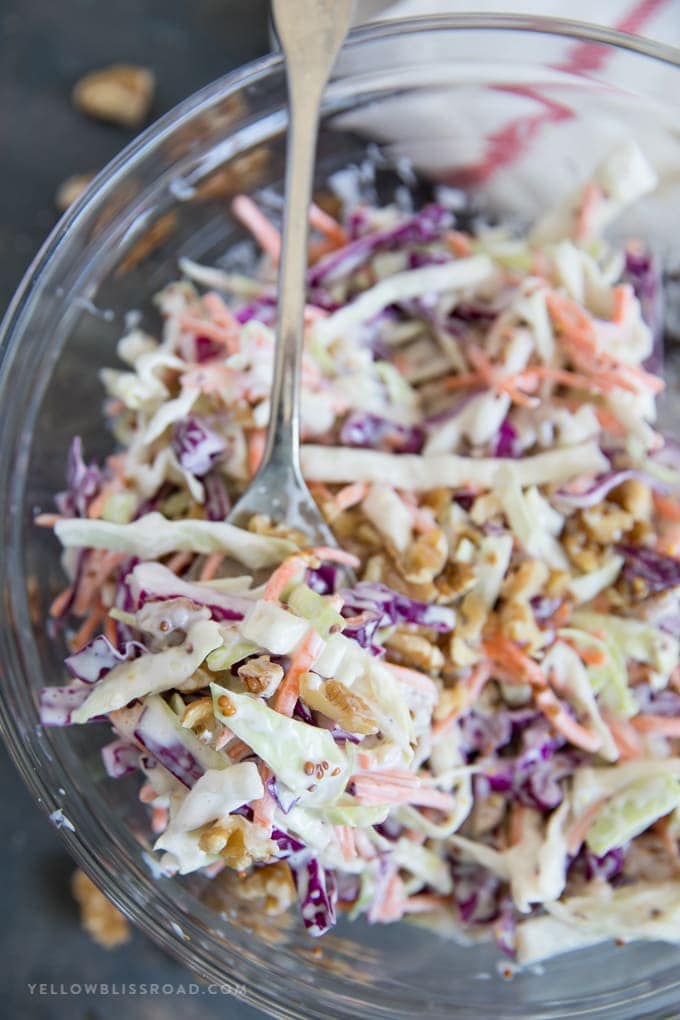 For other delicious walnut recipes, give these a try: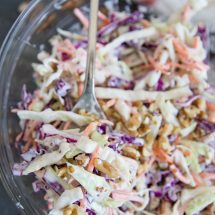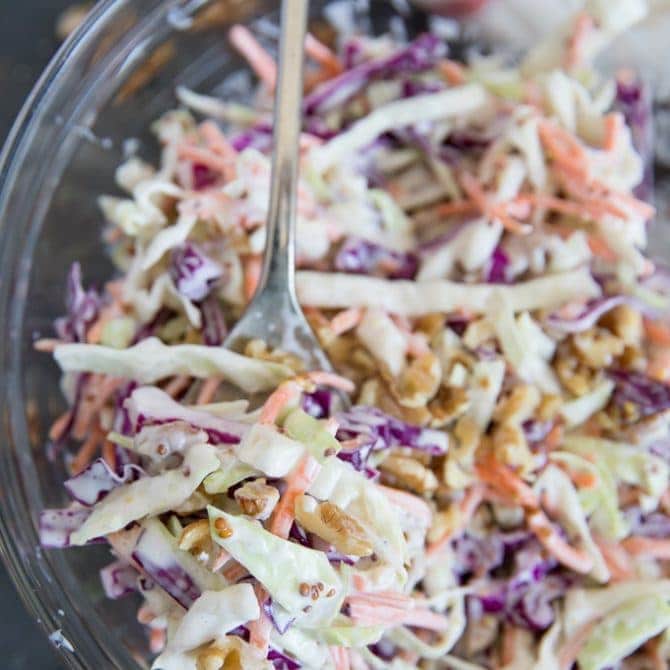 Creamy Walnut Coleslaw
Print
Pin
Rate
Prep Time: 15 minutes
Total Time: 15 minutes
Servings: 8 servings
Ingredients
1 bag shredded cabbage and carrots coleslaw mix
OR 4 cups of shredded purple and green cabbage and carrots
1 cup walnuts roughly chopped*
¼ cup Mayonnaise
¼ cup sour cream or Greek yogurt
2 tablespoons Apple cider vinegar
1-2 tablespoon honey
1-2 tablespoon whole grain or Dijon mustard
Instructions
Whisk dressing ingredients together in a medium-sized bowl.

Stir in coleslaw mix and walnuts* until coated.

Garnish with fresh parsley and extra walnuts if desired.
Notes
*toast walnuts first for an extra pop of flavor.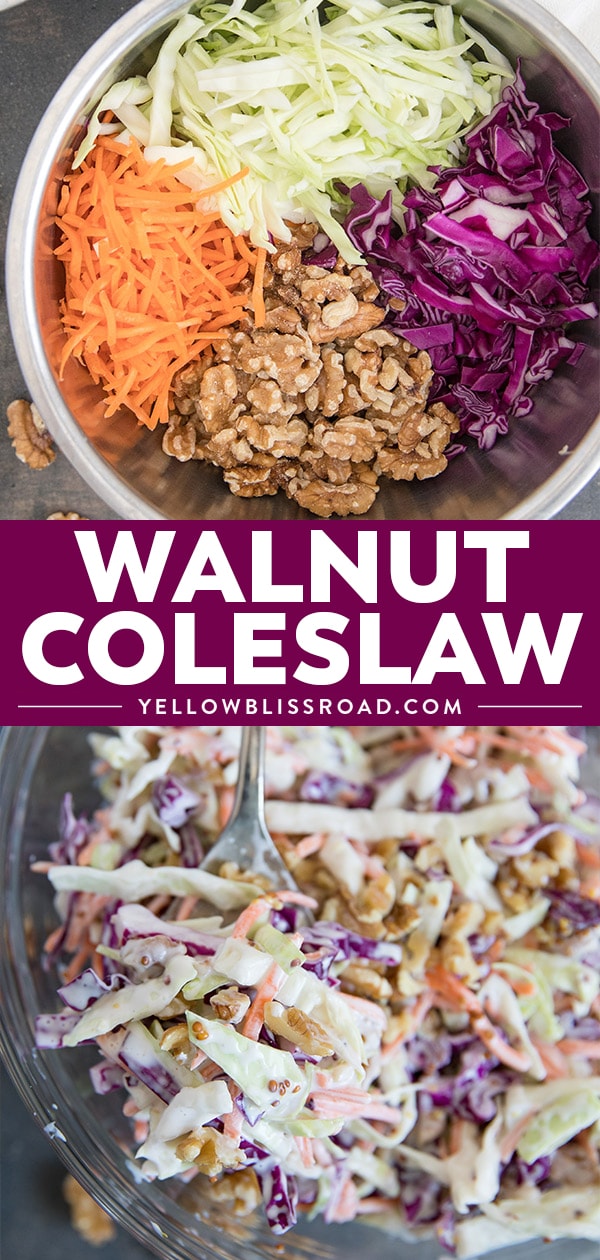 Hi! I'm Kristin, the creative mind behind Yellow Bliss Road where you will be inspired by tons of easy to follow recipes, lots of free printables, and a little sprinkling of life thrown in for good measure.