Jerk Chicken is a popular Jamaican dish that has an incredible blend of spices and heat. You can grill it or bake it to get a taste of the islands any night of the week.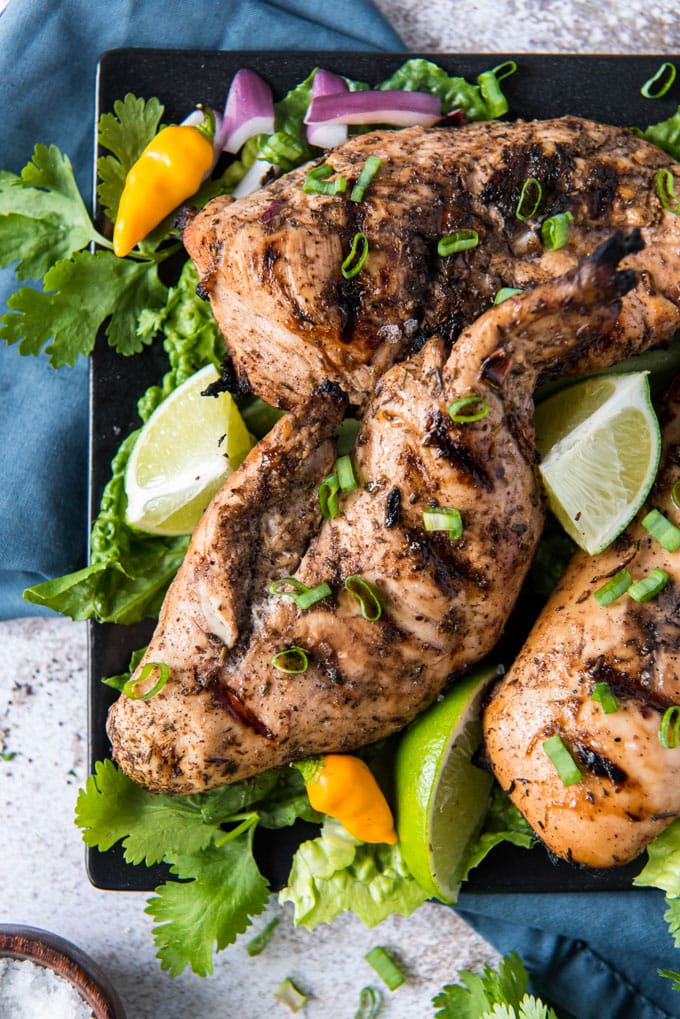 Serve this spicy, flavorful chicken recipe with Coconut Rice and a Tropical Fruit Salad for a simple Caribbean meal – no plane ticket required!
To keep it healthier, I used chicken breasts, but you can use boneless chicken thighs or any cut of bone-in chicken
FAQs
What makes Jerk Chicken "jerk"?
Jerk is a Jamaican concept that refers to a style of cooking in which the chicken (or other protein or vegetable) is coated with spices and grilled over an open flame traditionally green pimento wood over burning coals.

To keep things simple we're letting you forgo the wood chopping in favor of an outdoor grill. If you don't have a grill, you can use a grill pan indoor, or even bake the jerk chicken in the oven.
Is jerk chicken spicy?
Some sauces and marinades can be adjusted for heat level – mild, medium, hot. This is not one of those. Jerk chicken definitely packs the heat. There is a whole habanero pepper in the marinade. They are small but incredibly mighty and really bring the heat in this jerk marinade.
Jamaican Jerk Marinade Ingredients
A traditional jerk marinade has hints of smoky, salty, sweet and lots of heat. It's got a kick of flavor that will keep you coming back for more.
Spices – dried thyme, allspice, cloves, salt and pepper
Brown sugar – provides sweetness to cut the heat
Garlic
Onion
Rum – optional, but totally Jamaican. The alcohol will cook out so this is still family friendly.
Olive oil
Lime juice – preferably fresh squeezed.
Soy sauce
Habanero chili – remove the seeds and slice in half.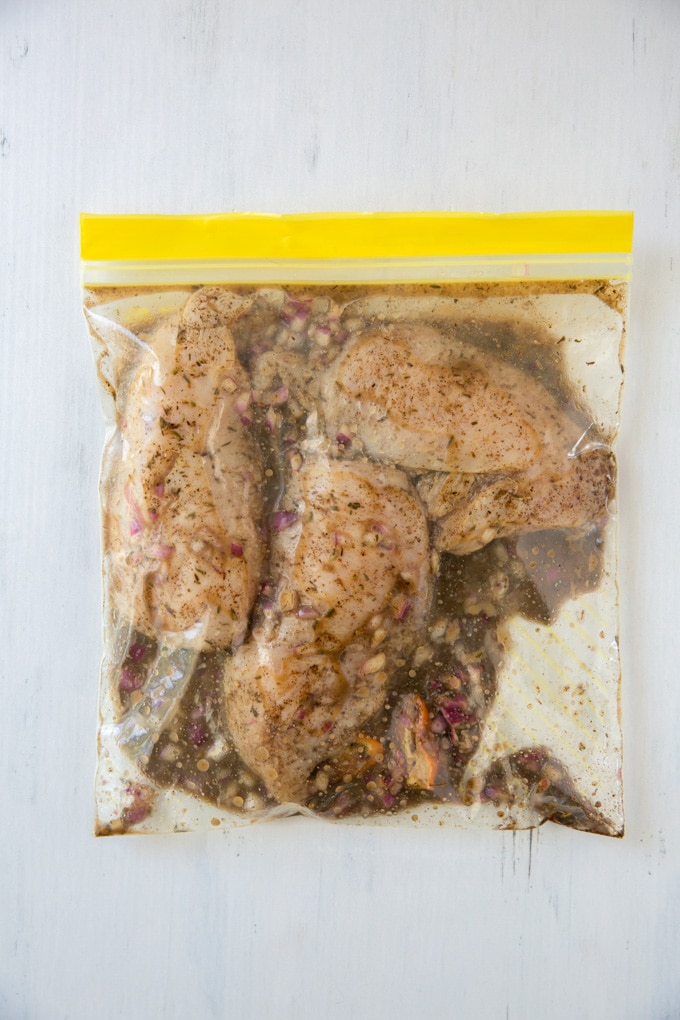 How to Grill Jerk Chicken
Make a jerk spice mixture: using spices you probably have in your pantry you create a jam packed flavor profile (thyme, allspice, cloves, salt, pepper and brown sugar.)
To those spices add the wet ingredients: (minced garlic, minced onions, rum (optional) olive oil, water, lime juice and soy sauce) Stir to combine them thoroughly.
Marinate in a ziplock bag: To the bag you'll add the chicken you plan to grill and pour the marinade over it making sure to get it all coated. Seal that bag and let it marinate for a minimum of 1 hour. I have you covered if you are afraid of the heat of the habanero. You clean out the seeds and just put the sliced peppers in while it marinates. When you grill the chicken you toss away the pepper. Some heat moves over but not so much that your mouth will be on fire.
Grill the chicken low and slow: By grilling it on low, the marinade doesn't burn off and the authentic jerk chicken flavor really stays on the chicken. You can see in this photo how the seasoning is still present and didn't burn off because it was cooked on low.
How to Bake Jerk Chicken
Preheat the oven to 400 degrees F and line a large rimmed baking sheet with foil. Spray with nonstick cooking spray and set aside.
Pull the chicken out of the jerk marinade and arrange on the baking sheet, not touching.
For chicken breasts, bake for about 18-22 minutes, depending on thickness. For bone-in cuts of meat, add at least 20 minutes to the cook time. Chicken should register 165 degrees F.
Broil during the last several minutes ot get the golden color on top.
Serving Suggestions
I've served jerk chicken sliced over simple salad greens but it also works well over steamed white rice or Coconut Rice. Serve it with a Greek Yogurt Tzatziki Sauce to add a cool, crunchy element. The cucumber yogurt sauce is also low in calories and it will also cool the heat of the habanero pepper if you need it too!
When slicing spicy peppers like jalapenos and habaneros, wear latex gloves if you have them. Wash your hands really well after handling and be careful not to touch your eyes.
For leftovers, store chicken in an airtight container or plastic bag in the fridge for up to 3 days. Freeze for up to 4 months. Reheat in the microwave of enjoy cold in sandwiches, salads and wraps. If frozen, thaw first.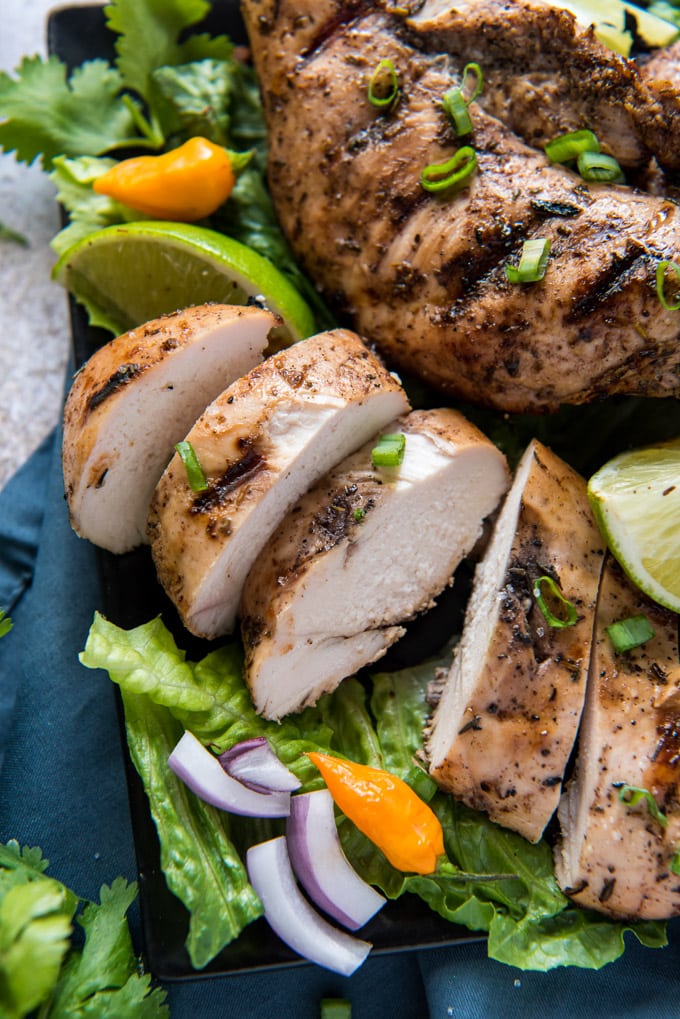 More chicken recipes to try
Recipe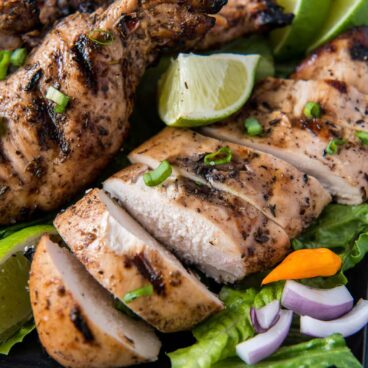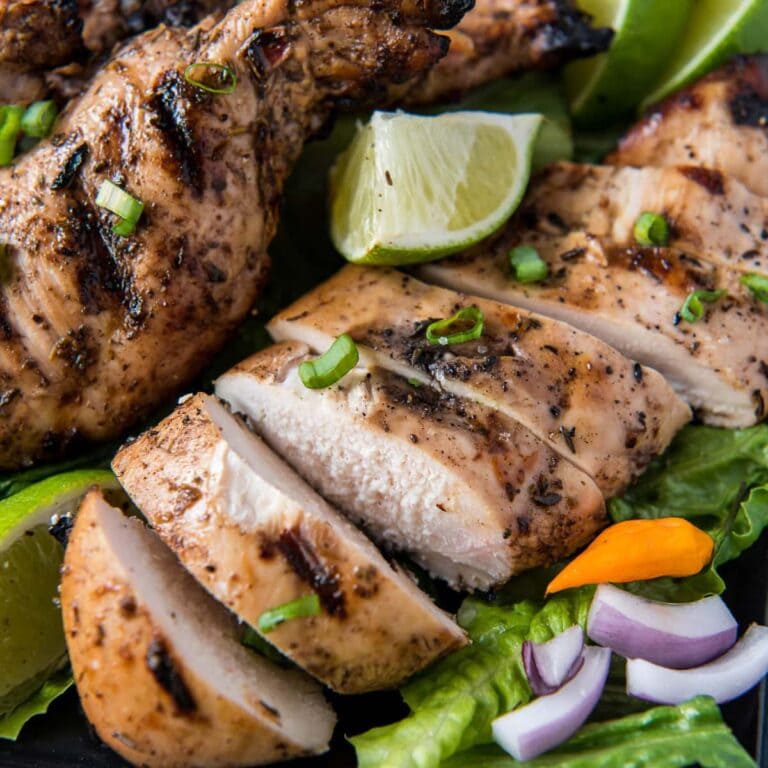 Easy Grilled Jerk Chicken
Grilled Jerk Chicken is a popular Jamaican dish with an incredible blend of spices and heat. Grill it or bake it for a taste of the islands.
Total Time
1

hour
40

minutes
Ingredients
1

tablespoon

thyme

1

tablespoon

allspice

1

teaspoon

cloves

1

teaspoon

salt

1

teaspoon

black pepper

1

teaspoon

brown sugar

4

garlic cloves

minced

1/2

small onion

minced

3

tablespoons

rum

(optional)

2

tablespoons

olive oil

2

tablespoons

water

juice of 2 limes

1

tablespoon

soy sauce

1

habanero chili

seeds removed, cut in half

2

pounds

boneless, skinless chicken breasts 
Instructions
Into a small bowl add dry ingredients (thyme, allspice, cloves, salt, pepper and brown sugar.) Stir until well combined. Add the minced garlic, minced onions, rum (optional) olive oil, water, lime juice and soy sauce. Mix well.

Place chicken pieces into a resealable plastic bag, then dump the spice/liquid mixture over the top. (If chicken pieces are very thick, you can lightly pound them first).

Add the habanero chili pieces to the bag. (See notes about level of heat.)

Press out as much air as possible and seal the bag. Using your hands, massage the marinade into the chicken so it is completely coated.

Place the bag into the fridge for a minimum of one hour or up to 24 hours.

When ready to cook, remove the bag from the fridge while you preheat your grill to medium heat (about 350 degrees).

Using tongs, place the chicken breasts on the hot grill cook until the internal temperature reaches 165 degrees F; about 10 minutes per side. Thicker pieces may take longer. Resist the urge to turn the heat to high as it could burn the marinade.

Cooking low and slow gives you moist on the inside and a flavor crust on the outside.
Notes
This recipe is an adaptation of a newspaper clipping from the Omaha World Herald in the mid 1980's.
If you want your jerk chicken spicier, you can mince the habanero and not remove the pepper before grilling.  The heat will be much more present when you take a bite!
Nutrition
Calories:
372
kcal
Carbohydrates:
6
g
Protein:
49
g
Fat:
13
g
Saturated Fat:
2
g
Trans Fat:
1
g
Cholesterol:
145
mg
Sodium:
1100
mg
Potassium:
926
mg
Fiber:
1
g
Sugar:
2
g
Vitamin A:
187
IU
Vitamin C:
12
mg
Calcium:
43
mg
Iron:
2
mg