Air Fryer Chicken Tenders are a quick and easy recipe that is a great alternative to the store bought frozen variety! The Panko breading creates a crunchy coating on the outside with tender, juicy chicken on the inside.
Serve Air Fryer Chicken Tenders with Roasted Broccoli, Baked French Fries or Stovetop Macaroni and Cheese.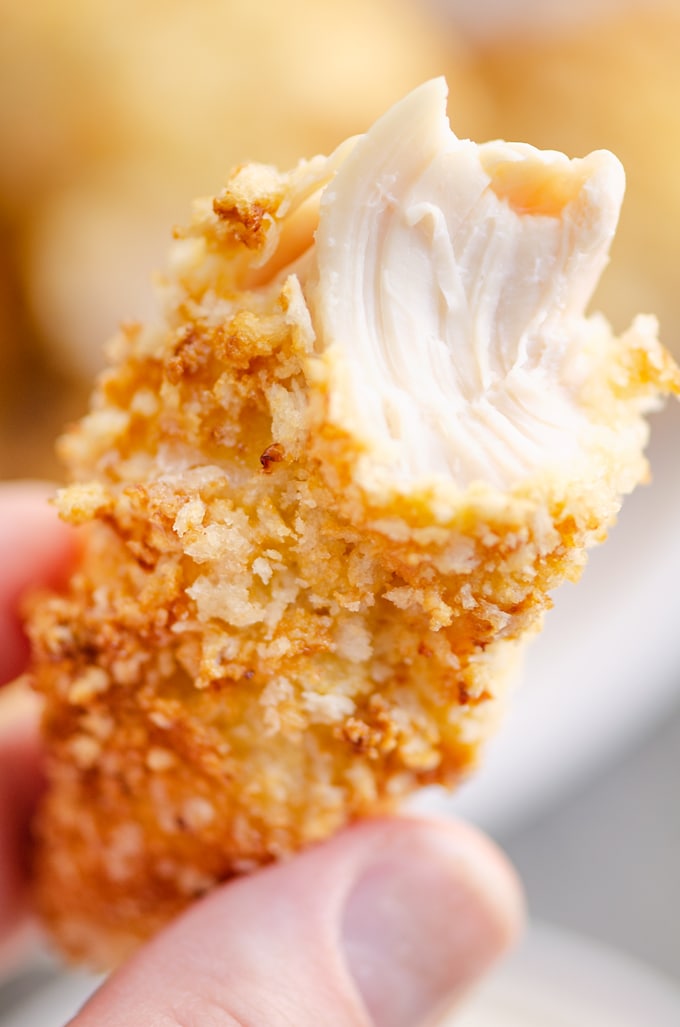 Air Fryer Chicken Tenders
Homemade chicken tenders cooked in an Air Fryer are so delicious and easy to make. There are lots of amazing fried versions of chicken like these flavorful Cajun Chicken Strips, but we are lightening things up with these classic chicken tenders.
This easy recipe uses just 6 simple ingredients, including a little garlic and onion powder to season them up. If you are looking for a bold and spicy version, be sure to check out these Buffalo Chicken Tenders!
How to Use Your Air Fryer
If you don't have an air fryer, I highly recommend you get one! They are great for cooking a variety of healthier recipes with less oil, like Southwest Egg Rolls or Air Fryer Pickles.
If you are new to air frying then there are a few tricks to getting good results, but don't worry, it isn't complicated. In fact, you follow similar rules when you deep fry.
The most important thing to remember is not to overload the air fryer. Make sure the convection of hot air can easily whip around each piece and crisp it up nicely. If you pack it too tight, you will end up with soggy spots on the coating of the chicken tenders.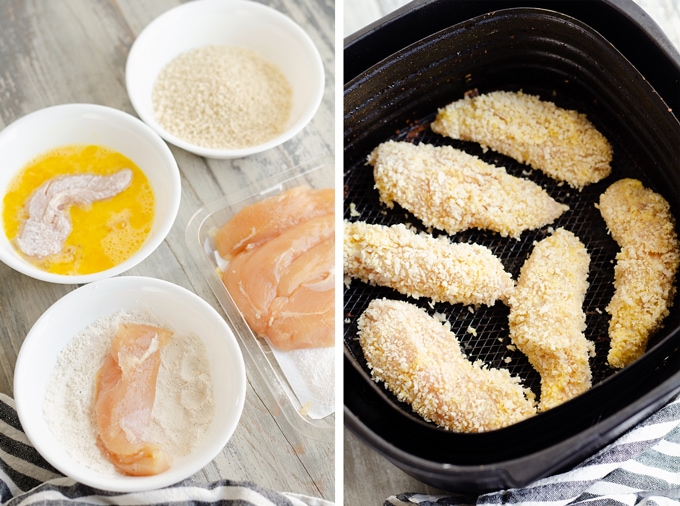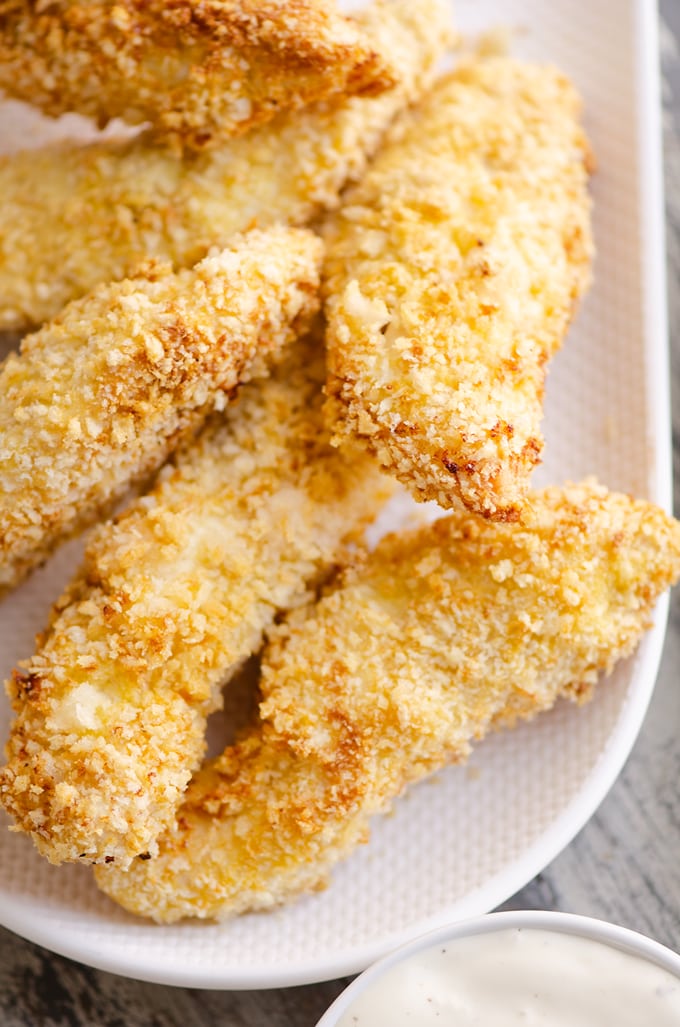 Top Tips and Tricks
There is no need to preheat your Air Fryer. It is a waste of energy, in my opinion, because the small cooking chamber heats up so quickly.
Keep your portion sizes as even as possible. You have some flexibility on what size to make the strips, but keep them consistent. Whether you like to do a long strip of chicken or prefer to make them bite-sized nuggets, the uniform size helps everything cook evenly.
Freeze the breaded pieces of chicken very briefly after you bread them. This will keep the breading from from sliding off the chicken. It also helps get the exterior browned up nice and gives the chicken time to cook. This step is optional, but is especially great if you have a smaller Air Fryer basket and the chicken will be packed in closer.
There is no need to turn the chicken. Too much turning and you risk knocking off the flaky Panko crust. The mesh basket allows for air circulation around the entire chicken tender. Let the hot air do its thing!
Make sure your air fryer is clean. Keeping them clean is really easy, but any leftover grease from the last time you used it might impart a rancid taste to your current batch of tenders. That is easily avoided with a wipe down after each use to make sure it is clean. Just be sure not to put the basket in the dishwasher or it can ruin your non-stick coating!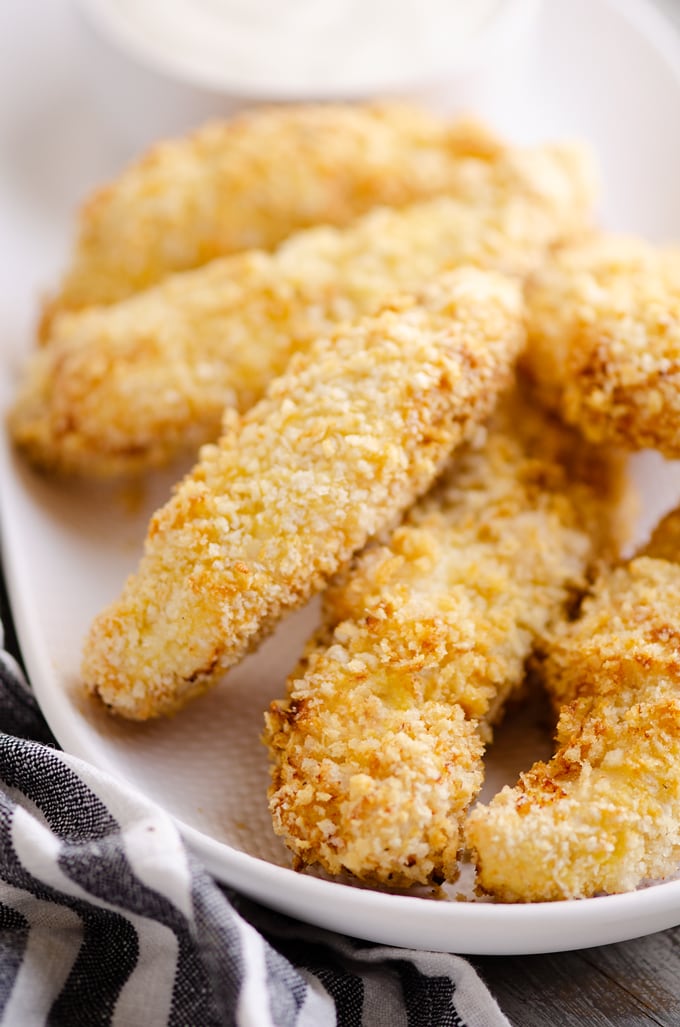 Why use Panko Breadcrumbs?
Panko breadcrumbs work wonderfully to create a nice crunchy and super flaky shell around your chicken tenders, Fried Shrimp, Air Fryer Pork Chops, or just about any other breaded meat!
Yes, you can use regular breadcrumbs or seasoned bread crumbs if that is what you have handy. However, I recommend keeping some Panko crumbs handy for a few reasons.
Panko breadcrumbs are made from crustless bread and are specially made for use in frying. They are uniformly sized crumbs that are wide and flat. This helps create more space between the crumbs and allows the crumb batter to fry very evenly. In other words, Panko crumbs help you avoid soggy breading!
When it comes to air frying chicken, Panko crumbs really help get the air flowing around the entire piece of chicken tender. It is almost like those big flakes of crumbs create an individual rack for each piece of chicken.
You can't beat the crunch of panko. If you like to order your fried chicken "extra crispy" then Panko crumbs help you get there with the least fuss.
Storage
The great thing about making breaded chicken strips is you can easily prep a few batches worth. Freeze what you don't intend to eat, then all you have to do is grab them from the freezer and pop them in your air fryer next time you need an easy meal.
Prepare your strips with Panko breading, then lay them out in rows in a shallow pan. Freeze your breaded chicken tenders for about 30-45 minutes, then transfer them to freezer bags.
Properly stored, you can actually keep them in your freezer anywhere from 3 to 6 months. I seriously doubt you will keep them that long though. Appetites and convenience will prevent that from happening!
Make sure to use a sharpie style permanent marker to date the bag of chicken strips. That way you know when you should use them by.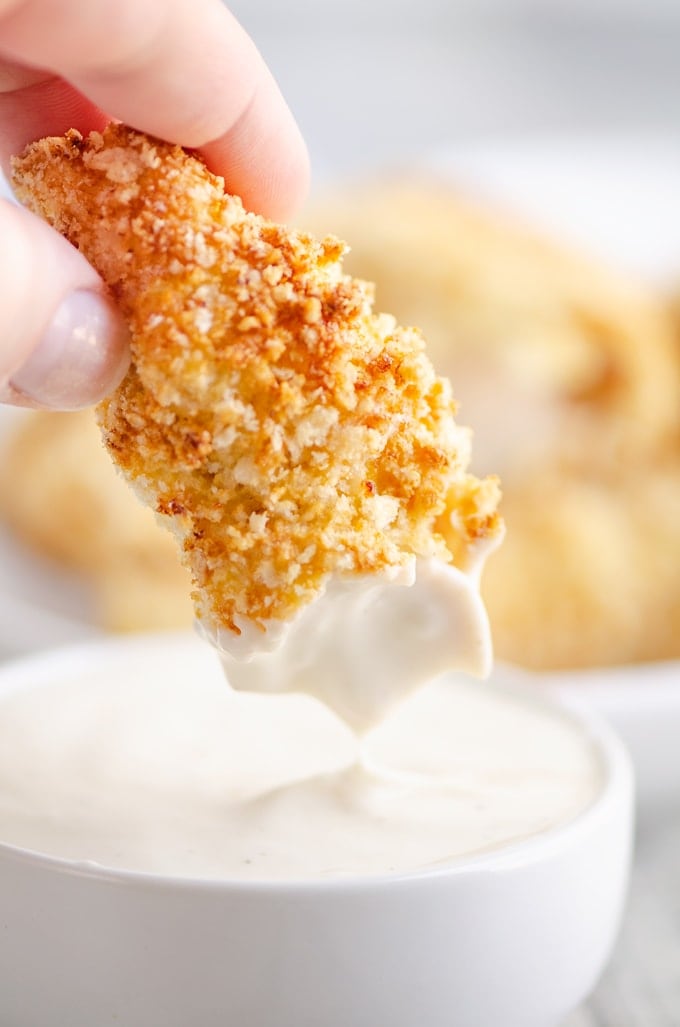 Recommended Dipping Sauces
A chicken strip without a great sauce to dip them in is like a hot dog without a bun. Will it still taste good without it? Sure, but the sauce just completes it and makes it so much tastier!
Here are some easy sauces I recommend for chicken tenders:
Ketchup of course, but why not spice up the ketchup with a couple drops of hot sauce to add a bit of zest to it?
Ranch or BBQ Sauce are the obvious choices.
Hoisin sauce is that sweet brown sauce that is the color of molasses. Kids love it too and it is not spicy at all.
Spicy Nacho Cheese Sauce is sure to be a crowd-pleaser.
Honey and mustard go well together, or use them separately.
Jalapeno Dill Dip is a spicy twist you have got to try!
More Great Fried Chicken Recipes
If you like these Air Fryer Chicken Tenders, I have some more great chicken recipes that can be converted to Air Fryer cooking. Just make sure to follow the air fryer tips I mentioned above.
If you've made this recipe, please come back and leave us a star rating or a comment below. Or, tag us on social media @yellowblissroad or #yellowblissroad for a chance to be featured.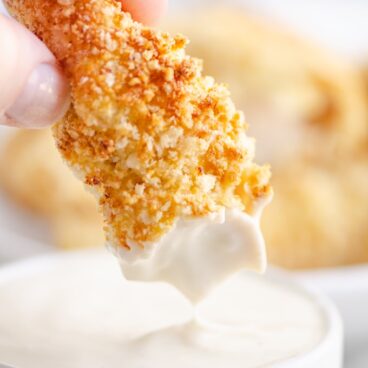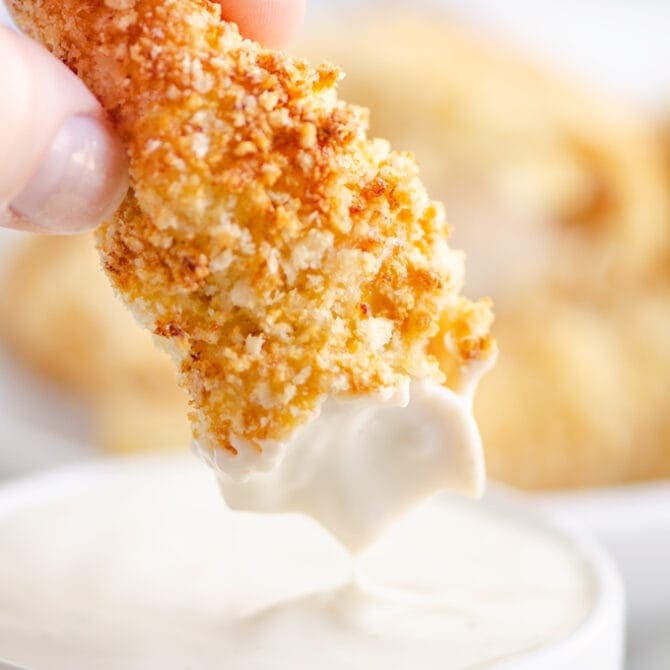 Air Fryer Chicken Tenders
Air Fryer Chicken Tenders are a quick and easy recipe for juicy chicken strips with a crunchy Panko breading!
Ingredients
1

pound

chicken tenders or chicken breasts

¾

cup

Panko bread crumbs

1/4

cup

flour

1/2

teaspoon

onion powder

1/2

teaspoon

garlic powder

dash

salt and pepper

1

large egg

olive oil spray

OPTIONAL
Instructions
In a medium bowl, mix the flour, onion powder, garlic powder, salt and pepper. Add the Panko bread crumbs to a separate bowl. Whisk the egg in a third separate bowl.

If using chicken breasts, cut each breast into 3-4 even tenders.

Coat each tender in flour, then egg and lastly Panko.

Arrange the tenders in your Airfryer basket and spray with a light coat of olive oil. This is optional, but will help brown the chicken tenders nicely.

Cook at 325 degrees for 15-20 minutes, depending on the size of your tenders, until they reach an internal temperature of 165.

Serve immediately with your favorite dipping sauce.
Notes
Panko is preferred over regular breadcrumbs for a really crispy chicken tender, but either may be used. 
Nutrition
Serving:
1
tender
Calories:
189
kcal
Carbohydrates:
22
g
Protein:
17
g
Fat:
3
g
Saturated Fat:
1
g
Cholesterol:
57
mg
Sodium:
236
mg
Potassium:
269
mg
Fiber:
1
g
Sugar:
1
g
Vitamin A:
47
IU
Vitamin C:
1
mg
Calcium:
47
mg
Iron:
2
mg
Nutrition information provided is an estimate and will vary based on cooking methods and brands of ingredients used.