This Chicken Fried Steak Recipe is made with lightly breaded cube steak that's fried to perfection. With a homemade gravy, this diner classic is a favorite for Sunday dinners and even breakfast!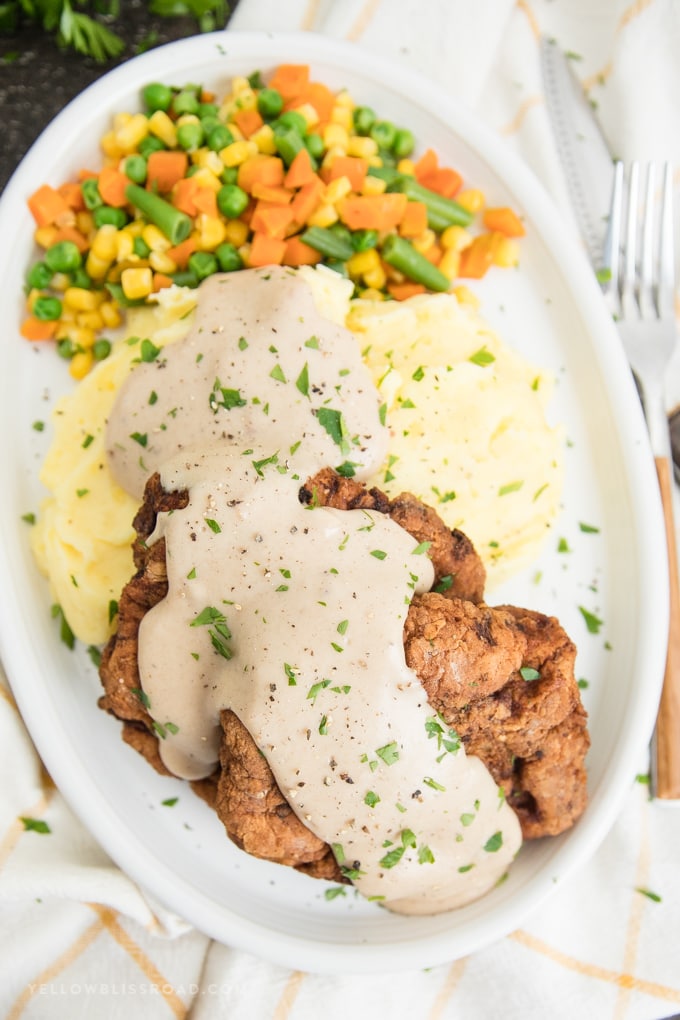 Chicken Fried Steak as the Ultimate Comfort Food
My husband and I decided to stop at a local diner for breakfast on one of our "date days" a while back. We threw caution to the wind and ordered big – that meant Chicken Fried Steak with Homemade Gravy. Served with two eggs, hash browns and toast, it was a pretty huge breakfast that we probably could have split, but oh man was it delicious! I said to him, "Why don't we ever make this at home?!"
My mom always made the best chicken fried steak, so I asked her to write up her recipe and to cook it as well. She was taught by her best childhood friend's mom, so this recipe has been in our family for over 50 years. I know you will love it as much as we do. It's the ultimate comfort food at home!
Chicken fried steak gets its name because it is prepared the same way as traditional fried chicken. Cube steaks are breaded then fried until crispy and golden on the outside, but still juicy and tender on the inside. The steaks are best served with homemade gravy and make ahead mashed potatoes.
Love meat with gravy on top? Try my Beef Tips and Gravy or Meatballs and Gravy recipes.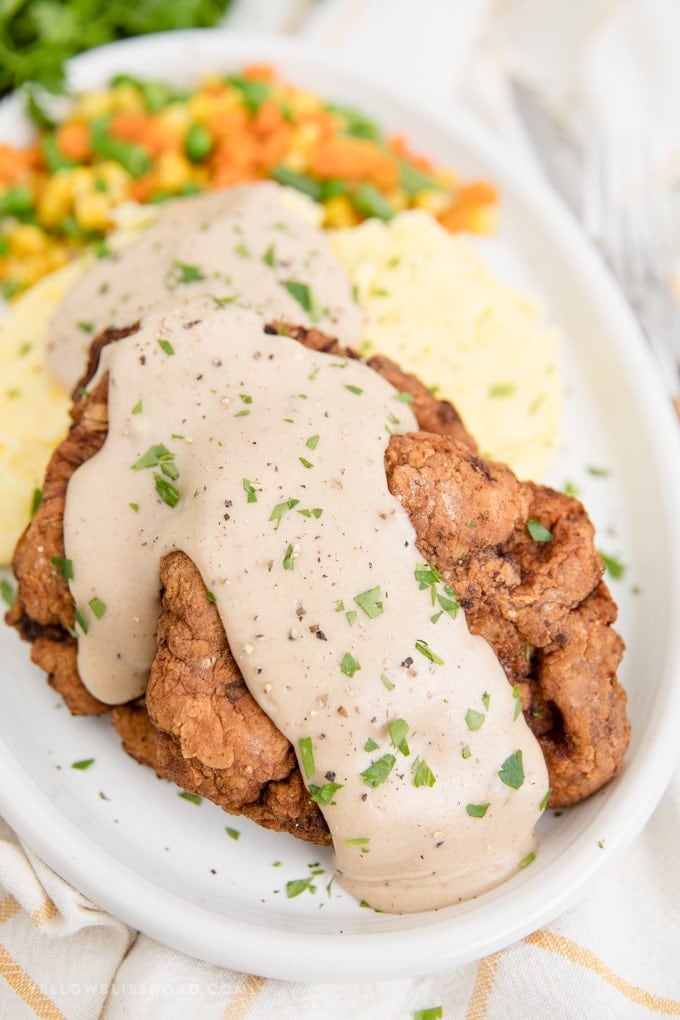 How to Make Chicken Fried Steak with Gravy
Chicken Fried Steak is a pretty straightforward recipe. If you've ever breaded and fried anything, you can make this. The homemade gravy can be a little tricky, but it can easily and quickly be saved if things go awry.
Start with three dredging plates – flour and seasonings, whisked eggs, empty plate for coated steaks. Then just follow these simple instructions:
Pat the cube steaks dry, then coat them completely with the flour mixture, then the egg mixture, then again with the flour. Then place the steaks on a large plate. To keep them for sticking to each other, place sheets of wax paper or even paper towels in between.
Fry them in hot oil; they will take about 3-4 minutes per side. If they are getting too brown, your oil is probably too hot. You can always remove them and finish them off in the oven if they brown too quickly or begin to burn.
Remove some of the oil, leaving about ¼ cup in the pan to make the gravy. Add flour and milk and whisk until thickened. Season with salt and pepper.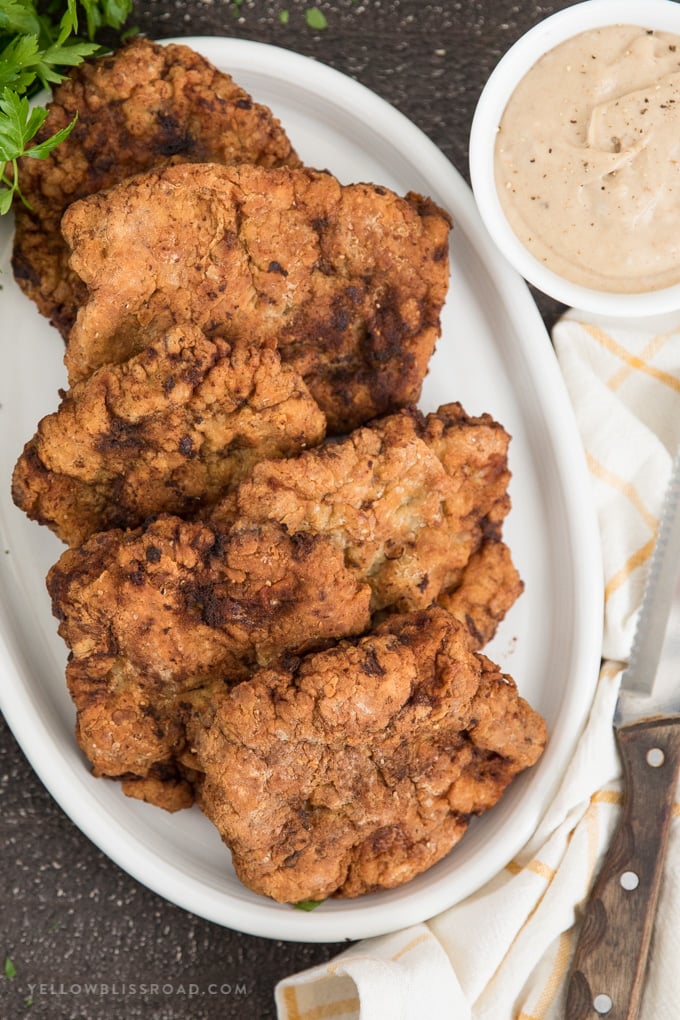 Recipe Top Tips and FAQs
What kind of meat do you use for Chicken Fried Steak? My kids were a little confused by the word "steak" because the meat doesn't really look like "steak." Cube steak is a thin piece of round steak that been tenderized, then tenderized again. It almost looks like ground beef. Click the link to see what it looks like. You could also use ground beef patties, but it's much better with cubed steak.
What do you serve with Chicken Fried Steak? Chicken Fried Steak is classic comfort food, so we serve it with comfort food sides, like cream cheese mashed potatoes and roasted carrots and honey oat quick bread. Basically anything that you can spoon the gravy over is going to be a perfect side dish for this delicious meal.
What to do with leftovers Leftover chicken fried steak can be frozen. Allow to cool completely, then wrap each piece individually in plastic wrap or wax paper, then again in foil and put into a freezer bag or airtight container. Freeze for up to 3-4 months. To reheat, thaw in the fridge overnight and bake in the oven until warmed through. Microwaving is not recommended as it will leave the breading in a soggy mess.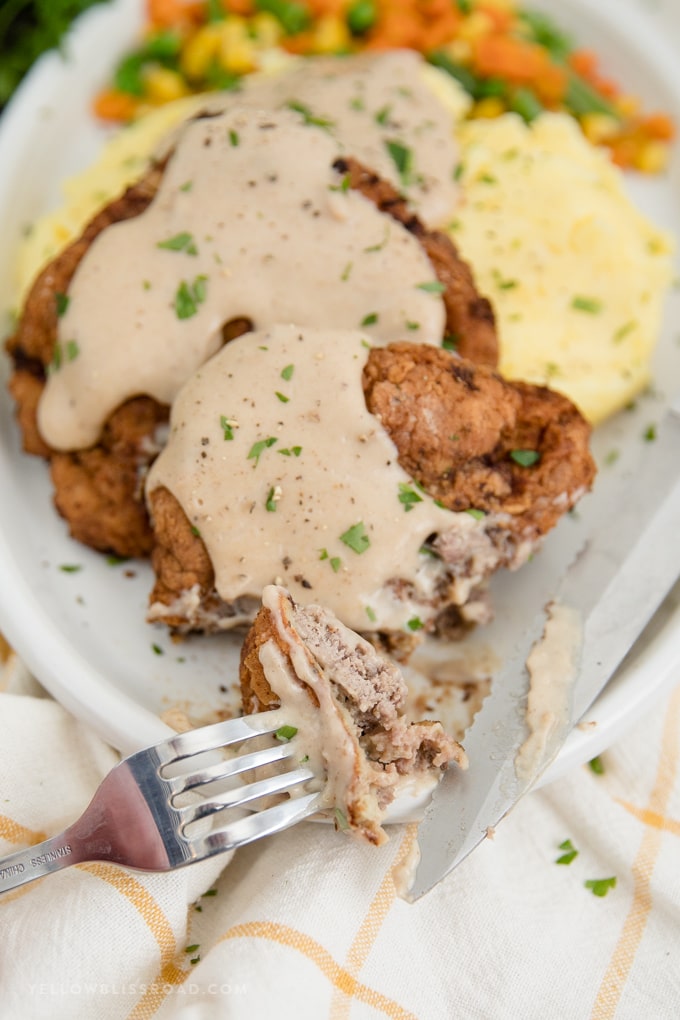 More Classic Comfort Food
Chicken Fried Steak is pretty much the epitome of comfort food in my opinion, but there are a few other great contenders for the top spot.
Recipe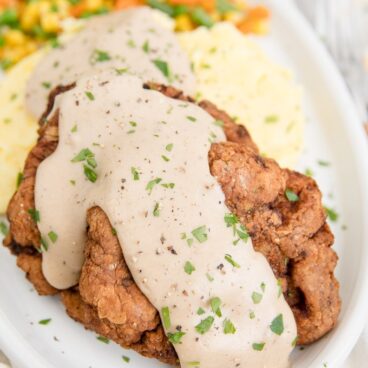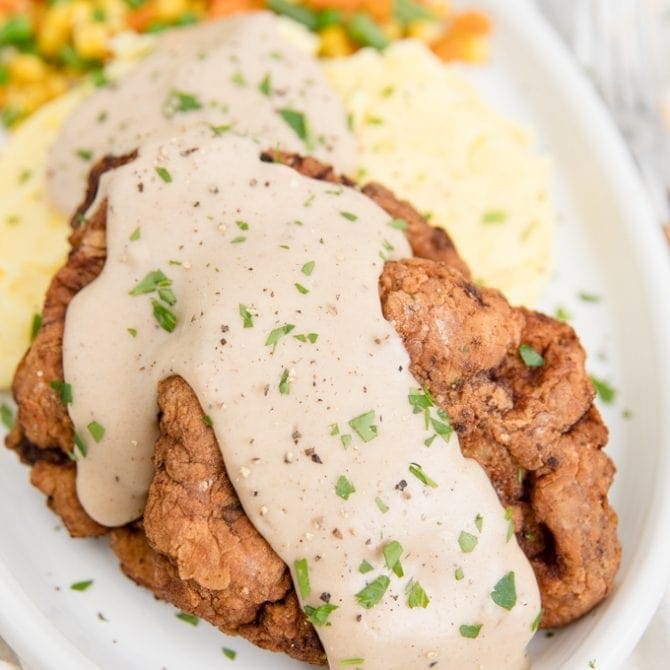 Chicken Fried Steak
This Chicken Fried Steak Recipe is made with lightly breaded cube steak that's fried to perfection. With a homemade gravy, this diner classic is a favorite for Sunday dinners and even breakfast!
Ingredients
Chicken Fried Steak
3

pounds

Cube steak

2

eggs

1

cup

milk

2

cup

flour

save for gravy

2

teaspoons

salt

1

teaspoon

pepper

½

cup

oil for frying

Salt and pepper for seasoning meat
Homemade Gravy
2

cups

milk

1/3

cup

flour

leftover from dredging, above

Salt and pepper to taste
Instructions
Arrange four shallow dishes or pie pans as follows: Meat (season lightly with salt and pepper if desired), 2 cups flour stirred together with 2 teaspoons salt and 1 teaspoon pepper, milk-egg mixture, beaten together, and finally a clean plate or tray for the coated meat.

Start with the meat in the egg mixture, turn to coat both sides. Put it into the seasoned flour, turn over to cover evenly. Repeat coating with egg then flour. Place on wax paper (or parchment) and let dry for ½ hour.

Heat oil in a large skillet over medium-high heat. Add the meat pieces without crowding. Cook until edges are golden (2-3 minutes). Turn over and cook for an additional 2-3 minutes. Remove to an oven proof plate and keep warm. Repeat with additional pieces.

Remove all but about ¼ cup oil from the pan. Reduce heat to medium-low. Sprinkle about ⅓ cup of your seasoned flour evenly into the pan and whisk until mixture is golden brown. If the mixture seems oily add additional flour a tablespoon at a time. Keep whisking and add 2 cups of milk. Let the gravy come to a slow boil. It will thicken gradually, about 5-10 minutes. Season to taste with additional salt and pepper, if desired.

Serve with mashed potatoes and spoon the gravy over both.
Nutrition
Calories:
697
kcal
Carbohydrates:
43
g
Protein:
58
g
Fat:
31
g
Saturated Fat:
13
g
Cholesterol:
230
mg
Sodium:
986
mg
Potassium:
993
mg
Fiber:
1
g
Sugar:
6
g
Vitamin A:
277
IU
Calcium:
204
mg
Iron:
6
mg