Crab Salad, also known as seafood salad, is super simple to make and takes just 10 minutes. Delicious, filling and full of flavor, my crab salad recipe makes a wonderful snack served with veggies or crackers, or a meal served on a bed of lettuce or in sandwich rolls.
Want to try a few more delicious crab recipes? Learn How to Cook Crab Legs the Easy Way, and use the meat to make my Crab Mac and Cheese!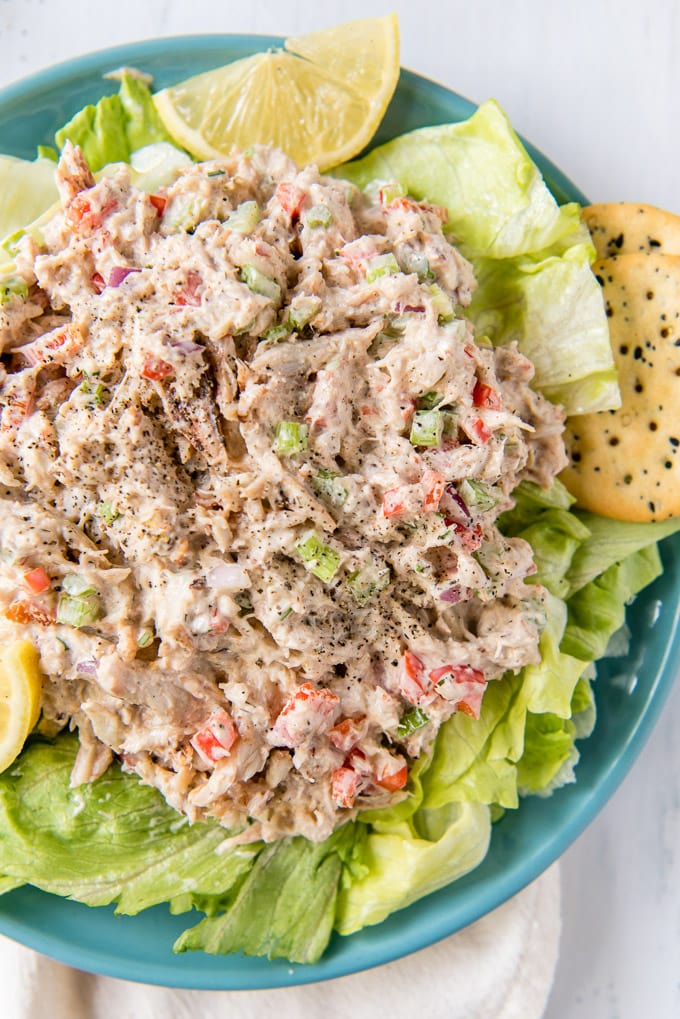 Pin this recipe for later!
Why This Recipe is Great
Crab Salad is an excellent source of protein and can be served a variety of different ways. Traditionally, you will probably find crab salad made with imitation crab meat, but I'm a purist when it comes to my seafood and I prefer to use fresh lump crabmeat like I did with my Hot Crab Dip.
This seafood salad recipe is made with fresh lump crabmeat, is low in carbs, high in protein, for a creamy crab salad that tastes amazing!
Crab Salad Ingredients
Fresh lump crab meat – I prefer the flavor and texture of fresh over imitation any day. You can find it in containers in the seafood section of many grocery stores. Canned works too, and imitation is fine if you prefer.
Mayo – Gives the salad its creaminess. Plain Greek yogurt or sour cream can be added or substituted.
Lemon juice – Fresh is best.
Old Bay seasoning – Found in the spice aisle where the blends are found. It's a unique blend of spices commonly used for fish and chicken.
Vegetables – Celery, Onion, Red bell pepper. Sometimes I'll add some green onions for a little bite.
Herbs and spices – Dried dill, chives, salt, and pepper.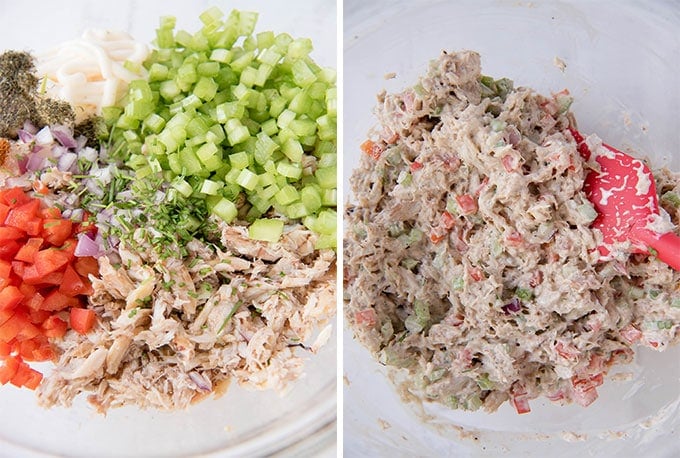 How to Make Crab Salad
This truly is a 10 minute recipe because all you have to do is dump, mix, and eat!
When making a chilled salad like this, always mix up the creamy dressing first to get all of the seasonings blended in. In the case of this crab salad, that's mayo, lemon juice, old bay seasoning, dill, black pepper, and salt.
Next comes the crab meat and veggies. To the dressing, stir in the flaked crab meat, diced celery, red bell pepper, red onion, and chives. Mix it well to make sure the crab and veggies are completely coated.
Now comes the fun part – taste test! Taste your salad and add more salt and pepper or other seasonings to your liking. Cover and chill until ready to serve.
Imitation Crab Versus Lump Crab Meat
Imitation may be budget-friendly, but it's also not actually made from real crab meat. Rather it is a processed fish product that may contain some crab flavoring.
Fresh lump crab meat is healthier for you and just tastes so much better and you can usually find it right at your grocery store. You can definitely swing whichever way you like though.
Ways to Serve Crab Salad
I enjoy this crab salad totally on its own, but have played around with different ways of serving it. It makes an excellent crab salad sandwich on toasted hoagie rolls, but you can also stuff it inside a hollowed out bell pepper, tomato, avocado, or spread it on celery sticks.
Top crackers or cucumber rounds for a fancy finger food, add pasta for a creamy crab pasta salad. Or, just keep it totally simple and serve on a bed of lettuce and let that delicious crab flavor shine.
FAQs
What is imitation crab?
Imitation crab, also known as surimi, is a seafood product that is made to resemble the texture, appearance, and flavor of crab meat. It is often used as a less expensive alternative to real crab meat in various dishes.

Despite its name, imitation crab does not contain any actual crab meat. Instead of the fresh crab I use in this recipe, you could make an imitation crab salad instead.
Is crab salad keto?
Crab salad can be a suitable option for a ketogenic (keto) diet, depending on the ingredients used in the salad. As written, this recipe has a mere 2 grams of carbs.
How Long Can you Keep Crab Salad?
If properly stored in the fridge, tightly sealed, your salad will remain fresh up to 3 days. Make sure to refrigerate as soon as possible and discard if it sits out longer than 2 hours. It may get a little watery as it sits, so you'll want to stir it up really well when serving leftovers.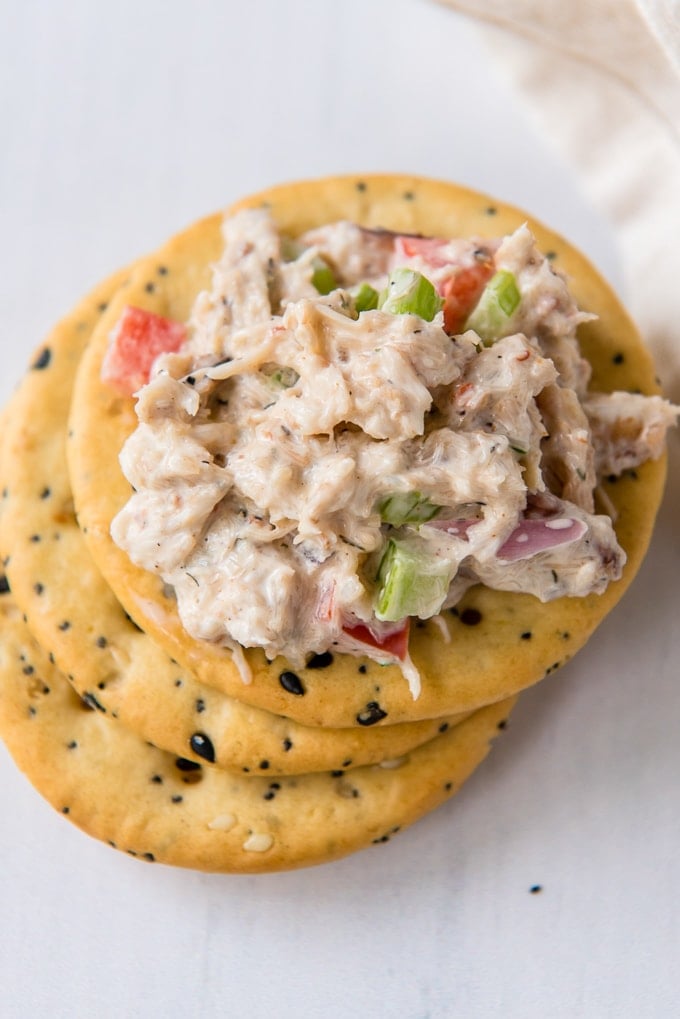 More Delicious Recipes to Try
More Seafood Recipes
More Cold Salads
Recipe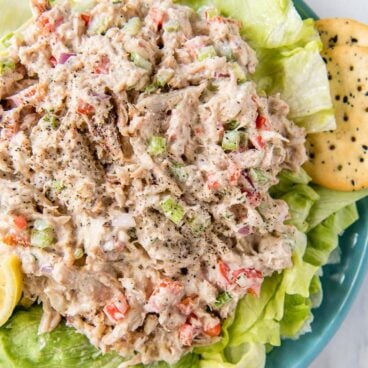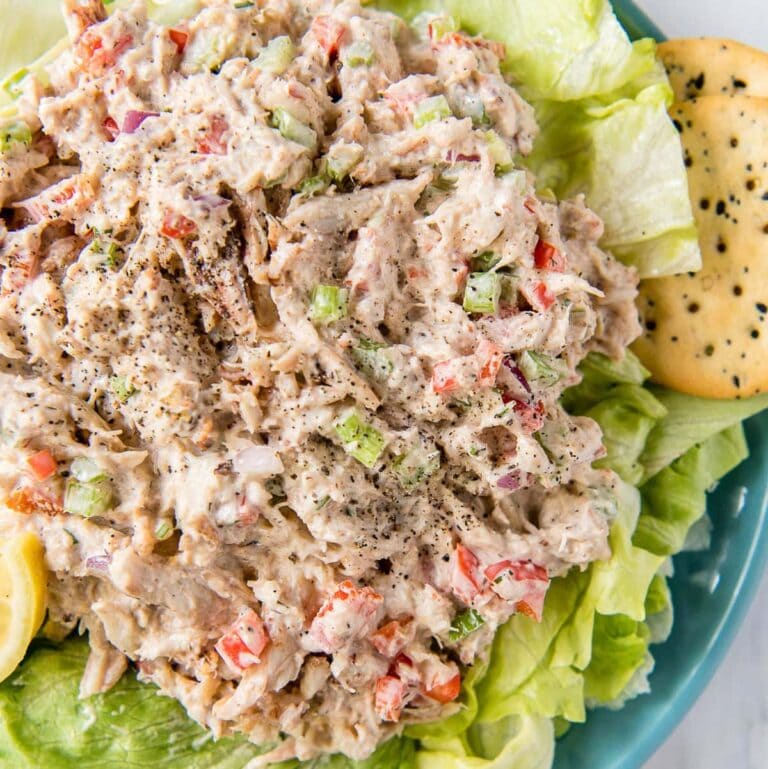 Crab Salad Recipe
Fresh Crab Salad is super simple to make, delicious, filling and full of flavor. Serve with veggies or crackers, on a bed of lettuce or in sandwich rolls.
Ingredients
2/3

cup

mayonnaise

1

tablespoon

lemon juice

1/2

teaspoon

Old Bay seasoning

or more to taste

1/2

teaspoon

dried dill

1/4

teaspoon

black pepper

2

stalks celery

diced (about ½ cup)

½

of a red bell pepper

seeded and chopped

2

tablespoons

finely chopped red onion

1

pounds

fresh lump crab meat

flaked (or imitation crab meat)

2

tablespoons

fresh minced chives

plus some for garnish if desired

Salt and pepper

to taste

Serving Ideas: crackers, sandwich rolls, stuffed into lettuce cups or bell peppers, with with raw veggies
Instructions
In a large bowl, combine mayonnaise, lemon juice, Old Bay seasoning, dill and black pepper.

Stir in minced chives, celery, bell pepper, red onion and crab meat. Taste and add salt as needed. Keep refrigerated until ready to serve.

Serve on it's own with lemon wedges on a bed of lettuce, or on hoagie rolls or crackers.
Nutrition
Calories:
287
kcal
Carbohydrates:
2
g
Protein:
17
g
Fat:
23
g
Saturated Fat:
4
g
Cholesterol:
51
mg
Sodium:
950
mg
Potassium:
210
mg
Fiber:
1
g
Sugar:
1
g
Vitamin A:
466
IU
Vitamin C:
24
mg
Calcium:
44
mg
Iron:
1
mg