Making crab legs is easier than you think! Ready in only 5 minutes, these crab legs are the best way to treat yourself to a fancy meal at home!
For more delicious recipes with crab meat, try my Fresh and Creamy Crab Salad, Crab Mac and Cheese, Crab Cakes and Crab Dip Cheese Ball.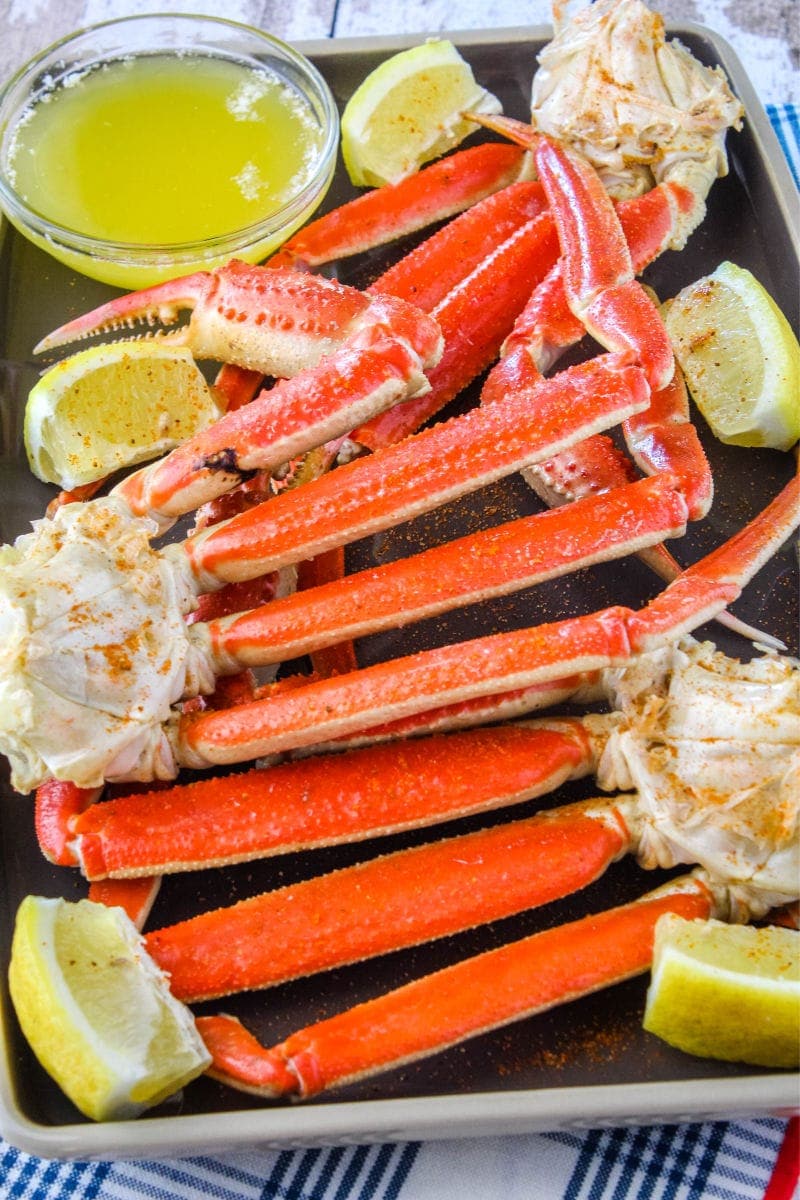 Why We Love This Recipe
When it comes to dining out, I'm a sucker for crab. It's my favorite restaurant food to order. Granted it's not exactly easy on the wallet, but it's a splurge I indulge in from time to time.
But here's the thing – you can totally make snow crab legs at home for a fraction of the price of eating out! They only take 5 minutes and they taste just as good as good as a fancy restaurant.
There's nothing tricky to this crab recipe. I usually make 2 pounds, one pound for each serving, but you can make as much or as little crab as you like. Just boil some water, season it, add your crab, and then take it out when the timer goes off.
Ingredients you'll need:
Crab legs – Snow crab or king crab. You can also use this method for boiling dungeness crab or blue crab.
Water – For boiling the crab.
Salt – This is for salting the water which will give your crab flavor.
Old Bay seasoning – The most widely used seasoning blend for seafood. It has a blend of 18 spices, including celery salt, mustard, paprika, salt and black pepper.
Lemon wedges – Crab with lemon is a perfect pairing.
Unsalted butter – Crab legs can be salty, so you'll want to minimize any additional salt.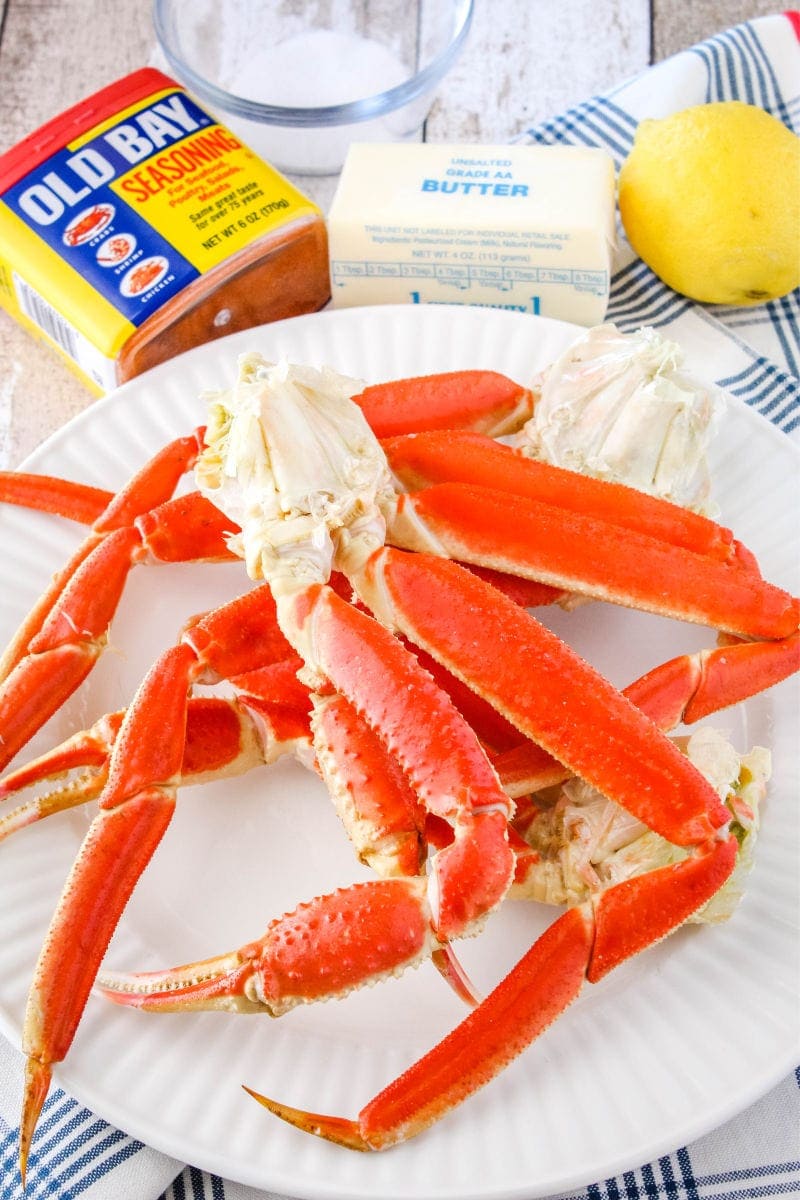 How to Cook Crab Legs
There are several methods you can use to cook crab legs. Boiling is the most common, but you could also steam or grill them.
I like to make the clarified butter while the crab cooks so everything is done together. The steps below talk you through making both the butter and crab at the same time.
How to Boil Snow Crab Legs
Get a detailed list of ingredients & instructions in the recipe card below.
This method is my go-to and the one I include in detail in the recipe card below. In this section, however, I'll include tips for steaming and grilling as well.
Season a large pot of boiling water with salt and Old Bay.
While the water is coming to a boil, start melting butter in a small saucepan over medium-low heat. Cook the butter until it gets foamy, it only takes a minute. Remove the pan from the hot burner and let the butter hang out in the pan for 5 minutes while the crab cooks.
Next, place the crab legs into the boiling water. (I use tongs!) Let the crab boil for 5 to 6 minutes until it's warmed and fragrant.
Then, use tongs to remove the crab from the pot and place on dinner plates.
Use a spoon to remove any solids floating on top of the butter. Then pour the butter into two small bowls.
Sprinkle a little more Old Bay over the crab legs (optional but I like to do this) and then serve immediately with the clarified butter and lemon wedges.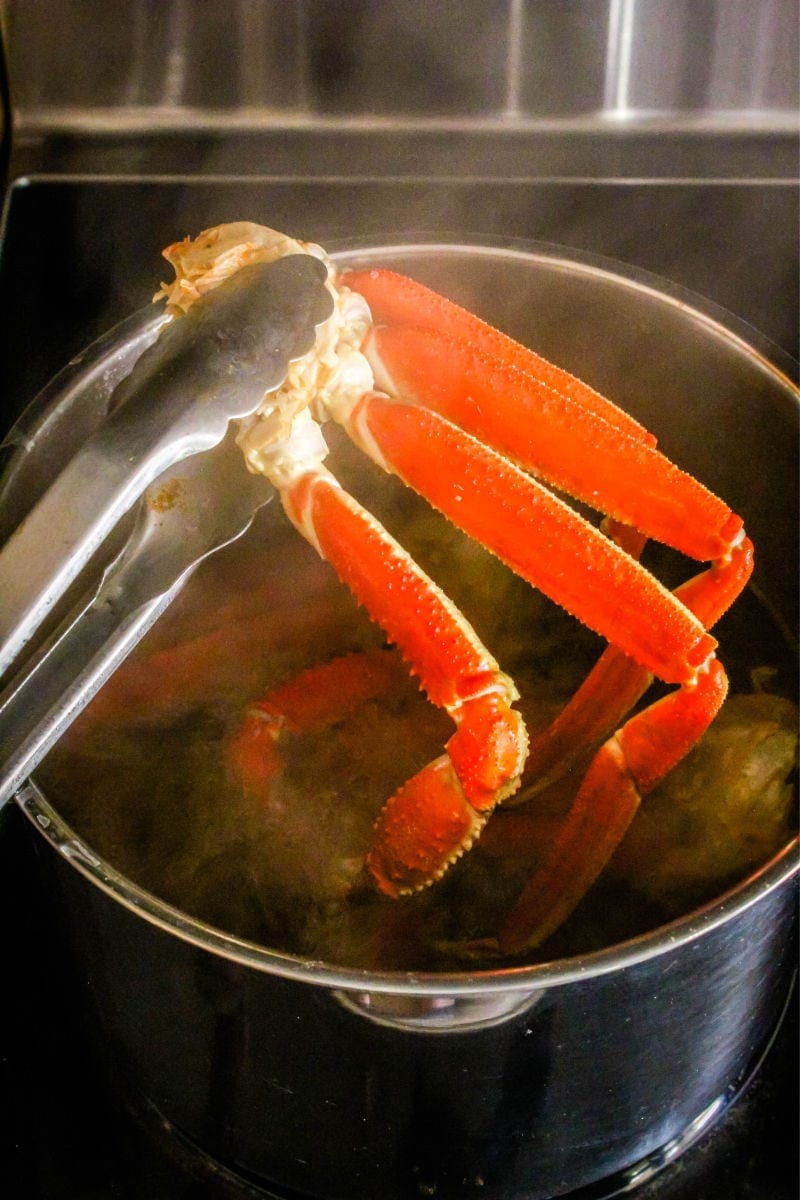 How to Steam Crab Legs
For steaming, you'll need a large, deep pot with a steamer basket. Fill the pot about 1-2 inches with water and bring it to a boil. Place the crab leg clusters into the steamer basket and close the lid. Cook for about 4-5 minutes or until the crab is heated through.
How to Grill Crab Legs
Heat an outside grill to medium-high heat. Spritz the legs all over with cooking spray or olive oil and arrange onto the hot grill. Close the lid and cook for about 7 minutes on each side, until the meat is heated through.
FAQs
Which Type of Crab Should I Buy?
Both are found in most American grocery stores, but it will be up to availability and your pocket book. King crab legs are sold individually while snow crab legs are sold in clusters, usually having 6-8 legs and if you're lucky, a claw attached. The legs you'll find at the grocery store are usually cooked and frozen.
What is the best way to cook crab legs?
There are lots of ways you can go about cooking crab legs. Below I'm showing you how to boil them, but you can also steam, broil, bake, grill, or even pressure cook the crab.
How long do you boil crab legs?
The crab legs you buy at the store will be cooked and frozen. Thaw them in your fridge before boiling. Crab legs only need to boil for about 5 minutes. You're simply reheating them and adding a little flavor with the seasoned water. If you buy fresh, raw crab legs, they will need to boil for 6 to 8 minutes.
How do you know when crab legs are done?
Depending on whether you're crab legs are fresh or frozen, it's the color you want to watch. Frozen legs are already cooked and will already be orange or red in color.  Fresh crab meat will be a greenish brown and when they're done, the crab turns pink/red and the meat is opaque.
What is the Difference Between Snow Crab and King Crab Legs?
Both king crabs and snow crabs have long legs which provide most of their meat. They are both quite tasty, but they do have their differences.
Alaskan King Crab
Large and impressive, the long king crab legs boast thick chunks of meat. But their spiny shells make them more difficult to crack with your hands so a tool, like this crab cracker, is required. King crab is only available from October through January and are more expensive due to their limited availability.
Snow Crab
Like the king crab the snow crab legs are long and meaty, however they are much easier to crack by hand. The meat isn't as dense though and tends to come out in shreds instead of big chunks. It can be found in late fall through early summer. Being much easier to eat and easier to find makes snow crab legs more popular with home cooks.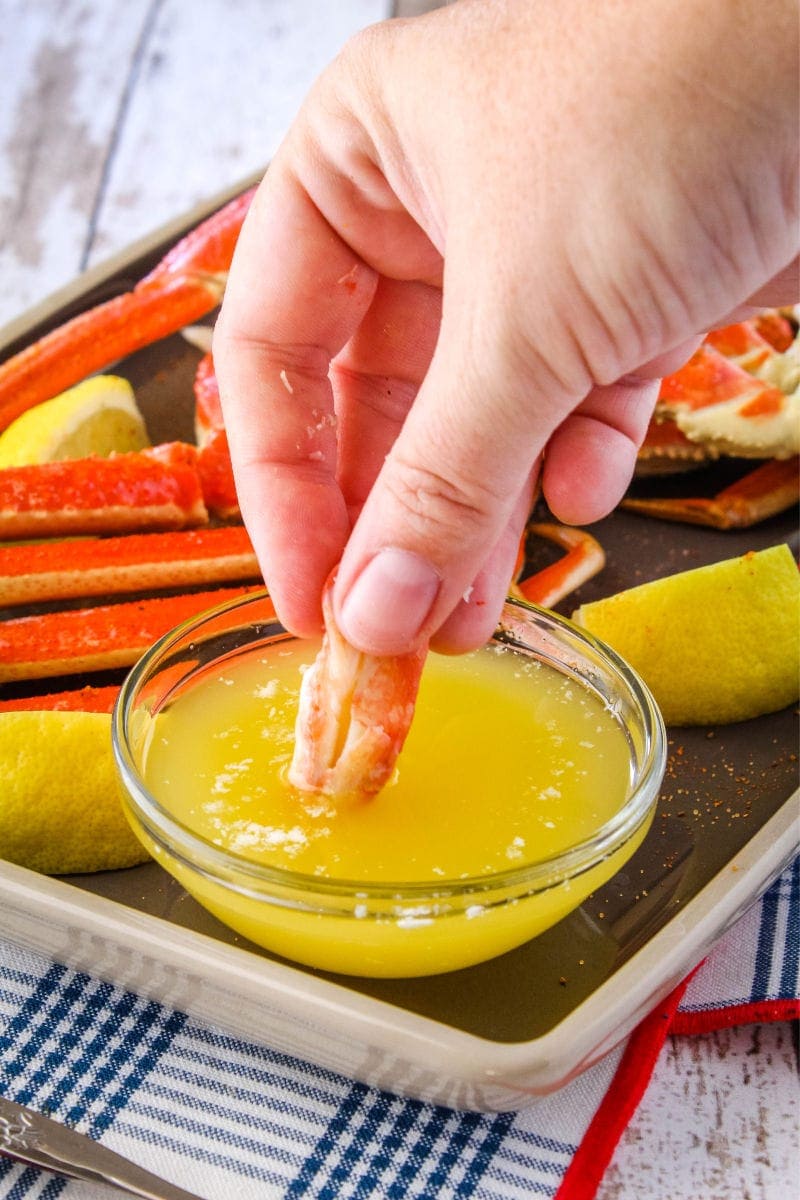 Serving Suggestions
Serve the crab meat with some garlic butter sauce or regular melted butter for dipping and lemon wedges for squeezing. My husband loves squeezing fresh lemon juice over his crab before dipping in butter. Don't forget the seafood forks to help pull that luscious meat out of the shell.
If you're not sure what to serve up with your crab, a baked potato and some corn on the cob will never steer you wrong! We also love serving with Make Ahead Mashed Potatoes, Garlic Bread, Garlic Green Beans or a copycat Olive Garden Salad.
More Seafood Recipes to Try
If you have a serious love of seafood, you are definitely going to want to try Lemon Pepper Shrimp, Baked Honey Mustard Salmon, Salmon Patties and Grilled Fish Tacos. Bacon Wrapped Scallops are another fancy favorite!
Recipe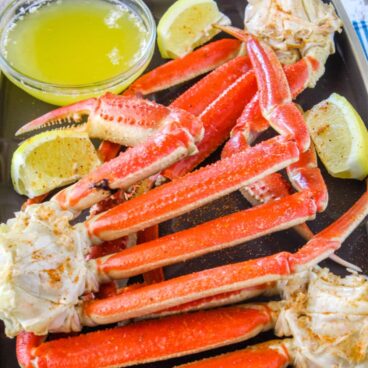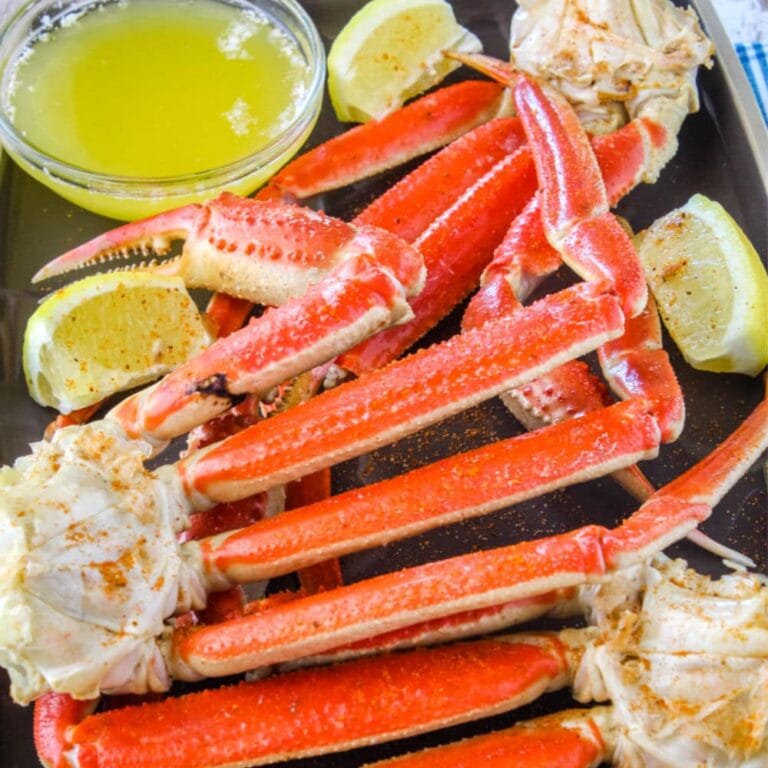 Crab Legs
Cooking crab legs at home is easier than you think. Just a few steps, a little seasoning, and you'll have luscious crab meat in 10 minutes!
Ingredients
1/2

cup

unsalted butter

melted

Water

2

pounds

snow crab legs

(or preferred crab)

1

tablespoon

salt

2

tablespoons

Old Bay seasoning

plus more for garnish

1

lemon

cut into wedges
Instructions
Fill a large pot half full with water and bring to a boil. Add salt and Old Bay and return to boiling.

While the water comes to a boil, place butter in a small saucepan to melt over medium-low heat. Once the butter starts to foam, after about 1 minute, remove from heat and let stand for 5 minutes while the crab cooks. Use a spoon to remove the milk solids floating on top of the butter. Pour clarified butter into two small bowls.

Add crab legs to pot of boiling water and reduce heat to medium. Simmer for 5 to 6 minutes until fragrant.

Remove crab from the pot and serve immediately. I sprinkle a little more Old Bay over the crab and serve it with lemon wedges and melted butter.
Notes
If you're making more than 2 pounds of crab, you can work in batches and keep using the same water to boil the rest of your crab.
Nutrition
Calories:
504
kcal
Carbohydrates:
1
g
Protein:
42
g
Fat:
26
g
Saturated Fat:
17
g
Trans Fat:
1
g
Cholesterol:
366
mg
Sodium:
393
mg
Fiber:
1
g
Sugar:
1
g
Vitamin A:
709
IU
Calcium:
7
mg