This Baked Honey Mustard Salmon is so simple and so full of flavor. Tender, flaky salmon filet with a rich honey and whole grain mustard glaze and a pop of lemon.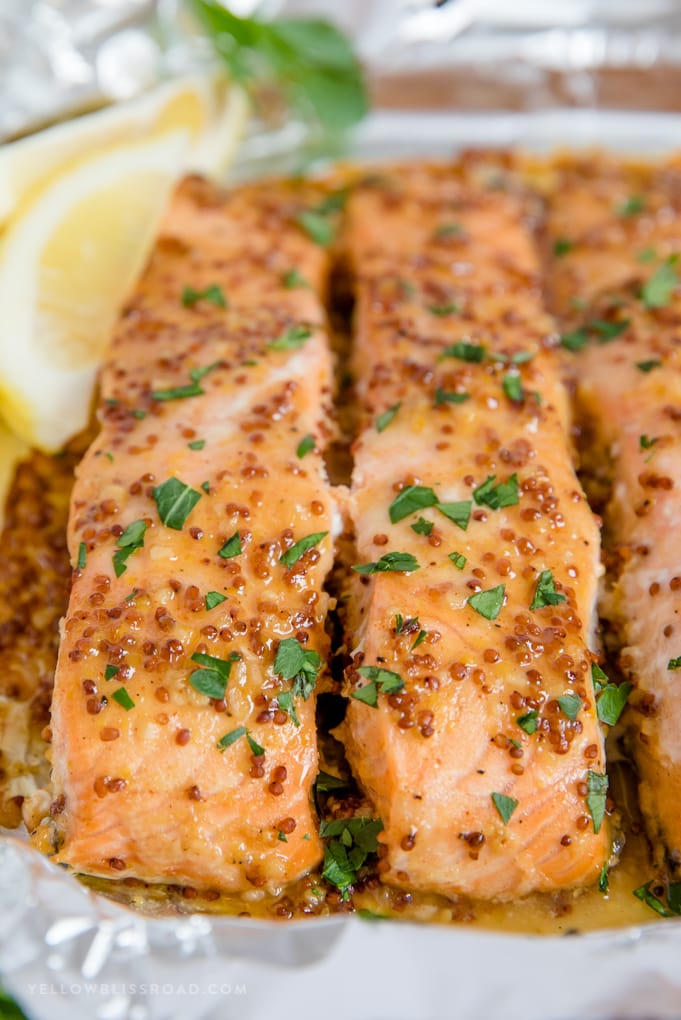 Salmon is a weekly dinner staple at our house. We love it with different butters and glazes but my current obsession is this Honey Mustard Salmon! It's got a tangy sweet glaze that caramelizes slightly in the oven. So delicious!
My kids are also huge fans of salmon, and knowing that it's a pretty simple and healthy protein it's a no-brainer that we eat this fish a lot. I'm always on the hunt for new flavors, and I haven't been let down yet.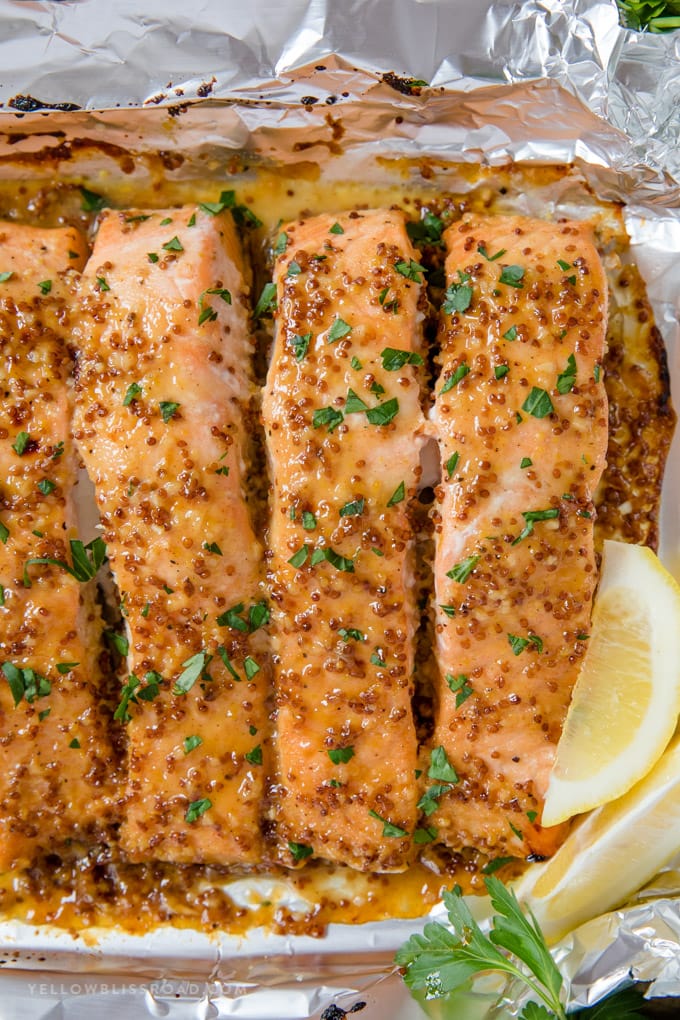 HOW TO MAKE BAKED HONEY MUSTARD SALMON
Salmon is super easy to cook, just be careful not to overcook it. It can quickly become dry and stringy which is NOT what you want, trust me. You want to almost undercook it so it stays moist and tender and delicious. As with any kind of meat preparation, using a meat thermometer (aff) is going to always be your best bet.
To make my Honey Mustard Salmon, start with preparing the sauce. I use two mustards, Dijon and whole grain. I love the little pops of the whole grain, it's just fun! There is also honey, smoked paprika and of course garlic. Spread this all on your salmon filet and pop it in the oven. Laying the salmon on foil and raising up the sides creates a little "salmon boat" and will prevent the juices from spilling all over your pan, making for easy clean up.
The Honey Mustard Salmon bakes in a 400 degree oven for 18-20 minutes. Garnish with fresh minced parsley, because it just looks pretty, and serve it with rice and a salad.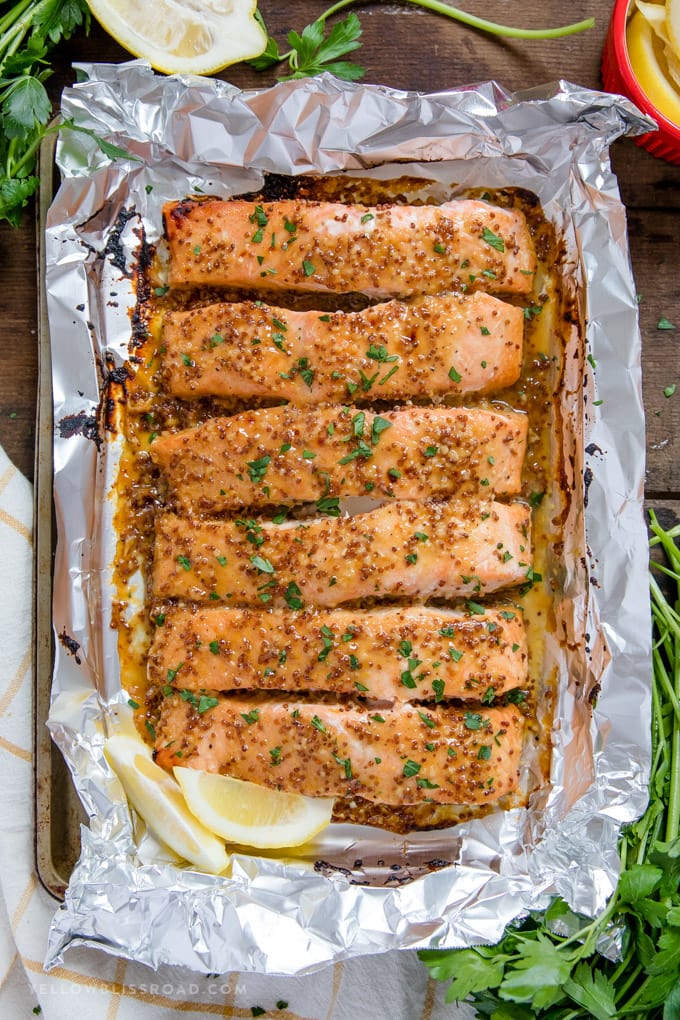 Want to know more about how to choose your fish and how to cook salmon? Check out my tips in this Baked Salmon with Garlic Butter recipe.
Here are some more salmon recipes to try!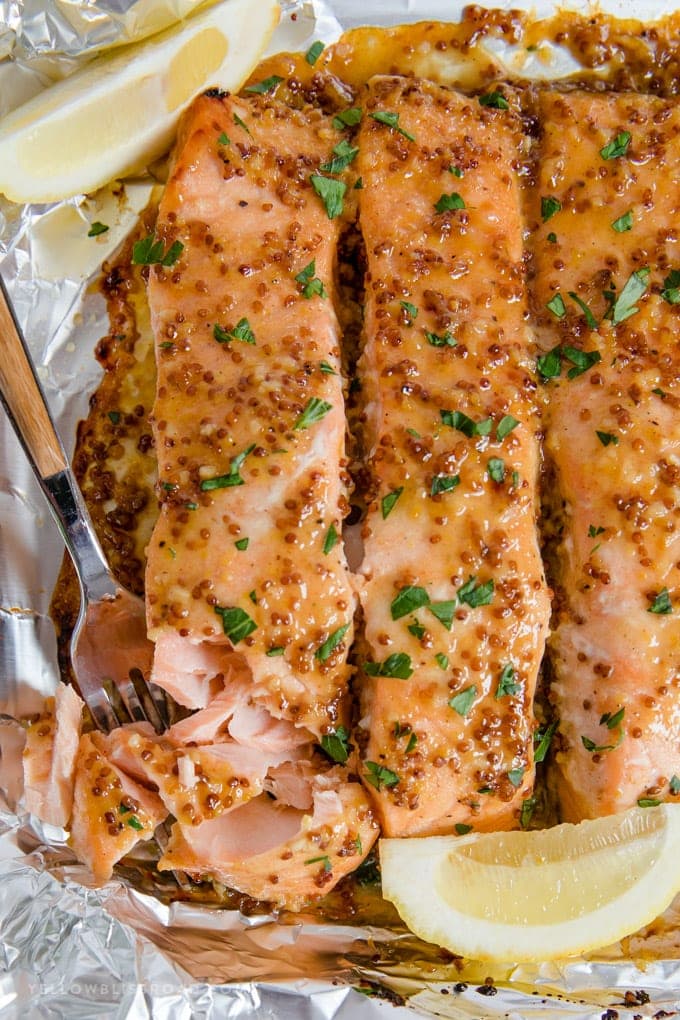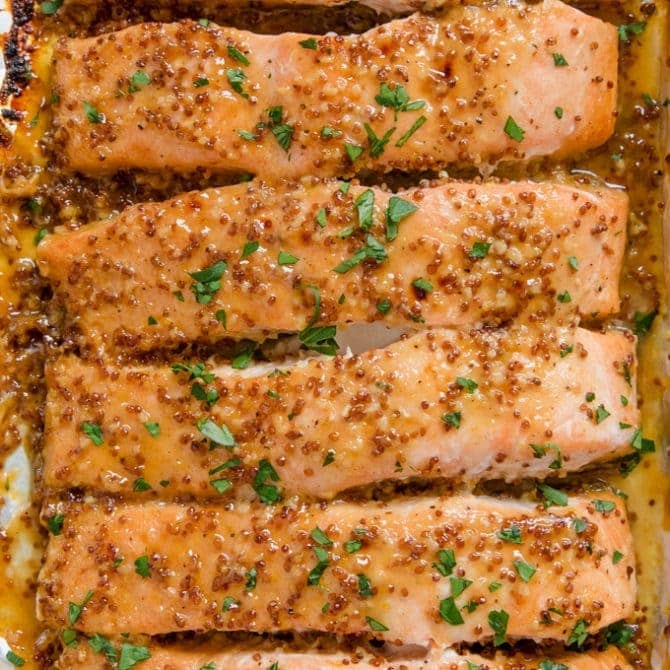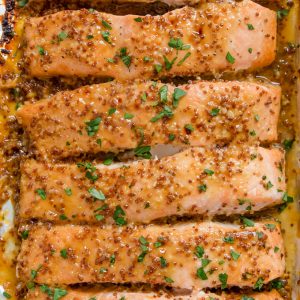 Honey Mustard Salmon
Honey Mustard Salmon is an easy dinner recipe that the whole family will love. Tender, flaky salmon filet with a rich honey and whole grain mustard glaze.
Ingredients
2 pound salmon fillet skin on
2 tablespoons whole grain mustard
2 tablespoons dijon mustard
3 tablespoons honey
2 cloves of garlic minced
1 tablespoon lemon juice
¼ teaspoon smoked paprika
¼ teaspoon salt
⅛ teaspoon black pepper
Fresh minced parsley and lemon wedges optional, for garnish
Instructions
Preheat oven to 400 degrees F. Line a large rimmed baking sheet pan with foil.

Lay the salmon* skin side down on the foil and season lightly with salt and pepper. *(If desired, cut into portions first).

In a small bowl, combine mustards, honey, minced garlic, lemon juice, smoked paprika, salt and black pepper. Spread this mixture evenly over the top of the fish.

Bring up the sides of the foil around the salmon. This will help keep the juices from spilling all over the pan.

Bake in the preheated 400 degree oven for 18-20 minutes. (Cooking time will depend on size and thickness; it's done when the salmon is a light pink color and is tender and flaky in the center; it should register 125-140 degrees F on a meat thermometer.)

Remove from the oven and let rest for several minutes before serving. Garnish with fresh minced parsley and serve with lemon wedges.
Nutrition
Serving: 5ounces