Craving a light and refreshing meal that's packed with flavor? Look no further than these tantalizing Tuna Lettuce Wraps!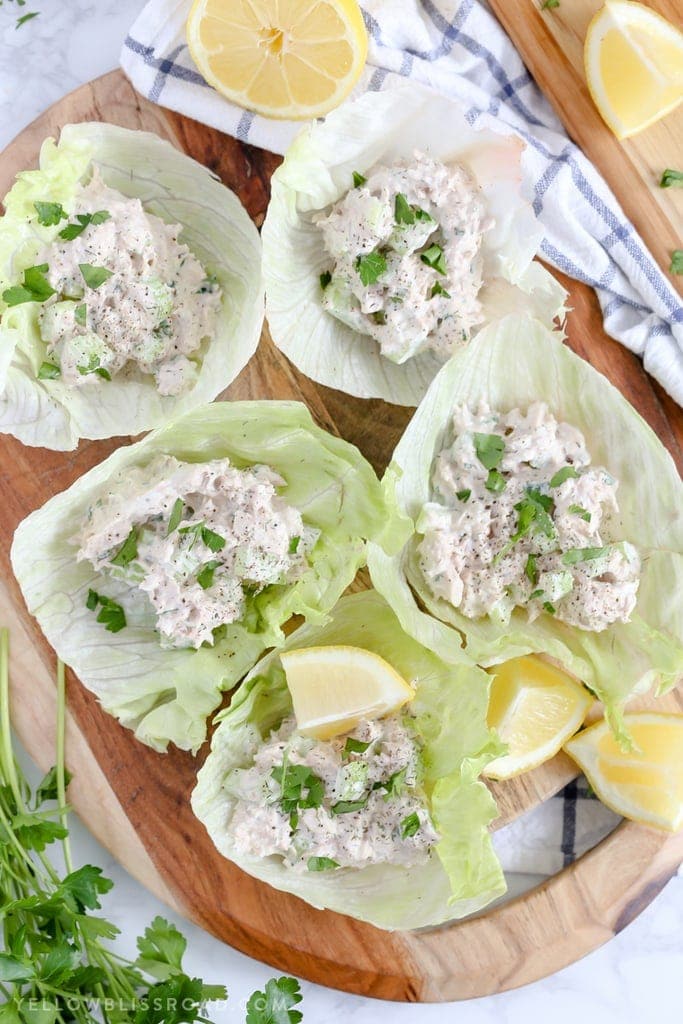 Combining the goodness of protein-rich tuna, crisp veggies, and a medley of fresh herbs and flavors, these wraps are perfect for lunch or a light dinner.
Tuna Lettuce Wraps are also low in carbs, gluten-free, and customizable to suit your taste preferences. Get ready to delight your palate and nourish your body with this simple and wholesome recipe!
Pin this recipe for later!
About this Recipe
Tuna Lettuce Wraps are the perfect solution when you're in the mood for a light and healthy meal bursting with fresh flavors.
These wraps are not only delicious but also offer a quick and easy way to enjoy a nutritious and satisfying dish. With the freedom to personalize the fillings and toppings, you can create a personalized wrap that suits your taste buds.
So, go ahead and embrace the goodness of these refreshing tuna lettuce wraps while nourishing your body and tantalizing your taste buds.
How to Make Tuna Lettuce Wraps
See recipe card below for ingredient quantities and full instructions.
Whisk the sauce – mayo, sour cream, lemon juice, dill, chives, parsley and black pepper – in a medium-sized bowl. Do a little taste test and add more seasonings or fresh herbs if you like.
Open the cans of tuna and drain any liquid.
Add the tuna to the sauce and flake it with a fork. Stir in some diced celery for crunch.
Make yourself a nice sandwich, or for something a little more fun, scoop the tuna salad into fresh lettuce cups. Top with fresh herbs and serve with a lemon wedge.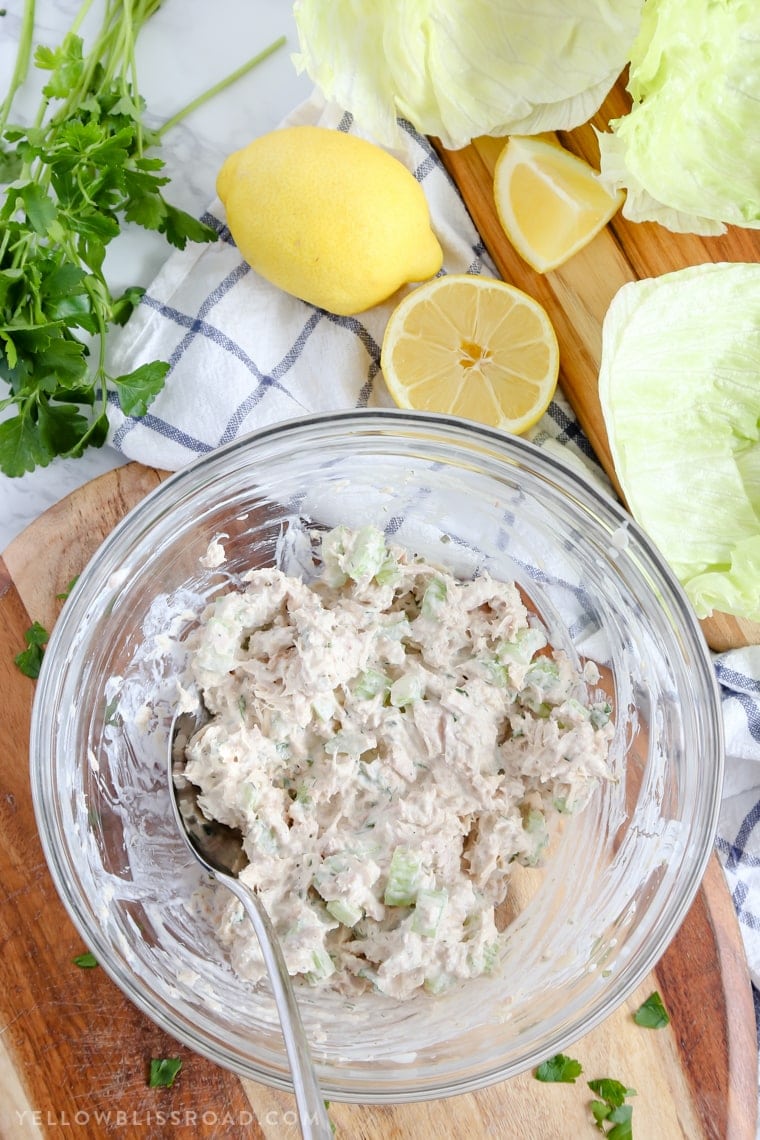 Storage
Store leftover tuna salad in an airtight container in the fridge for up to 3 days. Freezing is not recommended.
This recipe is great for meal prep. Make a big batch of tuna salad and portion into containers. and prep the lettuce leaves in meal-sized portions.
Helpful Tips
Choose quality tuna: Opt for high-quality tuna for the best flavor and texture. Canned solid white albacore tuna or chunk light tuna are popular choices. You can use tuna packed in water or oil, depending on your preference.
Choose the right lettuce: Opt for lettuce varieties with large, sturdy leaves that can hold the filling without tearing easily. Some popular options include iceberg lettuce, romaine lettuce, or butter lettuce. Wash and dry the leaves thoroughly before using them.
Drain the tuna well: Ensure you drain the tuna thoroughly to remove excess liquid. Squeezing it gently or using a fork to press out the liquid will help prevent a watery tuna salad.
Add texture with mix-ins: Enhance the texture of your tuna salad by adding various mix-ins. Some popular options include finely chopped celery, onions, pickles, or bell peppers. These add crunch and additional flavors to the salad.
Let it chill: For optimal flavor, refrigerate your tuna salad for at least 30 minutes before serving. Chilling allows the flavors to meld together and creates a more cohesive and delicious salad.
Don't overfill the wraps: Be mindful not to overstuff the lettuce wraps, as it may make them difficult to roll and eat. Start with a moderate amount of filling and adjust as needed. It's better to slightly underfill the wraps and allow for easier handling and eating.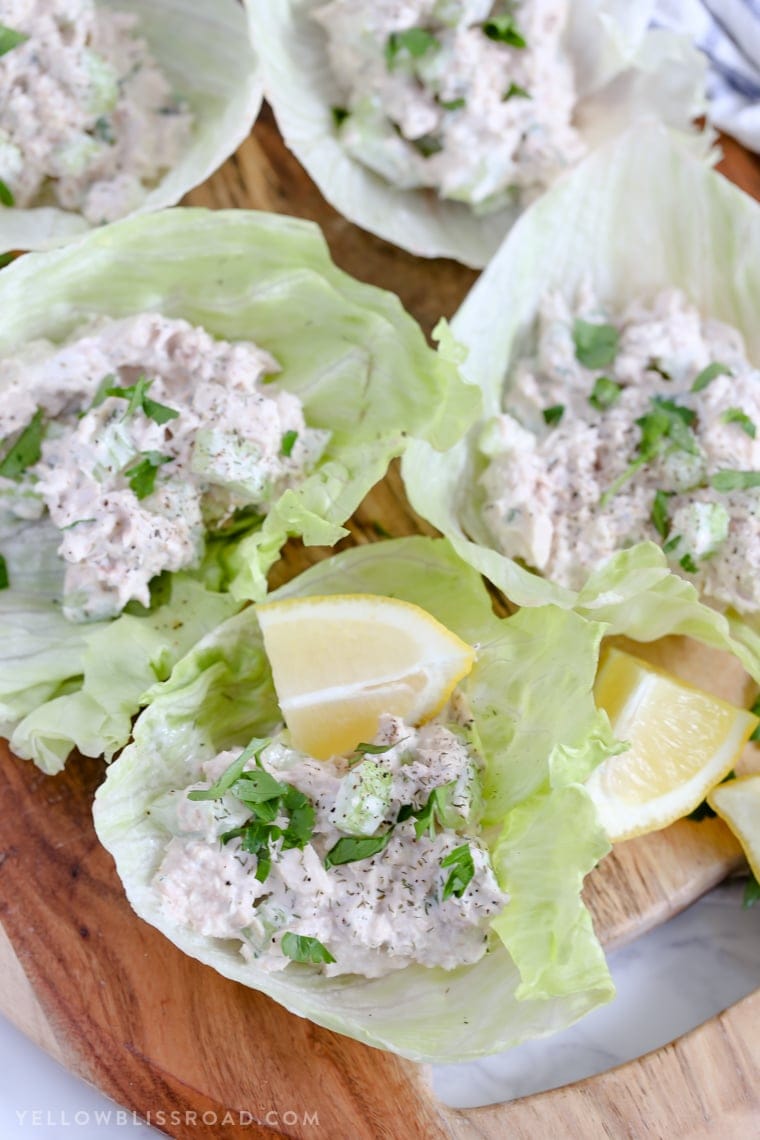 Related Recipes
Recipe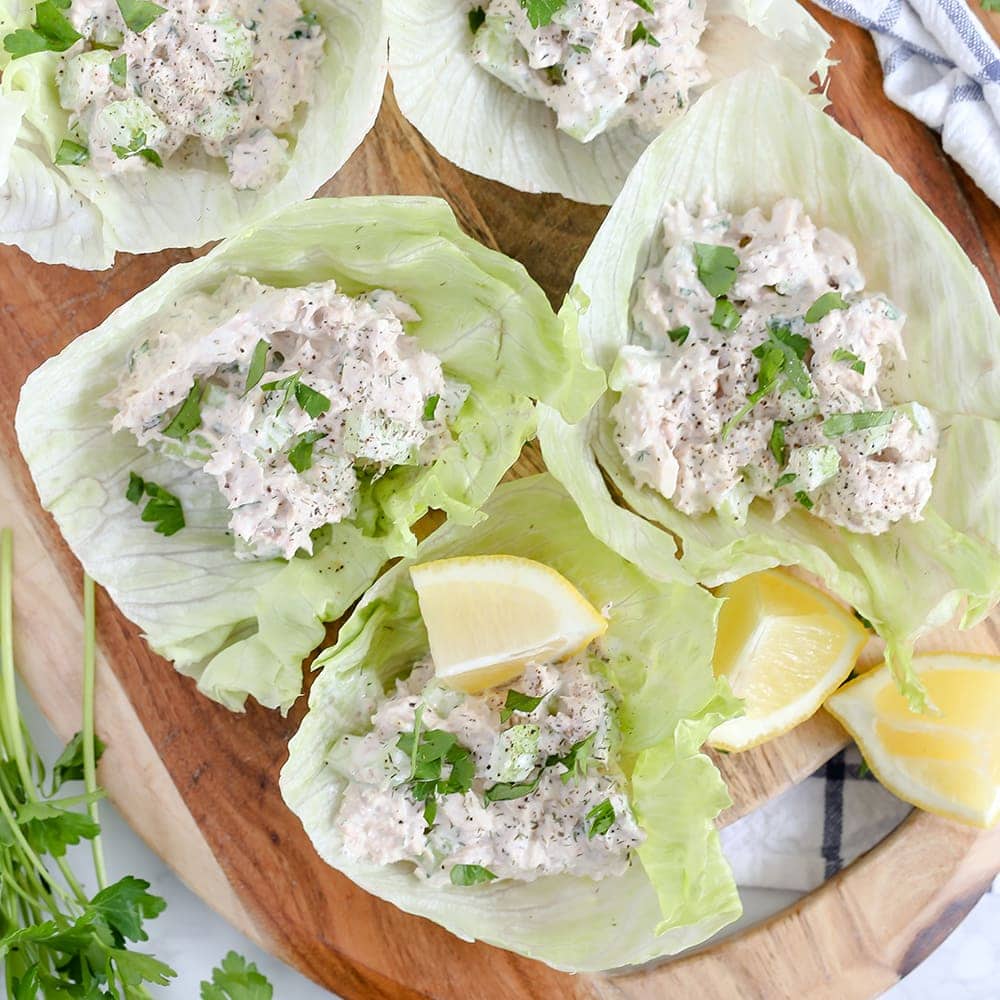 Tuna Salad Lettuce Wraps with Lemon, Dill & Black Pepper Mayo
Breathe new life into your old tuna salad with these Tuna Salad Lettuce Wraps with Lemon, Dill and Black Pepper Mayo. A quick, healthy and light lunch or dinner option any day of the week.
Ingredients
10-

ounces

canned tuna

drained

1/2

cup

diced celery

2

tablespoons

mayonnaise

2

tablespoons

sour cream

1/2

teaspoon

dried dill

1/2

teaspoon

dried chives

1

teaspoon

fresh chopped parsley

or ½ teaspoon dried

1/2

teaspoon

fresh cracked black pepper

1

lemon

salt

6

Large lettuce leaves

iceberg, romaine or butter lettuces work well
Instructions
In a medium-sized bowl, whisk together mayonnaise, sour cream, 1 tablespoon lemon juice, dill, chives, parsley and black pepper. Taste and add salt and more lemon juice as desired.

Drain any liquid from the tuna and stir it and the diced celery into the mayonnaise mixture. Taste and adjust seasonings as desired.

Scoop the tuna salad mixture into the lettuce leaves. Top with fresh chopped parsley for garnish and serve with a lemon wedge.
Notes
Feel free to serve this in tortillas or with crackers.
Nutrition
Calories:
271
kcal
Carbohydrates:
8
g
Protein:
28
g
Fat:
14
g
Saturated Fat:
3
g
Polyunsaturated Fat:
7
g
Monounsaturated Fat:
3
g
Trans Fat:
1
g
Cholesterol:
64
mg
Sodium:
426
mg
Potassium:
459
mg
Fiber:
2
g
Sugar:
2
g
Vitamin A:
1153
IU
Vitamin C:
38
mg
Calcium:
80
mg
Iron:
3
mg
For more quick and easy meal ideas, try these:
Skinny Southwest Chicken Salad
Creamy Chicken Apple & Grape Salad