Tuna Pasta Salad is the perfect picnic lunch or anytime meal. With tender pasta, a creamy dressing and healthy tuna, this salad is tasty, filling and a definite family favorite.
Here is another great shareable pasta salad that's perfect for summer parties. It fits right in with other crowd-pleasing favorites like my Best Ever Classic Macaroni Salad and Mexican Street Corn Salad.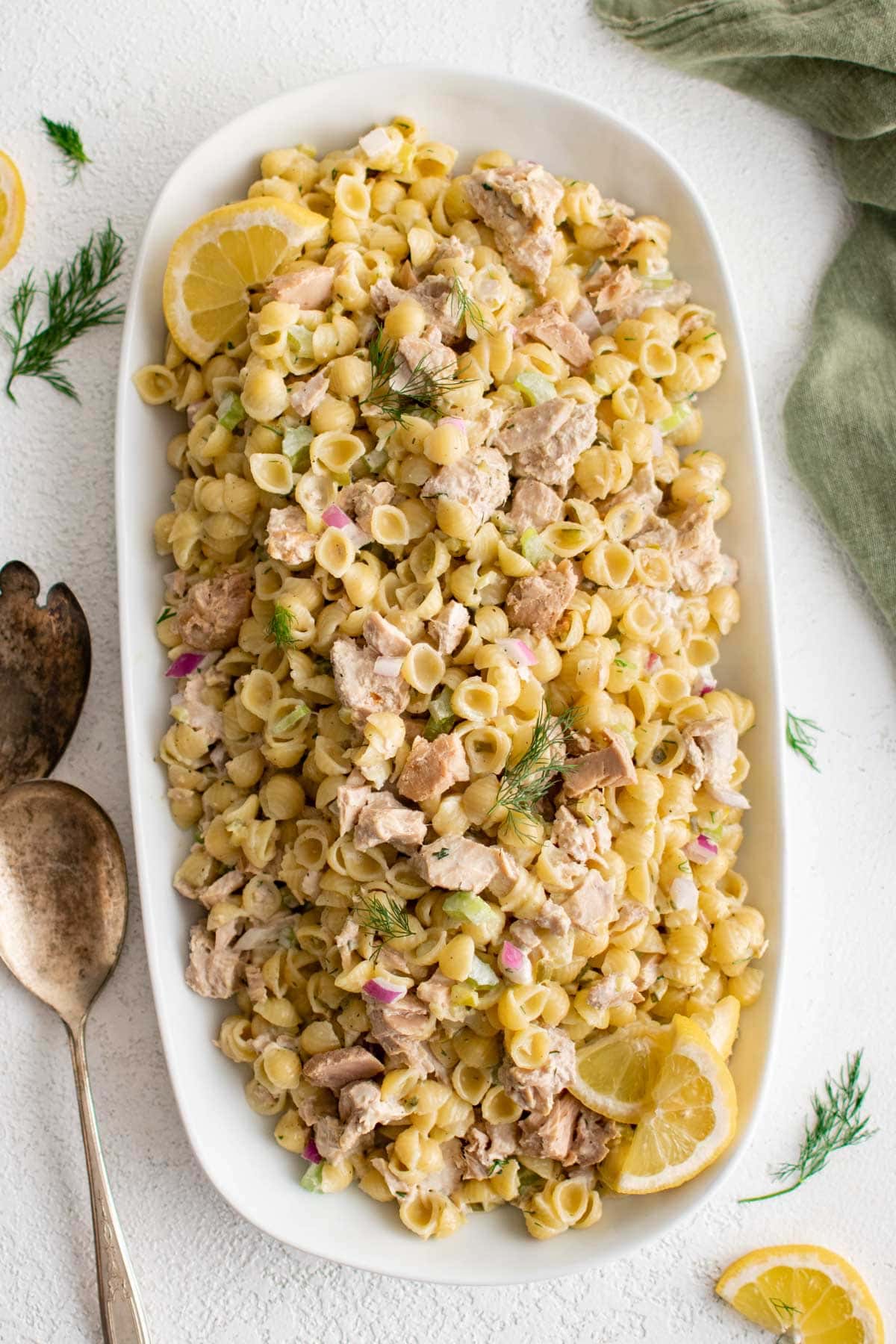 If you're looking for an easy recipe to bring to your next backyard barbecue, picnic, or potluck, look no further than my super easy, delicious, and flavorful Tuna Pasta Salad!
Pin this recipe for later!
About This Recipe
Tuna pasta salad is perfect for hot summer days when you're craving something light and refreshing. It's also a fantastic option for potlucks, picnics, or even as a quick and easy dinner when you're short on time.
This pasta salad makes a lot, so it's great for feeding a crowd. I enjoy it as a lunch – it will last me several days in the fridge – or it will serve our entire family for dinner, and still have a lunch ready for the next day.
The beauty of this dish lies in its versatility. You can make it your own by adding your favorite veggies, experimenting with different dressings, or even customizing it to fit your dietary needs.
How To Make Tuna Pasta Salad
Get a detailed list of ingredients & instructions in the recipe card below.
Creating the perfect pasta salad is just a handful of steps away. From choosing the best ingredients to achieving the perfect balance of flavors, we've got you covered.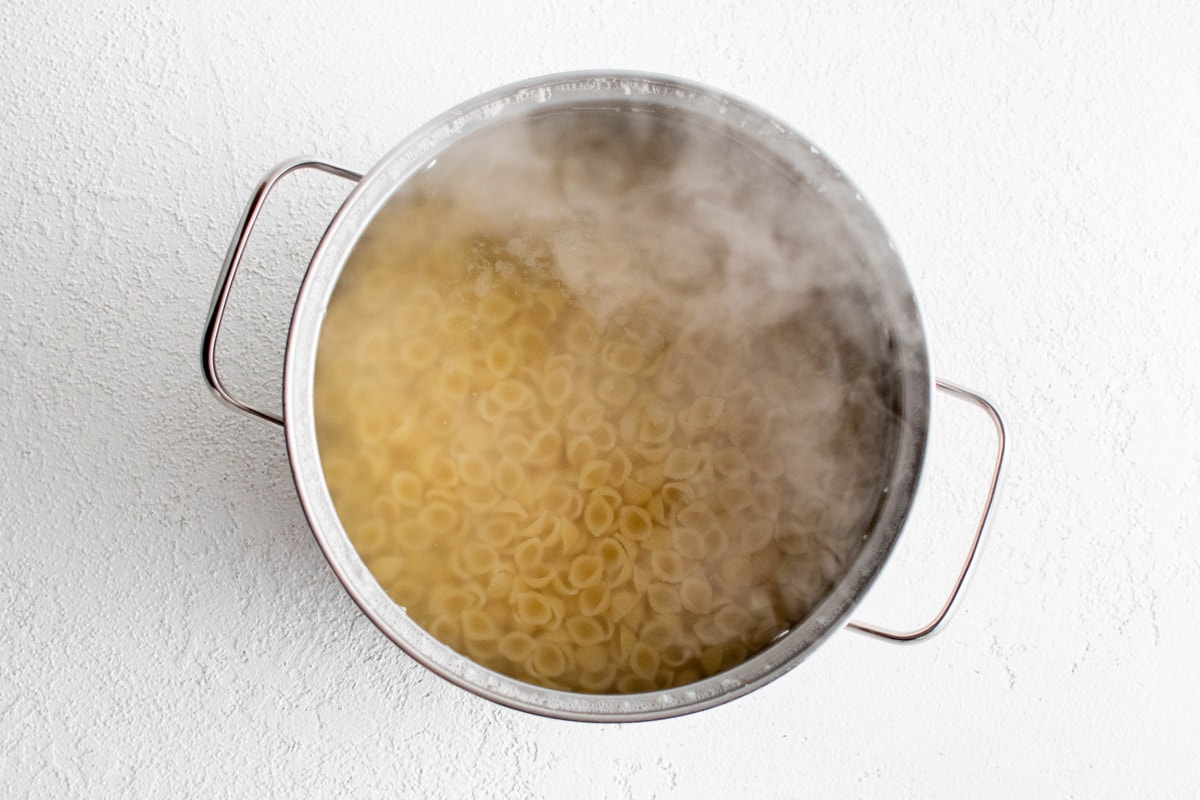 Cook the pasta. To make this easy pasta salad, start by boiling some salted water and cooking your pasta. A nice, small pasta is best; I chose the shells because they reminded me of the ocean but rotini, farfalle, or even macaroni are great alternatives.
Rinse and cool. Once the pasta is cooled, rinse it with cold water. Cold pasta salads are the only time I recommend rinsing your pasta! This stops the cooking process and cools the pasta quickly so you can assemble your pasta salad in a large mixing bowl without much wait time. Don't worry if it sticks together; when you add the dressing it will separate just fine.
Make the dressing. It's fairly simple, with a mayonnaise base, a little mustard, lemon juice, dill, garlic, salt, and pepper. Set this aside because dressing the salad is the last thing you'll do.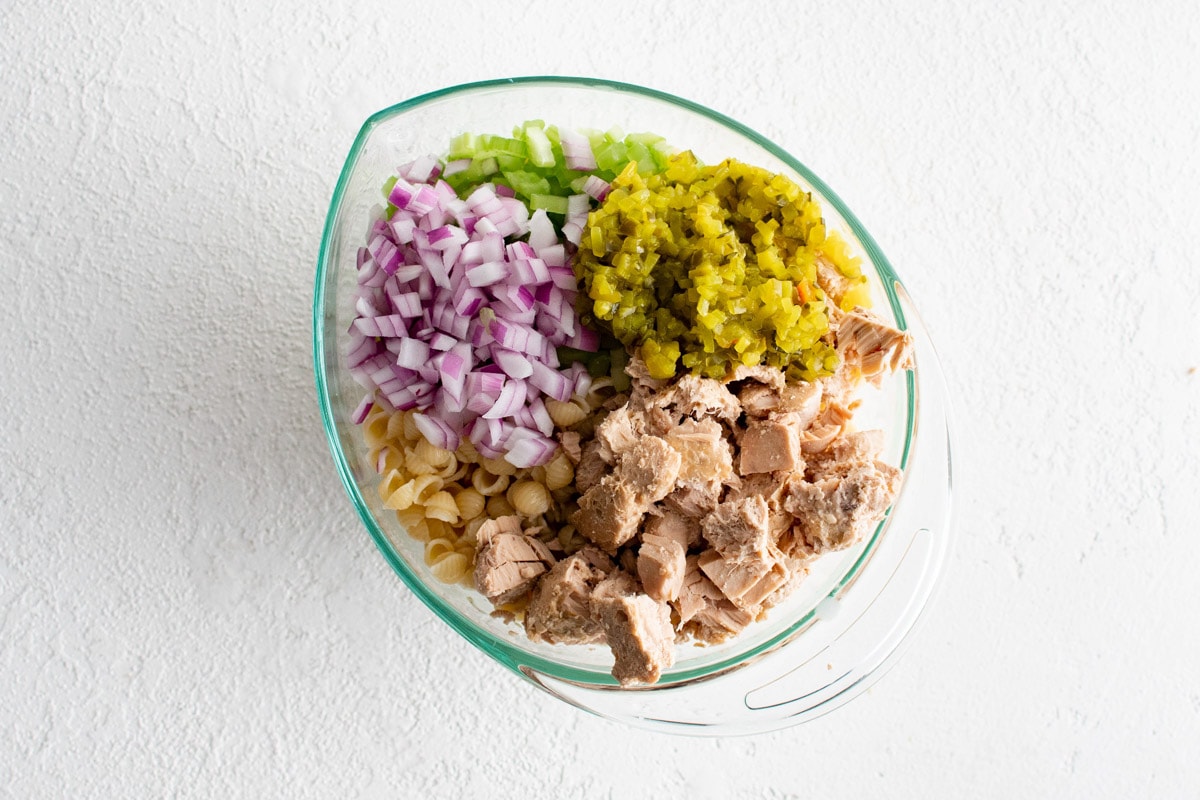 Assemble the pasta salad. I like to use water-packed albacore tuna (aff) because it has less fat and I prefer the taste. Drain the water from the can and place the tuna into a large bowl, breaking it up with a fork. Stir this together with the dressing, then add the pasta, diced onion, celery, and pickle relish. You could also use regular pickles (diced), peas, or even hard-boiled eggs.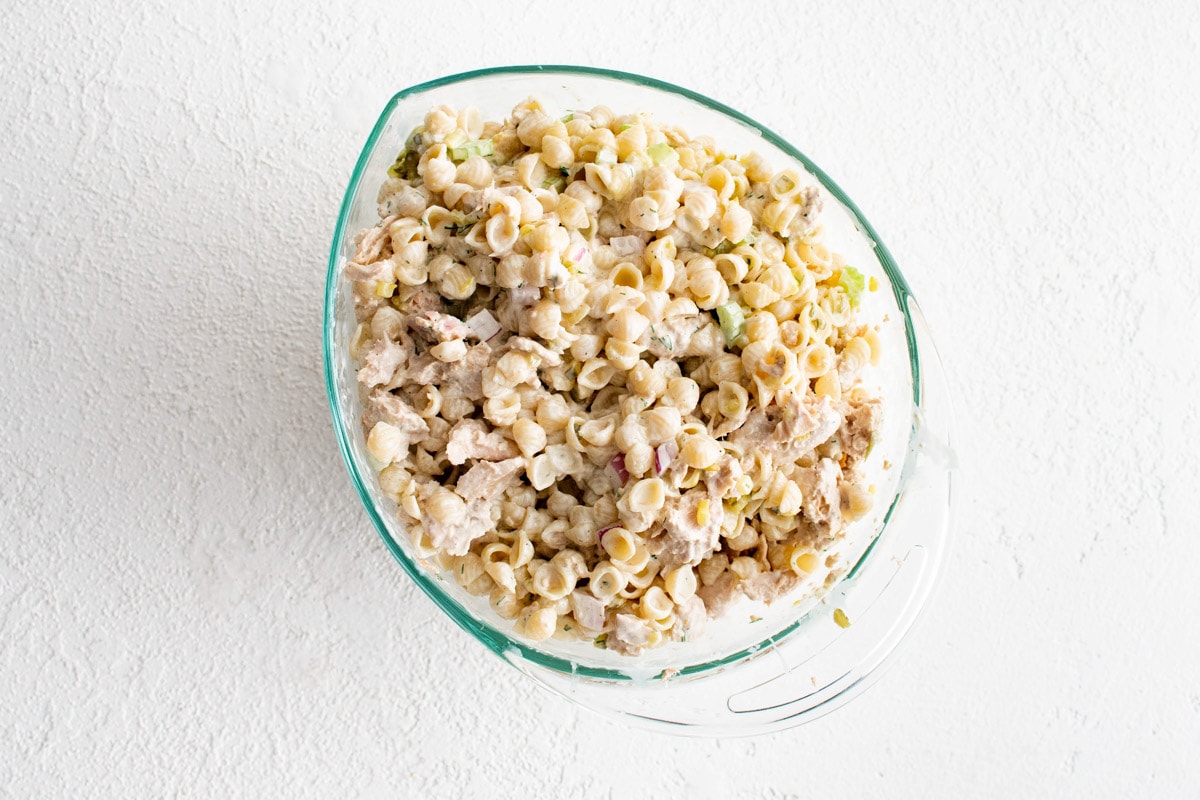 Garnish and serve. Once these ingredients are mixed together, fold in the dressing until the pasta salad is well coated. Garnish with some fresh minced parsley, lemon zest, or freshly cracked black pepper.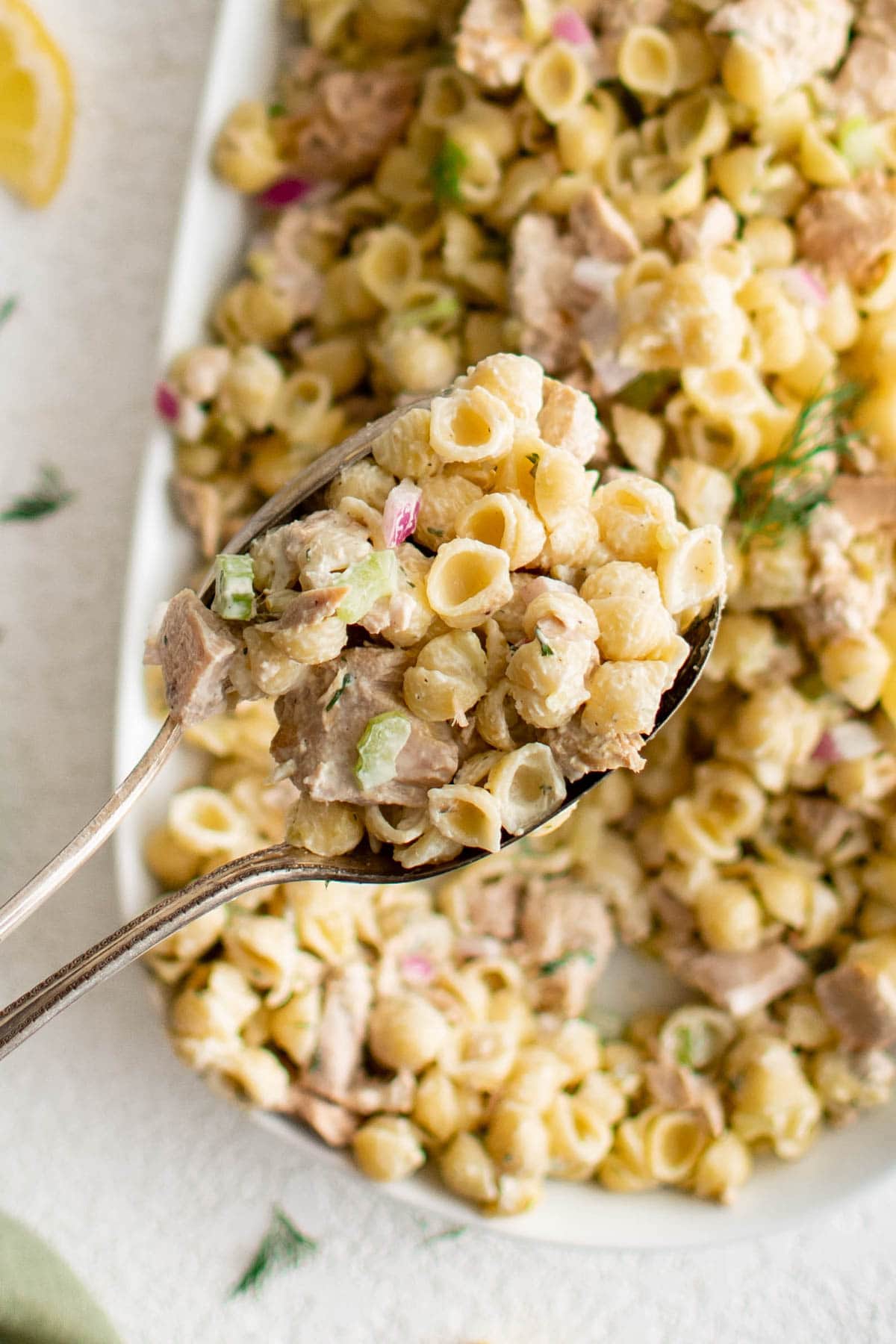 FAQs
What type of pasta is best for tuna pasta salad?
The type of pasta you choose for your salad largely depends on personal preference and the texture you desire. However, certain types of pasta tend to work well in this dish, like small shells, macaroni, or rotini.
Can I use canned tuna?
Yes, canned tuna is commonly used and can be a convenient and budget-friendly option. It's readily available in most grocery stores and offers a long shelf life, making it a popular choice for this dish.

Can I make this salad in advance?
For convenience, you can make this pasta salad in advance. If you need to prepare more than a few hours ahead, I recommend keeping the pasta and dressing separate until just before serving. Otherwise the pasta may soak up too much of the dressing.

Mix together the pasta, vegetables, relish, and tuna and store in a large bowl. In another small bowl, combine the dressing. Before serving, stir the dressing into the pasta until well coated.

Is tuna good for you?
Tuna is not only tasty, but it's actually good for you! It has omega-3 fatty acids, potassium, antioxidants, and protein and nutrients.
Variations
There are numerous variations and additions you can make to customize this recipe. Here are some ideas to enhance the flavor and add variety:
Vegetables: Add diced or sliced vegetables for extra freshness and crunch. Common choices include diced bell peppers (red, green, or yellow), cucumbers, cherry tomatoes, red onions, celery, or shredded carrots. You can blanch certain vegetables like frozen peas or broccoli for a softer texture.
Herbs: Incorporate fresh herbs to elevate the flavor profile. Add chopped parsley, dill, basil, or cilantro for a burst of freshness.
Cheese: Sprinkle grated or crumbled cheese into your pasta salad. Feta, cheddar, Parmesan, or mozzarella are all delicious options that can add creaminess and depth of flavor.
Olives: Include sliced black or green olives for a briny and tangy element that pairs well with tuna. Kalamata olives can also add a Mediterranean twist.
Avocado: Dice ripe avocado and gently fold it into the salad for a creamy and healthy addition.
Nuts or seeds: Sprinkle toasted pine nuts, slivered almonds, sunflower seeds, or sesame seeds over the salad to introduce a delightful crunch.
Spices or seasonings: Experiment with different seasonings to enhance the flavor. Options like paprika, garlic powder, onion powder, cayenne pepper, or a squeeze of lemon juice can elevate the taste profile.
Remember to adjust the quantities and ingredients based on your personal preferences and dietary needs. These variations and additions can help create a pasta salad that suits your taste and adds a delightful twist to the classic recipe.
Storage
Store leftovers in an airtight container in the refrigerator for up to 3-4 days. Give it a good stir before serving again and if it seems dry, remoisten with a little mayo. I recommend eating this salad within 24 hours for maximum flavor and freshness.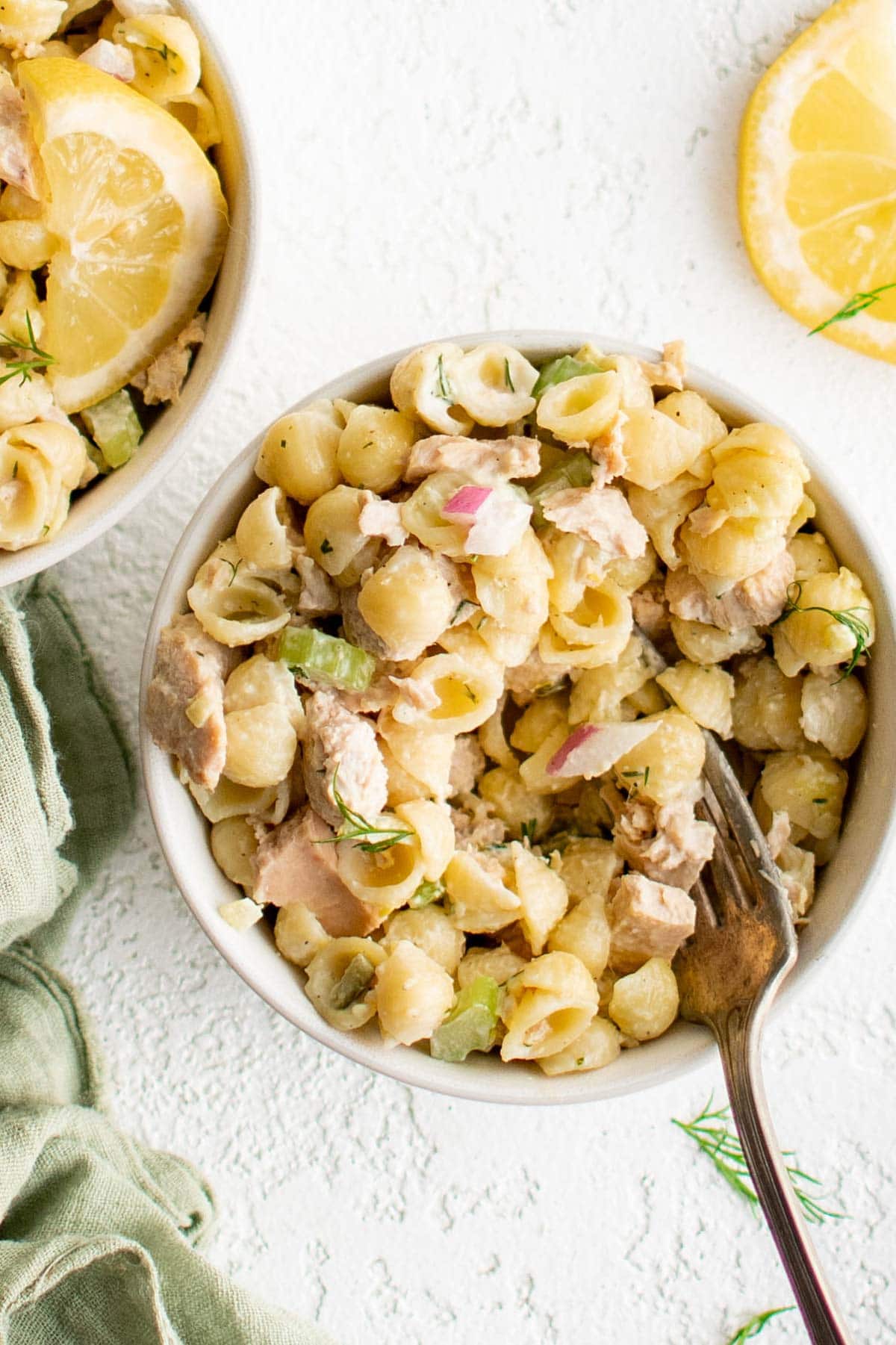 Helpful Tips
Cook the pasta al dente: Cook the pasta until it is al dente, which means it is cooked through but still has a slight firmness to it. Overcooking the pasta can result in a mushy texture when mixed with the other ingredients. Follow the cooking instructions on the package and taste the pasta to ensure it has the desired texture.
Chill the pasta before mixing: After cooking the pasta, rinse it with cold water to cool it down quickly and stop the cooking process. Then, make sure the pasta is completely chilled before mixing it with the other ingredients.
Drain the canned tuna well: When using canned tuna, drain it thoroughly to remove any excess liquid. Excess moisture from the tuna can make the salad watery. Press the tuna gently with a fork or strain it to remove as much liquid as possible.
Balance the flavors: Pasta salads typically incorporate a combination of creamy, tangy, and savory flavors. Taste the salad as you go and adjust the seasonings, such as salt, pepper, mustard, or lemon juice, to achieve a well-balanced taste that suits your preference.
Let it chill and marinate: After combining all the ingredients, let it chill in the refrigerator for at least an hour, or even overnight if possible. This allows the flavors to meld together, resulting in a more flavorful salad. Give it a gentle stir before serving to redistribute the dressing.
Add dressing gradually: When adding the dressing, start with a portion of it and gradually add more as needed. This helps you achieve the desired level of creaminess without overdressing the salad. You can always add more dressing later if needed.
Customize to your preference: Don't be afraid to customize the salad with your favorite ingredients and flavors. Adjust the quantities of vegetables, herbs, spices, or other add-ins to suit your taste. Feel free to experiment and make it your own!
More Tuna Recipes
Recipe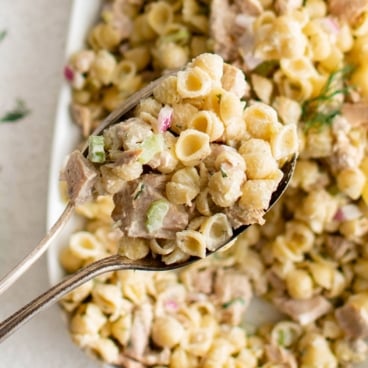 Tuna Pasta Salad Recipe
Tuna pasta salad is a delicious blend of tuna, pasta, veggies, and tangy dressing. It's easy and light, and perfect for lunch or dinner.
Ingredients
Salad
16

ounces

uncooked small pasta

like shells or farfalle

17

ounces

canned tuna

packed in water, drained** (see notes)

½

cup

diced celery

½

cup

diced red onion
Dressing
1

cup

mayonnaise

1

teaspoon

yellow mustard

½

teaspoon

garlic powder

1

tablespoon

lemon juice

1

tablespoon

fresh dill

½

cup

pickle relish

Salt and pepper
Instructions
Bring a large pot of water to boil. Add salt and the pasta. Cook to al dente (according to package instructions. Drain and rinse with cold water to stop the cooking process. Set aside.

In a small bowl, combine mayonnaise, mustard, garlic powder, lemon juice and fresh dill.

Combine all ingredients together in a large bowl. Season to your liking with salt and pepper.

Serve at immediately or chilled. Store in an air-tight container for up to 3 days in the refrigerator.
Notes
17-ounces of tuna is approximate, depending on the size of the cans you purchase. I used one 5-ounce can and one 12-ounce can. Mix and match as much as you like.
Nutrition
Calories:
498
kcal
Carbohydrates:
47
g
Protein:
22
g
Fat:
24
g
Saturated Fat:
4
g
Cholesterol:
37
mg
Sodium:
587
mg
Potassium:
318
mg
Fiber:
2
g
Sugar:
3
g
Vitamin A:
84
IU
Vitamin C:
2
mg
Calcium:
27
mg
Iron:
2
mg