My Tuna Pasta Salad is the perfect picnic lunch or anytime meal. With tender pasta, a creamy dressing and healthy tuna, it's the perfect meal for any time.
Here is another great shareable salad that's perfect for summer parties. It fits right in with other crowd-pleasing favorites like my Best Ever Classic Macaroni Salad and Mexican Street Corn Salad.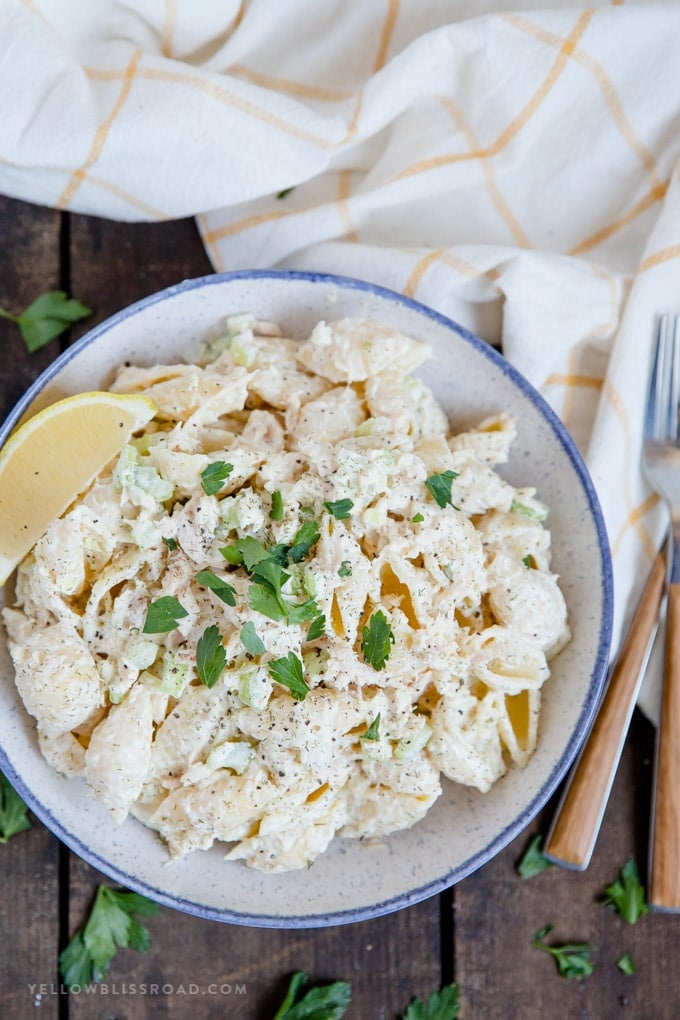 The Best Tuna Pasta Salad
If you're looking for a healthy dish to bring to your next backyard barbecue, picnic or potluck, look no further than my super easy, delicious and flavorful Tuna Pasta Salad!
Did you know that tuna is full of heart healthy benefits?
Tuna is rich with:
Omega-3 fatty acids, which help to reduce cholesterol.
Potassium, which aids in lowering blood pressure.
Immune system building anti-oxidants, which help fight disease.
Protein and nutrients, while being low in fat.
Tuna is not only tasty, but it's actually good for you!
If you're not quite ready to jump on the tuna bandwagon, this Tuna Pasta Salad is just the right starter for to get you in the Tuna camp.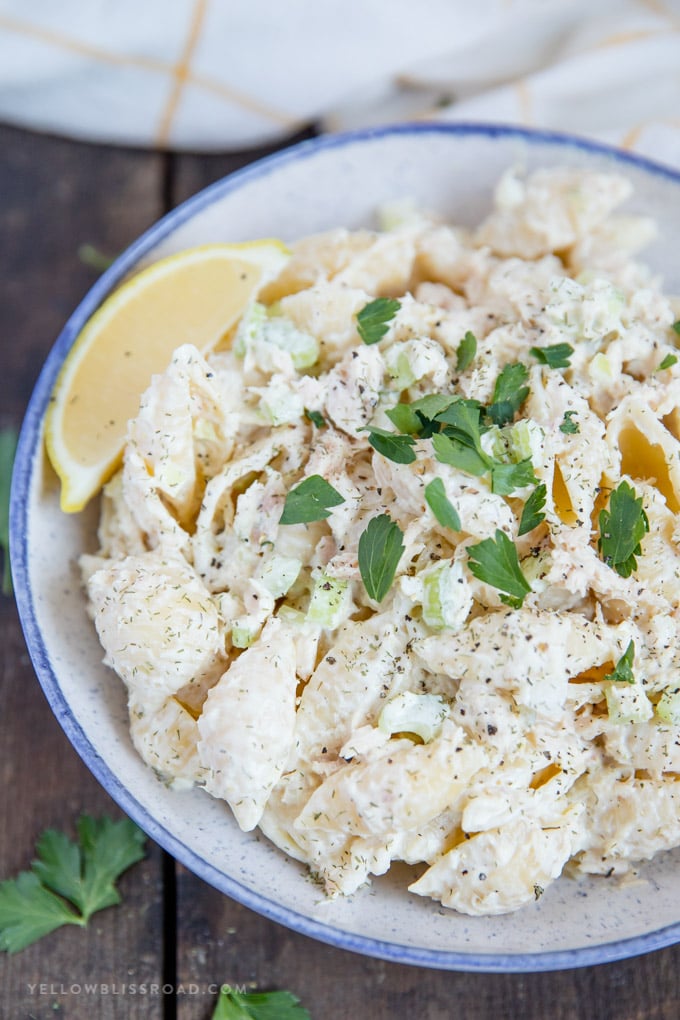 How to Make Tuna Pasta Salad
To make this easy pasta salad, start by boiling some salted water and cooking your pasta. A nice, small pasta is best; I chose the shells because they reminded me of the ocean (ha!) but Rotini, Farfalle or even macaroni are great alternatives.
Once the pasta is cooled, rinse it with cold water. Pasta salads are the only time I recommend rinsing your pasta! This stops the cooking process and cools the pasta quickly so you can assemble your pasta salad without much wait time.
Next, make the dressing. It's fairly simple, with a mayonnaise base, a little mustard, lemon juice, dill, garlic, salt and pepper. Set this aside because dressing the Tuna Pasta Salad is the last thing you'll do.
I like to use water-packed Albacore Tuna (aff) because it has less fat and I prefer the taste. Drain the water from the can and place the tuna into a large bowl, breaking it up with a fork. Stir this together with the pasta, and add the other ingredients. I used diced onion, celery and pickle relish. You could also use regular pickles (diced), peas or even hard boiled eggs.
Once these ingredients are mixed together, fold in the dressing until the pasta salad is well coated. Garnish with some fresh minced parsley, lemon zest or freshly cracked black pepper.
This Tuna Pasta Salad makes a lot, so it's great for a picnic or potluck side dish. I enjoy it as a lunch – it will last me several days – or it will serve our entire family for dinner, and still have a lunch ready for the next day.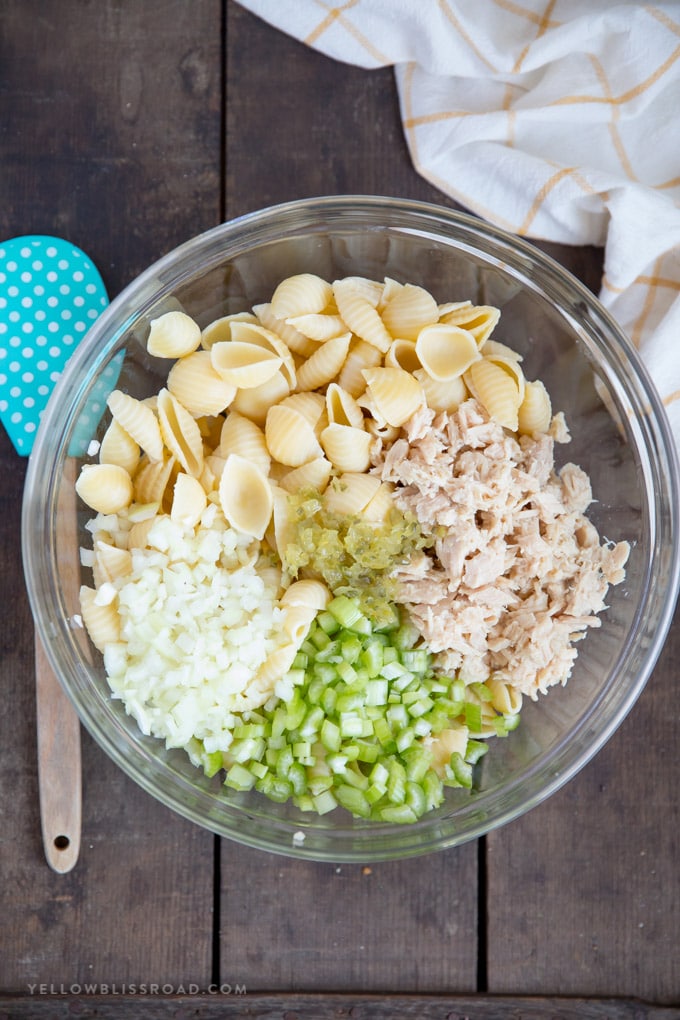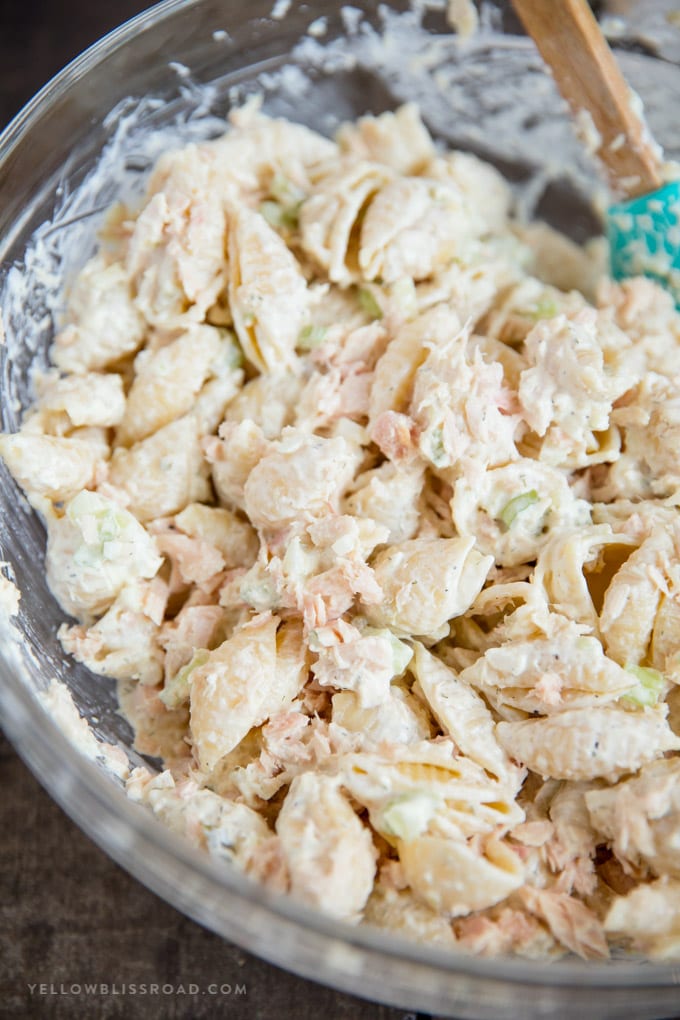 Can I make this salad in advance?
If you want to make this recipe more than a couple of hours in advance, I recommend preparing the salad separate from the dressing, and just adding the dressing right before serving. Otherwise the pasta will soak up the dressing and you won't get that creamy texture you really want.
What to do with leftovers
Your tuna pasta salad will keep well in the fridge for a 3-4 days as long as it's properly stored in an airtight container. You can add a little mayo to moisten it if it gets a little dry as the pasta will soak up some of the dressing. However, I do recommend eating this salad within 24 hours for maximum flavor and freshness.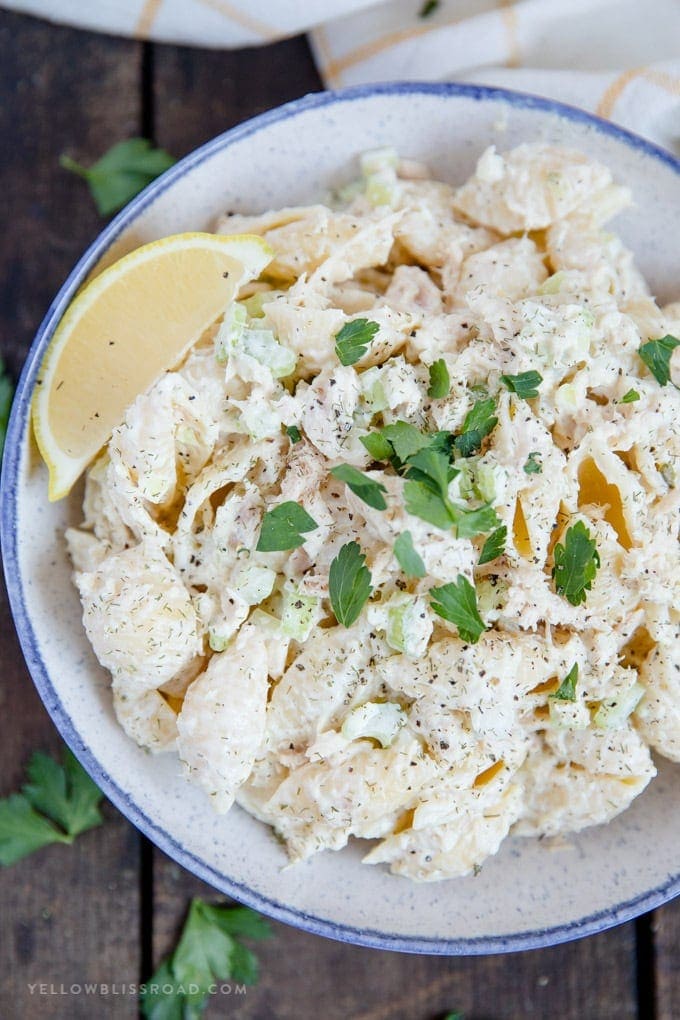 For other delicious pasta salads, check these out:
And here are more delicious tuna and salmon recipes to try: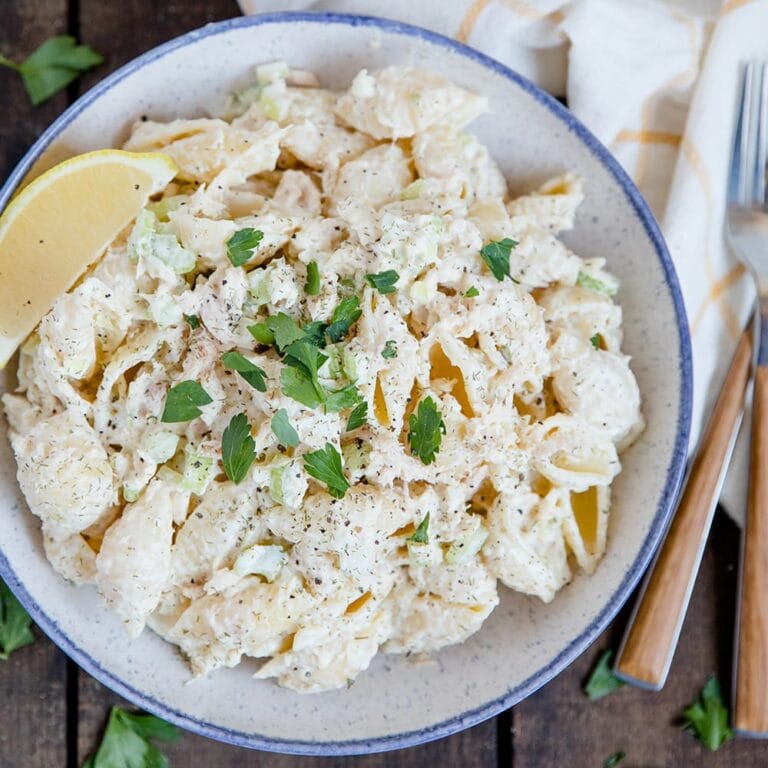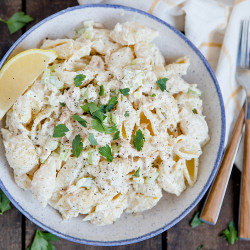 Tuna Pasta Salad
My Tuna Pasta Salad is the perfect picnic lunch or anytime meal. With tender pasta, a creamy dressing and healthy tuna, it's the perfect meal for any time.
Ingredients
16 ounces uncooked small pasta like shells or farfalle
17- ounces canned white albacore tuna packed in water, drained** (see notes)
1 cup mayonnaise
1 teaspoon yellow mustard
½ teaspoon garlic powder
1 tablespoon lemon juice
1 tablespoon fresh dill
½ cup diced celery
½ cup diced red onion
½ cup pickle relish
Salt and pepper
Instructions
Bring a large pot of water to boil. Add salt and the pasta. Cook to al dente (according to package instructions. Drain and rinse with cold water to stop the cooking process. Set aside.

In a small bowl, combine mayonnaise, mustard, garlic powder, lemon juice and fresh dill.

Combine all ingredients together in a large bowl. Season to your liking with salt and pepper.

Serve at immediately or chilled. Store in an air-tight container for up to 3 days in the refrigerator.
Notes
17-ounces of tuna is approximate, depending on the size of the cans you purchase. I used one 5-ounce can and one 12-ounce can. Mix and match as much as you like.