Easy to make by using refrigerated crescent rolls, these Bacon, Cheddar and Jalapeno Pinwheels are a perfect blend of savory and spice. These are so yummy and are super simple to make!
Re-posted from January 2014.
Bacon, jalapeno and cheddar – such an amazingly delicious combination. All combined with cream cheese and rolled into pinwheel form, they are similar to a jalapeno popper, and who doesn't love those?
There are lots of ways to customize these bad boys too:
Can't take the heat? Add mild green chiles instead of jalapenos. That's what I do for my kids and you get a ton of flavor without the spice.
Spice it up! Add a tablespoon of Ranch seasoning mix or Taco seasoning to the cream cheese for a unique and savory flavor combination.
Want MORE heat? Add more jalapenos and some Pepper Jack cheese.
Any of these combinations would be fabulous, but I am partial to these Bacon, Cheddar and Jalapeno Pinwheels just the way they are.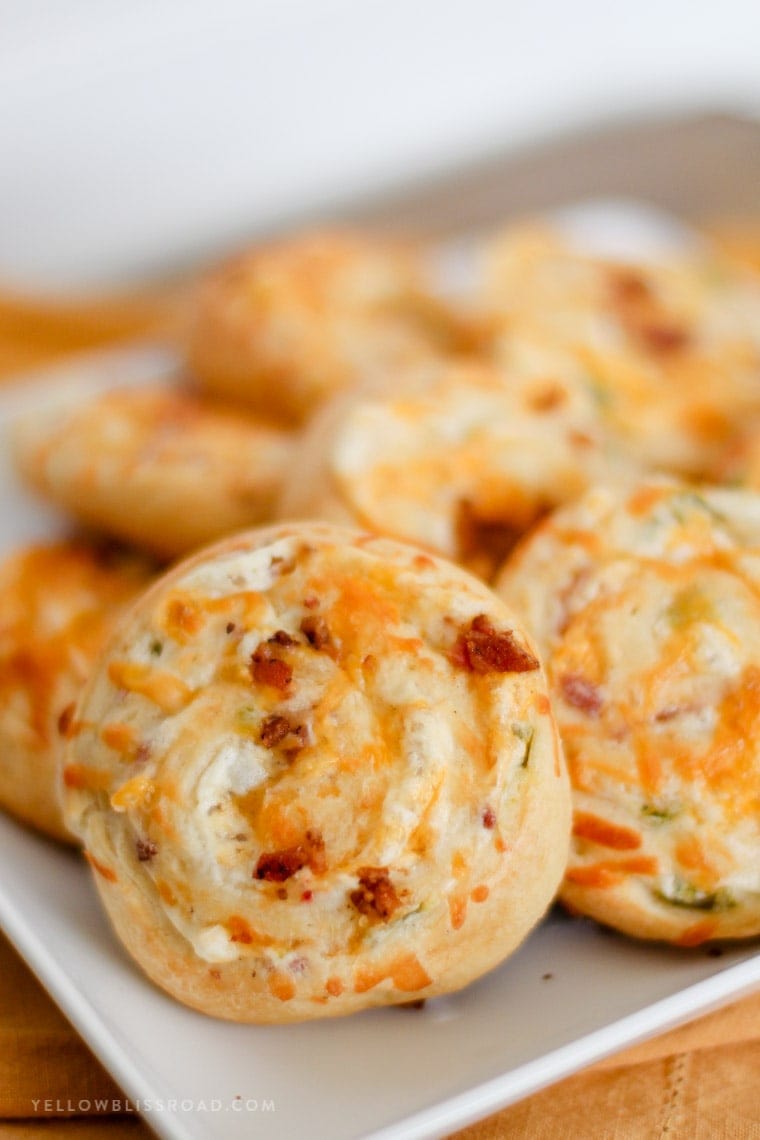 How to Make Bacon, Cheddar and Jalapeno Pinwheels
Start by cooking up some diced bacon until crisp, or just use the morning's leftovers. Wait, leftover bacon? What's that?
Mix the bacon with some room temperature cream cheese and 1 tablespoon of diced jalapenos. Now, to be fair, I must tell you that I am a WIMP when it comes to spicy food. People usually look at me like I'm nuts when I tell them that something is spicy. So you might like spicy and you might want to add another tablespoon. It's a personal preference. I also used canned jalapenos rather than fresh. Again, it's a personal preference. Also you'll want to add a half teaspoon of garlic salt.
So you spread this all out on the rolled out crescent dough and sprinkle with cheddar cheese and more bacon crumbles. Roll it into a log and slice into even 1-inch thick pieces and lay out on a cookie sheet lined with foil or parchment paper. Sprinkle with a little more cheddar and bake at 350 for 10 minutes.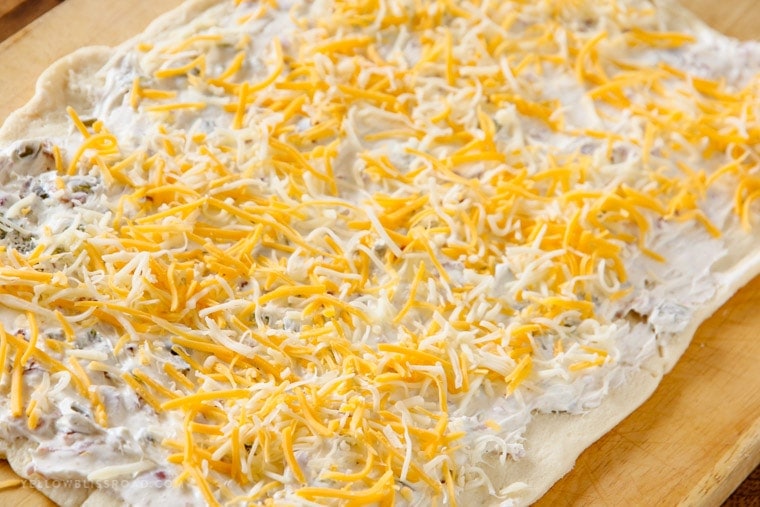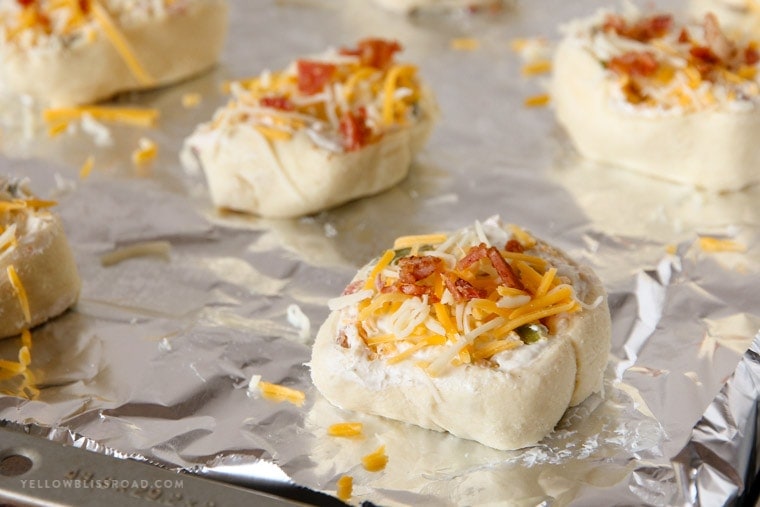 Don't they look tasty? They are warm and soft and just all around delicious! They are sure to be a hit at your next party!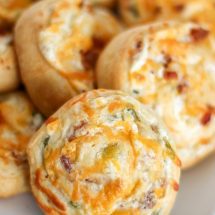 Ingredients
1 can of Pillsbury Crescent Rolls or dough sheet, if you can find it
1 cup shredded cheddar cheese 1/4 cup reserved
1-2 tablespoons diced jalapenos canned or fresh
5 slices crisp bacon diced/crumbled
4 oz cream cheese room temperature
1/2 teaspoon garlic salt
Instructions
Preheat oven to 350 degrees.

Mix cream cheese, bacon, jalapenos and garlic salt together in a small bowl and set aside.

Roll out crescent roll dough and lightly press seems together to form a sheet.

Layer ingredients evenly on the dough, sprinkle with cheese reserving about 2 tablespoons for topping, and roll lengthwise.

Cut into 1-inch slices and place 2-inches apart on a foil lined cookie sheet. Top with reserved shredded cheddar, if desired.

Bake for 9-11 minutes, or until bread begins to brown.

Allow to cool slightly before plating and serving.
Here's another jalapeno bacon recipe that we love:
Jalapeno, Bacon & Corn Cheese Dip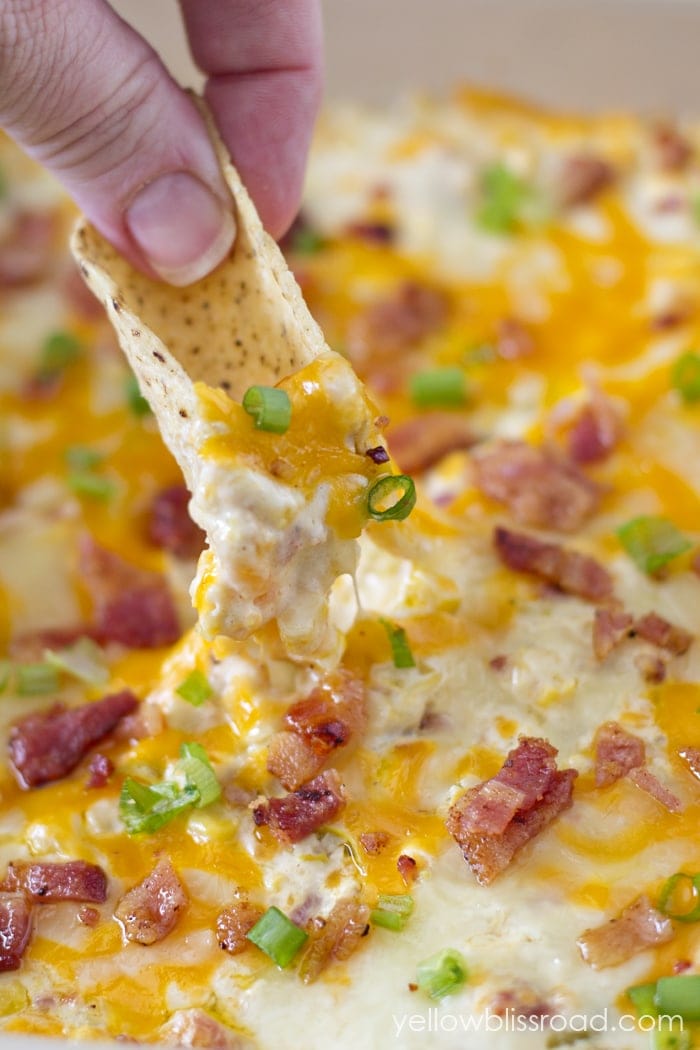 Need even more jalapeno? Try these great recipes:
Or maybe more baked pinwheels is what you need? We've got those too!
Chicken Parmesan Pinwheels
Cheddar Bacon Ranch Pinwheels
Be sure to pin this to your Game Day or Appetizer board to save for later! Or check out our favorite Appetizers & Dips!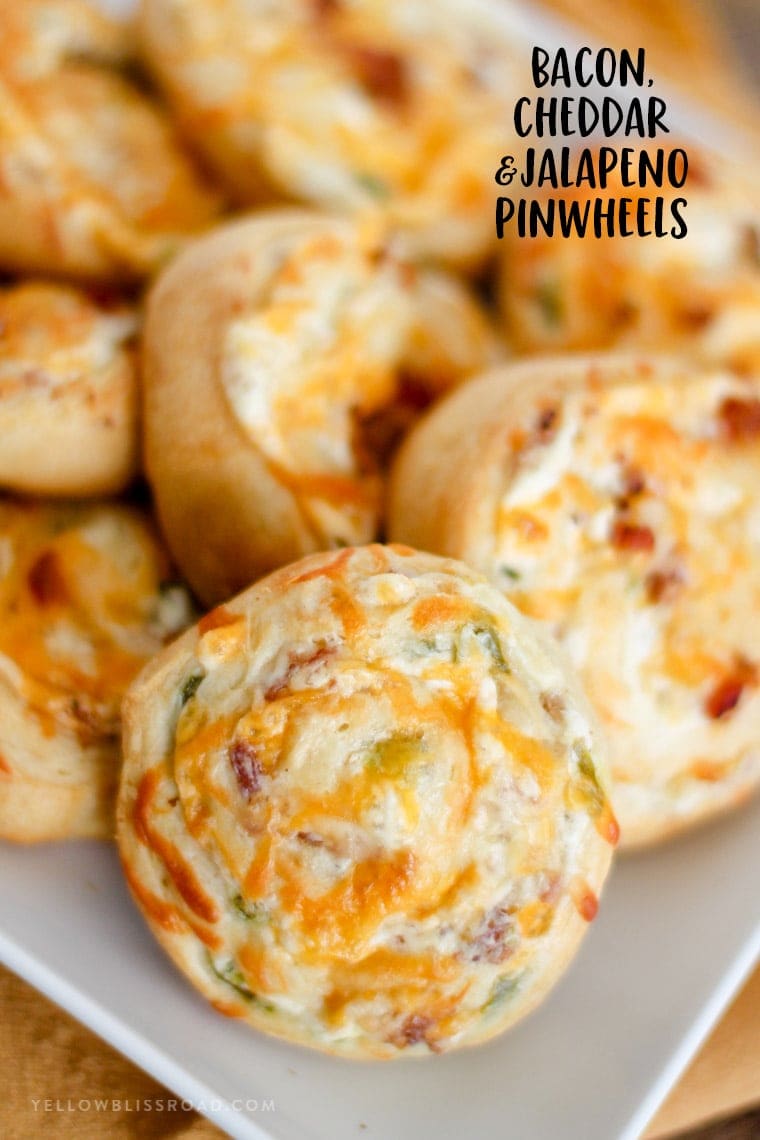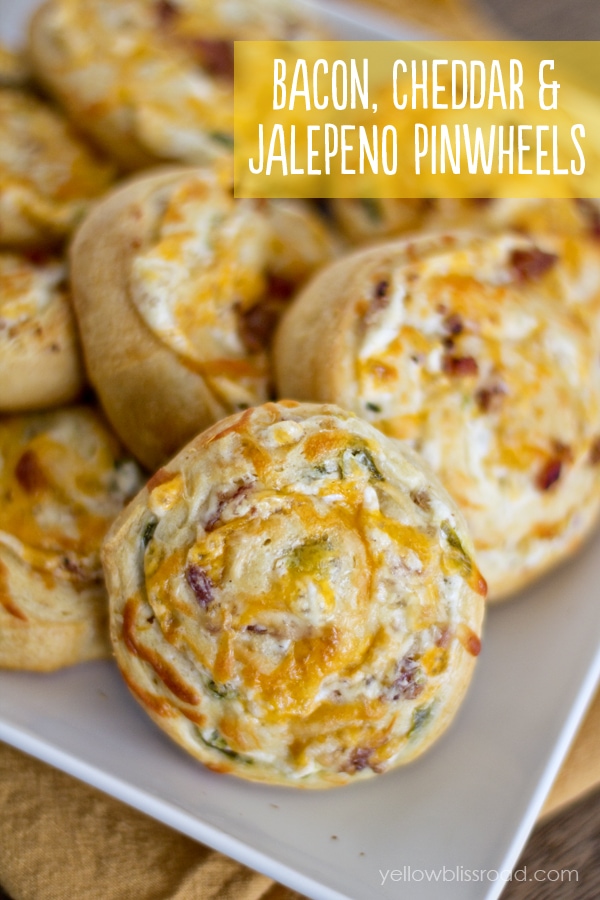 Hi! I'm Kristin, the creative mind behind Yellow Bliss Road where you will be inspired by tons of easy to follow recipes, lots of free printables, and a little sprinkling of life thrown in for good measure.