Creamy delicious Spinach and Artichoke Dip is rolled up in soft, chewy pizza dough and topped with a generous helping of Mozzarella cheese. An easy finger food that makes the perfect appetizer for any party.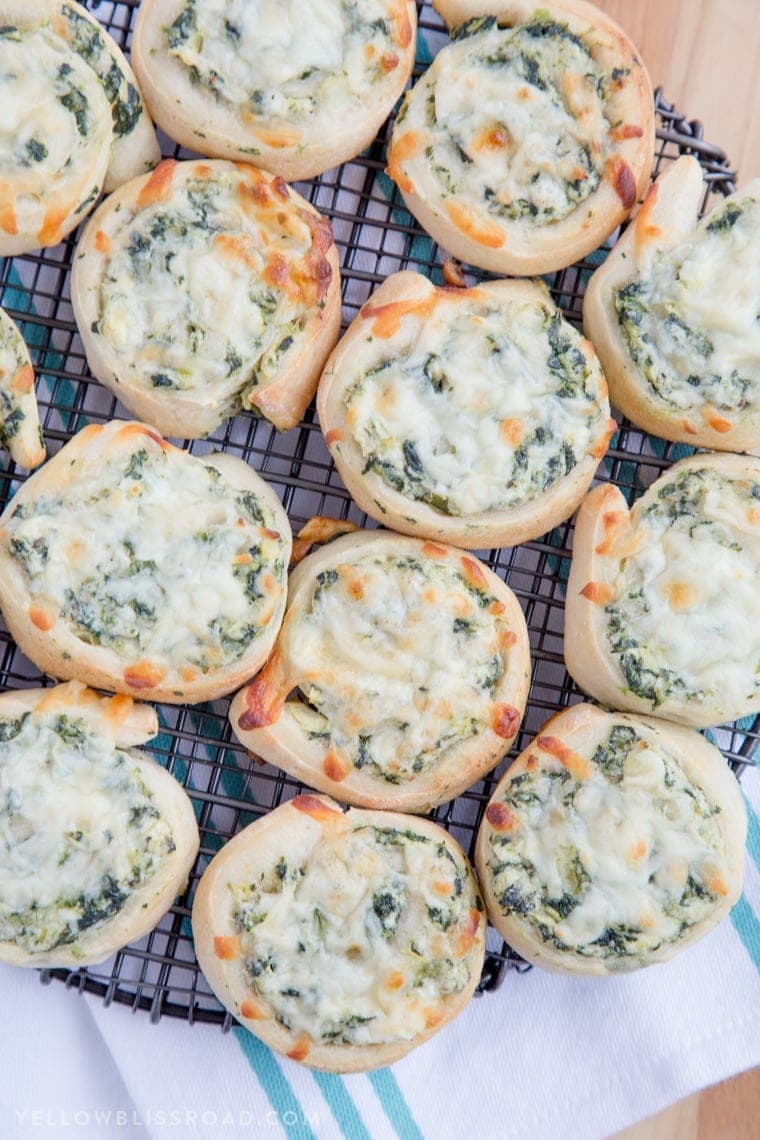 On any given day, at any given time of the year, if you asked me what my favorite appetizer is I would say, without hesitation – Spinach Dip. Cold or hot, this classic dip from the 70s has made a comeback in the most delicious way.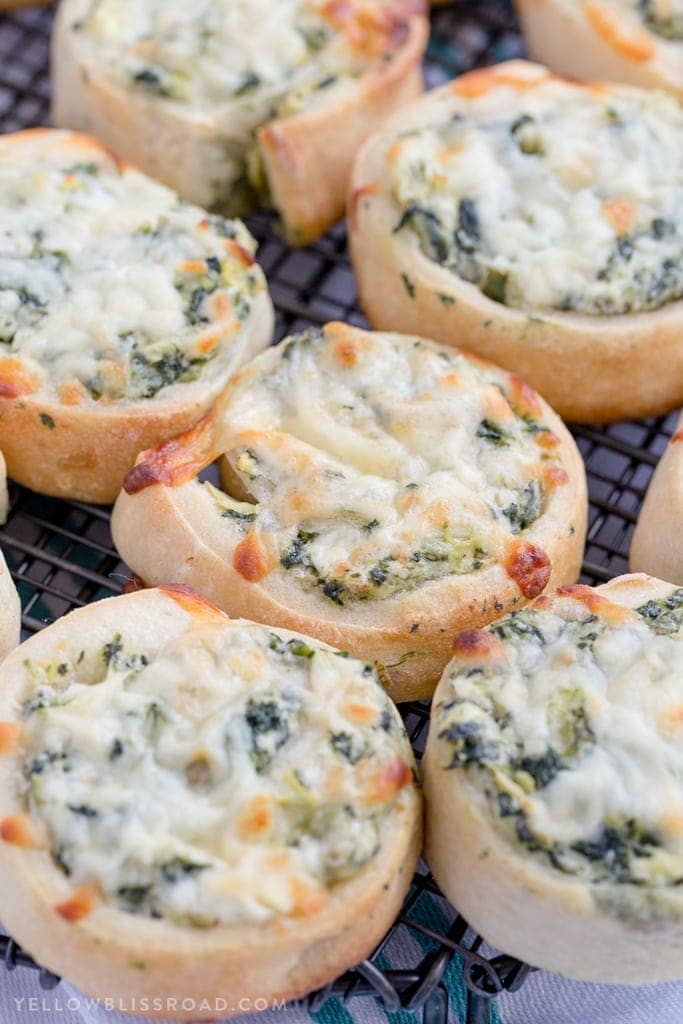 I have been making this spinach dip recipe for many more years than I would like to admit but as hot appetizers go, it's pretty much the best. Since I'm a big fan of pinwheels too (see exhibit A and exhibit B) I knew combining the dip with the pinwheel pizza crust would be a match made in heaven.
I'll be sharing an updated version of my favorite dip next week, but in anticipation, I am getting ahead of myself and sharing the pinwheels first. As recipes go, this is a pretty simple one that anyone can make. It's a combination of cream cheese, mayo, spinach, artichokes, Parmesan cheese and seasonings all baked to melty, bubbly perfection. For this pinwheel version the dip is instead spread onto pizza dough, rolled into a tight log and sliced.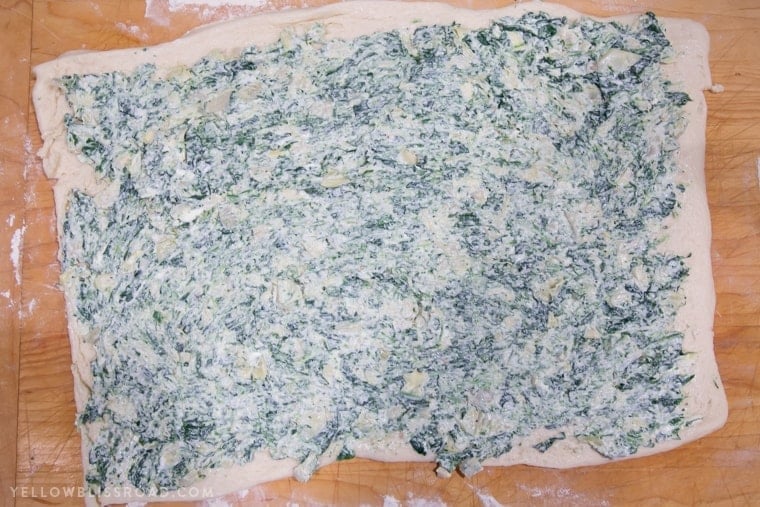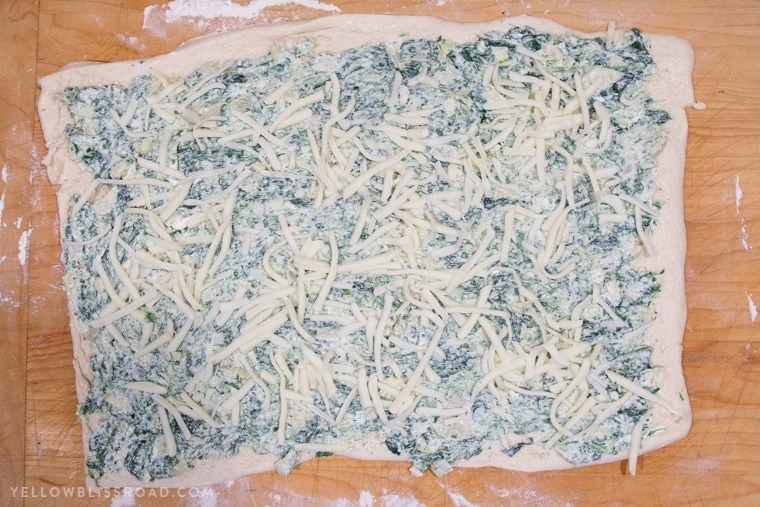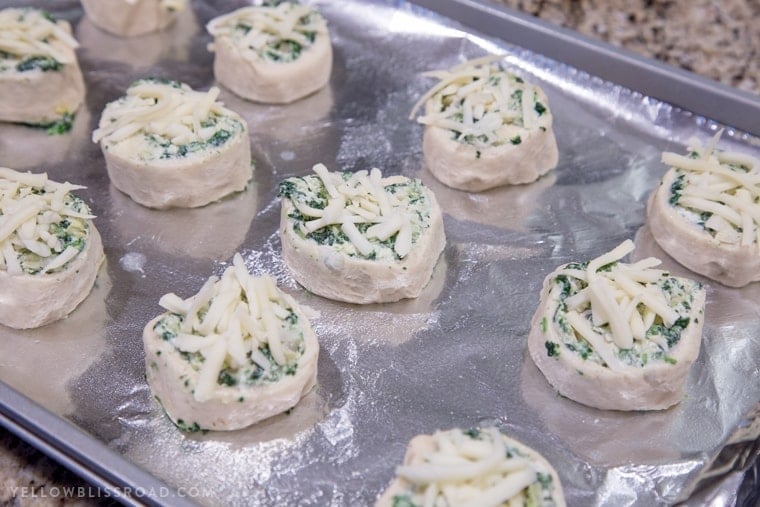 Once they're all sliced up and arranged on a baking sheet, into the oven they go until they are golden brown on top and you can see the ooey, gooey spinach artichoke dip bubbling through. Try to resist eating one right off the pan because cheese can get pretty hot! So let them cool a bit before serving.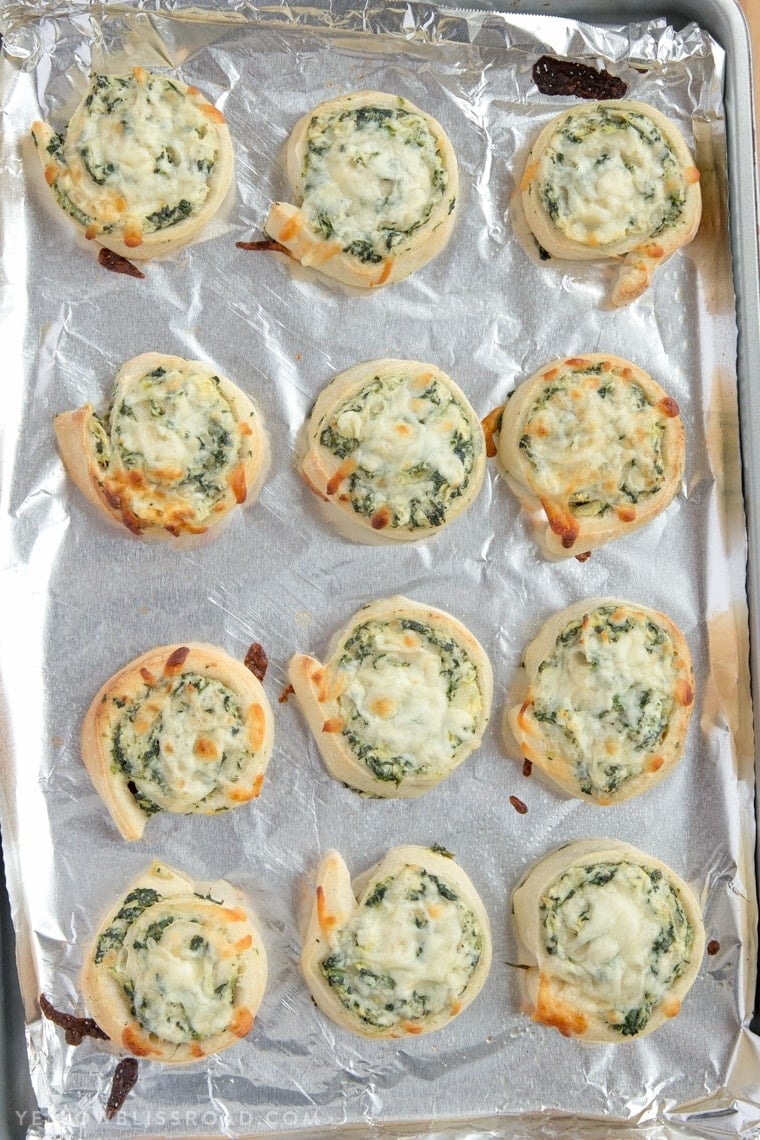 Oh, and one last tip – better make a double batch because these babies disappear quick!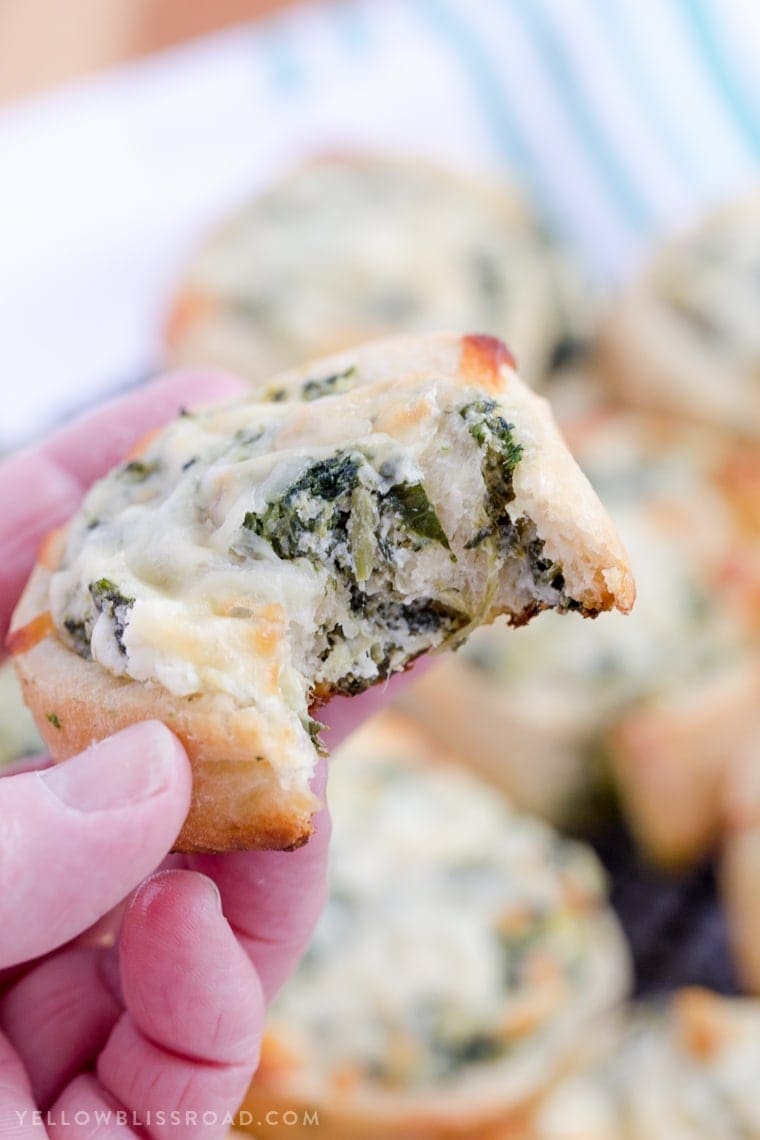 Spinach & Artichoke Dip Pinwheels
Yield 7 -8 servings
Ingredients
1 can refrigerated pizza dough (or crescent dough)
1 14-ounce can artichoke hearts, drained and chopped into small pieces
1 10-ounce box frozen spinach, liquid squeezed out, chopped
1 8-ounce package cream cheese, room temperature
1/2 cup mayonnaise
1/2 cup fresh shredded Parmesan cheese
2 cloves garlic, minced (about 1/2 teaspoon)
1/2 tsp dried basil
1/4 tsp garlic salt
1 cup shredded mozzarella, divided
Instructions
Preheat oven to 400 degrees F. Line 2 medium-sized baking sheets with foil and spray with nonstick cooking spray. Set aside.
In a medium bowl, stir together cream cheese, mayonnaise, garlic, basil, garlic salt and Parmesan cheese until combined. Fold in spinach and artichokes.
Lightly flour a cutting board and spread the pizza dough out into a rectangle shape. Spread the dip mixture evenly over the the pizza dough. Sprinkle with half of the shredded mozzarella. Roll into a log starting with the longer side. Slice the log into 1 inch pieces and arrange on the prepared baking sheet. Top each piece with a small amount (1/2 teaspoon or so) or the shredded Mozzarella.
Bake at 400 for 15-17 minutes, or until golden brown on top.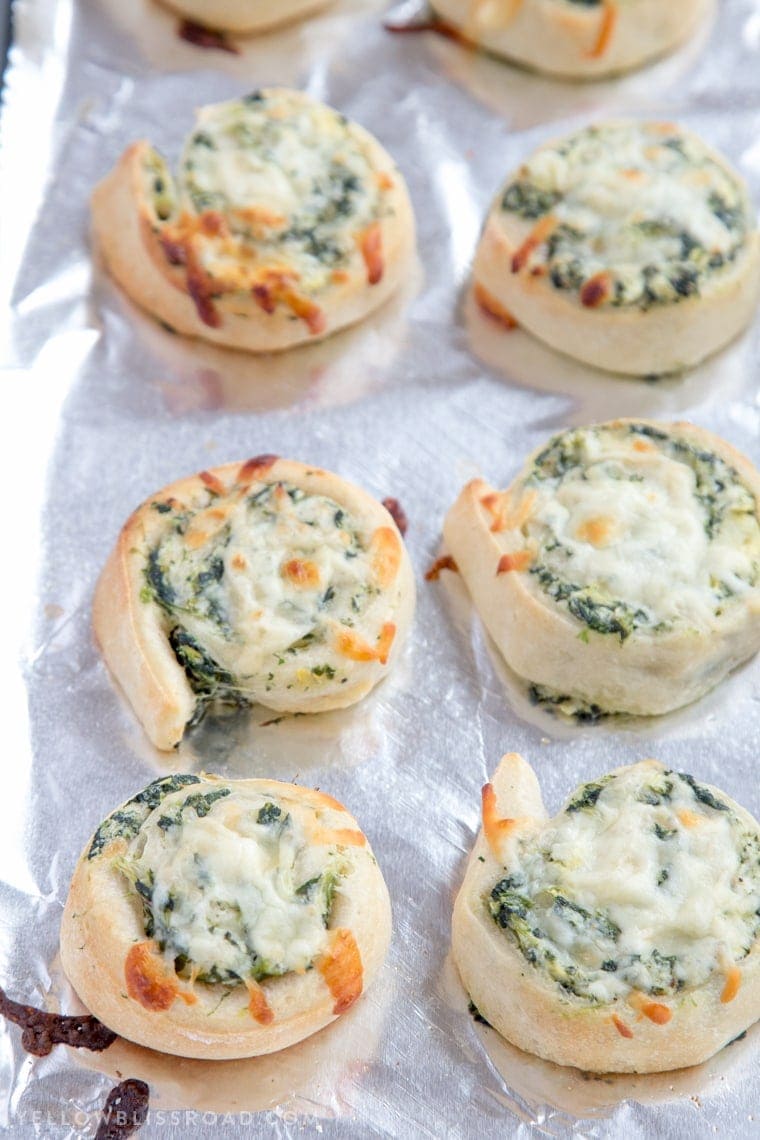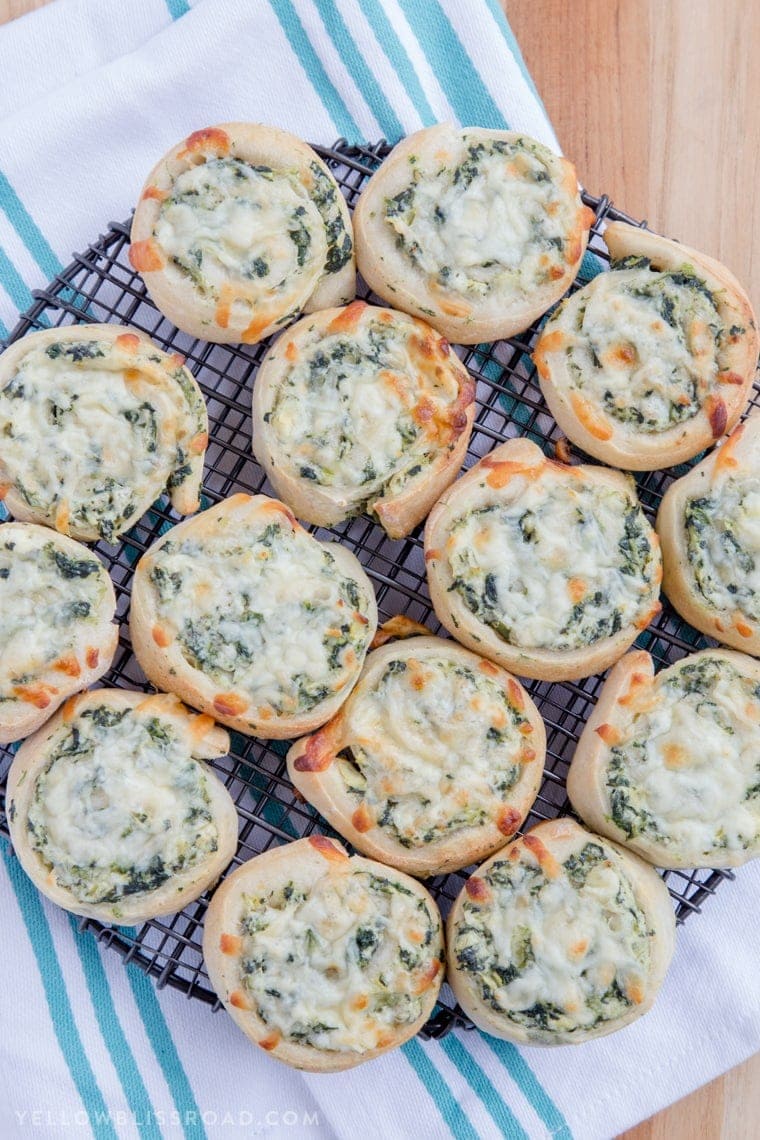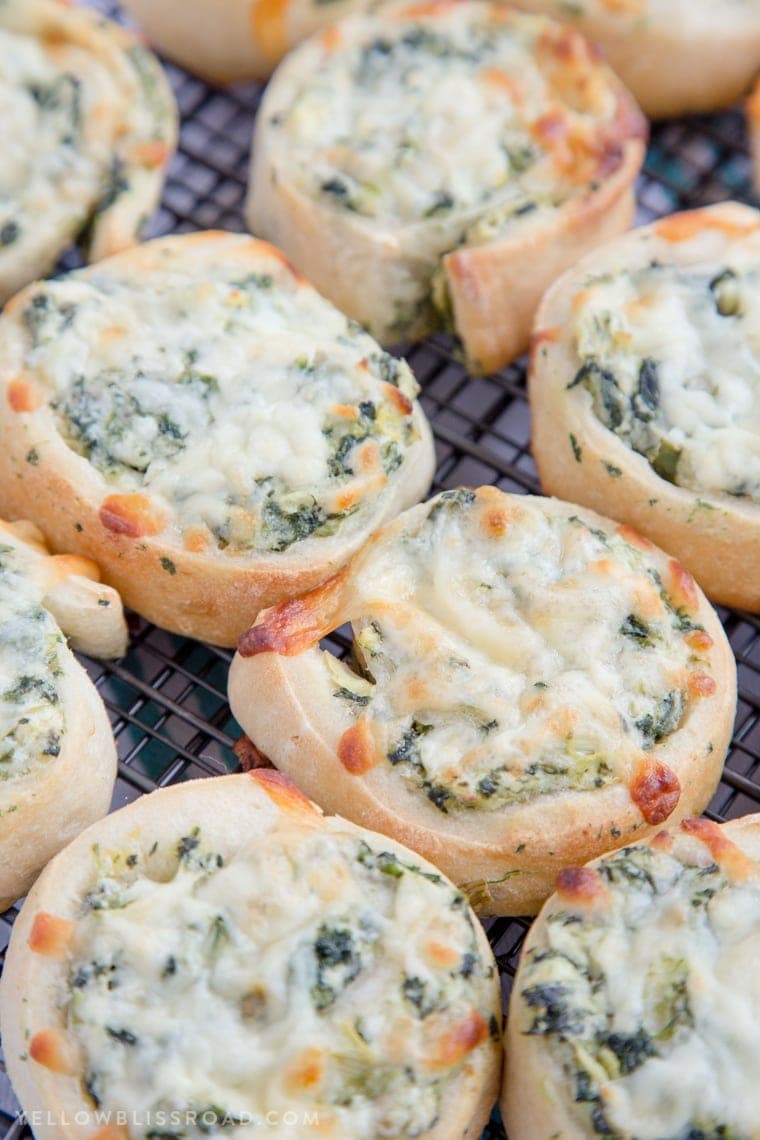 For more delicious appetizers, try these:
Spicy Pineapple Barbecue Turkey Meatballs
Buffalo Ranch Chicken French Bread
 For all dips go HERE, for all appetizers go HERE and for the recipe index, go HERE.