S'Mores on top of brownies, on top of oreos on top of brownies…these S'Mores Oreo Stuffed Brownies are the best of summer desserts all rolled into one deliciously ooey gooey treat!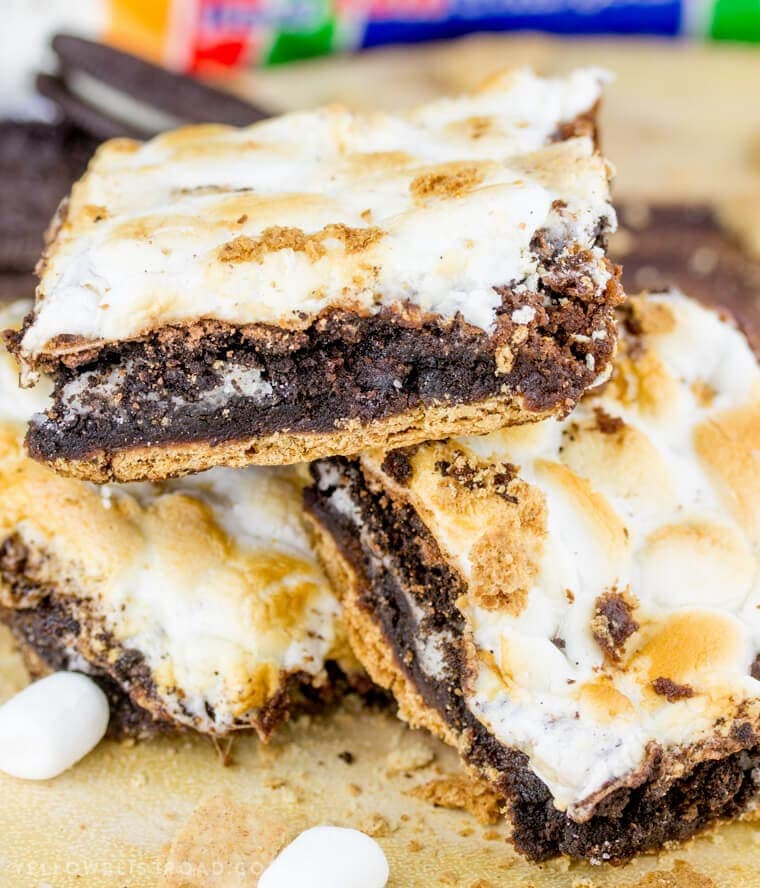 *This post has been updated from 2014.
In my 8 years of blogging and creating recipes, this is one of my favorites. These S'Mores Oreo Stuffed Brownies look so rusticly beautiful, they taste absolutely divine, and they are a real crowd pleaser – no one can say "no" to these brownies (And if they do you might want to reconsider the relationship!).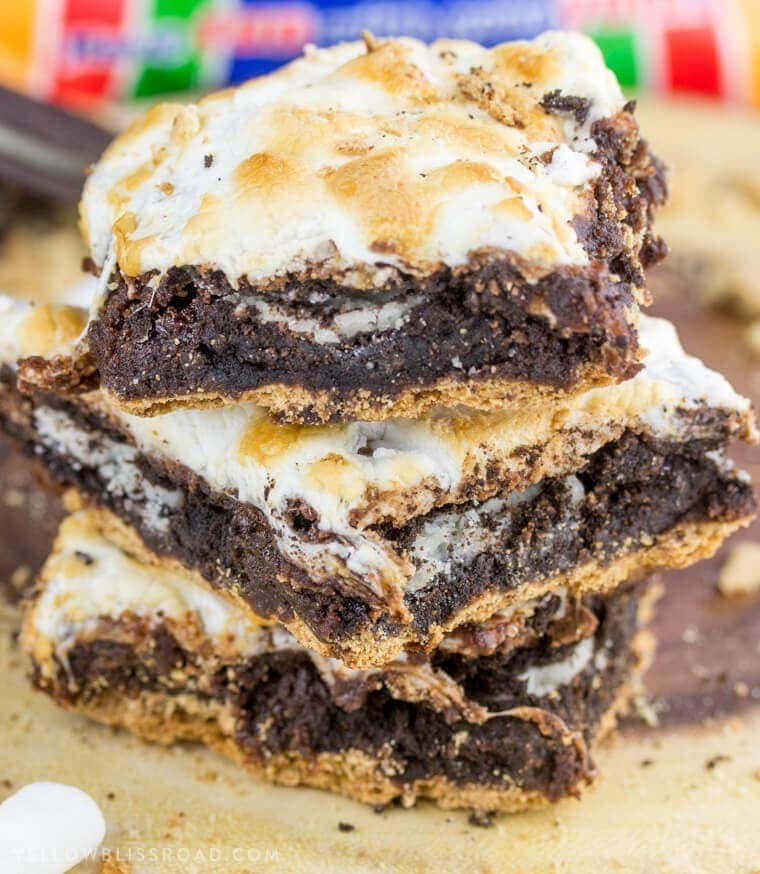 Imagine all of the things that remind you of childhood backyard barbecues and summer vacation all blended together in a fabulous dessert. Sticky S'Mores faces licking the marshmallow and melted chocolate off of their fingers, twisting the tops off of the Oreos so you could lick the yummy creme in the center. And brownies. Oh, the brownies.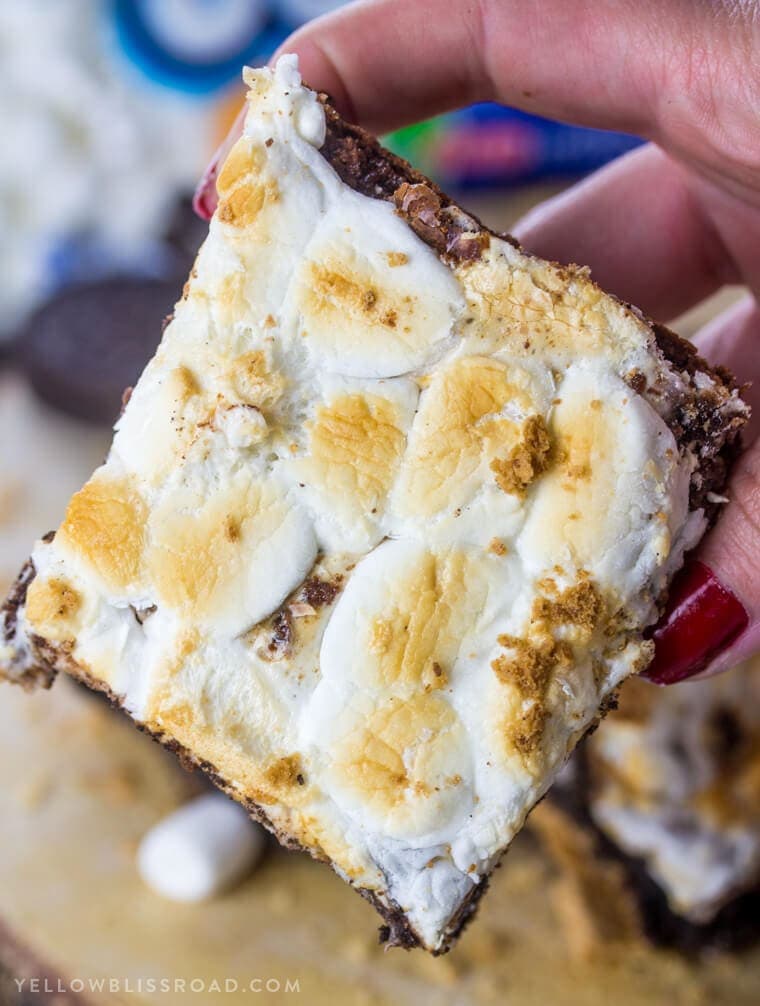 Since you've likely spent the last few minutes drooling over your keyboard, I'll bet you're ready to see how easy these S'Mores Oreo Stuffed Brownies are to make!
Start with a graham cracker base, in a foil lined pan, adding broken pieces to fill all the space. *Pro-tip: I like to use foil or parchment paper with any kind of baked bar like this. Makes it super easy to lift the whole thing out and cut on a cutting board rather than digging around to get out the first few squares!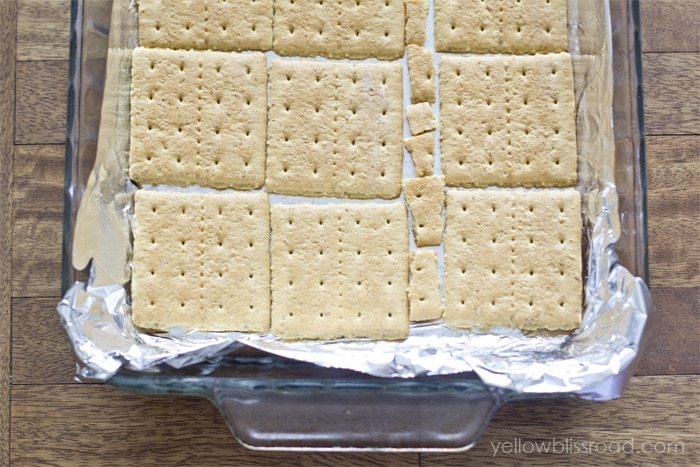 Next you'll top with half of the brownie batter then top that with Oreos.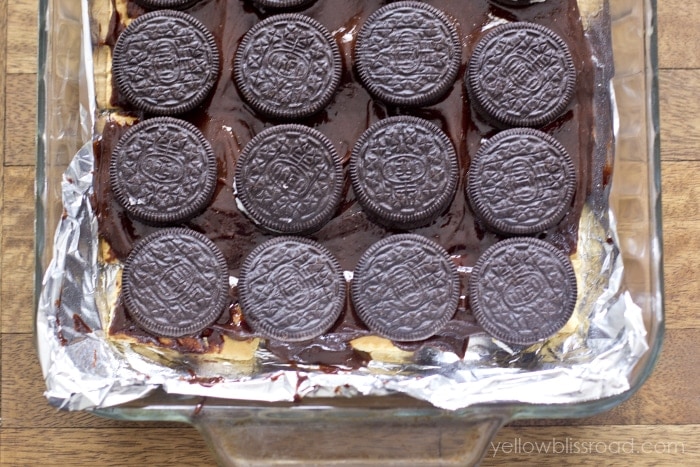 Next you'll add a cup of marshmallows to the remaining batter and fold them in until they are all covered with chocolate. Then spread that on top of the Oreos. Try to get the brownie batter all the way to the edges of the pan or the Oreos tend to burn.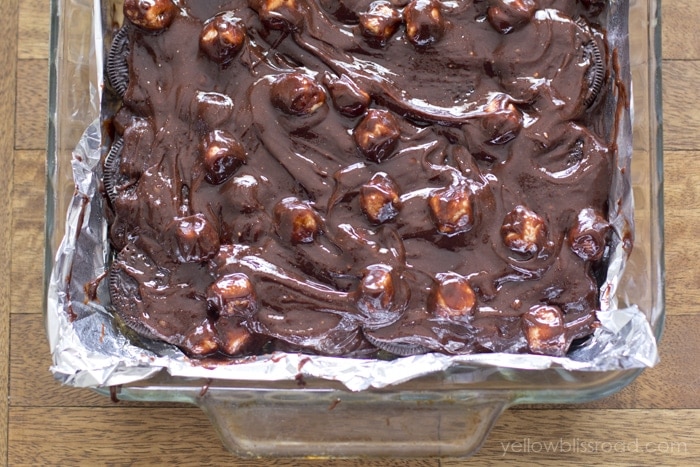 Then bake that beautiful mess for about 27 minutes, on the middle rack of the oven. Flip on the broiler and sprinkle another cup or so of marshmallows on top of the brownies. Leave them on that center rack and let the broiler brown them for about two minutes. Don't walk away – they can burn in seconds!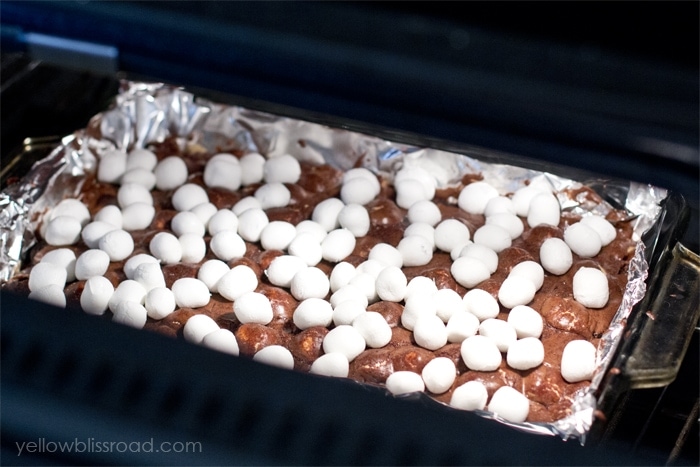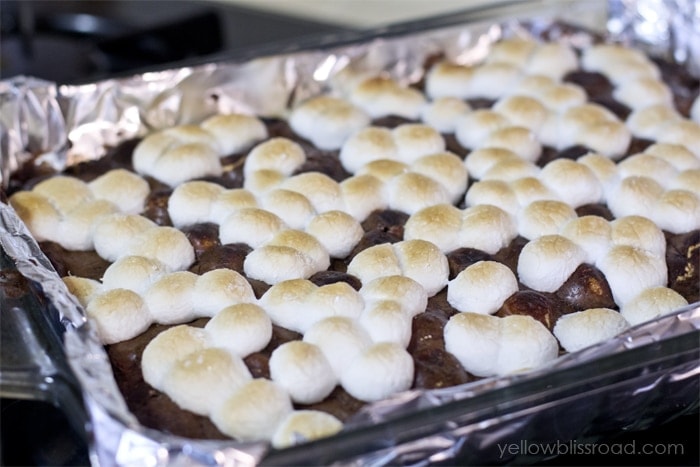 Remove from the oven and allow the brownies to cool completely before cutting into bars. The marshmallow does get sticky so it helps to dip the knife in warm water after each slice.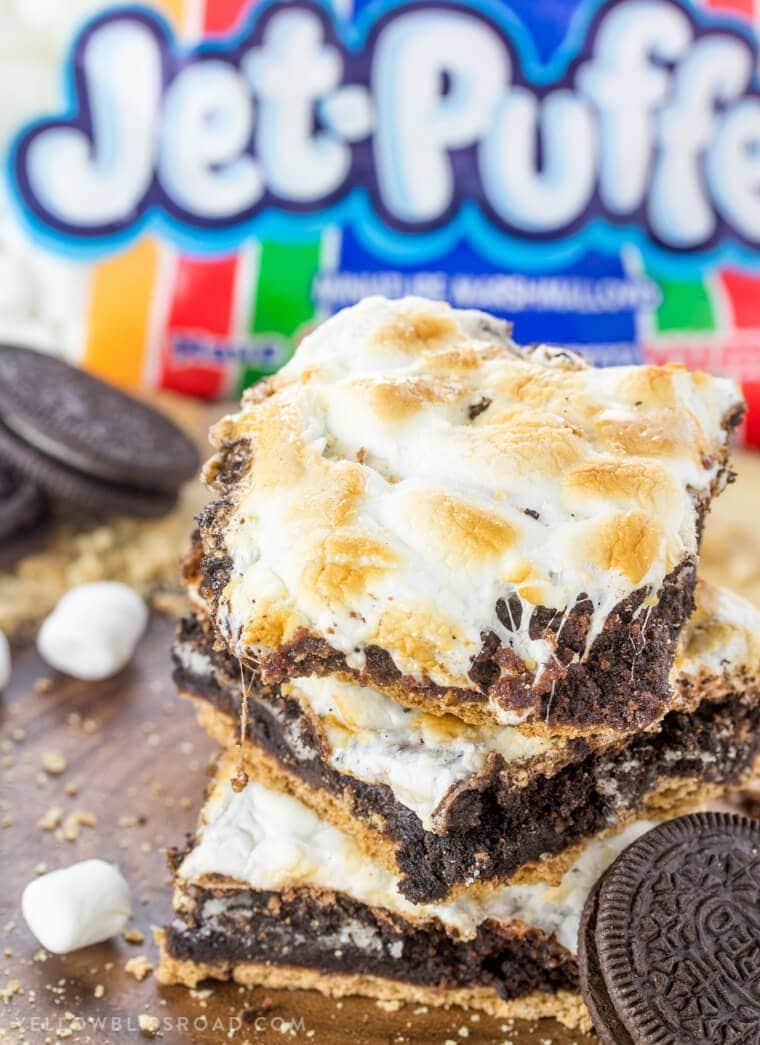 A few tips:
I use a boxed brownie mix. I know that's not cool for some so feel free to use your favorite recipe. Just make sure that the recipe is for a 13×9″ pan or you won't have enough. I love THIS RECIPE, but you would need to double it.
Marshmallows: I always use Jet-Puffed Marshmallows, never store brand. In my experience the store brand marshmallows tend to stick together in the bag and just don't taste as good. (aff link)
Oreos: I personally again do not use the store brand. However, for these brownies, they would probably be just fine.
If you're planning to make these at home, be sure to share a photo on Instagram and tag #yellowblissroad!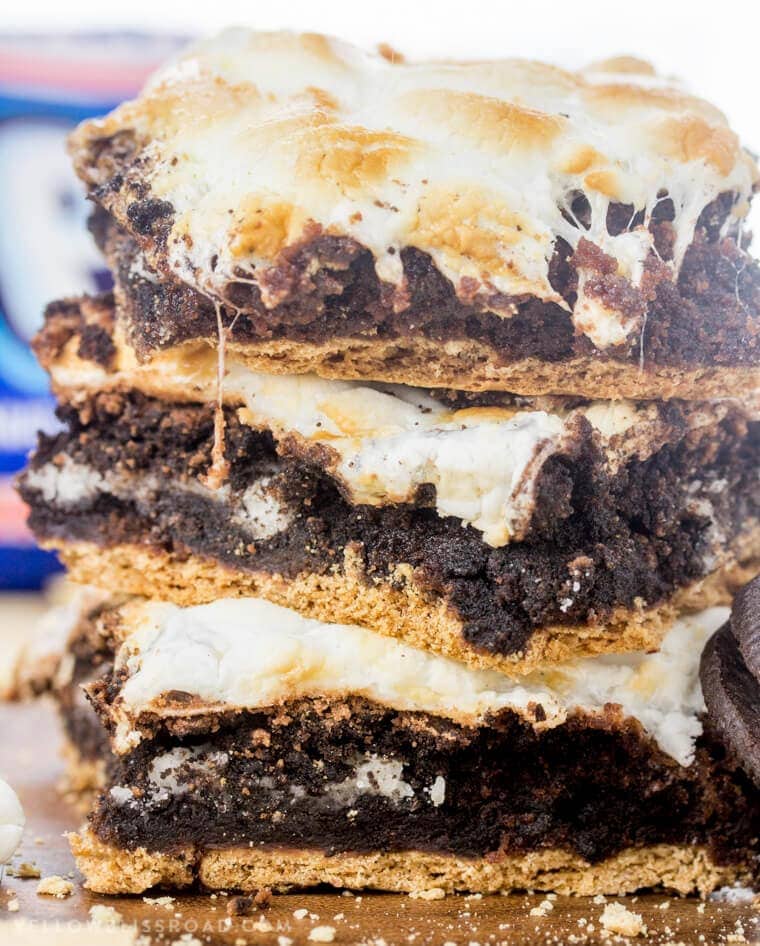 S'Mores Oreo Brownies: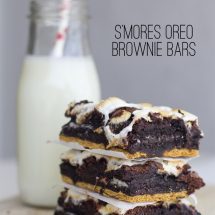 Ingredients
1 box of family size Chocolate Fudge Brownie Mix + ingredients called for on box You could also use your favorite recipe as long as it is enough for a 13x9" pan
8 graham crackers
28 Oreo cookies
1 cup marshmallows for mixing
1 1/2 cups marshmallows for topping
Instructions
Preheat oven to 350 degrees and place rack in the center of the oven.

Line a 13"x9" pan with foil or parchment paper and spray lightly with cooking spray.

Prepare brownie mix or recipe according to instructions.

Place graham crackers in the bottom of the pan, breaking as needed to fit.

Pour half of the brownie batter over the graham crackers and spread very gently with a knife to cover.

Place Oreo cookies in a single layer on top of batter.

Add one cup of mini marshmallows to the remaining brownie batter and fold in gently.

Spread batter gently over Oreos, placing mini marshmallows as evenly as possible.

Bake for approximately 27 minutes or until a toothpick inserted in the middle comes out mostly clean.

Switch to broiler and sprinkle remaining marshmallows evenly on top of brownies.

Place pan back into the center of the oven and leave door cracked open for about two minutes so marshmallows can brown. Watch closely as they can burn quickly!

Allow to cool completely before cutting into squares. *Pro-tip: To prevent sticking, run knife under warm water before each slice.
Love these S'Mores Oreo Stuffed Brownies? I bet you'll love these too!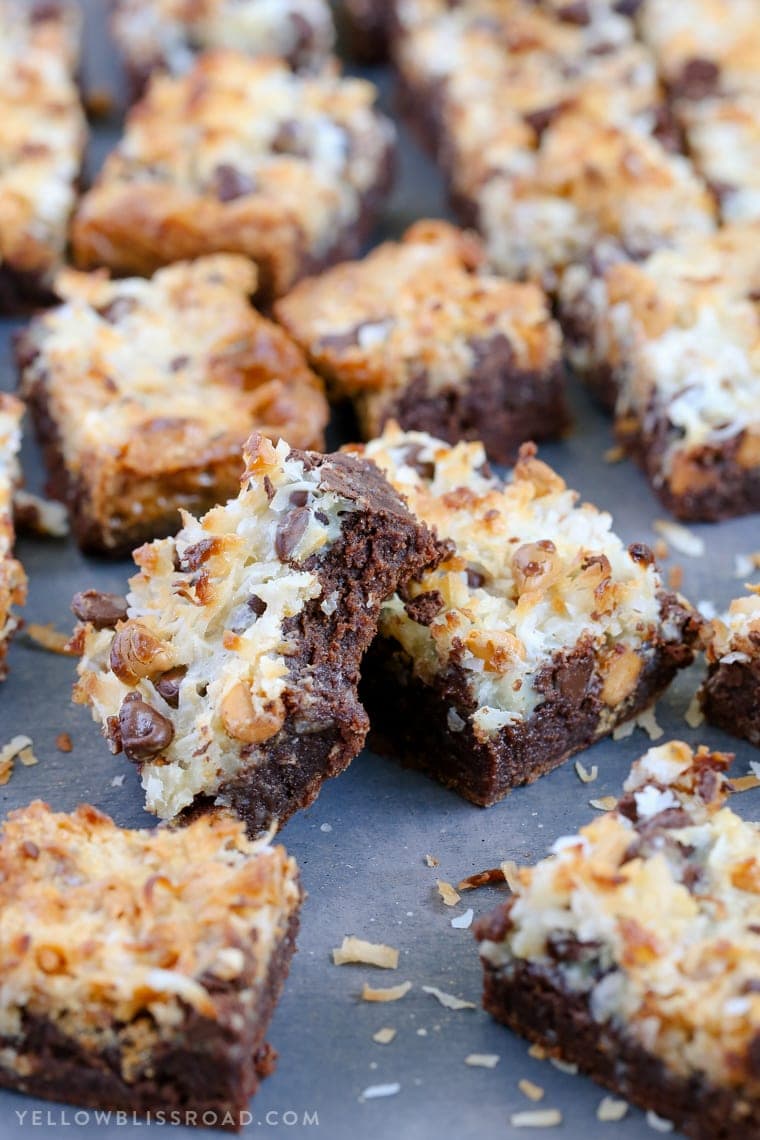 Raspberry Cheesecake Swirl Brownies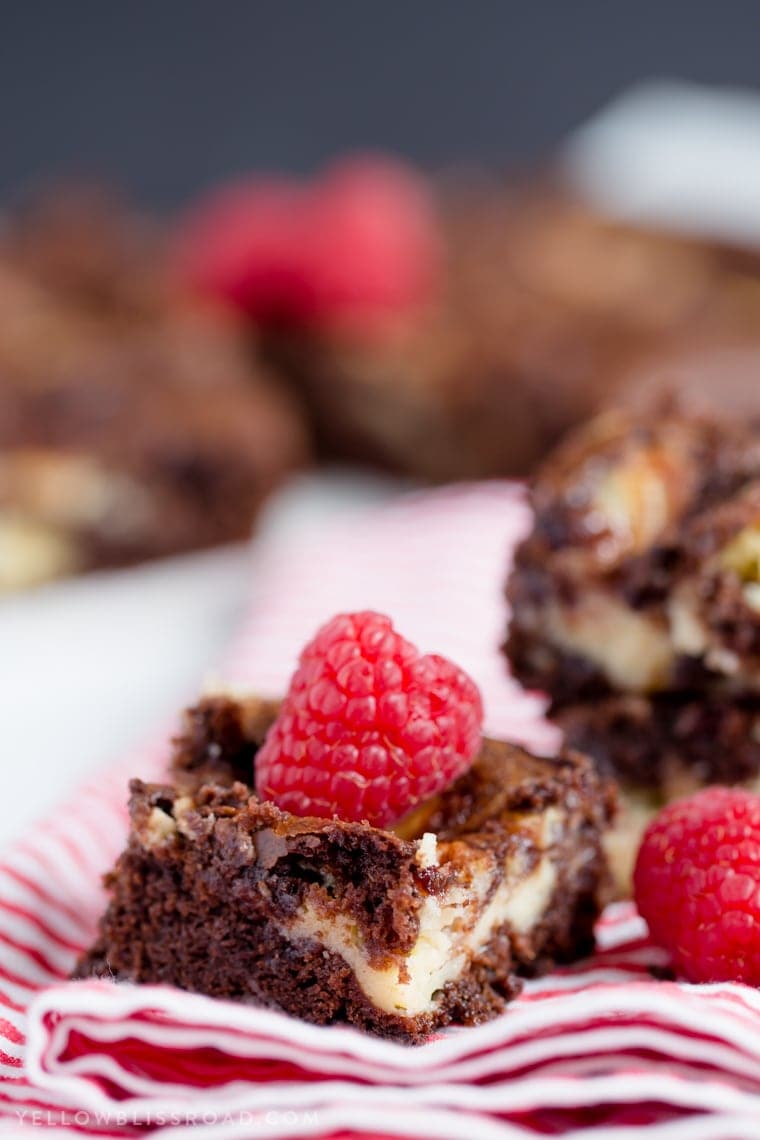 Fudgy Dark Chocolate Brownie Cookies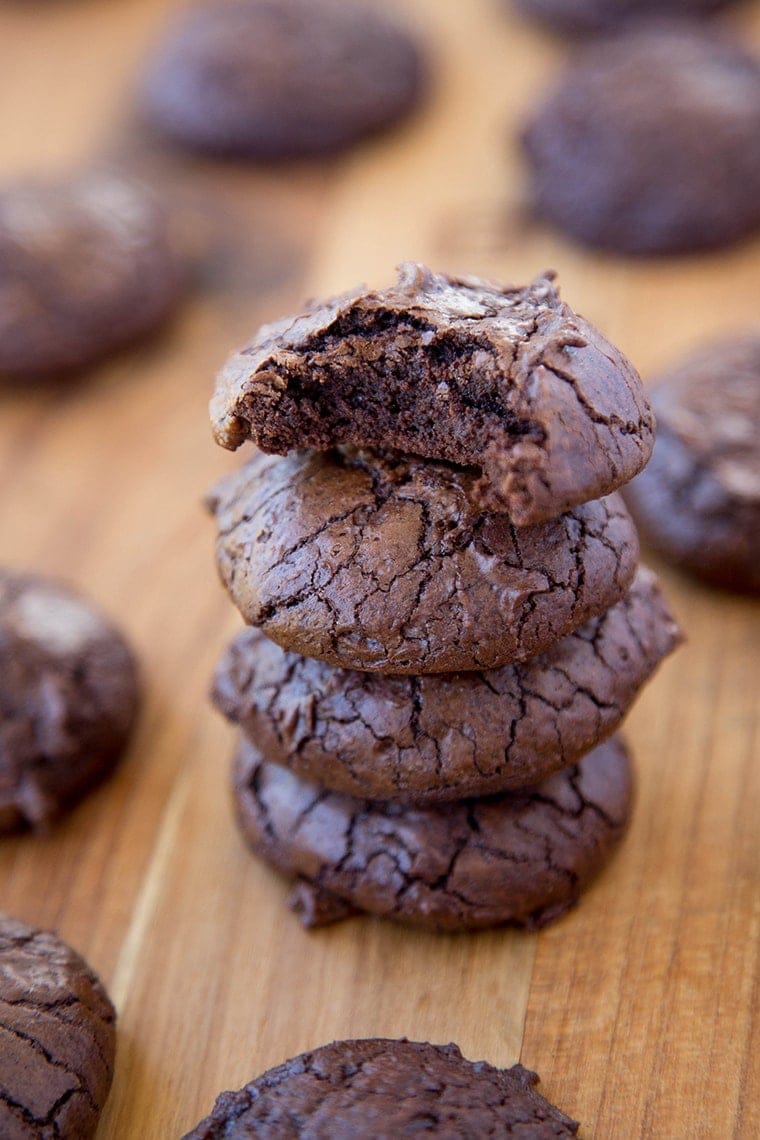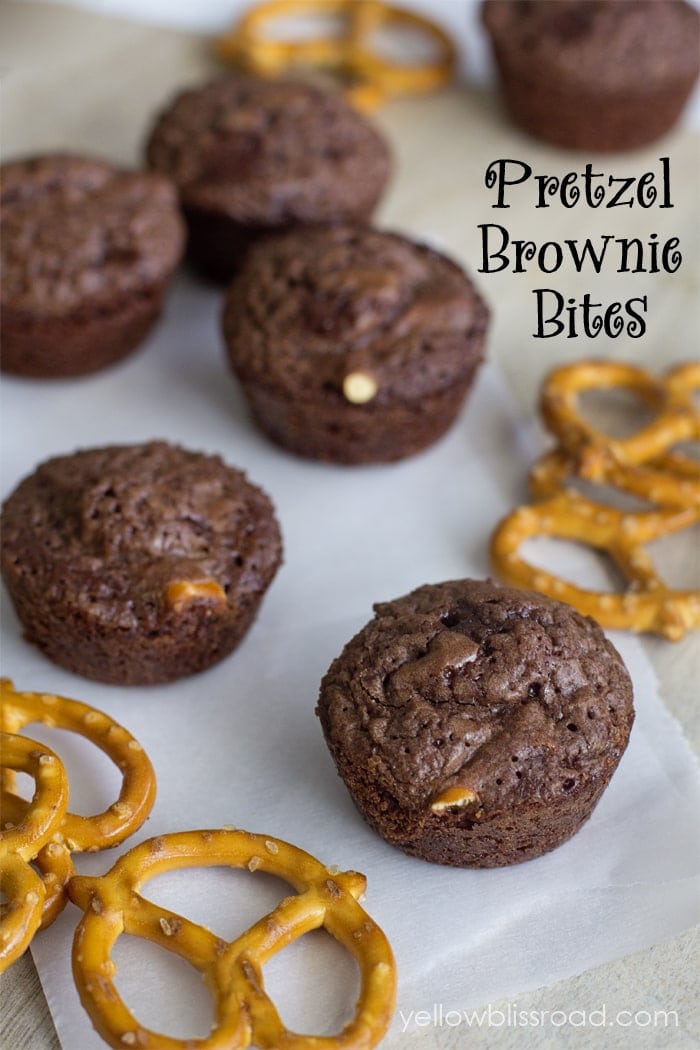 For all brownies & bars go HERE, for all desserts go HERE and for all recipes go HERE.