Valentine's Day is right around the corner and these chocolate trifles for two are the perfect dessert to serve up! Chocolate lovers are going to melt when they see these. It's stuffed full of as much chocolate as possible from the chocolate creme filled cookies to the chocolate whipped cream.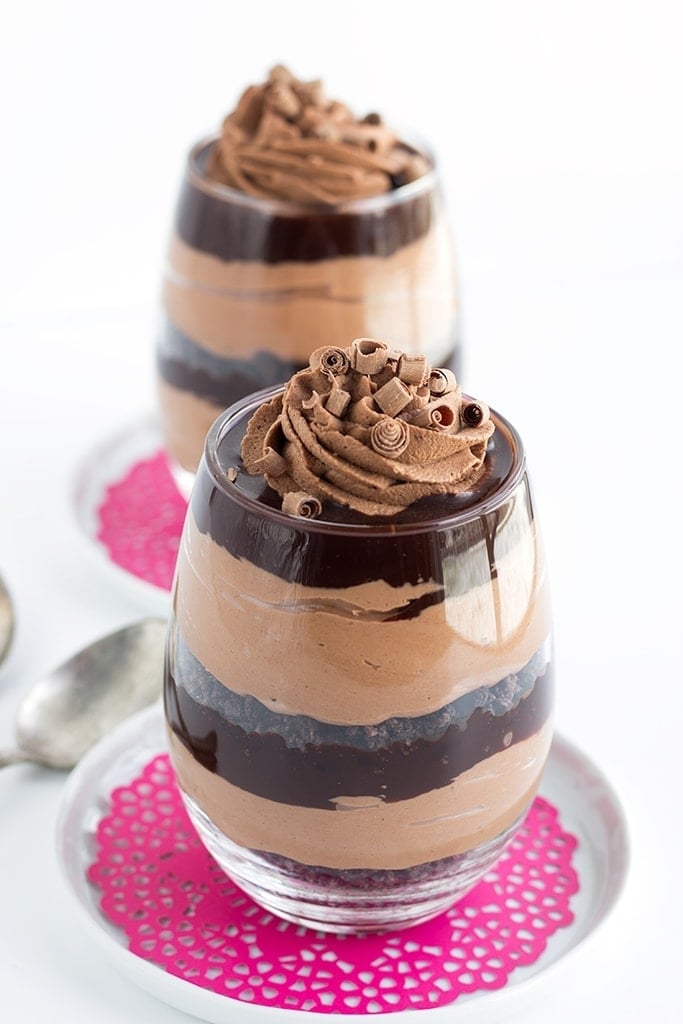 Let's talk about the layers in these trifles and how decadent they are. I may have gone overboard on the chocolate for some, but this is absolute heaven to me. Chocolate cookie crumbs, chocolate cheesecake mousse, chocolate syrup, chocolate whipped cream, and homemade chocolate curls, I don't think I could get any more chocolate in this glass if I wanted to.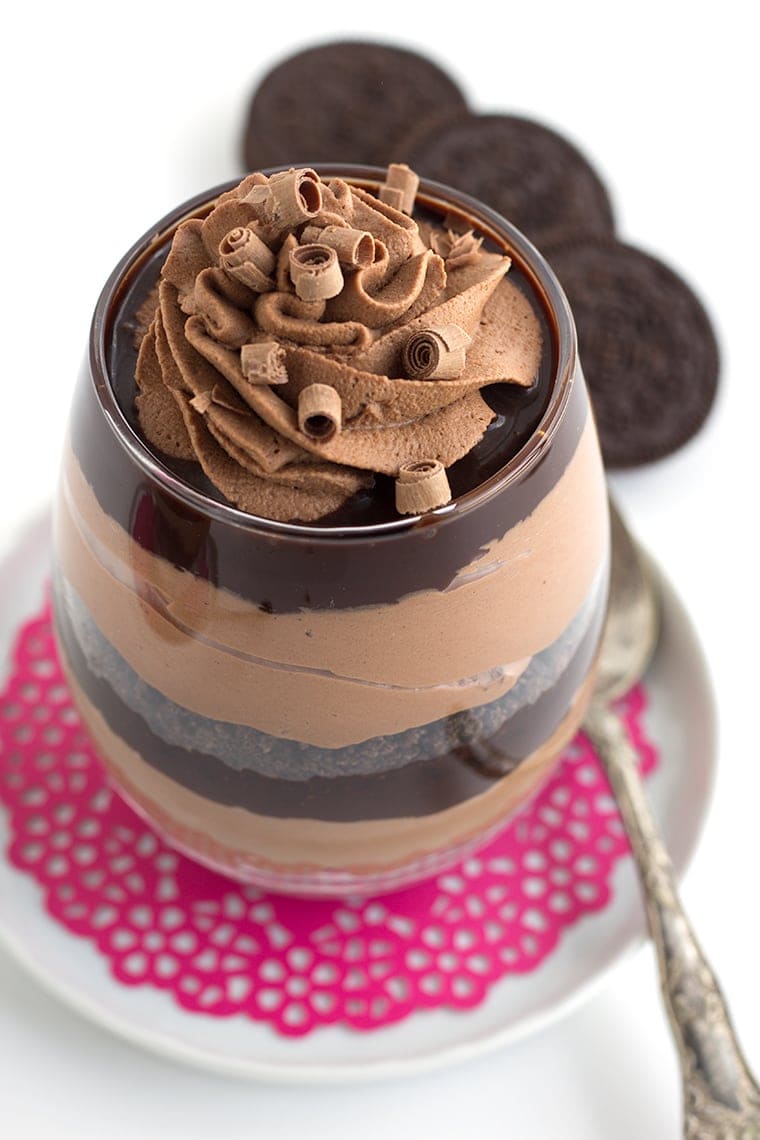 MY LATEST VIDEOS
They're rich and decadent! One glass could be shared between two people, really. That's romantic, right? Being romantic isn't really my forte.
Then you can save that other trifle for later and be able to enjoy it for a second time. I'm really digging that idea. When I made these, I had to share mine with the kiddo and gave the other one to the hubby. He ate half and saved the other half for later. Guys, he never does that! If he saves a half eaten dessert for later, I KNOW it's incredible.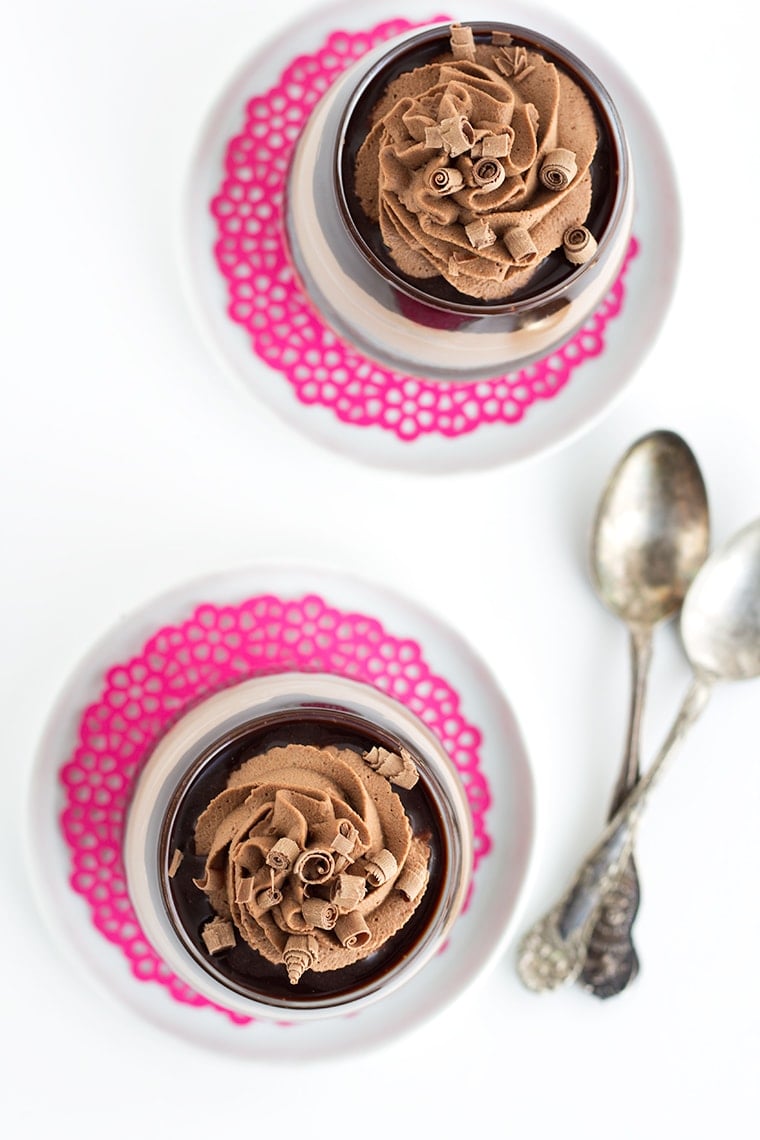 I'm pretty impressed with my chocolate girls. I made those with a milk chocolate bar and a vegetable peeler. That's it! I've tried it several times before and it never worked out for me. I think I figured out the problem though. I'm pretty sure it was that my vegetable peeler was old and pretty dull. Another mistake I've learned from is that I stored my chocolate bars in the fridge prior to trying to make curls. Of course, the chocolate wouldn't be pliable. Where's that facepalm emoji?
Another thing that I love about this trifle is the chocolate syrup! I did not make it. It's just plain ol' store-bought chocolate syrup, but man it tastes so good. We always have it on hand because my son drinks it in his morning milk. If you don't have or like chocolate syrup, you can easily put a ganache in there.
Do you want to this recipe in a baked cheesecake form? This triple chocolate cheesecake recipe is one of my most popular recipes on my blog. I also have chocolate peanut butter crunch trifles and strawberries and cream trifles that would both make some cute Valentine's Day desserts.
Chocolate Trifles for Two
These chocolate trifles are the perfect Valentine's dessert. There are so many layers of rich, decadent chocolate from the cookie crumbs to the whipped cream!
Prep
Total
Yield 2 trifles
Ingredients
Cheesecake Mousse
8  ounces cream cheese, room temperature
1 1/4 cups powdered sugar
1/2 cup semi-sweet chocolate chips
1 teaspoon vanilla extract
1/2 cup heavy cream
Whipped Cream
1/2 cup heavy cream, divided
1/4 cup semi-sweet chocolate chips
8 chocolate creme filled sandwich cookies
1/2 cup chocolate syrup
2 tablespoons chocolate curls
Instructions
Cheesecake Mousse
To a large mixing bowl, add cream cheese and powdered sugar. Beat on medium with a hand mixer until creamy.
In a small microwave-safe bowl, add in the semi-sweet chocolate. Microwave for 30 seconds and stir. Repeat the microwaving and stirring until the chocolate is completely melted.
Pour the chocolate into the mixing bowl with the cream cheese.
Add the vanilla extract. Beat until the chocolate and vanilla extract is incorporated. Scrape down the sides and beat in anything that hasn't been incorporated yet.
In a separate bowl, add in the whipped cream. Beat on medium until stiff peaks form. Scrape the whipped cream into the bowl with the cream cheese. Set the whipped cream bowl aside for a later use.
Beat the whipped cream into the cream cheese mixture until combined.
Scrape into a disposable piping bag and set aside.
Whipped Cream
Add the chocolate chips and 2 tablespoons of heavy cream into a microwave-safe bowl. Microwave for 30 seconds and stir. Repeat microwaving and stirring until the chocolate is smooth. Let cool to room temperature.
Add the remaining heavy cream into the same bowl we used before for whipped cream. Beat on medium until stiff peaks form.
Add the cooled chocolate mixture to the whipped cream. Fold in until combined.
Add the chocolate whipped cream into a piping bag fitted with the 1M piping tip. Set aside.
Add the chocolate creme filled sandwich cookies into a food processor and pulse them until their crumbs. You can also just add them to a storage bag and beat them with a rolling pin until they're crushed.
Add the cookie crumbs into the bottom of two glasses. Add a layer of chocolate cheesecake mousse. Add a layer of chocolate syrup. Repeat each layer one more time.
Add a swirl of whipped cream to the top of the trifles. Sprinkle on some chocolate curls. You can also use cookie crumbs, chocolate sprinkles, red heart sprinkles, etc.
Store in the fridge until ready to serve.
Love layered desserts?
Lemon Whipped Cream and Berry Parfait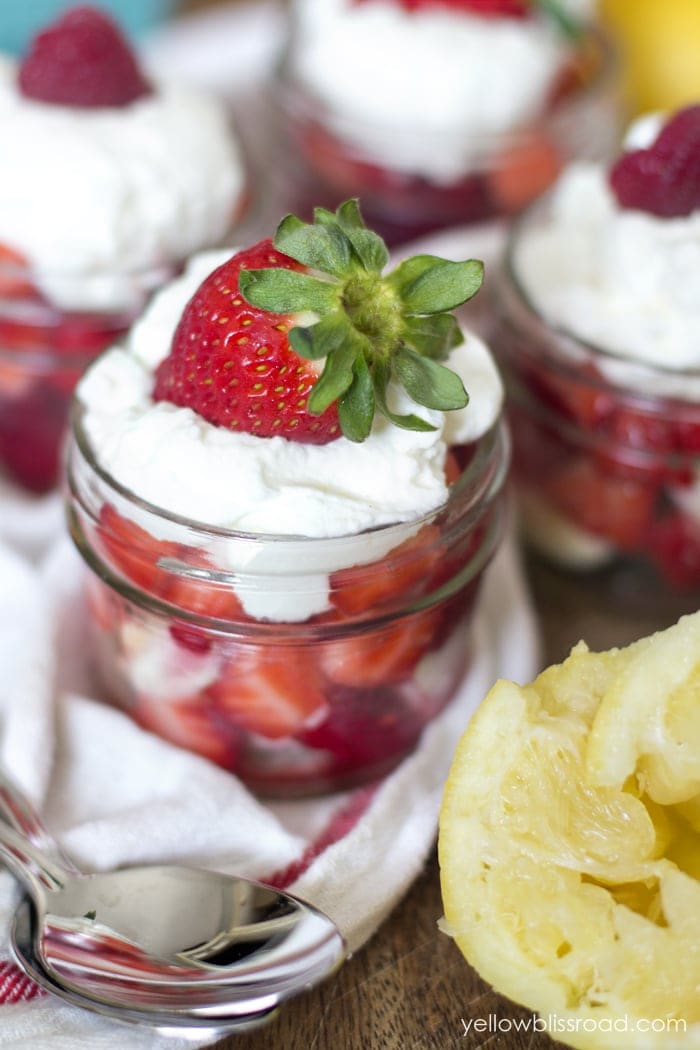 Ready to swoon for more chocolate desserts?
Get ready for Valentine's Day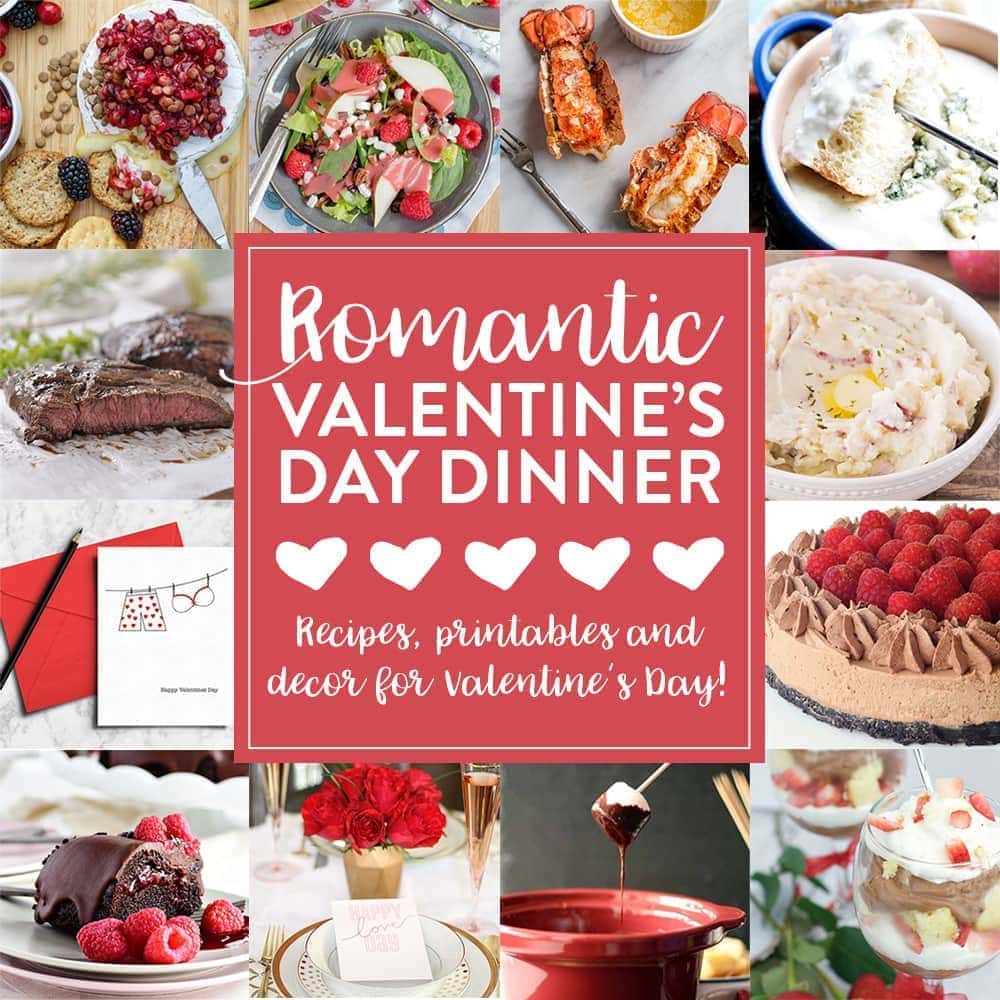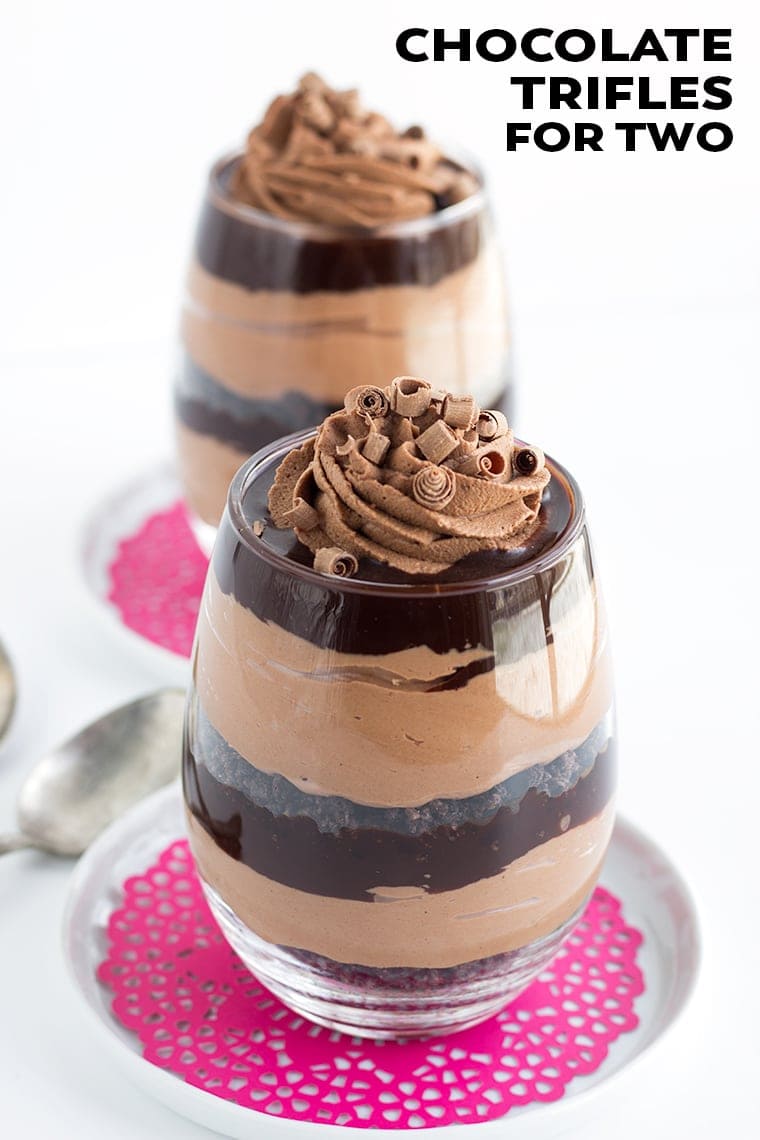 Hi! I'm Miranda and the dessert blogger behind the blog Cookie Dough & Oven Mitt! When I'm not slinging butter and eggs, I love to hang out with my son and hubby.