Chocolate Bread Pudding is a decadent dessert that's creamy and sweet, with lots of chocolate-y chunks of soft, chewy bread and semi-sweet chocolate chips. This dessert is a dream mash-up for chocolate AND bread lovers!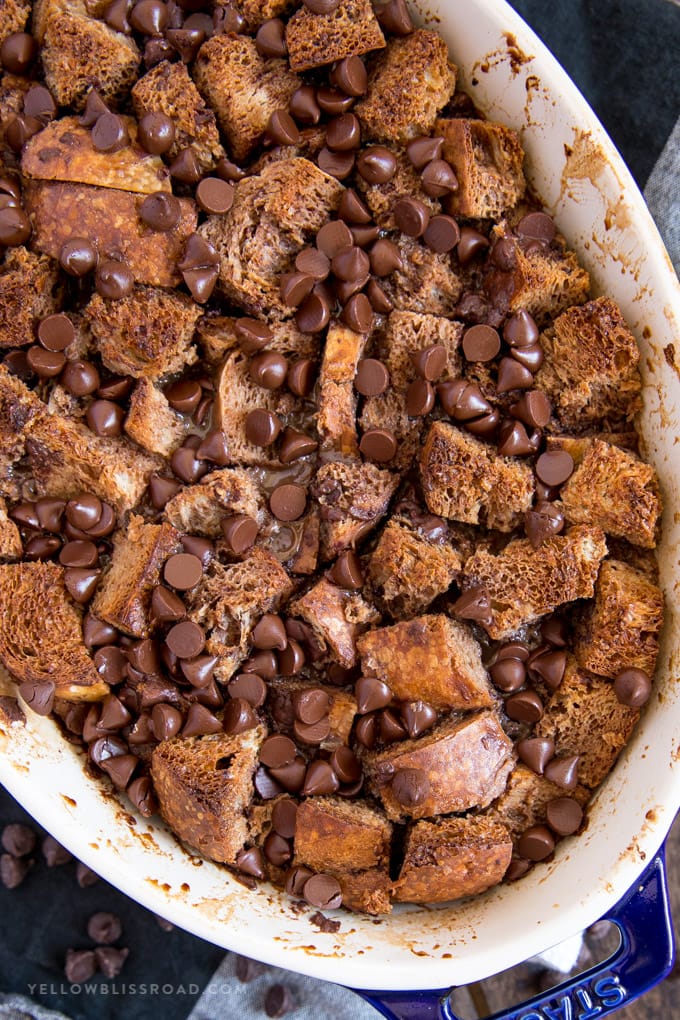 Bread pudding was something my midwest Aunt would make from the scraps of bread left on her guests plate from dinner. No joke. She would clear plates, then take any half-eaten slices of bread off of the plates and pout them into a container. When she had enough, she'd make bread pudding. That's frugality at it's finest. She'd also wash paper plates but that's a whole other story.
So bread pudding was never something I could get all that excited about. Until this Chocolate Bread Pudding that is. I mean CHOCOLATE + BREAD = two of my favorite foods mashed up together in dessert euphoria. Heaven.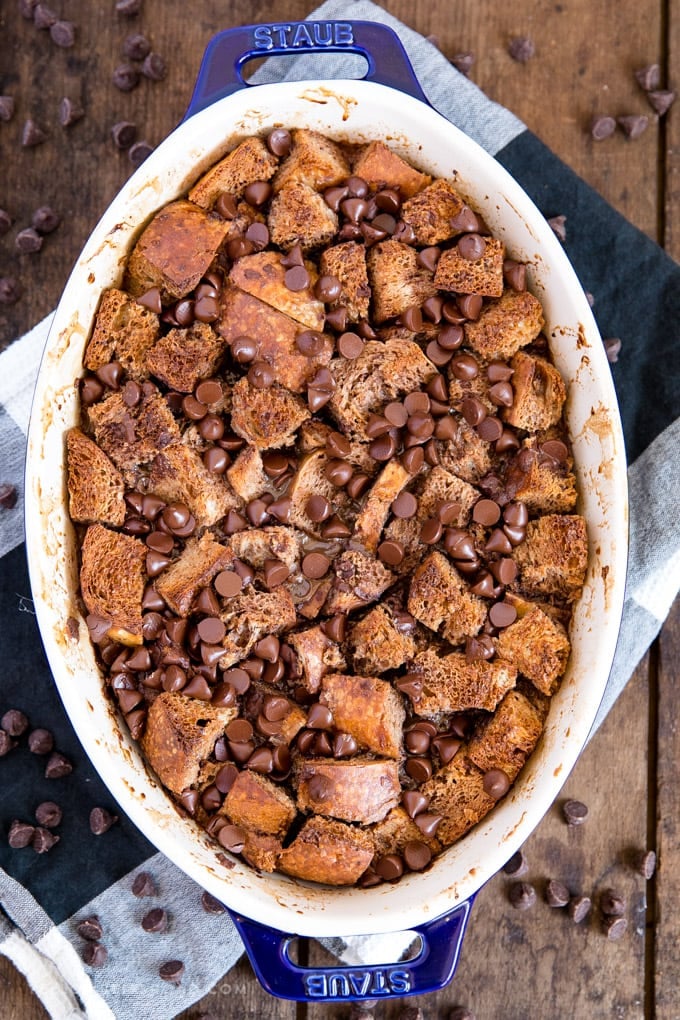 HOW TO MAKE CHOCOLATE BREAD PUDDING
Bread Pudding is a pretty straight forward, simple dessert that consists of stale bread, milk, eggs and sugar. Raisins are often included in traditional recipes. Since we are making a chocolate version we need some creamy sweetness that comes from adding sweetened condensed milk. The result is a sticky sweet, chocolate-y rich and decadent dessert that will disappear before the ice cream melts on top.
This recipe starts with cubed french bread that's either been left out overnight or baked for a few minutes in the oven to reduce the moisture. Eggs, milk, sweetened condensed milk, cocoa powder and vanilla are whisked together and then poured over the bread. Give it 10-20 minutes to soak in, but you can press it lightly with your fingers to help the liquid really get into the bread.
Chocolate chips really are what give that explosive chocolate flavor, and they are sprinkled on top. They will soften but still hold their share in the oven, which is kind of pretty don't you think?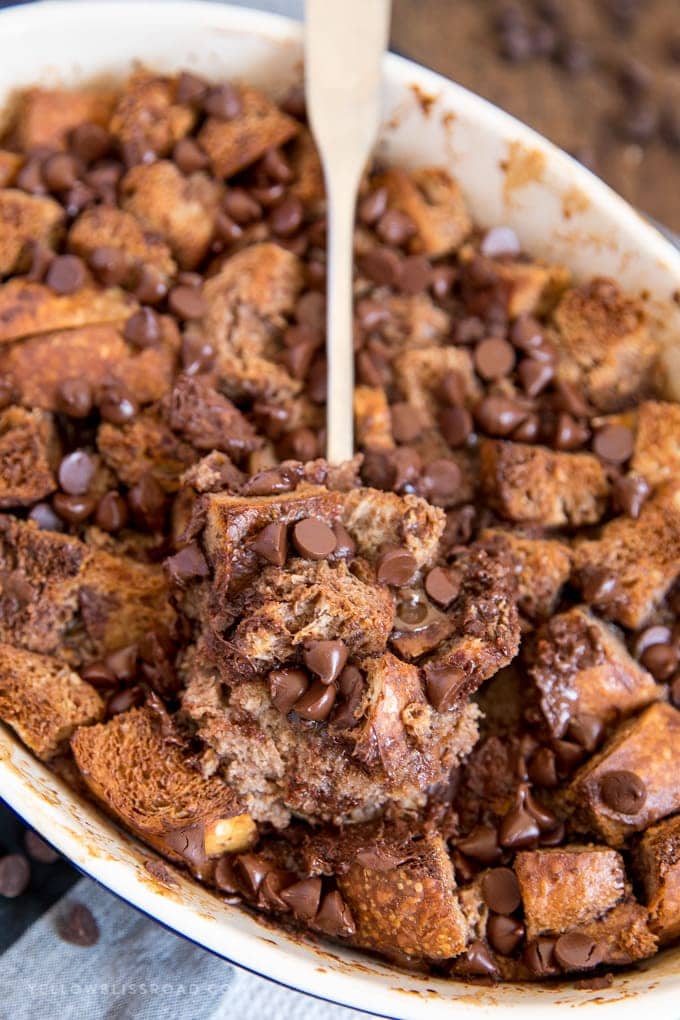 WHAT IS THE BEST BREAD FOR BREAD PUDDING?
I prefer to use french bread because I think it's the easiest to get your hands on a loaf. I mean, they sell it for about a dollar in just about every grocery store bakery. But brioche is slightly sweet and also makes an excellent base, as well as any denser white bread. Hawaiian rolls or even cinnamon rolls or croissants can be cut up and used in place of the french bread.
CAN YOU MAKE BREAD PUDDING AHEAD OF TIME?
Of course! Bread pudding, like an overnight French Toast, needs a little time to soak up the milk and soften the bread, so letting it sit overnight is great. You can definitely bake after just 10 or 15 minutes, like in this recipe, but the longer it sits, the softer the bread pudding will be.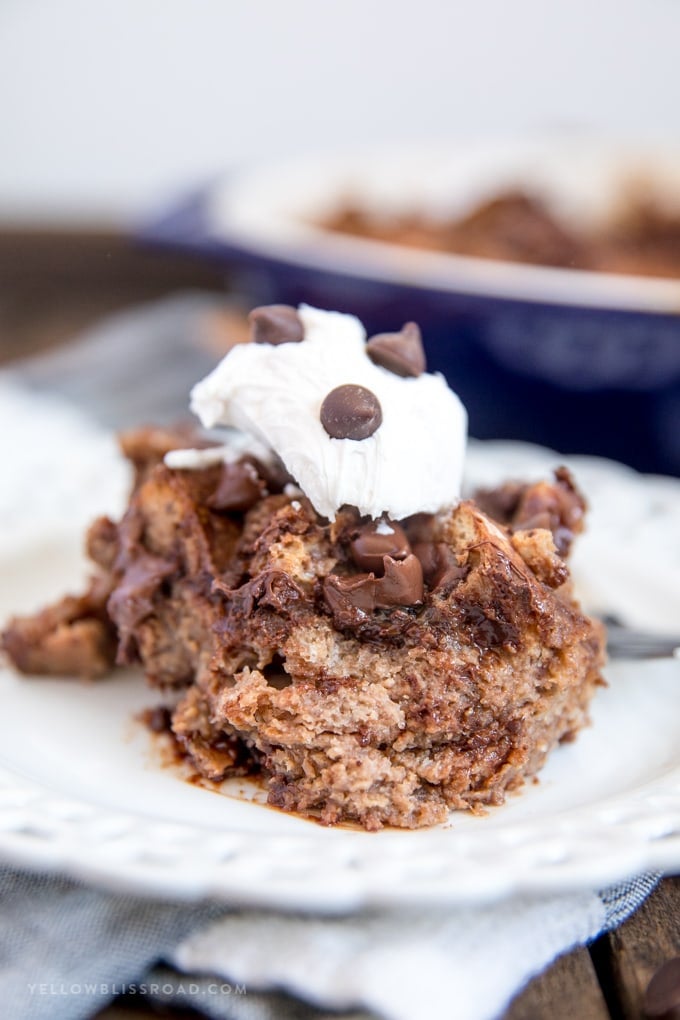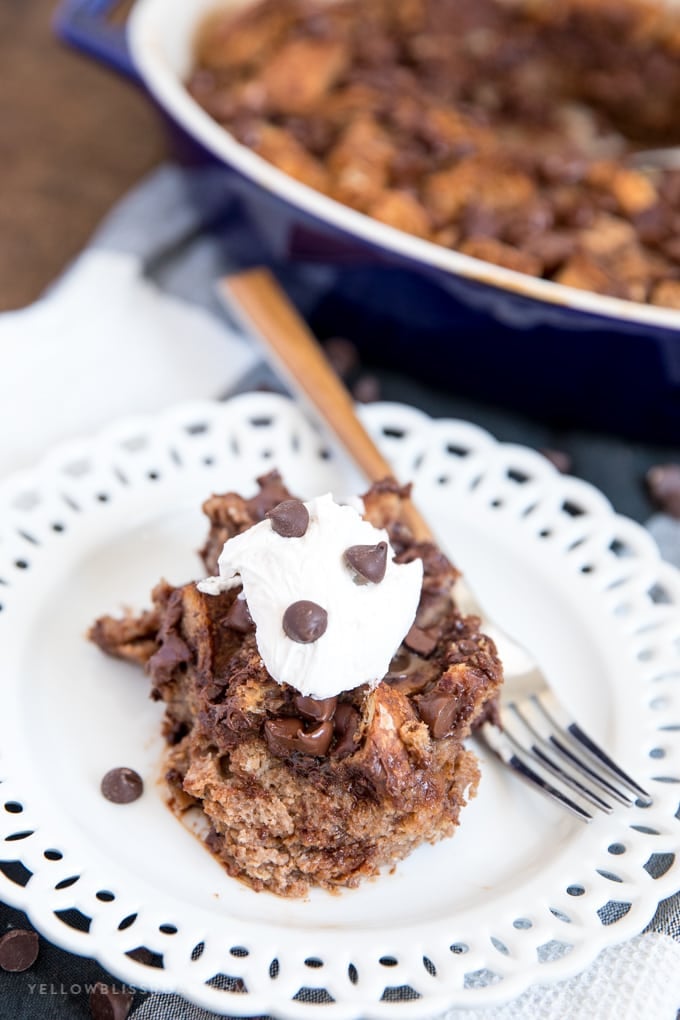 For even more delicious dessert recipes, try these: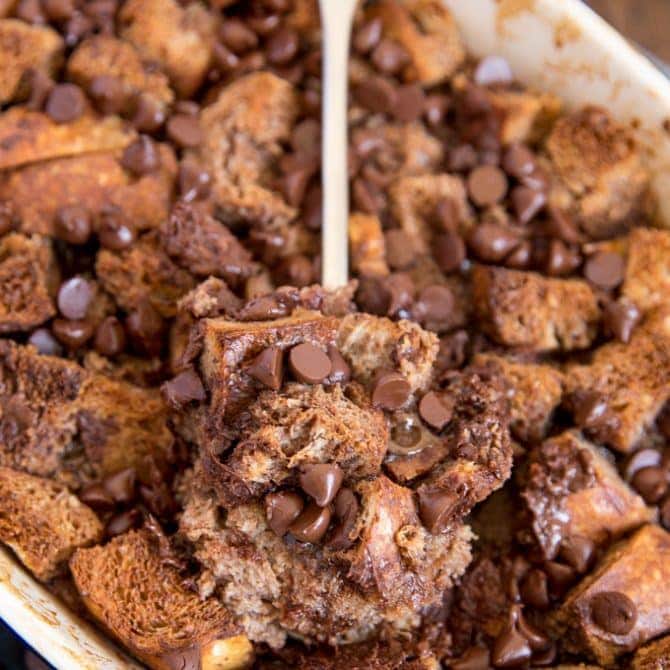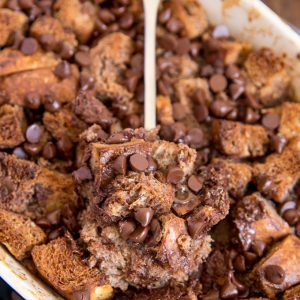 Chocolate Bread Pudding
Chocolate Bread Pudding is a decadent dessert that's creamy and sweet with chunks of soft, chewy bread and semi-sweet chocolate. 
Ingredients
5 cups French bread cut into 1 inch cubes
4 eggs
1 14 ounce can sweetened condensed milk
1 cup nonfat milk could use whole fat milk as well
1½ teaspoons vanilla
2 tablespoons cocoa powder
3/4 cup semi-sweet chocolate chips divided
Instructions
Preheat oven to 350 degrees F. Grease an 8"x8" baking dish with nonstick cooking spray.

Place French bread on a cookie sheet and and bake for 7 minutes until lightly brown*. Place bread in the baking dish. (*Could also just leave out overnight to stale).

In a medium bowl combine eggs, sweetened condensed milk, milk, cocoa powder and vanilla and mix well.

Sprinkle half of the chocolate chips over the bread. Pour the egg mixture over the bread and lightly press the bread down to make sure all the bread is coated with the egg mixture. Let stand 10-20 minutes to allow the bread to soak up the milk. Sprinkle remaining chocolate chips on top.

Bake in the preheated oven for 35 to 40 minutes uncovered, until the egg mixture is cooked and the bread is not soggy.

Serve warm or at room temperature with a scoop of vanilla ice cream or whipped cream on top, if desired.
Nutrition
Calories: 400kcal